What to do when the weather can't decide what to do? Fall weather can be unpredictable, even in South Florida, and faced with a sunny but also rainy and windy day, kayaking or walking was not going to be on our menu. What to do? As we had to be in Key Largo in the morning, we decided to check out a few gems close-by in the Redland area in South Miami.
The Redland Area – The Agricultural Powerhouse Of South Florida

Redland, also erroneously called 'The Redlands' (and named for its red clay soil), is a predominantly agricultural area located about 20 miles south-west of downtown Miami. Redland is an unincorporated Miami-Dade community. It is also, more importantly, a pretty interesting area and such a contrast to nearby Miami, with many open fields on which a multitude of produce is grown, including an abundance of tropical fruit such as mango, avocado, passion fruit, lychee, jack fruit and many others.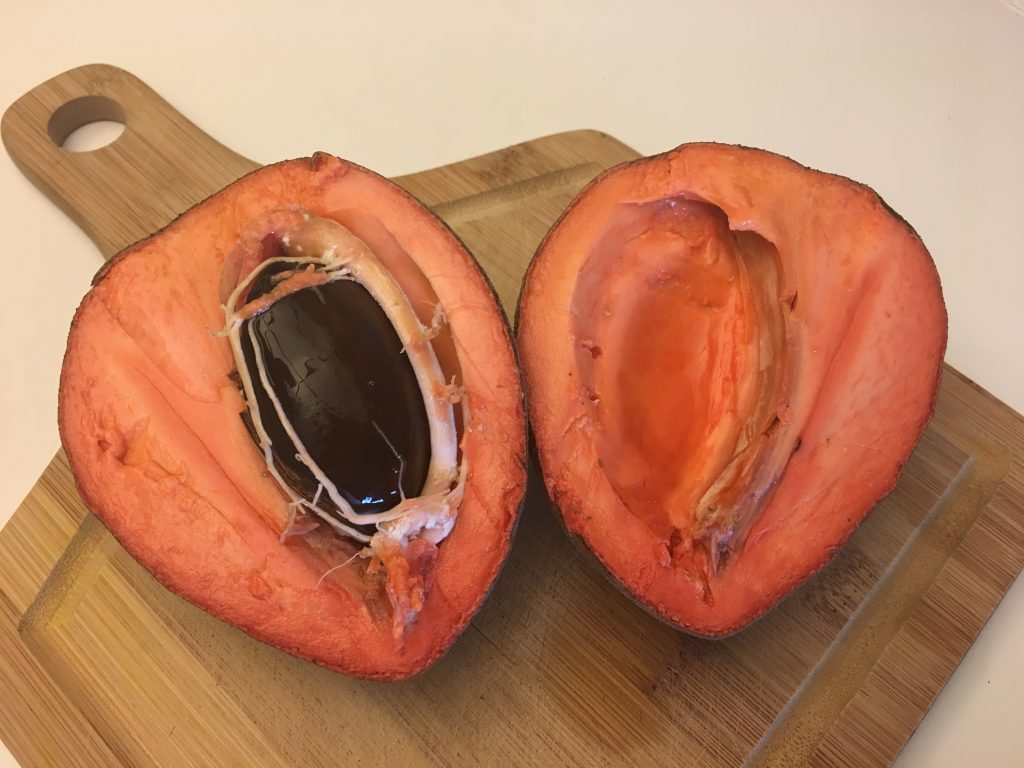 My First Mamey Sapote From Robert Is Here – Interesting Flavor and Texture
The area has been farmed since the early 1900's and holds plenty of history, some older and some more recent, such as the amazing Coral Castle built from the coral rock found in the soil here. The area is worth visiting for many reasons, and can be explored by simply driving through and stopping at a few strategic locations. Take a map or a GPS though because these roads will all start to look the same after a while!
Where to stop depends entirely on what your heart desires, as there are plenty of things to do, however, most of them involve some type of produce or farming, for example the Fruit and Spice Park, and the many farms selling their produce. I wrote about our visit of Knaus Berry Farm and their famed 'sticky buns' and milkshakes, as well as Coral Castle, here.
There were a couple of places we had not been to, one of them notably:
Robert Is Here Fruit Stand And Farm
Robert is pretty well known in the area and outside of the ares. He was proudly manning the stand when we got there too. The story of the fruit stand, and Robert, all quite extraordinary and heartwarming, goes like this (from www.robertishere.com):
"Robert Is Here" fruit stand was established by Robert in 1959, when at just six-year-old, little Robert was placed at the corner where the fruit stand is today, with some of his father's cucumber crop and told: "sell 'em!" . The boy apparently sat at this corner all Saturday and nobody even stopped. Robert's father was sure the problem was not his cucumbers, but rather that nobody could see the little boy standing there.
The next day, Robert's father put a couple of signs on the table stating in big letters "Robert Is Here." Success! By mid-day, little Robert had sold all  cucumbers and was on his way back home. Later on, a neighboring farmer added tomatoes to Robert's stand and his fruit stand was born.
Robert's mother then arranged for the school bus to pick him up and drop him off at the fruit stand. Robert and his mother would set up the stand every morning and leave a can on the table, so customers could pay by honor system (leaving money in the can). After school, Robert would work his stand until it got dark when Mom took him home for his dinner and bath. By the time Robert was nine years, he had hired a neighbor lady to work for him while he was in school. The story doesn't end here, as little Robert bought his first ten-acres of property when he was fourteen. He went on to plant an avocado grove on it and rented out the house.
Don't you just love this story? I certainly do, and was pretty happy to spot a 'slightly older' Robert behind his fruit stand when we visited. He looks like a real jolly character just like in the photo as a little boy (image credit www.robertishere.com).
The fruit stand itself didn't disappoint, the milkshakes are famously good, and there are plenty of other things to see, taste and buy there, including a plethora of tropical fruits, very fresh looking vegetables and herbs, and many different types of honey, marinades and sauces, candy and plenty more! I can't believe I squeezed all that into one sentence, well my sentence feels like the store in many ways. Lots of stuff going on! As an added bonus, there was live music when we went (on a Saturday), turning it all into a little fruit and vegetable party! We loved it.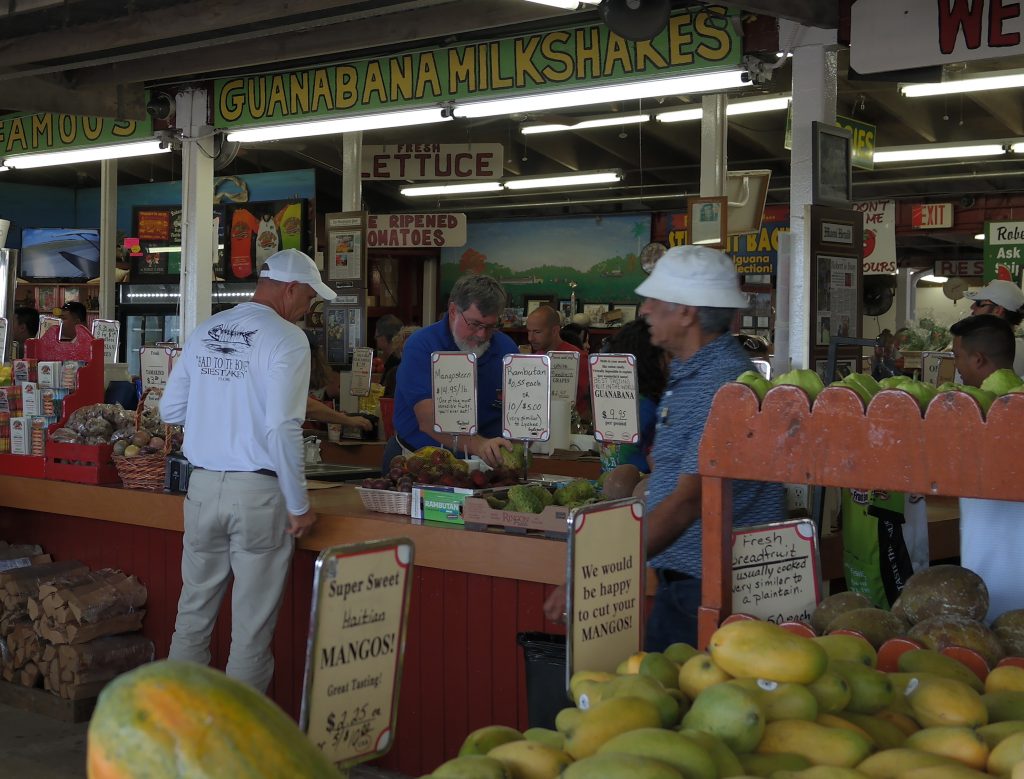 Robert Was There!
However, we didn't have too much time to spend at Robert's because we were going to visit Schnebly Winery and Miami Brewing Company, just a little drive away from Robert.
Schnebly Winery And Miami Brewing Company
Don't expect grapes here. No, really, I mean it. The wine you will taste at Schnebly will be unlike any other wine. It is truly extraordinary. No grapes involved in making any of the wine here at Schnebly. How so? Well read on…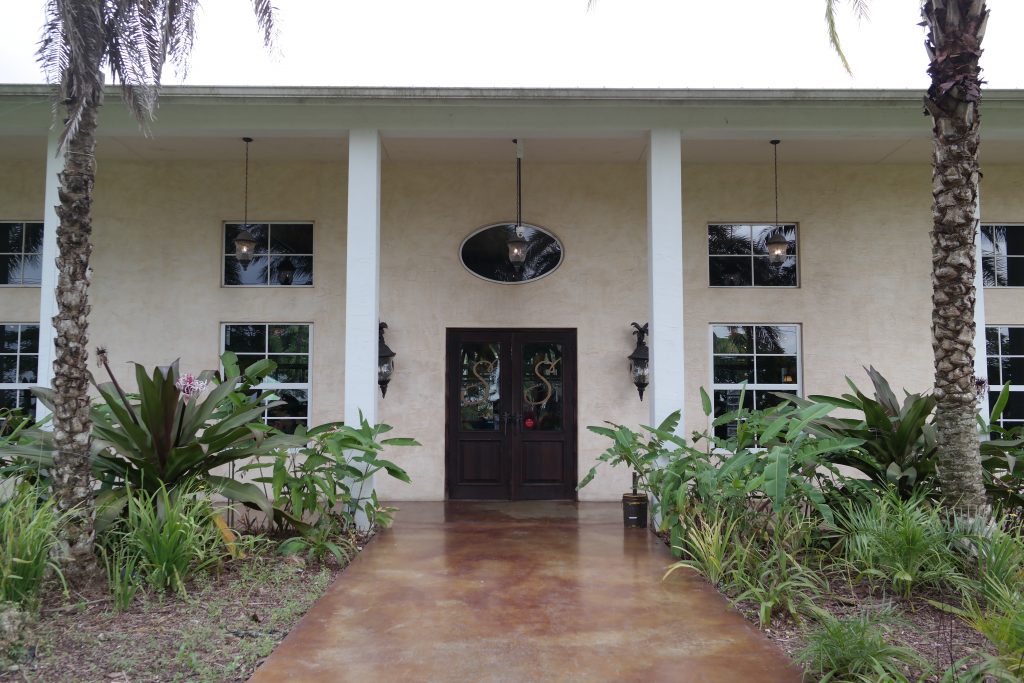 Entrance To Schnebly Winery
Incidentally, this is another family success story albeit of a much more recent foundation. Peter and Denisse Schnebly founded Schnebly winery in 2004, born out of experimentation of making wine not from grapes but from exotic fruit! Their business was founded on the wish for sustainable farming practices and an agro-tourism business. It began with advice from two friends who had wineries up north, and subsequently Peter and Denisse started experimenting with tropical fruit fermentation in their garage. This is a great story too, don't you agree?
Later on in 2011, as a wish to diversify, they founded the Miami Brewing Company which incidentally was the first commercial production brewery in Miami-Dade County!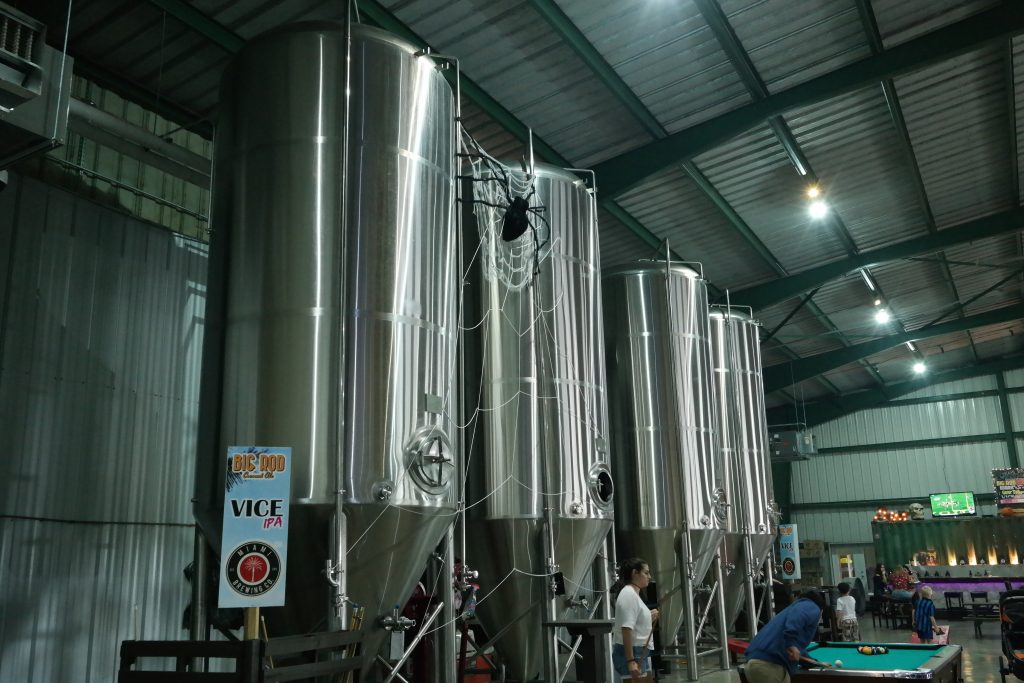 Miami Brewing Company
As soon as we got there, I knew that I loved the place. It is a very nicely done and tasteful set-up and the grounds are very pretty too. There are winding paths under tiki huts and lots of the coral rock has been worked into the landscaping beautifully. The main building, where the restaurant, store and wine tasting are located, is open and light and nice to spend a little while in. All in all it looks like a gem, and has a very relaxing feel, absolutely perfect for a weekend afternoon's worth of relaxing!
The Wine Tasting And Tour At Schnebly's
When we got there, I had admittedly not quite gra(s)ped the concept of wine without grapes and even though I had read that their wines were 'exotic fruit' wines, my brain hadn't quite made that lead, and I was still under the impression that wine was, well wine…but not this wine! It is really different, and this winery is really different!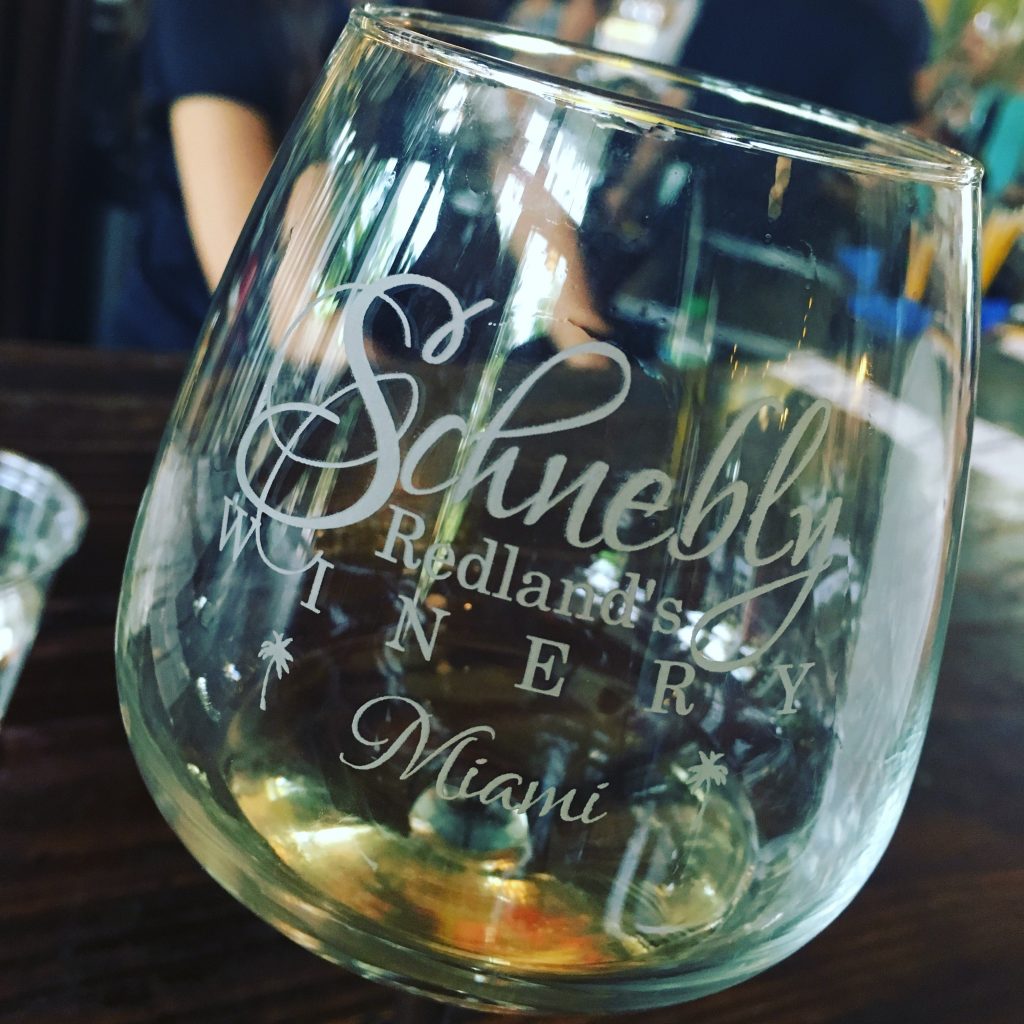 Let The Fun Commence!
We were given a sheet of exotic sounding wines such as 'sweet avocado', 'carambola', 'cocovino' or just 'passion fruit'. Then we were asked to decide which 5 of them we liked to taste, and my husband and I tried to pick different ones so we could try most of them. Unfortunately, my taste buds got a little overload at some point from all the different tastes, but a little water will help with that! Some wines are definitely more 'interesting' than others and the aroma/fragrance can be quite strong… there were a couple that were definitely NOT my cup of tea. Nor my glass of wine.
However, there were also some that were positively surprising in that they almost pass for grape wine but have an interesting additional taste. My favorite was the passion fruit and the cocovino, I could have inhaled the passion fruit wine fragrance for hours, it was delicious! The cocovino was like a decent white wine with a touch of coconut. Very interesting! In a good way.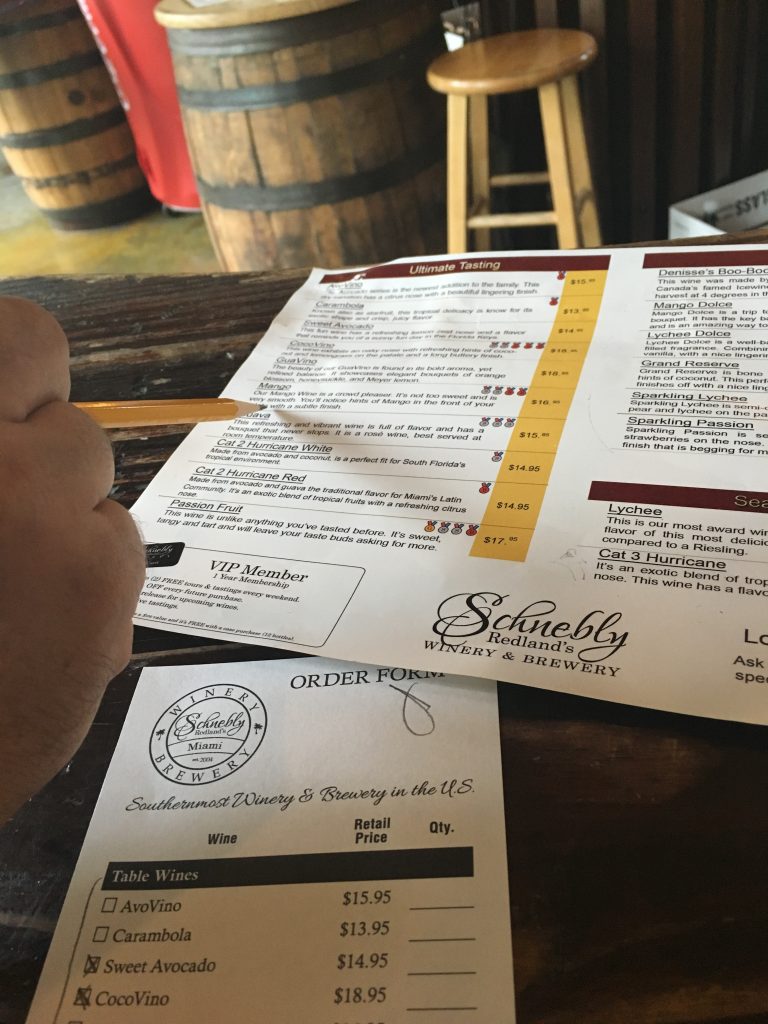 The wine tasting was fun and then we were off to the tour right afterwards, having imbibed beforehand certainly made it a little jollier. You will see lots of people carrying their glasses around. As part of the wine tasting, you get your very own engraved Schnebly glass! Even better, you can take it and use it to Schnebly your wine out of next time, in which case your wine tasting is half price!
The tour was short and sweet and covered the basics of the history of Schnebly and production process, all very interesting and intriguing. It also led us to the Miami Brewing Company part, which is completely different and with a really different vibe to the winery, basically a warehouse with lots of space, pool tables, rock music, burger and beer!! I must say, in my household we were strictly divided on who liked what most…"sadly" (not haha) we ran out of spending too much time at the Brewery part due to wanting to get back to Miami for an early dinner.
What Else Can We do In The Redland Area?
So you haven't had enough yet? Well, there are plenty of options. If you love Orchids, why not stop by at RF Orchids which is just a little drive from both of my two suggestions. Then, I mentioned already Coral Castle and Knaus Berry Farm (be prepared to stand in line for the most amazing sticky buns and cookies ever). Highly recommended is also the Fruit and Spice Park which is nearby.
Where, When And How?
Schnebly Winery is at: 30205 SW 217 Ave, Homestead FL, 33030. Wine tastings are $11.95 per person and include a gorgeously etched glass which you may keep. If you bring it back for another wine tasting, it cuts the fee for the tasting in half! Tours are $7 per person and interesting – short and sweet only about half an hour. They run every hour on Saturdays and Sundays from 1pm to 5pm, but best to check with them in case this ever changes. There is also a restaurant on site if you happen to get hungry, and of course the Miami Brewing Company (part of Schnebly Winery), if you fancy a beer! Schnebly's is open all year round, Monday to Thursday from 10-5, Friday and Saturday from 10-11 and Sunday from 12-6. There is a cover charge to attend nighttime events, and please check their opening times during holidays.
'Robert is here' is at: 19200 SW 344th St, Homestead, FL 33034. Open daily from 8am-7pm Nov through August with live music on the weekends.