Coral Castle
Last month I finally I got to see Coral Castle.  Well, it is quite the trip from Fort Lauderdale for someone who hasn't got a car, and it isn't strictly speaking all that old (1920's and 1930's), which to the Archaeologist in me does put it on the back burner somewhat. Until, well, until I was offered a little 'jolly' to go down and see it. Of course, I jumped at the chance. You find Coral Castle in Homestead at 28655 S Dixie Hwy.
I was pretty intrigued when I saw this at the entrance: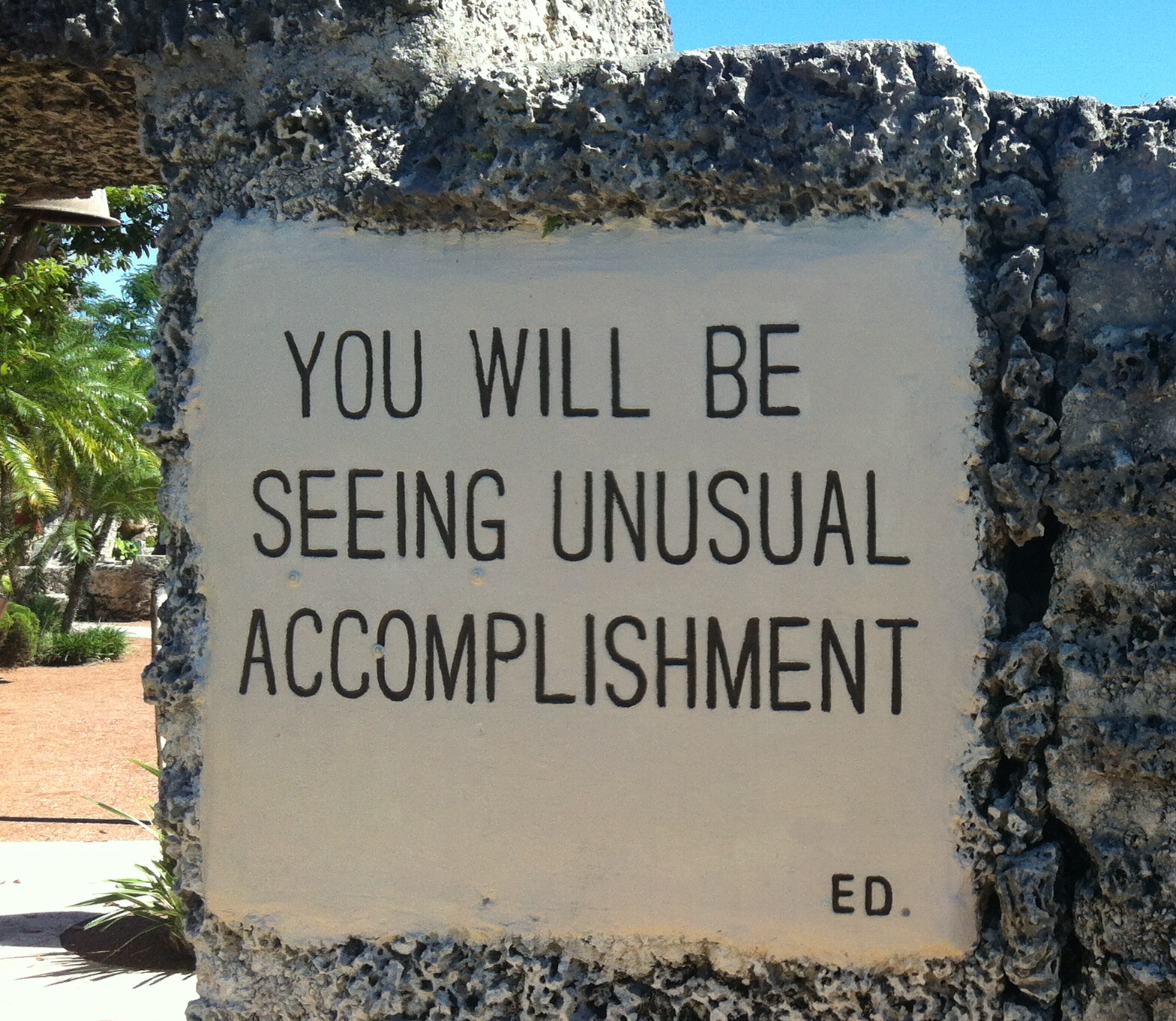 I had not imagined quite what an engineering feat this Coral Castle would be to look at, much less was I expecting something quite so spectacular and feeling-evoking.
First off, there are literally 'tons of rock'  having been moved here. I envisaged some sort of giant, but no. Edward Leedskalnin, who built Coral Castle, a Latvian immigrant, was a mere 5 foot tall and 100lbs light.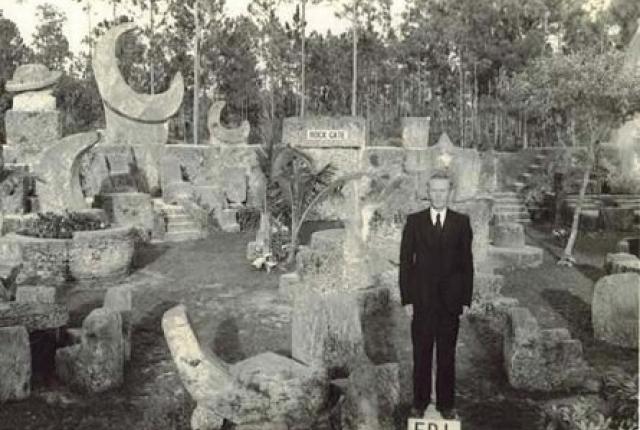 (Image credit: www.mentalfloss.com)
Edward came to the US in the early 20th century, and made his way down to Florida after working in other States, on recommendation of his doctor, who had advised him to move to a warmer climate on account of having contracted Tuberculosis. Turns out later that he didn't have Tuberculosis after all!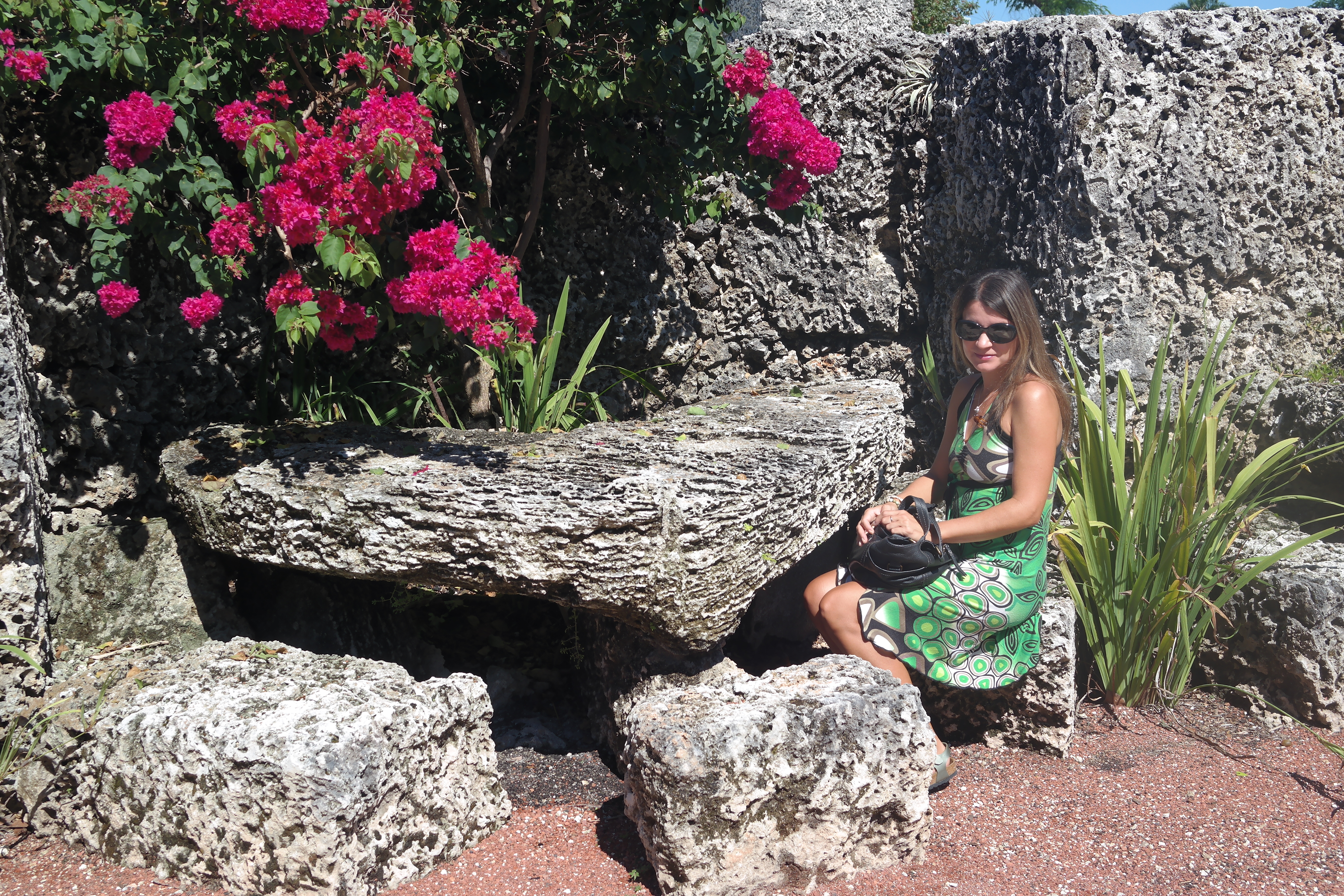 Table and Chairs
Poor Ed had left Latvia heartbroken after his bride, whom he called 'Sweet Sixteen', did not consent to marrying him. Legend has it that he carved Coral Castle from heartbreak, and some of the story certainly rings true when you see the bedroom carved out of stone, with the two marital beds and the little beds and chairs he made, alluding to two children he was hoping for. When asked why he built the Castle, he would not go into detail, but just say 'for my Sweet Sixteen'.
Incidentally, the song by Billy Idol, 'Sweet Sixteen' was inspired by Ed's story. Something I did not know and which moved me deeply, watch it here and see Ed in the opening part of the video.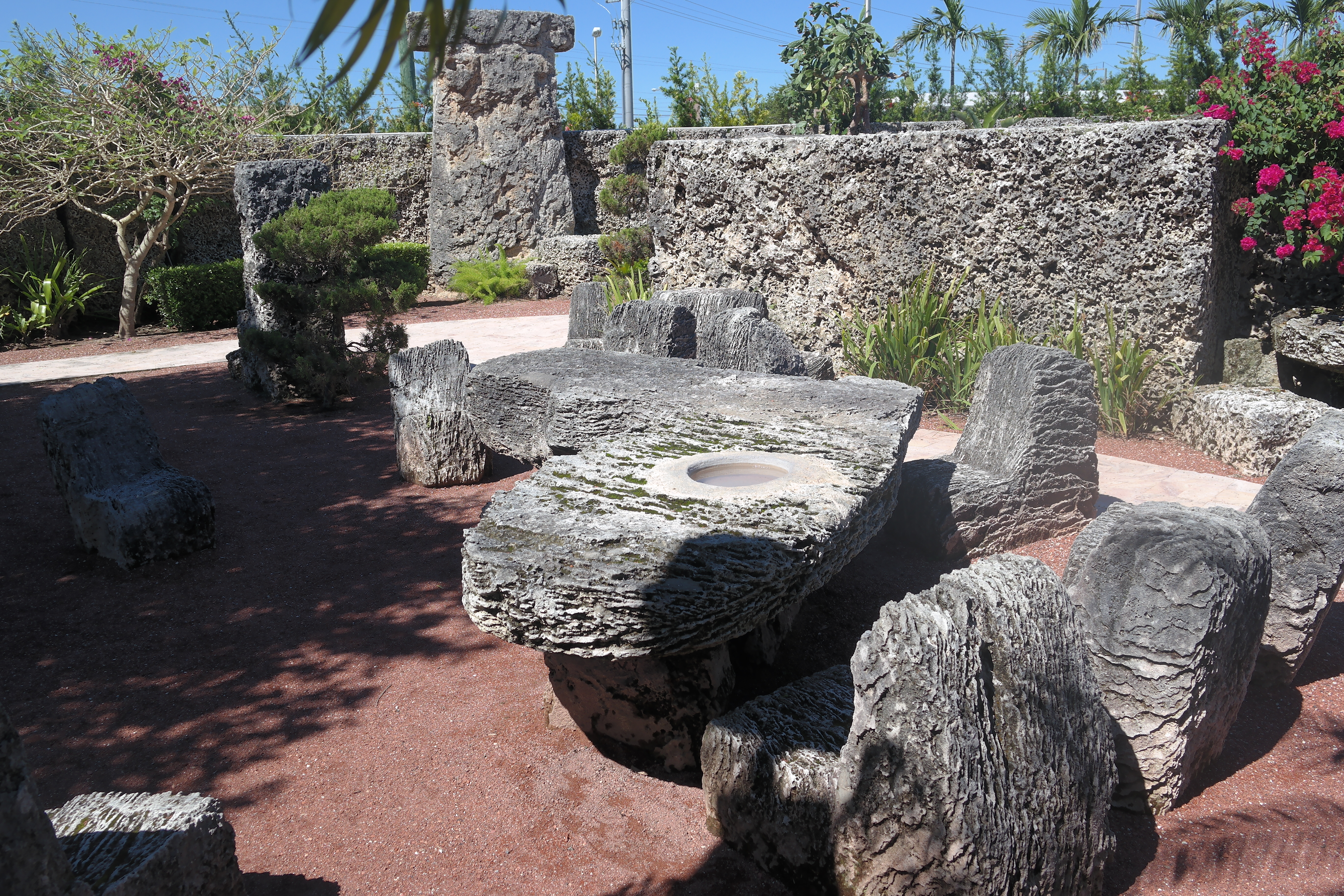 Florida Table
Ed spent 28 years building Coral Castle, and refused to let anyone watch him whilst he was working on it, apparently mostly working at night by candle light.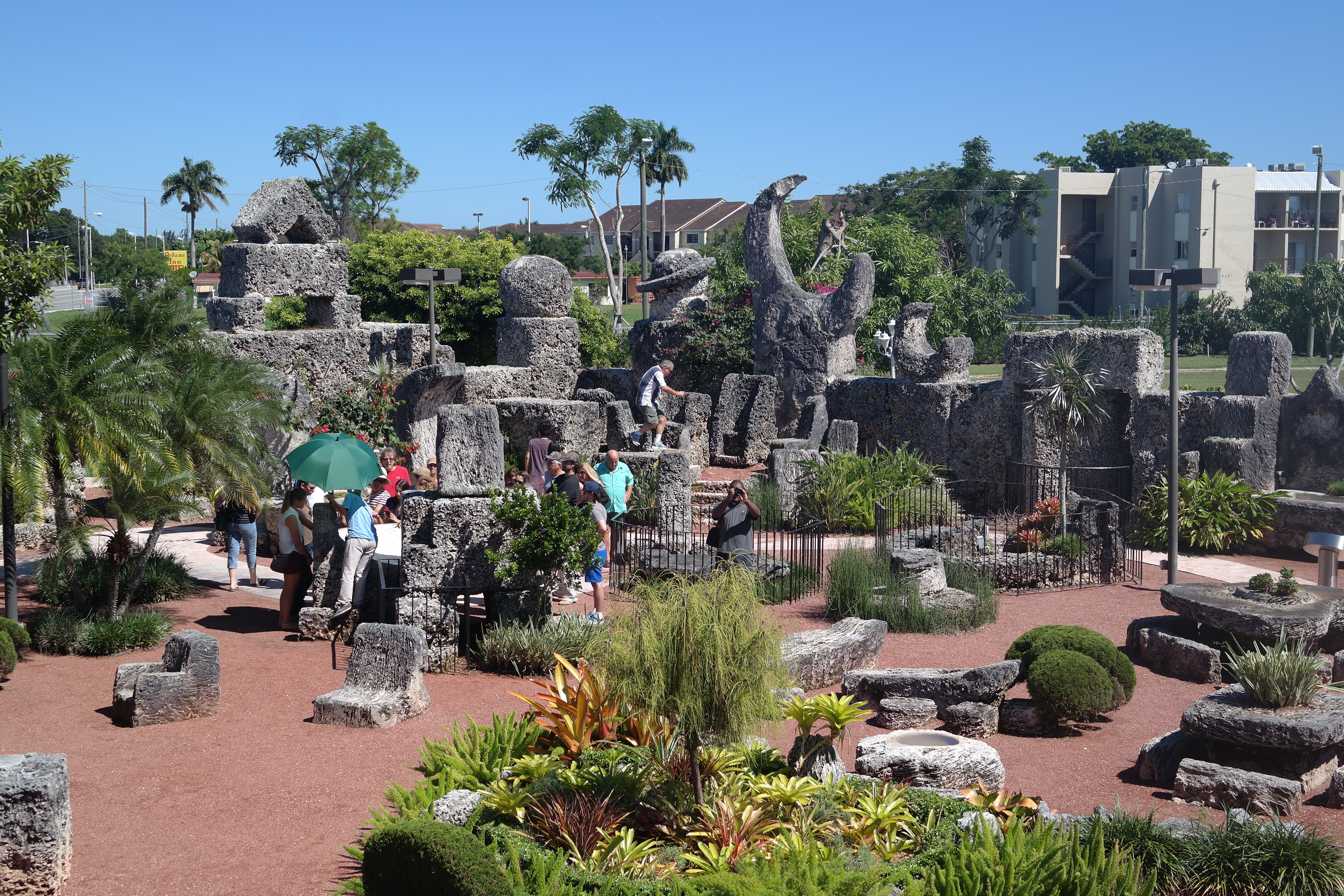 View Of Coral Castle From Entrance
The whole of 'Coral Castle' was built like a house furnished entirely of stone. Consequently, there are features such as a 'bedroom', with two beds and a bathroom adjacent (with a small little bathtub). The beds are surprisingly comfortable: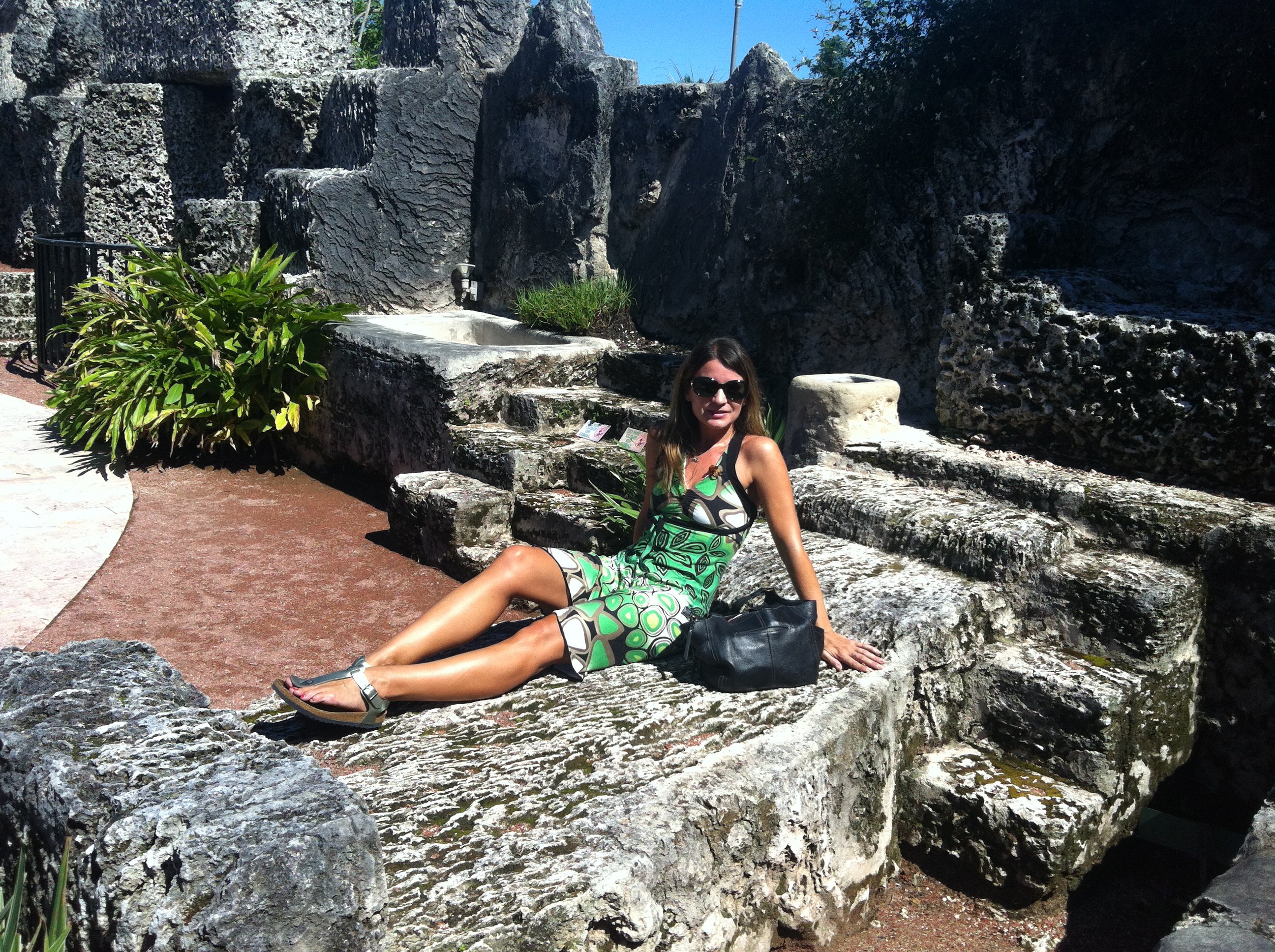 Comfy!
Furthermore, the mansion out of stone (with no roof), contains also: A throne room, big telescope, a table in the shape of Florida with chairs (spot Lake Okeechobee in the picture above) , a well, a 'love' table shaped like a heart, a fabulous sundial, reclined reading chairs and on and on. It truly is amazing what this man managed to do with stone.
The famous 9 ton gate, which pivots on a rod, rests on an old Ford truck gear, and fits only a quarter of an inch from the walls, as well as having been able to be turned by just one finger before it broke, still baffles engineers to this day, despite x-rays. Go see this place!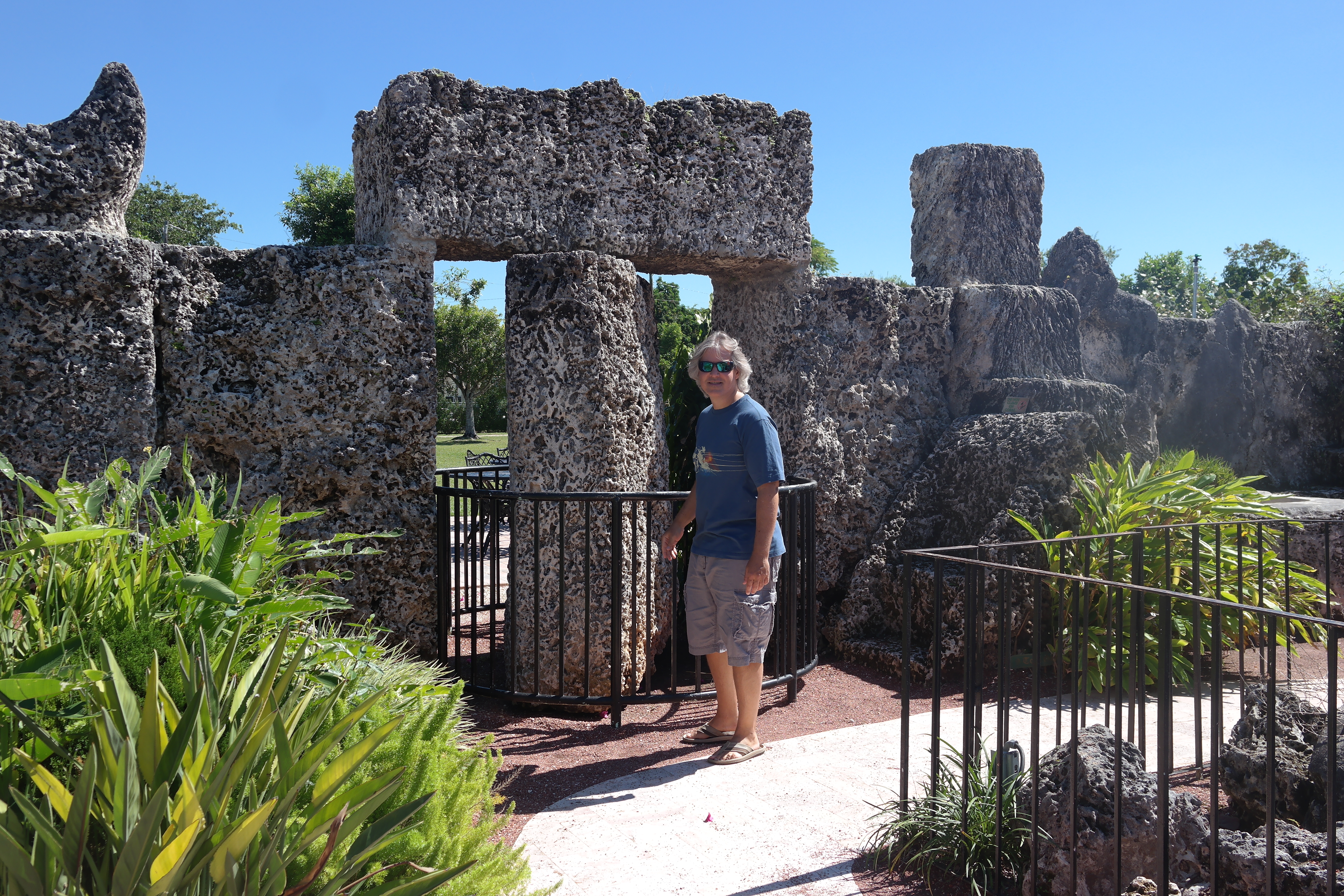 A Diversion To Redland, Florida
While you are in the area, take a trip down to Redland and look at that wonderful farmland area, where you see any or all of the following being farmed: citrus, mango, guava, avocado (the big Floridian variety), tomato, miracle fruit and even coffee, amongst other produce.
I loved seeing all this agricultural farmland here, where so much land consists of built up urban areas. Occasionally, you will pass a little stall with someone selling fruit and vegetables on the side of the road. I was in for a treat, or so I thought, as we were headed to Knaus Berry Farm  which supposedly has the world's best cinnamon sticky buns and milk-shakes.  A few weeks prior, we had learned that they are not open in the summertime. Bummer!
This time, being on a mission for the much praised 'sticky bun', we decided to call before venturing out there. The ominous response to our question 'are you open today?' was 'yes, come early', to which we paid way too little notice. Upon approaching the farm mid-day, there was a line, actually two (!) of biblical proportions with well-prepared people sporting coolers and umbrellas (to shelter from the sun). Oh no!!!
No sticky buns, as a two hour standing-in line was just not what we had planned for the day. So off we went to another farm to get some goodies, but I am sure you can take my – and everybody else's – word for it: their stuff must be worth lining up for – for hours! I would definitely 'come early' if you want to snatch a sticky bun and milk shake…
We did come back to Knaus Berry Farm eventually, you know?
The Famous And Delicious Sticky Buns were well worth coming back for.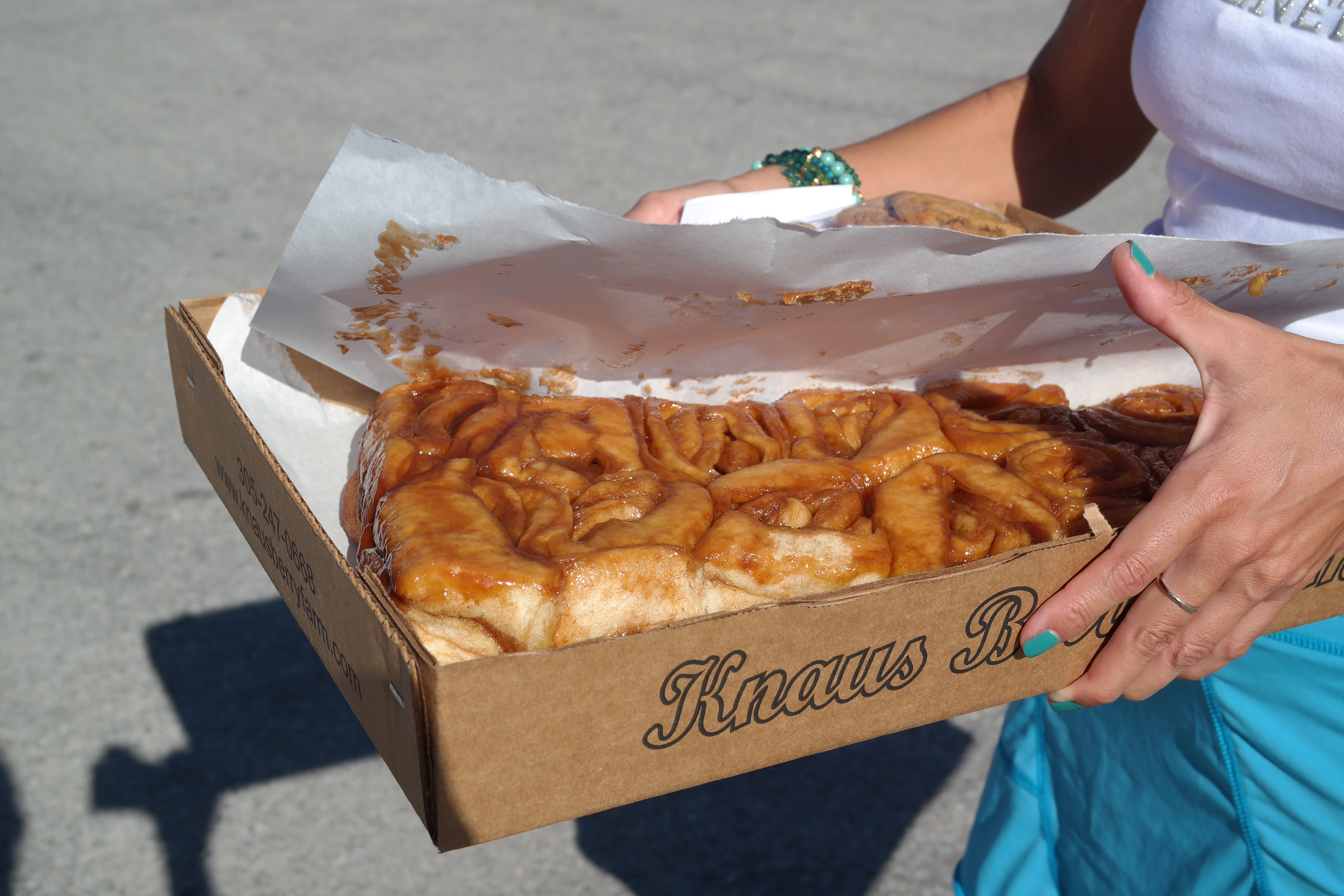 Yummy!