If you want to see 'old Florida' and century old Cypress tree canopies and the wildlife accompanying this unique habitat, then this is a great day out. Provided you don't mind a little exercise and possibly getting wet!
The Loxahatchee river (Seminole for 'turtle river') paddling trail is about 8 miles long and a designated 'National Wild and Scenic River', one of only two in the entire state of Florida. The actual Loxahatchee river in total is about twice that length, with its source  in Riverbend park. There,  you have various options to kayak the river, with help of a company (Canoe Outfitters of Florida),  which is offering canoe and kayak rental, as well as return transportation, depending on which route you choose.
There are three different kayaking options available depending on your physical strength and on how adventurous you are.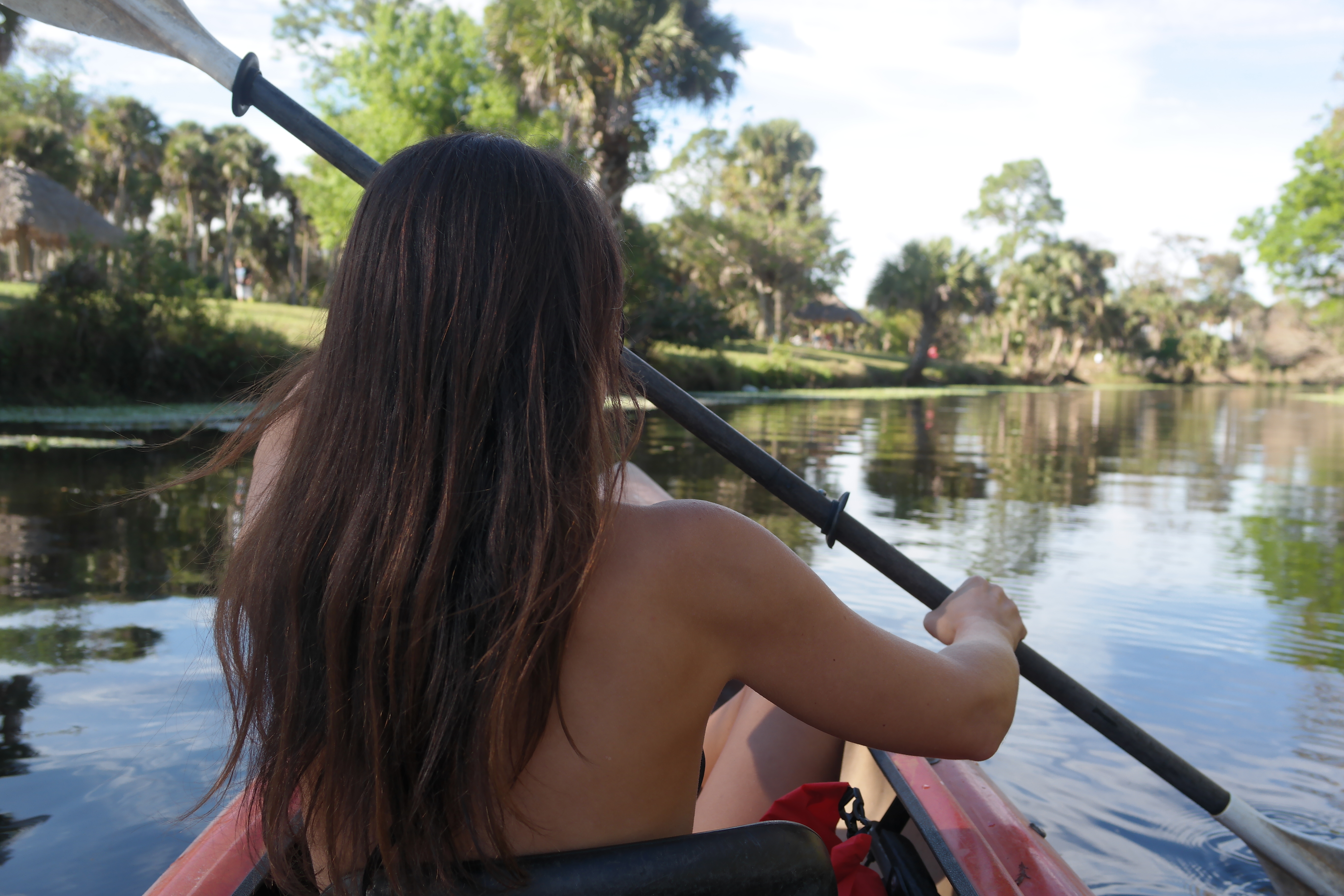 The 'Easy' Paddle Part
Cypress Canopy Paddle
We decided to do the Cypress Canopy trip, a moderate to difficult paddle, depending on the water height. Here is the write up from Canoe Outfitters:
'The Cypress Canopy trip covers the upper section of the Loxahatchee River. It's one trip you don't want to miss!
Your adventure starts at the launch near Canoe Outfitters at Riverbend Park. You can rent a canoe or kayak. It's a fun place to explore and see how many different kinds of animals you can spot. On every other turn you might see an alligator, turtle, bird or raccoon. Owls, egrets, heron, osprey, limpkin and kingfisher all call this river home.
As you leave the canoe launch you'll head downstream on the tea-colored Loxahatchee River and into the cypress swamp. The swamp gets it name from a type of tree that's commonly found here – yup, it's a cypress. A "Bald Cypress" to be exact. Not only is it bald, but it has bony "knees" that grow from the roots and stick up out of the water. You'll also see lots of other types of tropical and sub-tropical foliage, such as Leather Ferns, Wax Myrtle and Pond Apple trees. Best of all, the cypress swamp provides shade from the hot Florida sun.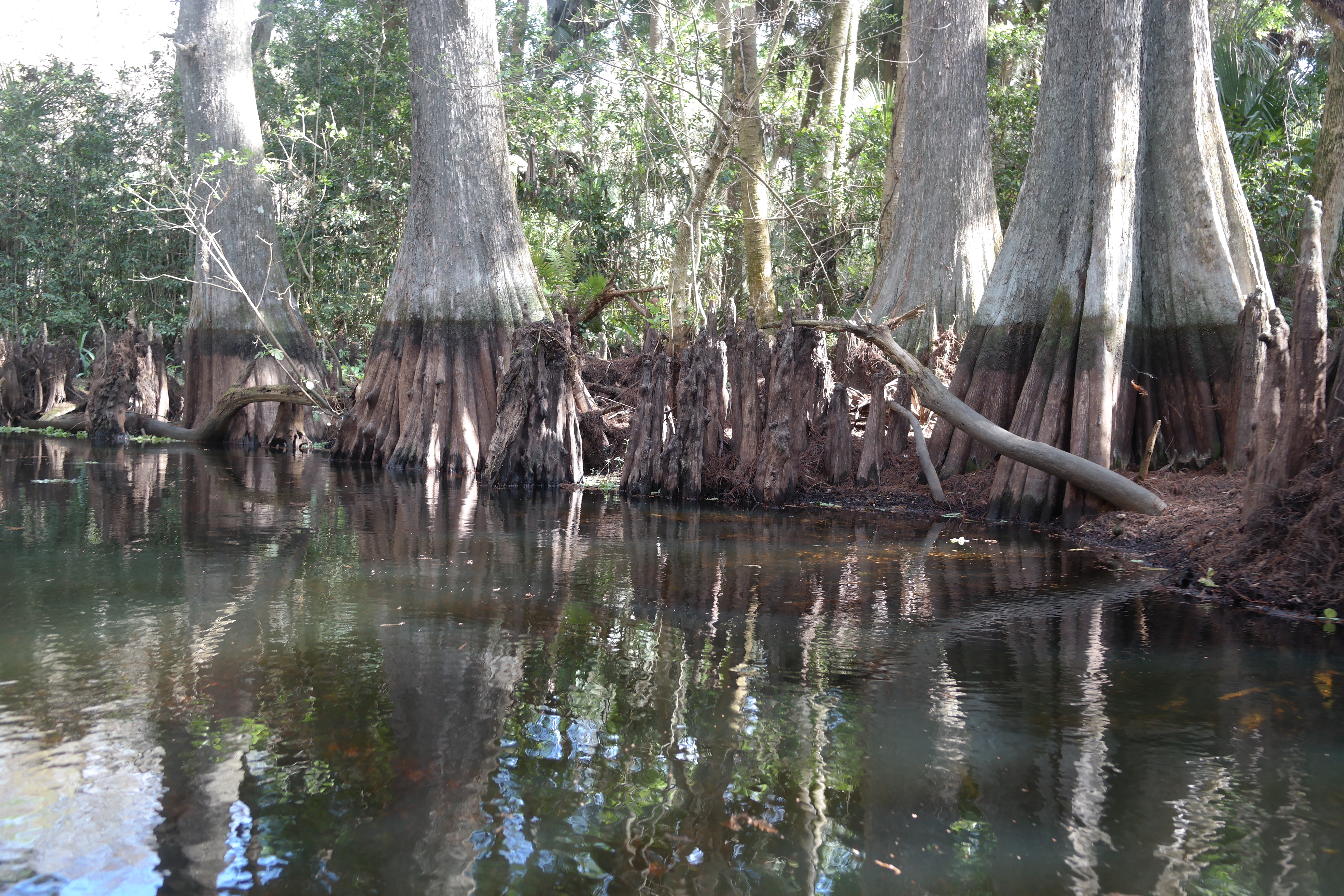 Cypress Trees
Paddling the River
The round trip takes about three to four hours, depending on how much time you like to take to explore and enjoy the surroundings.
On this paddle, you will either have a little 'white water' experience, or have to lift the canoe/kayak up and over the dams and walkways. This trip has two dams. Here you see us lifting the kayak over the first dam, we had very low water, so there wasn't much of an option to do otherwise.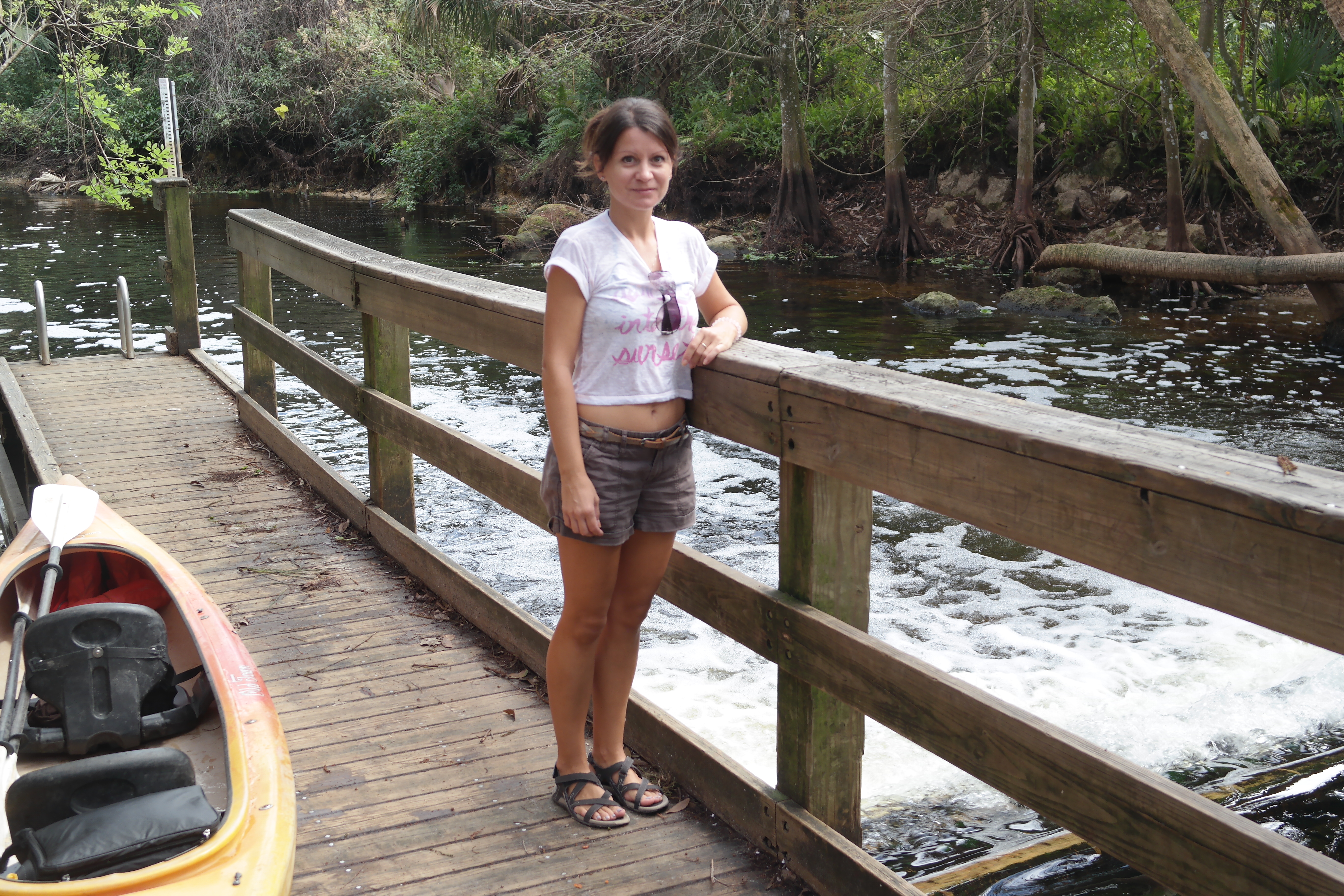 Lainhart Dam
We could just about have kayaked over the Lainhart Dam (first dam you will come across), but the second dam, Masten Dam, was impassable due to low water. I can see this one being a little hair-raising to paddle over,  even with a higher water table, but apparently some do!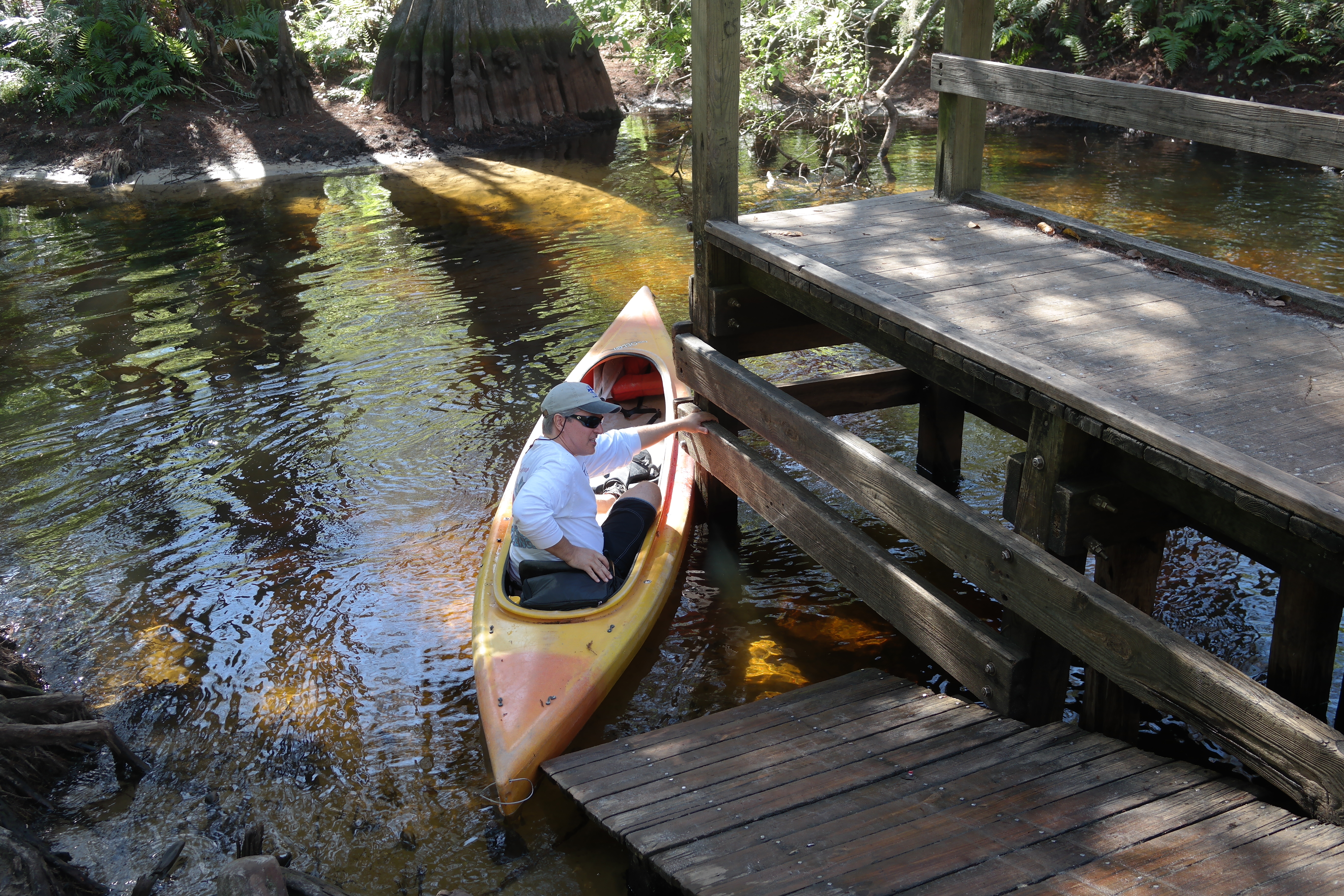 Masten Dam Approach
There, at the Masten Dam, it is possible to rest a little and have a picnic, and there is also a little trail leading to a more open area with a restroom. There was a sizeable Gopher Tortoise burrow with the owner sitting outside, close to the restroom and right next to the trash can. Coincidence? Probably not! I hate to think what this tortoise's diet consisted of, mind you, he/she looked pretty healthy and was definitely very speedy reversing back into the burrow when I got too close!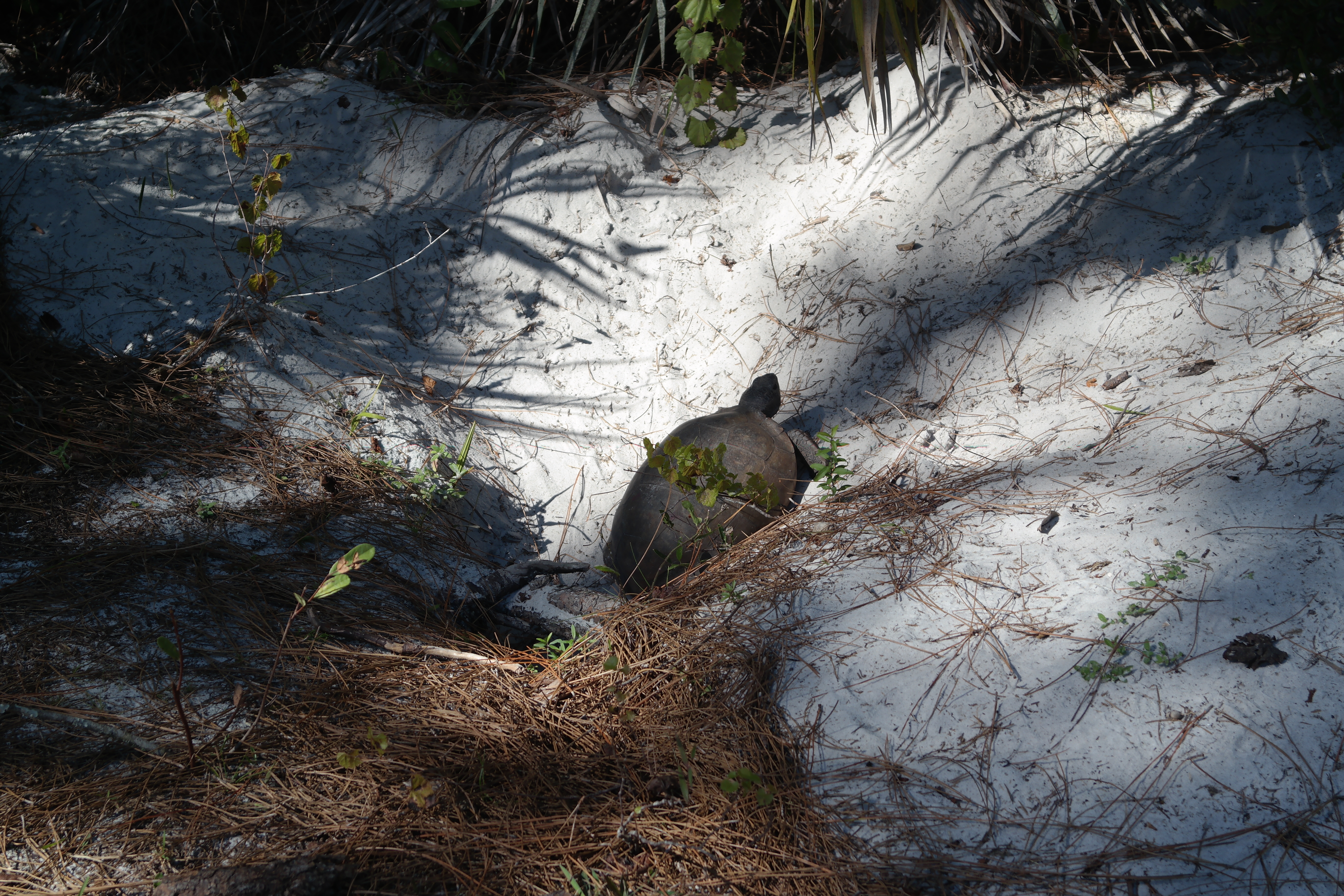 Gopher Tortoise
Also, beware of the upstream paddle, as you will be fighting the river flow. It is not too difficult but can be strenuous in some parts where the water is faster-flowing, and some tree roots and tree trunks make passing these parts difficult, especially at lower water such as we had at the time. No pictures of those parts, I was too busy paddling!
The whole trip provided a lot of fun and we even saw some wildlife, despite the many people who were out with canoes and kayaks. Gators, turtles, birds and water critters, even a snake, lined our paths. Incidentally, you will find out just why the Indians named it 'Loxahatchee', river of turtles: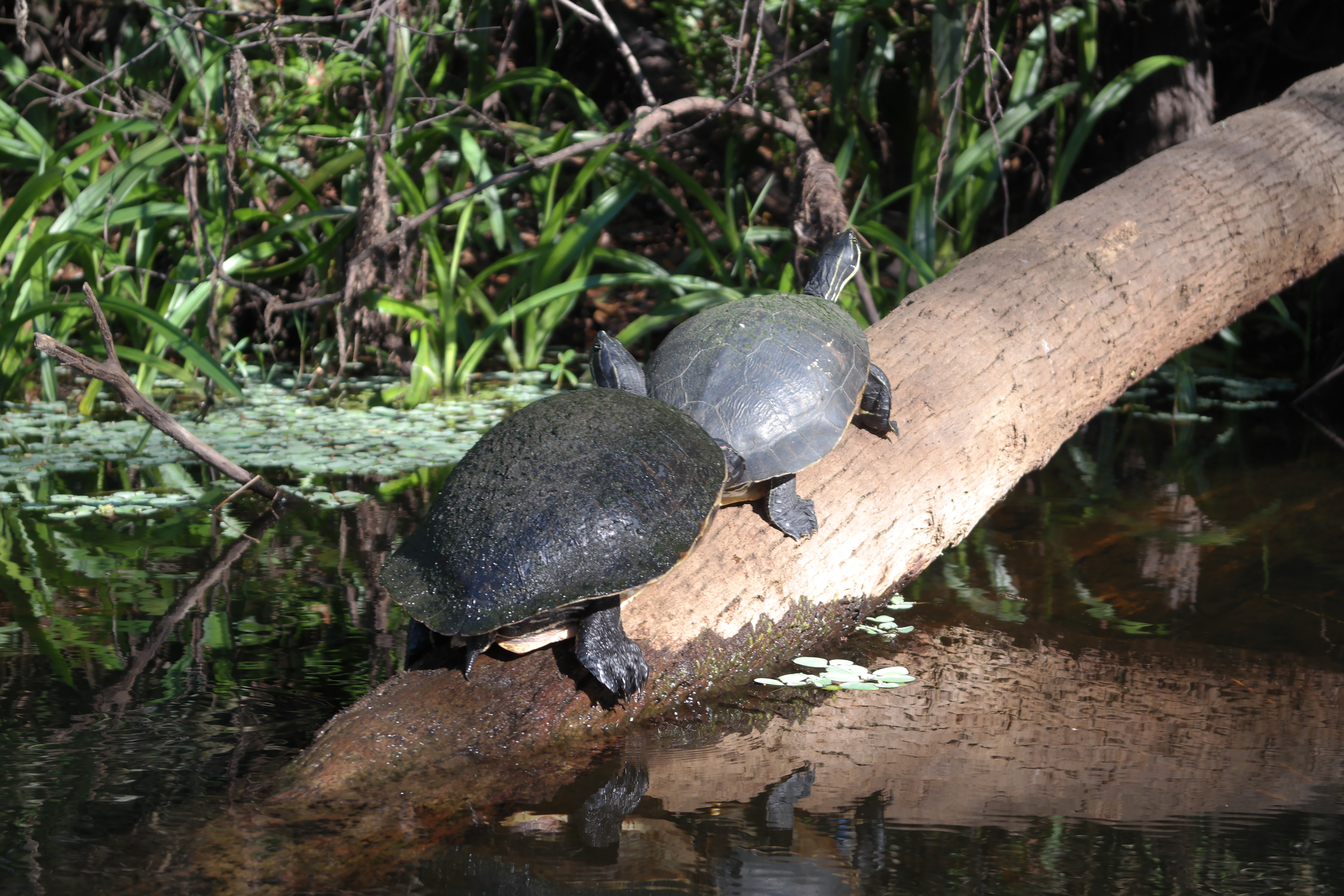 Turtles Everywhere!
Other Paddle Trip Options
Apart from the Cypress Canopy paddle, you have two other options available at Riverbend Park. One is an easier and shorter paddle that takes you through Riverbend park and the picnic loop (a park with picnic shelters), and further along into West Lake, South Pond and Little Pond. Alltogether 5.5 miles and 2-3 hours' paddling time.  Along there, you can see gators, as well as, apparently, wild turkey and otters in addition to the many birds.
The last but by no means least option is the more strenuous and longer trip all the way out to Jonathan Dickinson State Park with return transportation provided by Canoe Outfitters. The trip is 8.5 miles and return transportation is provided at Jonathan Dickinson State Park at 4pm. This is great fun, an all day excursion and an informative stop at Trapper Nelson's!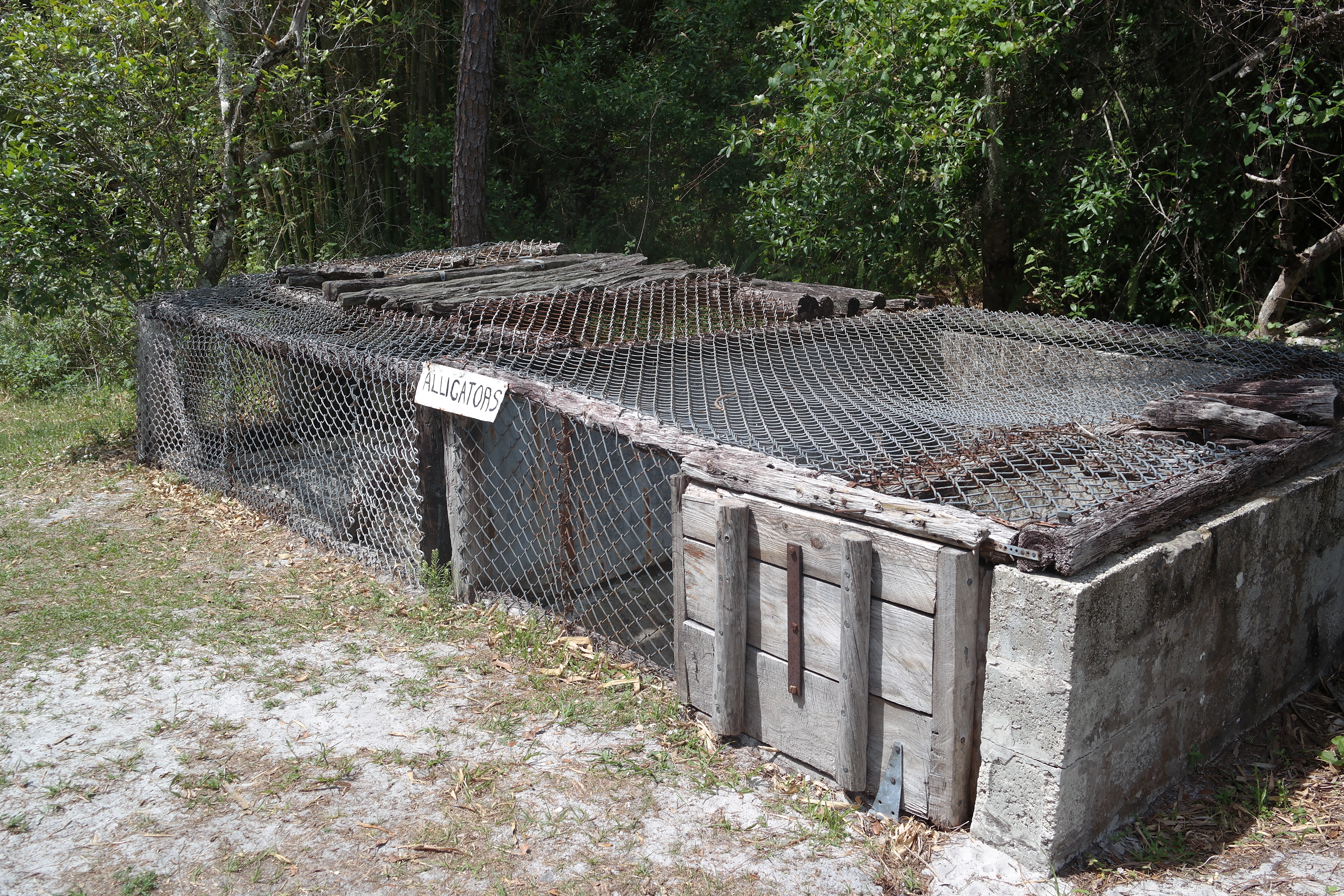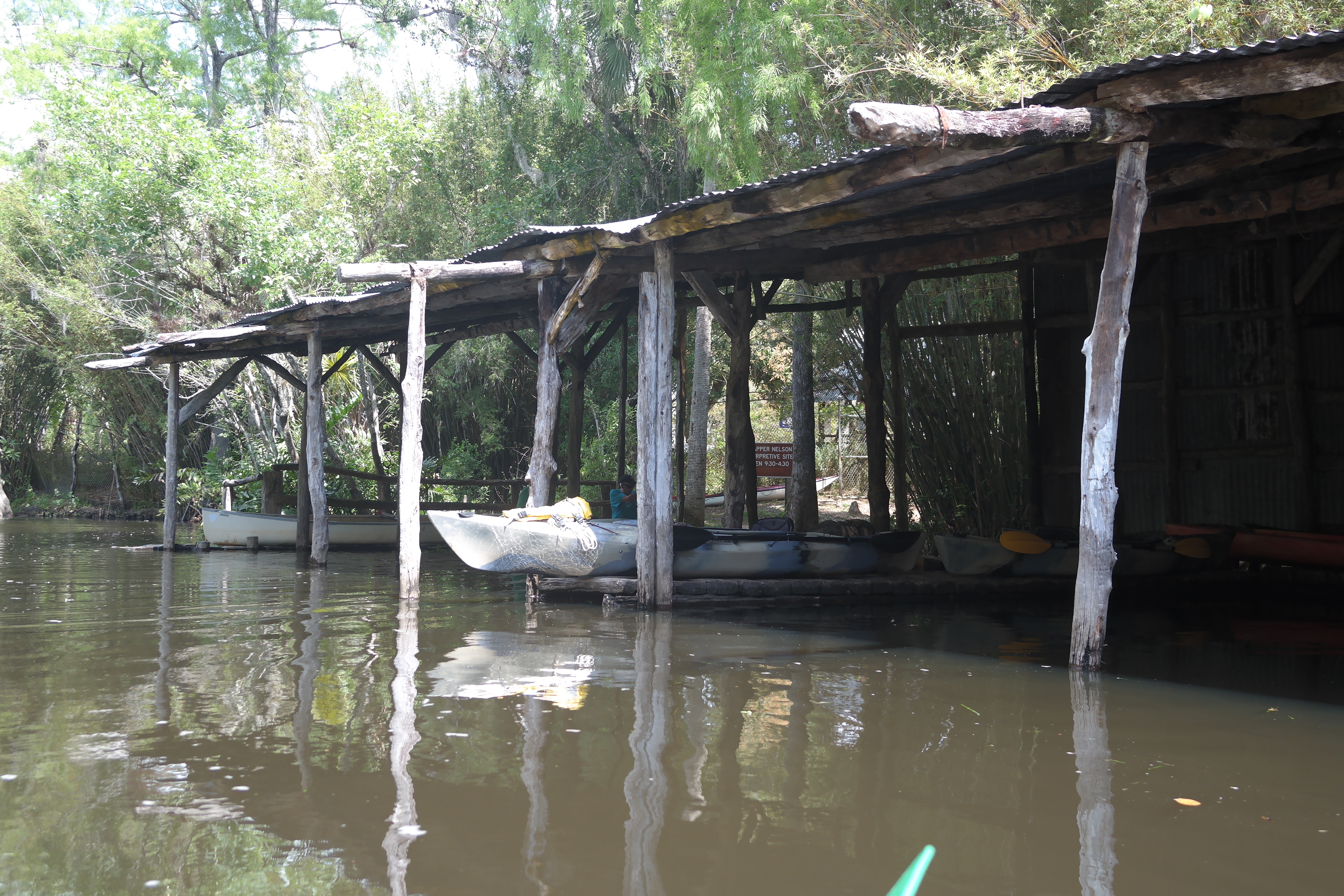 You will pass Trapper Nelson's cabin and the area where he lived and had his animal exhibits for the public from 1930 to 1968. A local celebrity, he died of a gunshot wound and nobody can give a conclusive story as to how his death came about. After his death, the State acquired the lands and preserved the area for future  generations.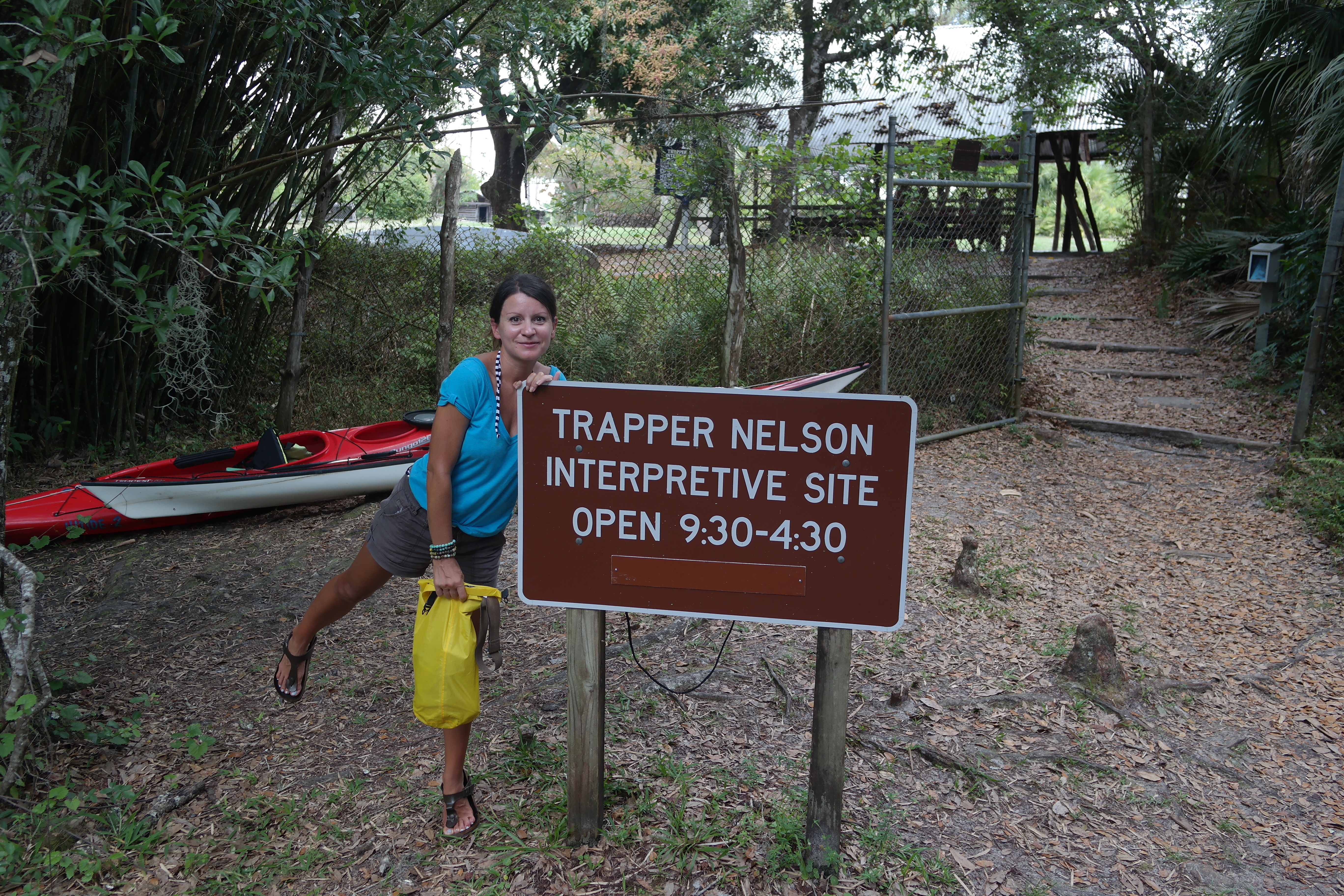 This trip was exhausting but a lot of fun, and return transportation was perfect! I love it when I don't have to paddle the same way back that I came on.
The Verdict
Kayaking the Loxahatchee river is magical and there are paddles for people of all abilities and ages, It's a great place to come back to again and again. I know I will!