Sometimes you just stumble over a gem by accident. This is exactly what happened when we decided to stop for a 'little look' at Myakka River State Park, on a trip up the west coast of Florida last year.
Myakka River State Park is located about nine miles east of I-75 in Sarasota in Sarasota County. When we got there, we were stunned by the beauty of the Myakka river and the wildlife. Within the first five minutes into Myakka River State Park, the wildlife observed was ample: Roseate Spoonbills, Alligators, Herons and Birds of Prey were seemingly everywhere waiting to be admired and photographed!
We also heard from one of the friendly and knowledgeable volunteers about the existence of a gator hole, and a 'Wilderness Preserve' area, which is only accessible by permit,  wherein the deep hole was located. In and around this deep hole, many alligators and other wildlife collect. The decision was made: we had to return another time to see this! A few months later, we were back!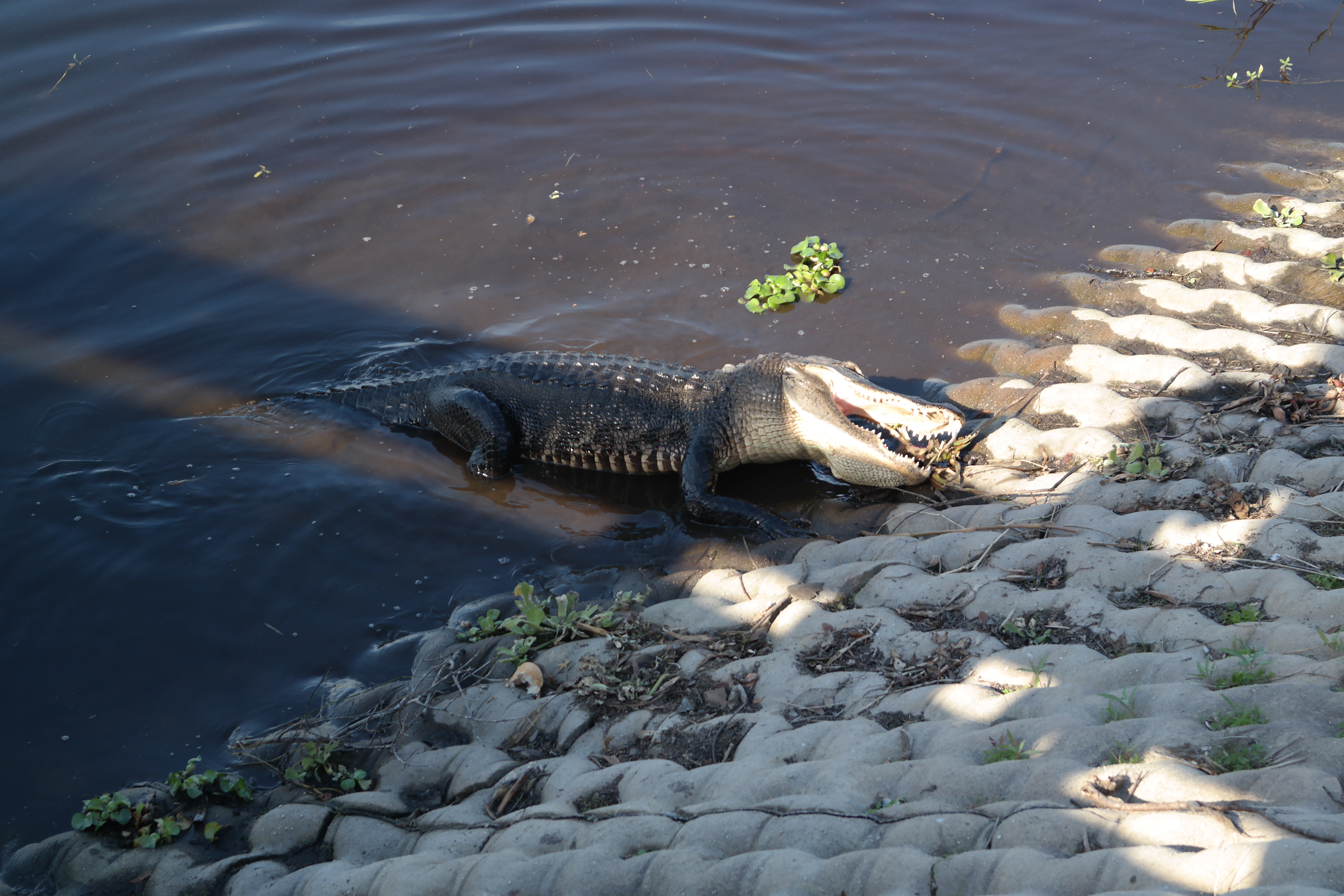 A Hungry Alligator On The Banks Of The Myakka River
The decision was made to overnight in Sarasota and getting up at an ungodly hour to be outside the park before 8am, as there are only 30 permits per day available for the preserve.  On weekends, therefore, I would recommend you get there by the time the park opens.
First, however, we got to sample a wonderful west coast sunset and a lovely meal at Siesta Key, Sarasota: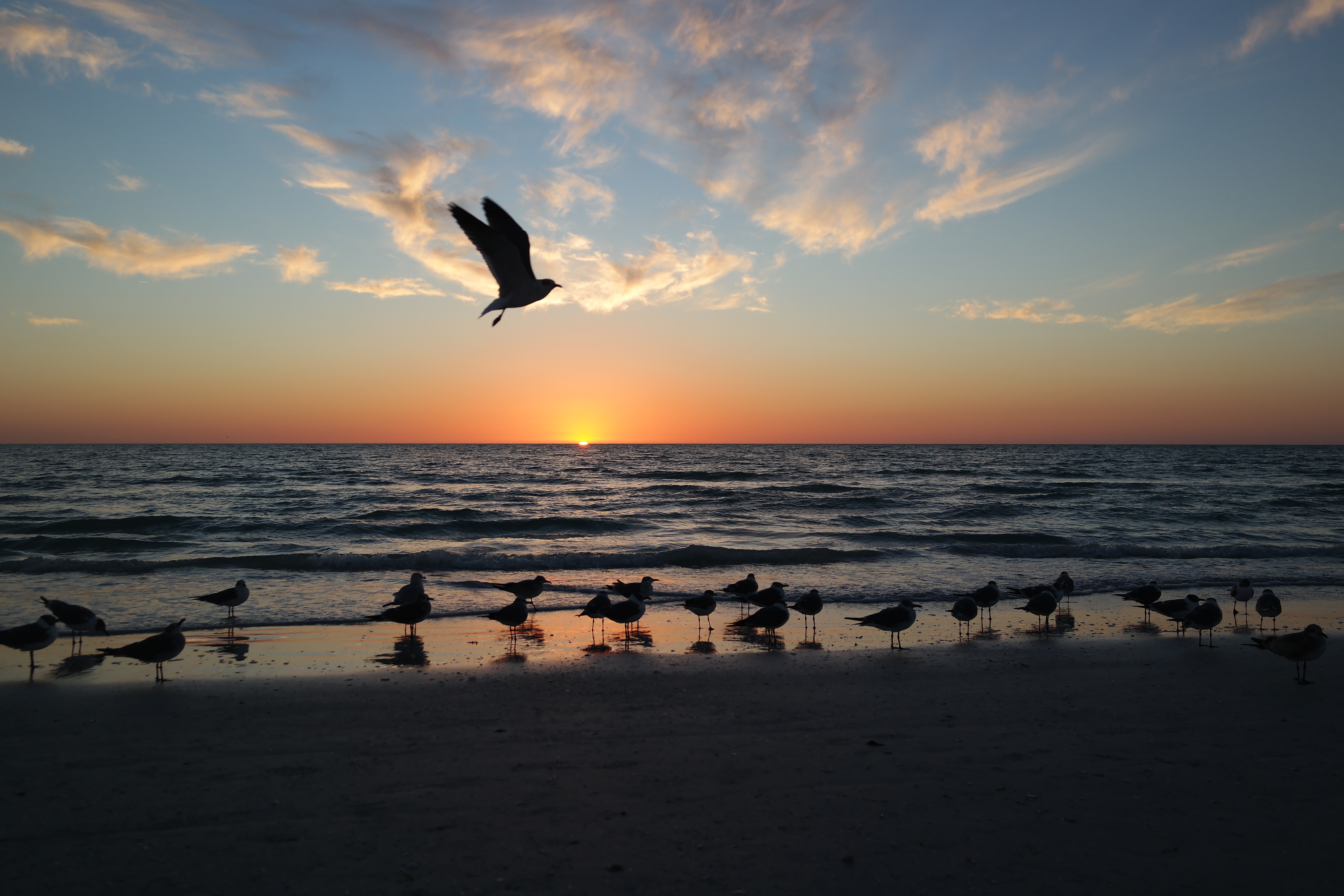 Beautiful Beach Sunset

Myakka River State Park
Myakka River State Park is reportedly one of the oldest and largest State Parks in Florida.  Here is what the Florida State Parks website has to say about Myakka River State Park:
'The Myakka River, designated as a Florida Wild and Scenic River, flows through 58 square miles of wetlands, prairies, hammocks, and pinelands. Visitors can enjoy wildlife viewing from a boardwalk that stretches out over the Upper Myakka Lake, then take to the treetops with a stroll along the canopy walkway. The park´s river and two lakes provide ample opportunities for boating, freshwater fishing, canoeing, and kayaking; a boat ramp provides access to Upper Myakka Lake. Hikers can explore trails that cross large expanses of rare Florida dry prairie. '
There are plenty of things to do and see even if you do not want to get the special permit. You can enjoy large portions of the park, hike, bike and for those who have mobility problems, you can even just go for a nice drive in the park. You can also make use of the boat tours offered on the north lake, with plenty of wildlife to be encountered including Alligators.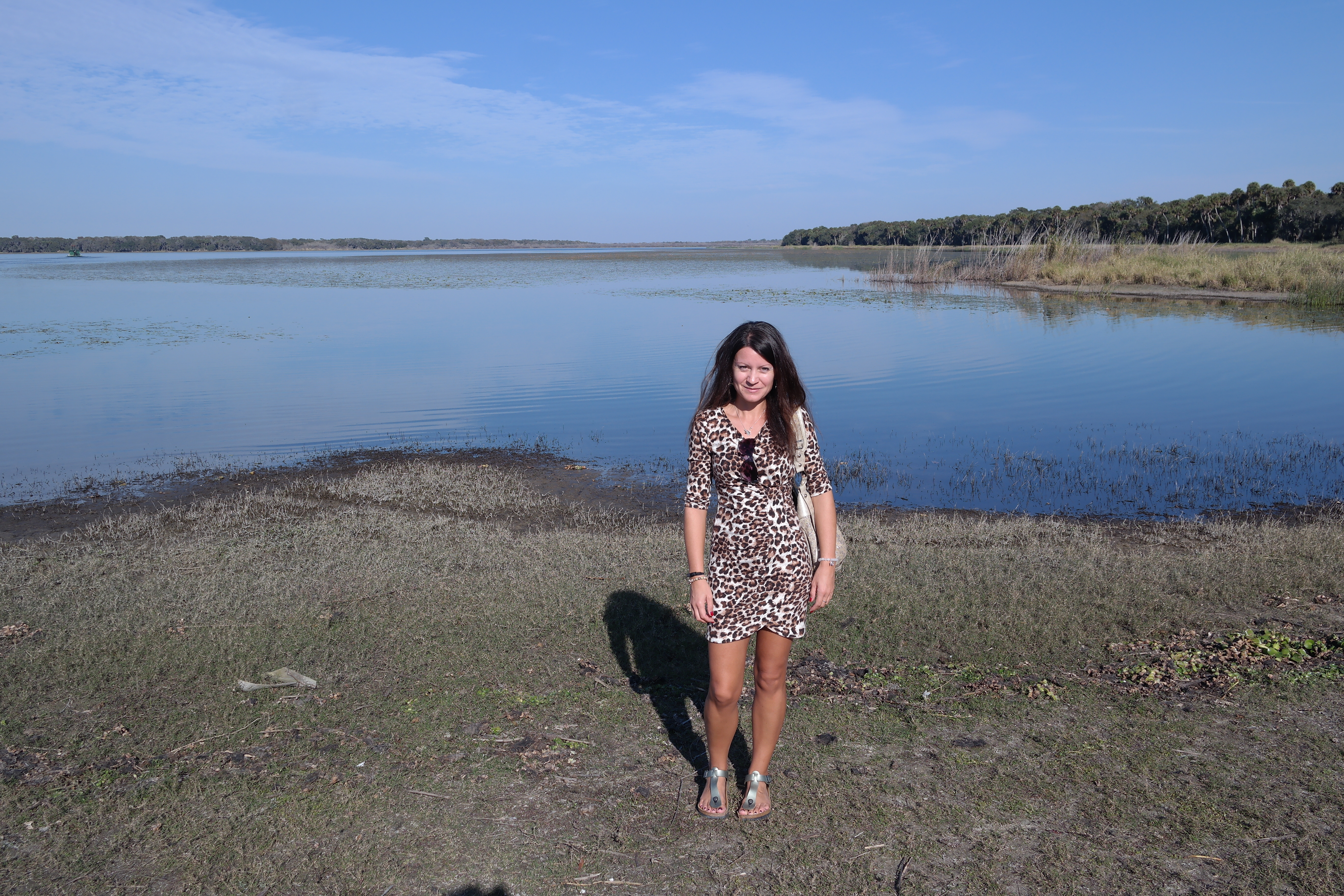 Previous 'Drive-By'
Myakka Wilderness Preserve And Deep Hole
This time, however, we wanted to really get deep into the wilderness of all that Myakka had on offer, which started the adventure at 7:45am, at the park (SR72 entrance), waiting eagerly for the gate to open. We were all geared out with the canoe, safety gear, supplies, adequate clothing and a GPS (useful!). Yes, we were the first, but we probably had come the longest way and were the most excited visitors that day. There was no way we were going to miss out on the permit!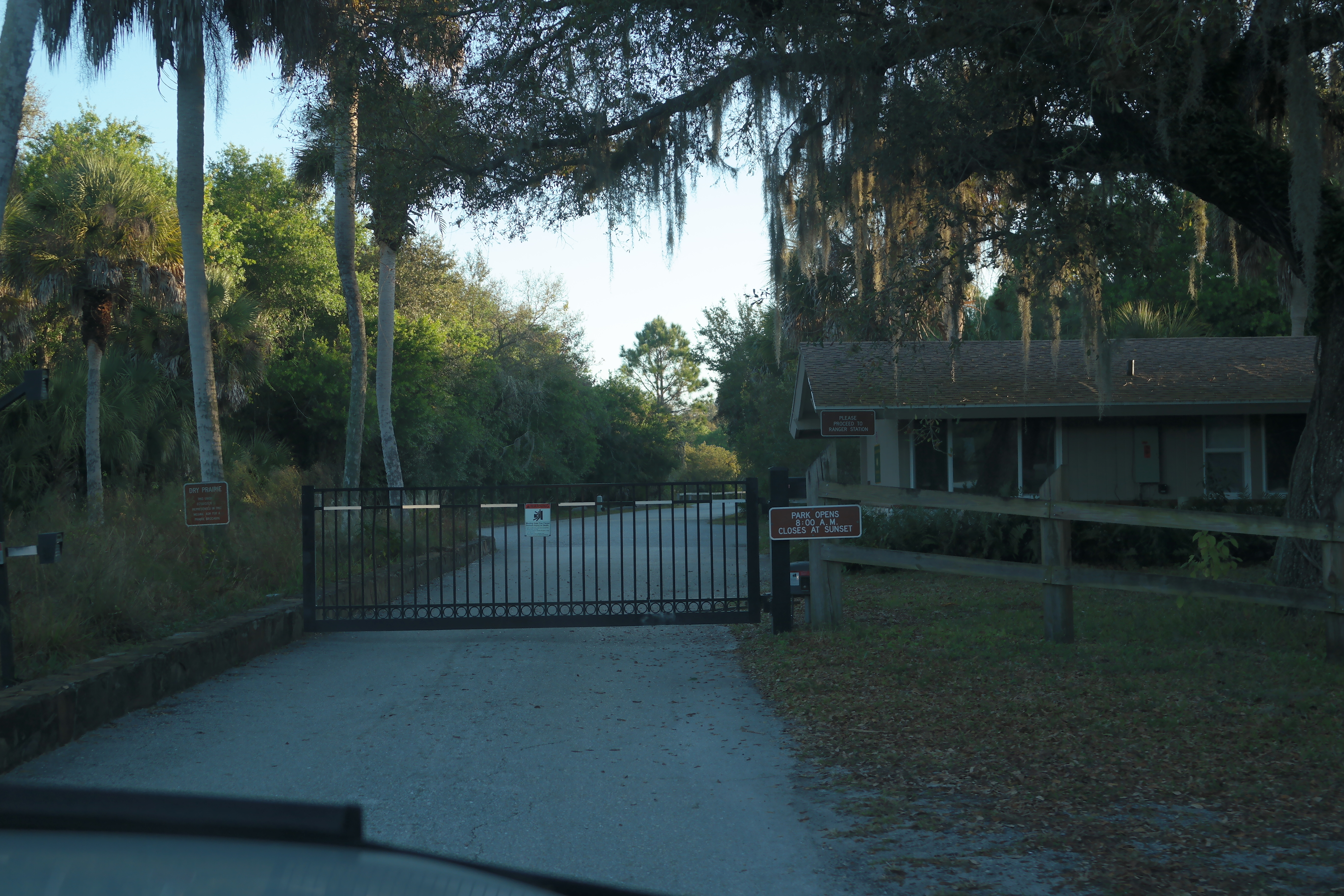 Waiting Excitedly!
After signing the permit we headed out totally stoked and with no idea of what to expect, thinking it would be a leisurely paddle down to the deep hole. We launched from a little launch area on the right hand side next to the first bridge going over Myakka river.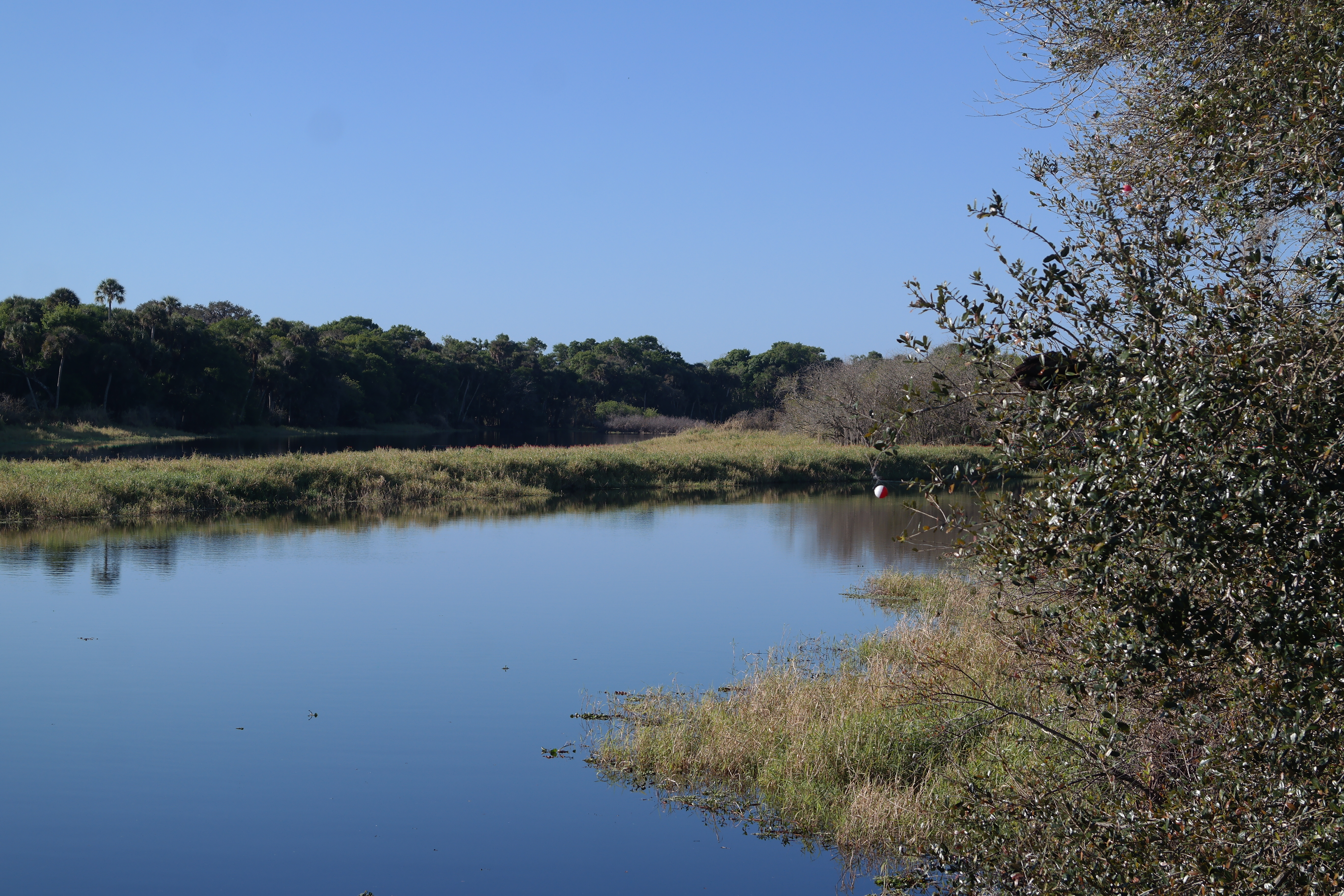 Launching The Canoe
Well, we realized quickly, after a couple of miles paddling and glancing at the GPS, that this would be a much longer trip than we had expected! We also felt grateful for having had such an early start.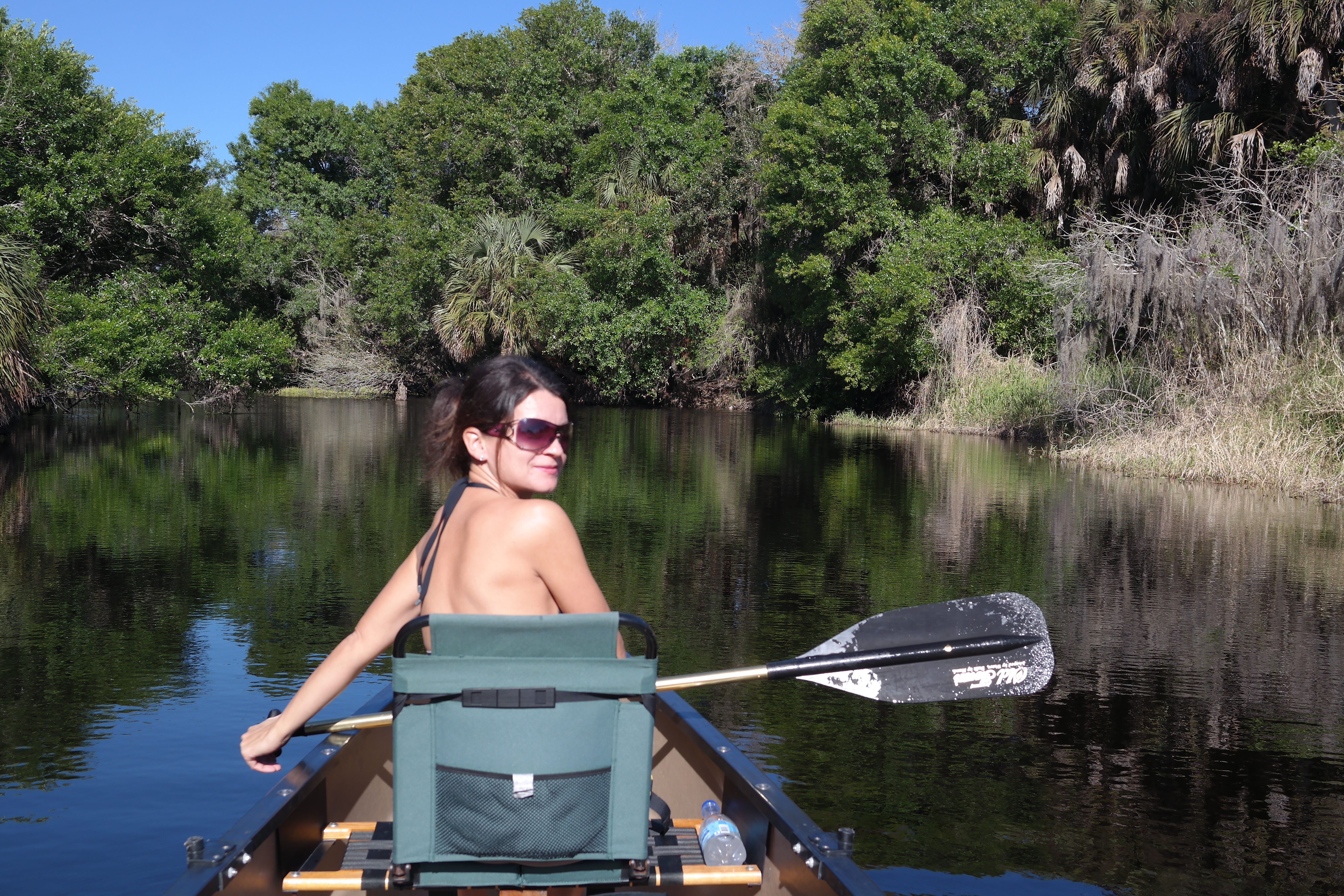 At first, the paddling is easy and pleasant with the most gorgeous 'Old Florida' vistas, through a shady tree lined area with the river being relatively wide and easy to maneuver. It is also downstream, making the paddle relatively effortless.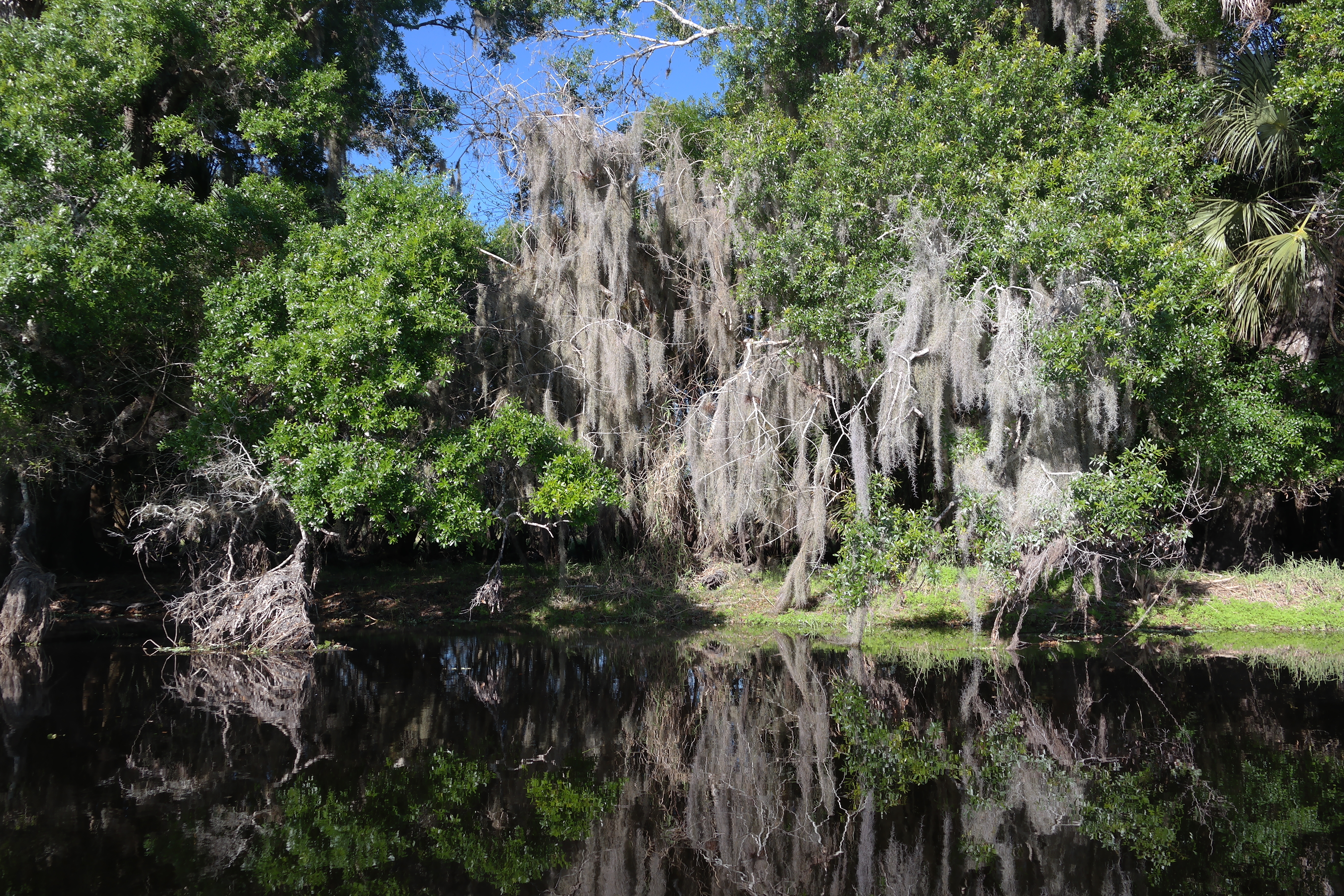 Stunning Vistas
Then, after a few miles still going downstream, the river narrows considerably, and is flanked by grassy banks on either side, on which – you guessed it  – Alligators of all sizes like to hang out and bask.
If you are in any way faint-hearted about this, or not a reasonably fit and experienced paddler, I would perhaps recommend to hike the trail to the deep hole. The hiking trail is considered easy, and takes you through open grassland. On land, you can choose just how close you want to get  to those scaly creatures. If you get too close for their liking, they will quickly disappear into the water. Alligators have a natural fear of humans and prefer to stay out of our way. As long as you don't get too close to them, there is nothing to fear.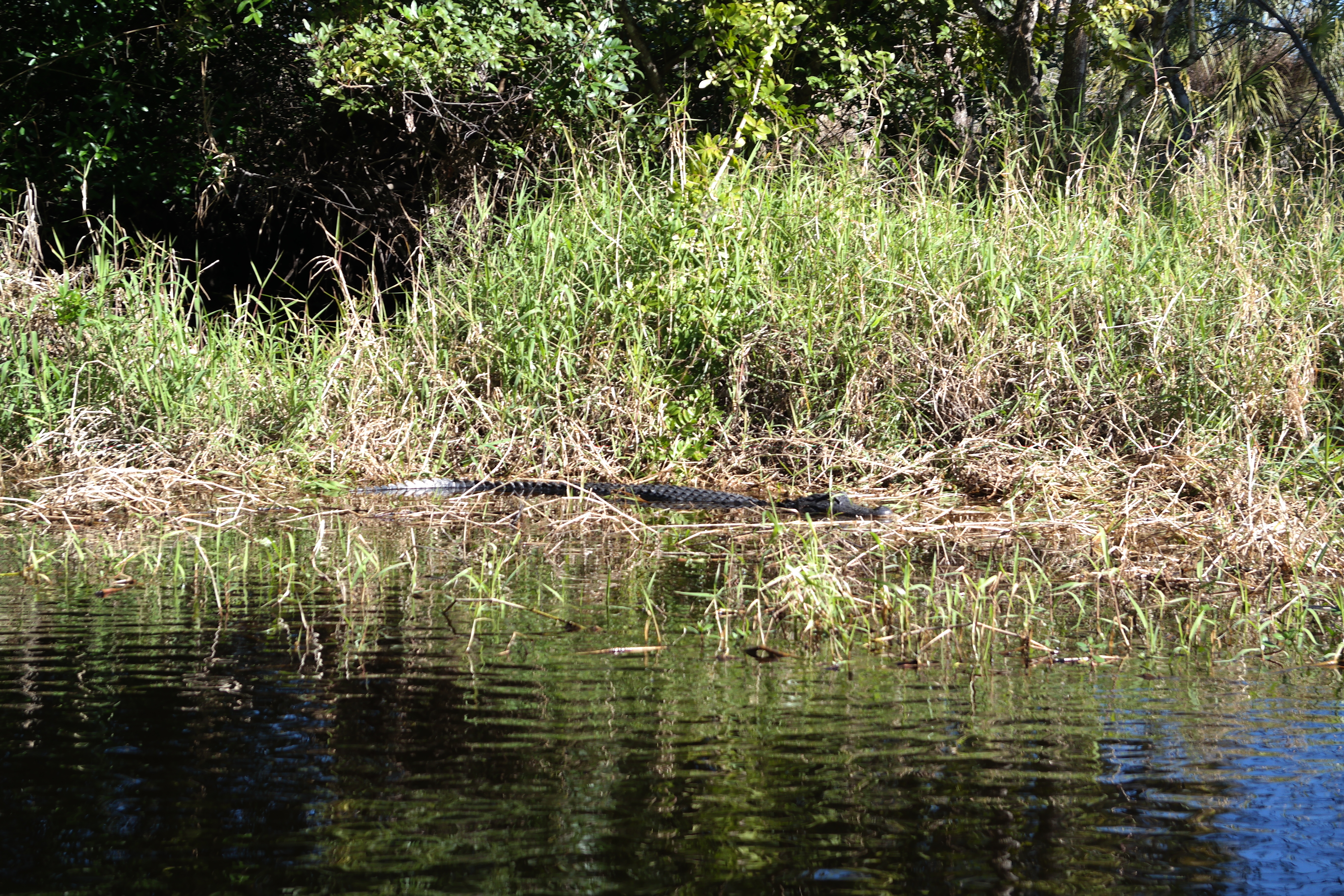 As the river narrowed, we started to get pushed around a little by the current, in our large, heavy and not very easily maneuverable canoe. I did think at this point that the trip might have been easier in a kayak!
The current and a few bends in addition to the heavy canoe meant we occasionally were pushed a little too close to the banks which got us eye to eye with a few gators, some of whom were on the big side! Although I am totally cognizant of the fact, as I have seen it many times, that Alligators will move out of our way, I can't deny a little element of trepidation at gazing into those amber eyes close-up!
Usually this 'meeting' was followed by the Alligator thrashing into the water in an effort to get away from us as quickly as possible. It's fairly safe to say they will not bother you if you do not bother them, but be aware of the fact that there might be some unintended close encounters, which might startle you as much as it will startle them.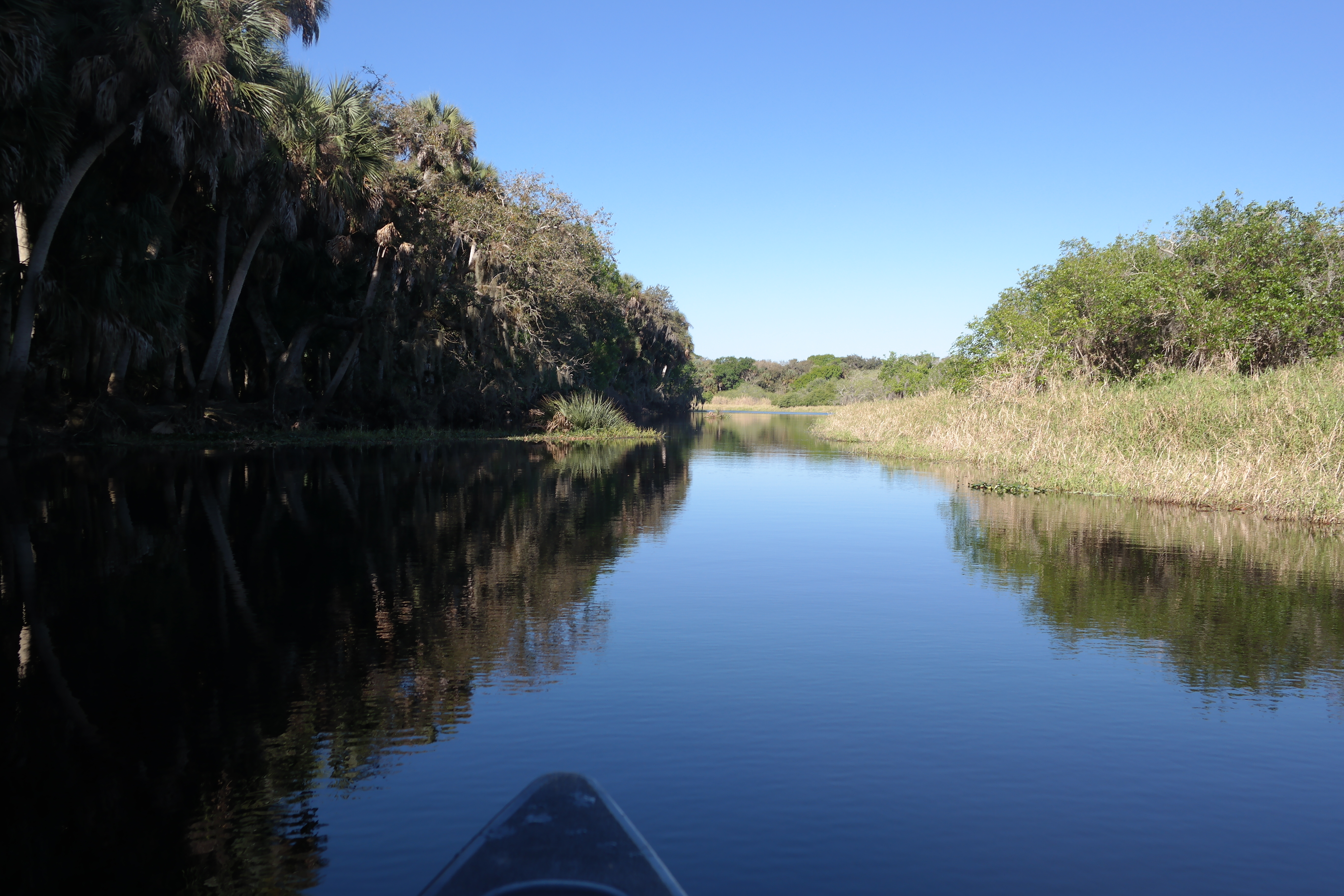 I am unaware of any accidents having ever happened here, as on the whole the creatures are peacefully going about their daily life. It did add a little spice to the trip and elicited a few shrieks from yours truly, when I suddenly stared into a scaly face about 5 foot away from me!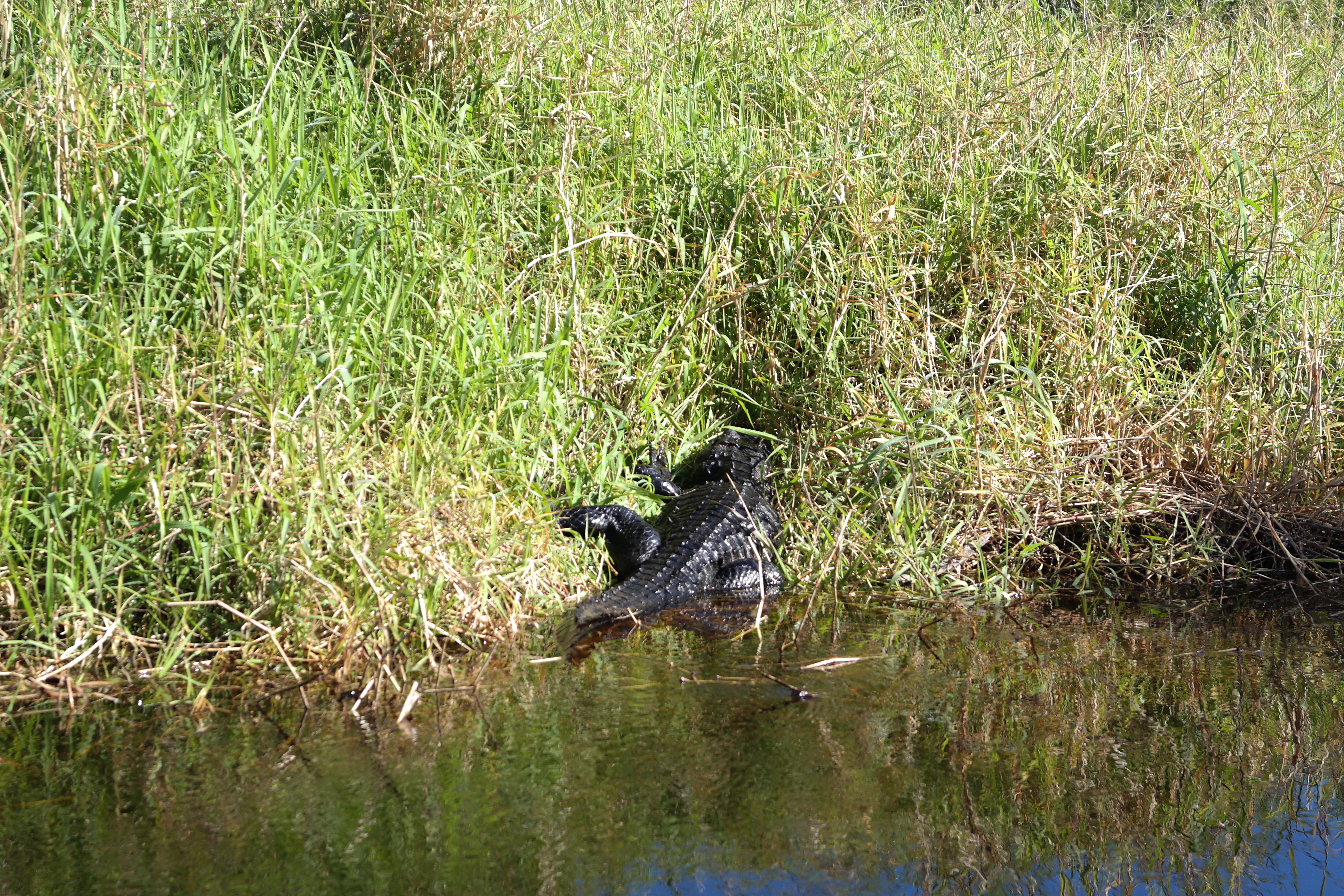 Peaceful Sun Worshipper
Then, as we moved closer to the deep hole, there was a lake to cross, namely the 'Lower Myakka Lake'! On the map I studied, the lake looks quite 'petite' and like it would be pretty easy to paddle. Well, when you are paddling it, and there is a wind, it is no longer petite and cute, but seems huge, a little choppy and quite the strenuous paddle!
This not only tests strength and resolve as well as the quality of the breakfast you had, no, it also tests the relationship with one's paddling partner! I was almost about to throw in the towel, when we actually got to the entrance of the deep hole right at the end of the lake! Again, I was thinking with kayaks this paddle would be so much easier than with a heavy canoe full of gear.
Then something magical happens – you completely forget about your aching arms, empty stomach and the fact that you have to paddle the whole way back eventually. There they were: hundreds of gators, big and small, some in the water with nose and eyes poking out and some sunning on the banks!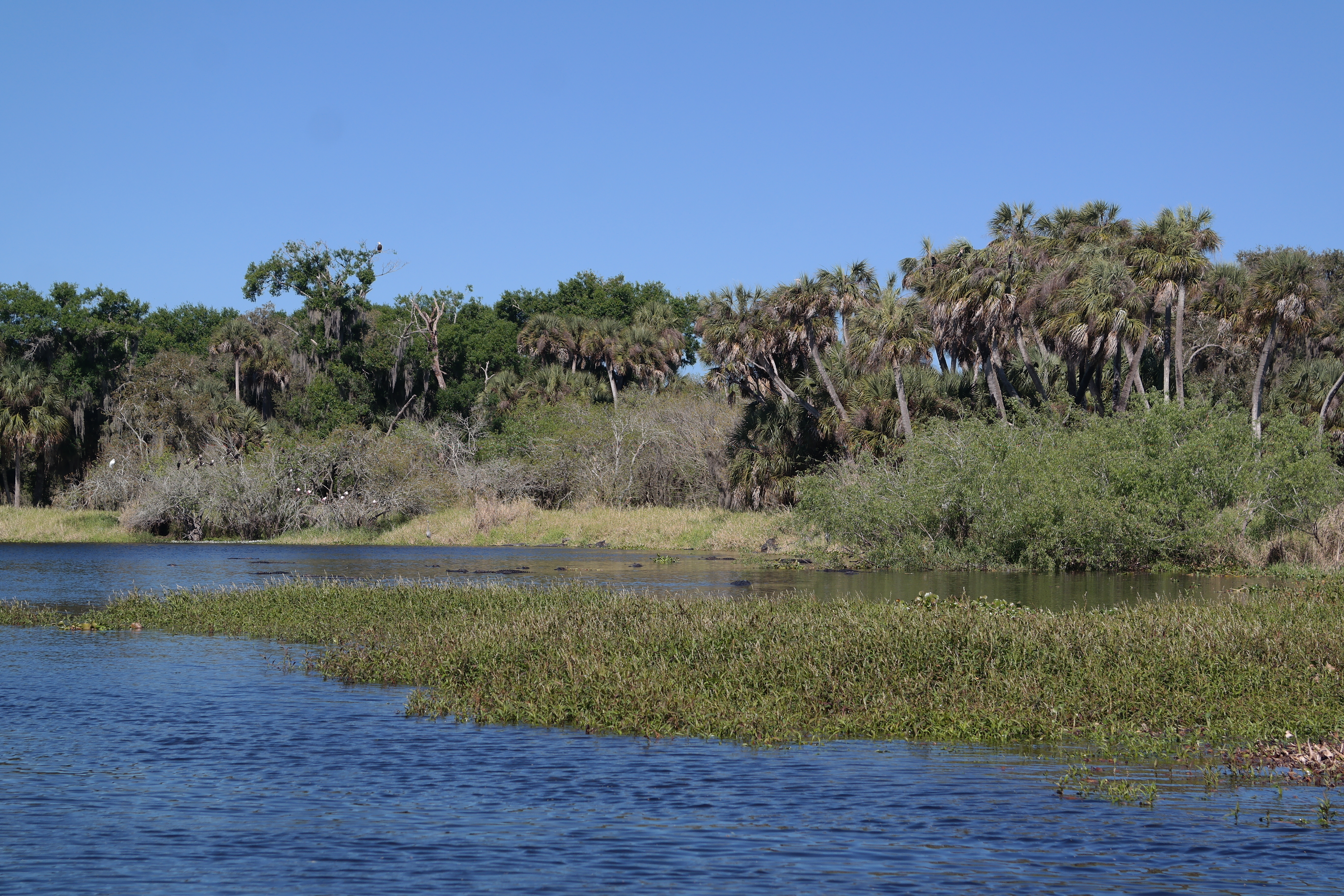 Almost There! I Can See The Alligators Already!
We even saw one Alligator crunching down on a huge turtle for lunch! I was also very surprised that they, although curious, would vacate the banks as soon as we got anywhere near them, which was not very near as we kept a respectful distance.
Even the biggest gators, some looked like they were 13 foot long (which would make them around 50 years old), preferred to avoid us and study us from a distance, just like we studied them from afar.
It is, of course, an offence to approach or molest gators as well as it being a threat to one's safety.
I have to say that this trip is very high up on the list of 'best days of my life'. Until you do this yourself, you will not understand just how emotional and moving the time down at the deep hole actually is. Out in what seems like complete wilderness, away from civilization. We did not see any other kayakers and canoers on that day down in the wilderness area, which made it even more special. It was an amazing and indeed humbling day, taking us back to the essence of being  human in the wilderness without any interference of modern life. Even if it lasted just a few hours, it was truly magical!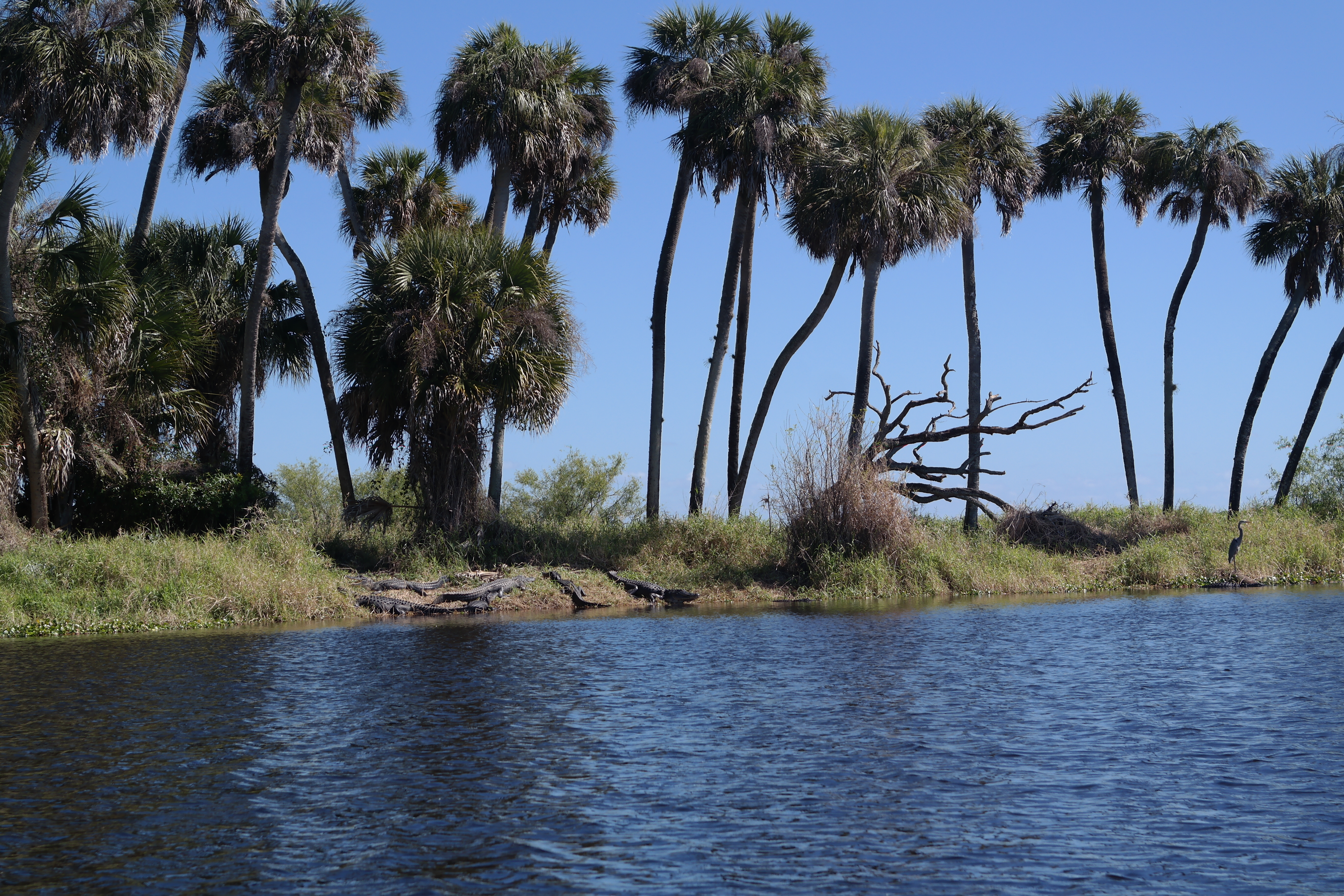 Deep Hole Banks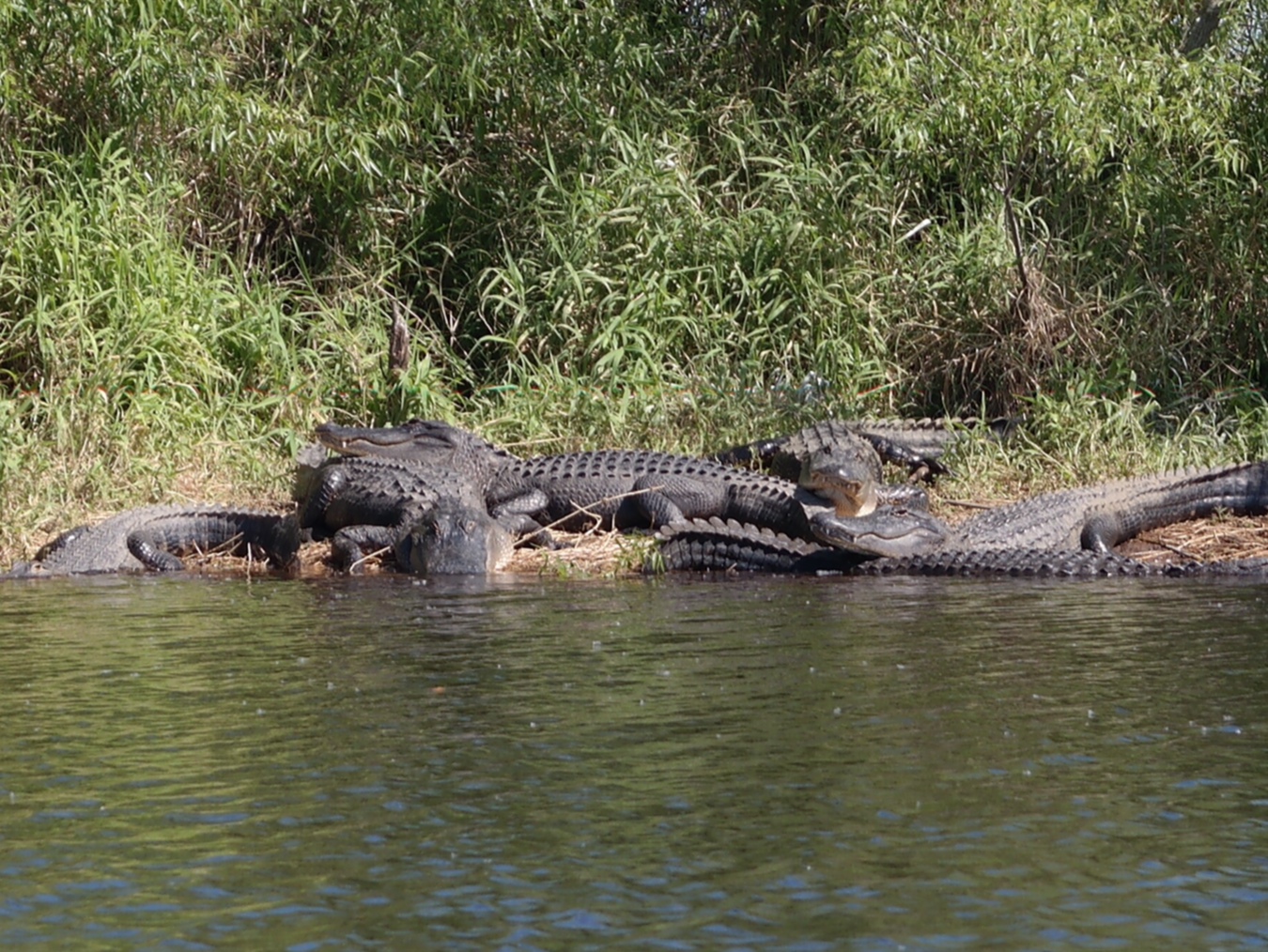 The Largest Alligators Congregated On This Bank
Although I have heavily concentrated on the Alligators so far, on this trip we saw an amazing variety of  wildlife besides them:  turtles,  fish,  Roseate Spoonbills,  Anhingas and other aquatic birds, all kinds of insects and other creatures.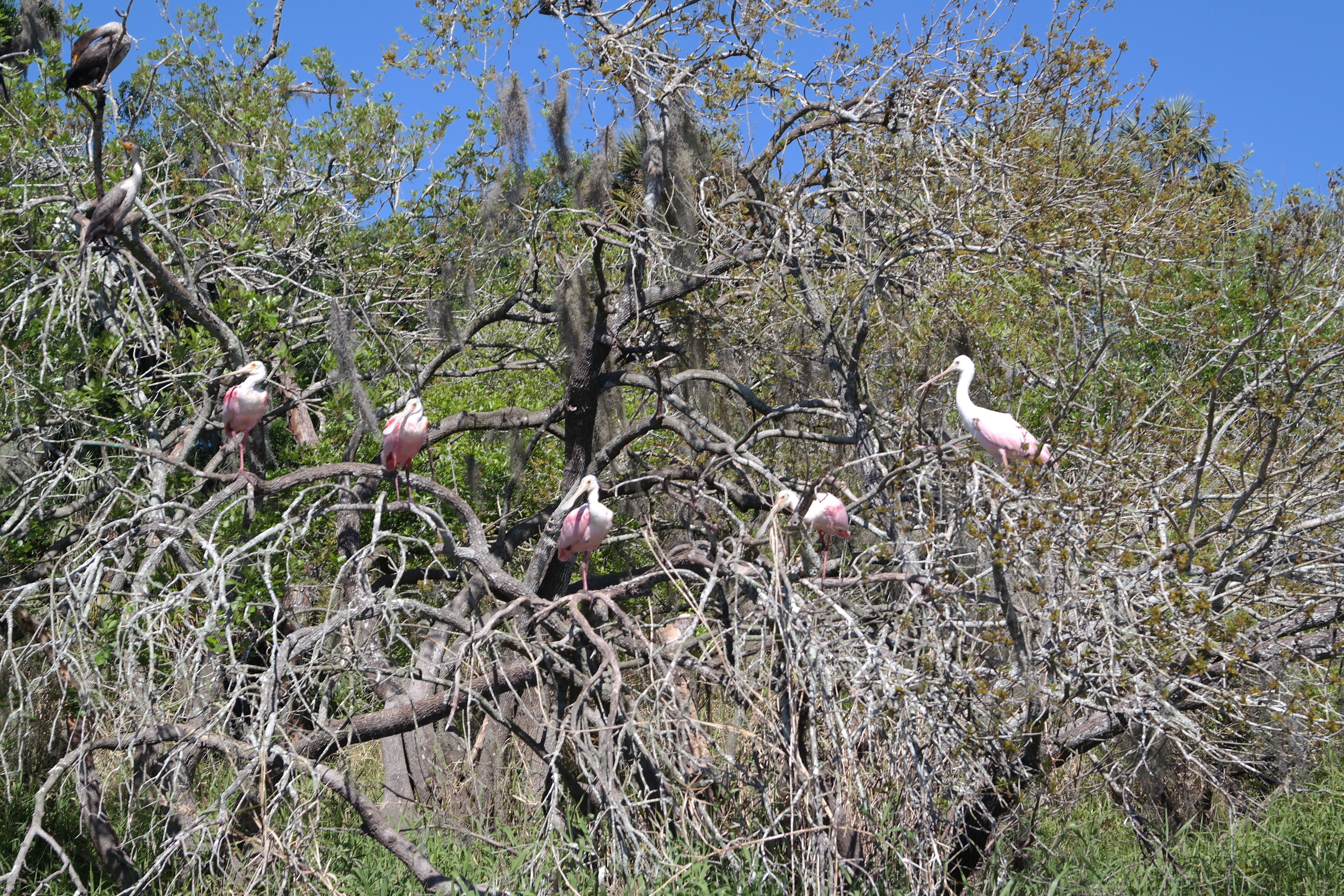 A Roseate Spoonbill Conference
To Prepare For This Trip
It was a truly magical trip, but I could not end this little article without a few words of advice:
I would not recommend doing this remote paddle alone. I would also only recommend it to reasonably fit and experienced paddlers. The whole trip is more than 7 miles long. All considered and with windy conditions, it took us about 6 hours of paddling with a little stop for lunch. The way back up the river has some spots where you will be fighting the current a little which can be exhausting.
Also, bring food, enough water and sunscreen and even a change of clothing, depending on the weather. Moreover, ask the very knowledgeable volunteers and staff about water conditions as the water levels can vary a lot, depending on the season.
A GPS and/or a map will help too, as many parts of the river look alike. It also helps you gauge how far you have paddled (or not paddled as may be the case) and to structure your day. By all means, do leave early, because this round trip will take up most of your day.
You won't want to be rushing back once you get to the hole – trust me.
It was one of the most magical days I ever had in my life, as well as perhaps one of the most testing for my physical strength, however, I wouldn't trade it for anything and we left with a deep appreciation and ever more respect for the flora and fauna here, and a great sense of achievement. A day well spent at Myakka River State Park!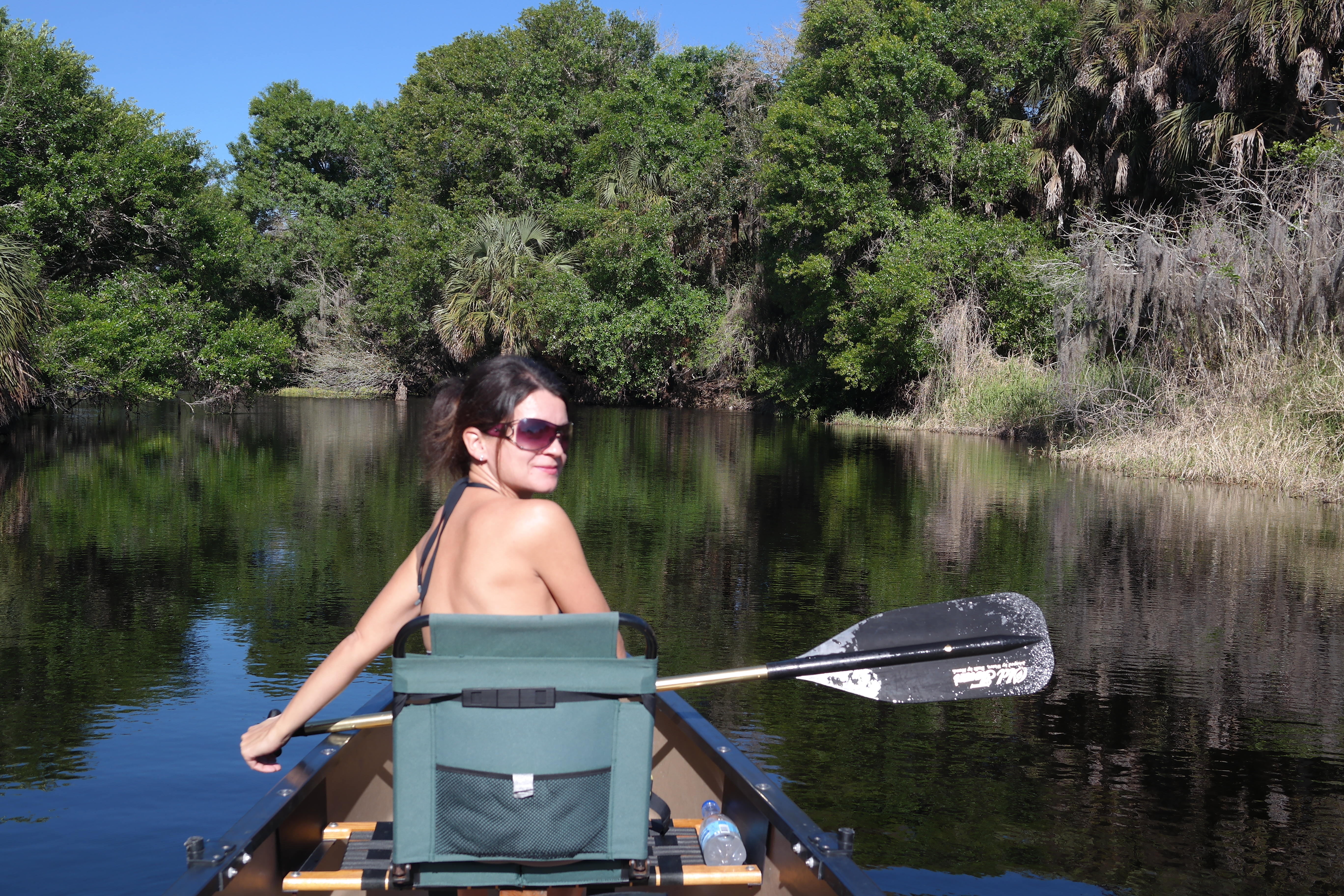 Happy Paddling!
PS: I would love to hear about your experiences with Myakka River, via my email (tamara.sunandsea@gmail.com) or below contact form! Thank you!