First of all, I must give credit where credit is due. We found this road rally on the internet and it is called 'Rob's Redland Riot'. The actual happening takes place once a year, on the third Saturday in January,  and you can find out more about it here.
However, you can also go on a self-guided tour, which is what we did. You can print out the map with various stops on the website and then just follow the suggestions of places to see, which include: 1. Cauley Square, 2. Burr's Berry Farm, 3. Phil's Berry Farm, 4. Knaus Berry Farm, 5. Fruit and Spice Park, 6. RF Orchids, 7. Curbside Market, 8. Hotel Redland, 9. Florida Pioneer Museum, 10. Robert is here, 11. Schnebly's Redland Winery.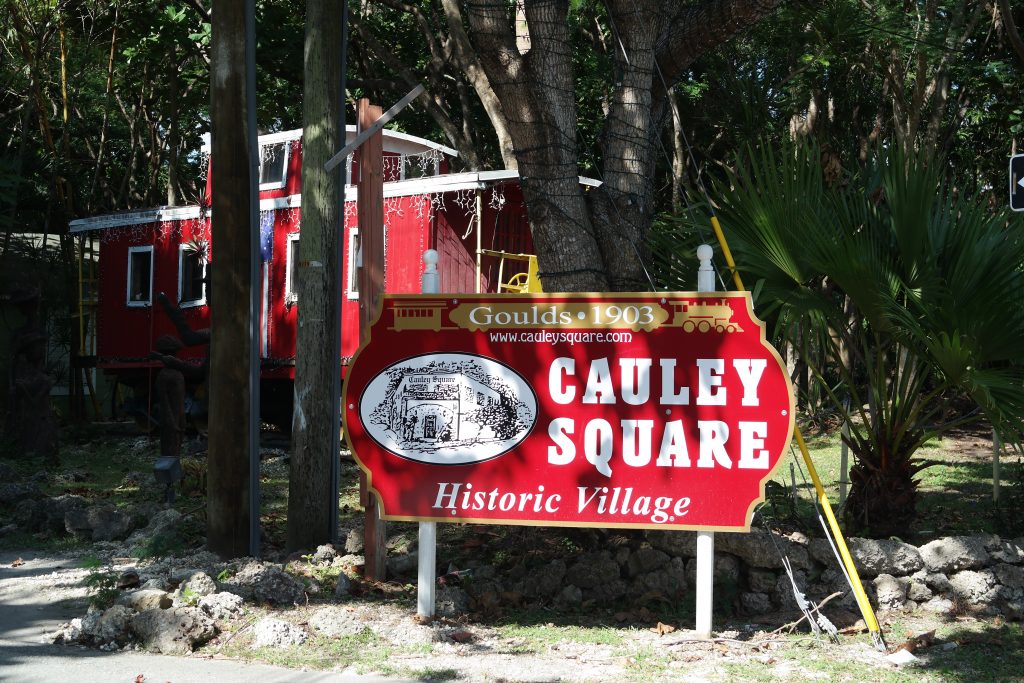 I already covered 'Robert is here' and the Schnebly Winery in a separate post here. I would recommend not to try and do everything in one day, especially if you want to have some time to enjoy the different stops. Also, at the farms, in order to get a delicious milkshake, 'sticky buns' or fresh cookies, there is usually a line. In the case of Knaus Berry Farm, for example, the line can take quite a while to whittle down. We actually skipped all the farms, and as we had done Schnebly and 'Robert is here' the week prior, we skipped that also – and still found we did not have enough time!
We decided to see: Cauley Square (a historic village), RF Orchids, The Pioneer Museum and Hotel Redland. We left the Fruit and Spice Park for another day. I recommend no more than 5 stops a day, if you want to enjoy the day. Here comes our favorite stops:
Cauley Square Historic Railroad Village
Cauley Square is a charming little historic railroad village dating from 1903. When you drive in, it seems so out of place in the area, you will do a double take for sure! The village is a story of the first pioneering farmers and Henry Flagler's Florida East Cost Railway, which made this part of the world accessible at last.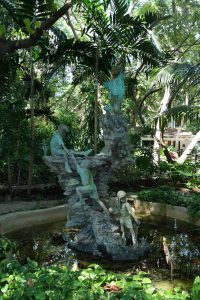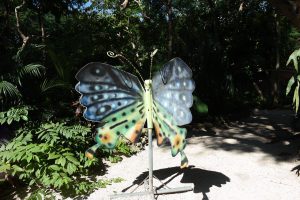 Charming Cauley Square
The railroad provided a means to ship produce from The Redland area. A man named William Cauley owned ten acres of land beside the railroad and he decided to build a warehouse and office in the area. This was the start of Cauley Square. It grew steadily, with the addition of packing houses and places for the workers to live and eat. The village, interestingly, had a somewhat raunchy reputation involving 'booze, brawls and a bordello'! (from www.cauleysquare.com)
Cauley Square has seen several up and downs throughout the years, with hurricanes, the Great Depression and so forth, but after some preservation efforts it entered another heyday in the 1970's. In 1992 it was yet again severely damaged, this time by Hurricane Andrew, yet by 1994 the square reopened and was also designated a Historic Site.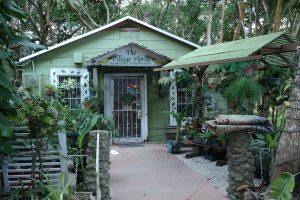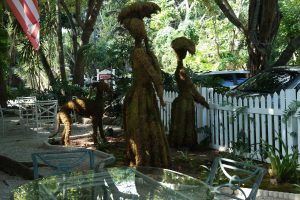 Now, it is positively sleepy, charming, welcoming and extremely lush with all the mature trees and tropical foliage. Cauley Square is a truly romantic place, taking you back to another era, and well-worth visiting. You may find, like we did, that this stop cuts down the time for your other spots severely, but don't rush it. I suggest a good walk around, pop into some of the cute and quaint little stores, and why not have a bite to eat there too? If you want a little fun, you could also check out the aviary and bird store close to the entrance.
As it was our first stop, we got there late morning and were looking for an early lunch. We found a delicious one, and more, at the Tearooms in Cauley Square. It felt like a total step back in time, and a classy one at that. Of course, being in a tea house, we had to enjoy a delicious tea first in this romantic setting – and the food was really great too!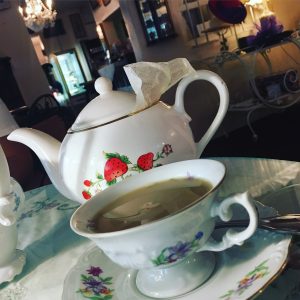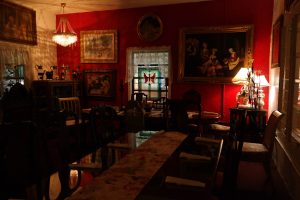 Isn't It Beautiful?
Cauley Square has a lot going on, especially in the evenings and on weekends, for example: live music, food trucks and antique shows. The village is located at 22400 Old Dixie Highway, Miami, FL 33170 and the telephone number is: (305) 258-3543

RF Orchids
Next on the list was RF Orchids, which came recommended by a friend and was also one of the stops on the road rallye. If you think this is just an ordinary orchid shop, think again! The place is huge, like a farm and there are orchids everywhere, hanging from the ceilings, growing up on trees – basically anywhere you look. The landscaping of the whole area around the actual store is beautiful too. RF Orchids is a feast for the eyes all around.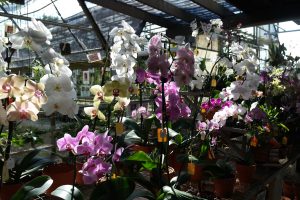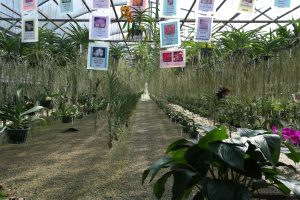 Orchids, Orchids, Orchids!
Don't forget to say 'hello' to the Cockatoos, we had lots of fun with them, in particular Ivy, who was not only very talkative but also extremely acrobatic!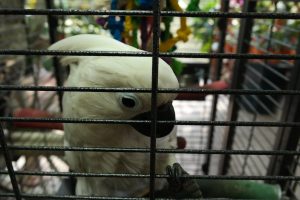 Ivy
Robert Fuchs, owner of the nursery, also gives tours of his private gardens, which I have been told are highly entertaining and worth joining. They take place on the weekends and it is best to call ahead and find out when, as it depends on Robert's schedule and on whether he is at the location. Robert also offers 'tours' away, to orchid shows and destinations around the globe (you can find more details on their website here). The shop is open Tuesdays to Sundays, 9-5, and closed during major holidays. Their address is: RF Orchids, 28100 SW 182 Ave, Homestead FL 333030. Telephone: 305-245-4570
Florida Pioneer Museum
Next stop up was the Florida Pioneer Museum. One just can't escape Henry Flagler for too long in these parts. This museum used to be situated next to the rail tracks (and in fact next to our last stop, The Hotel Redland) until it got moved to the location where it proudly stands now. The museum  building itself was once the Homestead Florida East Coast Railway station agent's home and built in 1904. The larger building behind the museum is the reconstruction of an old depot building that was levelled by Hurricane Andrew.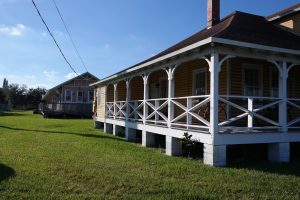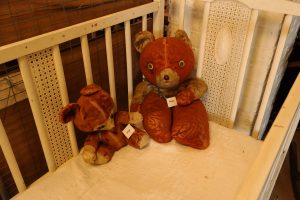 The museum is informative as well as simply a nice historic house to walk around. It also has a room dedicated to a changing exhibition (once a year), so it is worth coming back to. The volunteers were what made this museum well worth visiting, they gave us a tour with much enthusiasm and provided us with valuable information. It is a cute place to visit, just bear in mind that it is only open Wednesdays and Saturdays from 1-5pm. It is located at 826 N. Krome Avenue in Florida City, Florida.
Hotel Redland
Although you won't believe it when you get there, due to a 1990's renovation, this building dates from 1904 and a time when there wasn't much else about. It has served a multitude of purposes such as the town's first library and post office. Hotel Redland is now a National Historic Landmark and although you don't see much evidence of this anymore once you are inside (except for the odd old artefact lurking in the corners), it is worth visiting.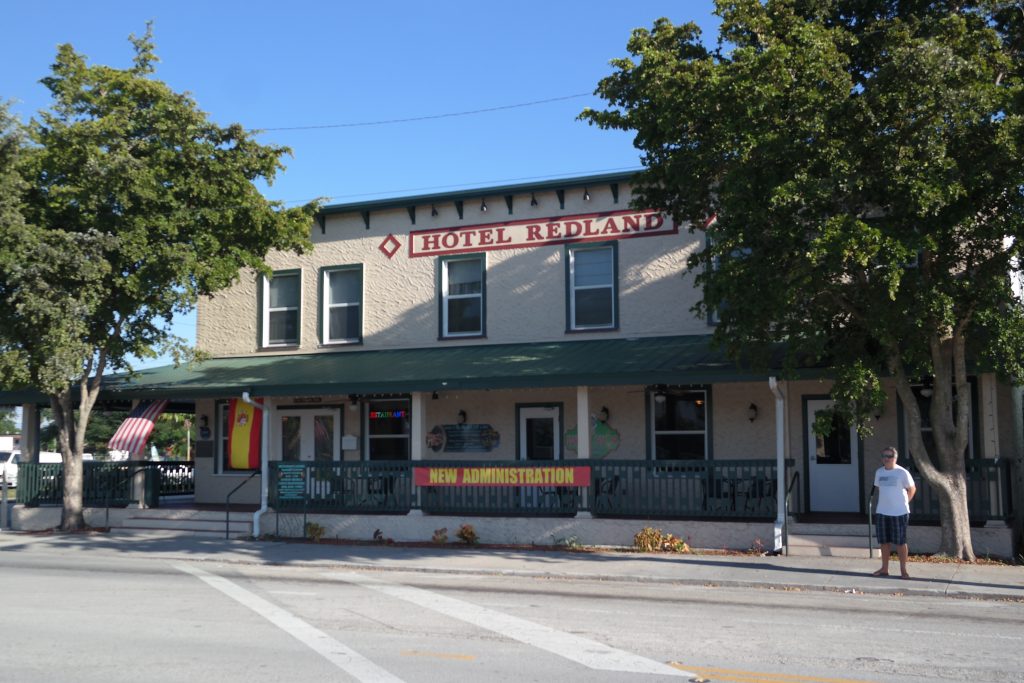 We had a little drink in the bar and the staff on duty at the time was extremely friendly and sweet and undoubtedly proud to be working there. She explained that they are trying a new concept for the area, which includes serving up authentic Spanish food and tapas. I wish them lots of luck and we will be back and support the business for sure, and I recommend stopping there and helping them to make it work!
Have you been on Rob's Redland Riot Road Rallye? Tell me how you found it! Any questions, contact me, I will be happy to help!