If you have never heard of Palatka – fear not. Neither had I, until the day that I was traveling on a trusty Amtrak train up to Jacksonville and passed through the area. It looked like a by-gone landscape with beautiful rivers, forests, and not many settlements. I thought to myself that it would be great to come back to this area sometime. 'Sometime' was well over a year later, over Thanksgiving 2016. I had absolutely no idea what the town of Palatka would be like. Part of me was hoping it wasn't a dump. I need not have worried. Here is what I found:
1. Palatka makes a great base for exploring Ocala National Forest
The main reason why we chose Palatka initially: it is a mere half an hour from the middle of Ocala National Forest, therefore providing those who wish to explore the springs and trails within the forest, with a great base! We had stayed in Mount Dora before, when visiting springs in Ocala National Forest. Whilst Mount Dora is certainly charming and cute, the drive was a little bit longer to get to where we wanted to go. Although it would also make a great base for the southern end of Ocala National Forest, Palatka seemed a better option in many ways.

Riverpark – a great little area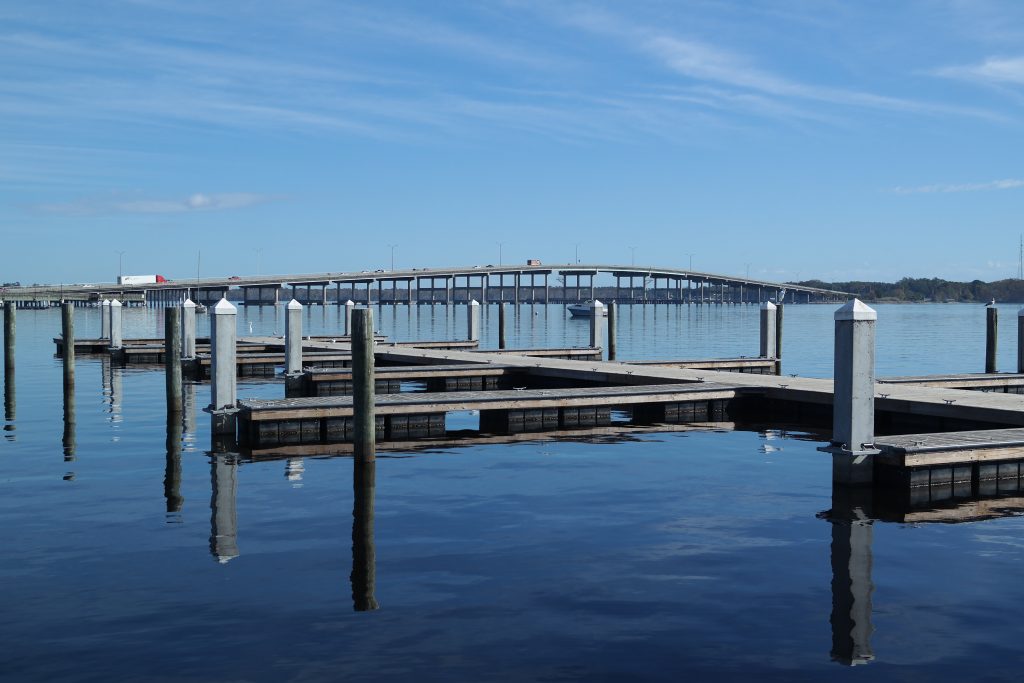 Most of the springs, such as Salt Springs, Juniper Springs and Silver Springs, are much less than an hour's drive from Palatka. This worked out great for us, as it left plenty of time to kayak Juniper Springs run. There is a relatively early cut-off time for those wishing to kayak or canoe it, and it takes a good 4-5 hours to do the run. They don't want people to get stuck in the wilderness of Ocala National Forest and make no mistake, it is still pretty wild and has no cellphone access in most places. If you are like me and love to get away from it all, it's heaven basically!
2. Palatka has affordable accommodation right on the St. Johns River
We found the standard of accommodation and what you get for your money extremely good value. There are a few hotels right on the St. Johns river and we decided to stay at the new Hampton Inn. It was really wonderful with a great view (our room faced the river) and a decent complimentary breakfast. The staff were outstanding also. We noticed that the same standard of accommodation would have been nearly double the price over Thanksgiving weekend, had we stayed in Mount Dora. Palatka is a hidden gem and it seems not too many people have discovered it yet, so get there before the crowds do!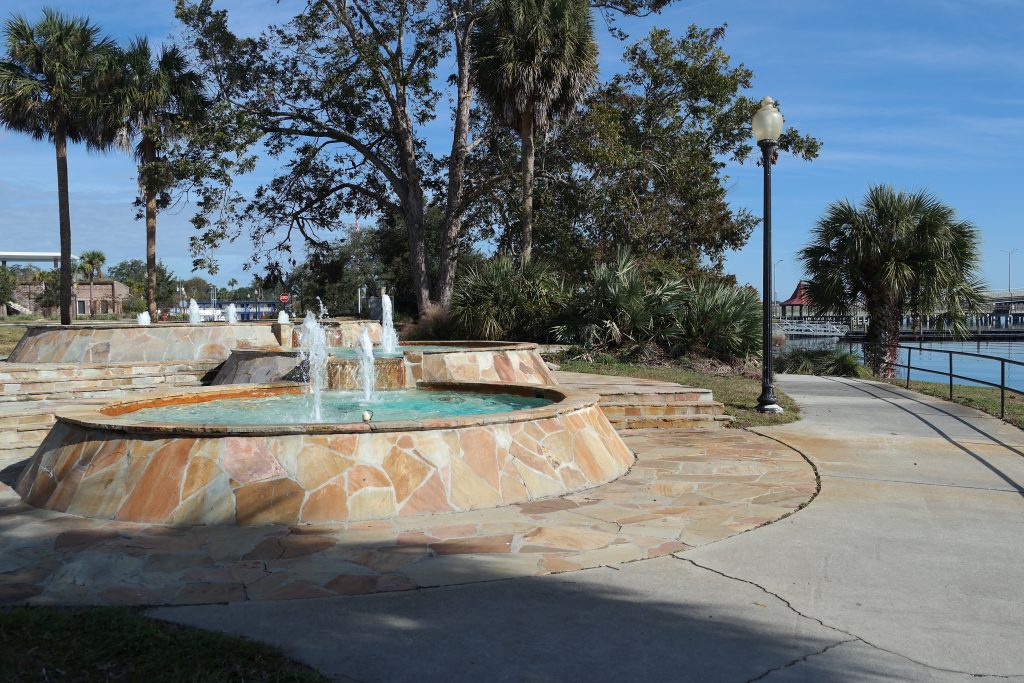 Our Hotel – A Brand New Hampton Inn – Faced This Fountain And The River

The area is also great for walking along the river and watching people shrimping off the docks. There is a boat ramp and marina south of the bridge going over the St Johns river. You will see warnings everywhere of poisonous snakes and alligators in the area, but we didn't see any. However, I would heed the warning and stay away from the undergrowth.
It is a very cute area to walk around and there is even a wooden boardwalk leading from the south side of the bridge to the north side, so one does not have to cross the busy road.
3. Historic houses galore!
Palatka's historic district rivals that of any other historic city in Florida. There are rows upon rows of historic houses and churches, with many of the houses having been lovingly restored. The historic district itself is a real pleasure to walk through, without much traffic and quiet cobbled streets lined by mature trees.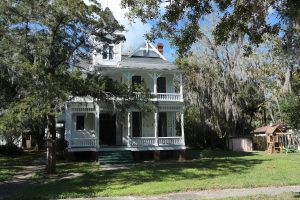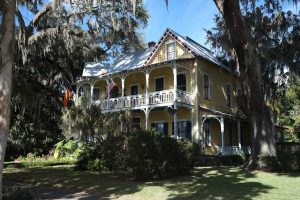 Old Florida At Its Best
It is easy to spend half or even a full day just strolling around and taking pictures of the magnificent houses. We were lucky to have been there in the holiday period, practically stumbling over the fabulous 'holiday house', an amazing large historic house. It was decked out with decorations and local artists' wares for the holiday period.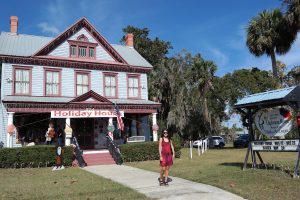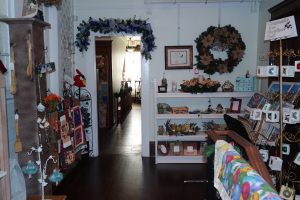 Unfortunately, Bronson Mulholland House was closed when we were there, but I have been told that it is an absolute must-see. We only saw it from the outside and that didn't disappoint – the only thing that disappointed was that it was closed on the Friday after Thanksgiving! The house was built between 1853 and 1854 by Isaac H Bronson, a judge who originally hailed from 'up north'. The Bronsons took active roles in the development of Palatka, in fact it was Judge Bronson who petitioned for the town to become the county seat of Putnam County. He also donated the land for the courthouse, which still stands now (and that, incidentally, is beautiful too!).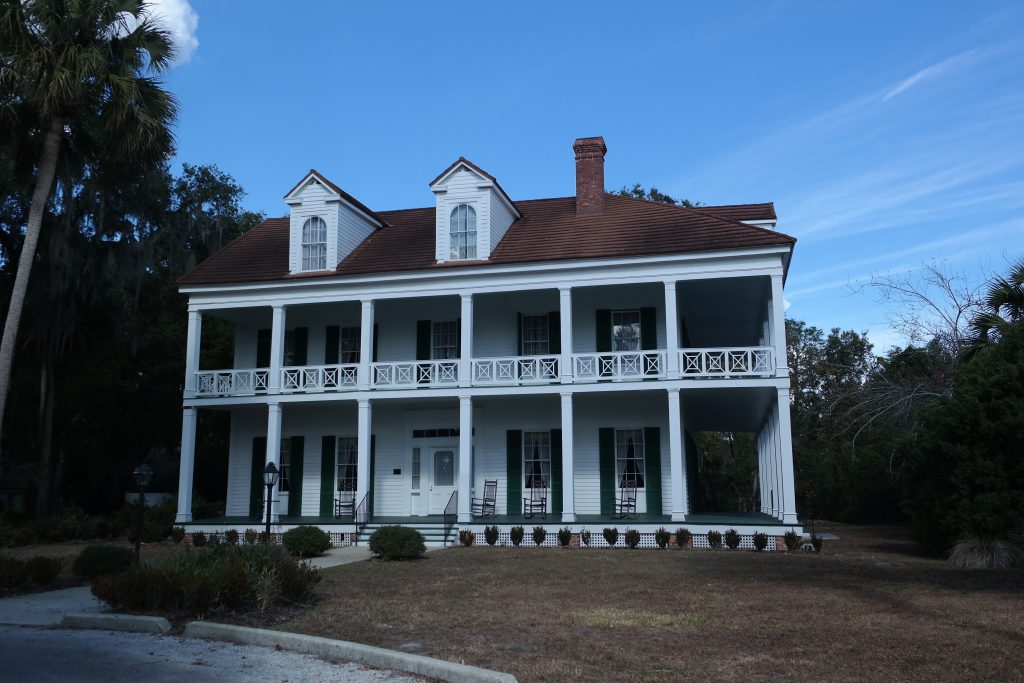 Bronson Mulholland House
4. Fort Gates Ferry
If you are staying in Palatka, this should be on top of your list! Fort Gates ferry is the oldest operating ferry service in Florida and totally charming! The service itself is 160 years old, having started up in the 1850's. When we arrived at the Gateway Fish Camp, which is on the east side of the St Johns River ferry run, you will take a step back in time a hundred years (just disregard the modern cars and trucks). The area feels ethereal, almost eerily quiet, and like time has stopped here.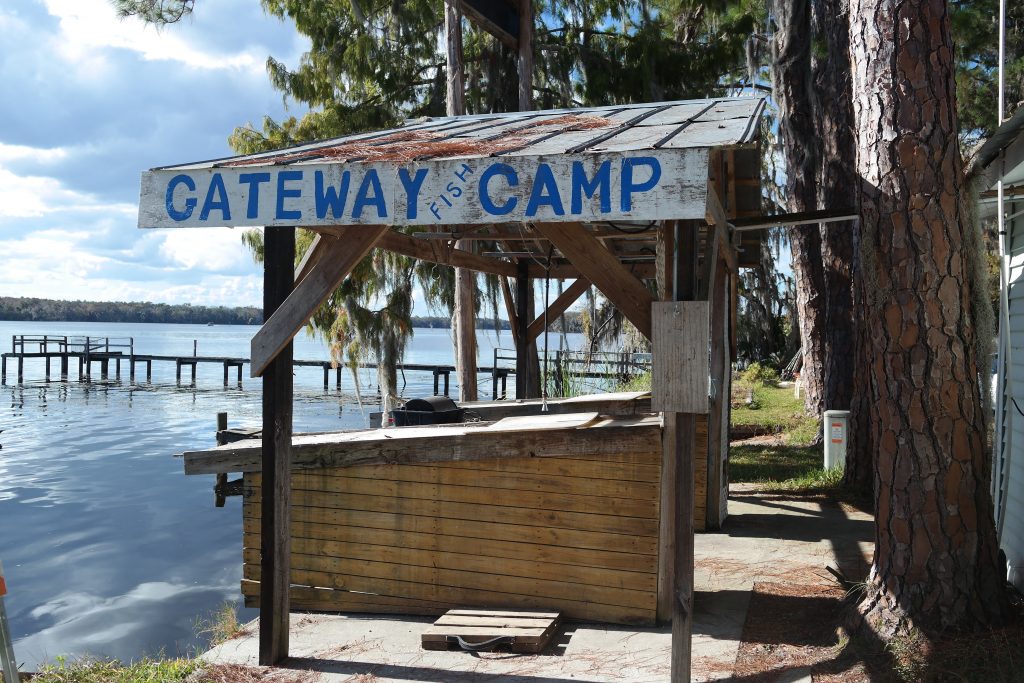 Then there is the ferry itself. When you first set eyes on it, you might question why anyone in their right mind would drive their precious car on this rickety looking old barge (since 1947 metal, previously wood), pushed by a tiny 98 year old wooden converted sail boat…but you must do it! Don't worry, it will be fine. I think…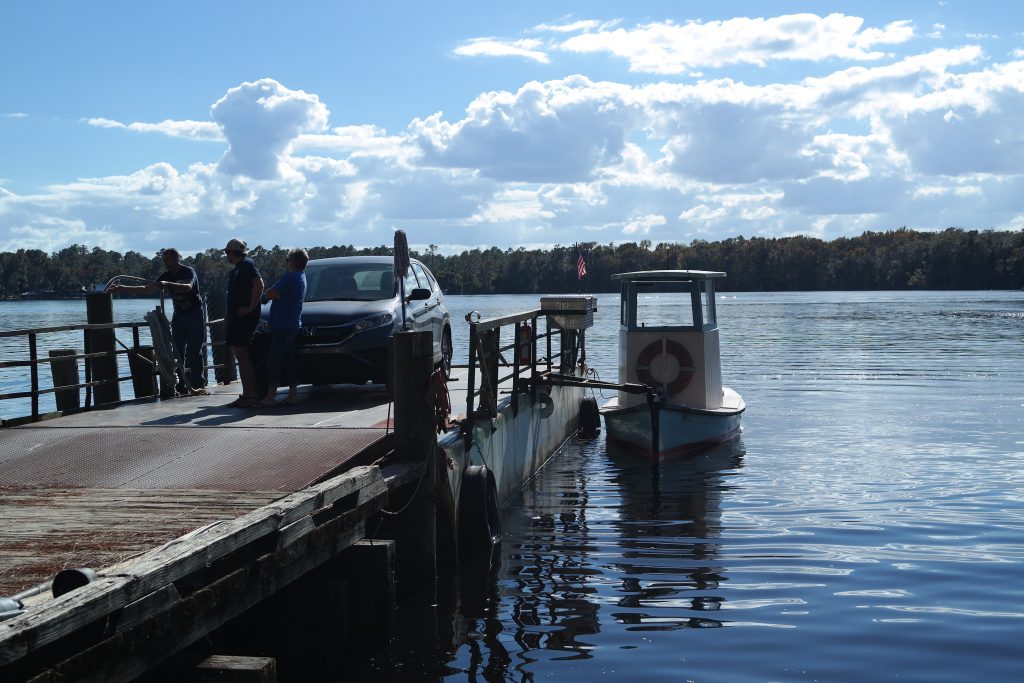 Docking – Now It Was Our Turn To Get On
My husband also gave me 'that look' which seemed to say: 'do you really expect me to risk my truck for your obsession with all things old?' but as we got on, we realized it wasn't actually that small. Although it looks like it can only take one car at a time, you can probably fit two or three on there. Chances are you will have it all to yourself, like we did. Here is a video of the trip:
The ferryman was as much of a character as his boat and barge. He proudly told us that he had been there for 18 years but his barge and boat for much longer!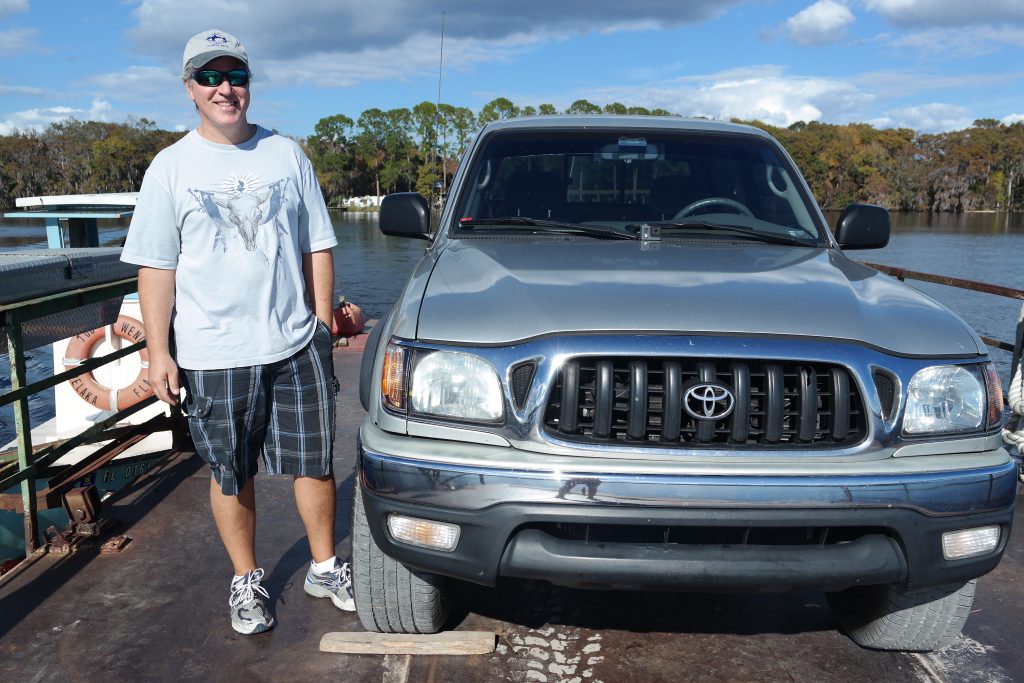 Once On The Ferry It Was All Smiles!
The whole ride does not take more than 10 minutes and at the time of writing costs $10. The trip over the river is really magical and worth driving the dusty dirt roads at either end. At the other end (in our case the west side of the river), it takes you right into the depths of Ocala Forest and perfect for exploring some springs. As there are very few signposts and the area is devoid of any cellphone coverage, I highly suggest downloading the maps from the internet, or taking a paper map (shock, horror!) just to be safe.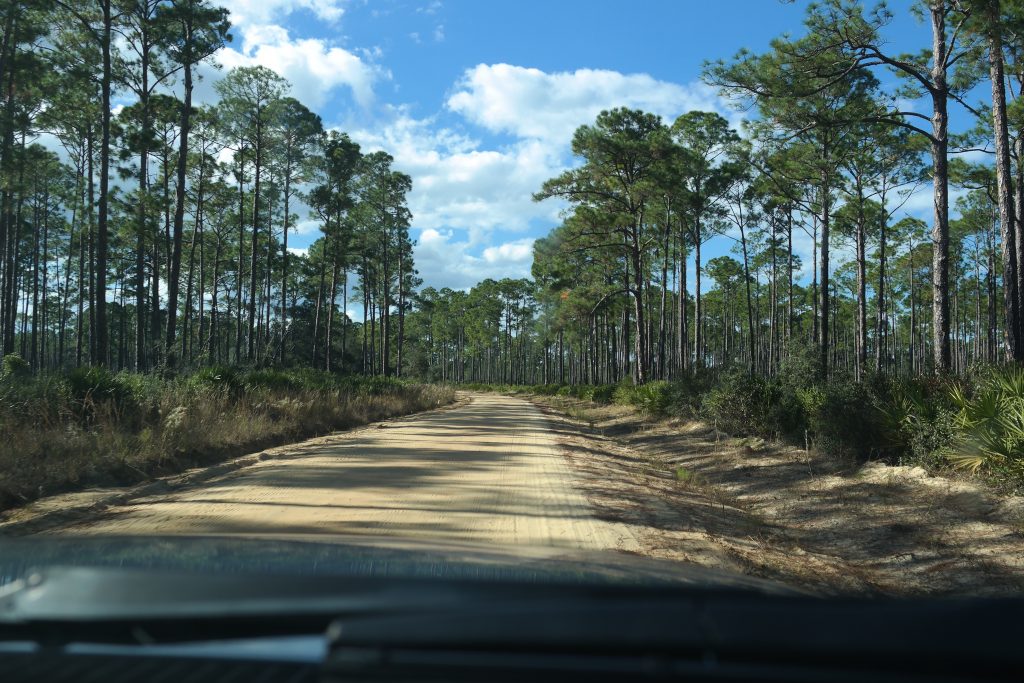 Driving Through Ocala After The Ferry Ride
5. The Drive There!
Especially when you are heading up to Palatka from South Florida, do yourself a favor and take the back roads. Get off I95 and the Turnpike for at least one way, and explore the best of old Florida. You will see lots of fields, streams, trees and cows, lots of cows. Then there are some great places you could stop off in, for example Lake Wales to visit Bok Tower. Or, another lovely stop especially during the holidays, is the Jacaranda Hotel in Avon Park, an amazing and huge historic hotel that is lovingly decorated in old Florida style during the holidays. A must see! If you are lucky, one of the staff operates the 1925 elevator for you.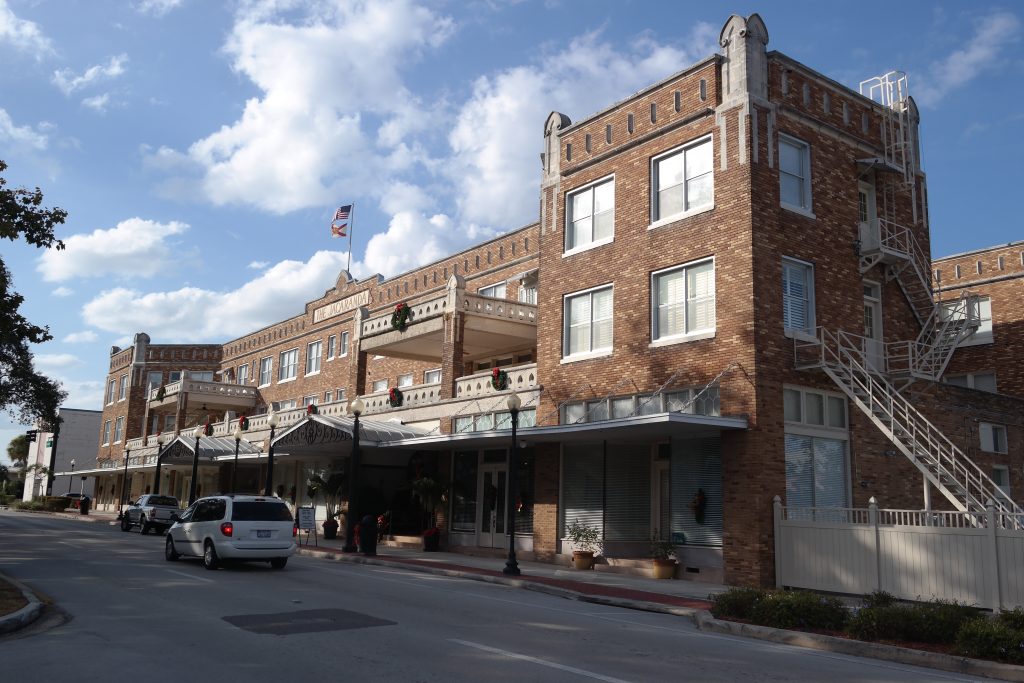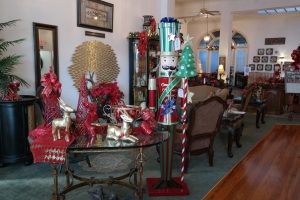 Jacaranda Hotel – Beautiful
As you get closer to your destination Palatka, there is Mount Dora and the Lakeside Inn, another historic hotel, where you could stop off and while an hour away with lunch or dinner. Stroll through the romantic main street, the shops and eateries, or along the lake – it is all beautiful. And then it's the drive through Ocala National forest to get you to Palatka. If you are early enough, you can stop in Silver Springs and have a swim or stretch your legs for the final last leg.  I can hardly think of a better drive than this one, with so much to do and see.
By the way, if I had to think about a number 6 as to why this town is worth visiting, it would definitely be the murals. Palatka is a city of murals and if you keep your eyes open, you will start seeing them on many buildings.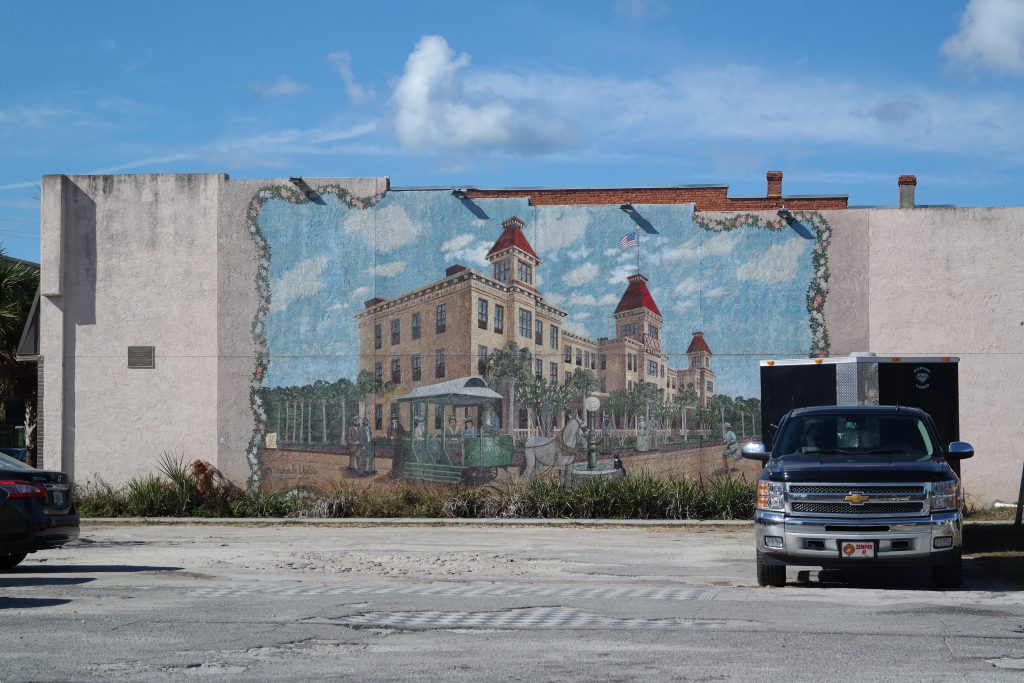 PS: The ghost town of Kerr City is not far from Palatka and whilst I would have loved to tell you all about it, it is not easy to visit. We drove around the area and it was 'no trespassing' anywhere…I heard the owner sometimes allows people but one has to arrange a visit with him. If any of you have been, I would love to hear all about it! Please contact me…