The month of June this year started with more rain than one could ever wish for. In fact, as I am writing this, drops are pummeling my windows once again. Sigh. When you live in the 'Sunshine State', you expect the sun to be shining. When it doesn't, a lot of the usual outdoor activities have to be cancelled and you ask yourself: 'what shall we do?'. Especially when you're in the Keys, where it's really all about outdoor fun and watersports. Thankfully, showers don't last all that long and the sun peeks out quickly again. Occasionally, however, rain sets in for a couple of days. What to do? There are a few great places to visit in the Keys that are 'weatherproof', such as the fabulous History of Diving Museum in Islamorada.
The museum is great for all ages. In fact, I never knew it would be so much fun, with many hands-on displays and some unbelievable diving relics from many years ago. When you see some of the diving suits, you won't believe that anyone would want to climb in there and get into the deep water, well at least I can't. Diving was a daring business, it arguably still is now, but it has become a lot more comfortable.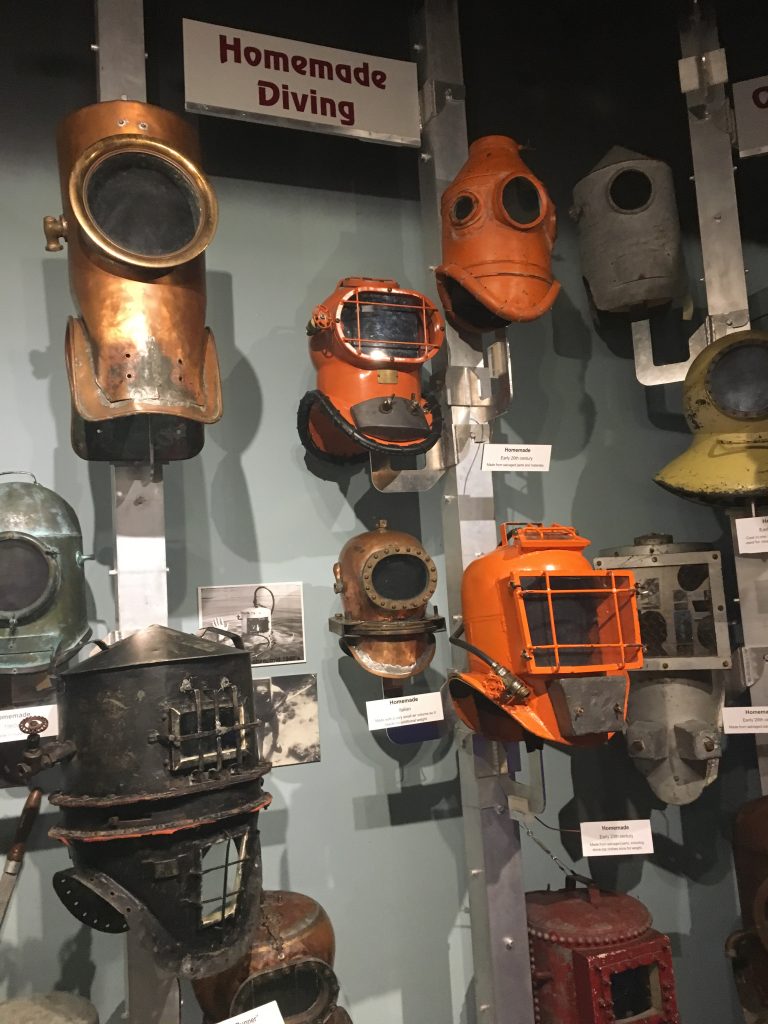 History Of The Museum
Over a span of 40 years, doctors Joseph and Sally Bauer amassed (that's the right word) what has since been called the world's largest collection of diving paraphernalia such as helmets, hand-operated air pumps, armored suits and other gear. They also collected various printed records and memorabilia as well as some amazing photographs, videos, films and books. According to the museum's website, the collection represents the contributions of more than 30 countries to diving history.
As their collection grew, the Bauers decided to share their passion with the wider world and start a museum. Upon retirement, they permanently moved to the Florida Keys, which turned out to be a great place for a diving museum, and the History of Diving Museum was founded here in 2000. It first opened to the public in September 2005. Full-time operation of the museum began in September 2006.
What Is There To Do And See?
As you come in, first of all you will see a friendly face or two behind the counter, as well as a really enticing little museum shop. I am not a big shopper, preferring to spend my time outside, but I have to admit: the little museum shop was stocked full of adorable items such as tea strainers in form of ocean dwellers, for example a 'manatea'. If you are already thinking about Christmas and have an ocean lover in the family, you will find some great stocking fillers here.
Then it's time to check out the museum and open that big door. Wait, first you might want to be a little silly, well we did anyway, and stick your head into an old fashioned helmet. It's heavy!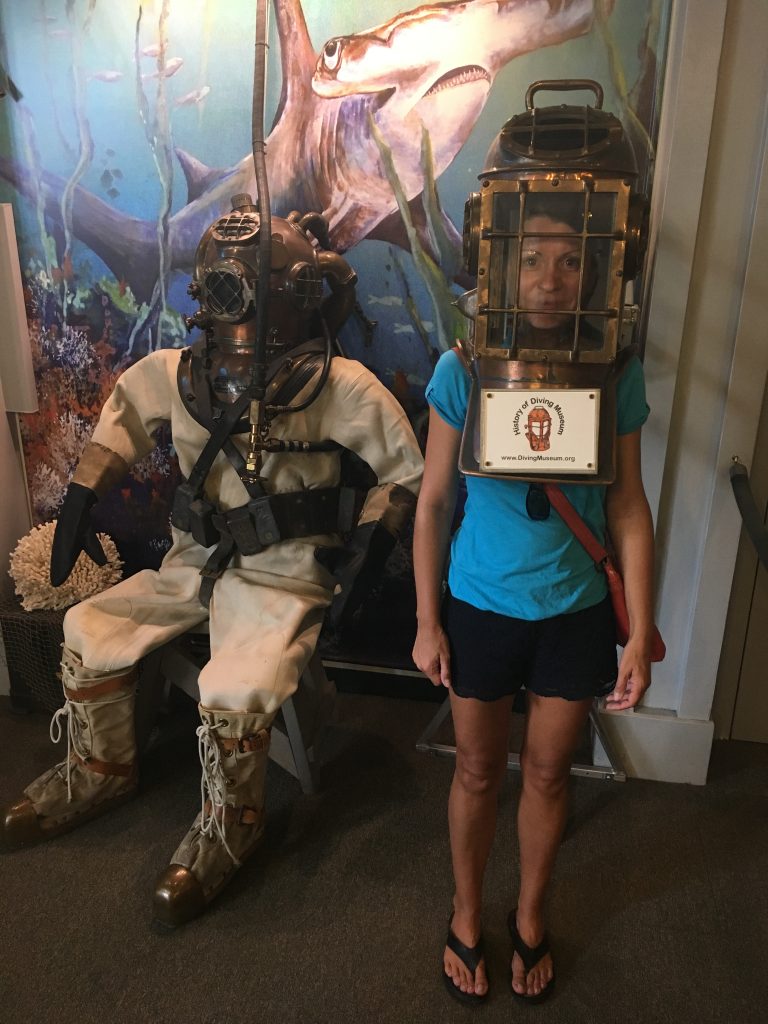 As you carry on into the museum you will see all kinds of strange diving suits and lots of general information about diving throughout the years. Without giving too much away, because I really think you should go and see it yourself, I simply needed to show you this 'minion' suit. And no, it's not a joke, it is a real diving suit!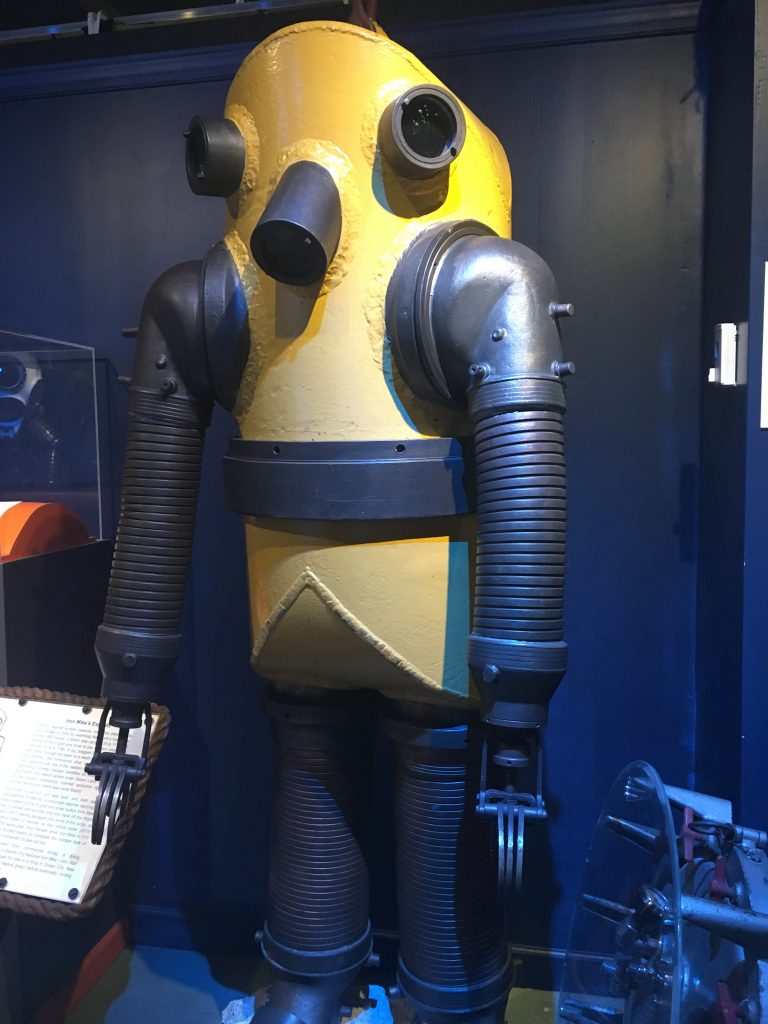 Minion?
 There are not just diving suits looking like minions, but all kinds of diving artifacts from many years ago (some of them you can touch and try out), and also at this time a temporary exhibition showcasing the sinking of the USS Spiegel Grove to create an artificial reef off Key Largo. I found it all very interesting.
Planning Your Visit
The museum is located at Mile Marker 83 on US-1 in Islamorada (bayside). Opening hours are 10-5 every day except Thanksgiving, Christmas Day and New Year's Day. Admission at the time of writing in June 2017 is: Adults: $12, Seniors/Veterans: $11, Children 6-11: $6, College Students w/ ID: $9 , Historical Diving Society Members: $9, Children 5 and under: free, Active Military: free. A coupon can be found on their website here. The museum hosts various events throughout the year, details of which may be found on their website here