First of all, this little adventure could involve a secret kayak and SUP launch. However, I am so protective of it – it is free and small and lovely – that I am not going to plaster the location all over the internet. Nope. Sorry – not sorry!  The good news is that there are other places close by that you can launch at and where you may rent kayaks and SUPs. Also, I am not mean, so if you fill in the contact form at the end of this post and ask for the location of my secret spot, I will send you the details. I just don't want to put it out there for all to see. It's quite the change, because if you have been following me, you will know that I am always happy to spread the news of my 'off-the-beaten path' paddle opportunities, but things have been getting so busy and there are plenty of disrespectful people who litter and abuse the parks with loud music, so I am getting just a tad secretive…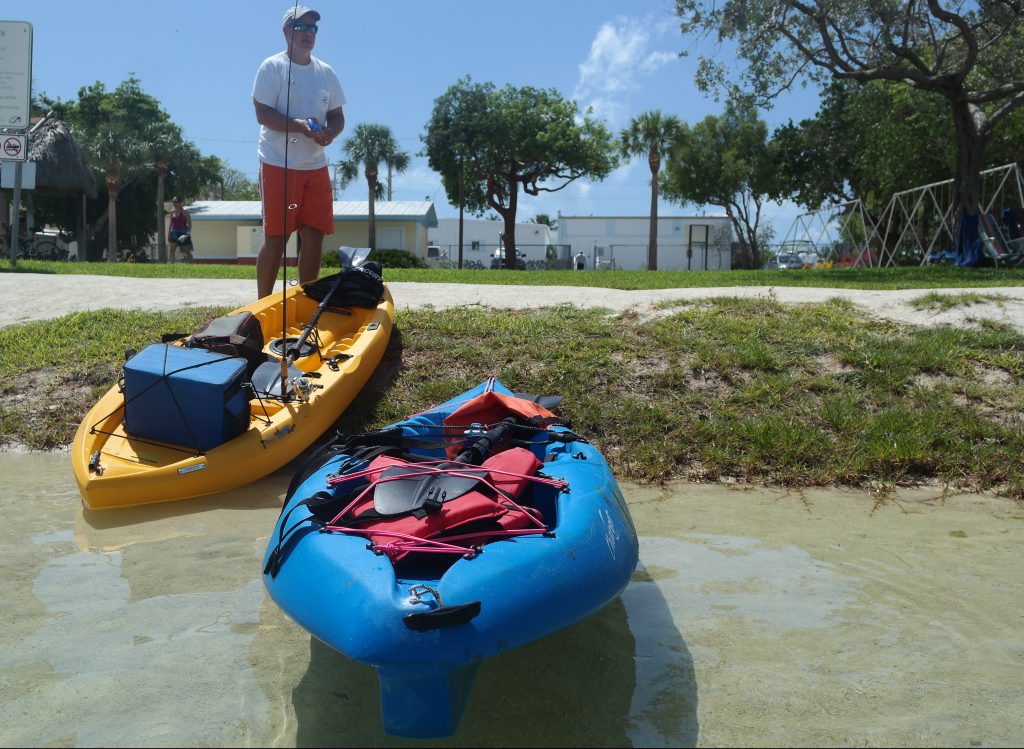 Perfect Launch And Swim Area
Kayaking The Little Basin
The area of the Little Basin is magnificent for paddling, as long as you keep out of the way of the motorboats. This means staying away from the channels (you will see the boats racing through), and staying close-ish to the shore and shallow mangrove areas. Then, just circle the basin and have fun, that's all there is to it. There are plenty of seagrass flats with lots of life to see. You can paddle around the little mangrove islands and flats that lie just across the bay, or you can stay close to buildings and restaurants fringing the water on the shoreline, the choice is yours. If you are looking for a swim, well that may be the only thing hard to come by. Don't do as we did and try to step into seagrass by the mangroves. It looks shallow and like it might be easy to step out, but don't be fooled. The seagrass bottom is like quicksand: you keep on sinking into it, as my husband soon found out. Of course, I was safely in my kayak, having asked him to try it first!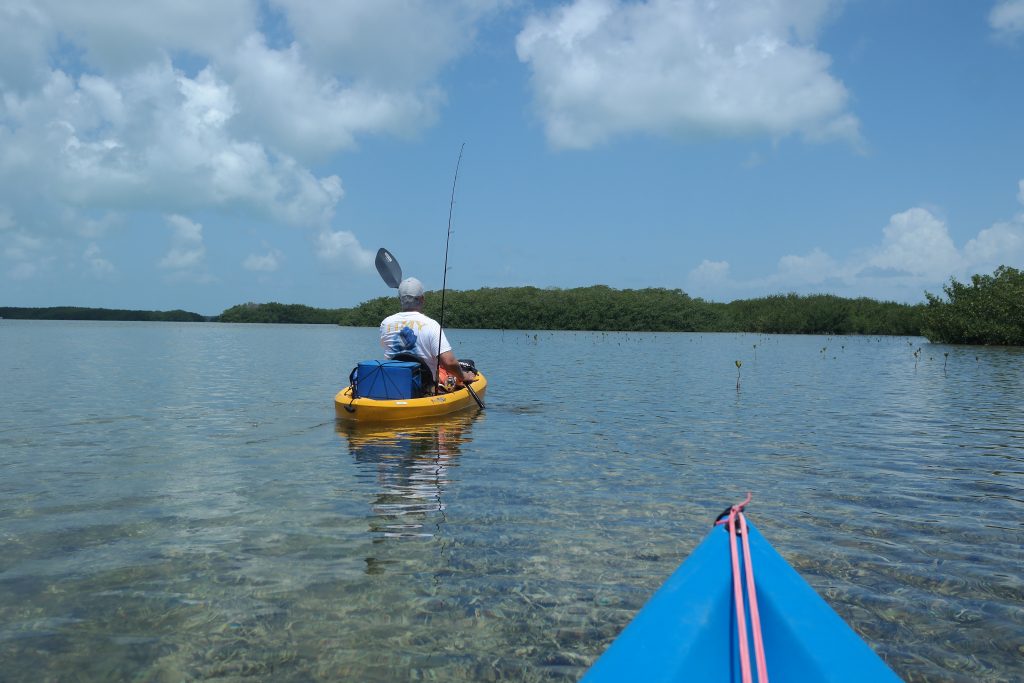 Islamorada Fish Company
The restaurant and marina area are in the Little Basin and depending on where you start paddling, whether at the Lorelei (see below) or the secret spot, you will definitely see and/or hear the restaurant. If you are there anytime around lunchtime on the weekends, you will be kayaking to live music. Normally, we like it quiet, but this is great fun and the live music is pretty low key. It will probably add to your kayak/paddle experience as much as it added to ours. Let me know whether you hear that rooster in the background too. He always seems to be there! You really need to take your time and paddle around the place and especially by the boat ramp to the north, where fishermen clean their catch. You are sure to spot not only huge tarpon but also plenty of nurse sharks – we typically see a handful of them every time we are there – and other fish. It's a must to paddle around there. Also, you may be able to launch your kayaks at this boat ramp, I have not enquired about it yet, but it might be a good place if you don't want to launch at the secret spot…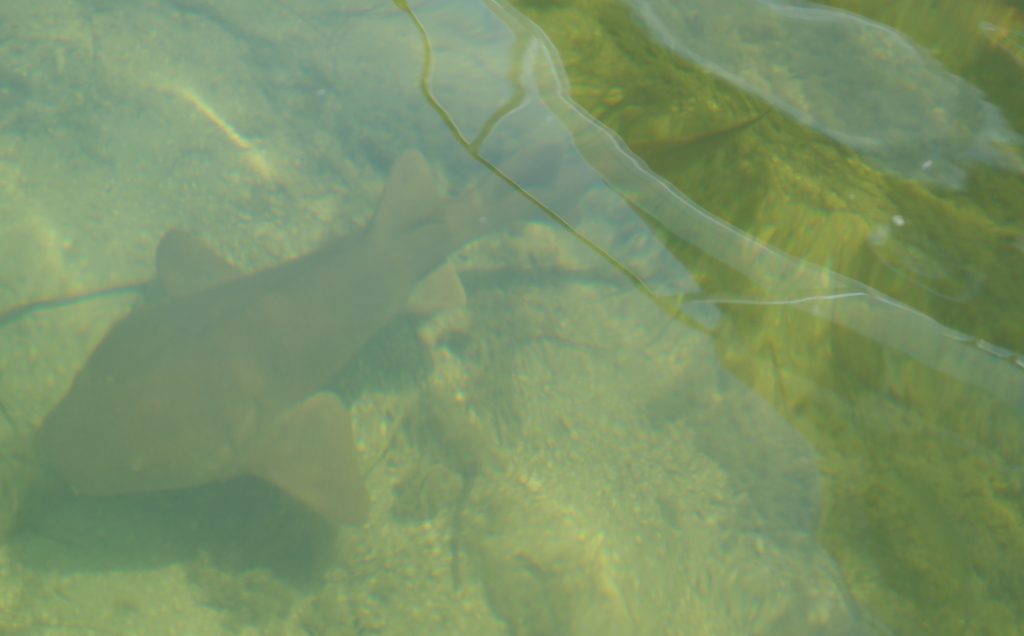 Nurse Shark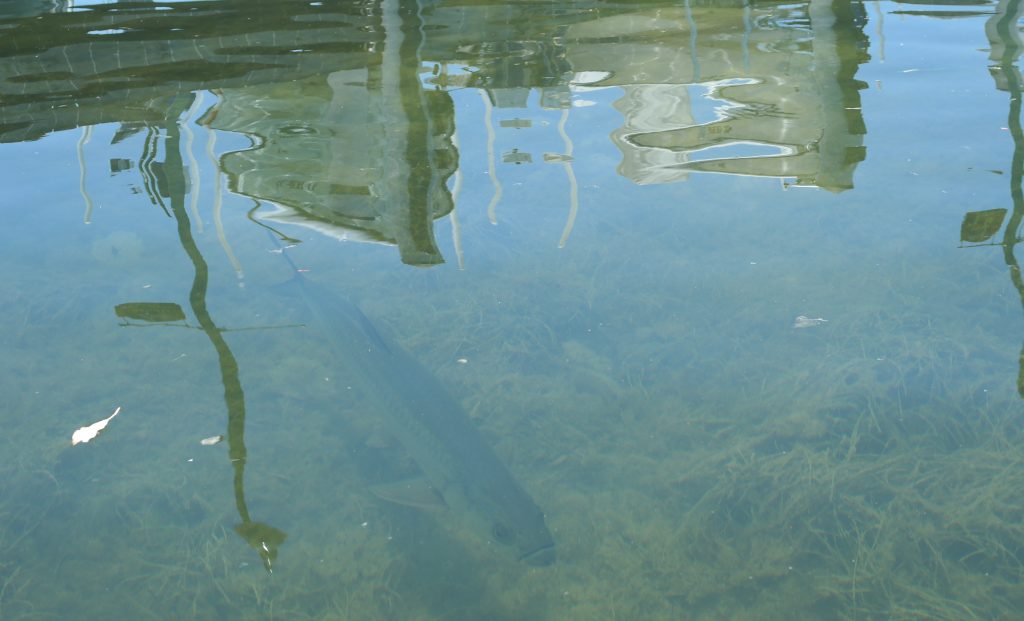 Tarpon
The Lorelei Cabana Bar
You could also launch at Lorelei and as an added bonus, there is a little rental place tucked away in the mangroves, so if you haven't brought your own gear, you may rent some right there! The Lorelei is a really fun place, and if you sit close by the water, you can see all kinds of creatures float by. We have seen various, including nurse sharks and manatees. The drinks aren't bad either, but I suggest you save those until after the paddling.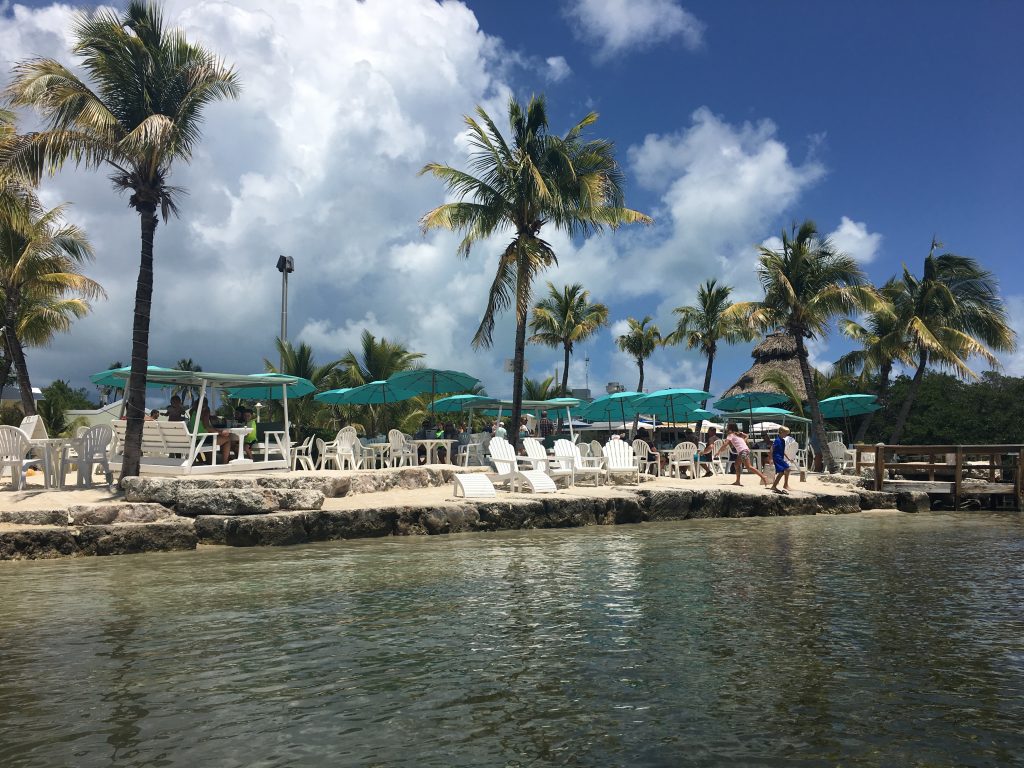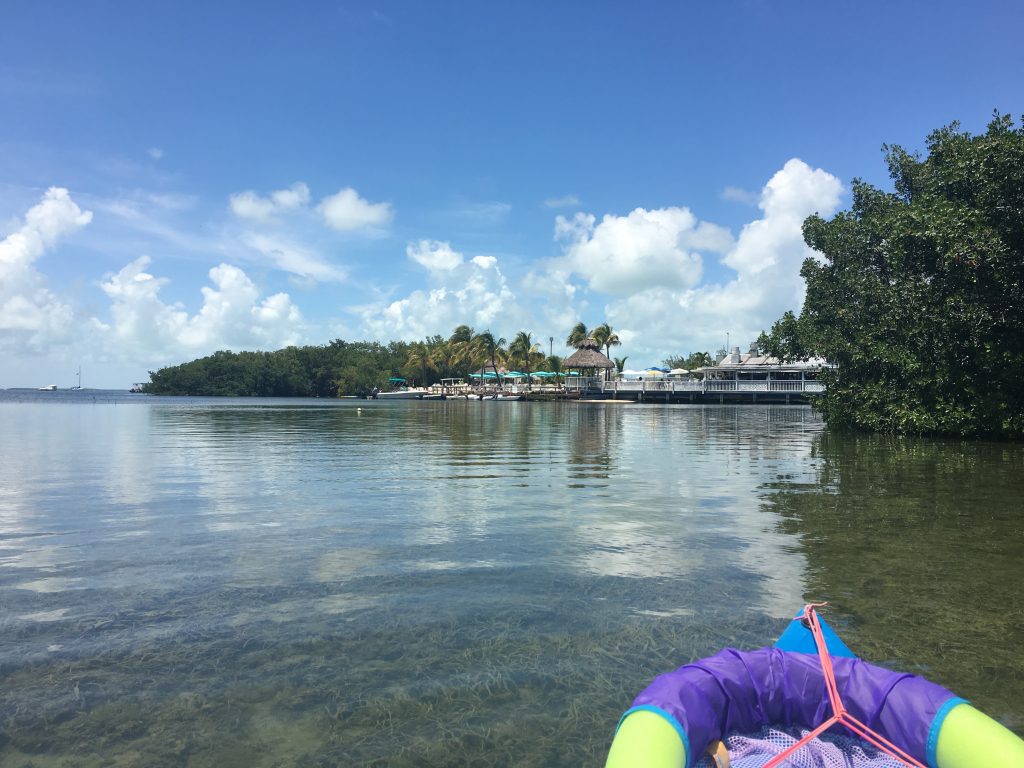 The Lorelei
Where to go if you launch from here? Head south along the shoreline and you will come through a little channel with houses and boats, do go down and keep heading south. don't get tempted to paddle the bigger and deeper boating channel a little further out into the mangroves, way too much heavy motorboat and jetski traffic moves through this channel to make it enjoyable, especially on the weekends. The canal by the houses can have some boat traffic also – there is a marina – but most obey the 'no wake zone' so it's a lot more kayak and SUP friendly there!
Once out of that canal, head 'left' or south along bayside and into the Little Basin and in no time you are at the Islamorada Fishing company and further along, some pristine mangrove and shallows to kayak to your heart's content.
Below is a map of the route we took when we first paddled there, but of course the options are endless. Let me know if you have paddled here, and how you liked it!