We must have driven past Windley Key Fossil Reef Geological State Park dozens of times – without ever peeking in. It's a pretty quiet park and doesn't draw too much attention to itself. Still, it's worth finding out what this fossil reef park is all about. So on a day when the wind speed had crossed out our plans for kayaking, we decided to pay this interesting park a little visit. Unfortunately my visit was cut short, but I can assure you it had nothing to do with the park not being fascinating or interesting.
If You're A Mosquito Magnet…
…go and see it in the winter months. I sprayed myself  up and down with some foul smelling mosquito repellant (it's late May, after all), yet the first thing I experienced was not the quarry, but lots of buzzing around my face as soon as I opened the car door. I am a mosquito magnet and hearing buzzing never makes me feel eager to explore a place. Quite to the contrary: it makes me want to run!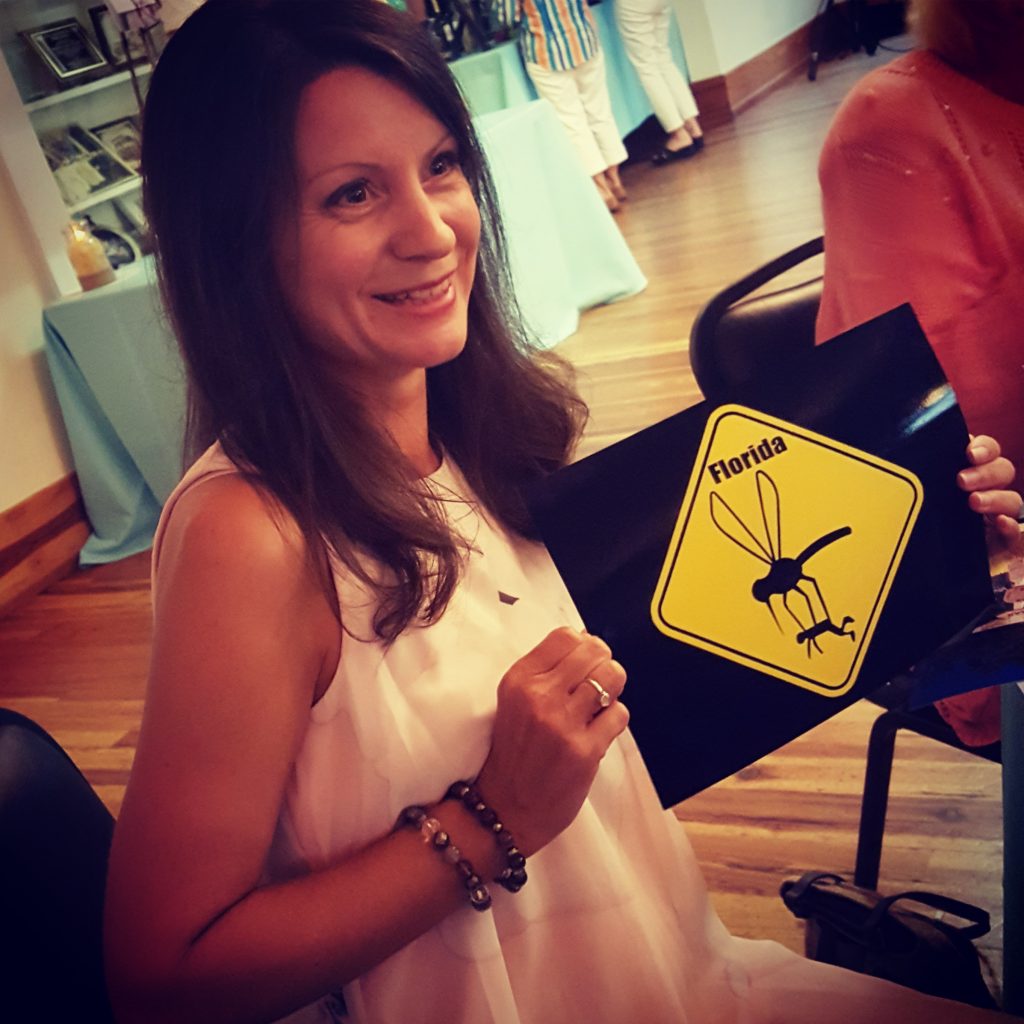 I hastened to the visitor center to make any further decisions from a safe base. It was actually interesting looking around the visitor center for a bit, but in the end I came there to explore! So we went outside. Again more buzzing in the main quarry. Suddenly, I see my husband swearing and slapping his ankle. He never gets bitten by anything, this was alarming. Catching up with him, I hear him mumble 'damn horseflies' and see one 'damn horsefly' lying dead on the ground. culled by a swift hand.  And that, dear reader, was my cue to leave.
I might have taken on (fed) the mosquitos a little longer, but horseflies – no thanks! Memories of childhood afternoons tending to egg sized bites all over my legs from those little bastards have left a scar. A mental one. I ran out of the quarry grabbing the car keys impatiently from my husband 'come on, come on, give them to me'. I was outta there! It took me all of about five seconds to sit back in the safety of the car, buzz and horsefly free, the air-condition blowing into my red face. Aaaah!
I definitely need to go back to the park, as there are a few trails which I had no chance to get on. It looks like a place you could easily spend a few hours at, as opposed to the 5 minutes that I spent running from mosquitos and horseflies.
Park Visit Details
Windley Key Fossil Reef Geological State Park is located at mile marker 85.5 near Islamorada. The park and education center are open Thursday through Monday from 9am to 5pm (the park is closed on Tuesdays and Wednesdays). Admission fee is $2.50 per person, children 5 years and under are free. Guided tours are also available predominantly in the winter months from 10am-2pm. The visitor center is cute and very interesting to look around, from the porch here you also get an elevated view of the main quarry. Don't forget to pick up a guide to take around with you, as it entails all kinds of useful information about the park and what you can see there. There are actually three quarries in total in the area.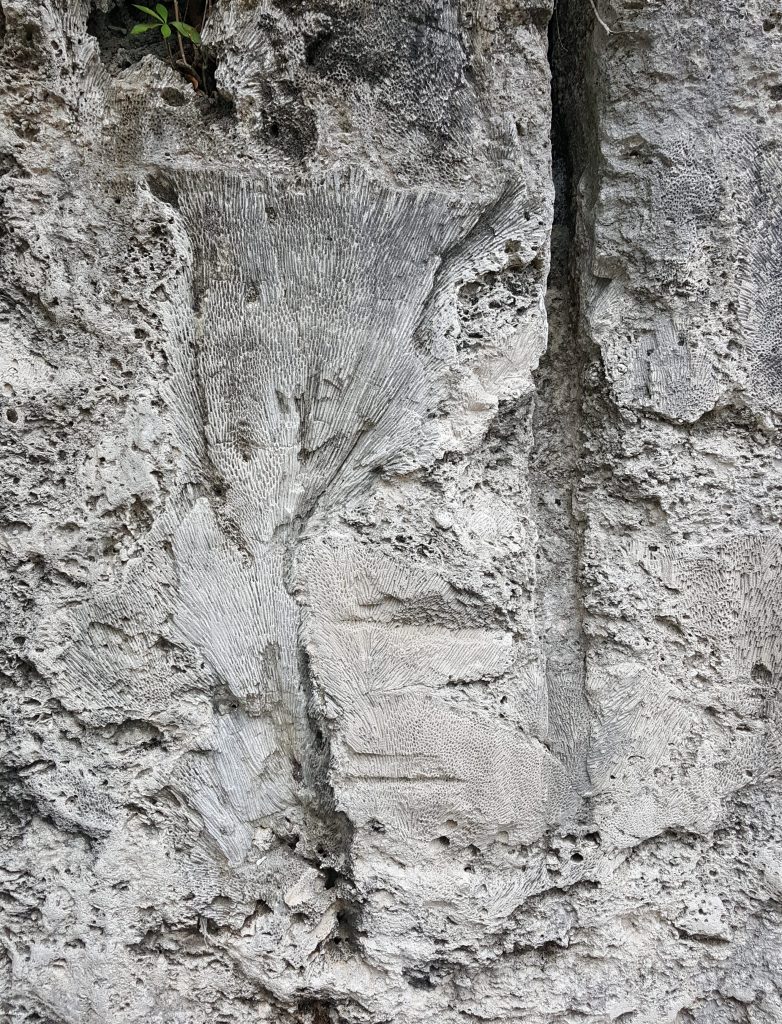 Fossilized Fan Coral
History of Windley Key Fossil Reef Geological State Park
The park is fascinating  from a geological standpoint alone, as you can see a huge amount of fossilized coral stone – actually called Key Largo limestone – which in itself is interesting to look at. However, for me the history makes it even more special, as I am always eager to catch any snippets of Henry Flagler's East Coast Railroad venture. This quarry was in fact sold to the Florida East Coast Railroad in the early 1900's, and the stone was used to build the railroad.
There was also a thriving living community around the quarry, situated just south. Jerry Wilkinson talks about the vibrant settlement and also work life of quarry workers: "Flagler's crews used dynamite to loosen the limestone rock and a steam shovel to extract and load onto railroad cars. Later, it was discovered that the coral rock could be sliced and polished for use as decorative stone. Slabs were extracted by drilling holes in them close together and breaking them away from the walls". (from Jerry Wilkinson's http://www.keyshistory.org/windleykey.html)
After that, the quarry continued in use until the 1960s to produce beautiful pieces of decorative stone called Keystone. The hurricane monument in Islamorada is a very fine example of the local Keystone.
Some of the machinery to cut and transport rock has been preserved and can be seen at the quarry.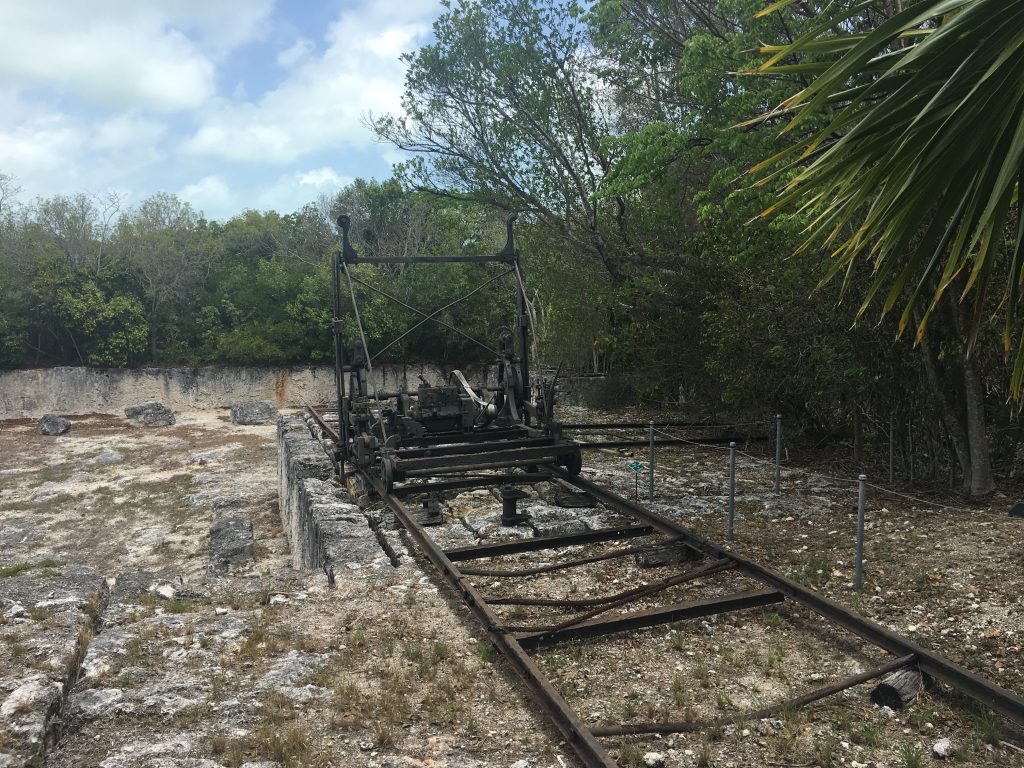 So in conclusion, yes it is a very interesting place to spend a few hours at and educate yourself – provided you bring bug repellant and aren't a mosquito magnet. I'll try again in the winter months!