Do you remember Flipper? Did you know that several dolphins actually played that part, and did you know that Flipper was filmed at what is now the Dolphin Research Center? No? Neither did I. That's just some of the many interesting facts about the Dolphin Research Center, a great place to visit with all the family.
Some Thoughts About Animals In Captivity
Do you feel uncomfortable when visiting places where wild animals are held captive for our amusement, whether it be zoos or theme parks? Do you tend to avoid them altogether? I usually don't enjoy seeing animals in captivity, especially if they are kept in small enclosures and with little or no stimulation. It makes me very apprehensive to visit zoos or any kinds of animal theme parks.
Although, there are two sides to the coin. Not everybody has the means to take their children on Safari in South Africa in order to see wild animals such as lions, tigers and giraffes, for example. Many children today are so removed from nature and wild animals that it seems hard to imagine how they can be future spokespeople for them. Yet, we need them to be exactly that. If we can't excite future generations enough to speak up for wildlife and nature, the result is clear: complete destruction of the natural world and habitats due to not only an ever increasing population, but also due to a large part of this population simply not caring.
So how then do we teach children (and adults) to appreciate wild animals and nature, when we can only show them books and TV programs? If it wasn't for zoos and places such as the Dolphin Research Center, we would have to rely on pictures and documentaries. However, the emotional connection we make with a wild animal when we see it live and maybe even interact with it, can not be reproduced by reading a book or watching a TV show.
The perennial question is: how do we achieve the balance between learning about animals and appreciating them on one hand, and being fair/offering a suitable living arrangement on the other? Well, I have been to zoos that do incredibly well with providing almost perfect replicas of habitats as found in the wild for their animals. Of course, this is so much easier with smaller animals. Some zoos even provide breeding programs for endangered species, thus actively ensuring the survival of fragile species that would otherwise disappear forever. It's not all bad!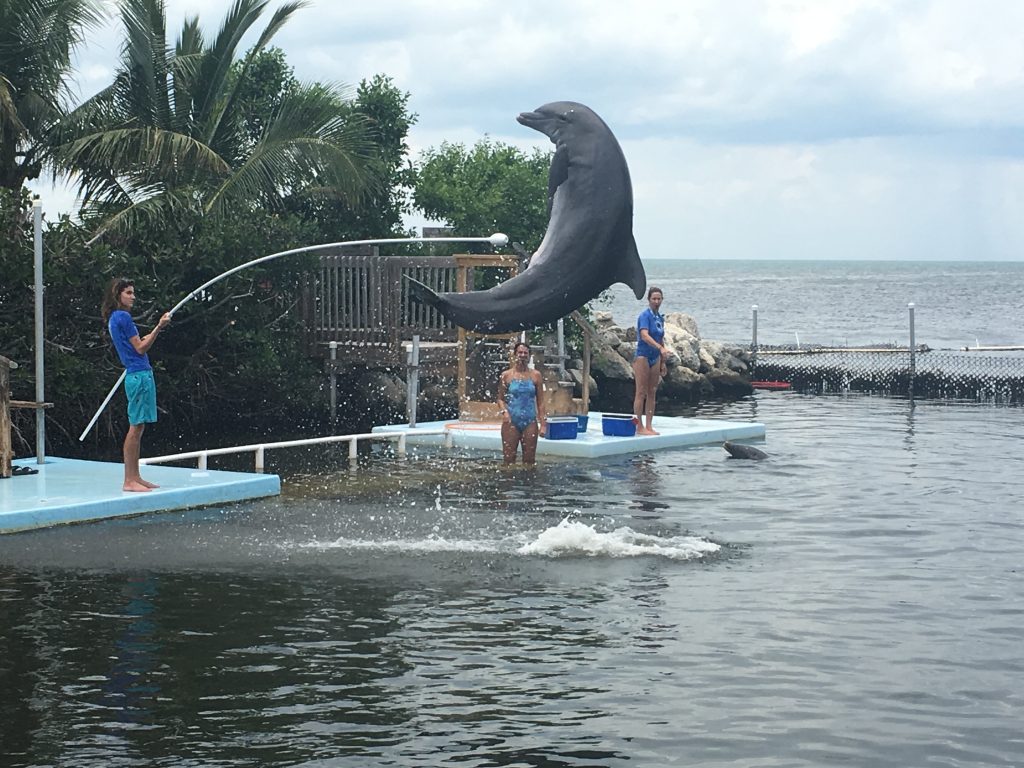 The Dolphin Research Center
Whether you are for or against keeping animals in captivity for our amusement and learning experience, you will appreciate that places like the Dolphin Research Center manage very well to have a balance between research, providing good and stimulating living conditions, and engaging and educating the public through fun lectures and interactions with the dolphins. Some of the dolphins there are rescues, who would have had no chance to survive in the wild due to debilitating shark bites or being the victim of an oil spill.
I had never been to a dolphin show, being somewhat resistant to the idea. I prefer to see them in nature, but in hindsight I was really glad to have visited the Dolphin Research Center. Only now can I fully appreciate the intelligence and playfulness of these amazing marine mammals. Credit has to be given to the amazing, enthusiastic staff at the research center, who have clearly dedicated their lives to spreading awareness and love for dolphins – as well as working with them. It is clear that this is not just a "job" to everybody working there. The trainers manage to gently use the natural curiosity, playfulness and imitation ability of dolphins to show what they are capable of.
I have always loved dolphins, well who doesn't? However, I had not imagined the degree of intelligence and delicacy of these creatures, and how they are so like us in many ways – and so unlike us in many others. Dolphins have distinct personalities, and some really thrive on seeing an audience and being center of attention. In all of the lectures and "shows" (they are more educational than entertainment), the dolphins are not forced to follow a routine, but rather encouraged to do a certain trick. If they decide to do something different, and often they do, the staff let them have their fun. For example, one dolphin we watched decided he mostly liked to wave at people, so whenever he was supposed to do something he wasn't keen on, he ignored what he was supposed to do, waving to the crowd instead. He knew it would produce laughs and cheers, which he clearly loved. Not so much unlike some of us, right?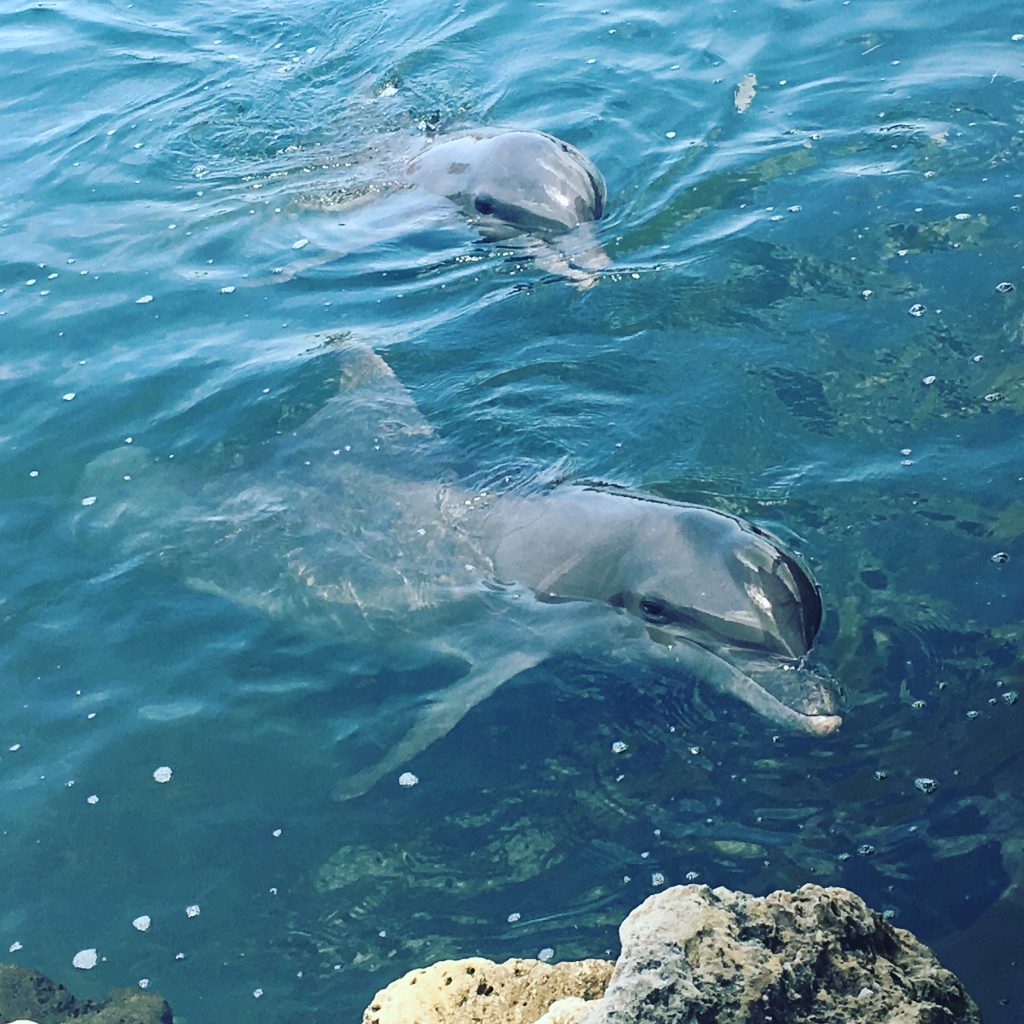 Some Curious Juveniles
If anything, visiting the Dolphin Research Center has made me an even stronger believer in their protection – and I am sure this is probably the same for most people who visit the Dolphin Research Center. And the more people we have on our side, to fight for protection of habitats of all sea creatures, the better. Right?
It's Not Just For Show
It's not all about fun. There is a serious aspect to the research center, which is also assisting marine mammals in distress in the surrounding waters of the Keys. In the past, they rescued and rehabilitated whales and dolphins, as well as providing expert medical attention.
It is important to state another serious porpoise (ha!) to the research center also, which is of course in the name: research! Currently, they are working on a study about Bottlenose dolphin vocalizations, in particular mother to calf. Dolphins are known to produce unique identity signals (whistles), to help individuals recognize one another. In their latest study, the research center has found that new dolphin mothers produce their signature whistle at much higher rates just after the calf is born. This continues for about a month or so and is thought to help the calf recognize its mother, as well as helping mothers and calves to reunite in case they are separated. It is called a "postpartum signature whistle" (www.dolphins.org).
The wonderful staff at the research center are working on many different cognitive and behavioral research projects that will help us understand these magnificent creatures better, and in turn help their conservation in the wild. If that isn't a serious and worthwhile porpoise then what is?!
The research center also has a pretty long history, at least by Florida standards, starting in the 1940's. It became famous for "Flipper", of course, the show having been filmed right where the center is today. You can read more about "Mitzi" the original Flipper (and the other dolphins who played Flipper), as well as about the Dolphin Research Center's interesting history here.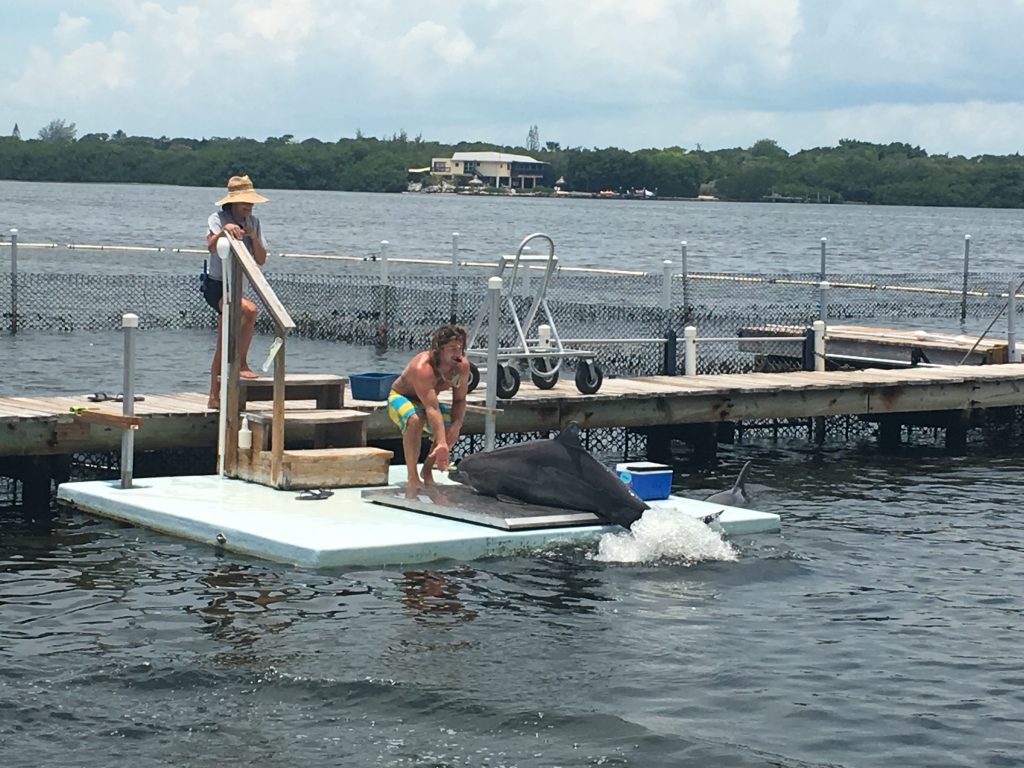 Weighing The Dolphins
Where and How
The Dolphin Research center is located at 58901 Overseas Hwy, Grassy Key, and you will first see a huge statue of a dolphin with calf which sits in the car park. The center is open seven days a week from 9am to 4:30pm. At the time of writing, the fee for adults is $28, children 4-12 pay $23 and children 3 and under are free. If you think it makes for an expensive family time out, consider that you can make a real day of it. You will get a stamp on your hand once you have paid for admission, allowing you to come and go as you please. This is something you might want to take advantage of, as there are lectures and activities all day. It is a great place for the whole family, and fine even in the summer months as there is a splash/water area for kids (and adults) to cool down if they need to. Don't forget your bathing costumes!