We love our outdoor pursuits and when the weather is good, there is nothing better than a great kayak or snorkel in the beautiful Florida Keys. However, facing a weekend with forecast wind speeds up to 25 miles per hour, even hardened kayakers would say: no thanks. So what to do? Head to Key West, we decided, and try to do some history and culture. Of course we needed to fit in the a little of the obligatory bar hopping also. When in Key West…
Harry Truman's Little White House
Truman's Little White House in Key West functioned as the 'winter White House' of America from 1946 to 1952 and it was not just visited by Truman, but continued to be used by later Presidents and their families up until present day.
I have been wanting to visit this historic home for quite some time, having heard many good things about it. And the 'good things' are absolutely warranted. The house itself is charming, with everything having been more or less left in situ since the 1940's. Down to the wallpaper and furniture. So you will walk past furniture that Harry Truman and his entourage 'chilled' on in the 1940's. It's definitely a step back in time, and a classy one at that!
When you arrive, don't forget to check out the grounds. There is a large tree with one branch covered in amazing orchids. They were all in full bloom when we visited!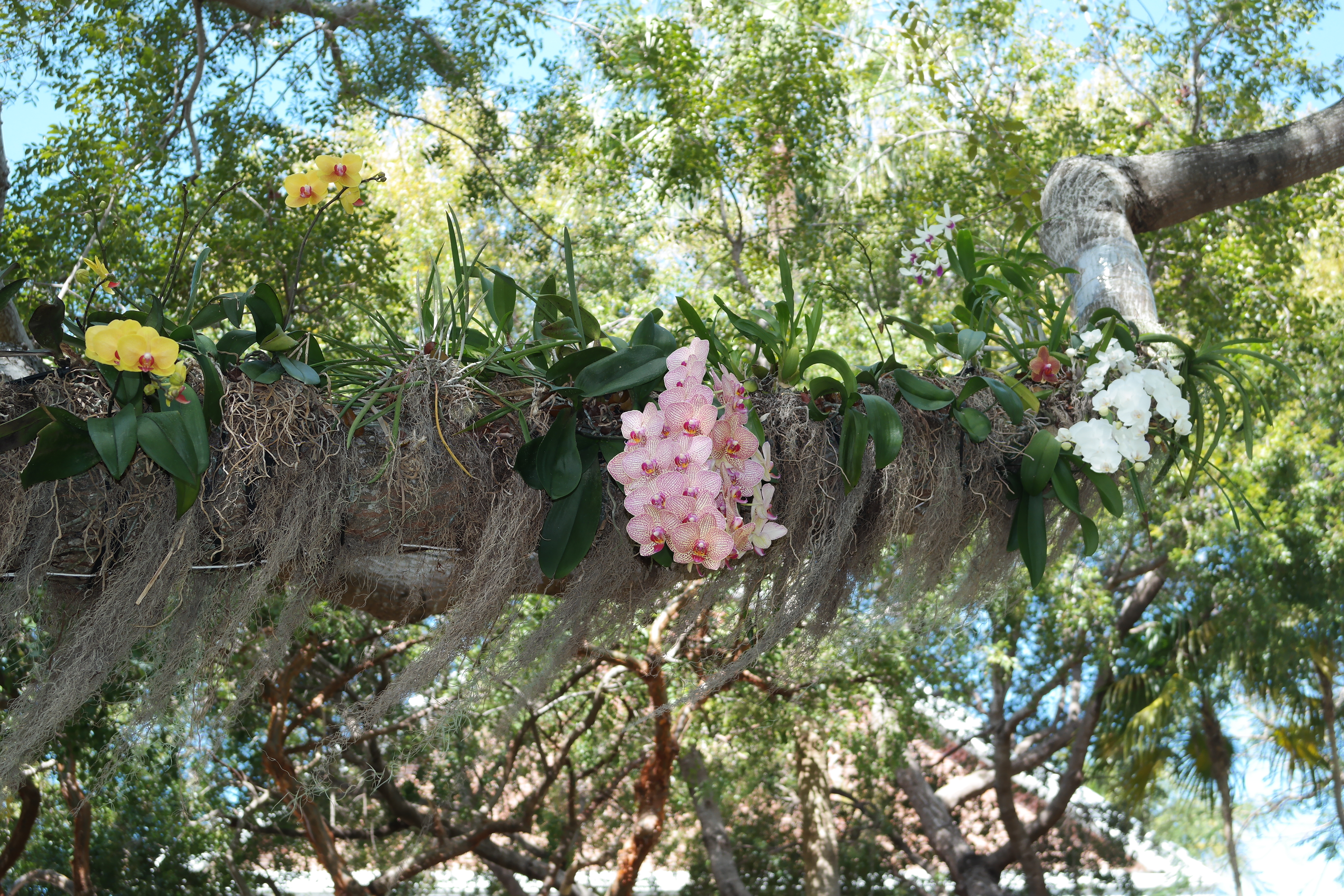 As to your visit, I suggest you don't just settle for the grounds, the outside and the little free exhibit area, but go the full hog and get on a tour of the house. The tour we had was lovely and we were lucky to have a knowledgeable tour guide, who made sure we didn't miss any interesting artifacts and snippets of historical information.
With a tour, you get to see much more of Truman's Little White House, including the furnishings and the exquisite bedrooms – which have been left exactly as they were when Harry Truman and his family used to visit. You also get to see an interesting video of the time, showing Truman and his contemporaries looking very happy and relaxed in Key West, enjoying the tropical sunshine and outdoors including a spot of fishing. Presidents are humans too, after all.
It goes to show that even a hard working president isn't immune to the charms of the Keys! Not having known much at all about President Truman before visiting the Little White House, what I found out about him during the tour certainly endeared him to me! I also found it interesting – I always look for the human element in any of these historical places and tours – that Harry Truman's wife Bess reportedly enjoyed fishing more than he did.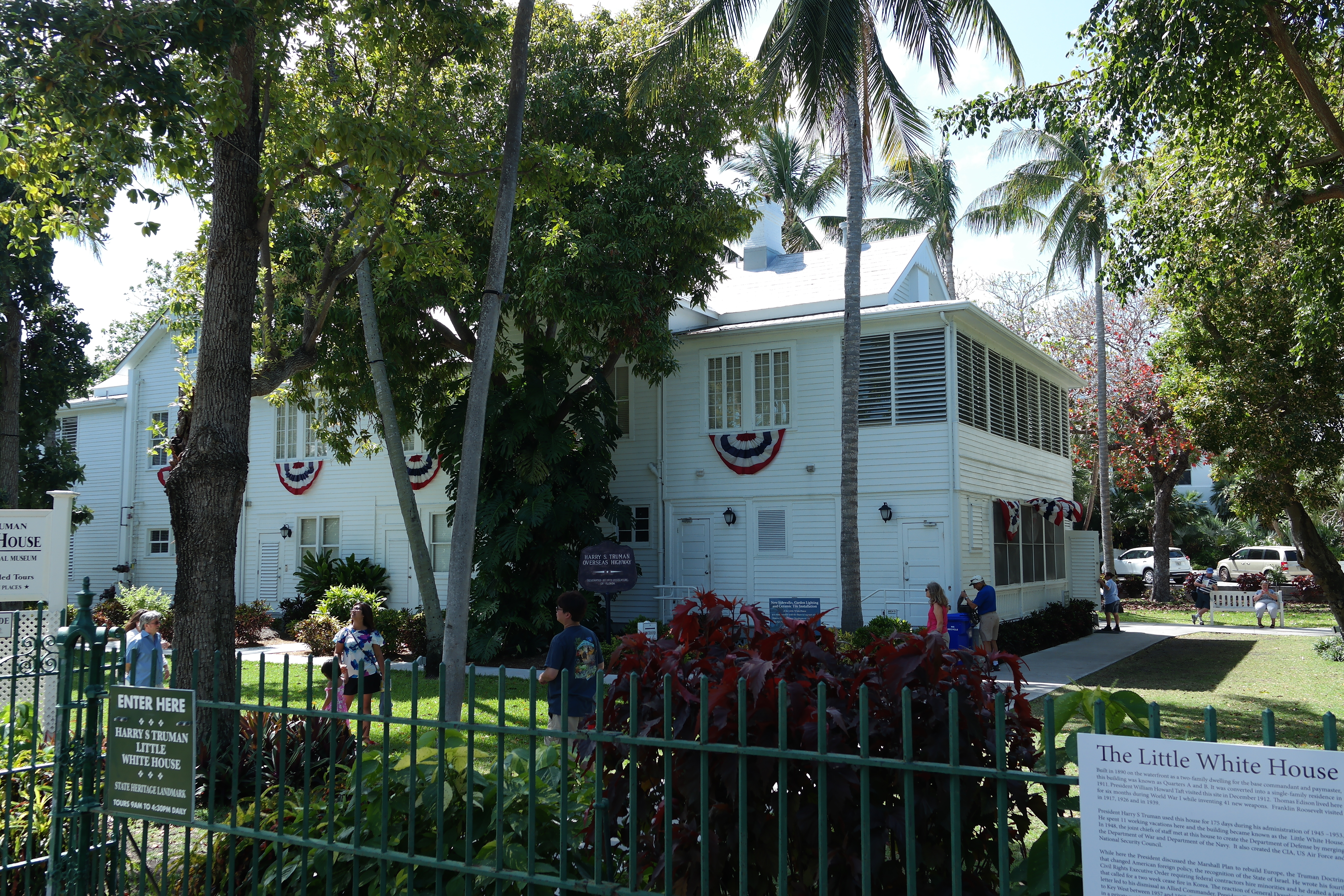 The house did not only function purely as a vacation home for Harry Truman, it was rather more of a 'working vacation home', where he stayed with his staff from Washington and discussed important political issues. He also reportedly played poker (and drank a little bourbon) with them after dinner. Something that was not publicized at the time, as the general population may not have approved. All in all, he made 11 working vacation trips down to Key West with his key staff.
Interestingly, the Little White House still has a presidential suite which is off limits to visitors. To this day, the house occasionally welcomes presidential guests, including children and grandchildren of past presidents (Chelsea Clinton stayed here last year). Hence, there are security issues and photography or cell phone use is prohibited in the Little White House. The house may also be closed periodically for official government functions. It may be wise to call ahead of your visit. My verdict is that it is absolutely worth visiting, perhaps it is not for smaller children, but certainly great education for older ones.
A few details regarding your visit:
You can find Truman's Little White House at 111 Front Street in Key West. Tour price is around $16 at the time of writing, children pay around $5 (with small children under 5 being free). Interestingly, Key West locals can visit for free if they come with a paying guest. What a great idea! The Little White House is open 365 days a year and 7 days a week, and this includes all holidays. Tours are usually offered every 20 minutes until 4:30pm.
Other Historic Gems To Visit
If you like to visit historic homes, of course you can't leave Key West again without first visiting Ernest Hemingway's home! It is truly unique and beautiful and also still home to descendants of his famous six-toed cats (there are more than 40 cats now living there). Hemingway was also a great friend of all the wonderful things Key West had to offer, in particular fishing and – of course – watering holes! He also rode out the devastating Labor Day Hurricane of 1935 in his Key West house. One of the strongest to ever make landfall in the United States, the hurricane devastated the middle Keys in particular.
Hemingway House is located at 907 Whitehead Street in Key West. Tours of the house are about 30 minutes, and the tickets at the time of writing are $14 for adults and $6 for children (and free for the under 5's). The house is also open year-round, 7 days a week from 9-5, including all holidays.
This never meant to be an exhaustive article for 'things to do in Key West', but if you have a few days to spare and want to know a few other great historic attractions, well here are a couple I consider worth visiting. Of course, never skip Duval Street and Mallory Square (the sunset celebration!), but apart from those, a couple of great places to see would be the Key West Shipreck Museum and Mel Fisher's Maritime Heritage Museum, amongst many other attractions. Oh and do get on the Conch Train, no matter how touristy it may look, it is a fantastic way to see Key West and learn about its amazing history.
Relax And Drink Like Hemingway
I could never write an article about Key West without talking about bars. However, there are so many that I am just going to concentrate on one – Capt Tony's Saloon! I wonder how many people know that this was actually the site of the original Sloppy Joe's, where Hemingway liked to while a few hours away, being good friends with the owner. It is one of the oldest, possibly THE oldest bar in Key West, but that is not the only reason why it is worth visiting.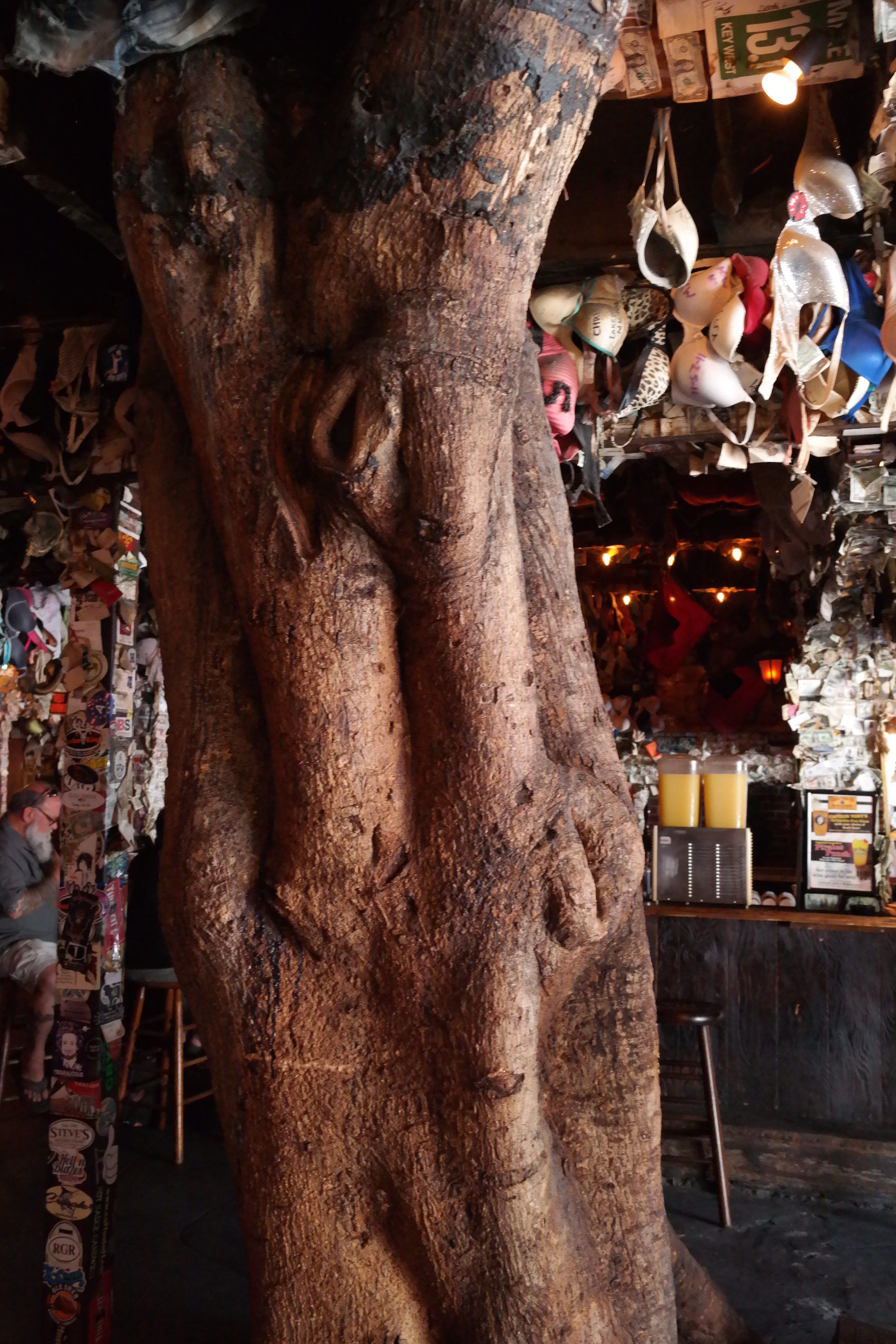 Capt Tony's had a few lives, for example as a bordello, a telegraph station and a cigar factory. However, the most notable perhaps was before it became a bar, as an ice house and a morgue. Chilling, isn't it? It was certainly not unusual to store bodies in ice houses in the days before refrigeration. There is yet more creepy history to Capt Tony's. When you walk inside, besides bras, dollar bills and license plates, you will notice a huge tree trunk.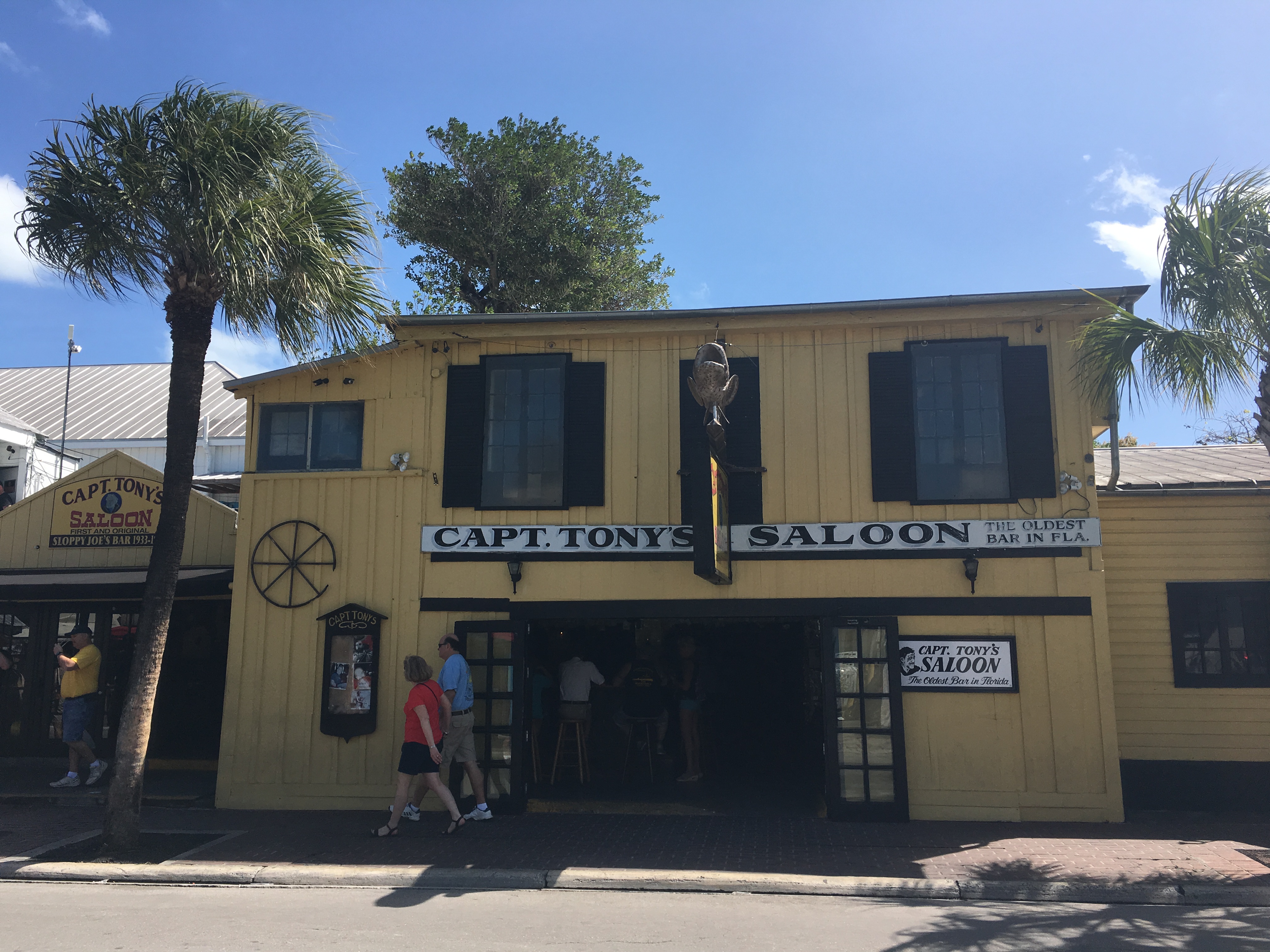 The Hanging Tree Is Still Alive – You Can See It Above The Left Window
Well, that tree has quite the story and it is also still alive (unlike those who were hanged here). Yes, it was once the hanging tree of Key West! There are still bodies buried inside Capt Tony's too – you can find gravestones if you look closely. Admittedly, it is hard to see anything with the dingy lighting.
In the early 1930's, the bar became the first and original 'Sloppy Joe's', which Hemingway frequented between 1933 and 1937. Later on, in 1938, the owner of the bar moved his business to where Sloppy Joe's is now (201 Duval Street). Capt Tony's only became Capt. Tony's when Tony Tarracino, a local captain, purchased the bar in the 1950's.
This is a must-see bar, and I personally like it better than Sloppy Joe's, but by all means: visit both! They are fun. Enjoy a tasty Pirate Punch at Capt. Tony's, you definitely deserve it after a day's sightseeing. Oh and another bonus point, not only do they use re-usable cups, the refills are also cheaper. Cheers!
What are your favorite things to do in Key West?