We are always looking for new places to explore and kayak, and I particularly love kayaking the flats in the Keys. The area around Rock Harbor in lower Key Largo should have grabbed our attention a while ago. However, we had no idea how wonderful this area is for kayakers until someone told us to check it out. Luckily, the same friendly couple who told us about Dove Creek, which turned out to be a a real gem, also told us about Rock Harbor. I am secretly hoping that they have some other places up their sleeve… stay tuned.
Where is Rock Harbor?
Rock Harbor used to be a community on the southern end of Key Largo. It even had its own post office, until it was all incorporated into Key Largo in the early 1950's. The oceanside area, however, is still widely known as 'Rock Harbor' . The name is believed to have been attributed to the shallow and rocky coast line in the area. Its origin can be found at around the time when the railroad was build in the early 1900's (www.keyshistory.org).
Rock Harbor is certainly not over-subscribed, which is another bonus in my book. We saw three other kayakers in the few hours we were there on a Sunday, and it is a pretty big area. There are plenty of different ways to get around and paddle the area. Even at a relatively low tide it seems okay for paddling mostly, although some of the shore-near flats will probably become exposed. The southern end of the big mangrove lined peninsula of Rock Harbor is called Point Charles. The whole area is pretty easy to navigate, and there is cellphone service, so either print out a map or look up google maps on your phone if you worry about getting lost: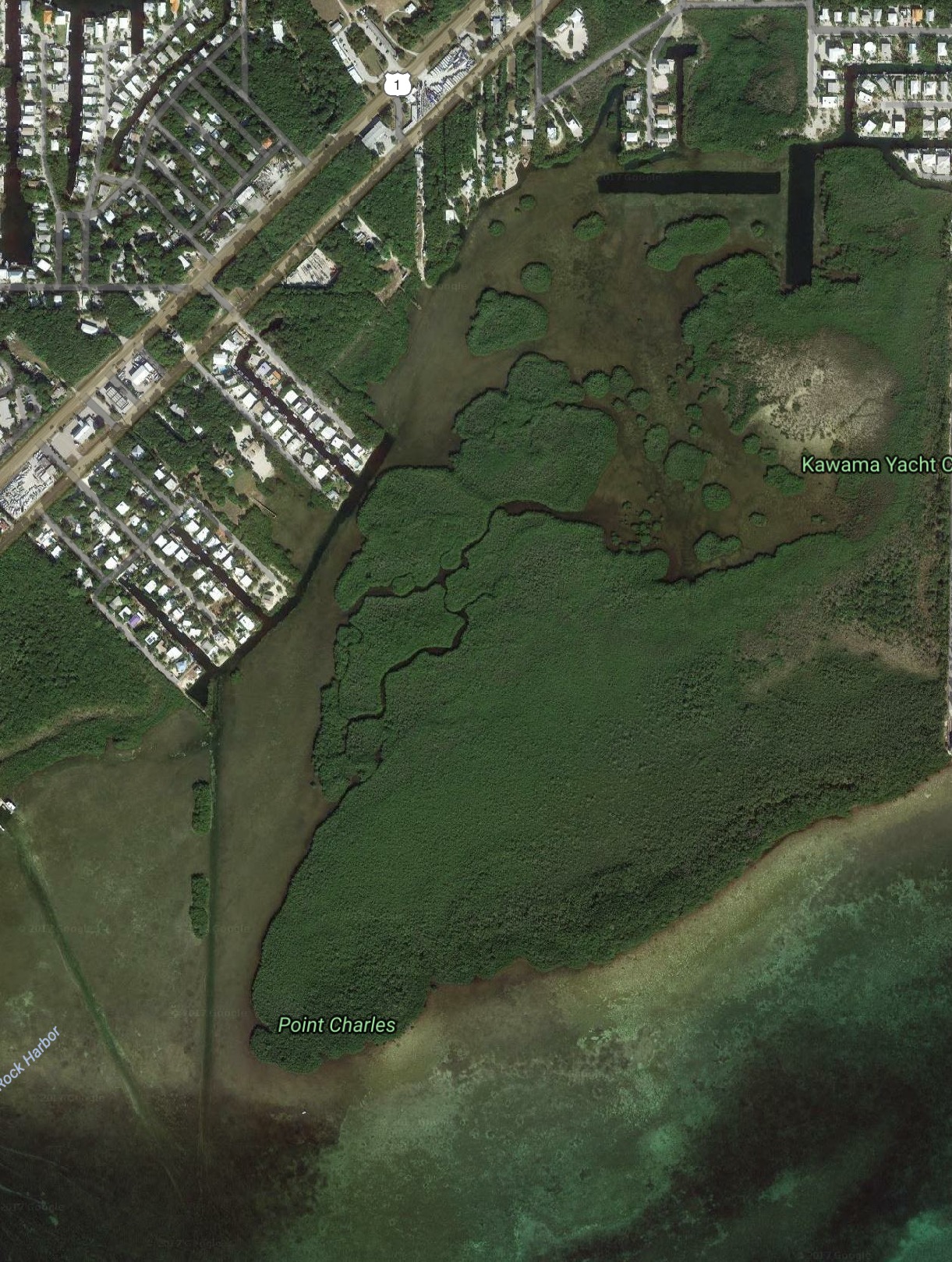 (Image credit google maps)
There is a large area to explore there, most of it flats with alternating sea grass and rocky or sandy bottoms. The whole area is pretty wild and if it wasn't for the traffic you can sometimes hear due to the close proximity to US1, you could feel pretty lost in wilderness there. In my view that's what makes it so attractive, within a short paddle you are in mangrove canals and narrow tunnels, and can explore to your heart's content.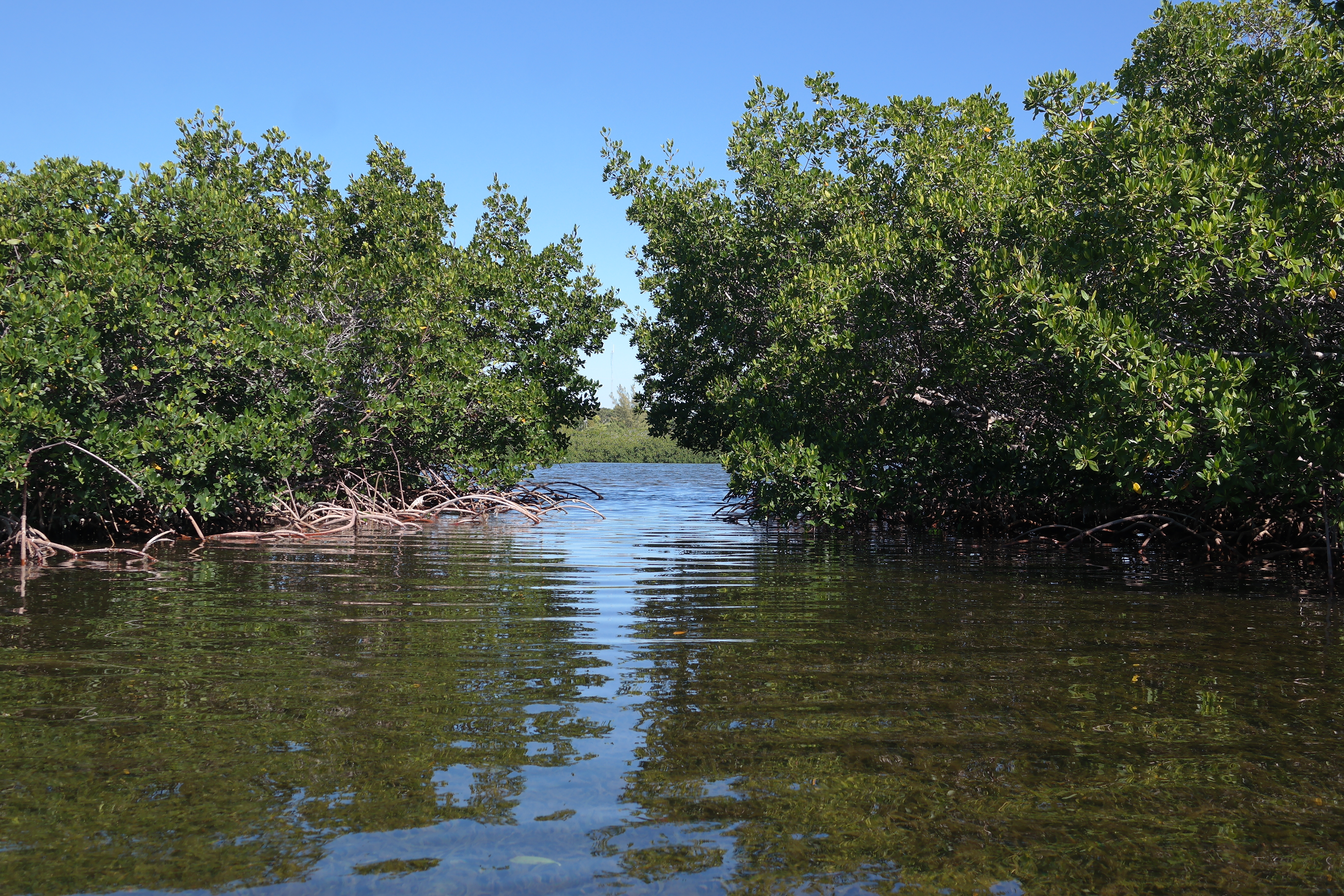 Furthermore, it is possible to kayak Rock Harbor on a relatively windy day, depending on the direction of wind and of course the speed. We paddled it with a 12 mph north easterly wind and it wasn't as bad as I had imagined it. We just needed a little more elbow grease on the way back to the launch, as we were paddling against an outgoing tide also. So if you time your tides right – which means out with the outgoing tide and back to the kayak launch with an incoming tide – it should be a breeze also for weak paddlers.
Where to launch at Rock Harbor?
It took us a while to work it out, because there is very little information about paddling this area. Not even google, my usual 'go to', was able to help.  So you can save yourself the time, forget googling, and just read on. We came upon a little hidden kayak launch which put us right into the best spot north of the area, from where it is easy to paddle south. Practically no boat traffic and a nice and easy paddle down to the mangrove areas.
The kayak launch is on a corner where three streets meet, namely Harbor Drive, Caple Road and W Canal Drive (incidentally, this is close to Mrs. Mac's, a fantastic breakfast stop!). The easiest way to get down there is to turn right onto Harbor Drive off US1 in lower Key Largo. When we were there, on a perfect Sunday late morning, prime kayak time as it were, we were the only customers at this spot. Only one caveat: the car park does get a little flooded (a few inches) at the highest tide, and I might not park there on a king tide. You could probably kayak right to your car! You can see the launch area in the top portion of this google map image: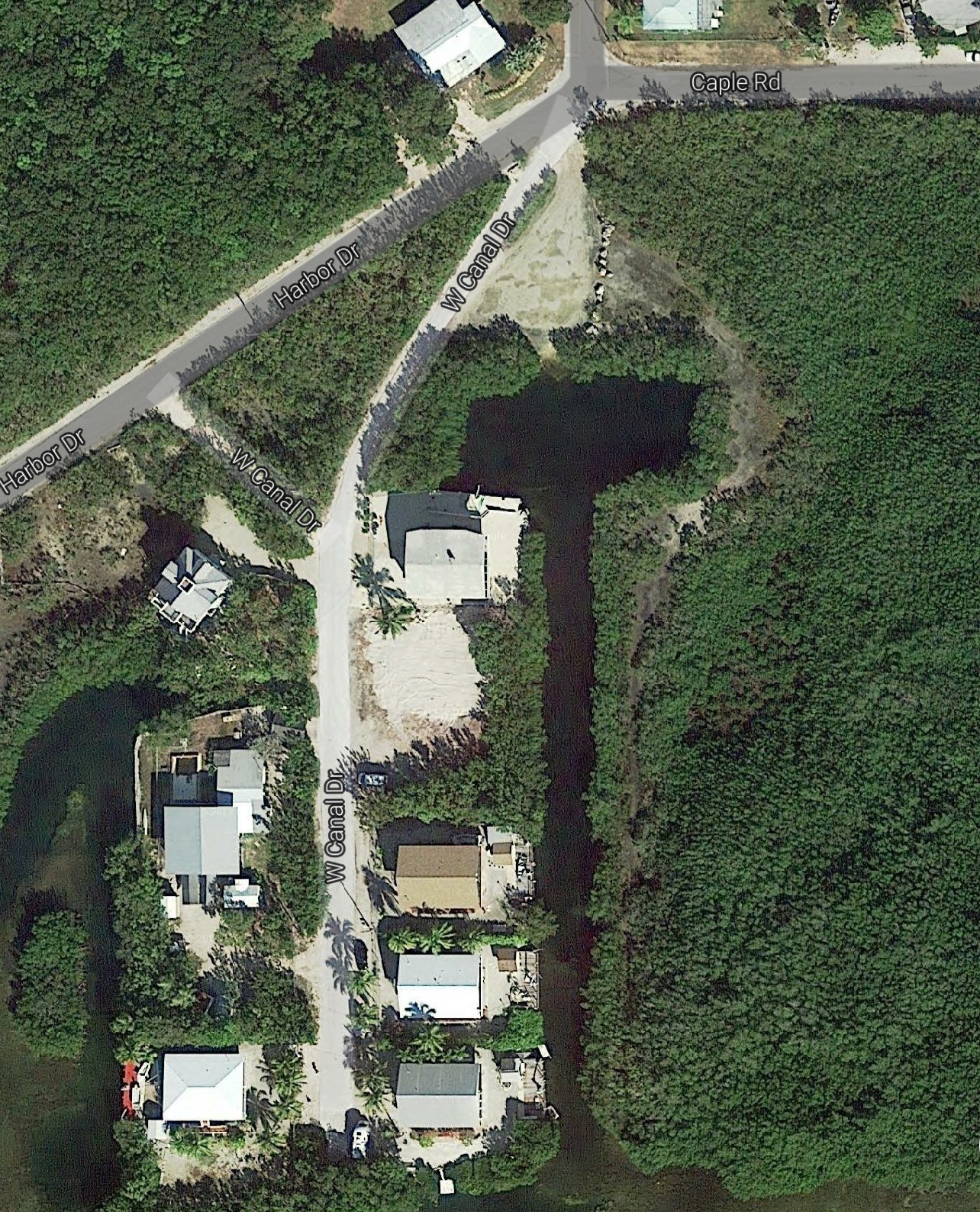 From there, you just paddle south and then you will see the area with mangroves already. Now it is up to you where to go. We headed further south along the western area of the mangrove outcrop and went into the first little inlet into the mangroves. If you care to look down, you will see all kinds of ocean creatures, mostly lots of small fish, and again parrotfish of all sizes. We also saw a decent sized southern stingray.
The most unusual was perhaps not the oceanlife, but a large group of great white herons flying together like a flock, something I had never seen. I am wondering whether they were pairing up and preparing to roost. It was quite a sight! Unfortunately, I wasn't fast enough or close enough to capture the little colony on camera.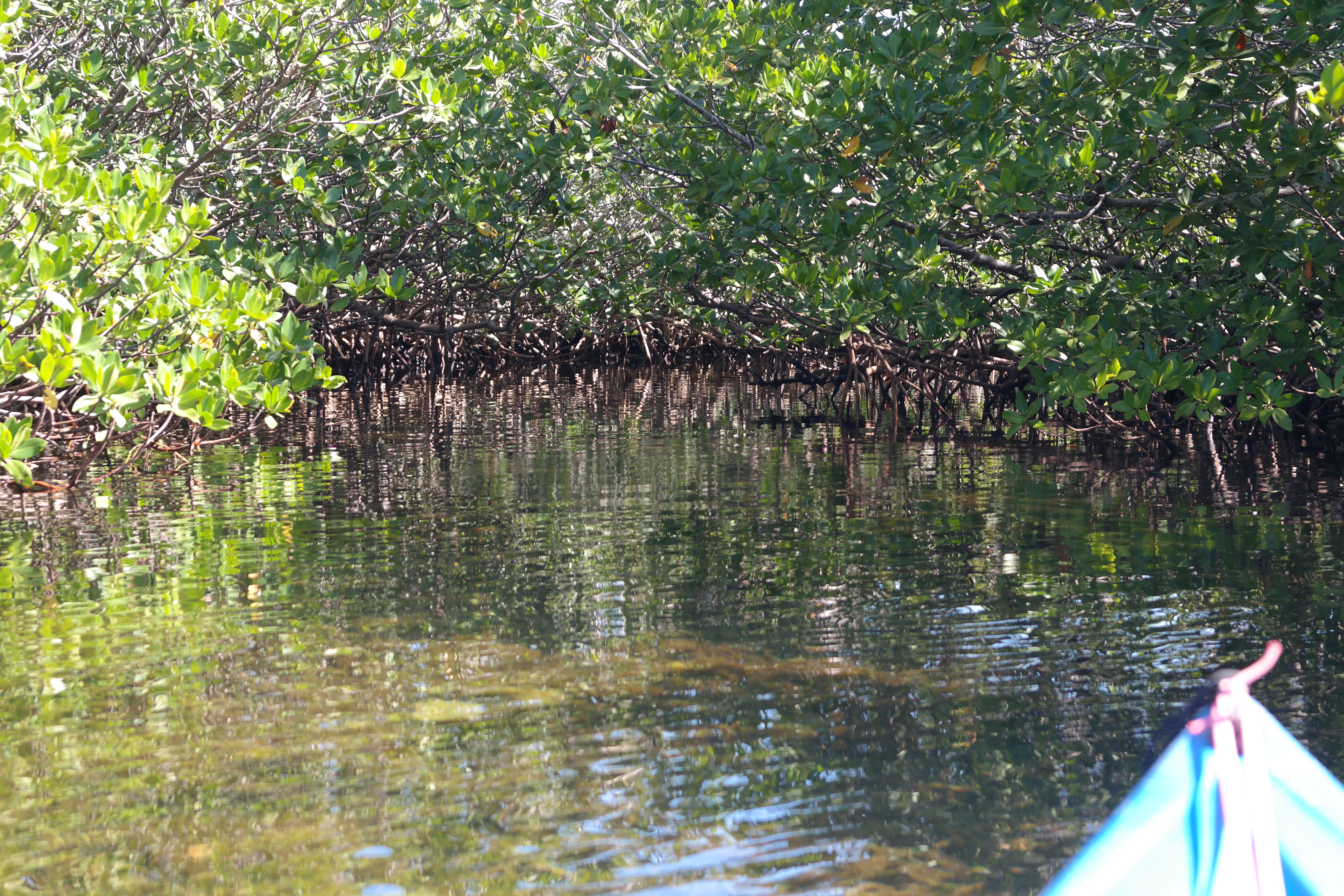 Entrance To  Mangrove Tunnel
This hidden spot is the best of both worlds. It offers plenty of little narrow mangrove tunnels to explore, but enough open expanse to paddle for those who feel a little claustrophobic, and don't want to be whacked in the face by mangrove roots all day long. It is a great area to explore all day and look around the various little canals and mangrove islands. Or just float around the shallows and bask in the great outdoors. It can get a little hot in the tunnels though, so make sure to bring enough water and sunscreen, the usual south Florida must-haves.
My most favorite area by far was close to the launch, the flats east of it, near the mangroves as you paddle out of the canal with the houses. I just let myself float while my husband was kayak fishing in the cut out channels. After floating around aimlessly for a while, I happened to come across a huge school of parrotfish that I probably spent a good hour observing. They were mesmerizing to watch, and as long as I did not make any rash movements or started paddling, they came right under  (and around) the kayak. I took a few videos, but it is pretty hard to capture such magical moments from a kayak.
We didn't make it all the way around Point Charles. I fancied kind of circumnavigating this mangrove peninsula. 'Kind of', because it is actually impossible to circumnavigate it properly, as it is attached to land! But it was a windy day and we only had a few hours. However, we will definitely be back to explore more. This is the kind of place you can come back to time and time again and still see something new, or discover a mangrove tunnel you hadn't seen before.
Have you kayaked here, are you planning to? I would love to hear how you liked it!