Time for some unusual and 'living' history. Every now and then you stumble upon the highly unusual in your neighborhood, something you might have overlooked or you may have known about, but never paid much attention to.  It's not really rare in the Florida Keys to find something odd and delightful, but you do have to open your eyes, and occasionally your ears when the locals talk…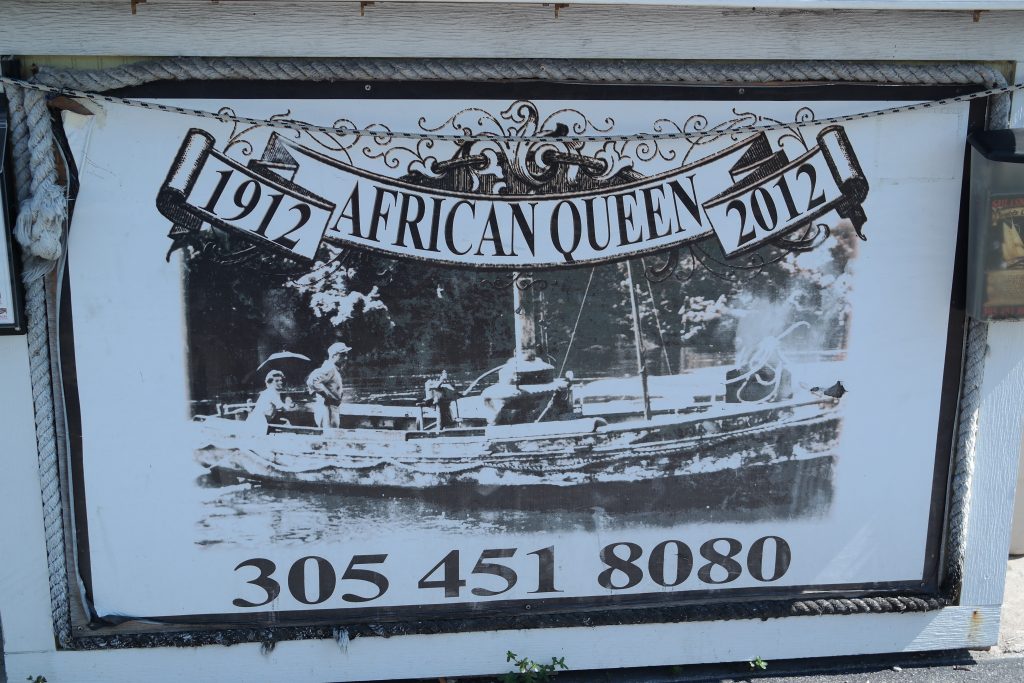 I had known for some time that the 'African Queen' from the eponymous movie, resided in Key Largo. I can't remember why I knew, it was probably hearing friends talk about it some years back. It so happened that weather seemed too unpredictable to go on a kayak tour on a Saturday morning, or maybe we were just a little too lazy. However, staying indoors all day was not going to happen. What to do? It occurred to me that the African Queen , as well as the marina area where she has her home, might be something worth checking out. And it really was.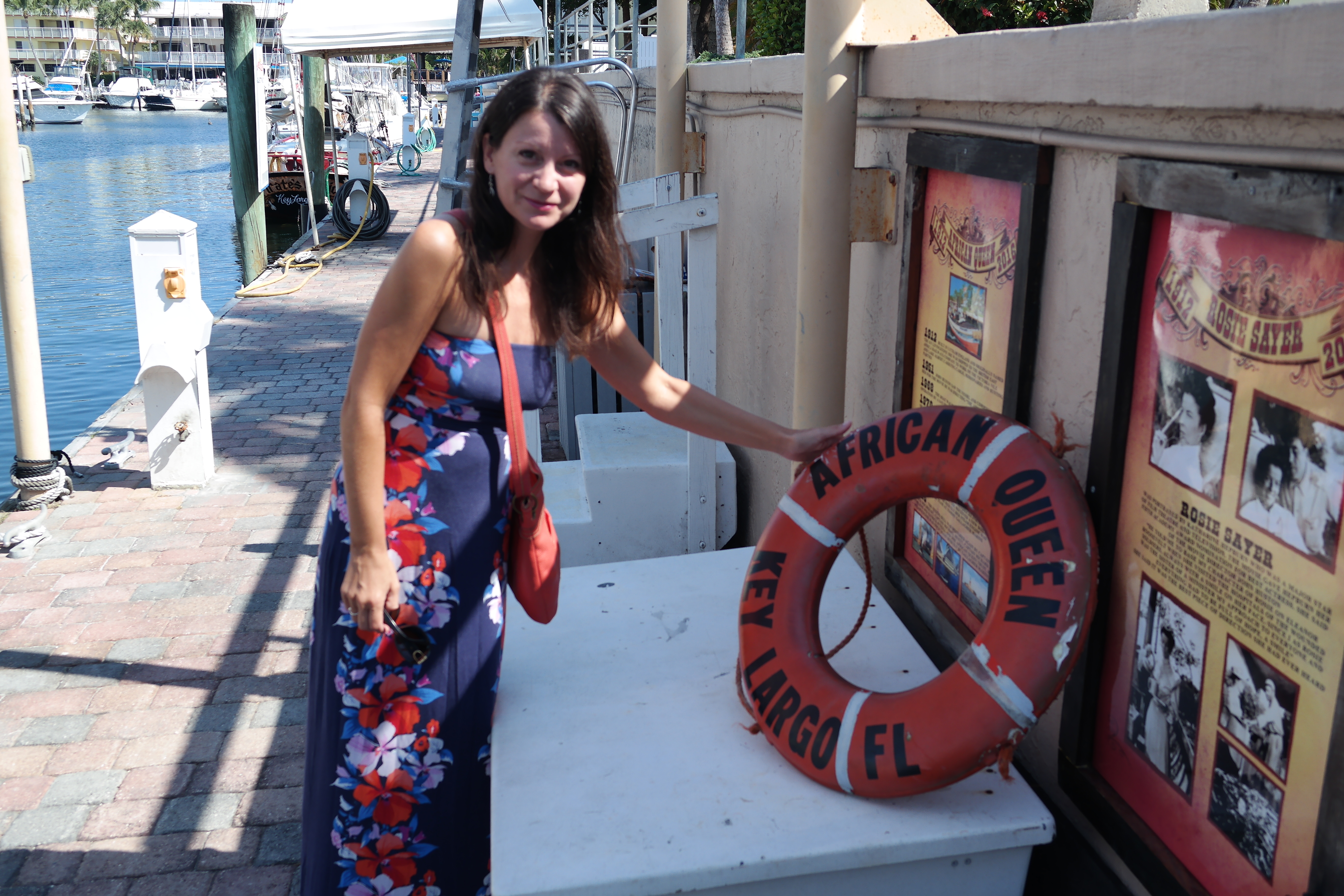 There isn't just the boat to look at, no, there is also a cute little display including some movie posters and interesting information about the African Queen and the movie. I found particularly interesting that the whole crew suffered from dysentery except Humphrey Bogart, who had apparently staved it off with: whiskey. I am sure that alcohol kills germs but knowing his reputation, he would probably have had a few anyway, dysentery or not.
The boat itself looks much smaller than I had anticipated it, but it is a national treasure and really lovely to look at with that big boiler in the middle. It's a neat living historic artefact to visit. Did you know you can even take cruises on it? More about that later.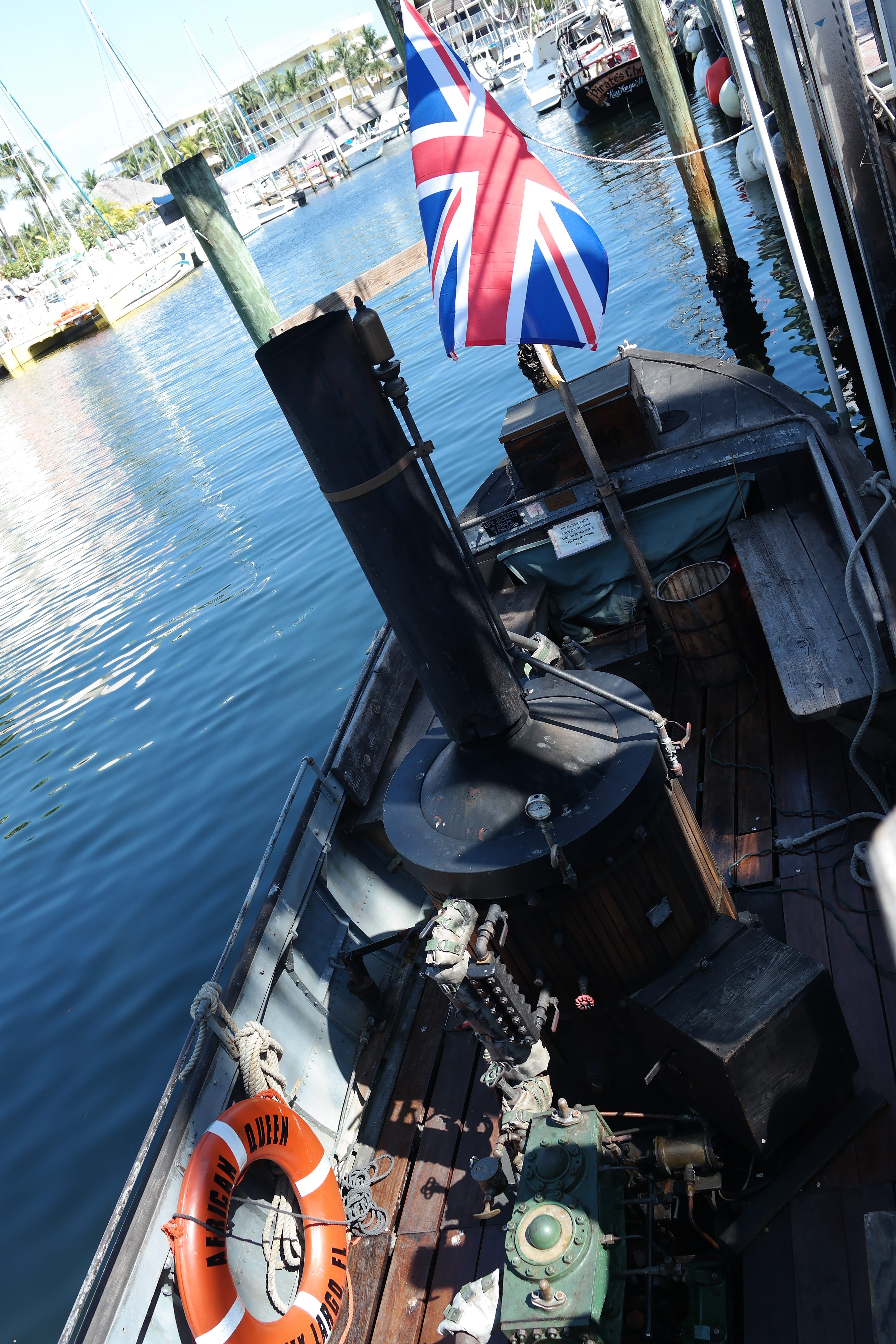 The History Of The African Queen
The history of this little barge is truly astonishing. The African Queen's life started as the S/L Livingstone in England. She was built in 1912 at Lytham Shipbuilding Yard and subsequently served as a cargo vessel for the British East Africa Rail Company. The African Queen spent its first 50 years working the waters of the Ruki River in the northern Democratic Republic of Congo.
She was used  to transport hunters, mercenaries and cargo. Not much different, therefore, to the African Queen in the movie. If you have seen the movie, you will remember that Katherine Hepburn played Rosie, a missionary. It so happened that the director, John Huston, was hunting in Africa and spotted the boat there in the 1950's and deemed her ideal for his movie. The African Queen was temporarily taken out of her work service so she could be the star of the movie. I think we can all agree it was a great choice. I couldn't picture Humphrey Bogart and Kathleen Hepburn in another boat on their river adventure!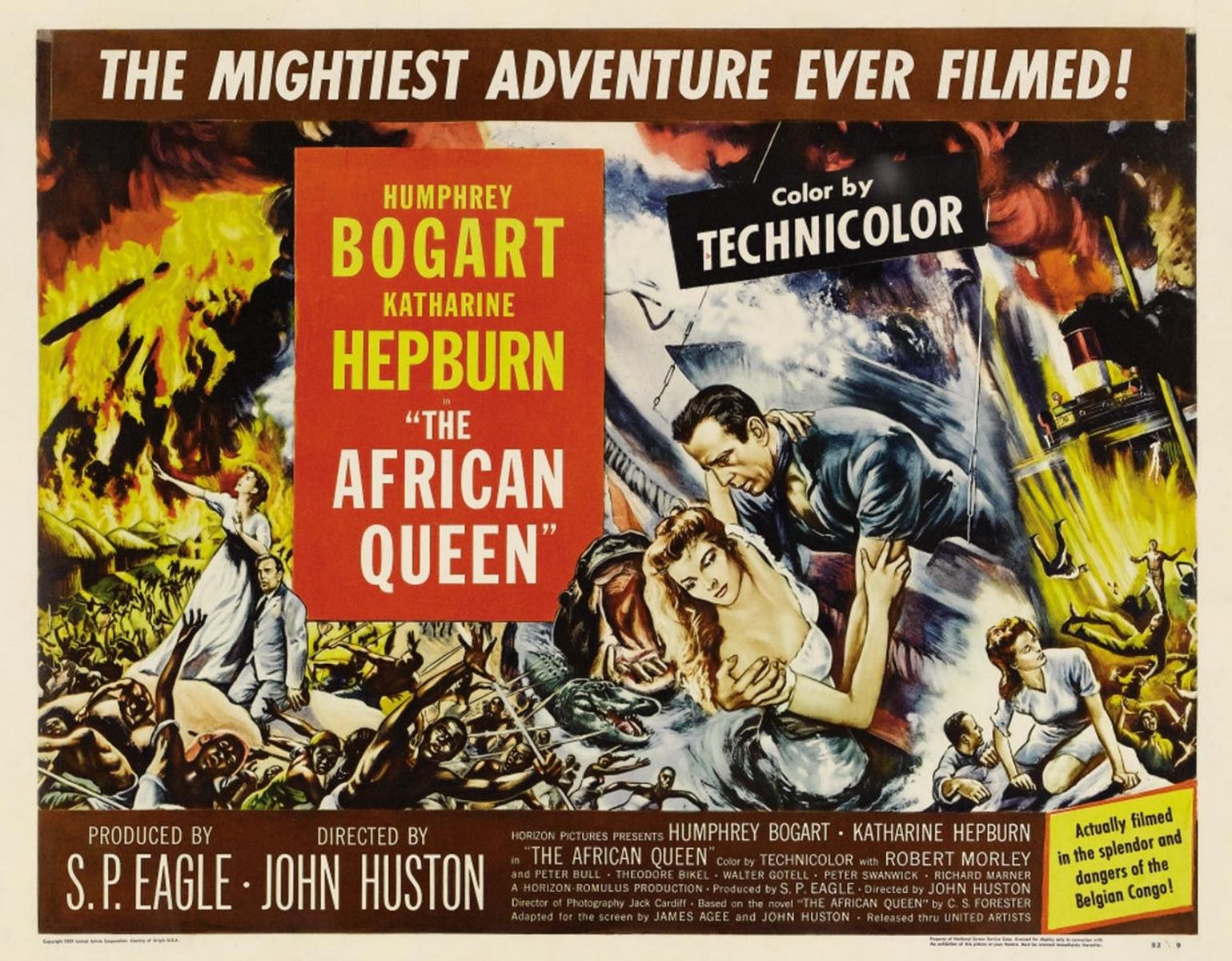 (image courtesy of United Artists)
Somehow she ended up in Egypt, apparently still with coal in her bilges. By the late 1960's, the boat was purchased by an American businessman and transported to San Francisco with ideas of using her as a tour boat. Unfortunately this attempt proved unsuccessful.The African Queen then changed hands a number of times before being bought by Jim Hendricks Sr., a Florida attorney and huge Humphrey Bogart fan, in 1982. He owned her until his death in 2001. While she was in his care, she traveled around the world. He took the African Queen to various events, for example a flotilla marking the 50th anniversary of the battle of Dunkirk in the English Channel. She was even present for the Queen Mother's 90th birthday on the river Thames!
On February 18th, 1992 she was added to the U.S. National Register of Historic Places. However, when Mr. Hendricks Sr. passed away, the poor old African Queen was out of luck once again and languished in a marina in south Florida. It was here that her current owner, Suzanne Holmquist, a Key Largo resident, spotted her and recognized her as the famous African Queen. The boat was now owned by a trust and Mrs Holmquist made an offer to the owners to restore the ship and put her back to work.
Mrs Holmquist and her husband equipped the aging boat with a new steel frame, a replacement boiler and repainted the original African mahogany wood decks.
Once restoration was finished, the African Queen had a special guest take her helm to celebrate the new restoration: Humphrey Bogart's son Stephen.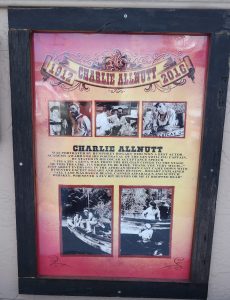 The African Queen Now
Mrs. Holmquist and her husband run 'Calypso Sailing', a watersports and boat charter business out of Marina Del Mar in Key Largo. They have not only lovingly restored her, but also 'adopted' the African Queen as one of their working boats. And the good news is for all you movie buffs out there: they offer cruises! Check out their African Queen website here.
You have not only the option of going on a canal or dinner cruise, but you can also charter the boat for your own event.  The option for a canal cruise is open a number of different times per day, and the dinner cruise is available on weekends. Call them to inquire about times, availability and pricing (305-451-8080).
What else is there to do?
You are at Marina Del Mar and looked at the African Queen, or took a cruise and now ask yourself: What next? I'd say have a good old stroll along the seawall, where you will come across two bars/restaurants looking out over the canal, where it is easy to just relax for a few hours and watch the comings and goings of all types of boats.
If you are up for a little (or a lot) more action, check out all the watersports activities in the marina. they have a multitude of fishing boats going out of there, as well as a big glass bottom boat and various snorkel and diving boats. There is something for everyone in this marina. There are so many boats offering fishing, party fishing, snorkeling and diving, I could not possibly note them all individually here. The best thing might be to show up a day before, or in the morning before you are planning on any of these activities, and find out some more information. The phone number of the actual marina is (305) 451-4107 and they may be able to help with booking excursions also.
We had some fun walking around the marina and having a quick drink at Sharkeys. And then (and I suggest you do the same), we went home and watched the movie. You owe it to yourself, even if you have seen it before.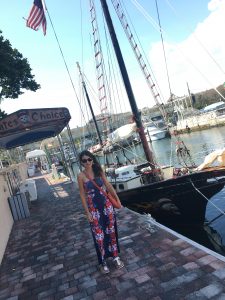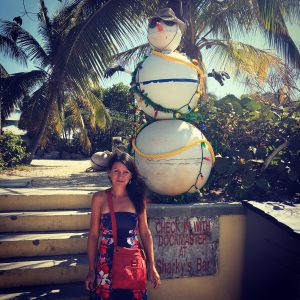 Snowmen In March