I absolutely love Ocala National Forest in central Florida. It has everything the adventurer desires: the area feels remote, has fantastic trails, beautiful springs, and a lot of interesting 'old Florida' quirkiness thrown in – such as the Fort Gates ferry (I wrote about that here). The springs are so very beautiful. My favorites in Ocala are Juniper Springs and Fern Hammock Springs, both accessible through Juniper Springs recreational area. We had come here almost exactly a year ago, in 2015, and I wrote about it here.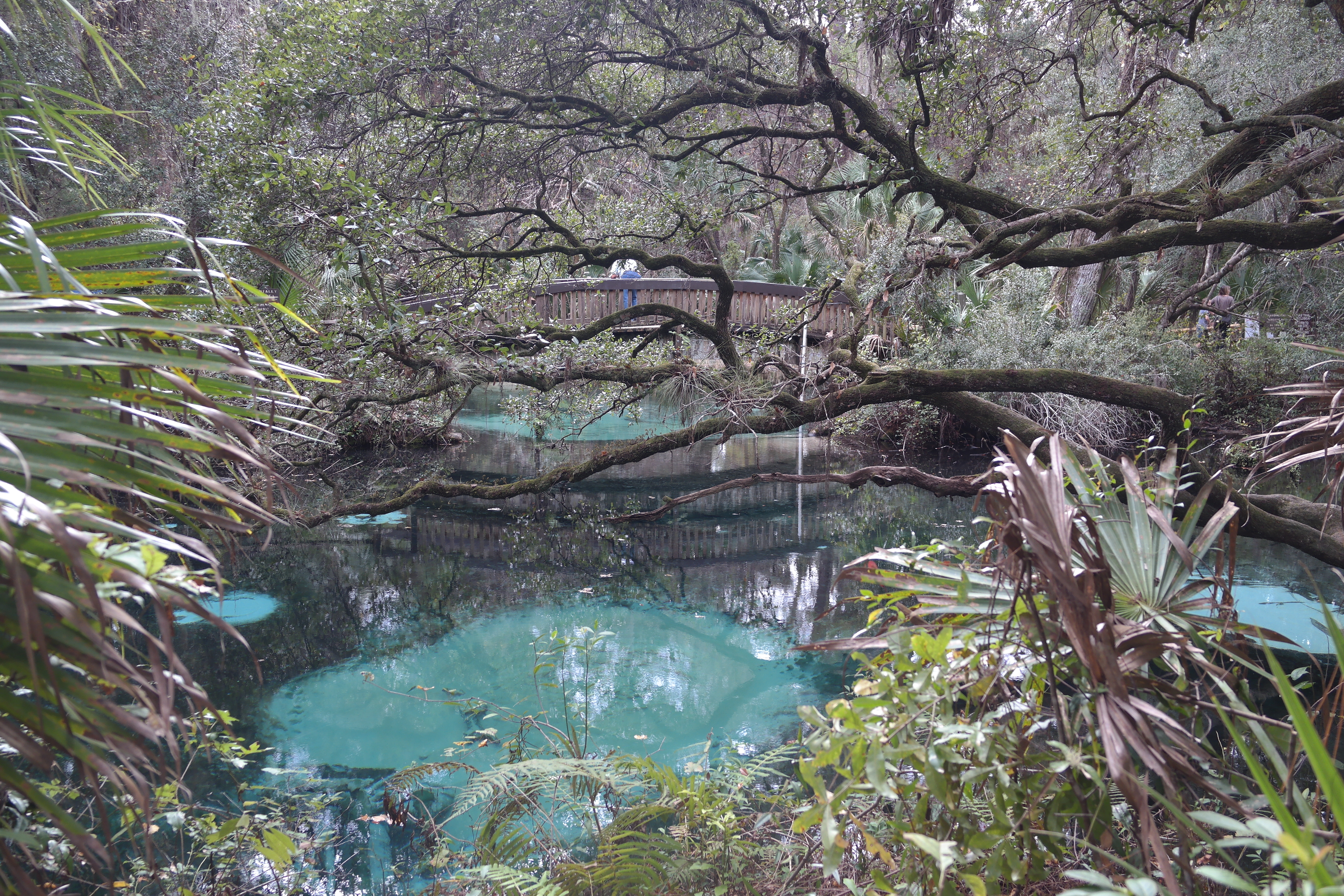 Glorious Fern Hammock Springs
It was back then that we decided: we need to come back and kayak the Juniper Springs run! Little did we know what we were letting ourselves in for. However, I had a faint idea, reading some reviews from those who had done the trip. Words such as 'challenge' were used frequently. I also saw one ominous post stating: 'do not kayak this if you are a beginner!'. We thought that – hopefully – people were exaggerating. Well, in hindsight, I am extremely glad that I had some kayak experience under my belt for this.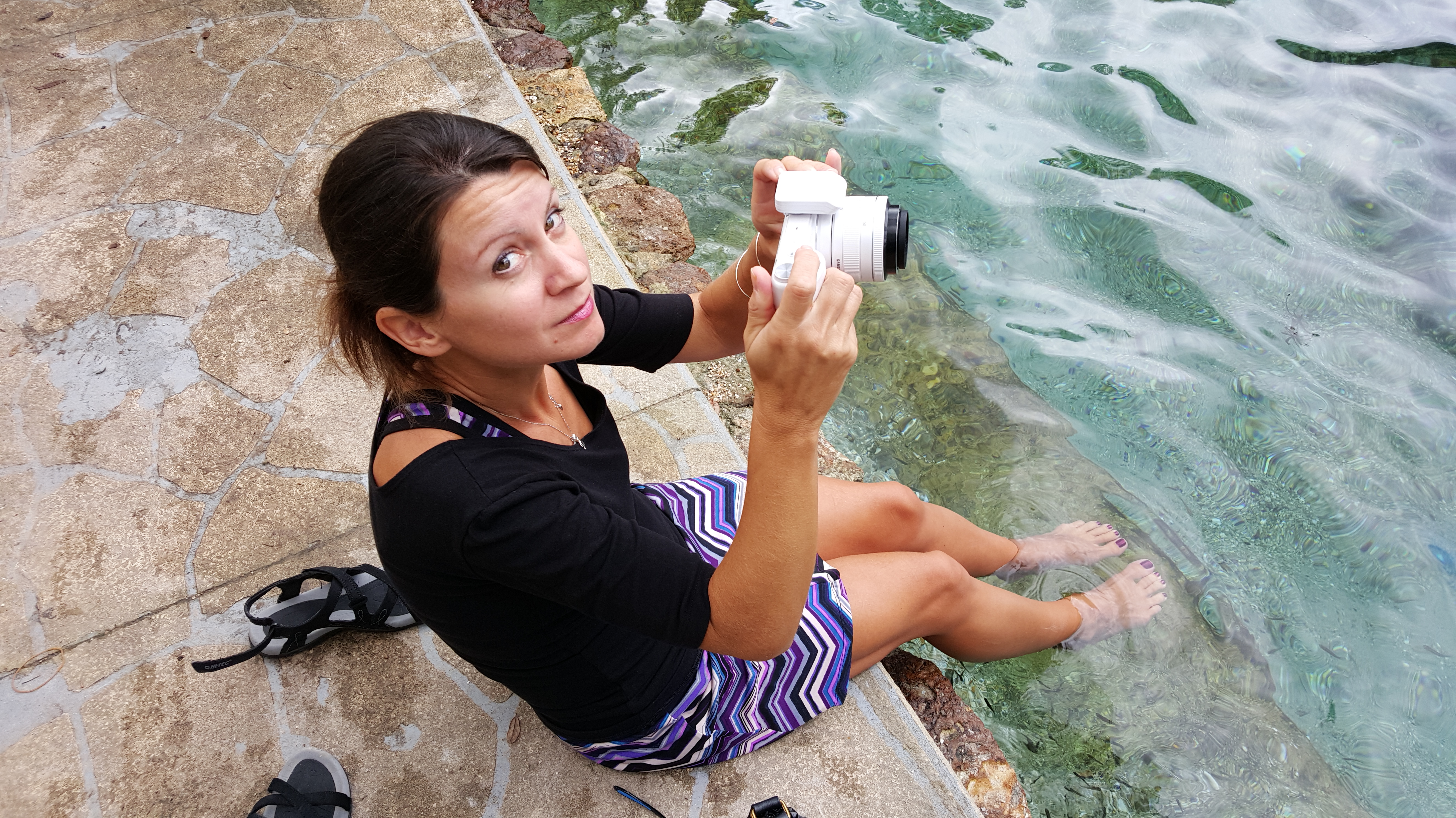 For Those Who Aren't Up To Kayaking – There's Always Dipping Toes!
Be prepared!
First of all: if you want to do this, it is best that you are not only a little experienced, but you also need to know a few things before attempting this run. Firstly, you need to be there as early as possible. The run gets busy and getting onto it seems to take an awfully long time. Also, the Juniper Springs run is 7 miles long and you can't just cut it short, as most of it runs through complete wilderness. As you are being pushed by the current, however, you don't need a lot of paddling strength (just skill!). And when you arrive at the end of the run, there is a livery service that takes you back to the park.
What we did not know, for example, is that there is a mandatory class before they let you on the kayak run. The class is a very good idea, and also pretty entertaining, but you need to calculate the time in. The class – or in our case –  waiting for the next class AND taking the class, can take up to 45 minutes. And they close the run at noon. This means that if you are not at the class/on the run by then, come back another day. No exceptions!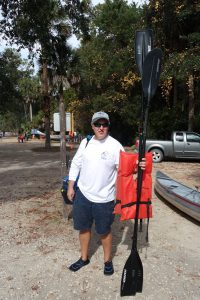 Ready To Go After Class
The other thing that pays knowing about: if you have reserved a kayak and you are NOT there by 10am, the staff will release the kayak for others. Hence it is good to be there early, as early as you can, for lots of reasons!
What to bring
The next little 'complication', although a great thing for wildlife and pristine nature areas: you absolutely cannot take any disposable items out there. This sounds easy, until you realize that everything comes in a packet or in wrappers. And yes, you will need to take that candy bar out of its wrapper and place it in a re-usable container if you want to bring it. Or just eat it there and then. Let's face it, you won't have time to eat that on the run anyway (unless you stop somewhere) – because you really do need to concentrate with this one!
Needless to say it is easier to get prepared at home or at the hotel, than fiddling with your stuff when you are at the kayak launch. Although we saw people doing just that. The lady who works there will go through your cooler and if she finds one or several offending articles –  you will need to dispose of them before paddling. You will also slow the process down for everybody else.
It is interesting how prepared you may think you are, before realizing that disposables have – sadly – become part of all of our lifestyles so much so that we don't even realize we carry them! For example, we packed everything into plastic re-usable containers BUT my bug-spray, which was wrapped in a plastic bag. Of course, that plastic bag was a disposable one and I had totally forgotten about it. Luckily they have a trash can at the launch. And again, yes your coolers, bags and kayaks are checked for disposable items, so please make sure you comply 100% with this rule.
What you can see on the run
Apparently all kinds of things according to the prep talk ('class') you will get before launching. The wildlife here comprises, amongst other species: deer, otters, raccoons, alligators, birds, and black bears. The run itself will go past palms, cypress and southern hardwoods, sawgrass and wetlands.
The class might get you a little nervous. They will be talking about keeping your wits together on the run, not going too fast because you will get tipped over, and rapids (and yes, there are rapids!). They go on to tell you not to swim or get out of the kayak, as that is not allowed. Also, apparently it might not be a good idea to get between an alligator and the water, or tip out of your kayak in those areas – as if anyone does that deliberately. I was starting to get a little nervous at this point, it was quite a prep talk! Oh and the currents can be quite dangerous and the water deceivingly deep, so they say. Not to forget all the obstacles. So if you are not nervous before you get there, at this point you probably will be – I was!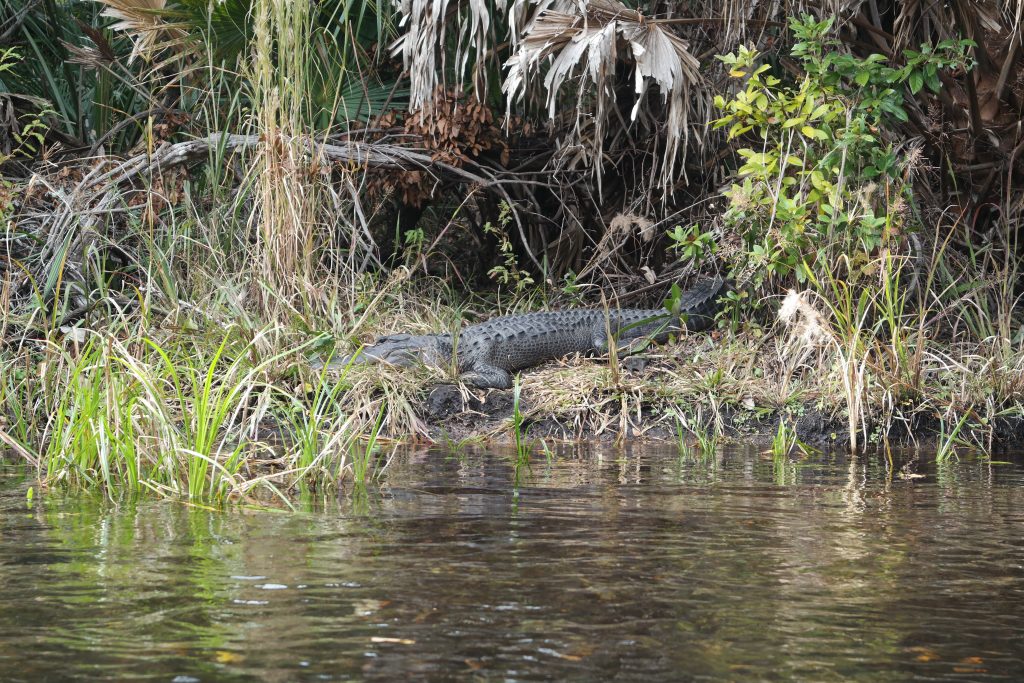 Peaceful For Now – But Don't Swim!
They also tell you about bears in the spring run, including a mama bear and cubs. And that we should speak to them 'gently' to get them to move, in case they are in the way. So far so good. Well, the spoiler is that we didn't see any bears after all. We did see, however, two alligators just chilling on the banks.
What was it really like?
The run itself is very beautiful. In the beginning couple of miles, where it is at its most beautiful, it is also at its shallowest. All the butt shuffling we tried to do with our kayak, to get us off the sandbank, was actually quite exhausting. Not to talk about sand getting shoveled on my head and into my ears (!) thanks to my loving other half. Let's just say I now know why they call the run 'divorce alley'. We are still married. I am wondering whether this run would be easier with two single kayaks though, as they would be lighter as well as more maneuverable. You can also rent a canoe, if you want to keep your backside dry…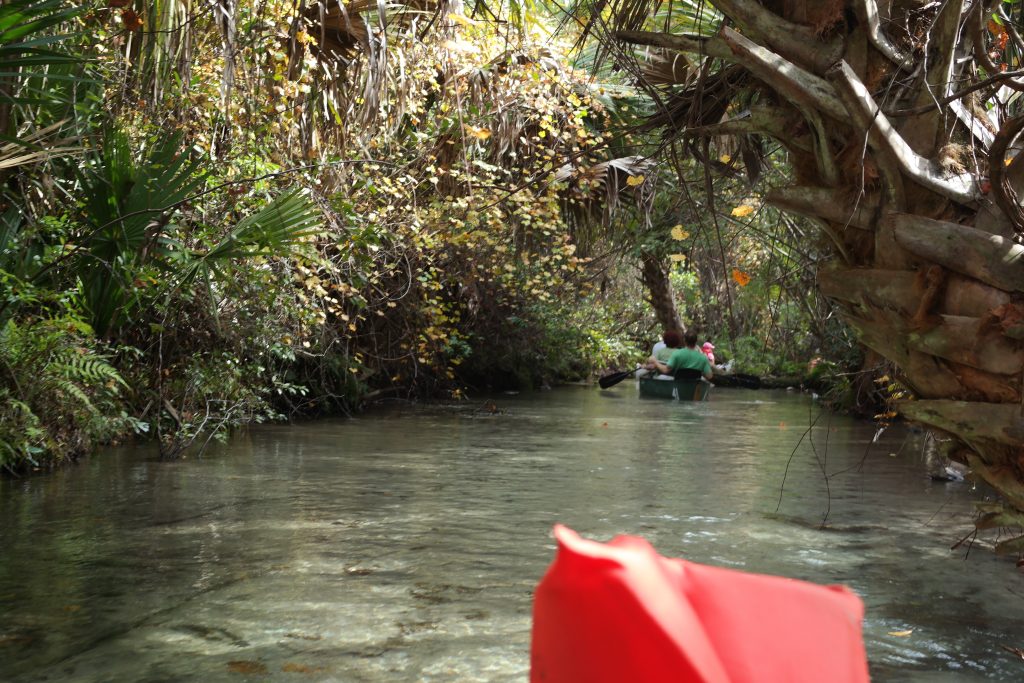 The Start Of The Run Is The Prettiest Area
We were sweating just pushing off the first few yards from the launch and I was hoping that it was just a short part. Luckily it was. Once we got unstuck it got a little easier. However, the current increases also, and so do the obstacles. There are plenty of fallen trees in various stages of 'fall', and you will have to watch out at all times at what is ahead of you and coming up underneath you. You need to be able to steer your kayak around obstacles with a current that, at times, will be pushing you along at quite a pace. We worked out that the less paddling one does, the better. If you are too fast, you can't see the tree trunks underneath and risk getting struck by (or stuck on) those, or taking them at a weird angle which might cause you to tip.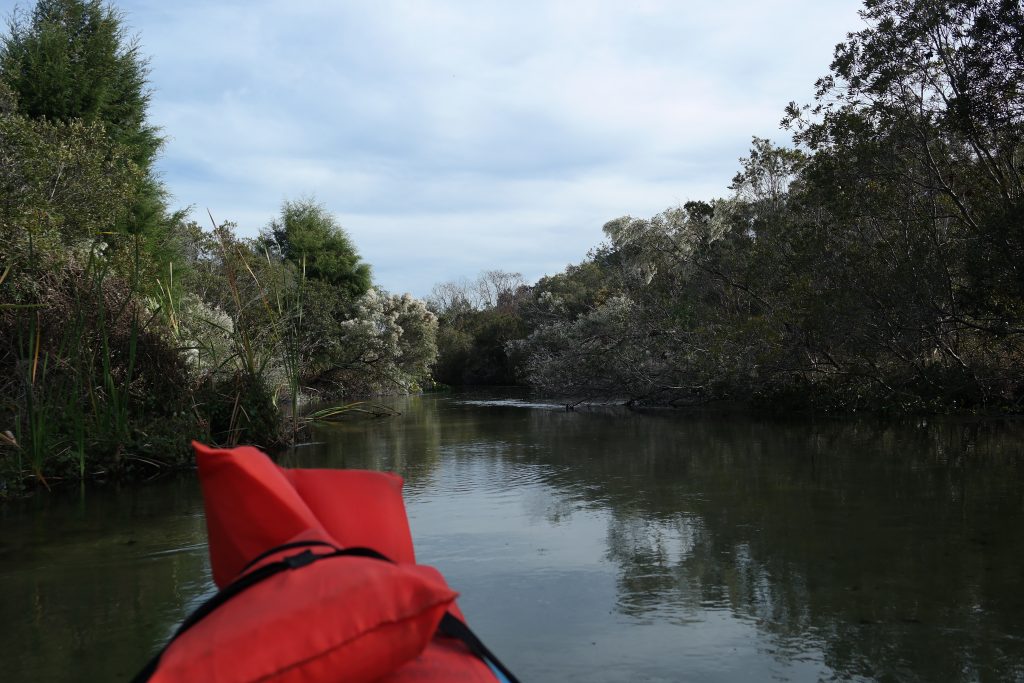 The River Opens Up In Some Areas
The run is not 'scary' or overly difficult, as long as you pay attention and go slowly. There are rapids and being a wimp, I worried about those the whole run, yet when they came, they were the most fun! So please don't worry and just enjoy them, as long as you go straight into them and not at an angle. You will definitely hear them before they appear.
The only thing that really is a shame, is the fact that we could not take many pictures, as we had to pay attention pretty much the whole time. We were in a tandem and it needed both of our full attention constantly, so sadly I don't have many pictures to show for it.
On a scale of 1 to 10
The run is pretty and the rapids and challenging nature of it make it fun and different. The best part is at the beginning, and if you expect the water to be as turquoise as you see it at the spring head, or like other runs such as Weeki Wachee, you might be a little disappointed. The water, although pretty clear at the beginning of the run, is not quite as clear and turquoise here. So on a scale of 1-10, I might give it a 7. It was not my number one and most favorite run, but it is definitely up there with the best. Yes, I would do it again and probably enjoy it a lot more knowing exactly what to expect!
The nitty gritty
You will find Juniper Springs recreation area here: 26701 FL-40, Silver Springs, FL 34488. Entrance is on the north side of Highway 40. The recreation area is $5 per person, and the area is open year-round from 8am-8pm 365 days a year. Please do yourselves a favor and check for the kayak run, as it can be closed due to tree fall occasionally, especially after a 'weather event'.
There are a lot of things to do here, including swimming in the spring, walking the trails, camping and of course the canoe/kayak run. The  run opens at 8 AM for launching. On their website it states that: '11:45am is the latest you can arrive to launch a rented canoe to be picked up by the shuttle at the other end. With your own canoe and self-shuttle, last launch is 4 to 5 hours before sunset'. The difficulty of the run is described as 'intermediate' – take heed.
Fees for renting a kayak/canoe, at the time of writing are  $33.00 + tax (including shuttle transport) and a $20 deposit per canoe. The deposit will be refunded if you bring all the gear back intact.
If you want to bring your own kayak, it costs $6 per person to launch and $6 also for transporting private canoe/kayak ($12 total).
Useful numbers: for campground information: (352) 625-3147 and for kayak/canoe rental information: (352) 625-2808