Who doesn't love manatees, the cuddly giants of the canals and waterways? Now is the time to get out there and see if you can spot them out and about, as they head for warmer waters during wintertime. During winter months, manatees tend to congregate in springs and power plant discharge basins, while during the summer months they are much more widely dispersed, and one is lucky to see them.
Now is the time when a manatee sighting is pretty much guaranteed, provided you know the right places! I have drawn up a little list of places that pretty much guarantee manatee sightings of at least a few or (usually) plenty of manatees in the wild. But you do need to go in the winter! These warm-water refuges are deserted in the summertime.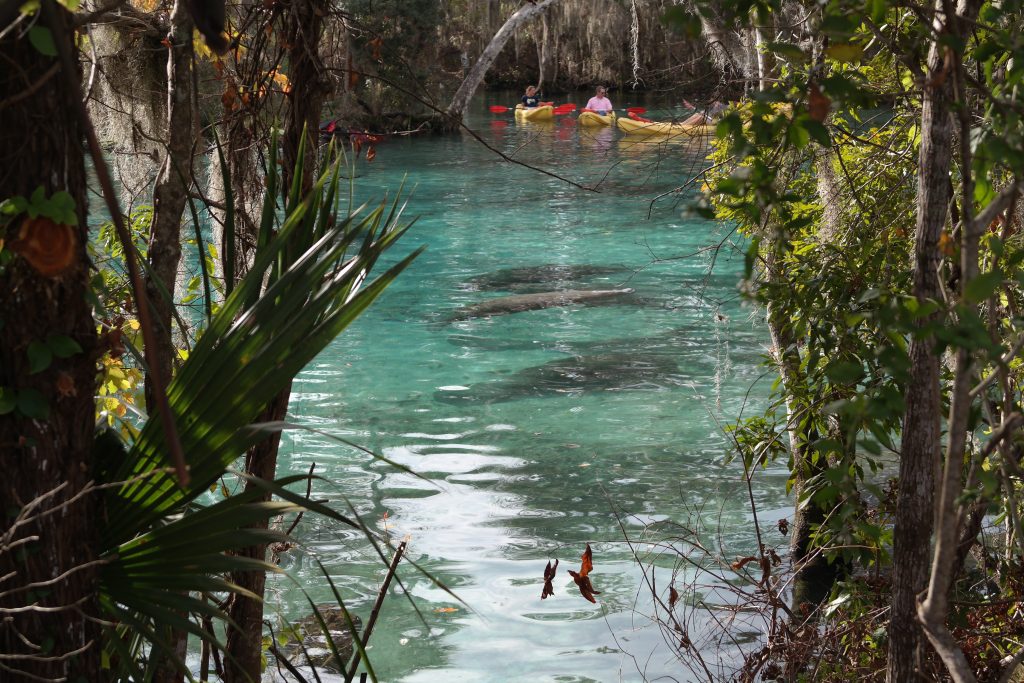 Manatees In Crystal River – Three Sister's Spring
First of all, there is an etiquette when it comes to viewing manatees, and the FWC rightly states on their website that wildlife is best watched from a distance so as not to disturb it. Why not take a good pair of binoculars when you go manatee spotting? Keeping a respectful distance and trying not to disturb the animals is always a good idea, no matter how tempting it is to reach out and touch or even feed them. Don't do it. It is actually an offence to harass manatees or feed them (this includes giving them fresh water).
So where should you go to be pretty much guaranteed manatee sightings?
1. Crystal River – Three Sister's Spring
This made my number one, because I have been there and literally seen hundreds of manatees crowding into the spring area, almost huddling together in the warm spring waters. Three Sister's Spring and boardwalk (from where you can walk around the spring basin and see the manatees) is only accessible by booking a tour, if you want to go by foot and on dry land, as the area is highly protected. It is possible to get to the spring entrance by boat and kayak/canoe and when we were there a couple of years back, there were kayakers in the spring. When we came back a year later, with kayaks, it was not possible to kayak into the spring basin (figures), so it seems the rules change from time to time.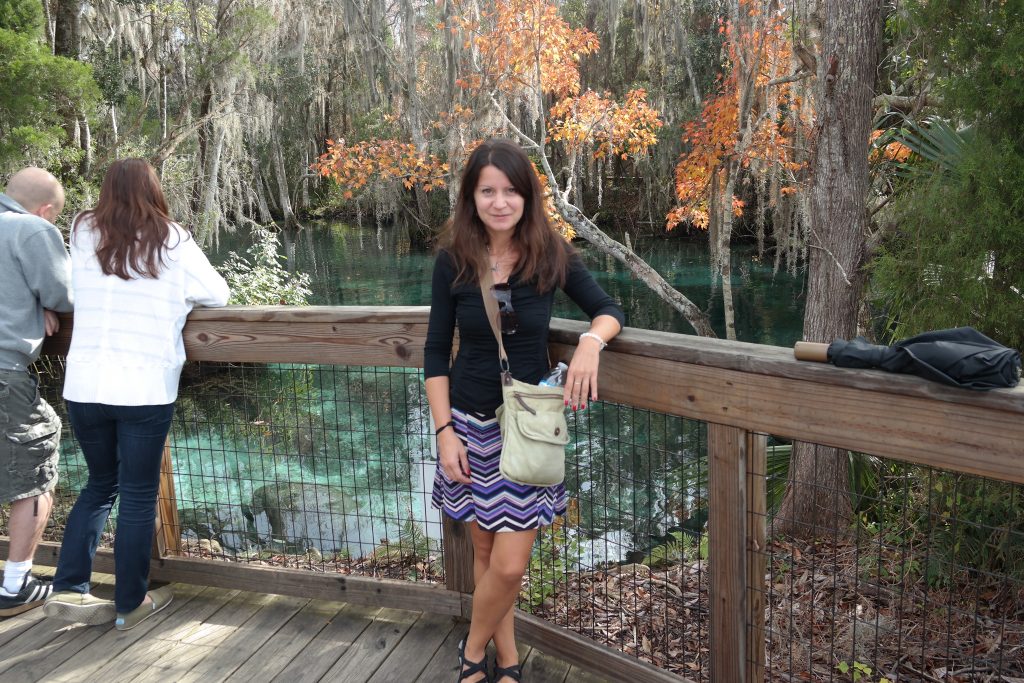 Boardwalk And Viewing Platform At Crystal River
They usually allow snorkelers into the spring, but this is also always subject to change and depends on how many manatees seek refuge in the sanctuary, so it is best to check beforehand. Now, if you are a South Floridian or a transplant like me who loves warm water, chances are that snorkeling in 72 degree water is not your idea of fun. It seems that tours do provide wet-suits and we did see snorkelers in the winter. Snorkel and swim tours as well as walking tours are available from various vendors, a quick google search will reveal them. One is 'Three Sister's Spring Wildlife and Refuge Tours, 123 US Highway 19, City of Crystal River 34428, Telephone: (352) 586-1170
2. Manatee Lagoon – FPL Eco-Discovery Center
This is a new facility just north of West Palm Beach, and opened in February 2016. The center has an observation deck for viewing manatees in the warm waters of the power station run-off. Manatee Lagoon has an education center featuring hands-on exhibits about manatees as well as the Lake Worth Lagoon, where the center is located. It is also free! There is parking, a picnic area, gift store and a cafe. Open Tuesday through Sunday, 9am-4pm, closed Mondays. Telephone: (561) 626-2833
3. Blue Springs State Park
This is a beautiful park on the St. John's river and always well worth visiting, but particularly so in winter. Manatees congregate in the warm waters of this spring run during the winter months. The park also holds seasonal manatee programs during this time. Although the actual spring run is closed during manatee season, there are plenty of look-out points and a boardwalk from which to view the gentle giants in the most beautiful surroundings. The park is open 365 days a year from 8am until sundown and the fee is, at the time of writing, $6 per vehicle. Telephone: (386) 775-3663
4. Tampa Electric Company (TECO) Manatee Viewing Center
You can see hundreds of manatees congregate in the warm waters of the Big Bend Power Station here, and the area has been designated a manatee sanctuary. There are viewing platforms and a boardwalk where visitors can view the manatees in the warm water discharge canal. Additional facilities include an educational visitor center and gift shop. Open November 1st until April 15th, 10am-5pm. The center is closed on major holidays. Admission and parking are free! Telephone: (813) 228-4289.
5. Lee County Manatee Park in Fort Myers
This park is not just situated within the orange river area, but also located across an FPL discharge canal (nice and warm). Therefore, you can expect to see hundreds of manatees here when the temperatures drop. Manatee Park has several viewing areas, picnic shelters and a butterfly garden. The park hours are dawn to dusk and there is a fee for parking. Telephone: (239) 690-5030
Additionally to these 5 places, there are MANY more places where you might see manatees, including most of the major springs in west/central Florida (for example Weeki Wachee), traditionally places where manatees would find refuge for the winter.
Often, it just takes keeping one's eyes open in an area with canals and especially near discharge canals from power stations, where you probably have the best chance of spotting them in the colder months.
Although you can't always see them swimming in murky waters, it often pays off to be very silent, a you will definitely hear the noise when they surface and breathe out. This is how I have seen most manatees out and about, by hearing that noise and then looking around and waiting for it to surface again!
Happy hunting!