No, I am not drunk, you really CAN see bison and wild horses at Paynes Prairie State Park near Gainesville, well, with a bit of luck anyway. And it's not all that far-fetched if you consider that north Florida used to be part of the American bison's historic distribution range.
Paynes Prairie is truly special and it's not just the herds of bison and wild horses that make it so special. The serene, wide-open scenery and geologically "eccentric" nature of this state park make it one of the best in the state. And there aren't just bison and wild horses, no, the park famously boasts 300 different species of birds as well as the usual suspects such as alligators, raccoons, armadillos and deer – to name just a few.

Bison in the distance
The history of Paynes Prairie
Paynes Prairie is a 22.000 acre wilderness located just outside Micanopy, south of Gainesville, where Old Florida is still well and truly alive. Geologically, the prairie is extremely interesting and somewhat unpredictable with water levels varying wildly, often from one week to another. A few days of heavy rainfall in a wet year can significantly raise water levels and even flood SR441.
Alachua sink is Paynes Prairie basin's main drainage and on occasion – notably during the years 1871-1891 when the sink was blocked – water levels were so high that steamboats used to travel on what was called Alachua Lake. Heavy rains have restored the now non-existent Alachua Lake on several occasions, with Hurricane Irma in September 2017 being one such event. The results of this could still be felt when we visited in late December 2018, when several trails going into the heart of the prairie were flooded.
Paynes Prairie became the first state preserve back in 1971, and whilst previous canal and drainage efforts have had a detrimental effect on the area, from the early 1970's many efforts have been made to restore Paynes Prairie back into the natural habitat it once was.
Walk all the trails
First, a word about the bison on the trails. You may or may not see any, but one thing is for sure: you will find plenty of evidence of the bison's existence. It pays to watch your step…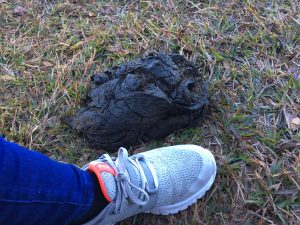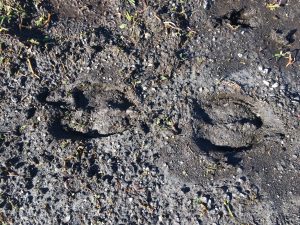 There are more than 30 miles of trails, but you can absolutely try to walk all of them in a day or two, if you have the same fate as we did with some of the longer trails being flooded when we visited.
First stop has to be the Visitor Center at the south entrance of the park near Micanopy. Why? Well, not only can you get some information about the park and the conditions of the trails, but you can also borrow a pair of binoculars if you leave your drivers' licence or ID behind. What a great idea!
Also, we saw the bison first at the Visitor Center, through their big window looking out directly onto the prairie. The lady working at the Visitor Center told us that we were very lucky to see the bison, apparently some people visit the park frequently and "have never seen them".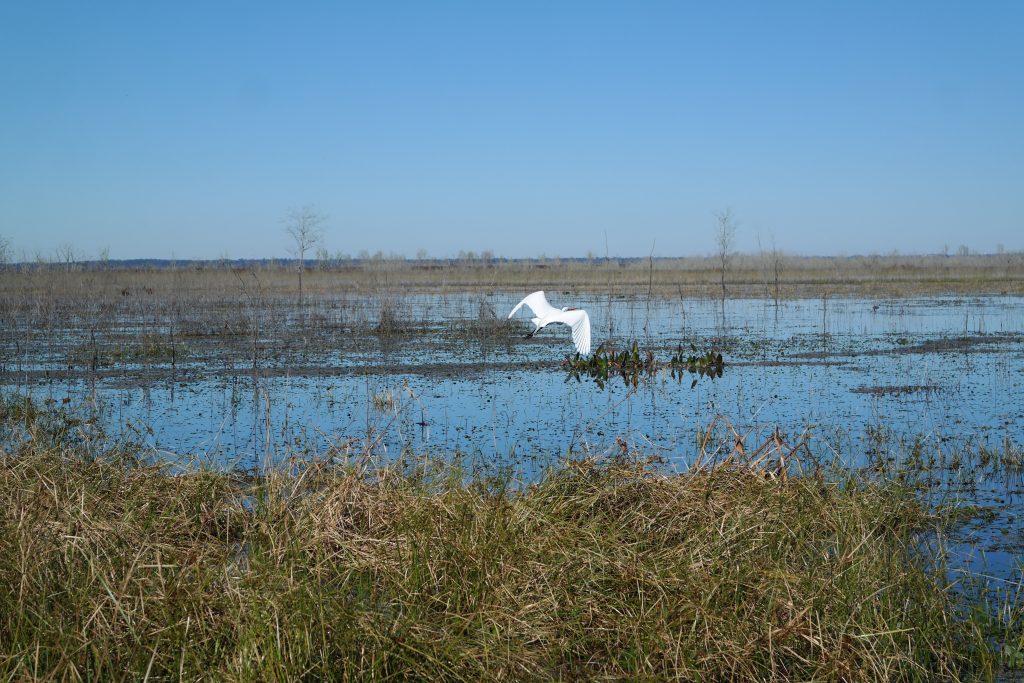 Cone's Dike Trail Vista
We were advised that the Cone's Dike Trail (about 8 miles) would be the best option for spotting wildlife. What we weren't told, however, was that it is flooded about a mile in. The part we walked was absolutely beautiful and we did see the bison again as well as some deer, but we were a little disappointed when the trail stopped so abruptly.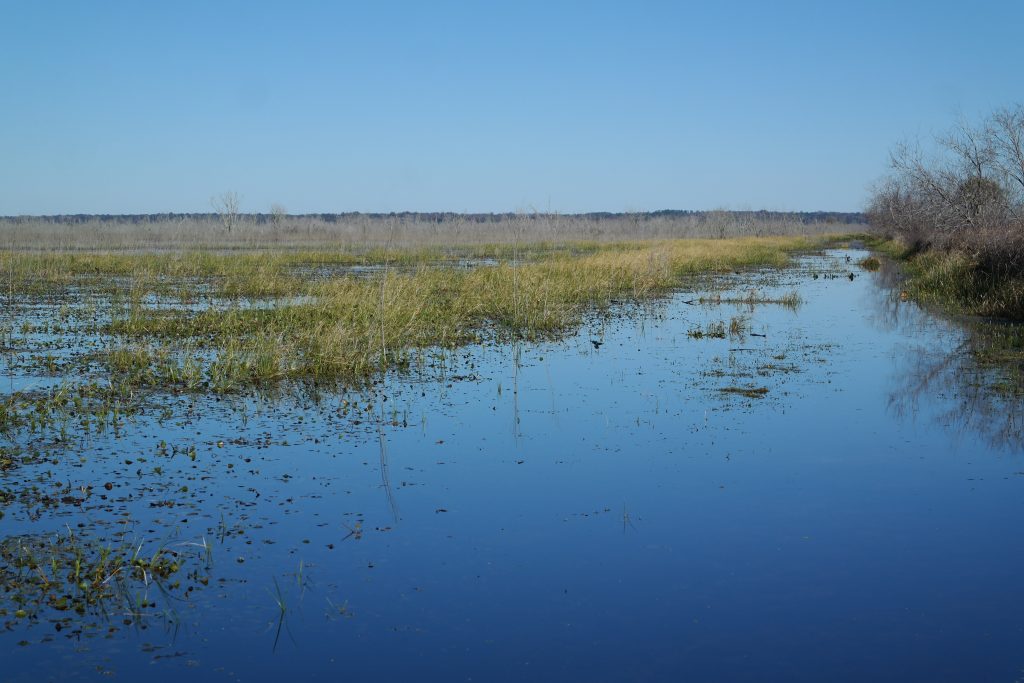 Uh oh…that was the end of Cone's Dike Trail for us
After cutting short Cone's Dike Trail, we went to the observation tower, an overlook wooden tower that actually sways, as one other visitor proved to us by rocking the whole structure. I would never have known. Anyhow, we saw the Bison again from the look-out tower. It was fun to see the whole prairie from an elevated position.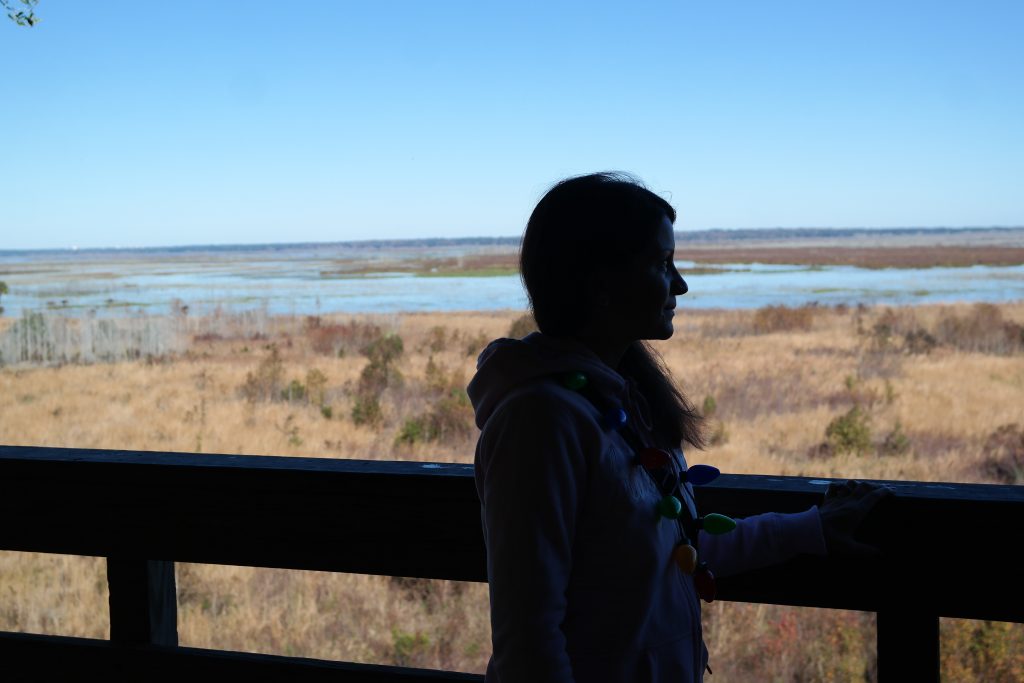 Wacahoota Trail
There is a small trail right by the tower which leads through the woody area immediately adjacent to the Visitor Center. It's nice and short, but you probably won't see much except the ubiquitous squirrels. So if you're short on time just give this one a miss.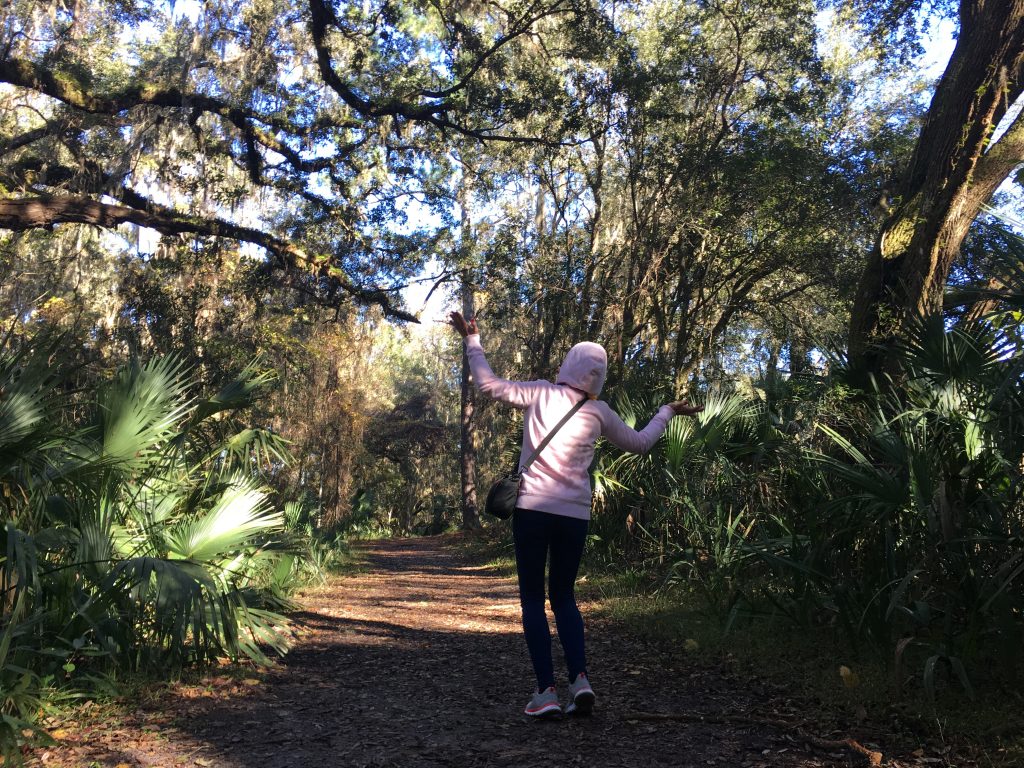 Trails close by the Visitor Center with canopies worth worshipping
La Chua Trail
To try some of the other trails on Paynes Prairies you will have to get back in the car again, and back on SR441 heading north to the north entrance(s) of the park. For La Chua trail and boardwalk follow the signage to Boulware Springs Park and La Chua trailhead. We had great expectations for this one, as we were told that there would be an observation tower overlooking the prairie at the end this trail.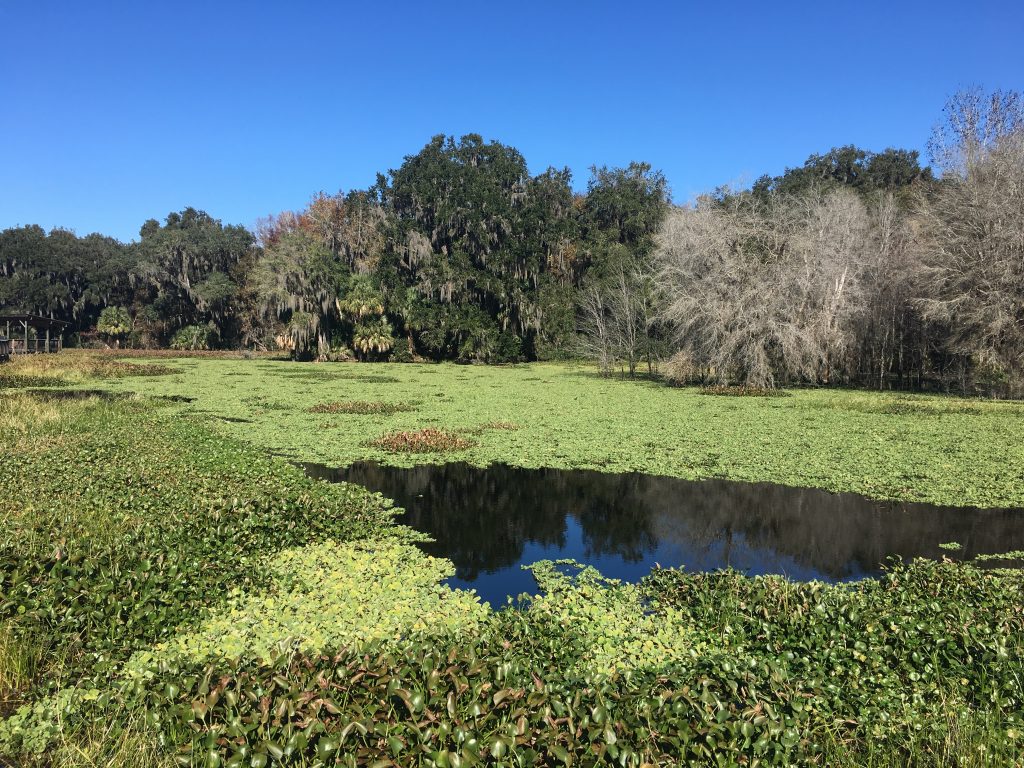 La Chua trail begins with an outstanding boardwalk which was quite heavily frequented when we visited (a Sunday afternoon). It's easy to see why. The wetlands are beautiful and were absolutely teeming with all kinds of wading birds. The birds were obviously used to humans and came very close to the boardwalk, which is a bonus for wildlife photographers.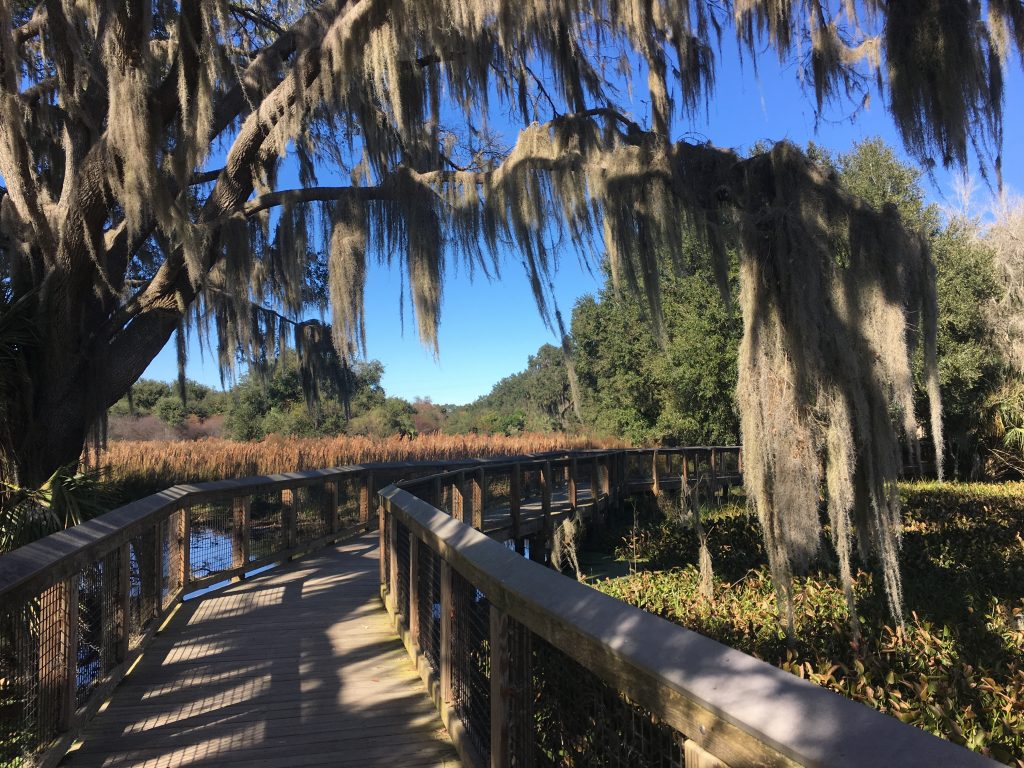 La Chua Trail Boardwalk
But then La Chua trail came to an abrupt halt with a sign at the end of the boardwalk stating that the trail was closed due to flooding. We were mystified as to why there was no notice of that at the car park (where we paid a fee to use the trail), or indeed at the Visitor Center at the south entrance. This was now the second trail cut very short by flooding and while we understand that this is out of anybody's control, a little information about it would have been useful. So onwards we went to check out Bolen Bluff Trail.
Bolen Bluff Trail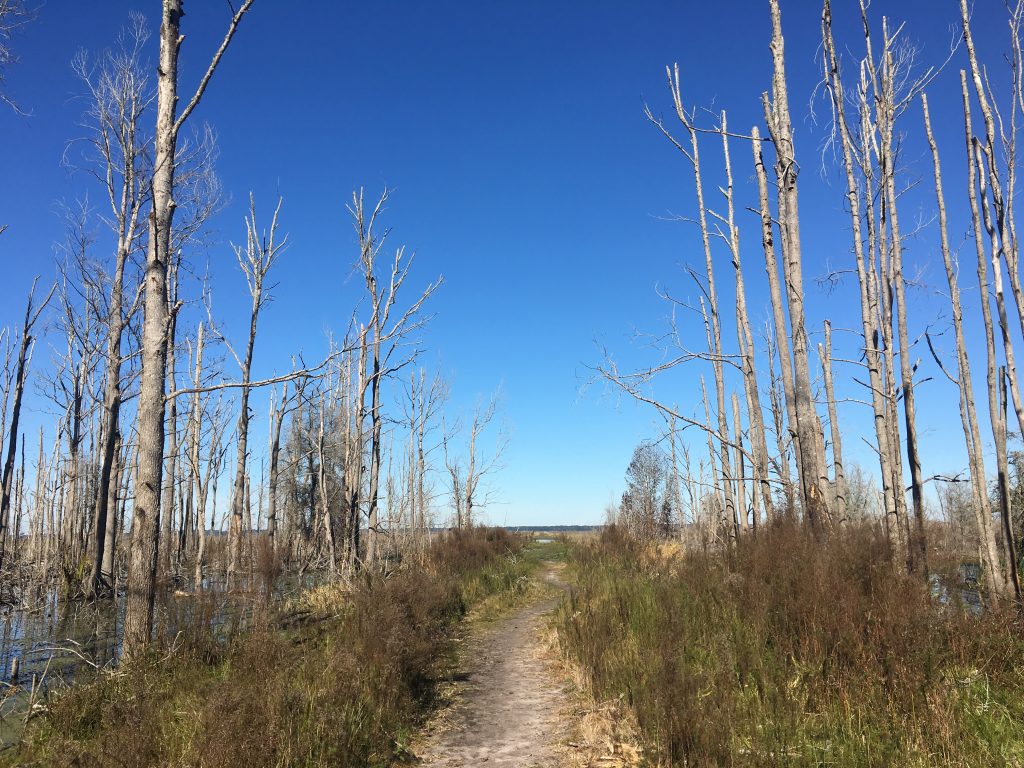 Here we kind of knew what to expect, as I had stopped a park ranger at La Chua trail and asked him if all the trails were flooded and he said: yes. I questioned him specifically about this one and he told us that there was a part at the beginning that was fine to walk, a mile and a half or thereabouts, but then it would be too flooded to head out to the observation tower.
Bolen Bluff trail gets a lot of rave reviews for wildlife spotting, particularly walking out onto the prairie (the part that is flooded at this time), with visitors reporting that they see the bison, horses, alligators and all kinds of other wildlife. We didn't get to see too much except the evidence of bison roaming the area (don't step into it).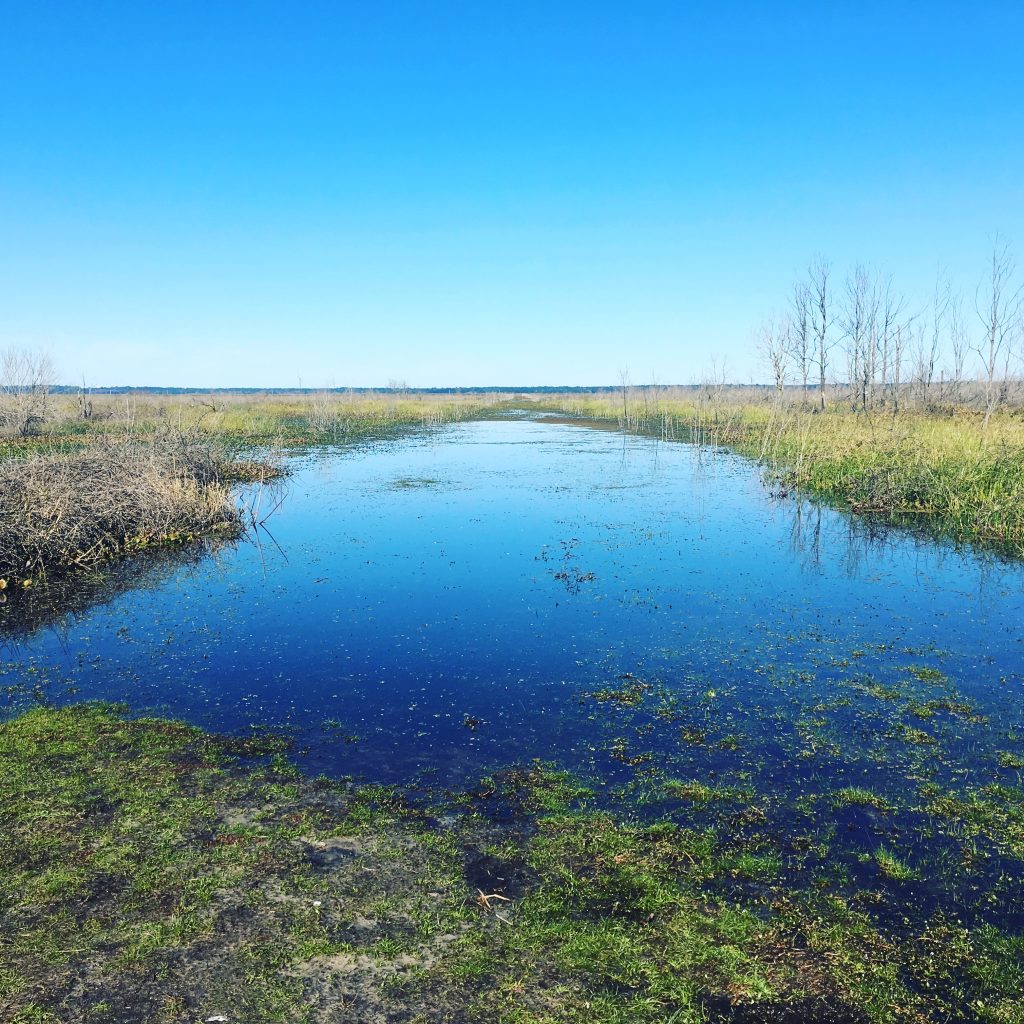 The end of Bolen Bluff trail 
It was still a nice walk though, starting off through a pretty little wood and then opening up to the prairie. And you can't really complain too much about a natural occurrence: the prairie flooding from time to time. Oh well.
So we ended up walking these 4 trails all in one day quite easily, doing about 8 miles altogether, since three of them were only partially accessible.
Biking the Gainsville-Hawthorne Trail
If you haven't had enough yet, why not bike the 16 mile long Gainesville-Hawthorne trail cutting through the north part of Paynes Prairie? To start, we found it best to park at Boulware Springs trailhead and cycle east. There are good restrooms at Boulware Springs and it's a cute little historic place to take a stroll around, even though there is not much to see.

Boulware Springs
You can join the trail right there at Boulware Springs, and what a great trail it is. Gainesville-Hawthorne trail is very well maintained and paved along the whole way. Of course, being strictly a pedestrian, biking and equestrian trail there is no traffic to contend with other than at a couple of crossings, so it's altogether a very tranquil and safe experience.
There are plenty of varying sceneries and opportunities for getting off the main trail and cycle to little points of interest, such as a Lake Alachua overlook, and others. There are some wonderful vistas at every turn.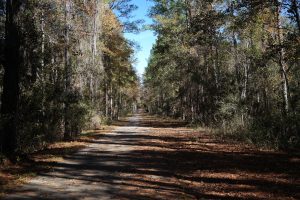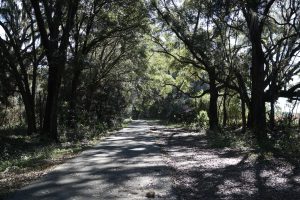 Yet even here we were not spared some water intrusion. A few miles in, we came to a grinding halt at a flooded part of the trail. At first, we thought about turning around, but then saw some cyclists pushing through. It didn't seem all that deep.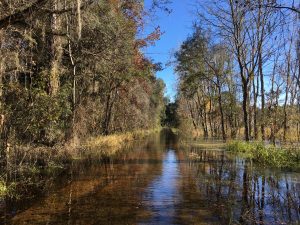 In the end, not wanting to cut our cycling and triking experience short, we decided to just go for it. I took my shoes and socks off because I was sure to get wet feet – and so it was. Wet-footed and laughing, we made it through the flood. Never a dull moment!
All in all Payne's Prairie is an amazing state park and all of the trails are beautiful. I will certainly be back, hopefully at a time when the trails are a little more accessible. Either way, you won't be disappointed at Paynes Prairie.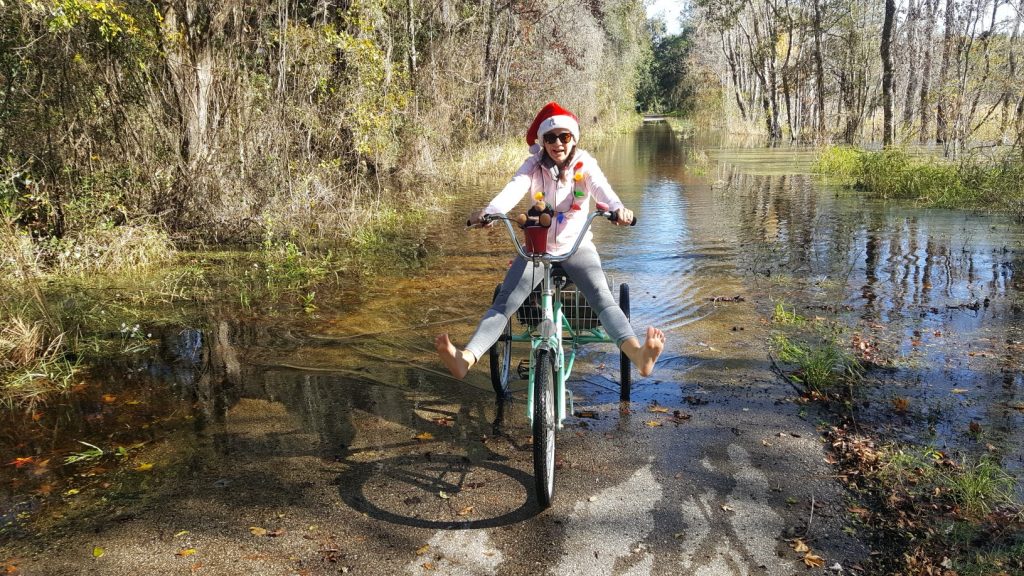 What else is there to do in the area?
With Gainesville only 20 minutes away, entertainment, culinary and cultural opportunities present themselves close by. We particularly enjoyed visiting Micanopy, a charming little historic town with antiques stores and cute little cafes. We stayed at the Herlong Mansion, which was fabulous (if you are into historic houses). You can find more info about it here.