If you are looking for a relaxing and quiet time in a place where time has stopped, then Micanopy will suit just perfectly. Staying in a historic house sounds wonderful? You also happen to have a love for antiques or big state parks with lots of nature and wildlife? I bet you will absolutely love Micanopy.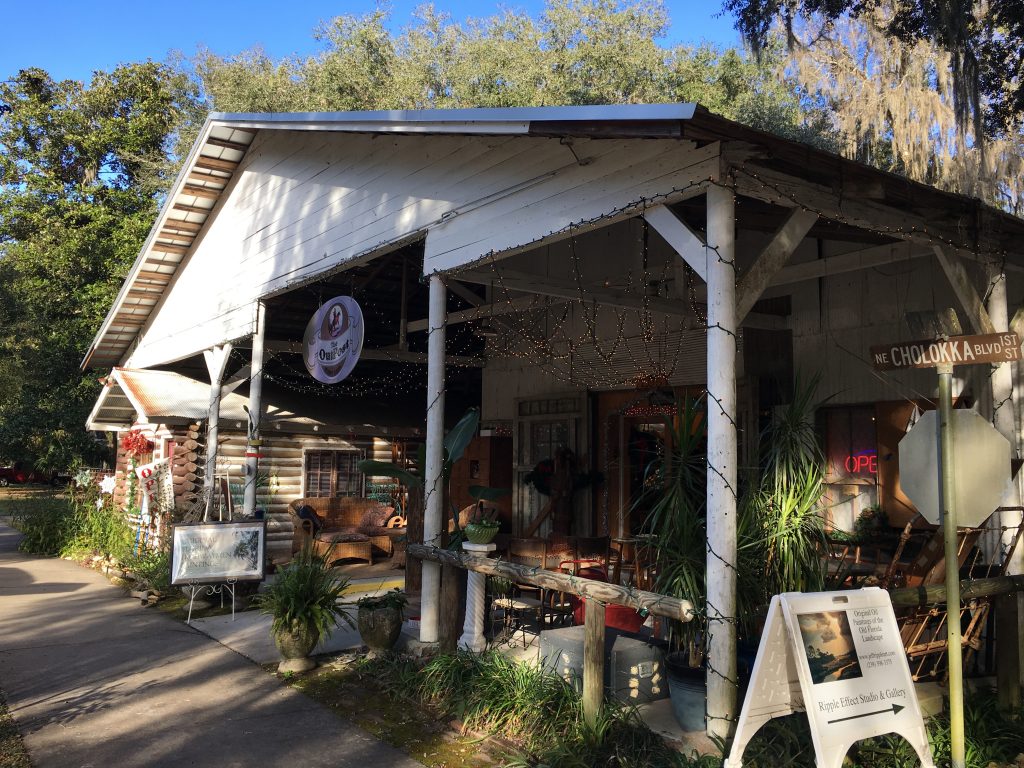 One of many antiques stores and galleries in Micanopy
A little history of Micanopy
Micanopy (pronounced "mick-ah-no-pee", not "mi-canopy"), situated near the Alachua-Marion county line, was founded as far back as 1821.  This makes it the oldest continually occupied settlement in Florida's interior. It was named after an Indian Seminole Chief Micanopy who lived in the area in the late 1700s/early 1800s.
There are only about 600 residents in Micanopy, so luckily you won't find noisy traffic or big developments here. In fact, it looks like nothing much has changed since the early 1900s, especially on the high street "Cholokka Boulevard".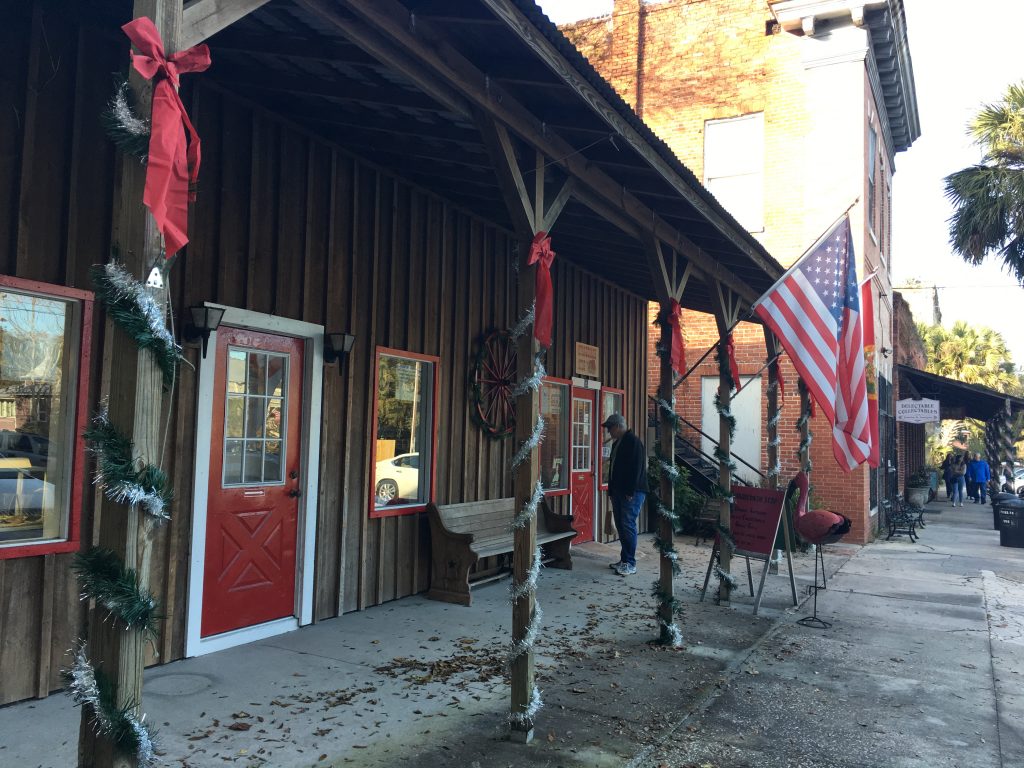 Most of the houses on Cholokka Boulevard (once an Indian trading route) date back to the late 19th and early 20th centuries and have been lovingly preserved and restored. They reflect an era of agricultural prosperity. The town's main income in the second half of the 19th century were the vegetable and citrus industries. By the 1920s, lumber and turpentine had taken over as the main industries in Micanopy.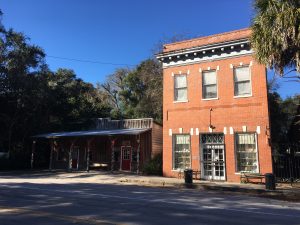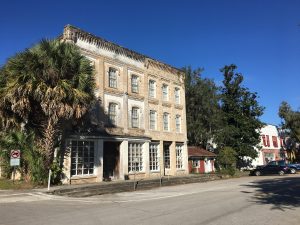 What is there to do in Micanopy?
First and foremost, be prepared to slow down. I would recommend that as the first thing "to do" on your list. The town lends itself to taking plenty of time strolling around the historic buildings, sipping coffee in one of the cute historic cafes, and enjoying the fantastic old oaks covered in Spanish moss. Or how about just sitting on a porch and soaking it all in?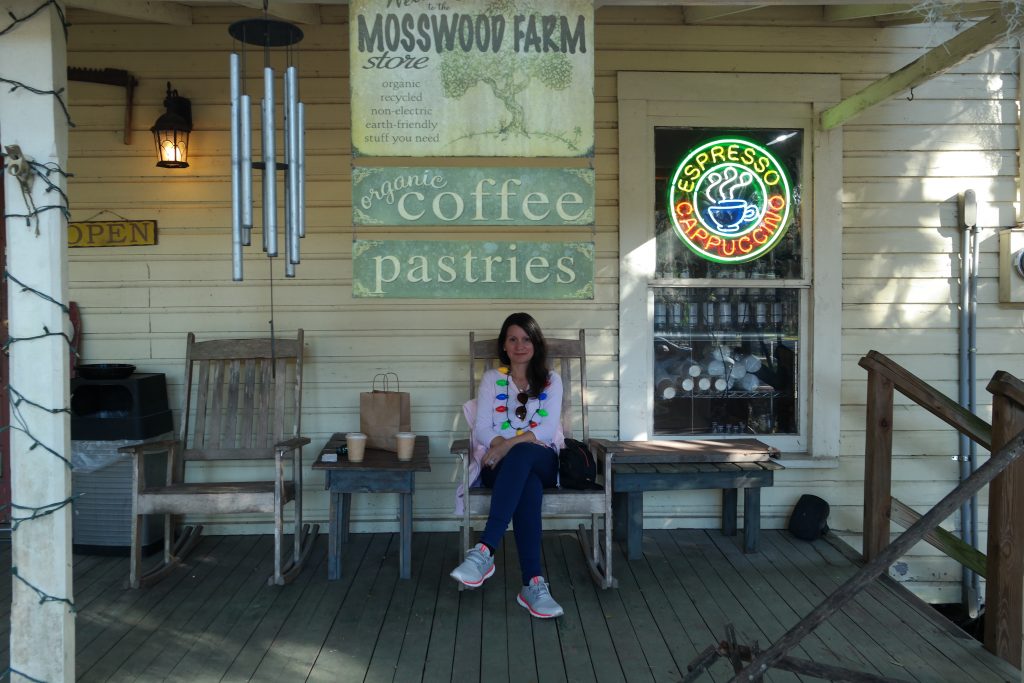 And of course, if you are into antiques and fancy a bit of strolling and shopping, Micanopy delivers with plenty of antiques stores in the historic buildings on Cholokka Boulevard.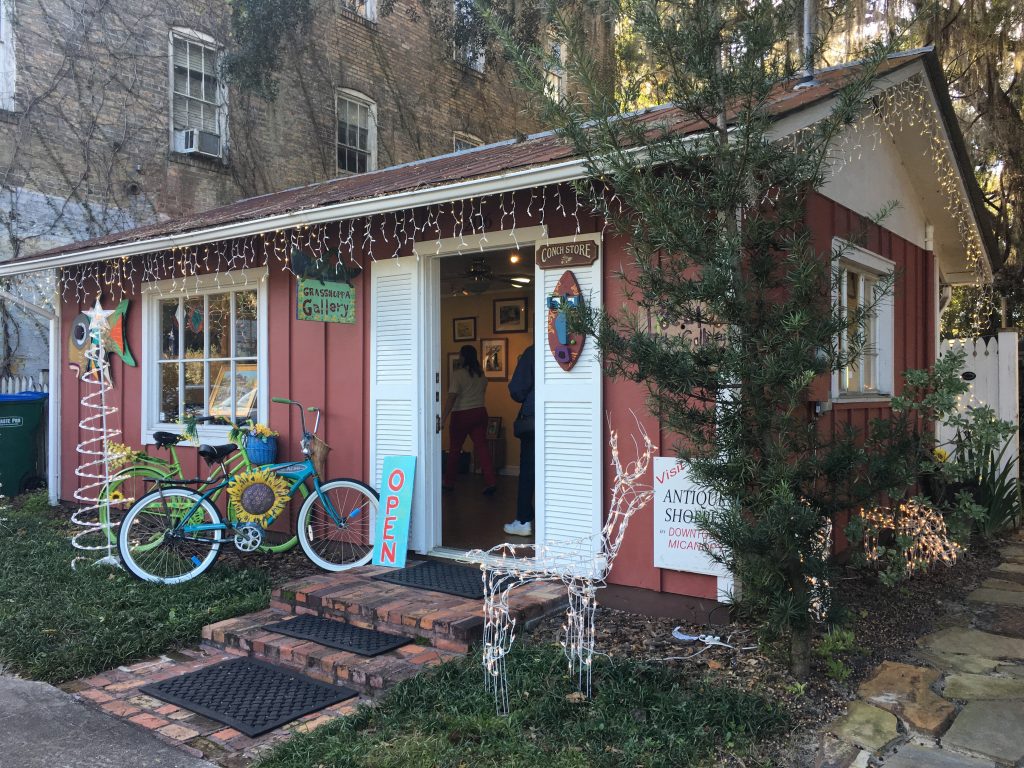 And finally, do you love historic cemeteries as much as I do? Micanopy's cemetery is worth having a stroll through, for some quiet reflection and browsing the old tombstones. And those old oaks with Spanish moss again!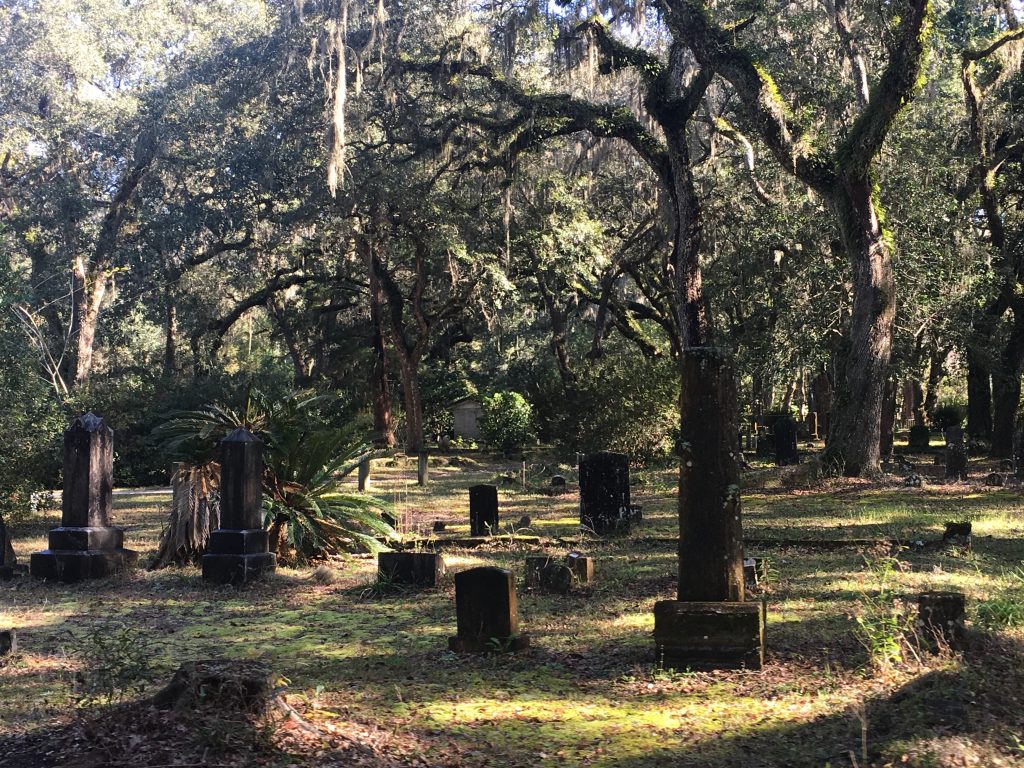 Where to stay? At the Herlong Mansion!
I don't normally advise on places to stay as I am always a little afraid of the feedback. We are all different and like different things. Some people love hotels that look the same in every town, and have all types of modern amenities at hand, for example 24 hour room service, flat screen TVs and ultra-modern bathrooms. However, for that, you would have to look a little further afield as you won't find big national hotel chains in Micanopy – thank goodness!
What you can find in Micanopy, however, is the absolutely stunning and historic Herlong Mansion. Built originally as a typical small "Cracker Home" of pine in 1845, it was later extended and gentrified by Zeddy Herlong and his wife who came from Alabama to settle in Micanopy. By 1910, the original farmhouse was encased in that wonderful structure we now see and know as the Herlong Mansion.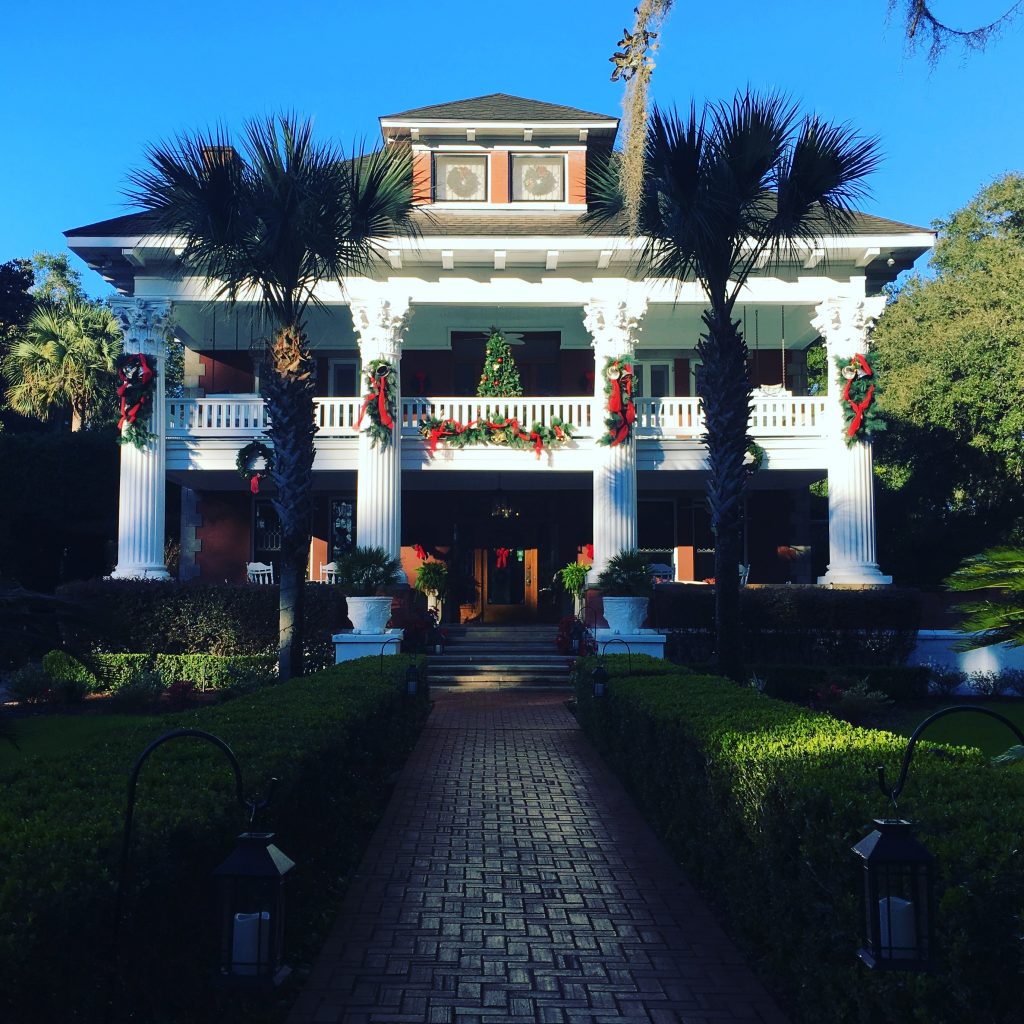 If you like historic houses and like staying in them then this will be a rare treat. The house is full of period details and antiques, down to some of the fittings in the bathrooms, which had me absolutely fascinated. Don't worry, it all works just fine.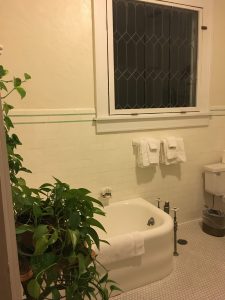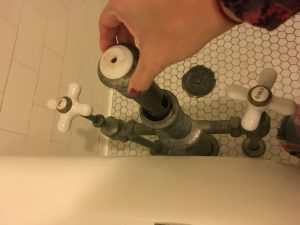 Authentic 1920's bathroom in Herlong Suite
Herlong is an especially wonderful place to visit in the holidays. The house was charmingly decorated including the porches and the rooms. We loved the decorations and vibe of Herlong, and together with some really cold temperatures, it made for the perfect holiday getaway. We certainly got into the spirit of the season.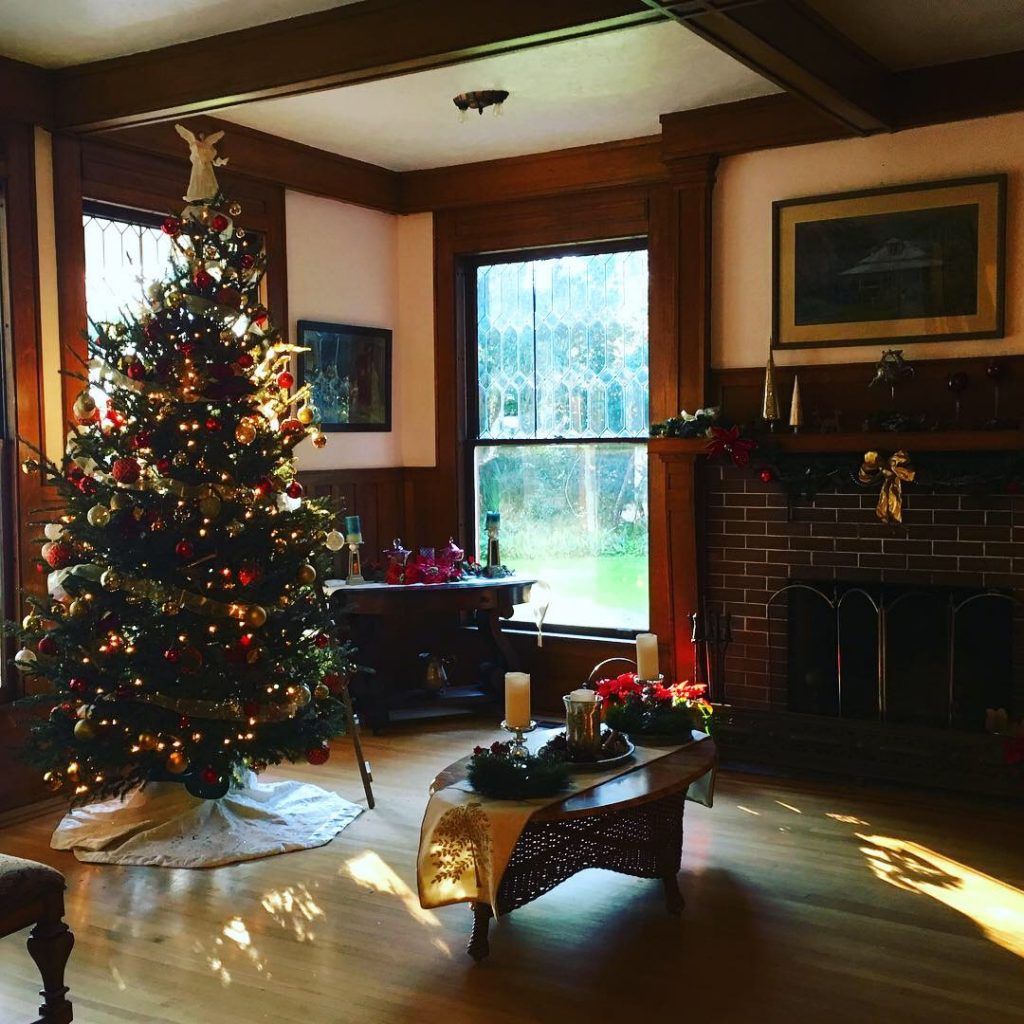 When we arrived, the wonderful host Heidi greeted us with a tour of the house and offered us a complimentary glass of wine as well as freshly baked cookies – what's not to love?
Although there are no TVs in the rooms (something I loved), there is a lounge with a TV and every room has WIFI as well as most other modern amenities, so you won't be going back in time too far.
Let me tell you about breakfast. There is a menu on a blackboard put out the night before, where you can see which delicacies will await you the next day. And in the morning you will be waking up not only to birdsong, but also to all kinds of lovely cooking and baking smells wafting through the mansion.
Our time at Herlong felt like the perfect combination of a homely stay at grandma's house (being spoiled rotten), coupled with the luxury of a beautiful historic mansion.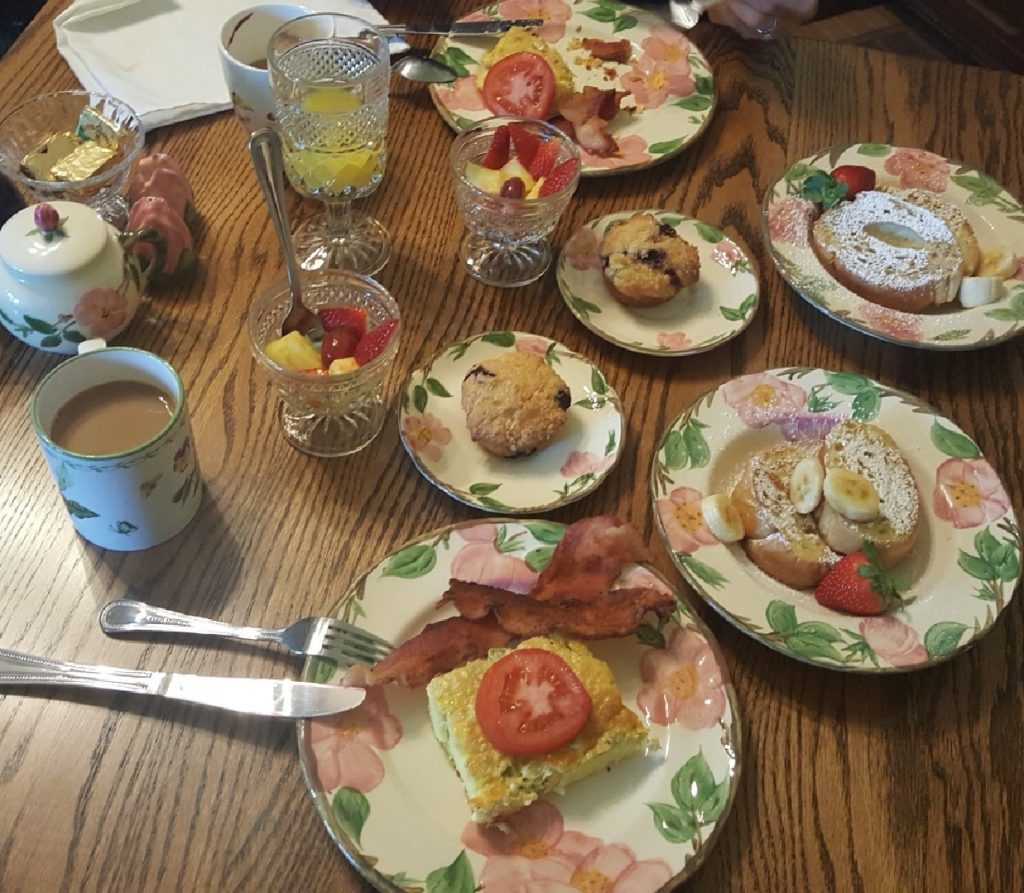 Breakfast at Herlong Mansion – eat all the things and just skip lunch!
We also loved the balcony which we had access to, for lounging on the couches and having that glass of red wine in the evening. It was wonderful to have all the outside areas so nicely decorated, here our balcony with its very own Christmas tree.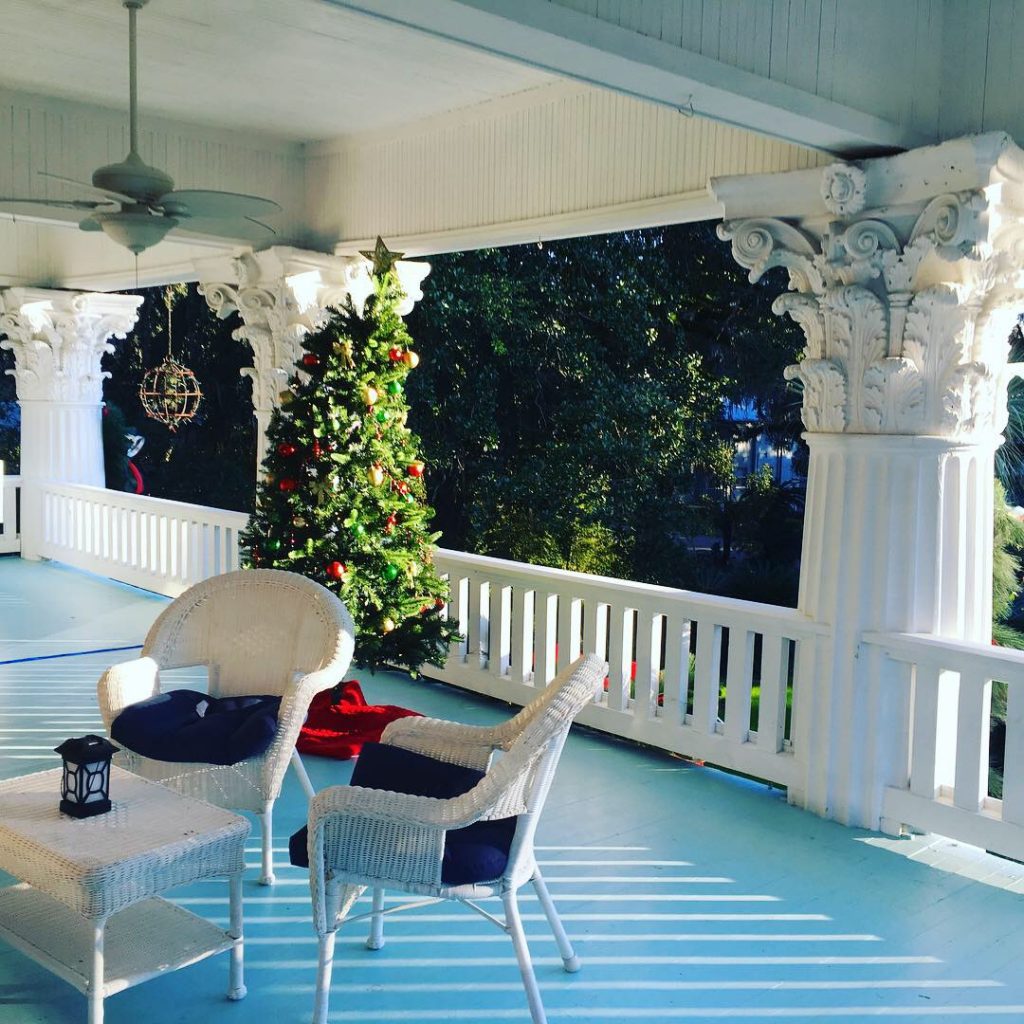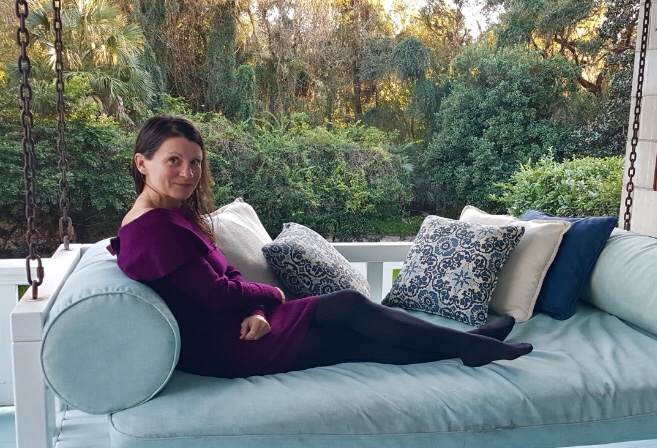 A swinging couch!
I was truly sad to leave relaxing and tranquil Micanopy and the Herlong Mansion, and hope to be back soon. Tomorrow would work.
What else is there to do in the area?
Gainesville is just twenty minutes away and offers a little more entertainment and lots of restaurants to choose from. We chose to explore Paynes Prairie State Park and were certainly not disappointed, well maybe just a little because many of the trails were flooded (from Hurricane Irma still). However, we did see the iconic Bison and wild horses, even if only from far away. The south entrance of Paynes Prairie is basically just a little walk away from Micanopy, so it's a great idea to combine the two visits.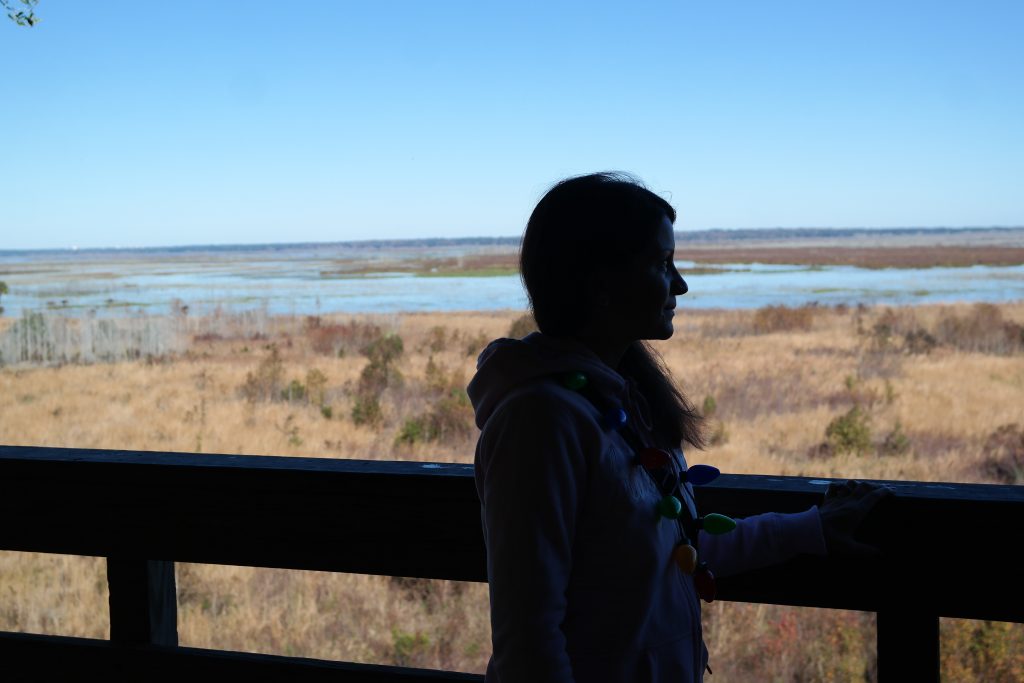 Observation Tower at Paynes Prairie