Here is yet another discovery 'off the beaten path' from the Florida Rambler website! I have been exceedingly curious about Clam Pass ever since reading an article about it a while back. As we hadn't really explored the Naples area, and got a great deal at the local Hilton Hotel in Naples (just a stone's throw from Clam Pass Park), we decided to make a long weekend of it and head to the west coast. Alternatively, if you are feeling flush or manage to take advantage of their special deals, the place to stay is the Naples Grande Beach Resort. It is not only one of the best hotels in Naples, but also part of the whole Clam Pass Park 'arrangement' together with Collier County, and literally just a hop – or a little tram ride – from the magnificent beach.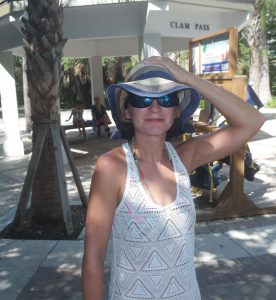 Waiting For The Tram Outside Naples Grande
Where Is Clam Pass Park And Beach?
Clam Pass Park can be found in North Naples at the western end of Seagate Drive. When you see the Naples Grande Beach Resort towering to your right, you are right there! Don't be put off by it looking like private property. Driving into the park, you will soon notice – by the booth greeting you – that it is in fact a Collier County park. I even saw a public transit bus dropping off passengers there. Parking here costs $8 for the whole day and is limited to 171 spaces. Therefore, it pays off to get there early on weekends. The park opens at 8 and closes at sunset.
Some Facts About Clam Pass
The first question I ask myself is usually: what is the history of a place? Sadly, with Clam Pass I have not been able to dredge up much (no pun intended) from the internet. Indeed, I have not found a morsel of information, even with willing help from Naples Historical Society. The only interesting snippets I did find cover just the last 20-30 years and focus on the troubles of the poor pass. About 20 years ago there was a big mangrove die off in the area and since then, the Clam Pass has had to be dredged at intervals of every few years to ensure a decent flow of water in and out of the bay. The pass is constantly changing shape and always threatens to close up, the last time earlier this year. When we were there, at the end of July, there was definitely a good flow in and out of the pass, and that can be explained by the fairly recent dredging. Clam Pass was last dredged in April 2016, here is an article in the newspaper about it. Although controversial, as it damages sea-grass beds, the county decided that action had to be taken to resolve the problem of poor tidal flushing impacting water quality adversely, which in turn caused the mangroves to suffer.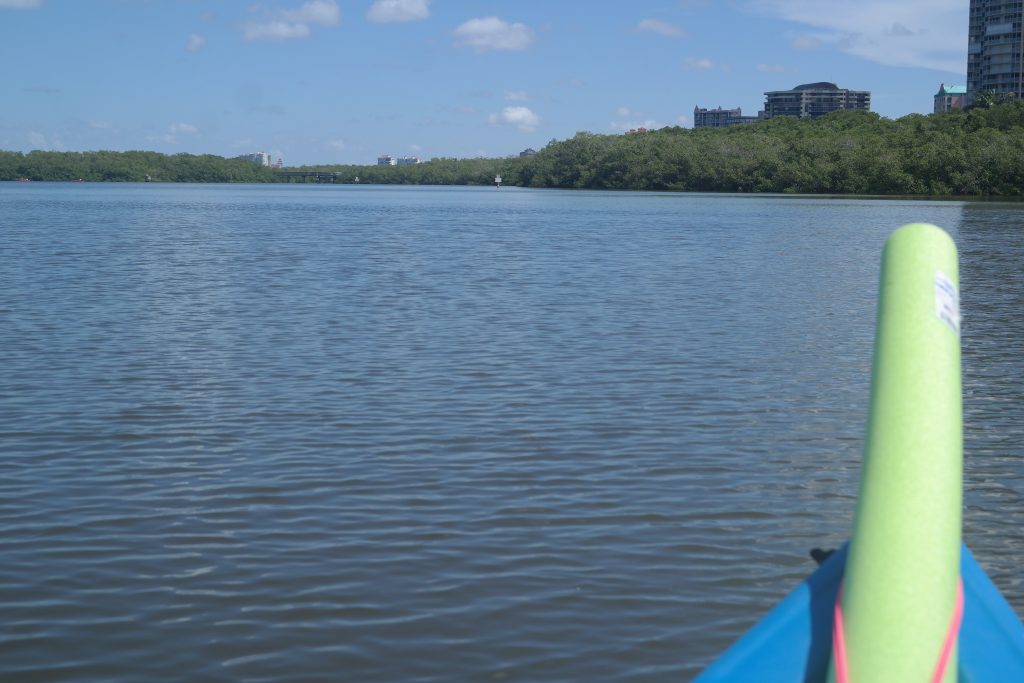 An Oasis Of Mangrove Calm In Urban Surroundings
What Is There To Do At Clam Pass?
Where do I start? Let's start at the beginning: the boardwalk – just under a mile long – greets you as soon as you park your car and hop out. If you are inclined to walk, the boardwalk makes for a great little exploration of the mangrove forest at Clam Pass. It is lovely and shaded and you will walk a wooden bridge leading over outer Clam Pass bay, giving you a little overview. Just stay to the right if you don't want to get mowed down by the trams (big golf carts), that run people to and from the beach.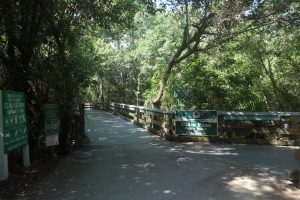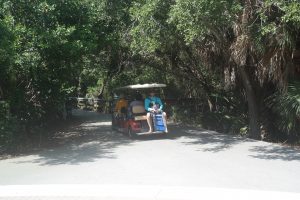 Being a mosquito magnet and on account of it being impossibly hot when we were there in late July, we opted for the tram ride with our beach chairs, cooler and my beloved lime green noodle (do bring a floating device). Our hotel had a great complimentary deal, supplying us with a beach chair, water and towels. Though we still took a cooler with yet more water and – ahem – other beverages and of course snacks. And we were glad we did, since we finished a little bottle of water in five minutes. Bring plenty of water, or pick some up at the cafe at the end of the tram ride. The tram ride itself is also fun and it is always nice to feel the wind, as opposed to the mosquitos, on my skin.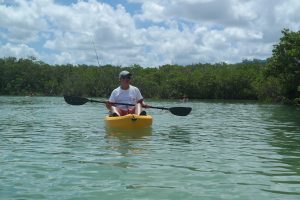 You Can Kayak It too!
Clam Pass Park also has a canoe and kayak launch, so if walking or riding a golf cart to the beach is not your thing, hop onto the kayak and paddle there! It's a really nice and easy paddle to the beach, only about a mile. In the bay, you will see plenty of fish, wading birds, and ospreys, so it is a lot of fun! It also feels wonderful to observe the change in water as you get closer to the beach.
If you set off around high tide, the water changes color from tannin-stained brown brackish water to a beautiful clear turquoise, the closer you get to the beach and actual entrance to Clam Pass. At low tide, the brackish water running out of Clam Pass bay stains the turquoise ocean brown for quite some distance.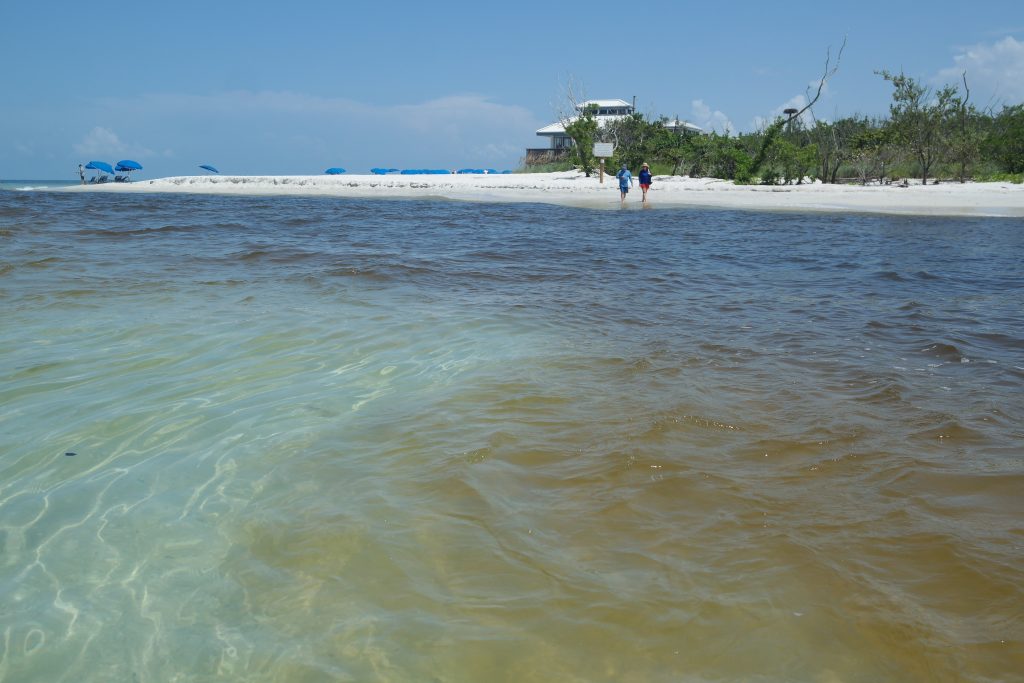 Two Different Waters Mixing At Clam Pass
And Then It Is Time To Relax And Enjoy!
As I am writing this, I so wish myself back there. It simply bears no comparison to sitting at a desk with a computer. Ah, if only life was always as relaxing and beautiful as floating in and out of Clam Pass! Alas, no such luck. You will notice too, I hope, the pull of the pass and beach. We had some grand plans for our weekend, including kayaking to Keewaydin Island (probably a little too ambitious, mind you), but ended up spending two days at Clam Pass Park. 'Why?' I hear you ask.
Well, just look at the pictures and I'll let you be the judge. When we got there, we could not believe how inviting the water was. Calm, turquoise and fringed by a lovely white sandy beach. Shallow, but not too shallow to get a good swim in, without having to wade out for miles.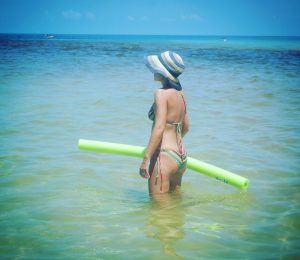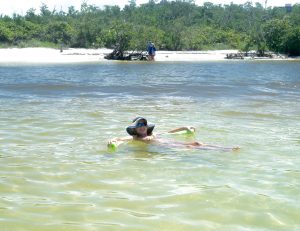 It was kind of busy close to the tram stop and cafe, but we headed north and the crowds do thin out a little when getting closer to the pass. When we arrived at the actual Clam Pass opening, the tide was flowing out of it, and I was like a kid in a candy store, jumping into the stream several times and letting it take me out into the ocean. It is all very safe and fun, as the waters are pretty shallow here. A great place for families.
Later on, with the tide dropping quite low (just over a hour before dead low tide), the stream rushing out of Clam Pass got pretty forceful, and tannin stained water colored the turquoise ocean water slowly brown in the entire surrounding beach area. At this point, I could hardly walk against the stream rushing out of Clam Pass and it was now even more fun to jump in with my noodle, floating past the beach at quite the speed! We filmed this little video to show you. We sped it up just a little bit, because it had to match the music…watching this makes me giggle every time.
I saw kayakers, paddleboarders and canoers walking their water craft back into the bay, as it was getting way too powerful to paddle against the stream. Everything was carried in its wake, even a crab was getting rushed out of the bay and off its feet. The hungry egrets and herons were waiting on the exposed sand flats just outside of the pass for their prey to get rushed past them. Dinner time!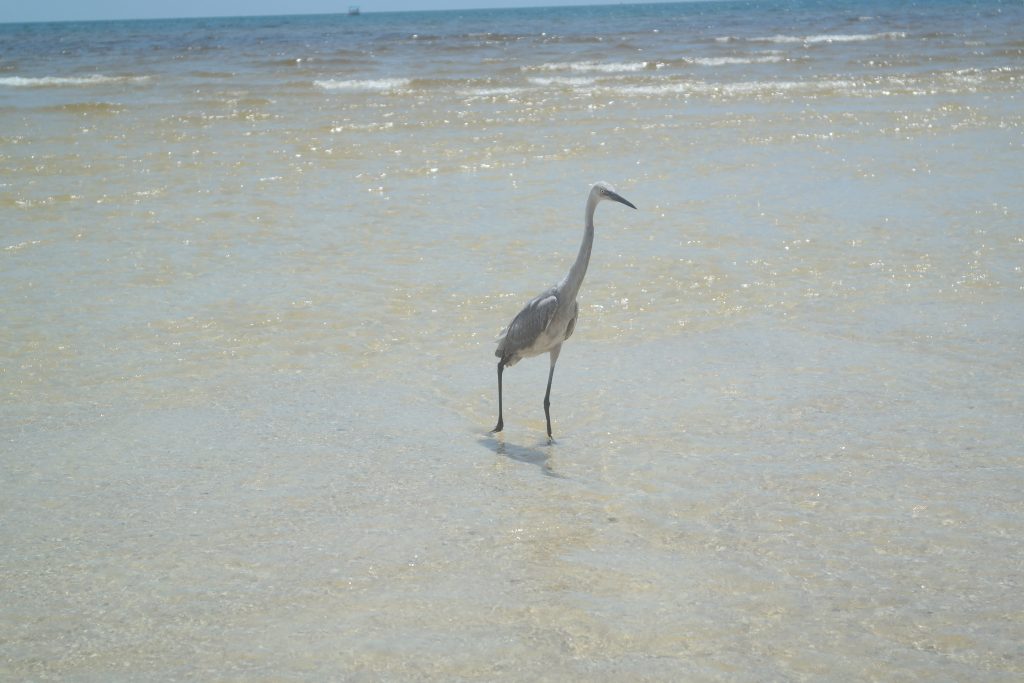 In the end, frazzled but happy, we reluctantly returned back to the tram stop after 4 hours in the full sun. We were both beaten into submission by sun and heat, and I will say it again: if you do this, bring plenty of water as well as sunscreen and a hat with a wide brim. This is essentially what saved me. My husband returned to the hotel looking like a water hydrant and I had blotches of red skin despite constantly applying sunscreen.
Also, be prepared to wait a while for the trams, especially if you are getting off the beach at the same time as everybody else. Although the trams run constantly and they do a fine job with it, the sheer number of people on the beach and the fact that big golf carts only hold a handful of people, can make this a long 'standing-in-line' experience.
Kayaking Clam Pass Bay
Tempting as it is, you don't have to spend all day with your noodle floating in or out of Clam Pass (you float in with a rising tide and out with a falling tide). Although, I have no problem spending a day just floating with my noodle.I can't think of many more things that are quite as relaxing…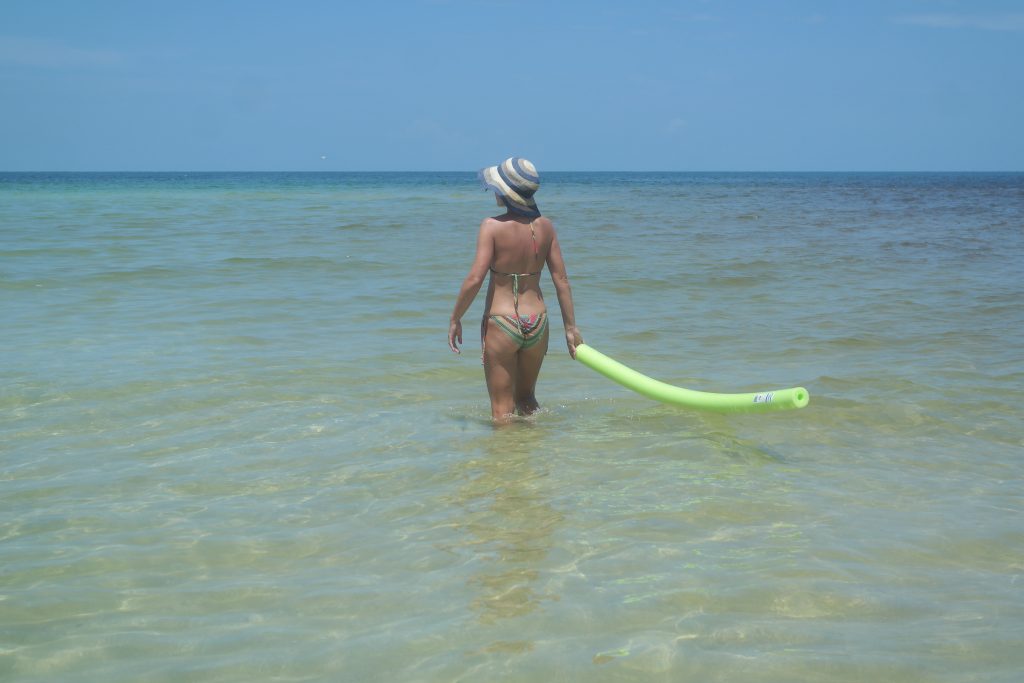 Regarding kayaking, there's only a little wisdom that needs spreading here, basically: don't try to kayak back to the car park at dead low tide or just before. Unless you want to walk your kayak in and through the first part of the pass – or you have some serious upper body strength. The current is extremely forceful and while floating out is a heck of a lot of fun, trying to paddle against it is probably not! We kayaked to the beach at high tide and only spent just over an hour on the pass before heading back. Although the water was starting to rush out as we left, it was not yet as forceful as at near lowest tide. Also, we caught the hint when we saw all the locals with kayaks and canoes leaving and overheard them say 'we better get back before it gets any worse, the water is already rushing out'. It was like a mass exodus, everybody leaving at the same time, although there were also some paddlers still coming out to the beach.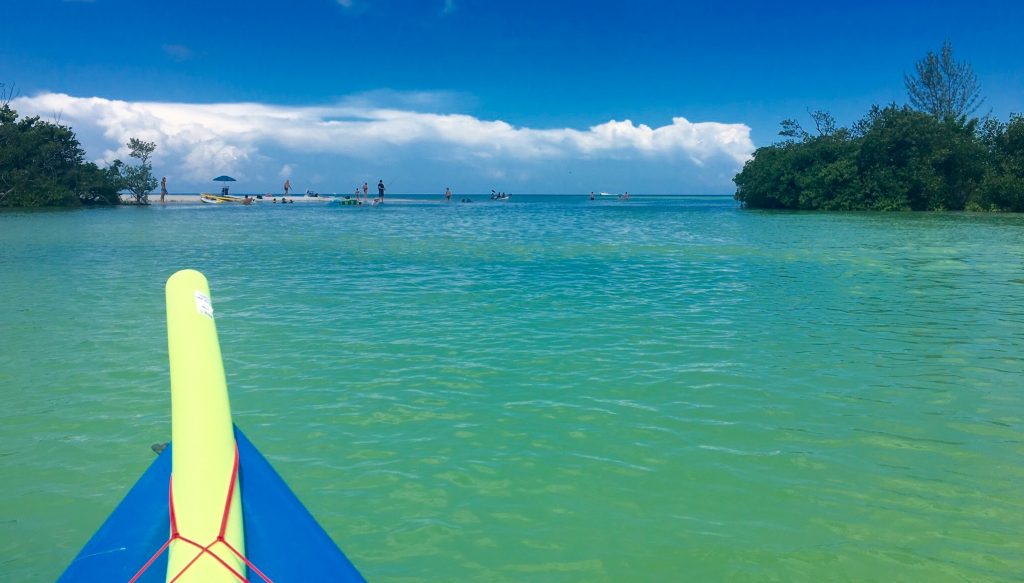 Kayaking into Clam Pass beach and out of the bay was really nice and not too strenuous even against the tide, a nice two mile round trip. You can, however, prolong your paddle if you have some energy to spare. There is quite a bit of winding mangrove tunnel kayaking available north of the main Clam Pass, into inner Clam Bay and beyond, which is still part of the kayak/canoe trail of the park. There are probably a few miles of lovely quiet kayaking to be had in that area. The mangrove parts look wild and overgrown which is quite a surprise considering how urban the rest of the area of north Naples is. We did not follow the winding channel north this time, as it was an extremely hot day and we were worn out from our previous beach day, but when it cools down a little we might be back to try it.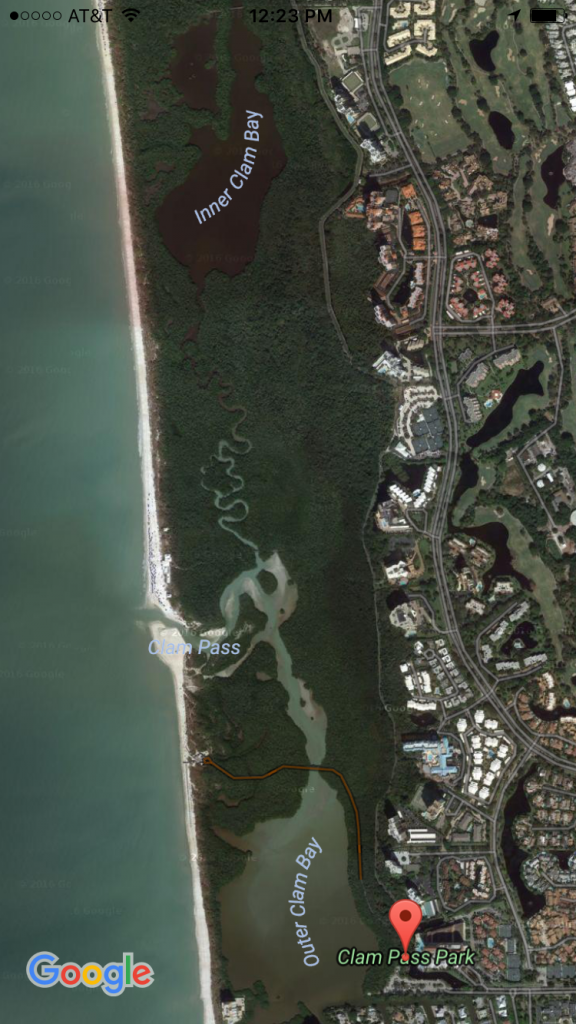 This Just To Give You An Overview Of The Whole Clam Pass Park Area
Have you been to Clam Pass Park? Or perhaps you know something about its history? I would love to connect!