This is now my second post on the Dome Homes close to Marco Island on the south-west coast of Florida (here's the first). We tried to see them once before, half-heartedly, having made tentative plans to kayak out of Marco Island's Caxambas Park. On the way to the park, whilst checking the tides and wind, the half-hearted attempt turned into a quarter-hearted attempt.
The nail in the coffin of our long-awaited excursion came when we saw the waves and currents at Caxambas Park. We just couldn't see us doing this trip in our kayaks that time. The 12-14 mile round-trip paddle adventure is not for the faint of heart (me). Or those (me again), who have a crappy little kayak that wants to capsize at the threat of a half-foot wavelet. We decided to come back another time, and that 'other time' came in May 2016.
Dome Homes By Boat Or By Kayak?
If you are adamant to paddle out to Cape Romano, at least don't do it alone. It might be better yet to get together with an outfitter or a group.  Searching for kayak excursions by outfitters or kayak rental shops did not yield much, which is not to say that they are not being offered. However, I have seen trips organized by kayak meet-up groups, going out to the Dome Homes, as well as to Stiltsville in Biscayne Bay. This group on the west coast has done the paddle out to Cape Romano, so it might be worth contacting them. I have seen also seen this group here on the east coast in south Florida, offering a group paddle out to the Dome Homes.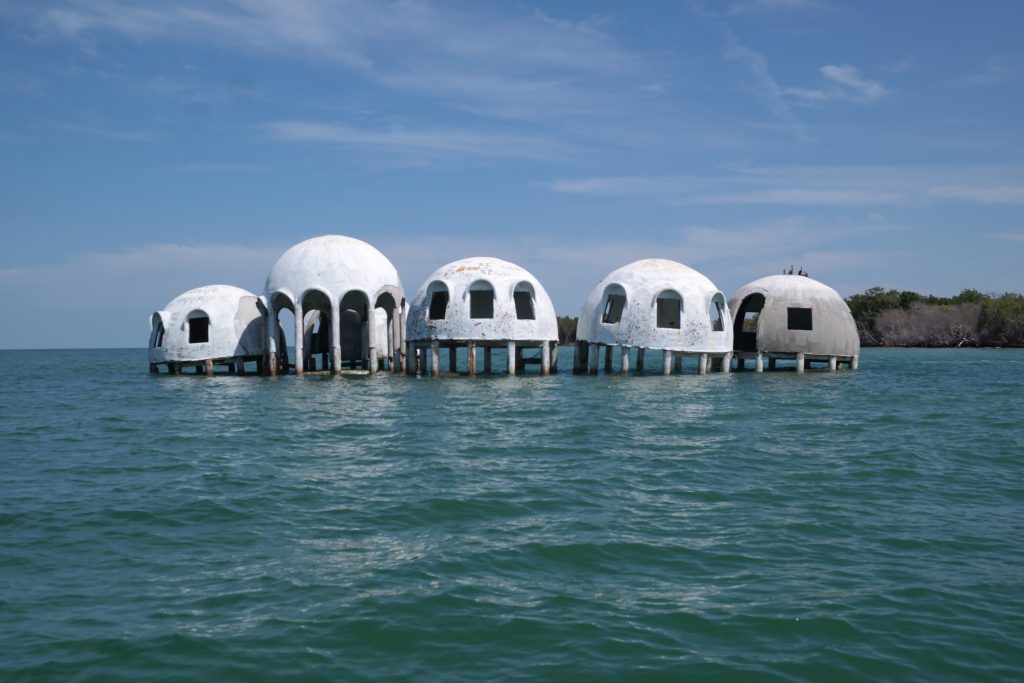 There are various options to launch, either at Caxambas Park on Marco Island or at Goodland. The trip might be relatively straightforward (south) if you are sticking west of the cape to the gulf -side. However, launching from Goodland or kayaking the backwater from Caxambas, rather than taking the gulf side open water option, you need to know where you are going. All those lovely mangrove islands start looking the same in no time. I suggest GPS and a map for that trip.
You need all your safety equipment such as life preserver and whistle (a VHF probably wouldn't hurt either), as well as plenty of sun screen, hat, lots of water, snacks, a decent sea-going kayak and strong arms. Tidal currents and winds can make this quite the tough trip, so I have been told. I am sure it is a very special and rewarding experience to kayak to the Dome Homes and back, and one of these days I might even go for it – for me it would have to be a dead-calm day though.
Having just said all that about kayaking, this time we decided on renting a boat. Boating, yay! And it certainly was the BEST DECISION EVER. Knowing what I know now, I'd suggest going to see the Dome Homes by boat, unless you are an experienced kayaker, who is regularly paddling longer distances perhaps. Although it is more expensive to rent a boat, it certainly is lots of fun and you could always find some interested friends to chip in. Plus, it is a pretty quick trip with a boat and means less nasty surprises with the weather, or with mishaps or simply fatigue. It makes for a more leisurely outing with possible beach and fishing time as well. Did I mention fun?
The Trip To The Dome Homes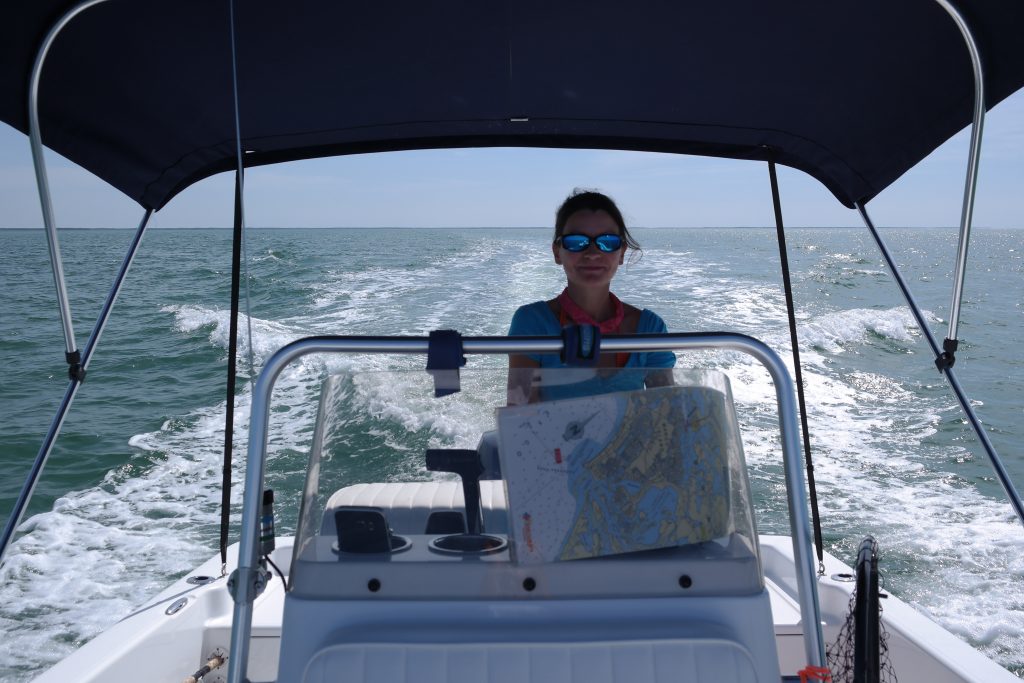 Fun!
Having a boat meant we were able to head out comfortably in over 10mph winds and some chop here and there (not a good kayaking day). Luckily, we didn't need to worry too much about wind and storms on that day. The sun was thankfully taken care of by the Bimini top, which I consider an essential 'accessory' for summer boating in Florida.
We also had a fantastic experience with Calusa Island Marina, where we rented our boat. The folks there are really great. They have only one or two boats for rent at any time, so you need to reserve in advance. When we finally got our little boat, having tried to rent it for weeks, we were ecstatic. It was a lovely new and clean 18 foot Frontier bay boat, easy to handle and absolutely perfect for what we had planned.
I must admit, I was a little nervous. The hubs and I had never rented a boat together and although I didn't doubt his navigational and boat handling expertise (maybe just a little, cough, cough), it was all new to us! I needn't have worried, however, my Captain was very responsible and able!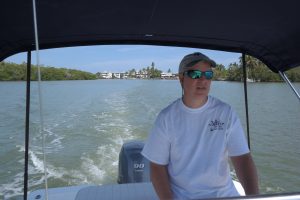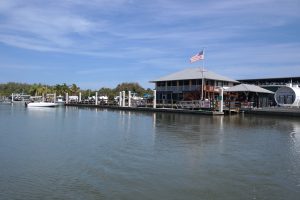 The trip down to Cape Romano in a small boat and in good weather is really wonderful and fun! You never need to lose sight of land which is nice for a first trip in an unfamiliar area and on a rented boat. True, we did have to stare at the depth finder quite a bit, as there are numerous shallow areas that can pose a little upset on low tide, but we came well prepared by the nice man at Calusa Marina, who told us the best route to get to the Dome Homes safely. The rest was just us following his advice and the markers, and of course getting salty! I have attached our GPS route at the end of this post.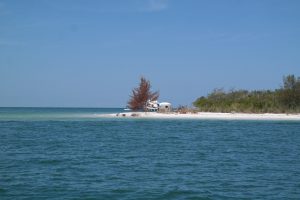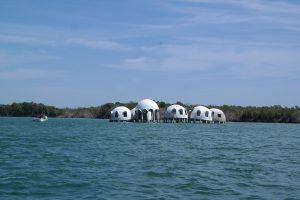 First stop for our day trip boating had to be the eagerly awaited Dome Homes! We saw them sparkling white in the distance and getting closer and closer, we were really surprised by how small they are. Having seen pictures of the inside before, while they were inhabited and with furniture, they had somehow seemed bigger. Also, it was a little sad to see them so abandoned, with graffiti, and falling into the ocean. It was great to see them nevertheless. There were quite a few other boats around, some fishing in the area of the Dome Homes, others like us just wanting to take a closer look.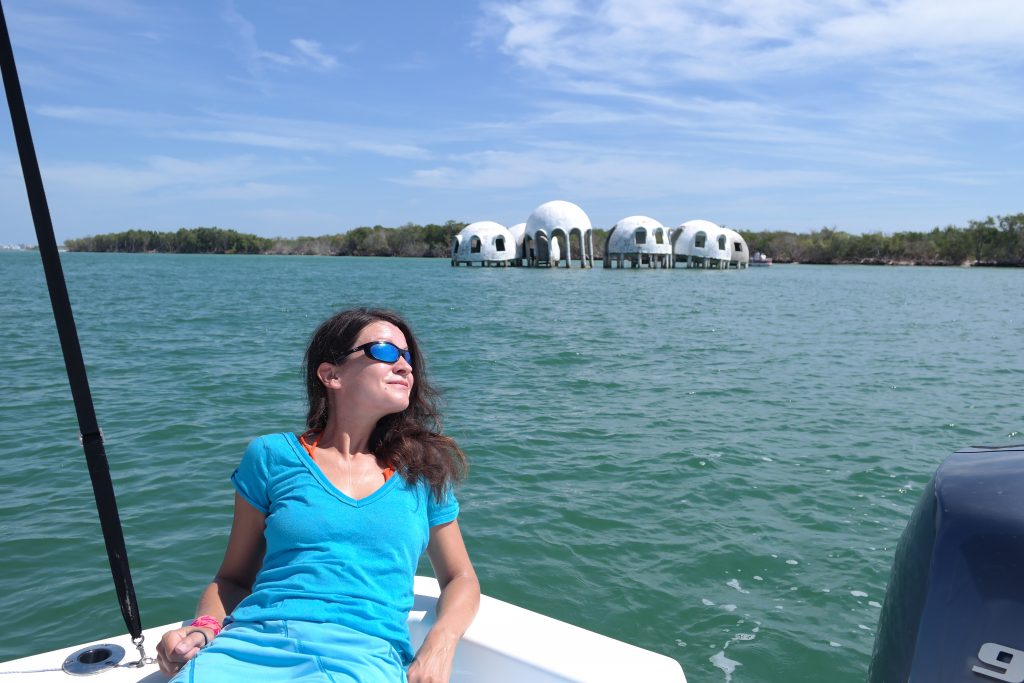 Finally..
If you are interested in seeing some pictures of the Dome Homes when they were still on a beach and before they became derelict, I have uploaded some pictures of their hey day here. My older article also focuses on some of the history of the Dome Homes.  They man who had the vision and built the Dome Houses, Bob Lee, lived pretty comfortably here with his family. They were not lacking in any modern creature comforts and appliances including air conditioning, television, fridge etc. Read more about it here.
The Dome Home structures now, half way submerged, are said to make for fantastic snorkeling. We did not snorkel on this visit, but perhaps next time.
Once we spent a little time looking at the Dome Homes and taking pictures of them at every angle, we decided to head to a rather nice beach just on the east side of Cape Romano, close to the Dome Homes. On our approach we had seen some boats anchored up there, so we wanted to do the same and do a little fishing and shelling.
The Beach At Cape Romano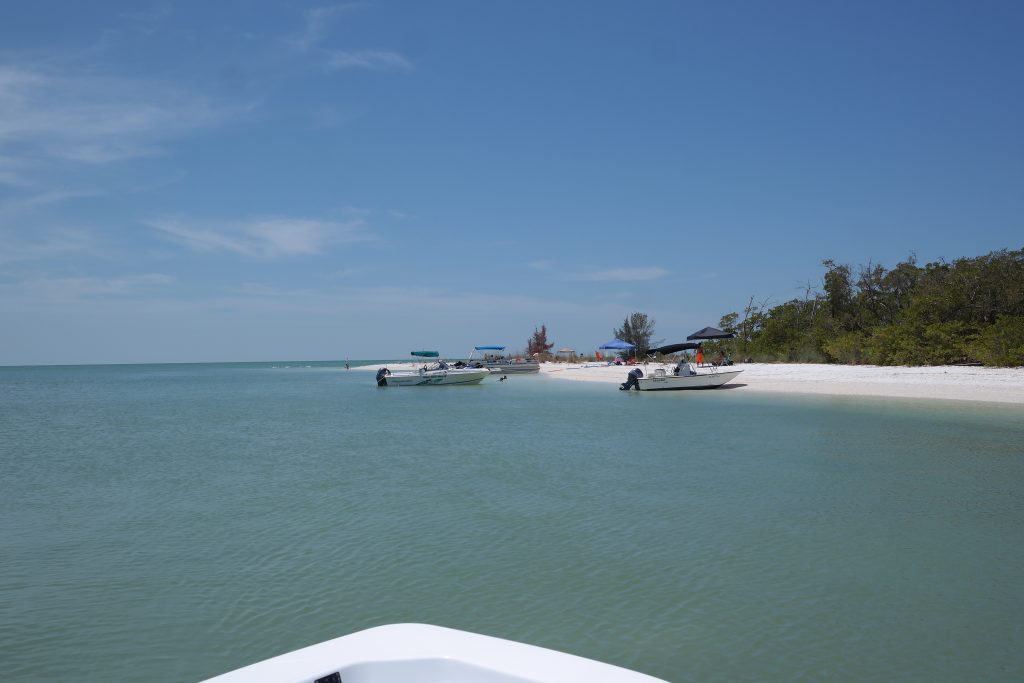 The beach at Cape Romano is really beautiful and the water crystal clear. Plus, I can imagine that at low tide you can actually walk out to the Dome Homes from there, or at least pretty close to them. It was hard to tell, as we were there at high tide, so their stilts looked well and truly submerged.
We had a lot of fun at this beautiful sandy beach. My better half was happily fishing, or as he called it 'feeding the catfish'. I was lounging around, walking, shelling and looking at the Dome Homes from land.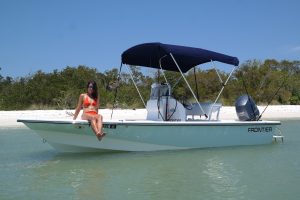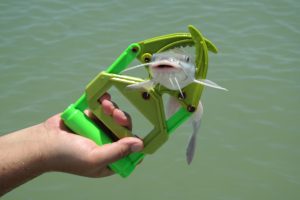 After enjoying the beach for a little, we took the trip back via the 'scenic route' also known as the long and leisurely way, driving as slowly as possible and stopping a few times to fish. What happened next we could not have foreseen in our wildest dreams. Suddenly, there were dolphins literally everywhere, swimming all around us, investigating and playing with the boat. We saw at least two calves that were extremely playful, and a lot of adult dolphins. As you can see on this video (sorry for the running commentary..), there was one adult dolphin with a really beaten up/mangled fin. Maybe someone recognizes him?

It was truly a 'one of a kind' experience. It seemed as though there were dolphins everywhere. In fact, there might have been several pods, as we had a number of dolphins quite close to us with many more in the distance. The Thousand Islands area being close by and without a huge amount of boat traffic here, they were clearly curious. Being outdoor and water enthusiasts, of course we have seen plenty of dolphins in the wild, but never had a pod actually actively pursuing a boat and playing with us. It was just magical!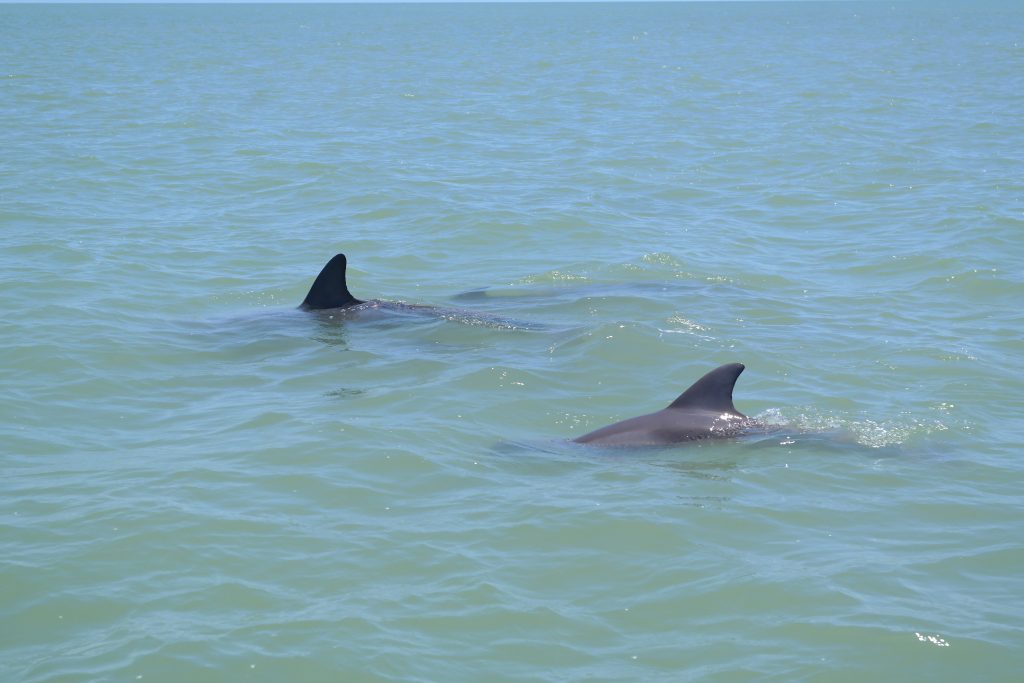 We did not want to leave but we had to leave them eventually. Such a humbling experience when wild animals actually come up to humans out of pure curiosity and fun, playing with a boat. It is so rare to see a curious wild animal that is not 'forced' to interact or enticed by food offerings. Feeding some wild animals is of course illegal, but that does not stop some people.
On that beautiful day, we did not just see dolphins but also a sea turtle and a shark. The shark, much like the dolphins, actually swam to the boat out of curiosity. In the end, we came home without a fish for dinner, but with plenty of lovely pictures and memories of this wonderful day and our amazing dolphin encounter.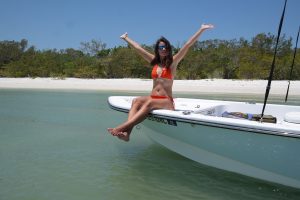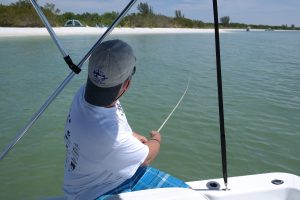 Get out to the Dome Homes, you won't regret it. The whole area lends itself to a wonderful boating adventure and makes for a fantastic day out, plus with the Dome Homes you get a little recent local history thrown in too.
Some of you might be interested in a map of the trip. Below is the exact route we took. You can see the way out is the left hand track (west), straight out of Calusa Island Marina to the Dome Homes. Getting back, we ambled around a little, heading east around the Cape Romano Shoals into Gullivan Bay, which is where we saw most of the marine life of the trip. As the saying goes 'what is this life if full of care, we have no time to stand and stare' (William Henry Davies).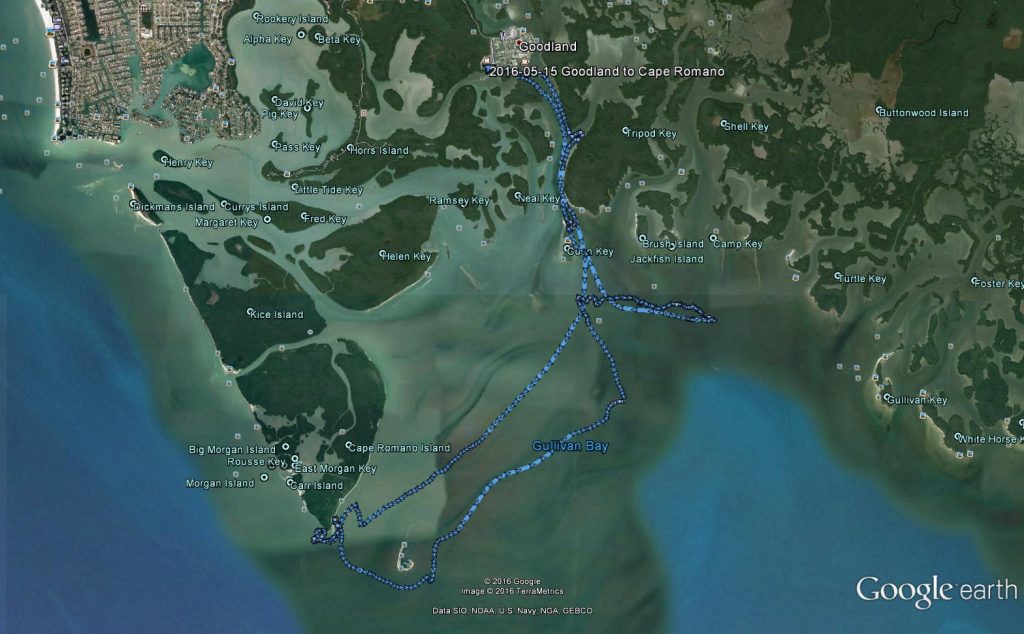 Any questions, comments or tips? As well as leave a comment on my blog you can contact me with the contact form below. I would love to connect!