Oh dear! On 5th July the old 7 mile bridge closed for refurbishment. This is in fact great news, as there had been talk of closing it for pedestrian access altogether – and forever – as it was becoming increasingly unsafe. Luckily, the DOT and Monroe County, with the city of Marathon, have taken the burden of financing the project upon all of their shoulders. Cause for celebration! However, if you wanted to walk the old bridge, you are out of luck for at least a year!
I have had an obsession of wanting to walk the old bridge and visiting Pigeon Key ever since I walked the 'new' 7 mile bridge in 2013. Shameless plug: I wrote a book about my solo walk of the entire Florida Keys, which you can find here.
Predictably, whenever I am in the Keys, any type of water activity usually wins over walking, especially in the summer months. Last Saturday then, we decided to explore Pigeon Key. Much to our surprise, this entailed a rather nice and fun boat trip! So once again, you could say the water won over concrete…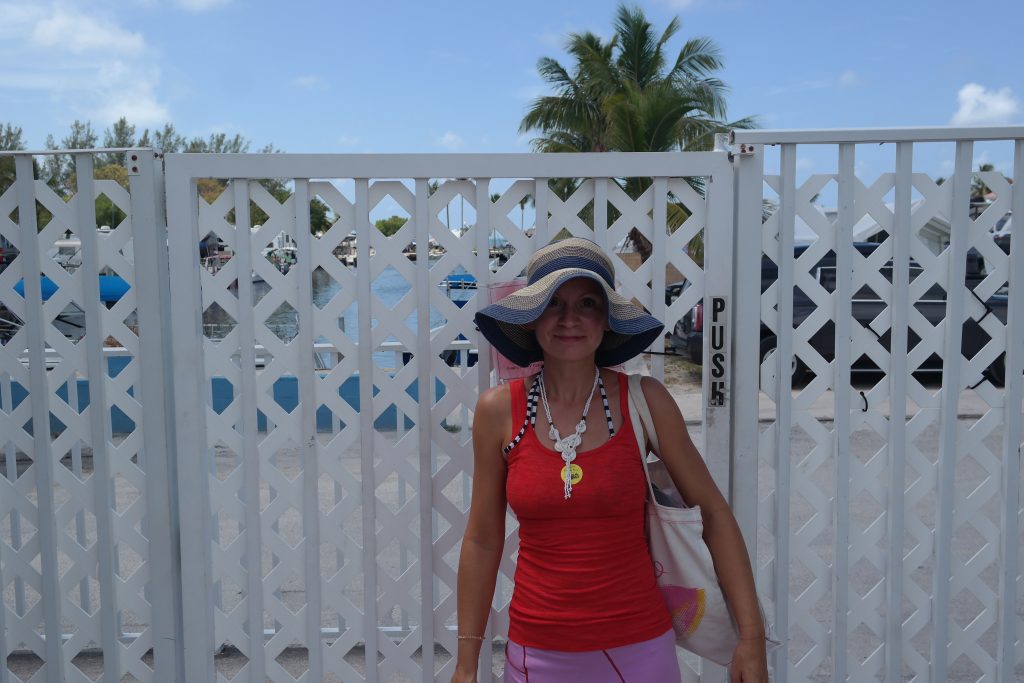 Waiting To Board The Pigeon Key Ferry
The History Of Pigeon Key
First of all, where does the name come from? On early Spanish charts, Pigeon Key was known as 'Cayo Paloma'. 'Paloma' translates as pigeon or dove, or 'rats of the sky' if you are not fan of them like moi. It has been suggested that the name comes from colonies of white-crowned pigeons that once roosted on Pigeon Key.
Pigeon Key had a pretty quiet and unspectacular existence until the early 1900's, when Henry Flagler began his project to extend the Florida East Coast Railway all the way down to Key West. His biggest challenge perhaps was to build the 7 mile bridge, connecting Vaca Key (Marathon) with Little Duck Key, therefore spanning over the biggest stretch of water of the whole project. This would present a huge engineering challenge now, let alone over 100 years ago! No surprise then that back in the day, the bridge was referred to as the '8th Wonder of the World', while the entire project had also been dubbed as 'Flagler's Folly' by some.
Pigeon Key, being just over two miles away from Marathon, proved the logical place for a construction camp. Soon, buildings were erected for the comfort of workers, foremen and engineers. Four bunkhouses held 64 men each. However, as not all men could be housed in the buildings, tents had to be put up to house the many who were working on the railroad extension (at times 400). Here is a great article about the conditions on the island during the construction of the 7 mile bridge.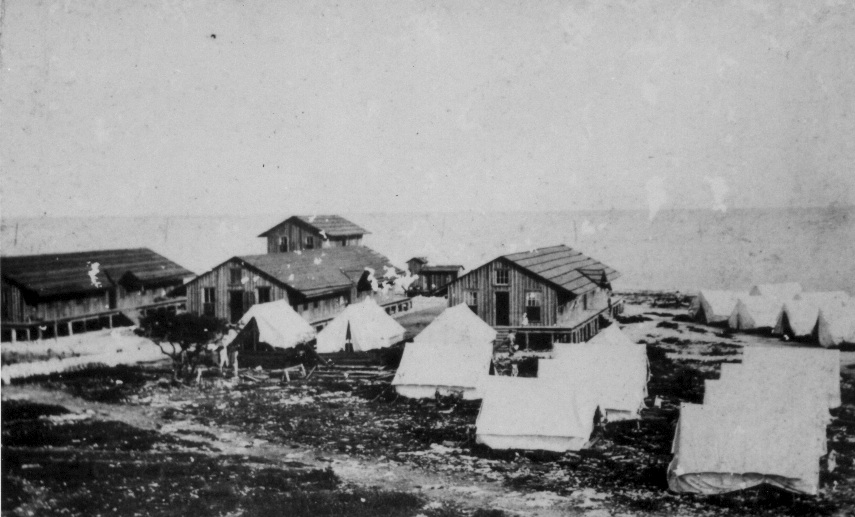 The Camp At Pigeon Key –  Early 20th Century (image from http://www.flaglerkeys100.com/)
Surprisingly perhaps, conditions were not as bad as one might assume when picturing 400 men on a tiny island of 5 acres. Yes, there was no modern day mosquito control and yes, the working conditions combining a long day of physical work with hot and humid temperatures presumably left a lot to be desired, according to our modern standards. However, the daily pay of approx $1.50 was what most unskilled laborers earned in a week at that time. Also, reportedly the food was plentiful with enough ham, bacon and beef to more than satisfy the hungry men after a hard day's work. It was an 'all you can eat' treat courtesy of Mr Flagler. Also, there was great emphasis on hygiene, with beds washed and thoroughly disinfected once a week (http://www.keyshistory.org/pigeonkey.html).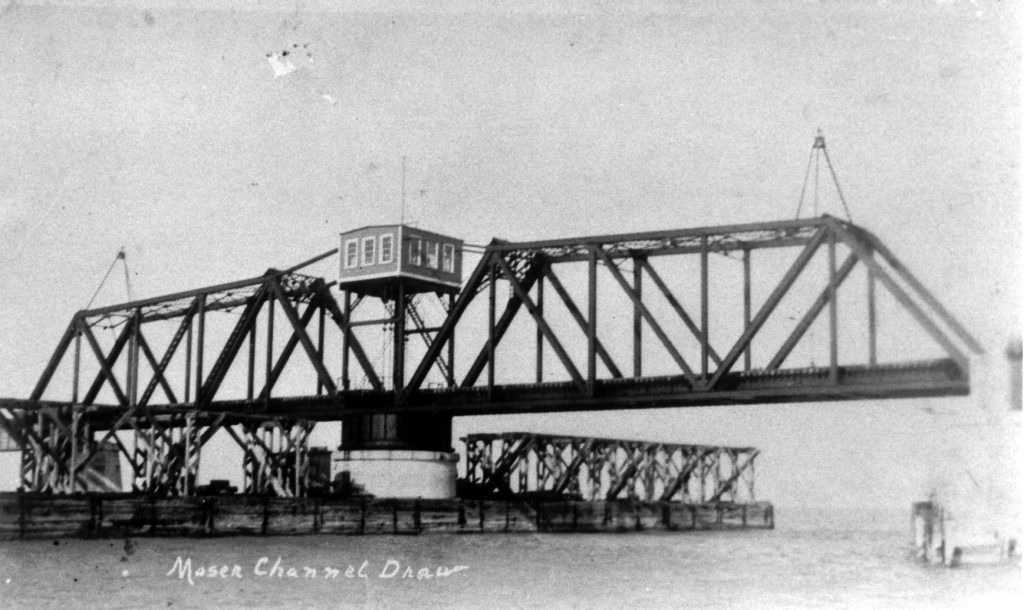 Moser Channel Swing Bridge For Boat Traffic Under The Old 7 Mile Bridge (image from http://www.flaglerkeys100.com/)
Pigeon Key After The Railroad
After the railroad was completed, in 1912, Pigeon Key was transformed from a workers village to a maintenance camp, chiefly for the bridge tenders of the Moser Channel bridge, maintenance crew and their families. Surprisingly perhaps, both a post office and small school (one room), opened on Pigeon Key in 1923.
Then, disaster in form of an extremely strong and concentrated hurricane – the Labor Day hurricane of 1935 – destroyed large areas of the Overseas Railroad in the Keys (mainly in Islamorada). The decision was made to abandon the railroad in favor of making the route accessible to cars. This project of constructing the 'Overseas Highway' was completed in 1938, including a wooden access ramp to Pigeon Key which is still used by pedestrians today, and incidentally in process of being refurbished as I type this.
Pigeon Key's quirky history was far from over, however! In fact, the island was one of the sites used for filming 'Flipper' in the 1950's! A little later on, it was rented for a spell of two decades by the University of Miami as a marine research facility. This came to an end in 1987. Happily, Pigeon Key was finally designated a historic district in 1990, and in 1993 the not for profit 'Pigeon Key Foundation' took over stewardship of the island.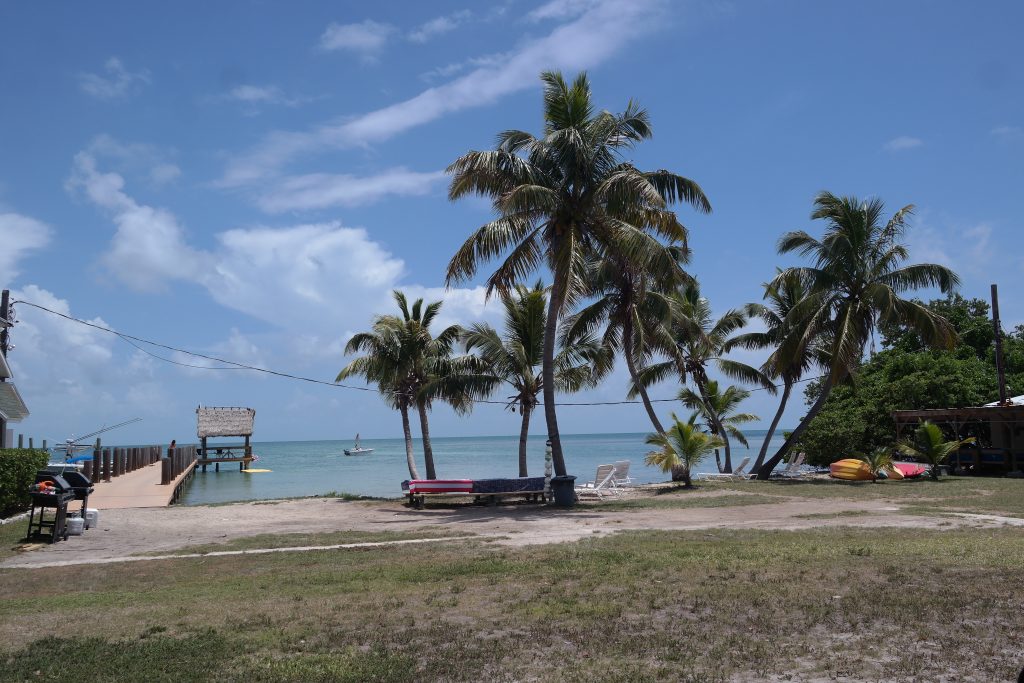 Pigeon Key Dock Area- Where You Arrive When Coming By Boat
Pigeon Key Today
Nowadays, Pigeon Key is largely an educational facility and an opportunity for locals as well as tourists to take a step back in time. A great afternoon can be had exploring the history and historic buildings of this interesting island, as well as taking advantage of the crystal clear waters surrounding it.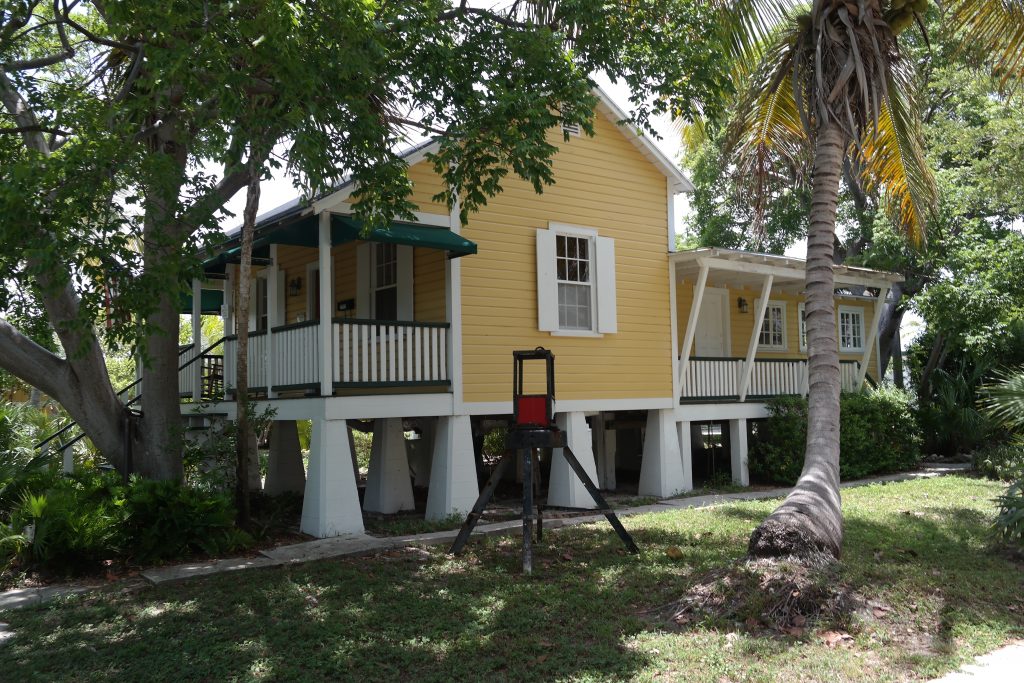 Just One Of The Beautiful Historic Houses On Pigeon Key
How to get there?
Right now, pedestrians are not able to walk the old 7 mile bridge out to Pigeon Key. However, even if they were, the ongoing restoration work on the old access ramp is making access impossible in any case, so Pigeon Key has not been accessible for pedestrians or bikers for a while. The easiest, and at the moment 'only' way to get there is therefore by boat, namely with the Pigeon Key Ferry, which leaves from Knight's Key Marina. Tickets are available in the visitor center (an old train carriage) for $12 per person, at the time of writing. The fee includes the boat, entry to the island and a historic tour, so you will be all set for a lovely afternoon on the island. Don't forget your snorkeling gear!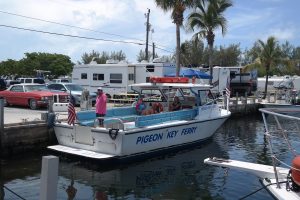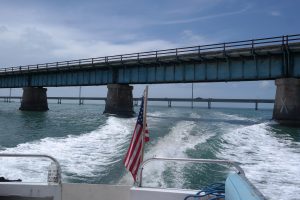 What is there to do?
For such a small island, quite a lot, actually! After the fun trip across and getting off the boat, a visit should first and foremost perhaps entail  some marveling at Mr Flagler's entirely self-financed handiwork. Have a stroll around and view the underbelly of the old 7 mile bridge and see the old railway bridge underneath the later converted car bridge. Very cool!
Also, there is a historic tour included with the ticket which you may or may not partake in – the choice is yours! If you have an hour to spare, this is a very informative and fun tour and leads through some of the old buildings, as well as the little museum. We also got to see the resident mouse hunter TC (that cat), who reportedly went from rags to riches, or in his case: from the shelter to his own island! They should have called him LC for lucky cat, right?! I could not help being a little jealous of the cat, who calls Pigeon Key his home.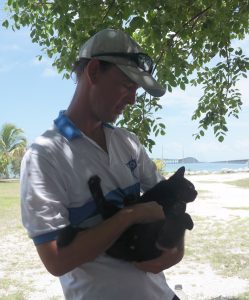 TC – That Cat!
I couldn't write a post about Pigeon Key without mentioning the crystal clear waters. The snorkeling here is nothing short of spectacular. Heck, just walking on the dock produced sights of several large and colorful parrot-fish as well as a good sized juvenile barracuda and various other interesting inhabitants of the ocean. So by all means bring your swimming and snorkeling gear, and especially if you are visiting any time during the summer because it will likely be very hot! You can snorkel right off the dock or at various places around the island. The ground is stony, uneven and slippery if you try to snorkel from the beach, so you would be well advised to wear some water shoes.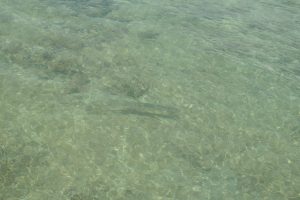 This Is A Bad Picture Of A Barracuda
We noticed various boaters docking at Pigeon Key, severely arousing my jealousy, they then started to make the island their own and grilled on the barbecues there, having a real 4th July party. I gather it is possible to 'rent' use of facilities on Pigeon Key but not quite sure how this works, maybe some locals can shed light on it for me? Just on the off-chance I will own a boat one day, Pigeon Key is definitely going on my list as a boating stop-off!
And then, as we just started to enjoy this tropical paradise, it was time to tucker back again in the little ferry. On our way back, one of the two jolly boat captains told us that there were sharks in the concrete pool at the southern end of the island. Oh I would have loved to have seen them, but it was too late! Bye bye charming Pigeon Key and your crystal clear waters, we will be back – not least because I need to see those sharks!
On a side note, when we were there, most people who made this experience a spectacular one, were volunteers. This included the jolly boat captains and patient tour guide. Don't forget to open your wallet a little for these noble souls who exchange whole days of relaxation for driving boats back and forth, and giving tours in sweltering heat. They will appreciate a token of your gratitude, however small…
What are your experiences with the old 7 mile bridge and Pigeon Key? I would love to hear them!