Always looking for new things to do that afford a quick escape from city life, we stumbled across the only State Park in Palm Beach County. And it doesn't disappoint. Once you get there, you are greeted by a lush canopy on the way to the car park, and this is only the beginning. It feels like a complete escape from the city, and you will be glad that this wonderful natural area has been preserved within the predominantly urban landscape we have in this area.
Tell Me More About John D MacArthur Beach State Park
The Friends of MacArthur Beach State Park call the park an 'island in time' which 'preserves the natural heritage of subtropical coastal habitat that once covered south-east Florida'. I couldn't have said it better.
The park is located at the north end of Singer Island in Palm Beach County and opens its doors 365 days a year, from 8am to sunset. You will find plenty to do there. In fact, there is much more to do than fits into a single day even if you were to spend it here from 8am to sunset!
There is a welcome and nature center, where you can find all kinds of information about the park with interpretive exhibits, videos and a gift shop. Once you get outside, the whole park area is wonderful for kayaking – you may rent kayaks at the park or bring your own.
It helpfully states on their website that kayaking the estuary and Munyon Island is best done at high tide – something we should have read before setting off. We found out pretty quickly that kayaking at low tide (we started out at dead low tide) entails plenty of 'getting out, wading and pulling kayak behind you'. We also saw plenty of others doing the same. This is only fun when you don't have to step out onto the muddy ground yourself…luckily I got married a few weeks ago. Husbands come in handy.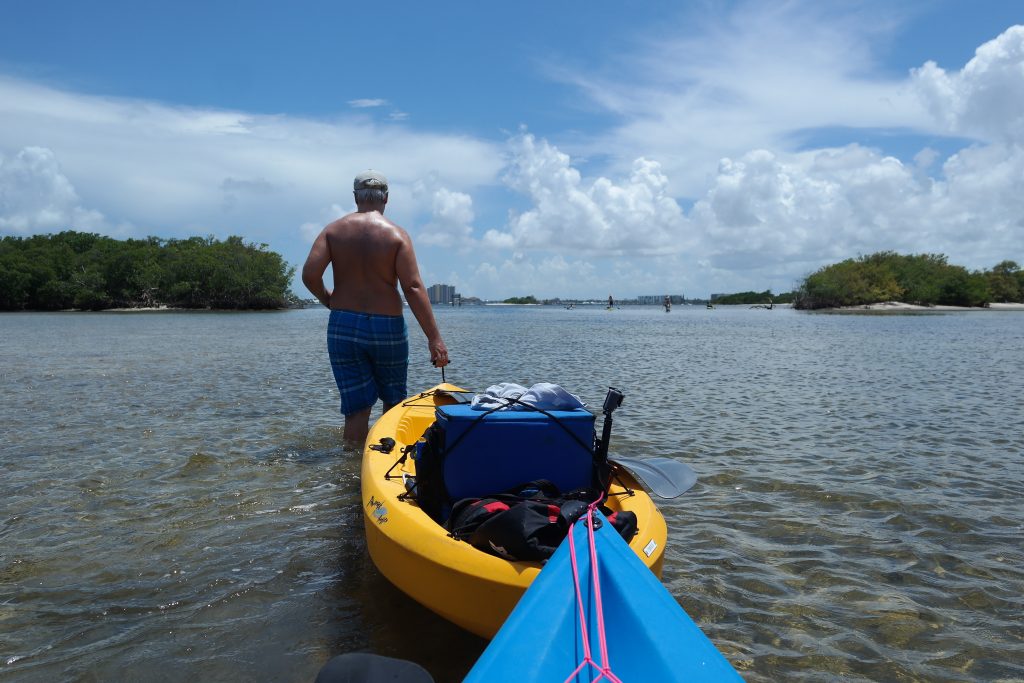 Kayaking At Low Tide? Don't Forget To Bring Your Husband
While I was sitting comfortably, enjoying the surroundings, my better half graciously pulled me across the mud flats. I have the feeling that he will be checking the tide timetable before we head out there again…
If you are feeling lazy, and opt out of kayaking, there is an amazing natural beach to explore, which can be reached by a board walk stretching over the lagoon. If you have a lot of stuff to lug across, or you are really feeling lazy, perhaps take the free 'tram', which looked like a golf cart to me – but I am not judging. The snorkeling is supposed to be pretty good at the beach, but this time we did not have the time to explore it. Maybe next time!
Also, for those who are not into water sports but do want to stretch their legs, there are two self-guided nature trails through the park's beautiful mature vegetation, which we will certainly explore once the weather cools down again a little bit.
Kayaking The Estuary And Munyon Island
We were here in mid July and admittedly, the water temperature takes some getting used to. As soon as we got used to the bath tub water, there was something else we weren't too keen on: clouds threatening to build into thunderstorms. Well, that's summertime. Sigh.
Once the coast looked clear, we paddled to a close-by beach area where we saw some other people with kayaks. This beach is actually part of Munyon Island (north east portion of it). The way to get there is to head straight out of the kayak launch and south, underneath the boardwalk and then underneath a bridge (A1A) and turn right, back north. Then, depending on the tide, you either get stuck pretty quickly or you can kayak all the way to the beach area. Once there you might die of the heat, certainly in mid July.
Luckily, we had a stiff breeze that day, else we might have expired. There is little or no shade and the water is pee-pee warm, for want of a better comparison. Although all this does nothing – in my opinion – to distract from the wonderful nature all around.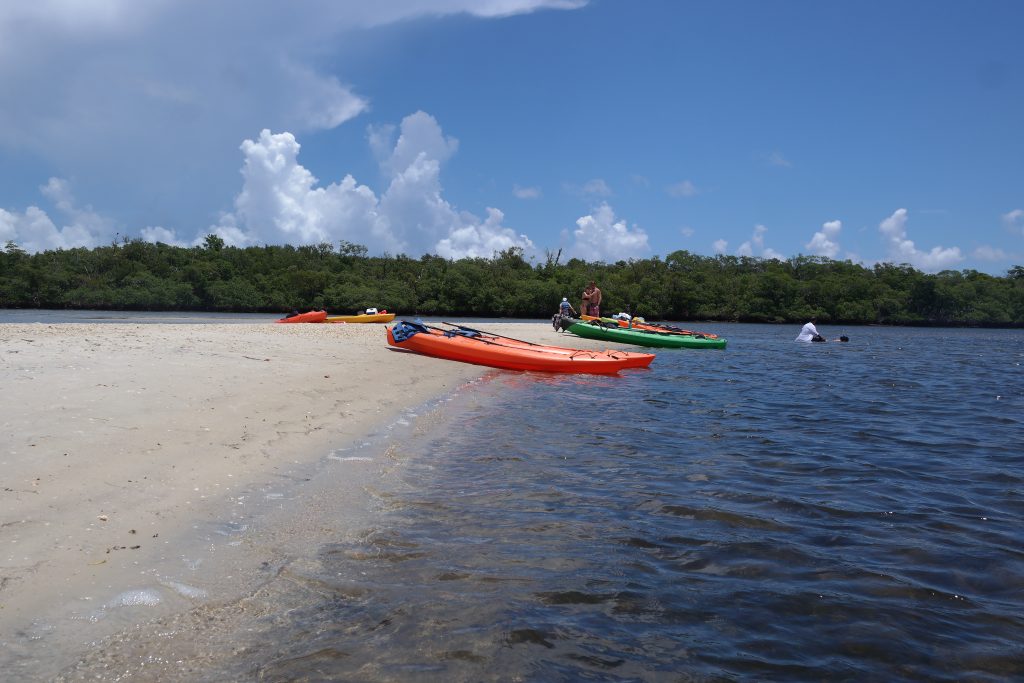 North East Munyon Island – A Nice Beach
Once we were done with boiling at the beach, we saw another thunderstorm heading our way and decided to swelter, I mean 'shelter', under the bridge of the road leading to MacArthur State Park (A1A). Frankly, if you haven't gathered already, it gets really hot here and that bridge was a godsend.
We were more than happy to have a few minutes' shade. I was also elated to have brought my long-sleeved fishing shirt, which I wore when kayaking in the full sun. As well as that, I was also grateful for high factor sunscreen and a hat. I suggest you come prepared, and this includes adequate water supply also, especially during the summer time.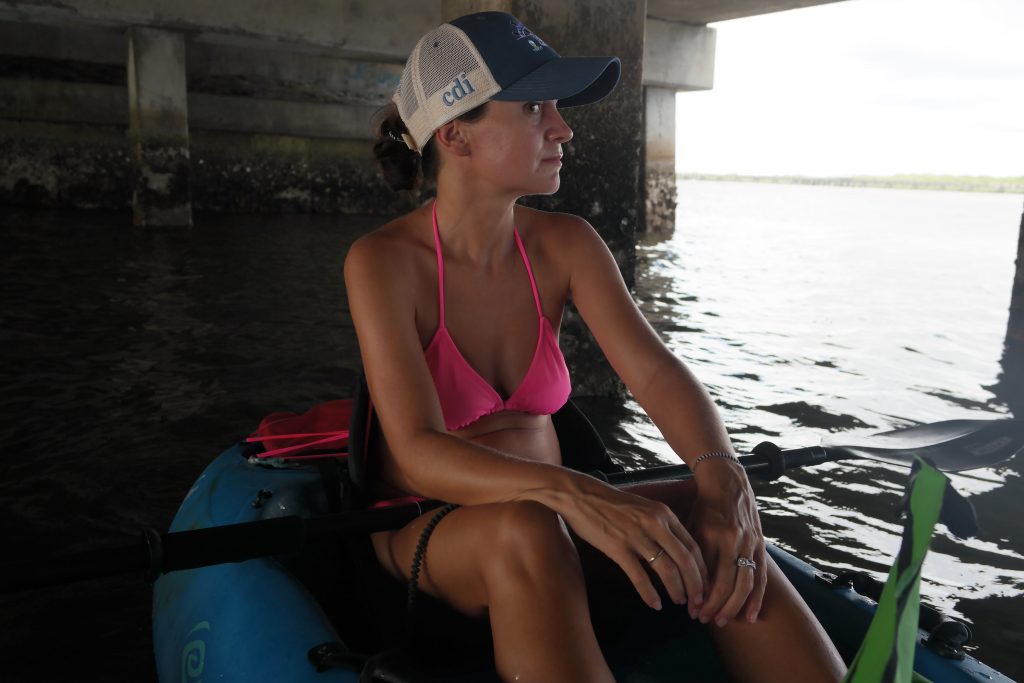 Shade!
Next stop was kayaking around the east coast of Munyon Island heading south, where we came across a little channel where the water gets deeper. Munyon Island is on your right side and the white sand of Little Munyon Island's beach glaring at you, straight ahead in the distance. Do yourself a favor and look down, you will see an abundance of fish and red coral type structures.
We saw barracudas, snappers and sheepshead. Have you ever wondered what a sheepshead look like close up? I certainly did too. You will be surprised that they don't look like a sheep's head, but actually sport teeth like a human. Pretty freaky. I found an article with pictures here.
All that life was really cool to see and pretty difficult to tear oneself away from. You can see the channel clearly on all maps, it is the little gap that separates Munyon Island from Singer Island. Head there and bring snorkeling gear!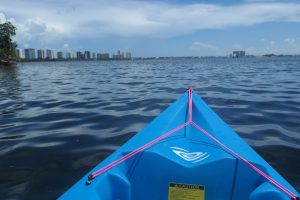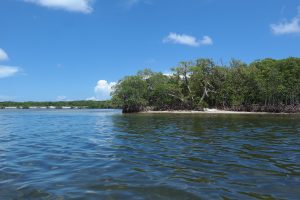 Looking North
We kayaked on a little and saw Little Munyon Island's inviting beach ahead, but decided to save it for another day. It was a pretty hot day with plenty of storms around and we did not want to get too far away from our kayak launch.
Nevertheless, we did take another break at a little beach on the east side of Munyon Island further south, which was also a great little area to see baby horseshoe crabs! Incidentally, we had seen a huge one in the water just before we got there, probably Mommy to all those babies, well one of the Mommies anyway…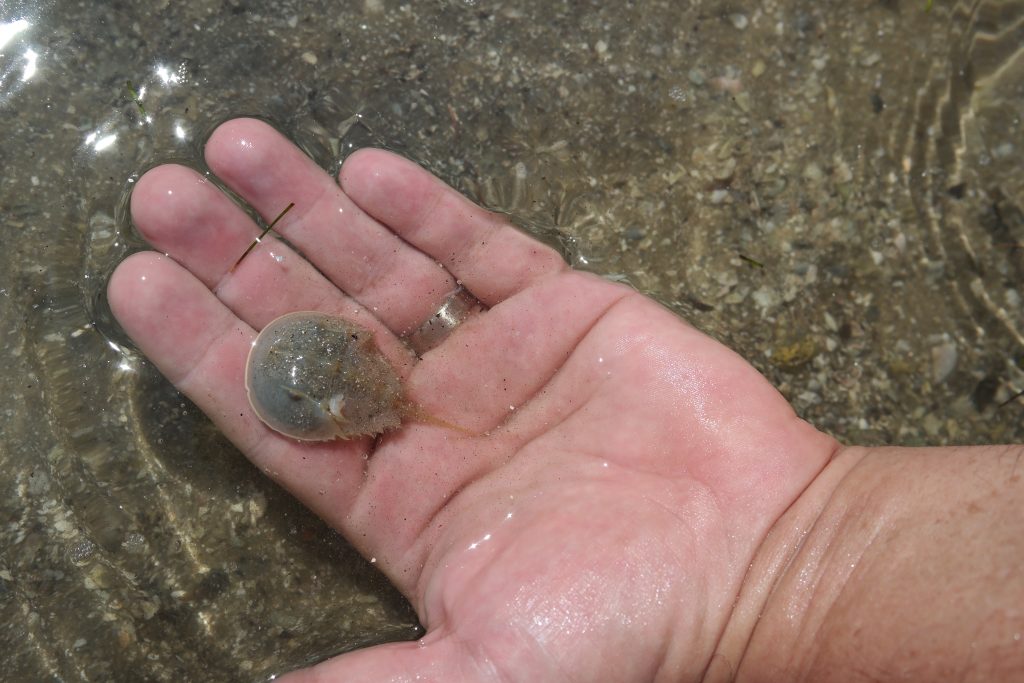 Cute!
For the rest of the time, we observed those little horseshoe crabs feeding and digging themselves into the sand and had much fun watching them. We also saw hundreds and possibly thousands of little baby fish gather in the same area, a little tidal lagoon (to the left of me in the photo below). Get there as the tide comes up or at high tide. I am sure you will discover lots of creatures there also.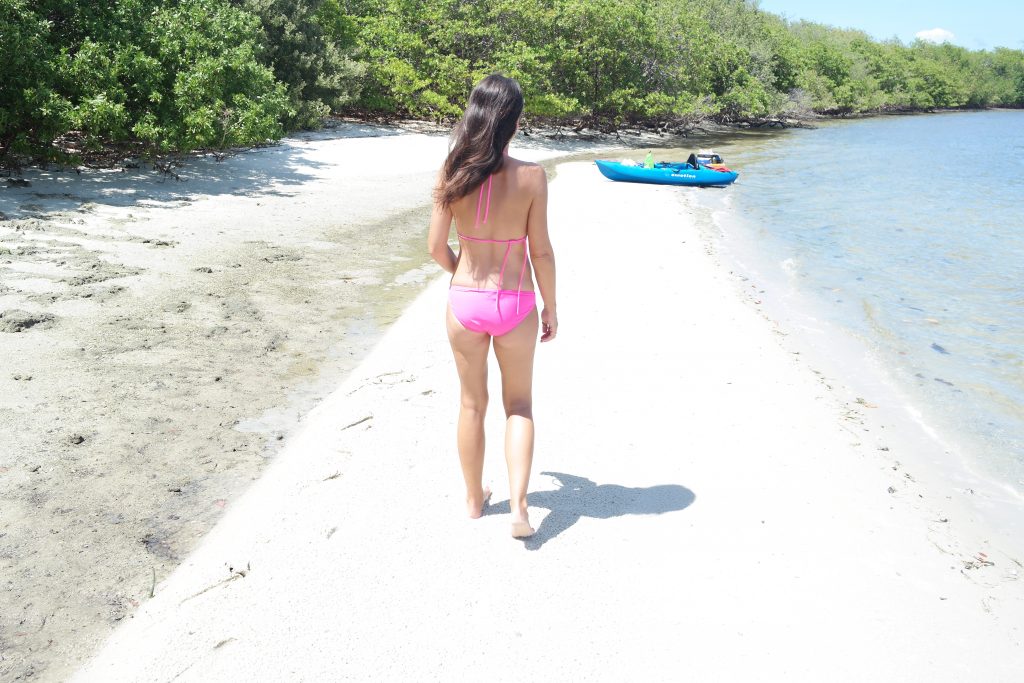 We had to literally tear ourselves away from that little paradise. Although the water surrounding it, well at least on the east side of Munyon Island, is absolutely boiling and possibly the warmest water I have ever encountered anywhere. I guess it being shallow all around the area, and sandy, means that the water just heats up from the sun and there isn't much fresh or cool water coming in.  Quite a surprise when you consider just a couple of miles down at Peanut Island and especially Phil Foster Park, the water is positively cool even in the summer time.
So I am not going to recommend this kayak trip in July and August specifically, unless you don't mind swimming in hot water, and it is extremely hot. For comparison, I don't usually have my bath water this hot! We will definitely be back kayaking here but most likely in the winter months. The area is one of outstanding natural beauty, however, so I am highly recommending it for that at any time of the year.
Either way, another big positive is that you can spend hours kayaking the area without being bothered by boat traffic in the slightest. Most of this area is far too shallow for boats. The only motor boats we saw were at Little Munyon Island and keeping west of Munyon Island, we heard motors in the distance and that was pretty much it. On a calm day, the area is great for kayak or paddleboard beginners and plenty of wildlife such as wading birds, osprey, and marine life, can be observed. We even saw two Roseate Spoonbills!
If you really want to make a day of it, you can investigate all the little mangrove channels/tunnels that were artificially created in 1997 when Munyon Island was restored. You can access that area through the park by heading to the north of Munyon Island. The possibilities are endless for a great day of kayaking at this Park!
Munyon Island History
This place has somewhat of an odd history. Looking at it now, you wouldn't think that anything much happened here. However, a Dr James Munyon bought the island in 1903 and proceeded to build a five storey 21 room hotel there, called 'Hygeia', of which there is absolutely no trace whatsoever, as it burnt to the ground in 1917.
The hotel had catered to wealthy northerners suffering from ailments and illnesses and looking to heal in the warm Florida environment. Dr Munyon also bottled up fermented papaya juice (barf) called 'Munyon's Paw Paw' on Munyon island, which he then offered as an cure-all.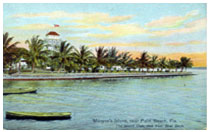 Postcard Of Dr Munyon's Hotel
(image courtesy of www.pbchistoryonline.org)
Between the 1930's and 1950's then, the island magically grew. Well, not quite so magically, as it was used simply for depositing the fill from nearby dredging of the intracoastal. Similarly to Peanut Island further south, which was entirely created by dredging in 1918. Munyon Island was only 15 acres before, but by the time the dredging project finished it had grown to 45 acres (http://www.pbchistoryonline.org/page/munyon-island).
John D MacArthur bought the land in 1955 and donated it to the State of Florida in 1981. Thank goodness for people like him, who had so much foresight at a time when the area was not nearly as developed as it is now.
What we see now on Munyon Island is again the result of a major change and restoration effort which was completed in 1997. From the air it is relatively easy to see the original outline of the island to the east, and the newly added and restored area with little water channels to the west (closer to the intracoastal).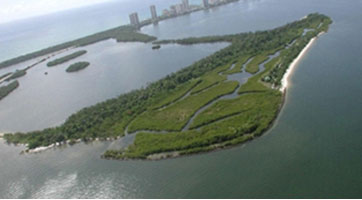 Munyon Island
(image courtesy of www.pbchistoryonline.org)
So there you go, the only State Park in Palm Beach County is certainly well worth a visit at any time of the year, but if you want to cool down a little in summer, I recommend the beach.
What are your thoughts? Have you been? I would love to hear your stories…