Staying in one of the wonderful State Park Cabins at Fanning Springs, one might draw the conclusion that we had enough 'spring' in our step and in our vacation. Not so! After all, the area was new to us and intent on exploring, we decided to check out two other springs, Manatee Springs right next to our Fanning Springs, and Devil's Den – a little further away.
Swimming, Manatees And A Barbecue To Die For – Manatee Springs State Park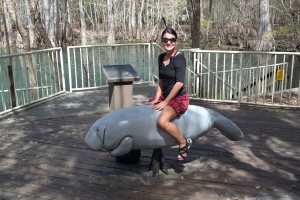 Goofing Around On The Resident Manatee
Just over ten miles south of Fanning Springs State Park off US98, you will find Manatee Springs State Park. A first magnitude spring, producing around 100 million gallons of crystal clear water every day, this spring is an absolute must-see. Where do I start? Perhaps with a picture of me enjoying the crystal clear water?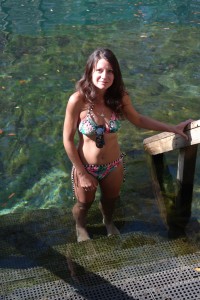 Refreshingly Cool And Turquoise
This place is simply magical with lush vegetation all around, trails and kayaking available and the spring head announcing its presence with the most amazingly turquoise, crystal clear and cool spring water. On arrival, we were greeted by a little manatee – no, a real one not just the statue – one of the last of the season as they had already started to migrate back out to their feeding grounds and away from the spring waters.
What is there to do at Manatee Springs besides swimming? Well, actually plenty! There are trails that lead through this State Park and habitats, complete with a boardwalk through a little Cypress swamp area, leading out to the Suwannee River (and a little dock). There is a playground and picnic area and there are bicycle trails in addition to the hiking trails, as well as a campground available for those who want to make a few days of their adventure.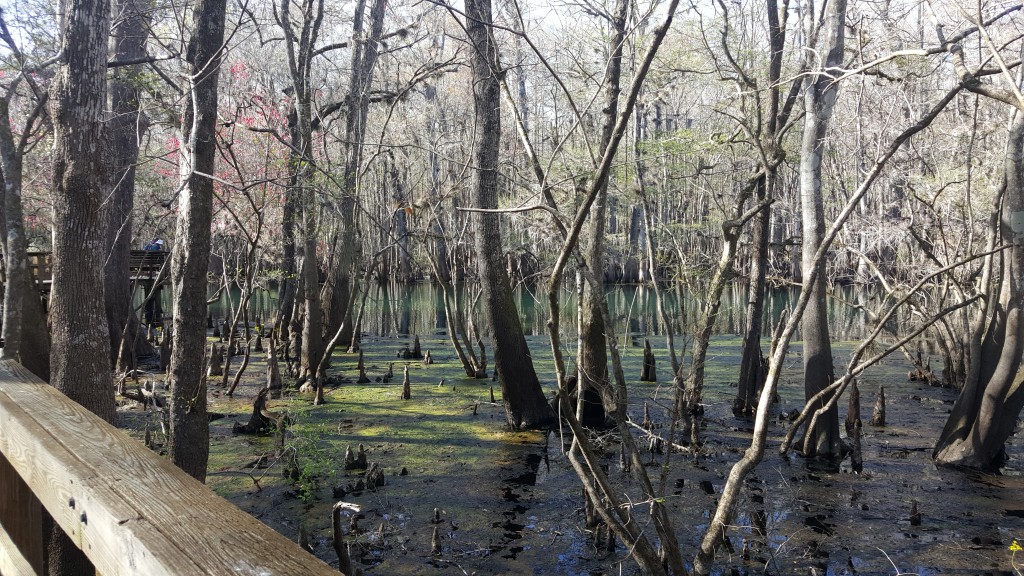 The Boardwalk
One of the best things about this State Park in my humble opinion is their resident barbecue concessionaire. We could already smell the bbq smoke when we arrived, but forced ourselves to wait until after kayaking to taste the food. This is hands down the best concessionaire at a State Park I have ever encountered and the best barbecue I have had in a while. It certainly trumps some of those fancy Miami and Fort Lauderdale barbecue joints, not only with great prices but also amazing quality. A shout out to the jolly guys from Andersons Outdoor Adventures who run the kayak rentals as well as the barbecue, and do so with a smile on their faces. All I can say is that it was absolutely delicious and just the ticket after a day of being active outside! A combination plate is huge enough to share and fight over – or why not get two and take some home (if you can control yourselves).
A Happy Barbecue Face
Kayak The Suwannee River At Manatee Springs
Well, why not? There are various ways of doing this, with several trip options available. We had previously looked into one option, where they will actually transport kayaks up to Fanning Springs and you can kayak down the Suwannee river – with the flow – and end up back at Manatee springs. Once there, the friendly people from Andersons Outdoor Adventures will shuttle you back to Fanning. This seemed like quite a long trip (9 Miles) and we had only limited time on our break, so did not want to devote a whole day to a kayak trip.
Luckily, we didn't. When we got to Andersons at Manatee Springs, they told us that this day would have been less than ideal for a long trip downstream, with high winds on the river and rough paddling expected, even when going with the flow of the river. Maybe another time!
Instead, we opted to rent a tandem kayak for a couple of hours and enjoy the immediate spring area as well as kayaking out for a couple of miles on the Suwannee river, to get a feel for it. It was the perfect decision!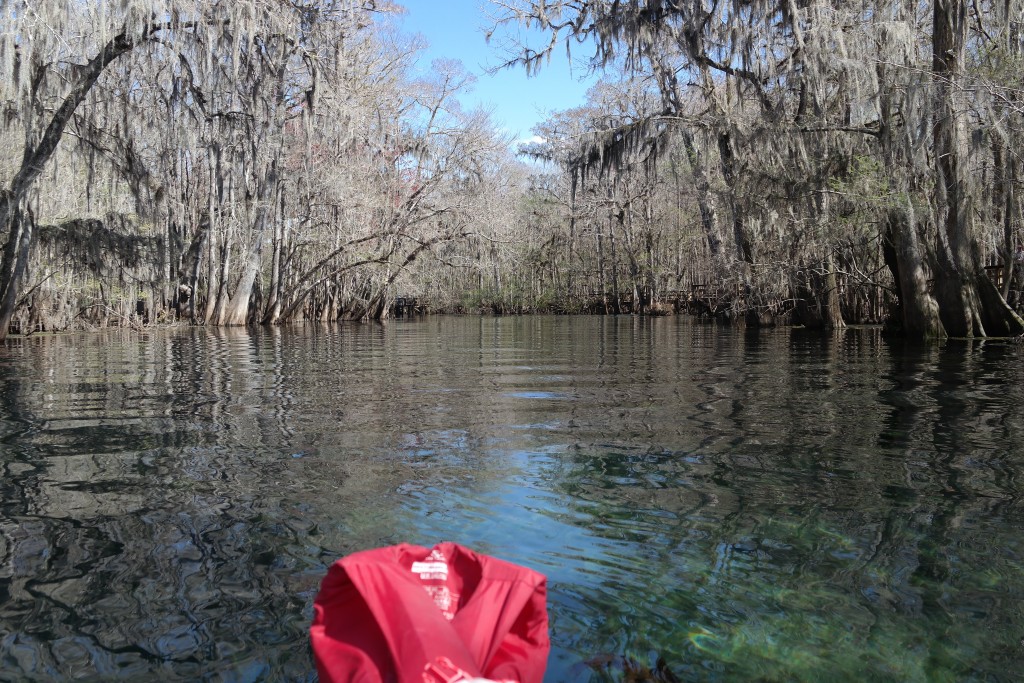 Kayaking the Manatee Springs Area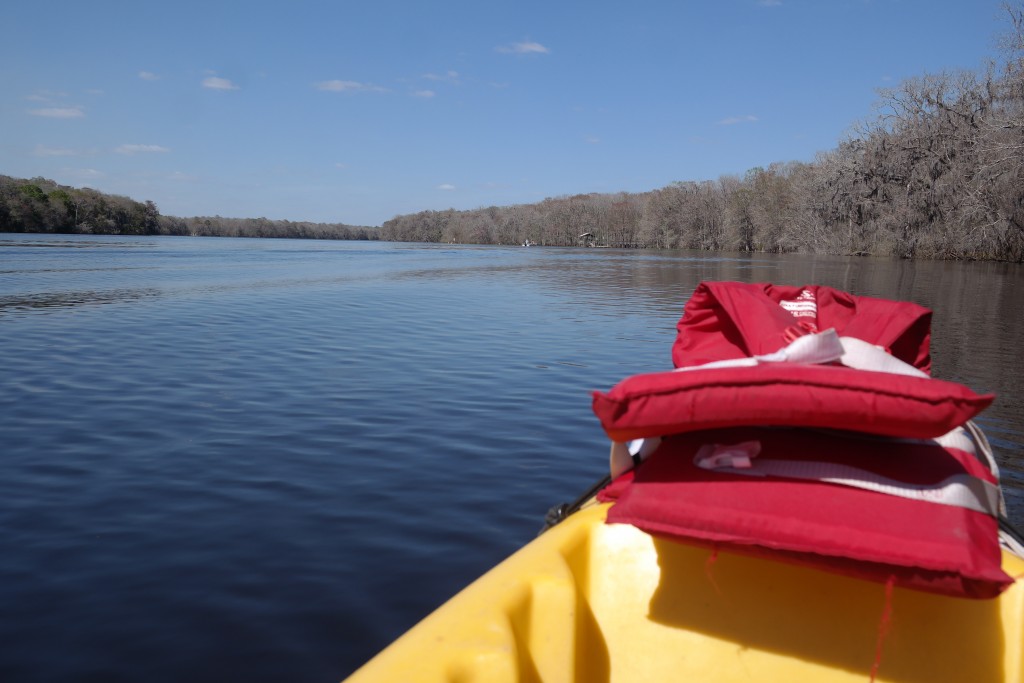 Out On the Suwannee River
A lovely two hours was spent kayaking the immediate vicinity of Manatee Springs and a little up and down the Suwannee River. There was boat traffic but not much in the way of wakes as the river is pretty wide and boaters seem quite respectful here. It was a wonderful adventure, we saw turtles and plenty of fish including a sturgeon jumping out of the water! A great experience. Don't miss Manatee Springs State Park, it is a little gem.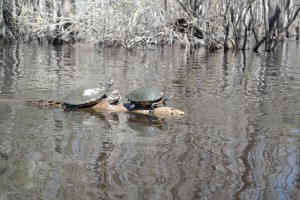 Suwannee River Turtles
Devil's Den – Explore A Magical Underground Spring
Devil's Den Spring is only about 30 minutes drive away from Manatee Springs and a little longer from Fanning Springs. It's a very unusual spring and well worth visiting but you absolutely must get there early on in the day. The area to snorkel and dive in is so small, and in a little cave only accessible by a narrow set of stairs – they have to restrict the amount of people that can be admitted. When we arrived just before midday, we were lucky to get in without waiting times but an hour later, people had to wait before they could enter.
A word of advice: you can not enter just to swim or look or take pictures, only snorkelers and divers are allowed into the actual cave, so either bring your own gear or you may rent gear there. It is not a 'sightseeing' type of spring. I was not intent on snorkeling, but did go down with my gear so I could get a look at it and dip my feet in…sneaky, sneaky!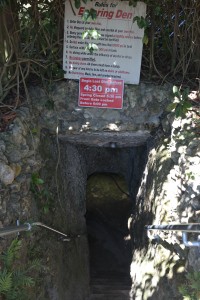 Entrance To Devil's Den Spring – Scared Yet?
We were in the area during a cold spell in early March and I had hoped to get there in time to see the top of the hole 'smoke'. No, I am not crazy, but I had read up on it a little:
The reason why it is called 'Devil's Den', apparently originates from people in bygone days thinking they saw a devil's cauldron smoking. In winter when the air temperature drops low in these parts, the warmer water (year-round temperature of 72 degrees) creates steam rushing out of the hole in the top of the cave, thus making it appear as smoke to onlookers. Sadly, we got there way too late to see this, as the air temperature had warmed up considerably by the time we got there around 11am.
The Devil's Den site has clearly been known and presumably had occupation close-by since the earliest days of man, with bones of humans (dating from 75.000BC) as well as  animal bones from prehistoric days having been found here. It was certainly also a sacred place for Native American cultures. It is easy to see why: fresh water and lush surroundings make the area perfect for settlements.
There is a little walk one can take that leads around the outside of the cave. Isn't it a magical place even when only looking in from the outside?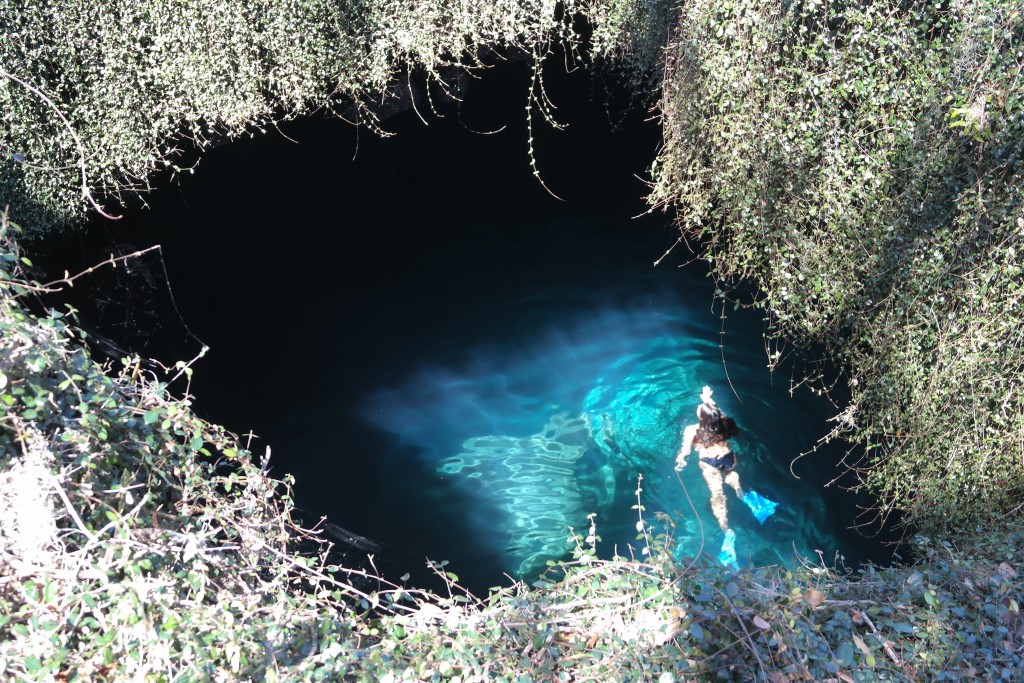 I absolutely loved these two Florida Springs, and hope you will too. Let me know how you find them..