After canoeing to the Myakka River Deep Hole last year, where hundreds of Alligators congregate, the decision was made to return for more exploration of Myakka River State Park! This time we were hoping to expend a little less energy and hike the 2.2 miles to the lower lake in Myakka's State Park Wilderness Preserve.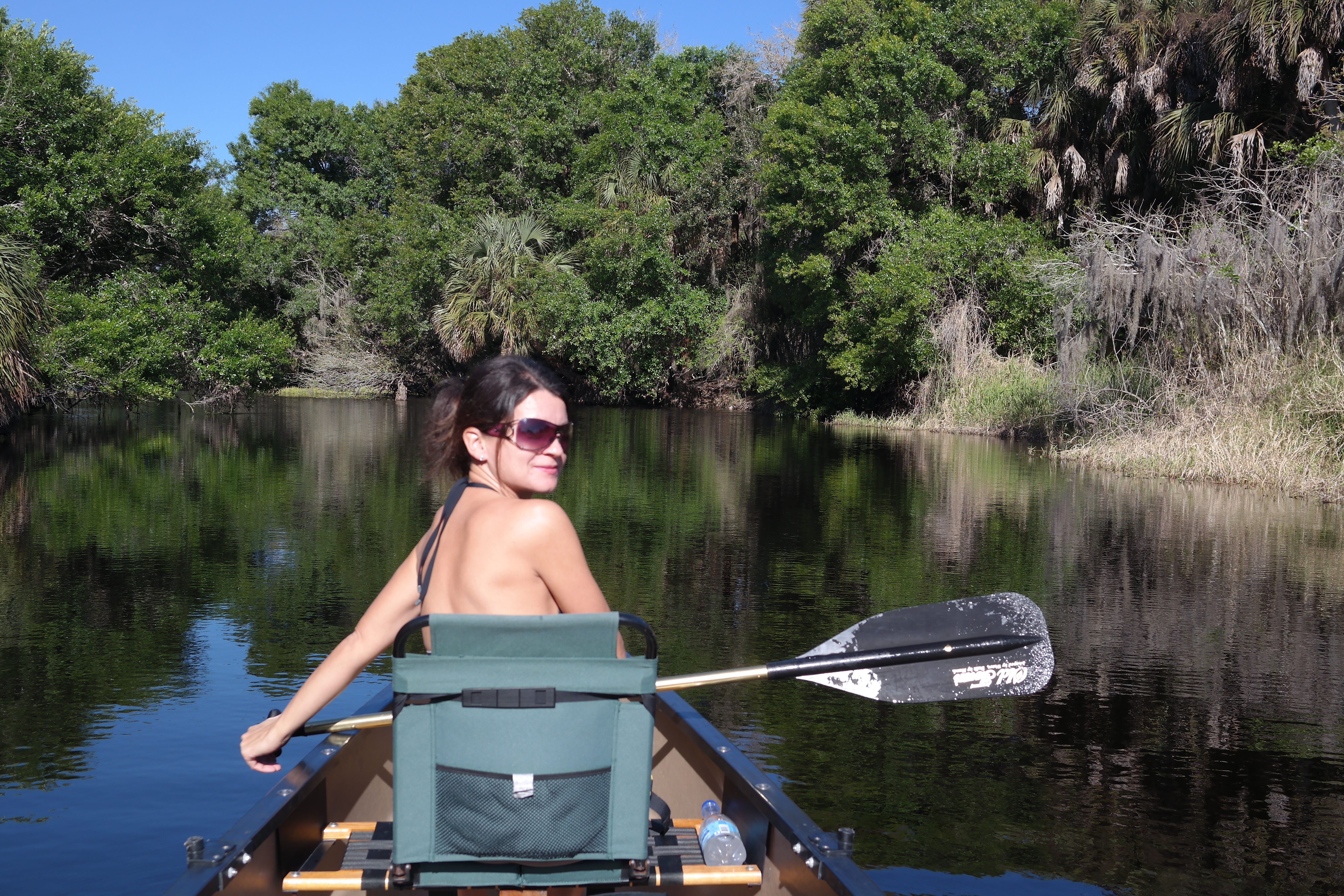 The Joys of The Previous Visit
Myakka River State Park, located  9 miles east of I-75 in Sarasota on S.R. 72, boasts plenty of trails on which visitors can explore a Florida prairie landscape with its typical flora and fauna. The Myakka river itself is one of only two declared 'Wild And Scenic Rivers' by the Florida State Legislature.
Get There Early To Secure Your Permit
It was a rainy early January weekend and took a couple of times of driving around in Myakka State Park in the rain and even going back to the hotel to wait the rain out, before we attempted the actual walk!
Firstly, if you want to do anything in the wilderness preserve area of the park, whether it be kayaking, canoeing or just stepping into it, you will need a permit. Only 30 people per day (this includes hikers, kayakers and photographers) are allowed into the preserve so by all means, especially on weekends, get there early!
'Early' means when the park opens at  8am. We got there just a little after opening this time, as we reasoned nobody would want to hike or kayak in the rain. Although there were still plenty of permits available even after 8am, we were surprised to see that, lo and behold, quite a few had already obtained their permits before us, even on this rainy day!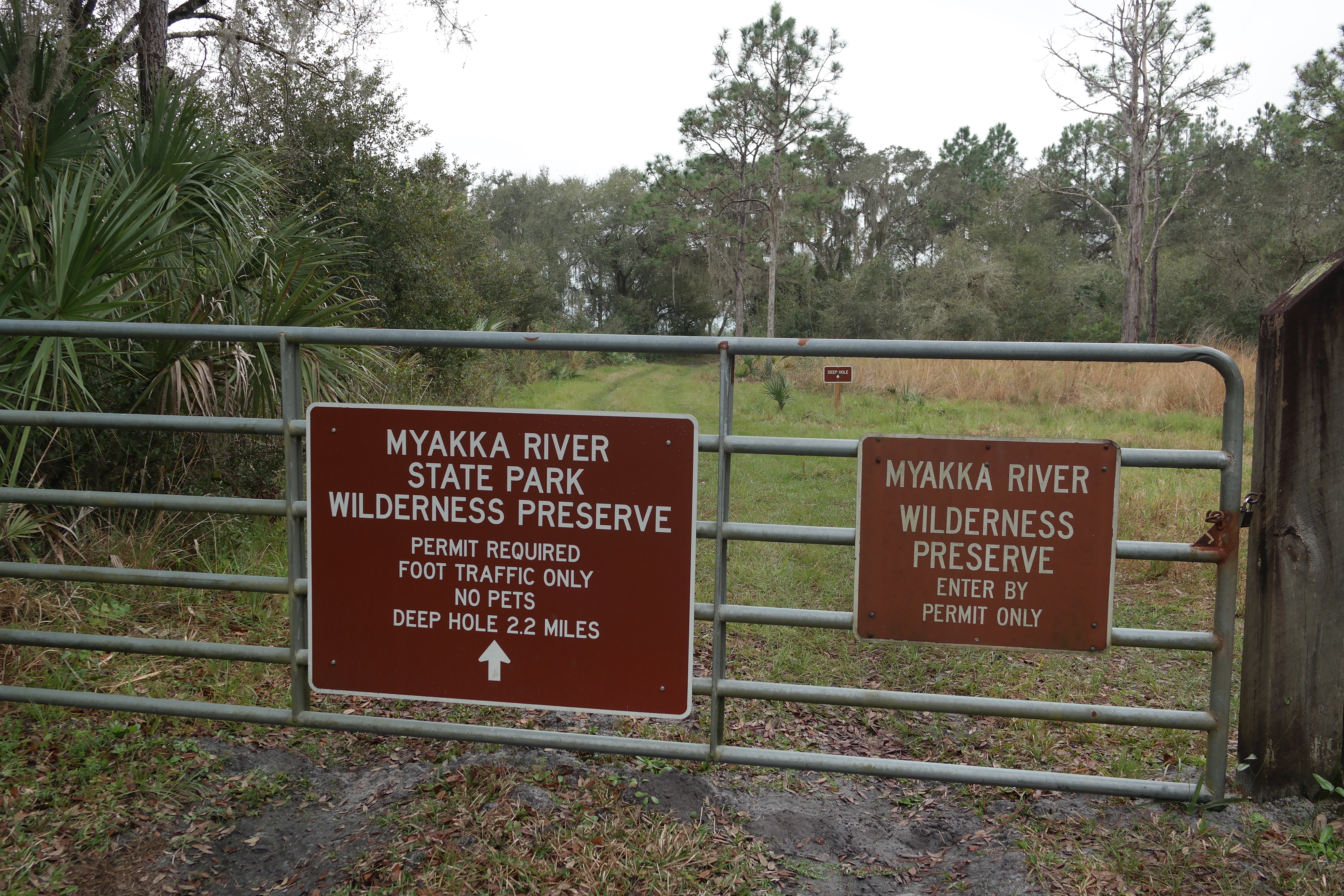 The Hike Down To The Lower Myakka Lake And Deep Hole
Luckily enough after waiting until mid-day, permit in hand,  the rain stopped! To get to the hiking area, one has to actually exit the park again and drive west on SR72 for a little while, until there is a sign pointing to the wilderness area hike and car park.
We set off as the only hikers around mid-day. The path is easy, flat and sandy and mostly just leads through open prairie until you get closer to the Lower Myakka Lake and Deep Hole when trees start to become a little thicker. The trail itself is pretty barren for most of the distance – prairie being the key word – and easy enough to walk with the whole family, including older children.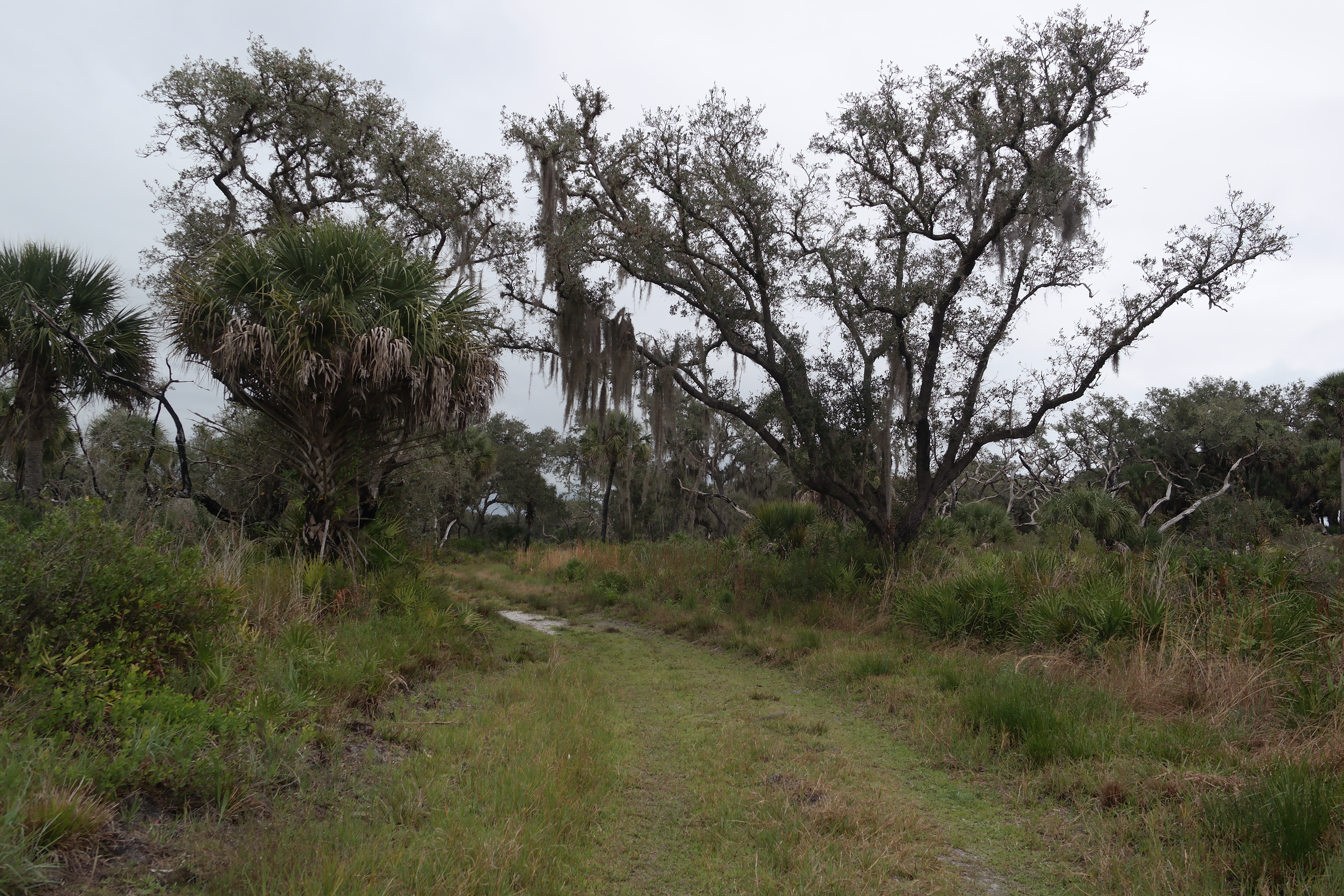 Towards The End Of The Trail Near The Deep Hole
Being a mosquito magnet, I will recommend to anyone who suffers from the same sweet-bloodedness, to take mosquito repellant and use it liberally. Especially near the trees, I got attacked quite viciously, bearing in mind that it was a warm January day with rain just having passed, perhaps I should not have been so surprised!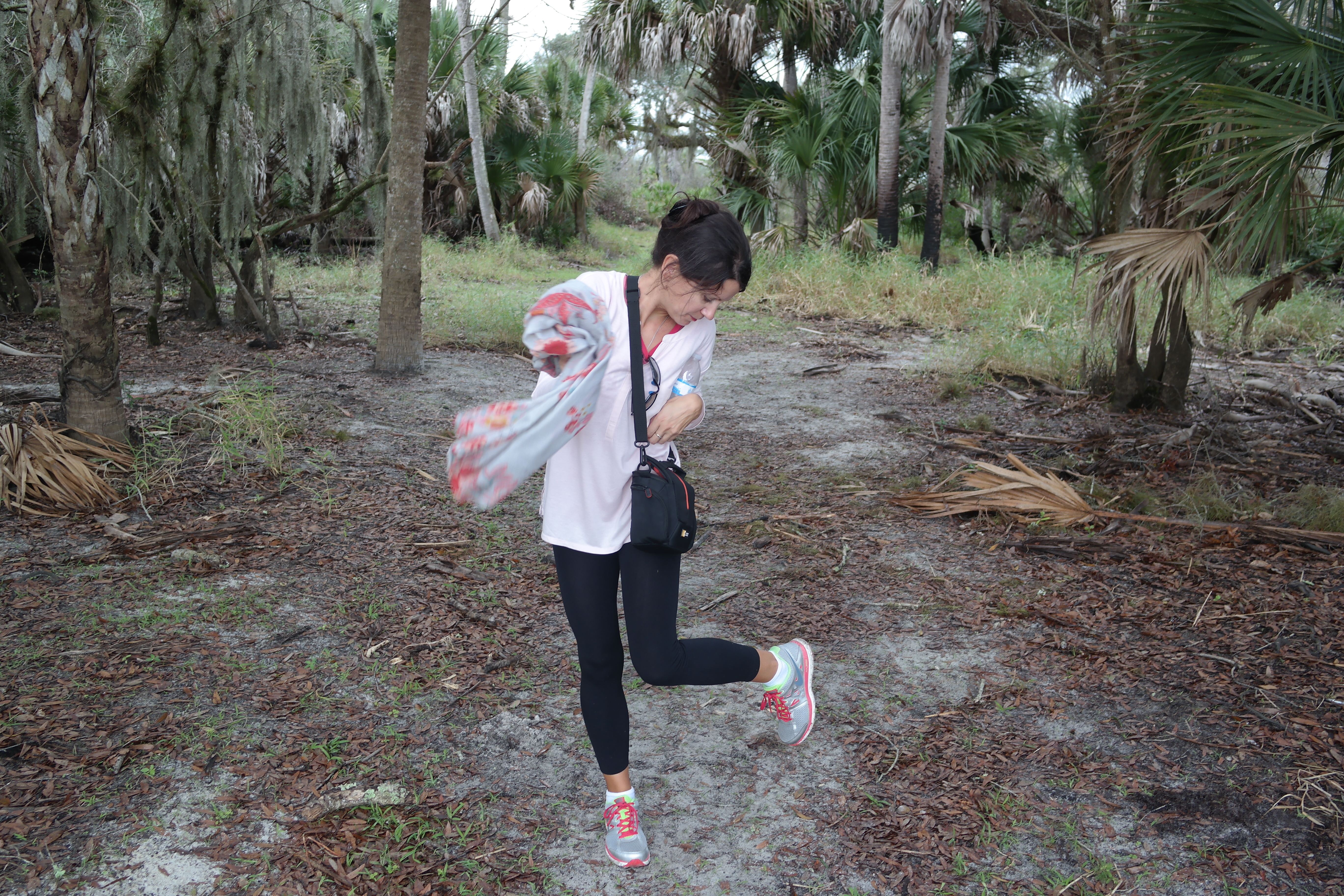 The Mosquito Dance
Be warned though – we didn't see any Alligators, partly due to my insistence of not hanging about and getting eaten alive by little blood-suckers in the process. However, I did hear from the Park Rangers at the main entrance, that we were unlikely to see much wildlife on this rainy day and this sadly remained true.
Hence I really do recommend the canoeing or kayaking experience to the Deep Hole, which – although strenuous and not suitable for everyone –  is  in quite  a different league when it comes to wildlife encounters and wilderness adventure in this State Park. You will see so much more!
The highlights of this trail for me were all the animal tracks visible in the sandy areas. We were speculating a lot, but quite sure we saw Bobcat, Deer and Raccoon tracks among plenty of other less easily identifiable tracks.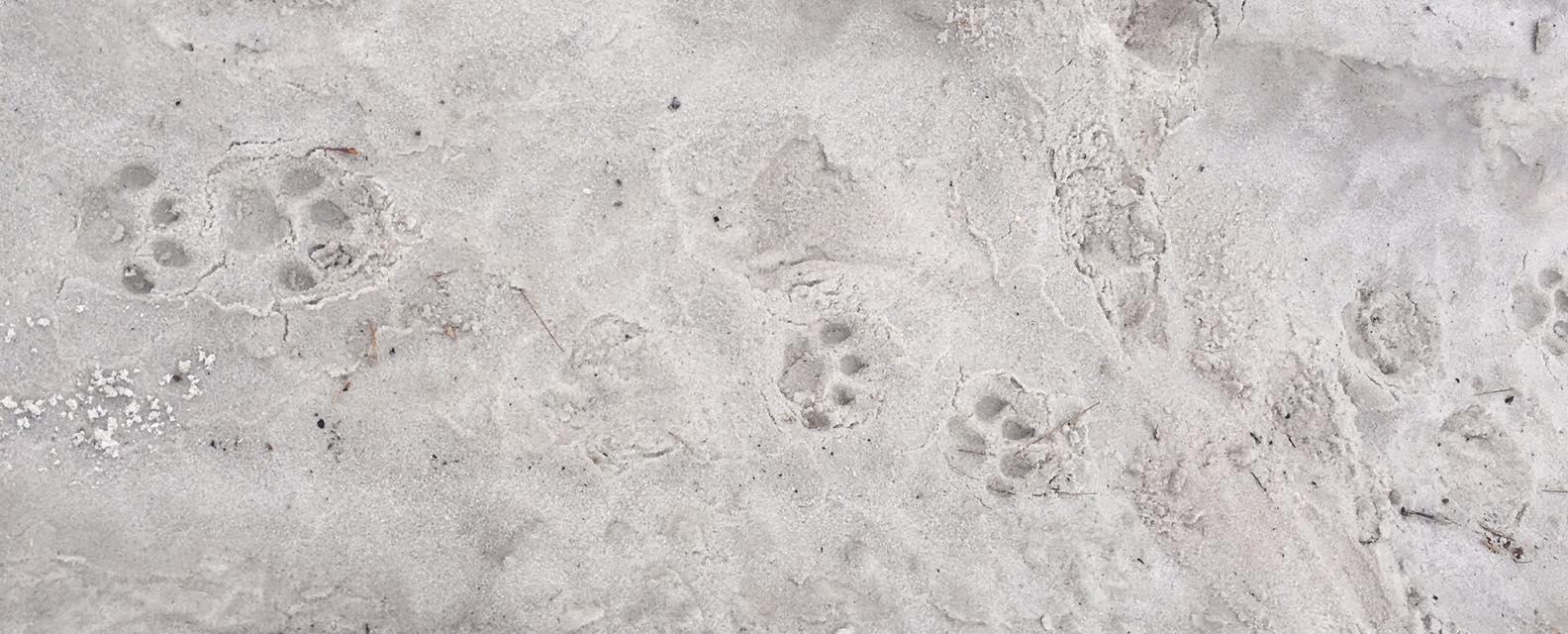 Fresh Florida Bobcat Tracks
The walk itself took less than 2 hours, so unless you want to explore more of what Myakka River State Park has on offer, there is plenty of time left  to explore the nearby Sarasota area, especially on a rainy day!
Oh, before I forget, please do hand in the wilderness preserve permit back to the staff at the main park entrance once you are done, so they know you made it back safe and sound!
Mote Marine Laboratory and Aquarium 
If like us, you picked a rainy weekend for your adventure on the west coast of Florida, fret not! Luckily, the amazing and well-worth a visit Mote Marine Laboratory and Aquarium is just a few miles from Myakka River State Park and provides a welcome shelter from rain (and mosquitoes!).
The main Mote Marine Laboratory and Aquarium is one of the oldest (founded in 1955) marine research laboratories in Florida and located on City Island in Sarasota.  There are field stations of Mote Marine in other parts of Florida, for example in the Florida Keys. Mote Marine opened its doors as 'Cape Haze Marine Laboratory' in Placida, but was later re- named after a major benefactor, William R. Mote. There is a  little display about him as you enter the Aquarium.
As soon as you step into the first building you will see lots of tanks with some amazing fish and other sea creatures transporting you into a fascinating underwater world! This is a wonderful place to visit with children also, Mote Marine staff have achieved  – impressively in my humble opinion – to include many opportunities for children to touch the animals and make a visit as interactive as possible for little people who will find plenty of things to do, see and touch!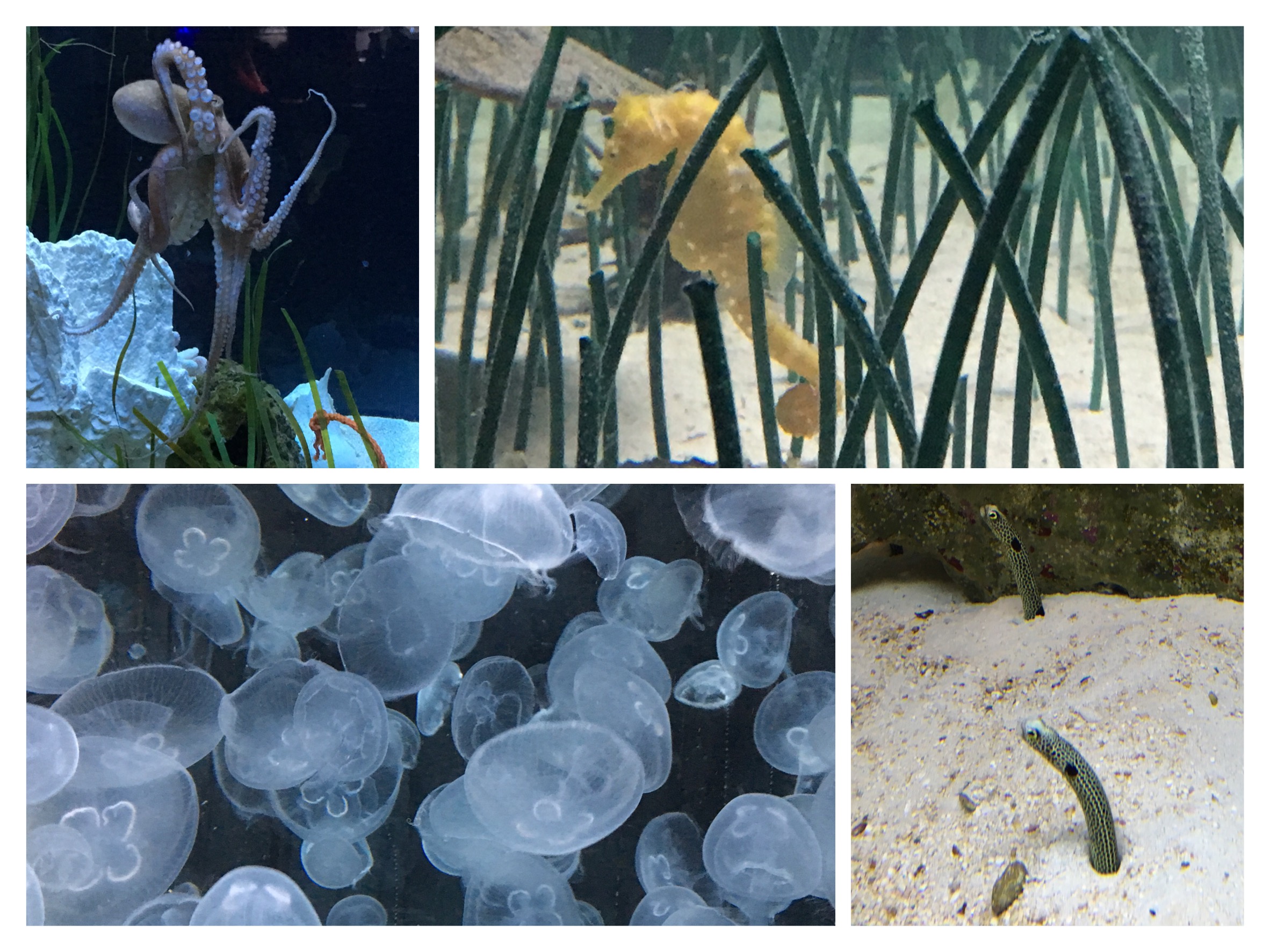 It is possible to spend hours here, not just at the tanks for the smaller sea life but  also looking at some impressively sized Sharks in large tanks, as well as Manatees and Sea Turtles. The Manatees and Sea Turtles together with some other displays, are housed in a separate building a short walk from the main entrance.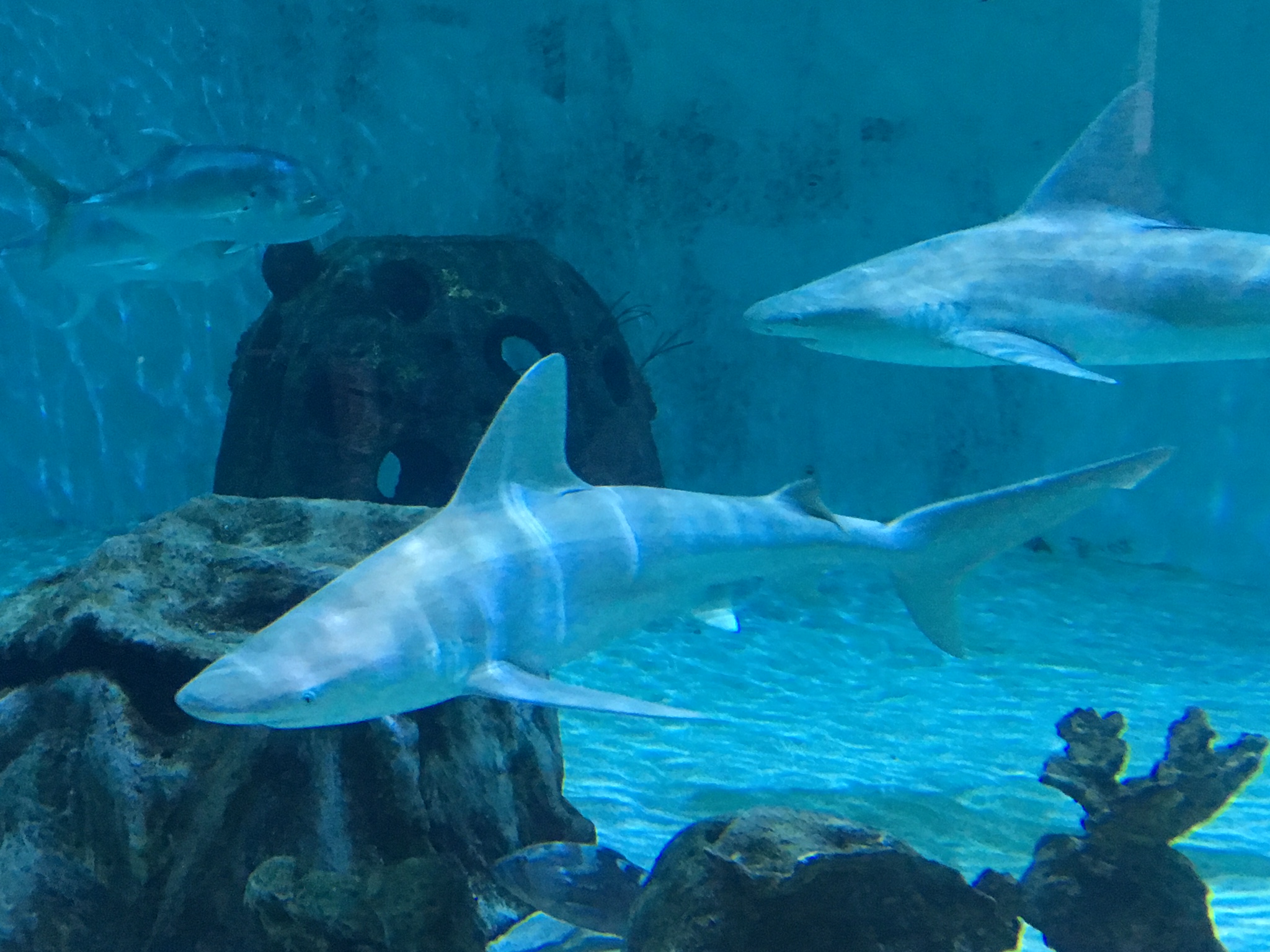 Shark Tank At Mote Marine
This is not all, however, and if you are in any way interested in current marine and oceanic research and what happens behind the scenes at Mote, they have integrated some parts of their research into the Aquarium and visible for visitors. Cleverly placed windows let you look into some labs with fish and sea creature breeding programs going on. This is extremely interesting, although only literally a 'small window' into all the research carried out by Mote's 200 strong staff, with no less than 35 PhD scientists currently employed.  Some more information on the scientific research carried out by Mote Marine can be found on their website here.
And lastly, I couldn't resist: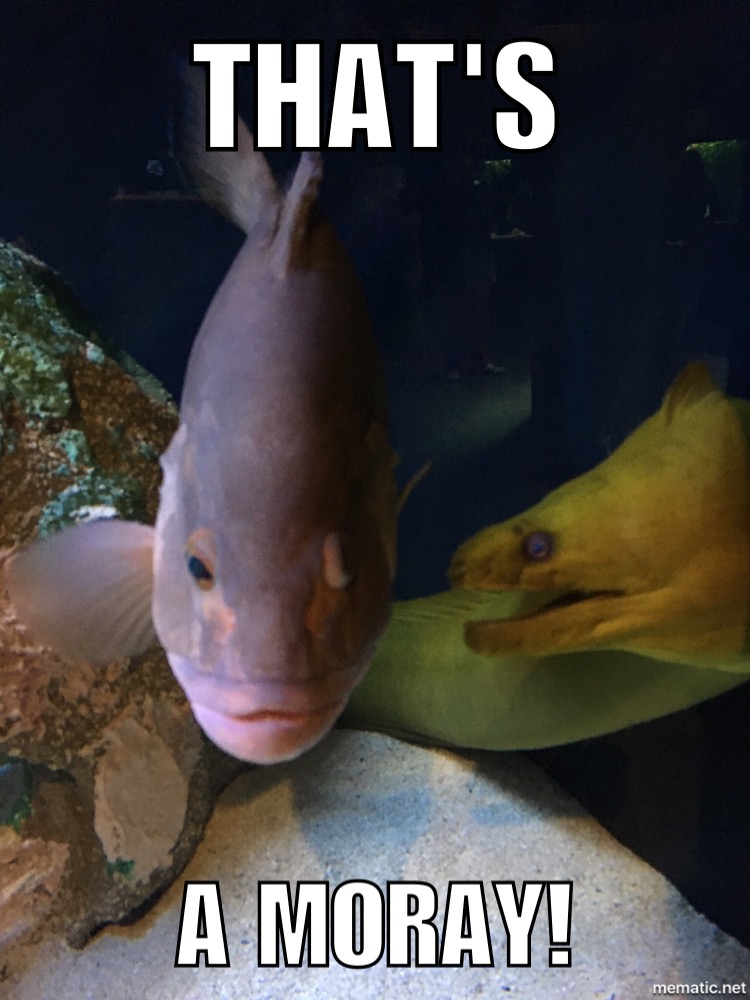 Something For The Evening
So you have been walking and exploring the whole day in the Sarasota area and now what?  Fancy a wonderful meal, nice little drive out to a picturesque Key and strolling around some magnificent small crafts and arts stores?  St Armands Key is your destination then!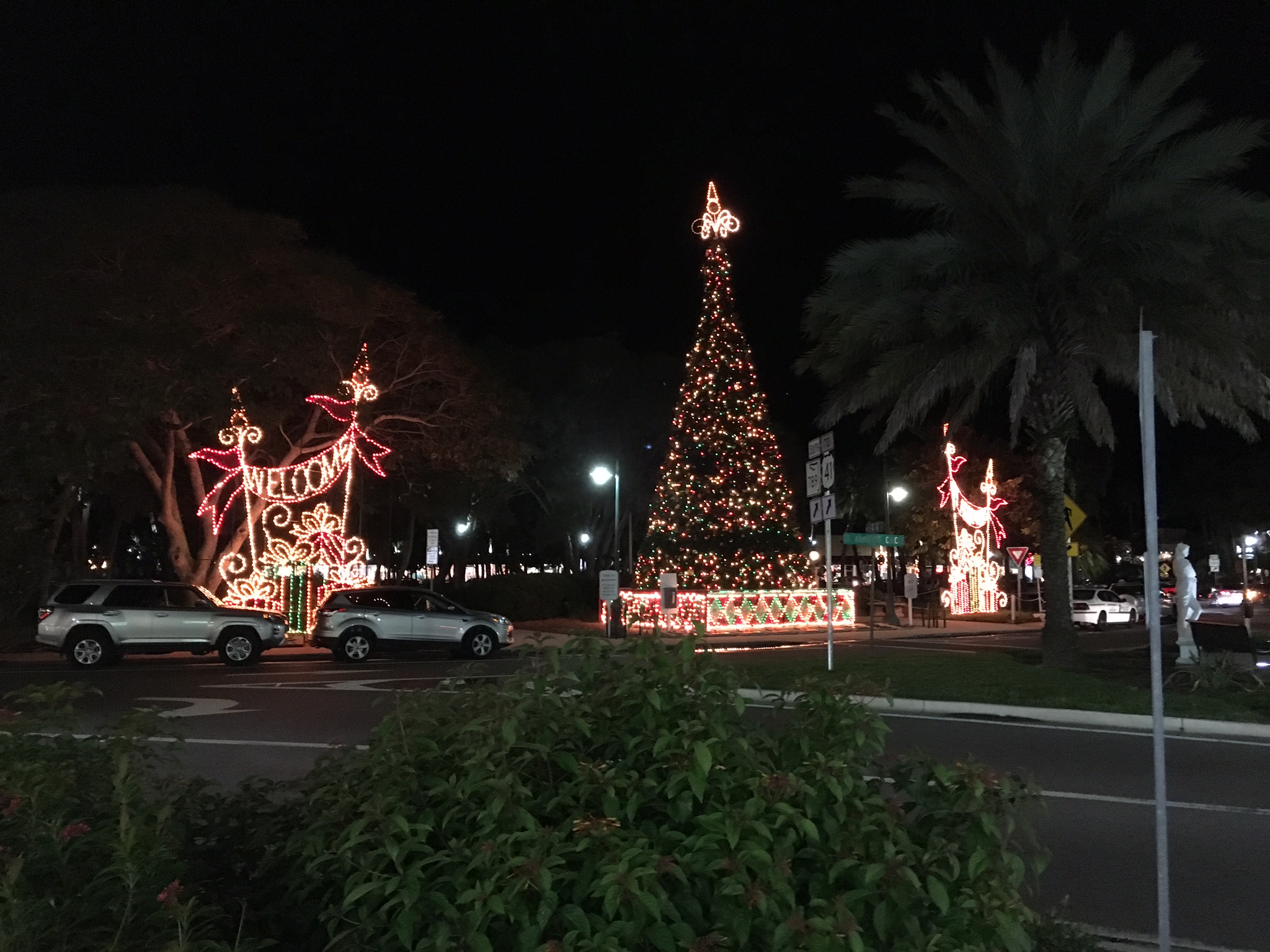 We stumbled upon this gorgeous little area as if by accident, trying to find a fun place to eat the night before and vowing to explore the area again the next night, as I spotted one of my favorite restaurants there: The Columbia! Of course, here in South Florida we are deprived (so far) of their wonderful Sangria, salad and menu, as well as their tempting gift shop. However, I will continue to hope that one day they open up down here! Meanwhile, we have to make do with one of their other locations.
As we were there around New Years, the cute decorations were still in place which added even further to the charm of this quaint little area. If you are interested in finding out more about St Armands Key history (involving famous Circus magnate John Ringling), you can find it here.
Have you been to any of these places? Please share your experiences/photographs/comments with me, I'd love to connect!