Why take the drive to Apalachicola?
Planning a little road trip through west and north-central Florida we were sure we wanted to visit Cedar Key. Beyond that, it gets to be quite a long trek when you come from Fort Lauderdale. Nevertheless, we decided on visiting Apalachicola, having heard so many good things about it and particularly its oysters. On the final leg of our road trip, we left Fanning Springs State Park after breakfast, looking forward to a nice drive of just under 3 hours, through an area completely new to us.
Apalachicola is located in Franklin County, on the shores of the Gulf of Mexico and the mouth of the Apalachicola River. At the 2010 census, the population was a little over 2000 and it is a lovely sleepy and historic little town. Most of Florida's oysters come from Apalachicola bay. If that alone isn't enough to tempt you for a visit, I can give you a few more reasons. Firstly, the drive there is already full of beauty and surprises.
St. Marks National Wildlife Refuge
On the way to Apalachicola, we passed through the most amazing and barely populated landscape and practically stumbled over St. Marks National Wildlife Refuge. Having already seen some glimpses of the St.Marks river, we simply had to stop and check the refuge out!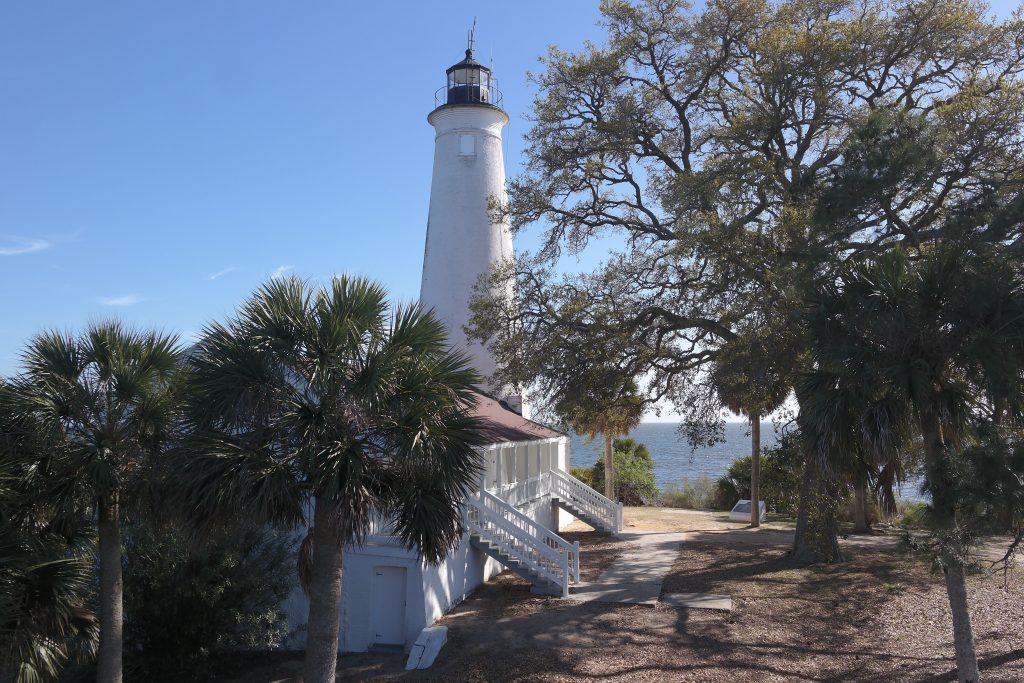 St. Marks National Wildlife Refuge Lighthouse – The Second Oldest In The US
St. Marks was established in 1931 and is therefore one of the oldest wildlife refuges of the US. As soon as you drive into the refuge, you will notice its varied habitats such as saltwater marsh, tidal creeks, islands, and the estuaries of no less than seven north Florida rivers. We noticed the huge variety of animal life, including deer, alligator and white pelicans. However, apparently resident wildlife also includes black bear, otter, raccoon, bobcat, fox, coyote, amphibians, snakes and birds including wading birds, shorebirds, waterfowl and raptors.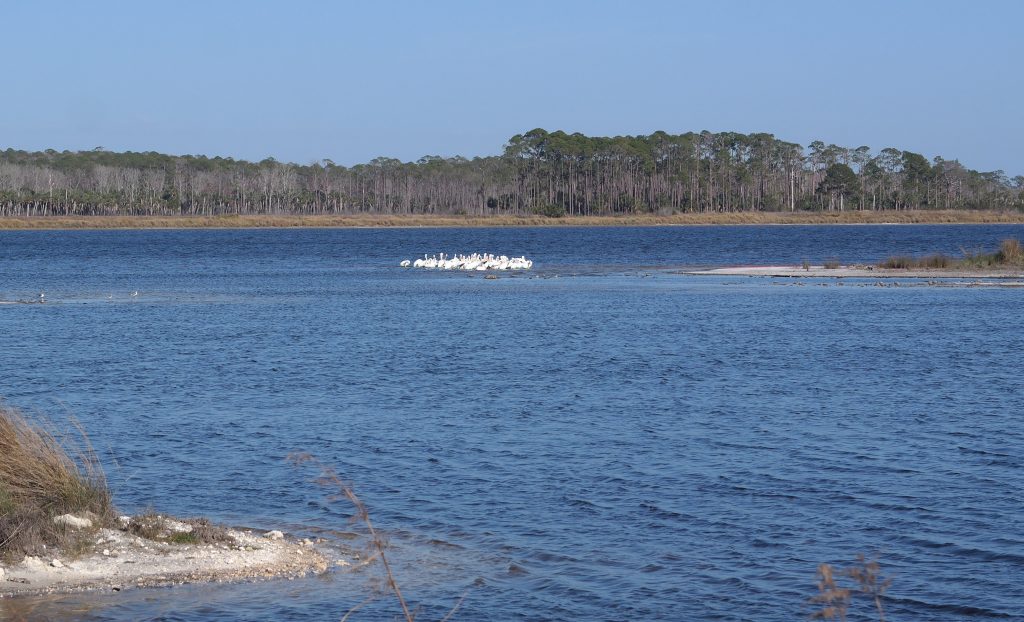 Flock Of White Pelicans
On top of all that, there is also a little human history here with the beautiful St. Marks Lighthouse, which is the second oldest lighthouse in Florida.
St Marks offers something for everyone. There is a boat ramp as well as kayak access for those wanting to get out on the water. Hikers and cyclists have the choice of various trails, giving them ample opportunity to see the varied habitats and wildlife. The refuge is also a photographer's paradise!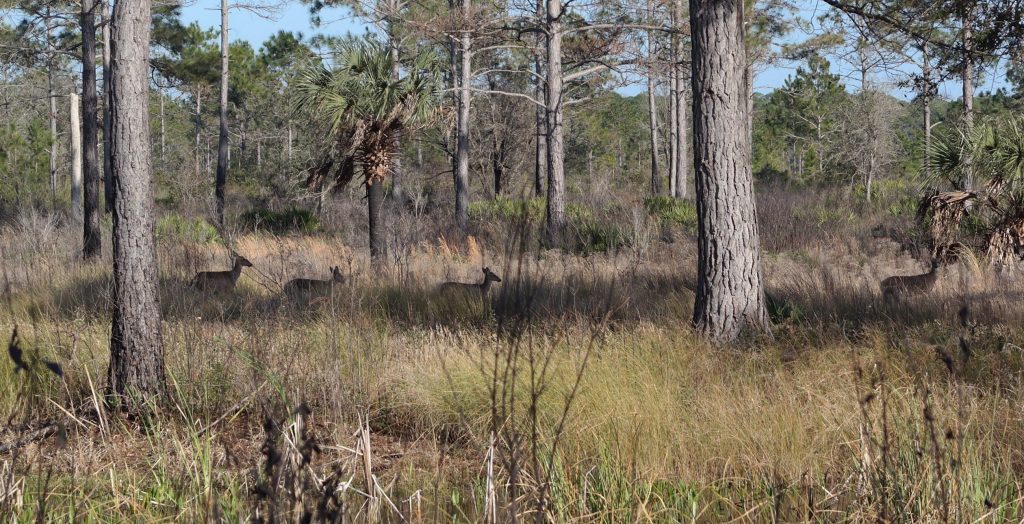 Oh Deer!
Apalachicola – Florida's Oyster Capital
After the unplanned stop at the St. Marks National Wildlife Refuge, we got to Apalachicola just before sunset, which made the last few miles on US98 towards our destination even more magical. That unrushed drive along the ocean and into 'Old Florida' makes you forget our crazy congestion and traffic nightmares back home in South Florida instantly. And then you are there. Old charm and the prospect of delicious seafood await the weary traveler.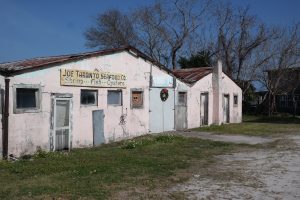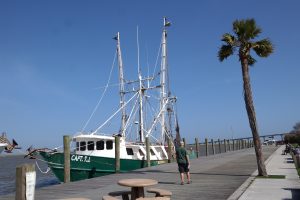 Some interesting historical facts about Apalachicola:
The area has been settled by native Americans for thousands of years with remnants of occupation from around 2000BC having been found in the Apalachicola area. Unsurprisingly perhaps, oysters were already on the menu even back then (together with clams), as many oyster and clam shell middens evidencing this, have been found in the area.
The earliest European settlement in the area is said to have been around 1705, when a fort was built at the mouth of the Apalachicola river by Spanish settlers. The area changed hands between the English and the Spanish a couple of times and Florida, including Apalachicola, was eventually ceded to the US in 1821. Apalachicola was subsequently incorporated in 1828 as a town named "West Point". It was re-named "Apalachicola" in 1831.
Who knew that Apalachicola was where air-conditioning was initially invented?  John Gorrie, an Apalachicola resident and physician, came up with the idea of an air-refrigeration machine in the 1850s. His aim was to cool hospital patients. Gorrie's patent for an ice machine laid the foundation for modern air-conditioning, a major necessity in Florida. Well, nobody would want to live without it nowadays but at the time, no-one paid much attention to his invention and it is said that Gorrie died broke at age 51. 
If you want to know more about this interesting man and his many occupations, and of course his famous ice machine, why not visit the Dr. John Gorrie museum? It is easy to find and just a stroll from the center of Apalachicola, being one block east off US98 on 6th Street.
Apalachicola Oysters
As if you hadn't gathered by now, there is of course the one thing Apalachicola and the bay are famous for: oysters!
A whopping 90% of Florida's oysters come from Apalachicola bay. Add to that the little known fact that Apalachicola is the last place in the US where oysters are harvested traditionally, from small boats using tongs, and you are witnessing and eating something very special indeed.
This little sleepy town is of course crazy about oysters, in fact, you don't find much more on Apalachicola restaurant menus, so if you really dislike oysters I am not sure you'll want to take the drive out to this somewhat remote area. If you do like oysters, however, served with lots of pride and a little history, then I say: welcome to paradise.

I am not the biggest fan of oysters, I must admit. At least I wasn't until I went to Apalachicola! I went into a complete feeding frenzy in Florida's oyster capital, where you can get them even for breakfast! I tried them in all ways: fried, Rockefeller, raw…all equally delicious and leading this self-proclaimed 'no-fan' to eat 30 oysters in one night, yes 30! I was like a woman possessed, slurping down that briny goodness. So much so that we even considered delaying our departure, after two days of oyster guzzling, just to get a last taste of those delicious Apalachicola oysters. I have truly never tasted fresher and better oysters, and doubt I ever will. If only we could take that trip more often!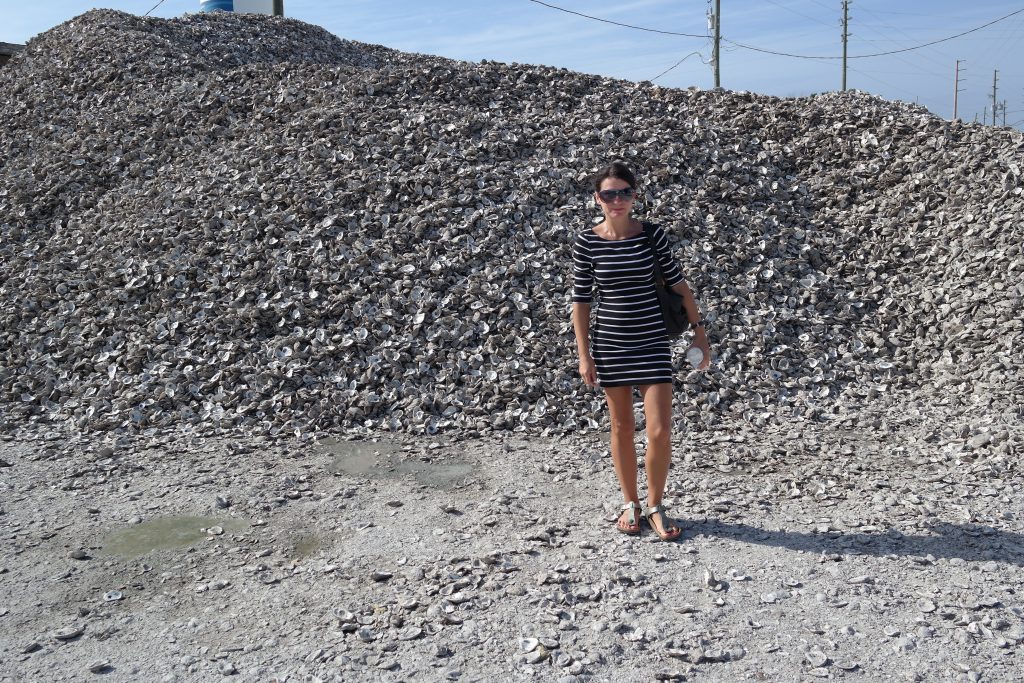 I Didn't Eat All Those But Close Enough
Oh and where to go for oysters? As a matter of fact, you can't go wrong with any restaurant in Apalachicola, they all get their oysters as fresh as they can be. The whole community is extremely proud of this fact and instead of competing, they will tell you that every place in Apalachicola is good for oysters!
It just depends on whether you want a little more fine dining experience, or a 'hole in the wall'. We tried the Owl Cafe, which had the fattest oysters I have ever laid eyes on and was a very nice and civilized dining experience. However, my all time favorite simply has to be a hole in the wall, appropriately named just that: 'Hole In The Wall'.
Go early (everywhere seems deserted or closed after 8pm), and do yourself the favor to sit at the bar. You will have entertainment from some real locals – everybody is so very friendly – and a great view of all the shucking! Rarely was an evening better spent than watching the goings on at the 'Hole in the Wall' and trying to demolish their oysters one dozen at a time…oh and check out that old icebox in the corner!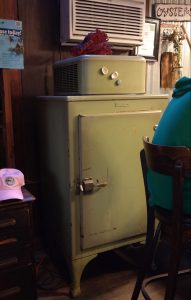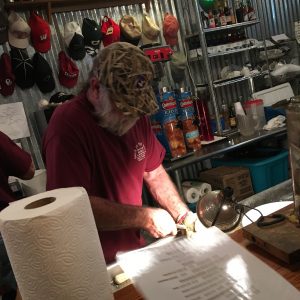 Shucking Away…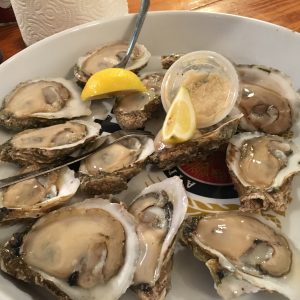 Best.Oysters.Ever
As you walk around (because, let's face it, one can not eat oysters all day long), you will be somewhat surprised that this quaint and sleepy town was once the third busiest port on the Gulf of Mexico (behind New Orleans and Mobile). Nowadays, there are cute cafe's, cozy restaurants and eateries and a plethora of stores with seaside gifts and garden ornaments. We spent a good half day ambling around the quaint little town and walking in and out of all these interesting stores filled with knick knacks, gifts, driftwood and antiques. We are not really into shopping usually, but looking around here was a real pleasure and made for a relaxing afternoon. We also discovered that beside oysters, there had been a sponge trade here, which reminded us of our visit at Tarpon Springs a while back.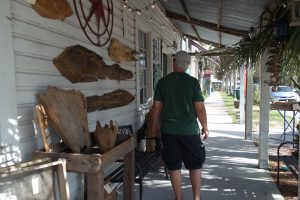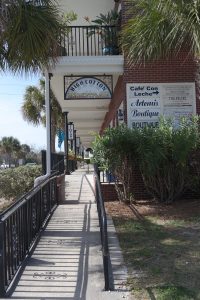 Where to stay? Well, we stayed at the Gibson Inn, a historic inn built in 1907, lovingly renovated with lots of little touches and wonderful verandas. It was heaven! Also, you can't miss it, as it towers over the little town and is easily seen already when driving into Apalacicola (coming from the east).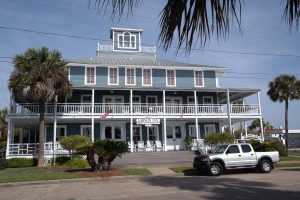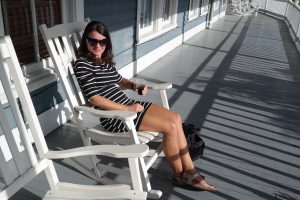 Gibson Inn
In fact, the only thing we didn't like about Apalachicola was having to go home…bye bye Apalachicola until we meet again!
Have you been to the St. Marks National Wildlife Refuge or Apalachicola? Any secrets you care to share?