This may be just a shallow post, but fact is: I love sandbars. I mean, who doesn't? Crystal clear water, knee deep or exposed at low tide, filled  with boats and other crafts, and of course people who love being on the water nearly as much as I do!
I have never had a bad day at a sandbar. I have never had a 'so-so' day at a sandbar either. It's always been fantastic, even when on occasion I was almost swept away or stung by jellyfish at Nixon Sandbar in Biscayne Bay – I still loved it!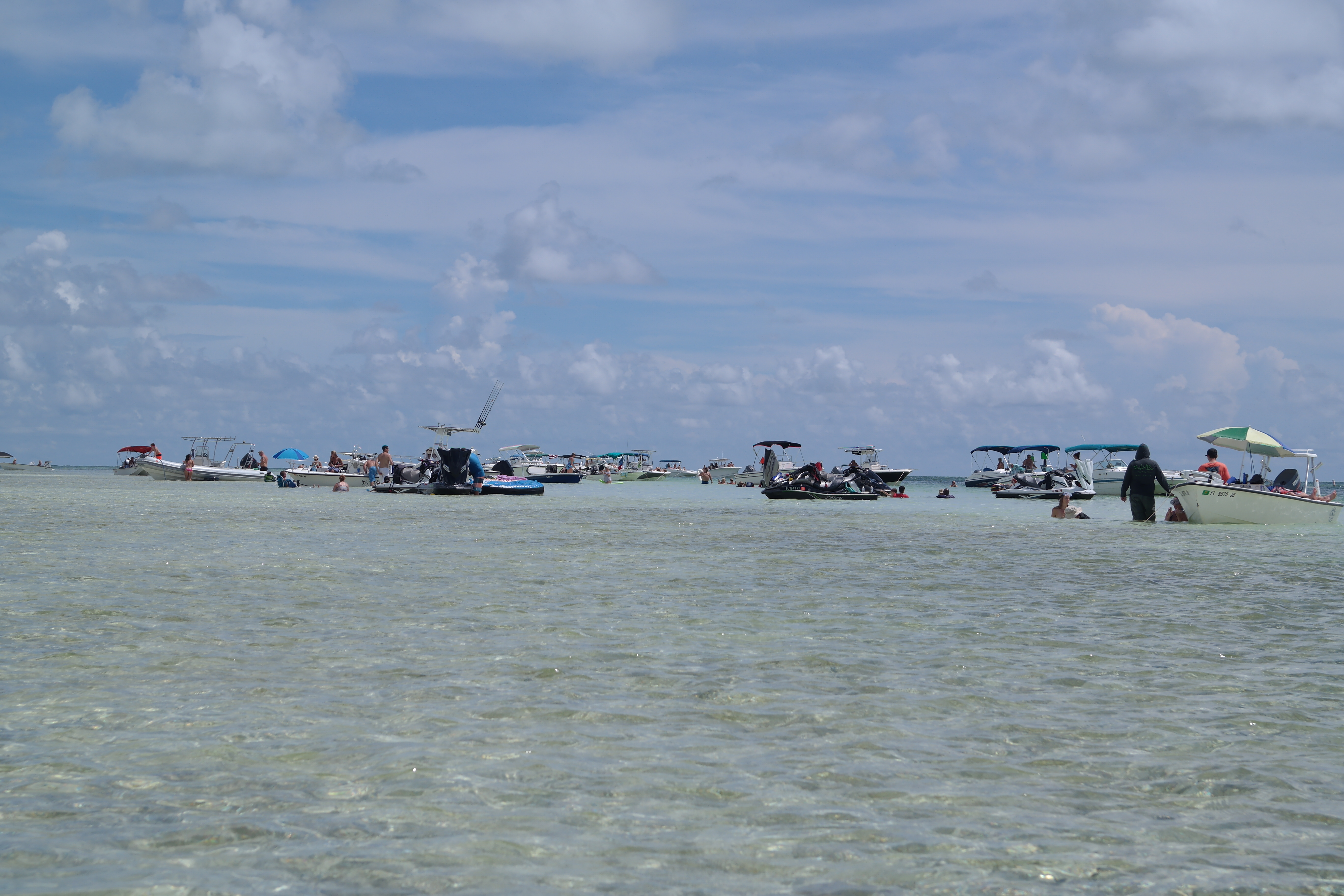 Almost There! Islamorada Sandbar
A Little On Islamorada
It's an interesting place, Islamorada 'Village of Islands'. It is not, like most of the other Florida Keys, just one island, but actually comprises:  Tea Table Key, Lower Matecumbe Key, Upper Matecumbe Key, Windley Key and Plantation Key. Islamorada, until very recently used to be known as the island of Upper Matecumbe Key only, until it was incorporated into 'Islamorada Village Of Islands' by the Florida Legislature in 1998. At the last census in 2010, the population of Islamorada was just over 6000 souls. The sandbar is located just off Windley Key.
Where To Put In For Islamorada Sandbar
I made the mistakes so you don't have to. Rather, I have done the legwork so you don't have to search like we did. There are no public ramps reasonably close by, so one has to get a little 'creative'.
I was trying to figure out where to put in by googling the boatramps of which there are many in the vicinity.
In the end we decided to just go and try our luck. First stop, Postcard Inn at Holiday Isle. I thought this would be our safest bet as they not only have a launch for their jet skis but also two little beaches and a little boat ramp off their property that looked like nobody was using it.  It was September, the 'off season', after all.  I asked 'the boss-man' nicely if we could launch from the ramp or the beach for a fee. Note: I even mentioned my willingness to pay a fee!  He didn't waste a minute to reply: 'no, try Robbies'. Not really the attitude I am used to from Keys residents who are usually so wonderful, but anyway. I respect a 'no', so we moved on.
Next, we back-tracked north again where we had seen a sign for another private boat ramp. Turns out it was the ramp of the Harbor Lights Motel, which I remember fondly from when I walked The Keys a couple of years back.
So we decided to try this little boat ramp. There was a sign announcing a $20 charge for boaters and we saw quite a few locals putting in their skiffs and bay-runners. We paid the somewhat steep fee for a kayak launch as it was by far the most convenient ramp to get to the sandbar.
Curious fact: it would have been almost the same price to rent a tandem kayak from them, so if you don't have your own this is not a bad option at all, just bear in mind they only seem to have a few kayaks there, may be best to call them in advance. You can find the Harbor Lights Motel at 84951 Overseas Hwy, Islamorada.
The boat ramp was pretty dirty with rotting vegetation and mud, it certainly could have done with a little clean. Having said that, you're in The Keys, you're on island time, you will forget everything after a couple of rum-runners, so who cares! Within a couple of paddles our muddy start was forgotten, as we glided through the crystal clear Islamorada waters. I don't know about you, but I am a big fan of the 'lower upper' (strictly speaking Islamorada is still part of the upper Keys) or middle Keys with regards to water clarity. Personally, I think it's the best water in The Keys.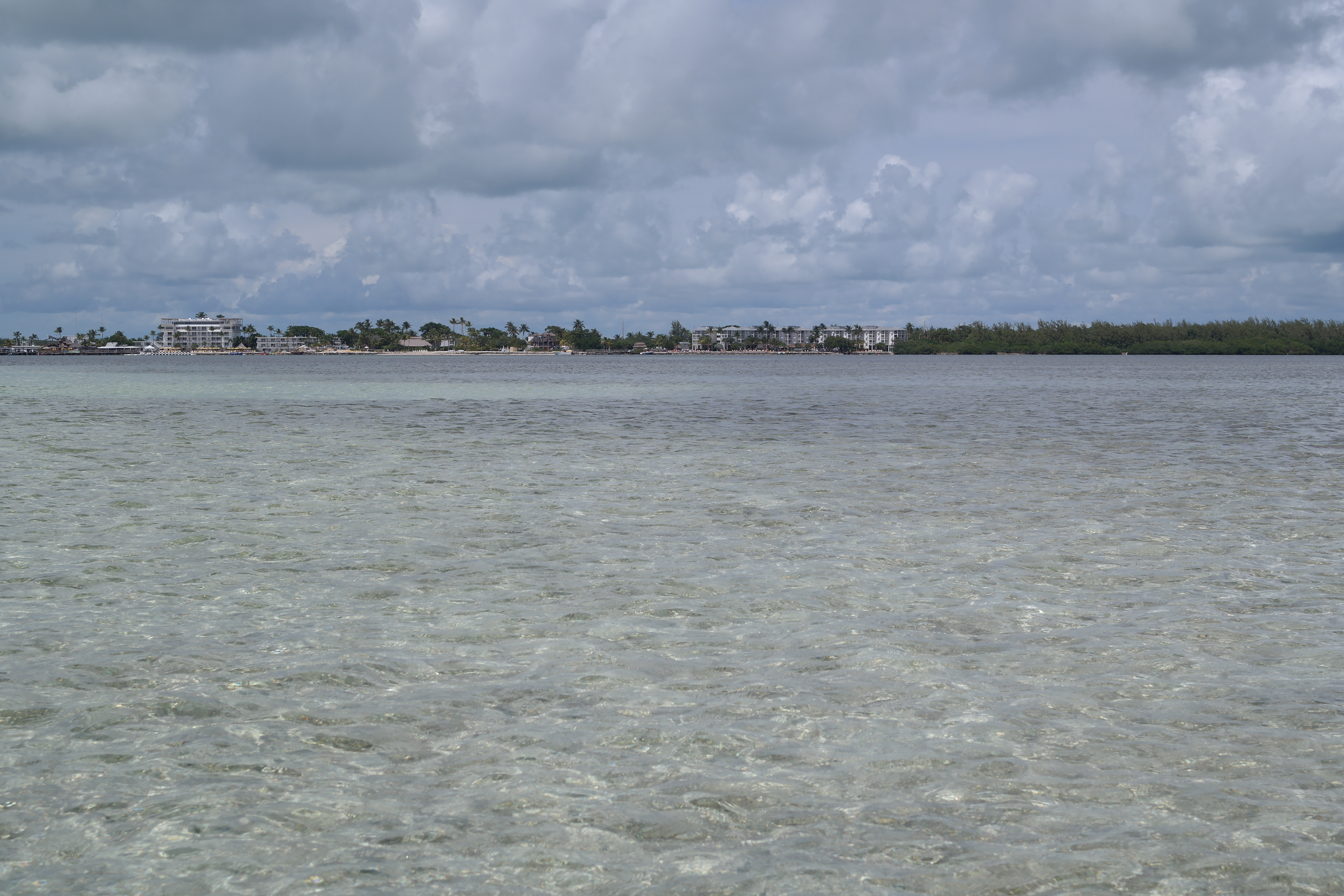 Crystal Clear Waters – View From The Sandbar 
How To Get To The Sandbar
Clearly, this depends on where you launch your kayak, paddle-board, jet ski or boat from. There are plenty of places to rent any of these water-going devices on Islamorada, if you do not have your own, which then dictates where you launch from.
The sandbar is located on both sides of the boating channel in Whale Harbor, called Whale Harbor Channel, and less than a mile off-shore. This makes it ideal for not only boaters but also paddle-boarders and kayakers on a calm day.
Moreover, getting there is easy in both ways of navigation and safety. You can see the boats lined up from the shore on a weekend, so it is easy to head straight across without needing any other navigational aids than a pair of eyes.
Depending on where you launch from, you may prefer – as I do – to hug the coast as much as possible before kayaking in a straight line out to the sandbar. I love being close to the coast for safety reasons as well as curiosity reasons. Boats can't hassle you and I love seeing all the houses and resorts with people enjoying themselves, as well as the ocean life which happens to be easier visible in the shallows near the coast.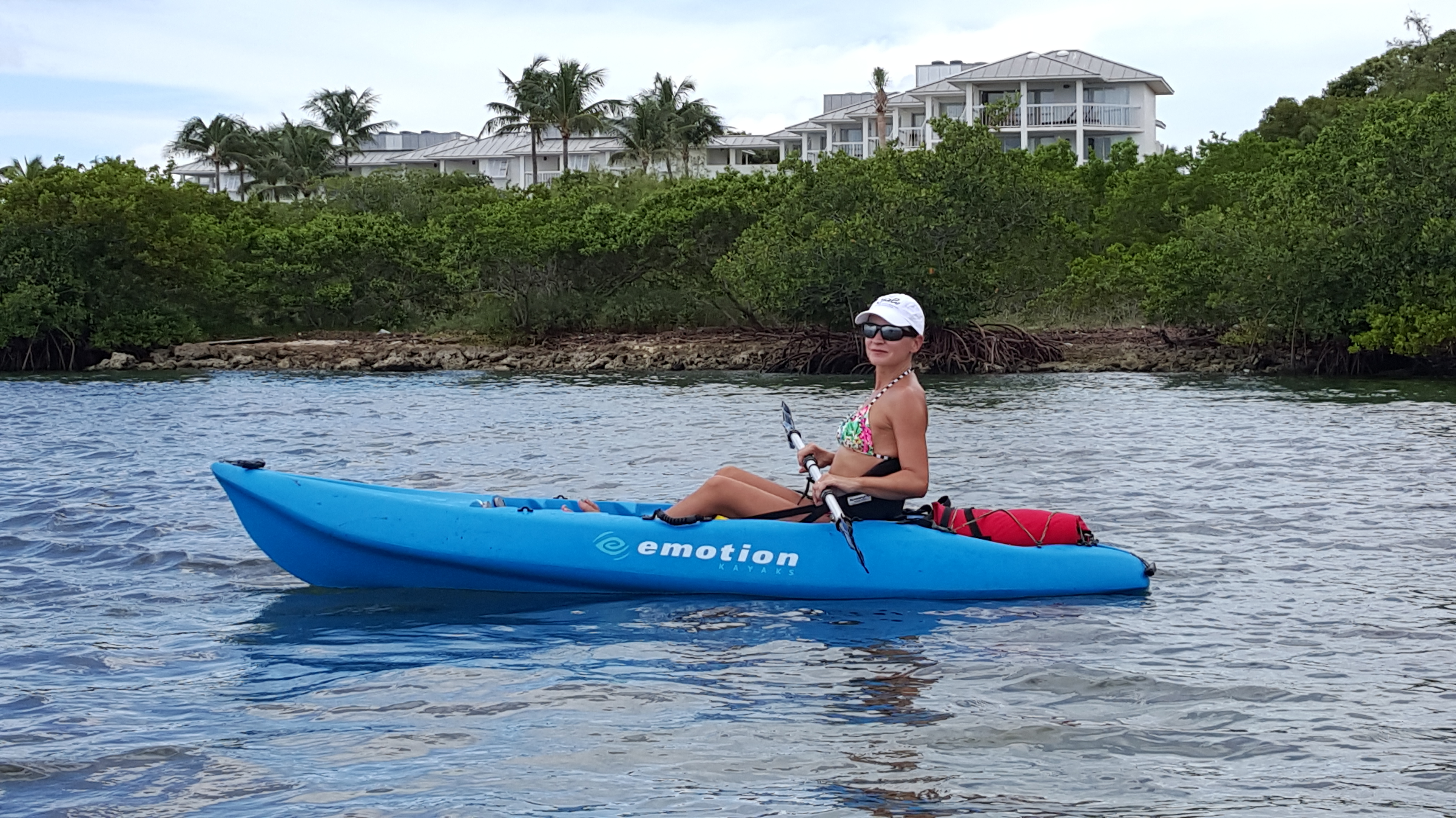 Hugging The Coastline On Windley Key Oceanside
We set off from the Harbor Lights boat ramp, heading in a southerly direction, hugging the coast past a little mangrove area and a resort or two. When we got to the Postcard Inn and Holiday Isle we turned at an approximately 90 degree angle, kayaking straight  out to the sandbar.  Being quickly startled when I hear the words 'kayaking' and 'open ocean' in one sentence, I insisted on wearing a life jacket for the trip. Better safe than sorry. You should always carry one, even if you do not want to wear it, it's the law.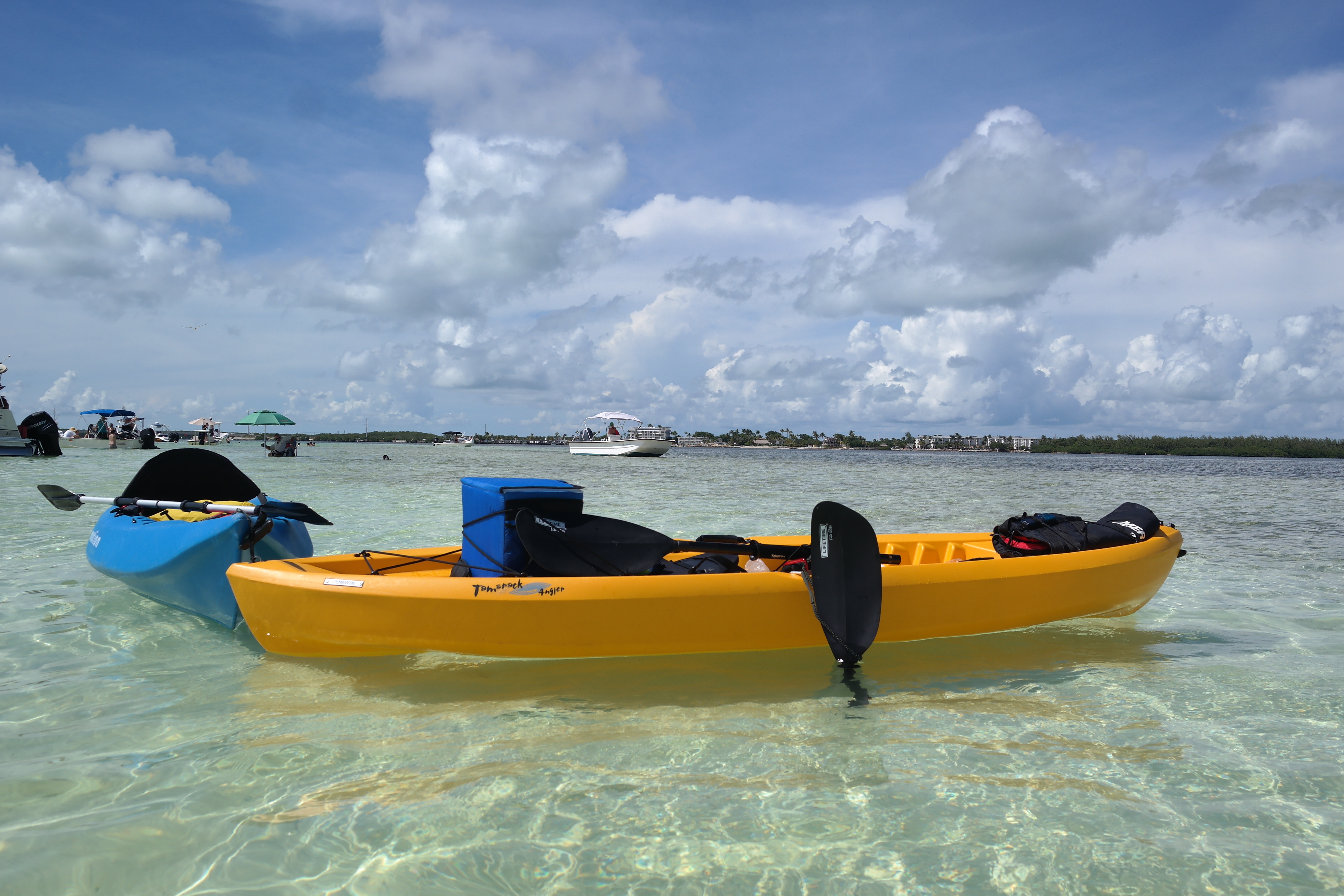 Anchoring The Kayaks On A Paddle
The trip turned out pretty easy, through mostly shallow waters with amazing visibility. What I personally like is,  bar getting through the first boating channel close to shore, the kayaking is mostly through flats (marked by the no-motor zone markers). The boats keep to the deep channels and won't bother you, and the wakes if they make it, get absorbed by the sea grass. So although you are paddling into the 'open ocean', this is a wonderfully easy and relatively safe way of doing it.
Once you get a little further across the flats, you will already see the sandy bottom and crystal clear water ahead, complete with boaters in the water and even dogs swimming – it really is a great and fun place. People are friendly and it is easy to start talking, we met a local couple who also kayaked out there and even used the same boat ramp as us!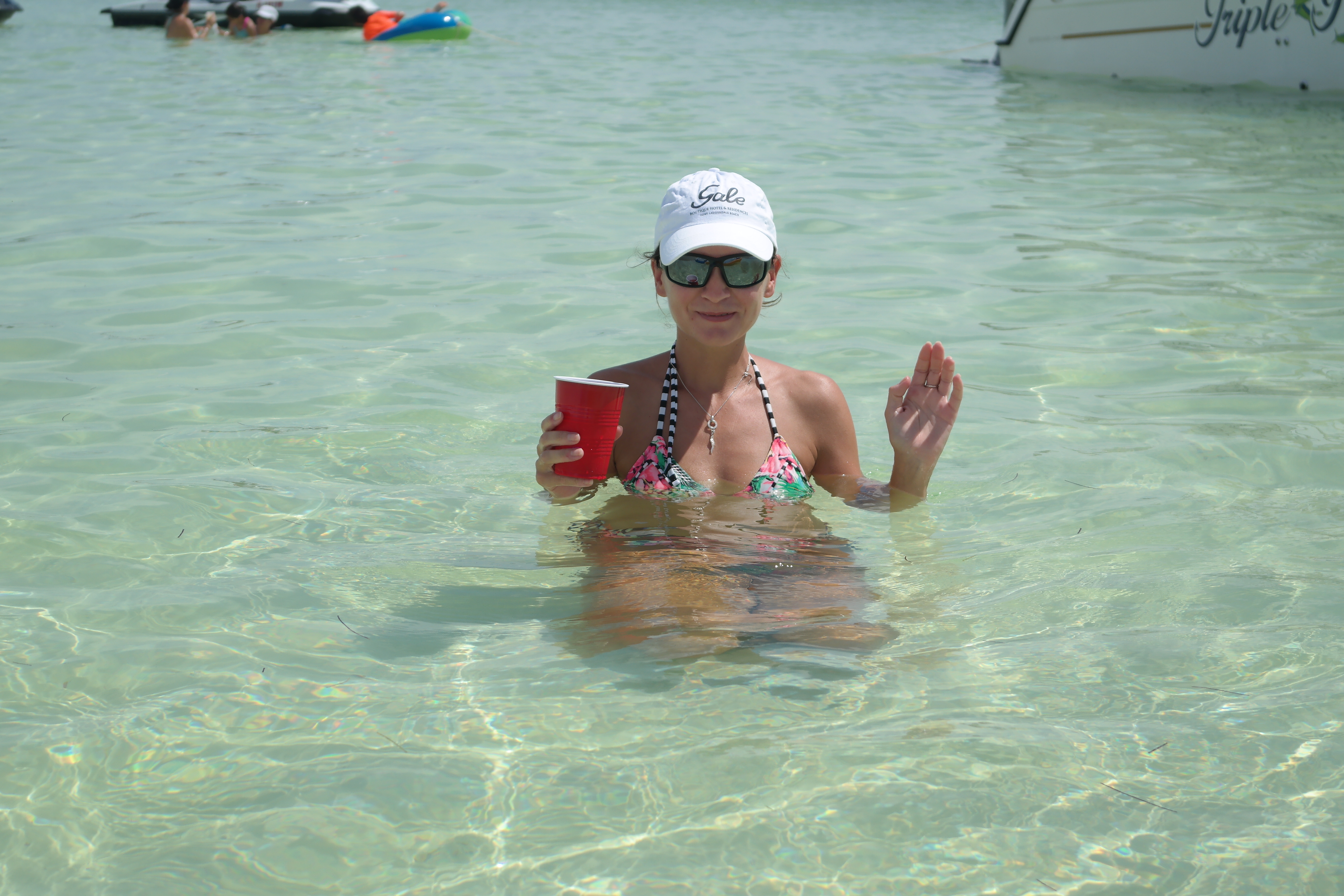 The paddle out to the sandbar from the coast did not take us much more than  20 minutes, which makes this a perfect half day excursion. Although we did decide to spend some more time going along the coast after having enjoyed the sandbar, making it a leisurely 5 mile round trip from our start off point at the Harbor Lights.
I would certainly recommend taking some time to explore a little further and was told by a local friend that the area past Whale Harbour and paddling through the bridge (heading west into Bayside), has some wonderful areas within the mangroves where to see wildlife and kayak.
What next?
To round off your day, why not stop by at the Lorelei, a little further south but a lovely location for the sunset and having one of their cocktails (try a Key Lime Colada) and a bite to eat!
We were lucky enough to see two nurse sharks and a manatee when we stopped off there, more sea-life than we saw at the sandbar. It had me wonder whether the wildlife has the same attitude as the locals: they prefer to hang out at 'real' bars over sandbars…
Have you been out there? Any questions, tips, hints?
I would love to connect! Thank you so much for stopping off at my site.