Historic Virginia Key Beach Park is located only minutes from downtown Miami's hustle and bustle. It's hard to believe the city is only a stone's throw away when you pull into this quiet and abandoned-looking park.
Virginia Key is reached via Rickenbacker causeway – or by boat – and is divided from Key Biscayne by a busy channel called 'bear cut'.The Park, as I found out later, has quite a history to it which makes it somewhat unique in the area.
A Little  History Of Historic Virginia Key Beach Park And Virginia Key
The recent history of Virginia Key's Beach Park is largely one of segregation. Miami, which had become a city in 1896, did not allow African Americans to use any of the recreational beaches bar some unofficial exceptions. Virginia Key beach had been one of those exceptions. The beach, back then, was only accessible by boat before the construction of Rickenbacker causeway in 1947.
The lack of recreation areas was soon becoming a reason for discontent. After some protests by members of the black population of Miami, notably the 1945 Haulover beach wade-in, the City of Miami acted swiftly. It officially declared the beach at Bear's Cut on Virginia Key  a 'colored only' recreation site.  ' Virginia Beach, a Dade County Park for the exclusive use of Negroes' was officially opened in the same year as the Haulover wade-in took place. (from: http://virginiakeybeachpark.net)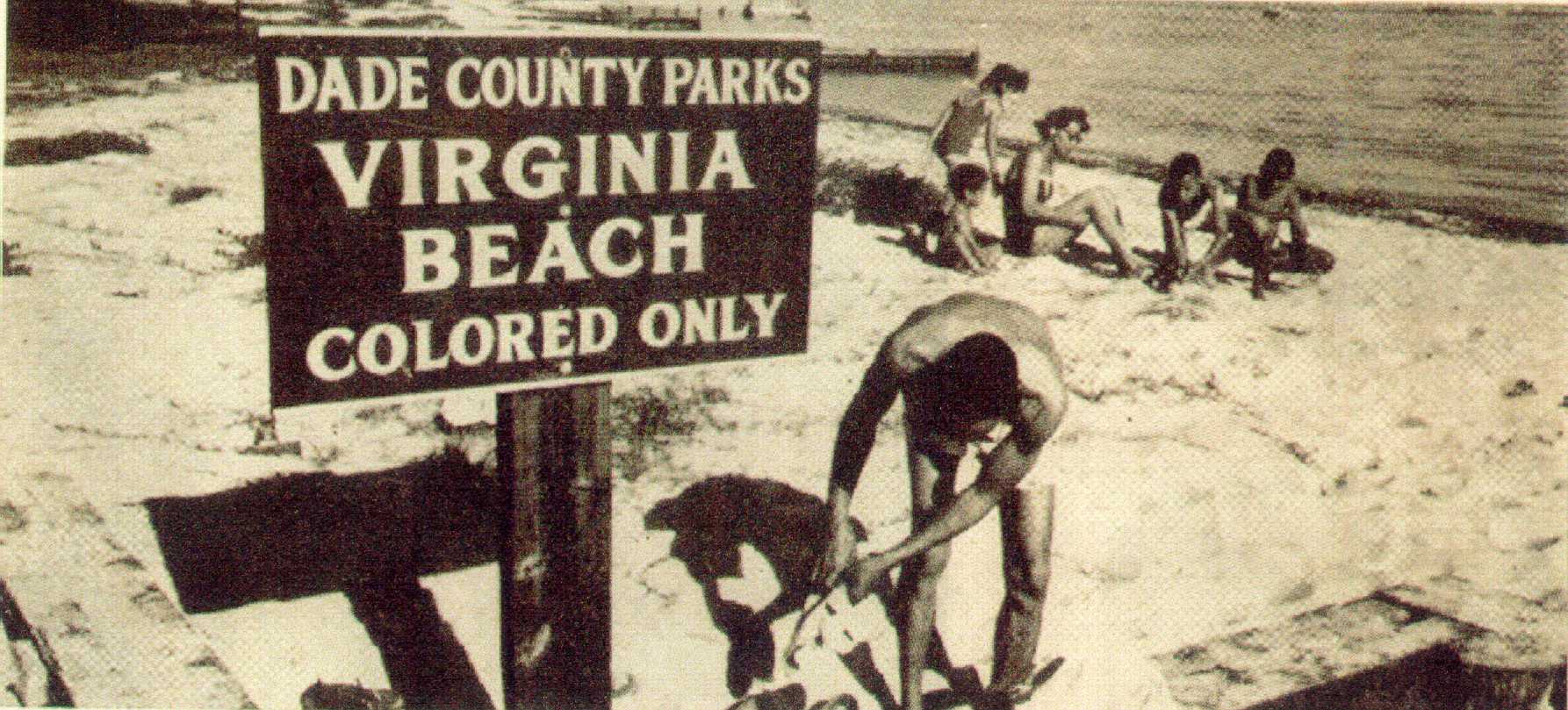 (image credit: http://virginiakeybeachpark.net/)
Back in the day, Virginia Key Beach Park was extremely popular providing plenty of picnic areas, little cottages, a boat ramp, a carousel and mini-train.
In latter years, the trust for the Historic Virginia Key State Park has worked hard to preserve these 'relics' from a different era in the recent history of Miami.  You can still see some of these older features at the Historic Virginia Key State Park now.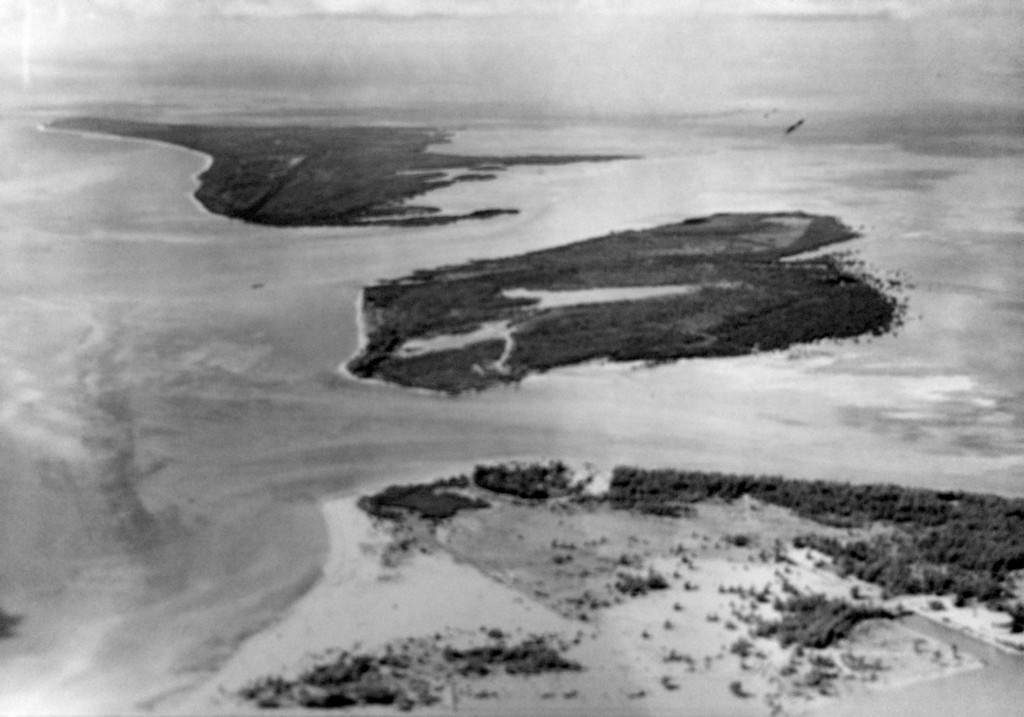 Virginia Key Before Development (middle island) in 1938
(image credit: HistoryMiami)
There is of course another non-glamorous chapter in Virginia Key's history. It has long been used as a dumping ground for fill originating from Miami's construction and expansion, in particular from dredging the Port Of Miami.  Virginia Key was also used as a land-fill site, and still now is the site of a large sewage water treatment plant, which takes up a good part of the north and center of the island.
To be fair and end on a somewhat less trashy note, Virginia Key is also home to the Miami Seaquarium, Mast Academy and the Rosenstiel School of Marine and Atmospheric Sciences.
Historic Virginia Key Beach Park Today
To be completely honest, when we arrived I was less than enamored with the place. Perhaps it was encountering the sign for the sewage plant. I couldn't help but think I would be swimming amongst you-know-what. This uneasy feeling was further cemented by entering the park that looked like it had seen better days. After a little look around, plenty of trash was noted in and around the water, reminding me briefly that the island was a former landfill site.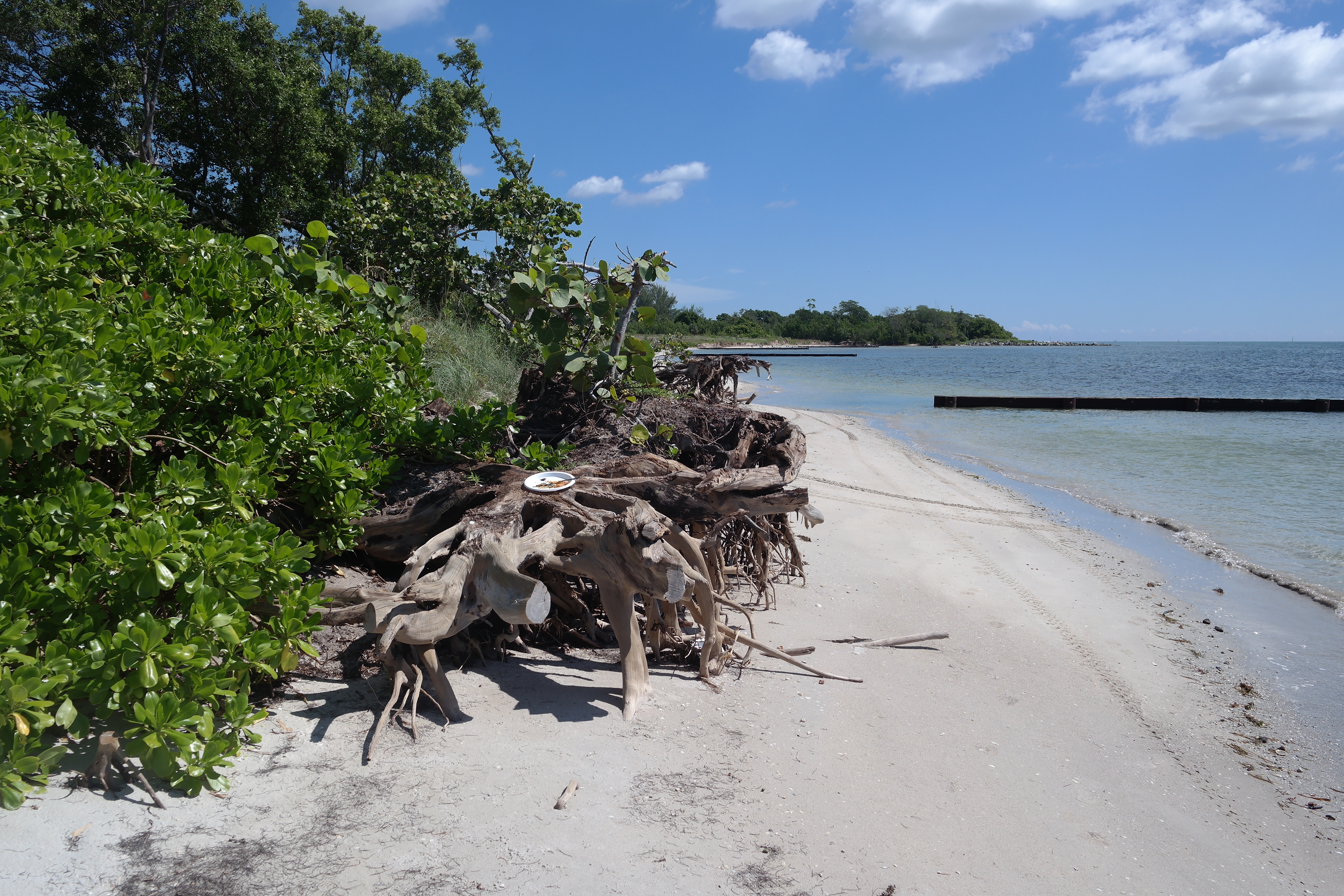 Someone's Dinner Plate From The Night Before
We reluctantly decided to stay anyway, after all: the entrance fee had been paid. Then, we drove around trying to find a place where we could launch our kayaks and came across the 'kayak rental' which consisted of about 5 locked-up kayaks, looking distinctly 'historic' just like the park, without any attendance. We were glad we brought our own.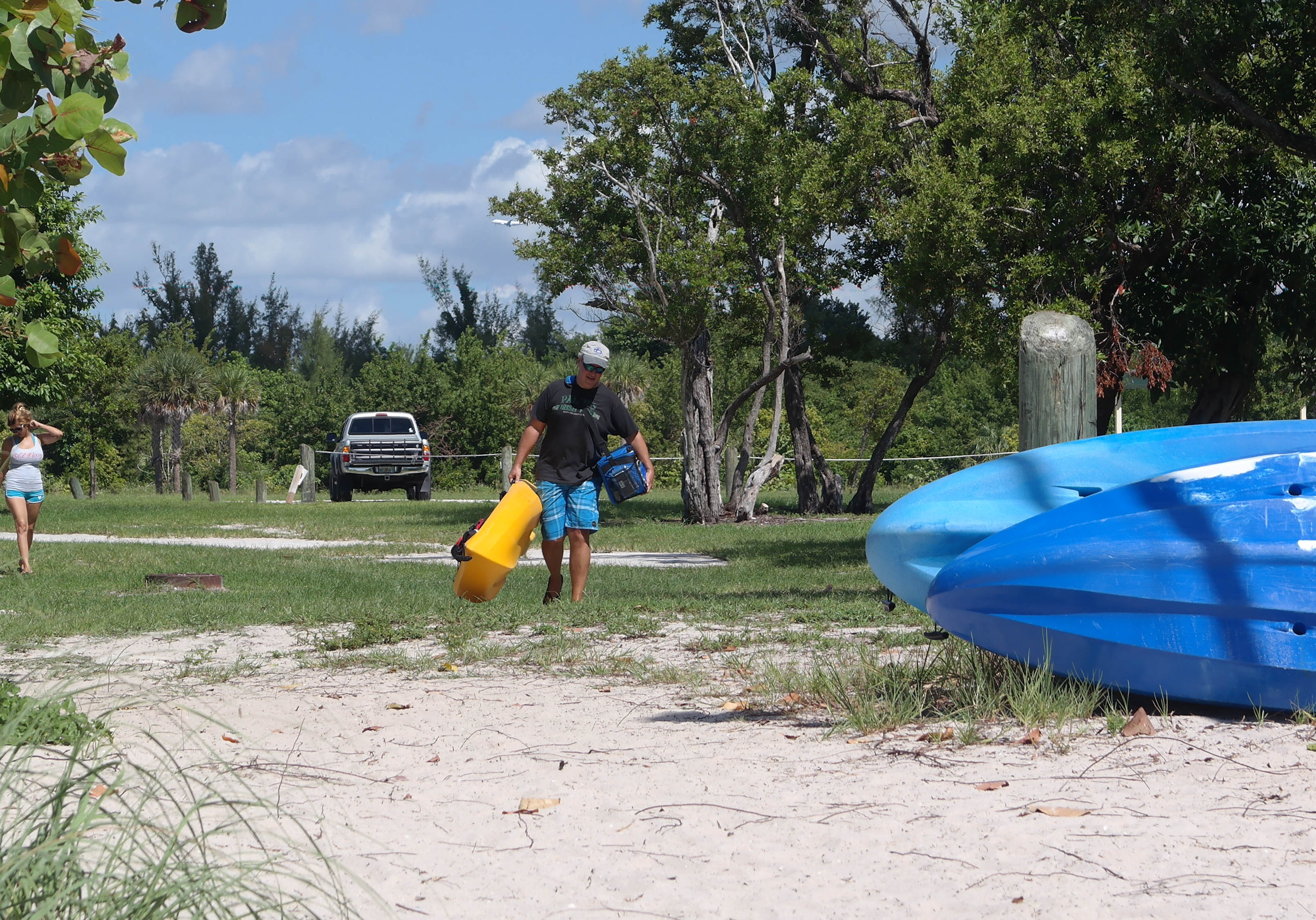 If You Love Your Kayak, You Carry It!
When we got there, the concession stand, historic carousel and mini train were not open/working, so we had no real idea of the historic importance of the park, which might have helped me appreciate it a little more. Having said that, once we got on the water, things started to look up dramatically! Plus, of course I didn't encounter any signs of  you-know-what, read: evidence of a sewage plant close by. Phew. It was all in the mind, obviously, as we all know, the water that comes out of these treatment plants nowadays is supposedly drinkable. Although, on second thoughts: I pass!
Kayaking And Snorkeling On Virginia Key
There are various options for kayaking Virginia Key. You may launch on the beach just after the bridge bay-side at Hobie Island Beach Park. At first, we begrudgingly conceded that this may have been a better place to stop, especially since it offers free parking. Therefore, if you're watching your pennies (who isn't) and not being afraid to kayak around a busy boating area and under the bridge to get to Virginia Key: launch at Hobie Island Beach Park.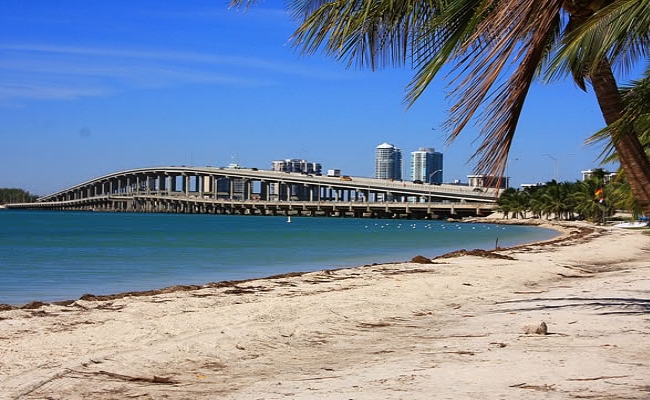 Hobie Beach
(image credit: http://www.travelmeguide.com)
If you do indeed take this as a launch place for your kayak, you will need to head back towards the bridge, under it and then stay on a north-easterly course. This will take you past Rickenbacker Marina and into a lagoon which houses the defunct Miami Marine Stadium, plenty of moored boats and the cutest little island on which to stop and take a rest. We never got there, unfortunately.  I had been looking forward to taking pictures of the Marine Stadium and its graffiti. Oh well, next time!
Apparently, it is possible to launch kayaks from the Miami Rowing Club, as this is supposedly public property. However, you may want to check with them first. The rowing club would undoubtedly have been the best launch point in regards to distance and avoiding motor boat traffic to get to the north west of Virginia Key. Alas, we were looking for a beach where we could snorkel and have our car with gear close by, so gave this one a miss.
As you paddle further on , keeping on the west side of Virginia Key and heading north, you get to an area which covers  the whole north west of the Key and is closed to motor-boating. There, you find shallow water and mangrove-lined habitats with plenty of wildlife, as well as great views of the Miami skyline. We never got there either.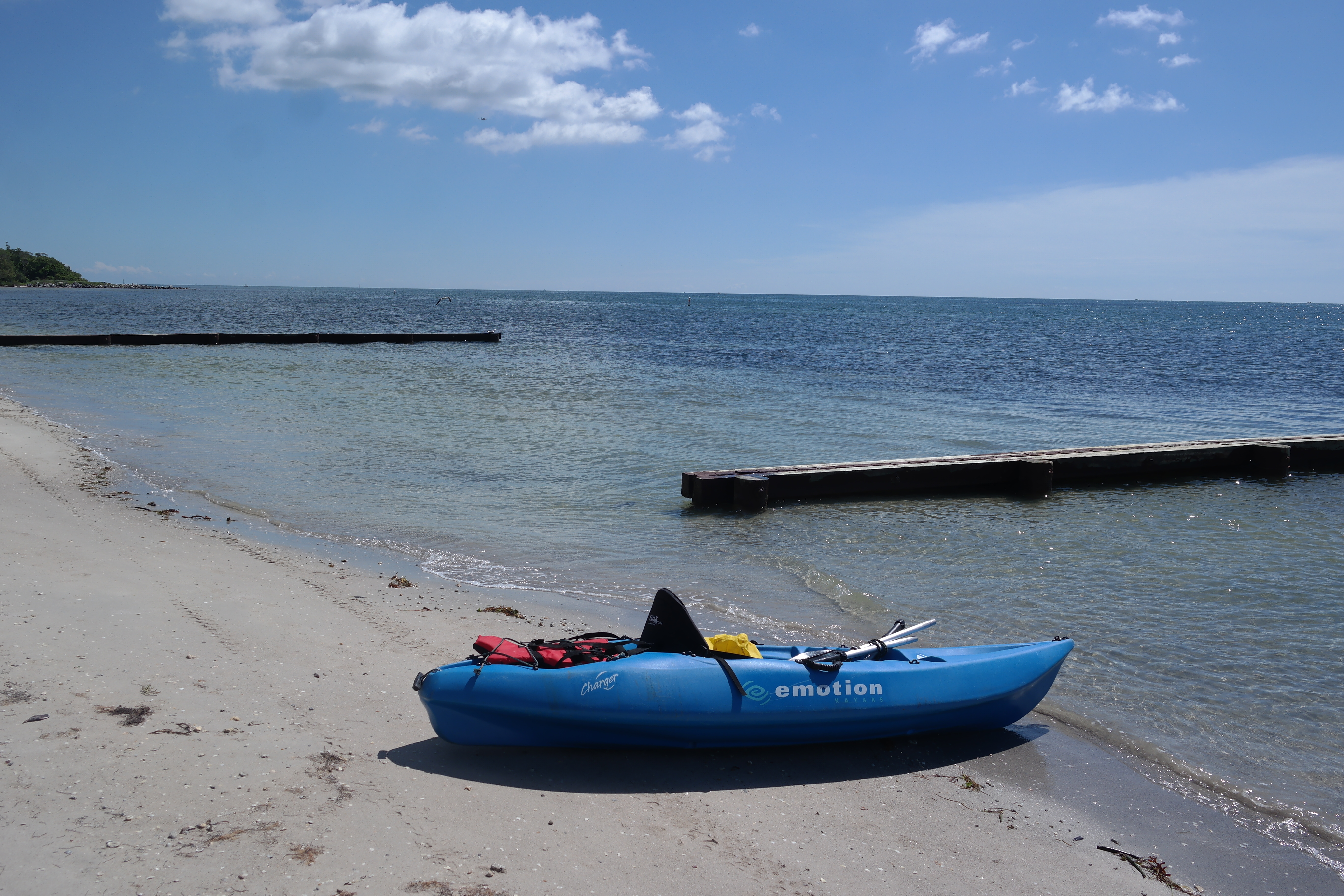 Our Launch At Historic Virginia Key Beach Park
Suffice to say that we realized our launch point at the historic park would have made for a long trip around most of Virginia Key, in order to reach the natural habitat area (as the historic beach park is actually on the other side of the Stadium and nature area). Storms were forecast on this afternoon and as we watched a few clouds building up, we decided to stay closer to the park and go snorkeling instead. I did regret this a little because of course the clouds dissipated and the weather only turned bad much later in the day.
Ah, the bipolar Florida weather, you never know what it will do!
Kayaking and Snorkeling At The Historic Park
As soon as the kayaks hit the water and I saw hundreds of little bait-fish followed by some mullets, I began to lighten up. Turned out that despite the constant noise from jetskis (not a fan), the paddle around the beach was pretty pleasant and the water very clear, much to my surprise.  The Cormorants seemed to agree as there were plenty of them just hanging out at this beach all day, looking for breakfast, lunch and dinner or just enjoying the view? Not quite sure!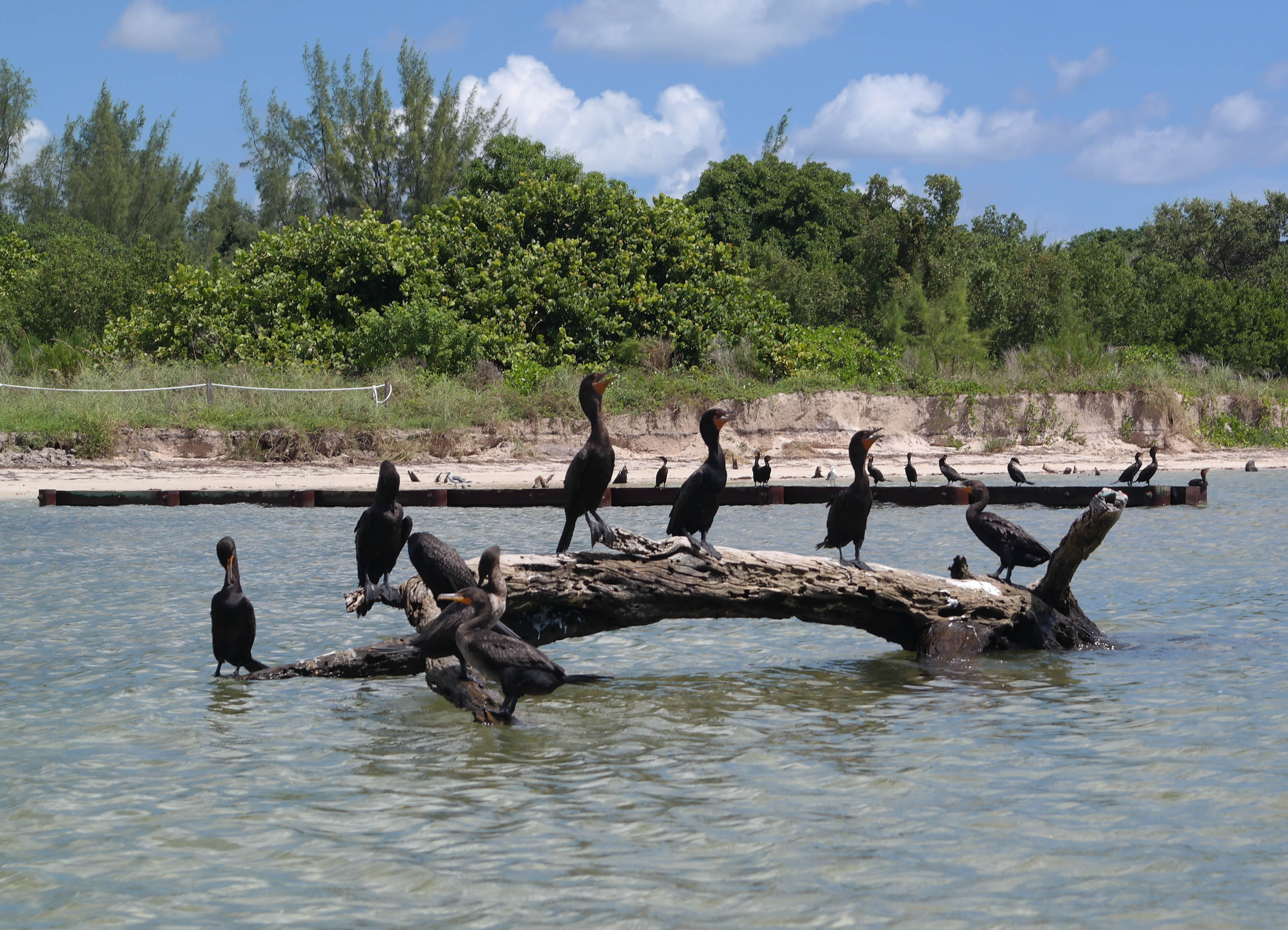 The Cormorants Seemed Happy!
We spent most of the day leisurely paddling up and down this nice shallow beach and trying to spot wildlife in and out of the water., which was definitely reaching a high-point when I suddenly saw something brown and odd looking coming out of the water. I may have screamed 'Is that a body bobbing up?', followed by me hauling my behind to get as much distance between me and the 'seamonster/body'  as possible, when it turned out what I saw was a huge manatee. Now, I have seen plenty of manatees but I either caught this one at a strange angle when it surfaced or it was just very beaten up. Upon closer inspection,  his/her tail was very frayed and damaged. Believe me when I say it did not look like a manatee at first. Hence my swift retreat.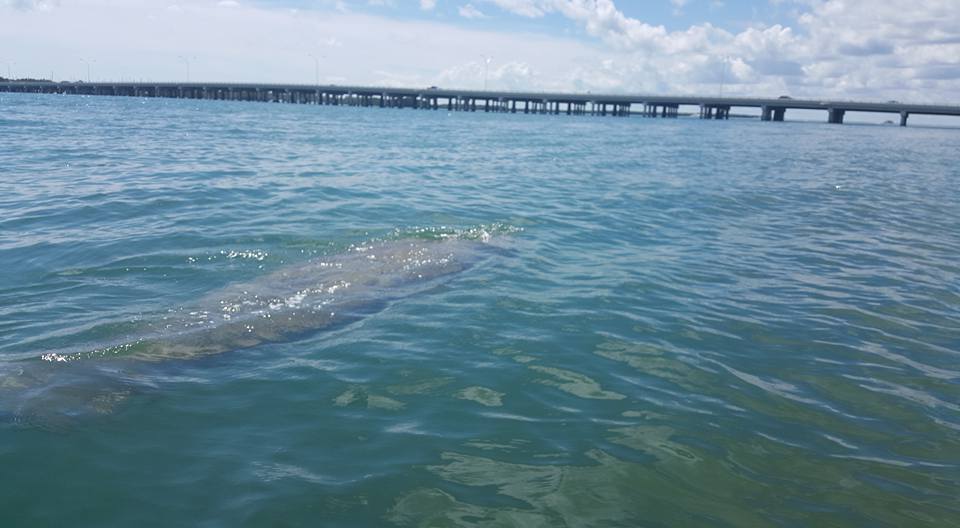 It's A Manatee!
Incidentally, here you have the ideal beach for nervous swimmers or children to learn snorkeling. The beach area is shallow, the visibility very good, and there is a motorboat exclusion zone which leaves plenty of space away from the motorboats and pesky jet-skis (but watch the jet-skis, as they do not always follow the exclusion zone markings unfortunately).
Much to my shame, I had never snorkeled, so it was time to bring out the new luminous equipment and scare some fish!
Scare them I did, it seemed, for I saw but one little sand colored fishy – that was it! Having said that, my kayak partner snorkeled much further out than wimpy me and recorded Jacks, Permit, Corals and even a Moray Eel.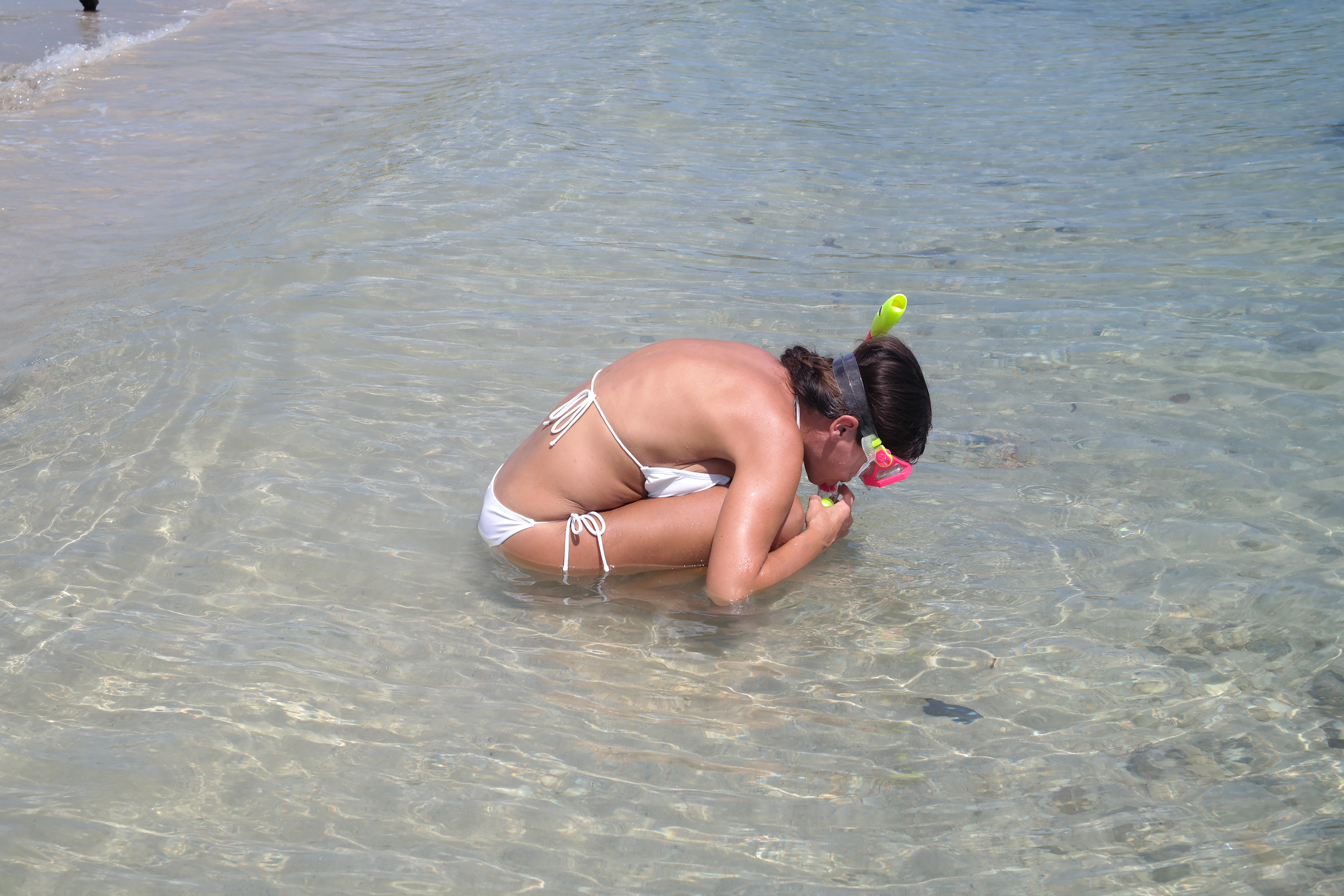 Maybe I Should Have Headed Further Out? Of Course I Did!
I did love entering this completely different word though, even if it was just for the little fish and seeing the seagrass sway back and forth with the motion of the ocean – a truly special experience!
Would I Go Back To Virginia Key?
If you had asked me when we were about to launch the kayaks, I would have replied with a resounding 'NO'! After a day of swimming, kayaking and snorkeling there, this changed to: I would definitely  go back! This is how fickle a woman's opinion can be, take note…
In all seriousness, however, after having read up on the history of the Historic Virginia Key Beach Park, I have a different and much more positive view of it.  I am happy it was preserved for future generations.
Not to forget, the Snorkeling was really great and safe, and the beach is certainly a beautiful swimming beach with extremely clear water. All this considering we are just a stone throw away from the City Of Miami.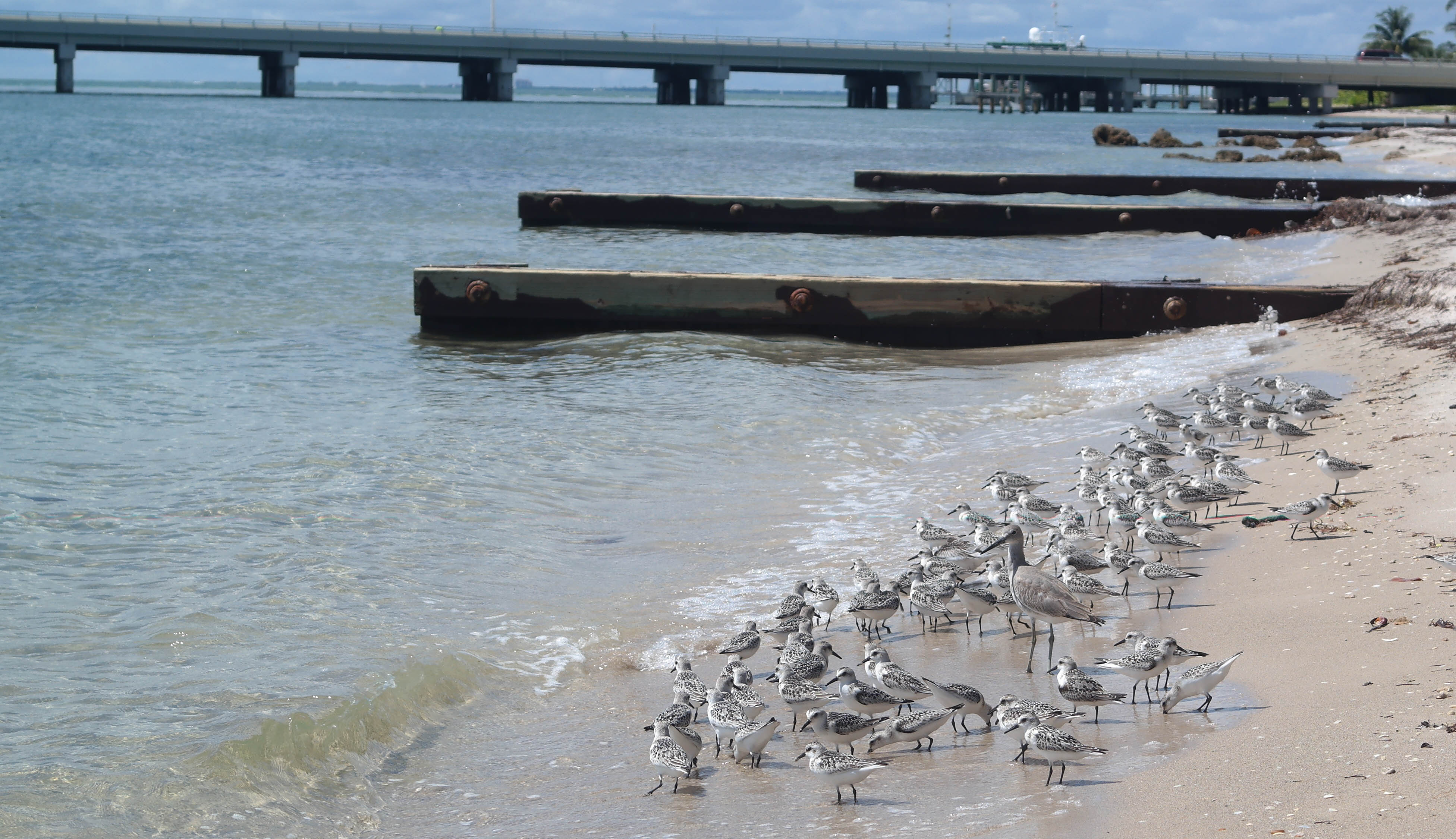 Virginia Key beach  is the quiet and unassuming antidote to South Beach. There are no attention starved show-offs and no supermodels sunning themselves here, just normal people and families enjoying a child's birthday party (we saw several) and some fishing and grilling.
I am also still wanting to explore the Miami Marine Stadium, little island and the mangrove lined shallow north-west part of Virginia Key some day.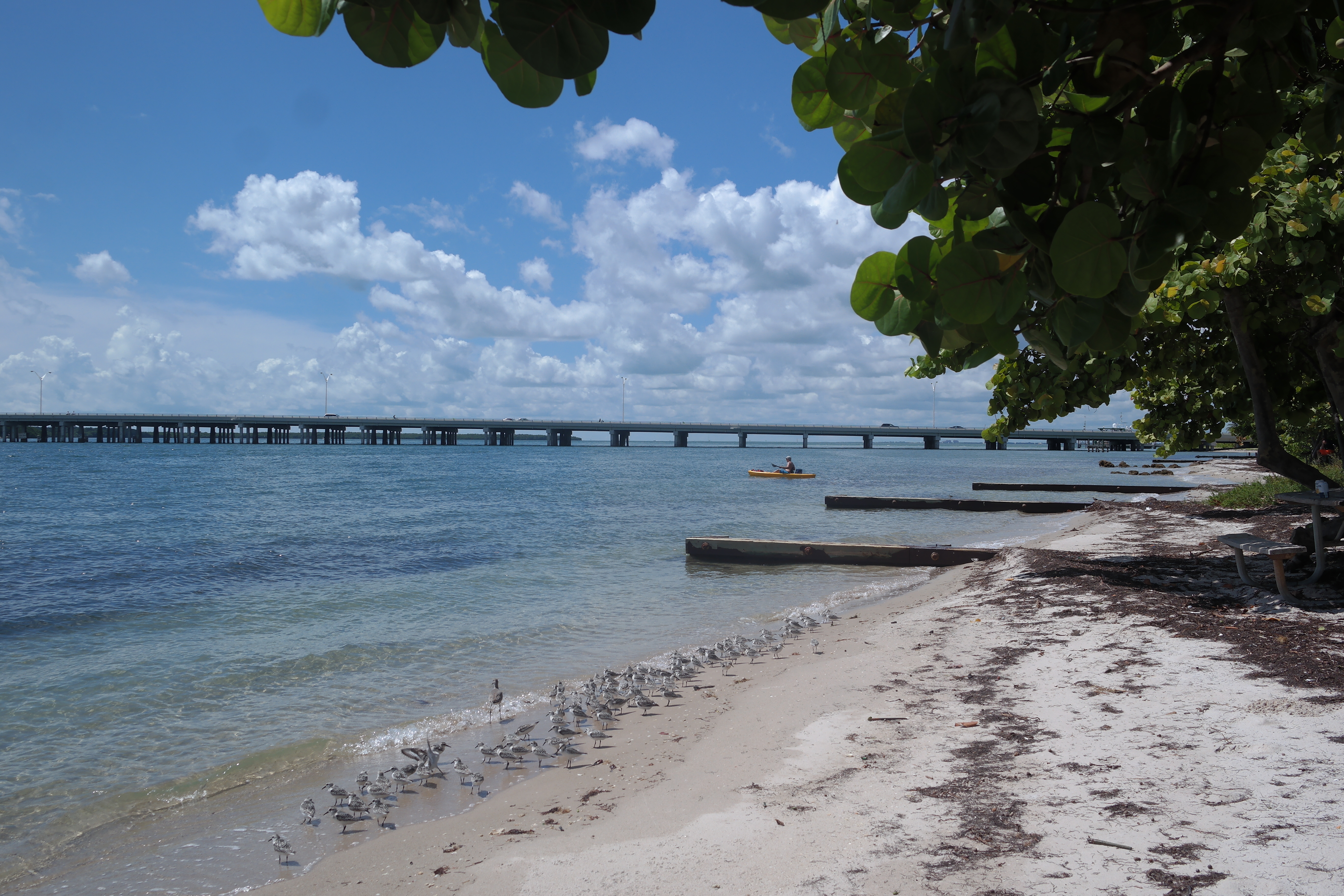 Looking Towards Rickenbacker Causeway

Thank you so much for stopping by! Maybe you have kayaked around Virginia Key? I would love to hear your opinion and also about the things you have seen. Please leave a comment or contact me with below contact form. Thank you so much and I look forward to connecting!