Don't go to Shark Valley expecting to see sharks, but most of you probably know that. So why is Shark Valley called Shark Valley at all? Well, the 'Shark Valley Slough' runs through this area, supplying much of the water to the Everglades, and feeding into the Shark River.  Some sharks do come up into rivers to breed, and this is undoubtedly where Shark River got its name from. It has been said that bull sharks used to be seen in Shark River, I am not sure whether this is still the case now.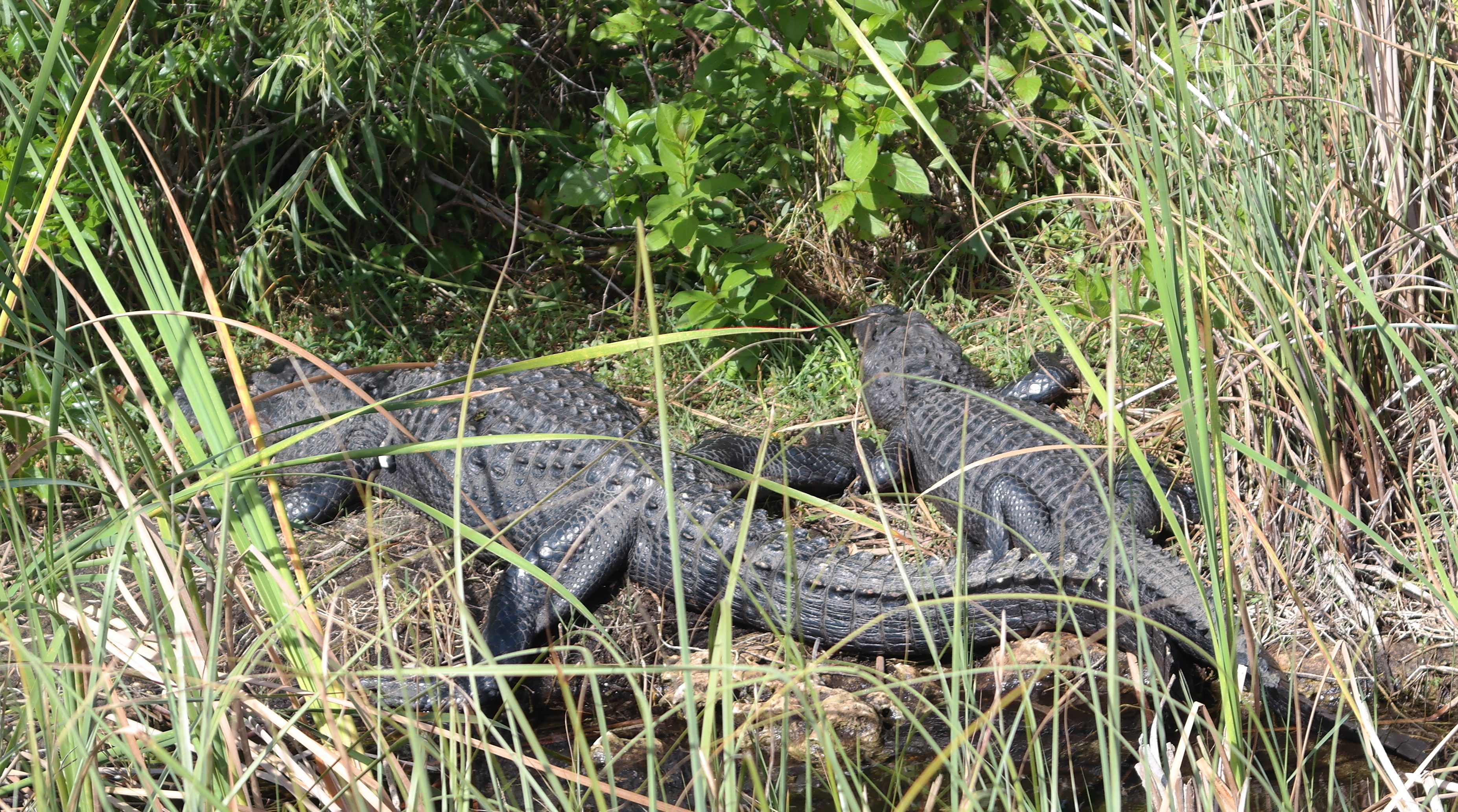 Love Was In the Air At Shark Valley
What I am sure of, however, is that you will see alligators at Shark Valley. How many will depend on quite a few factors, including the time of year, weather and even the time of day. I have been to Shark Valley numerous times and always seen alligators, even if 'just' a handful. Other times, like this last time we went in April, we must have seen more than 40, if I count in the clutches of yearlings we saw sitting together (one lot of around 12 and one of 11). And then there were the numerous adults and juveniles that lined the banks basking in the morning sunlight. We were really quite surprised to see so many of them. Maybe the fact that it is alligator mating season also had something to do with it? Love and spring was in the air!
There are, of course, plenty of other Everglades inhabitants that are interesting to look at. The greatest charm of Shark Valley for me is that wildlife is not rushing away from humans. As this park is heavily frequented, most of the animals are used to seeing people and just go about their daily business rather than running away.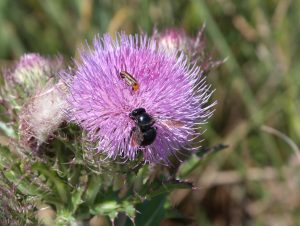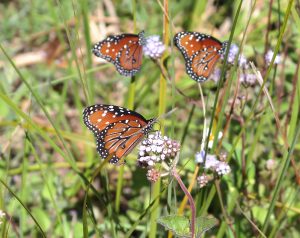 Spring Was In The Air 
This year's walk was really great, as we really did see an unprecedented amount of wildlife. We saw gators big and (very) small, all kinds of birds, turtles and fish. To add to that, spring brought it's own charm to Shark Valley, with spring flowers and butterflies galore. It was a truly magical early April visit, and I can really recommend going at this time of year, especially if there is a good breeze keeping the heat down.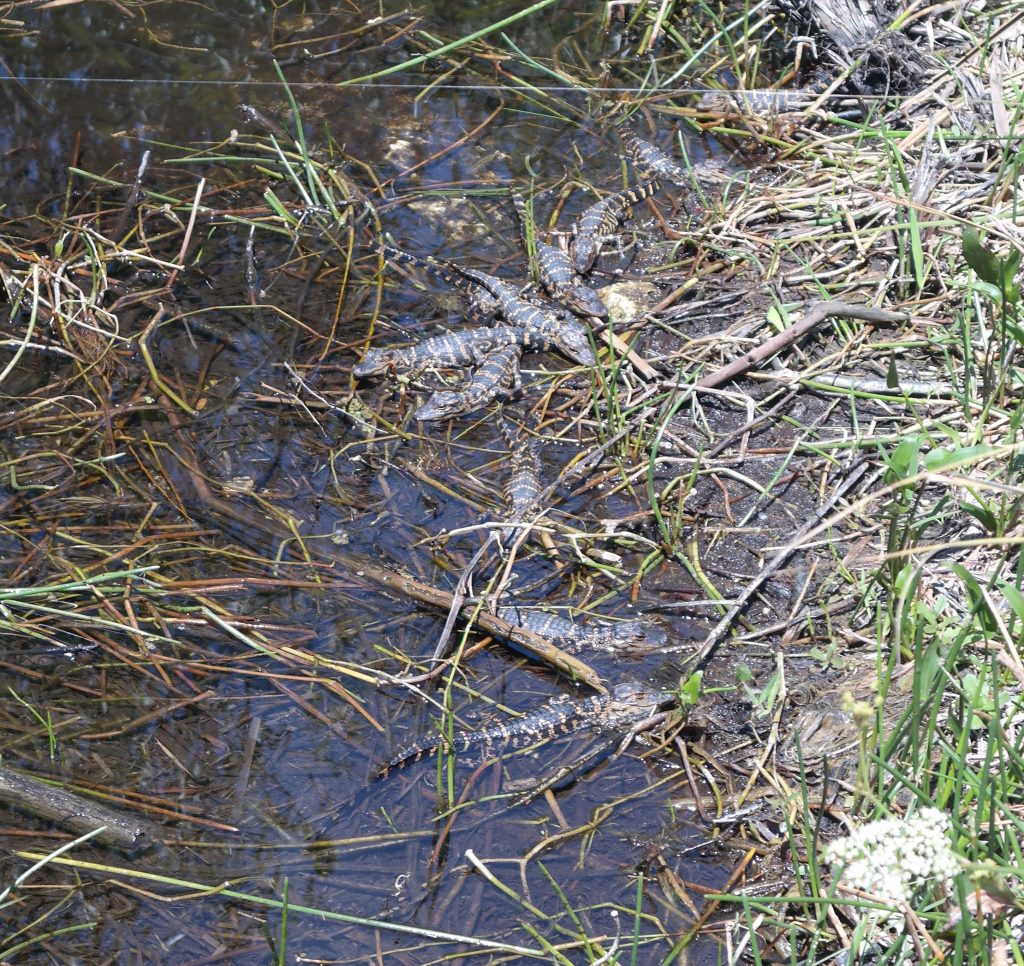 Last Year's Brood – Where Is Mama Gator?
What is the best time to go?
Shark Valley is part of the Everglades National Park and lies quite a way inland. Judging by our recent experience, the winter and the early hours definitely do have their advantages. When the temperature drops, not only is it much more pleasant to 'do' Shark Valley, but as it is generally drier and colder, the alligators tend to be more concentrated in the area. Many of their water holes dry up and they concentrate in places where there is an all-year supply of water and, most importantly: food.
When it is a little cooler overnight, alligators also tend to sun themselves on the banks in the morning. This makes them much more visible than when they are in the water and only the eyes and nose look out. Of course, Shark Valley would be pretty unbearable in the summertime anyway in my humble opinion. Not only is it extremely hot with no sea breeze, there is also very limited shade in the area (brush and grassland mostly), and I should imagine the mosquitos are coming out in force during the summer months. I am not entirely sure what summer in Shark Valley is like, because I have so far successfully avoided it, frankly!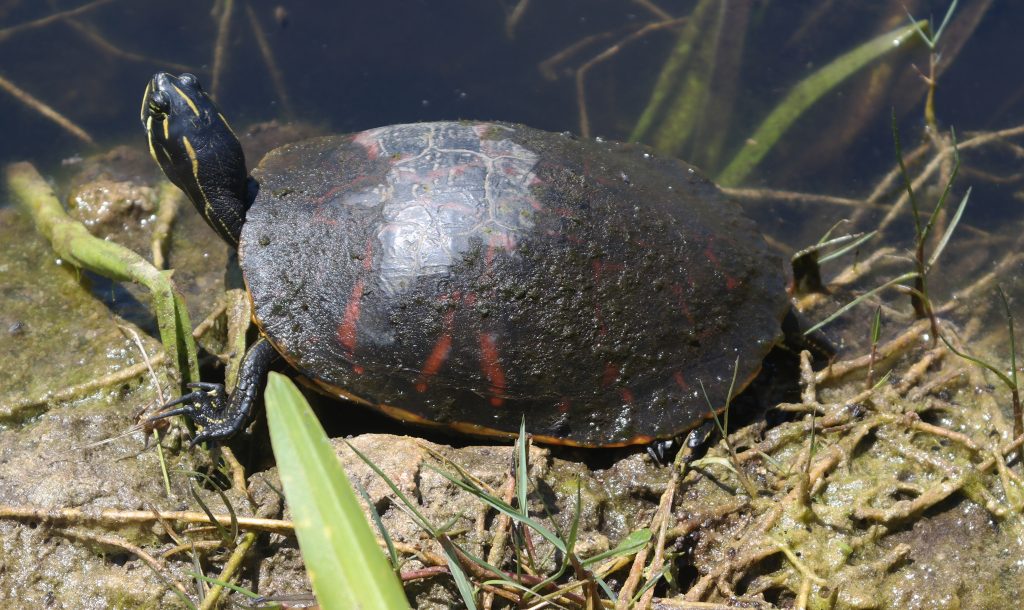 I also recommend going early in the day, not only is there more wildlife action and the temperature is more pleasant, but you will escape the crowds too. Shark Valley can get really busy, especially on the weekends. We noticed the masses arriving at around mid-day, so that gives you plenty of time to cycle or walk the area if you head there for the earlier morning. Also, the hours of operation vary slightly in summer and winter: 8:30 a.m. – 5:00 p.m. Mid-December – Mid-April and 9:00 a.m.- 5:00 p.m. Mid-April – Mid-December.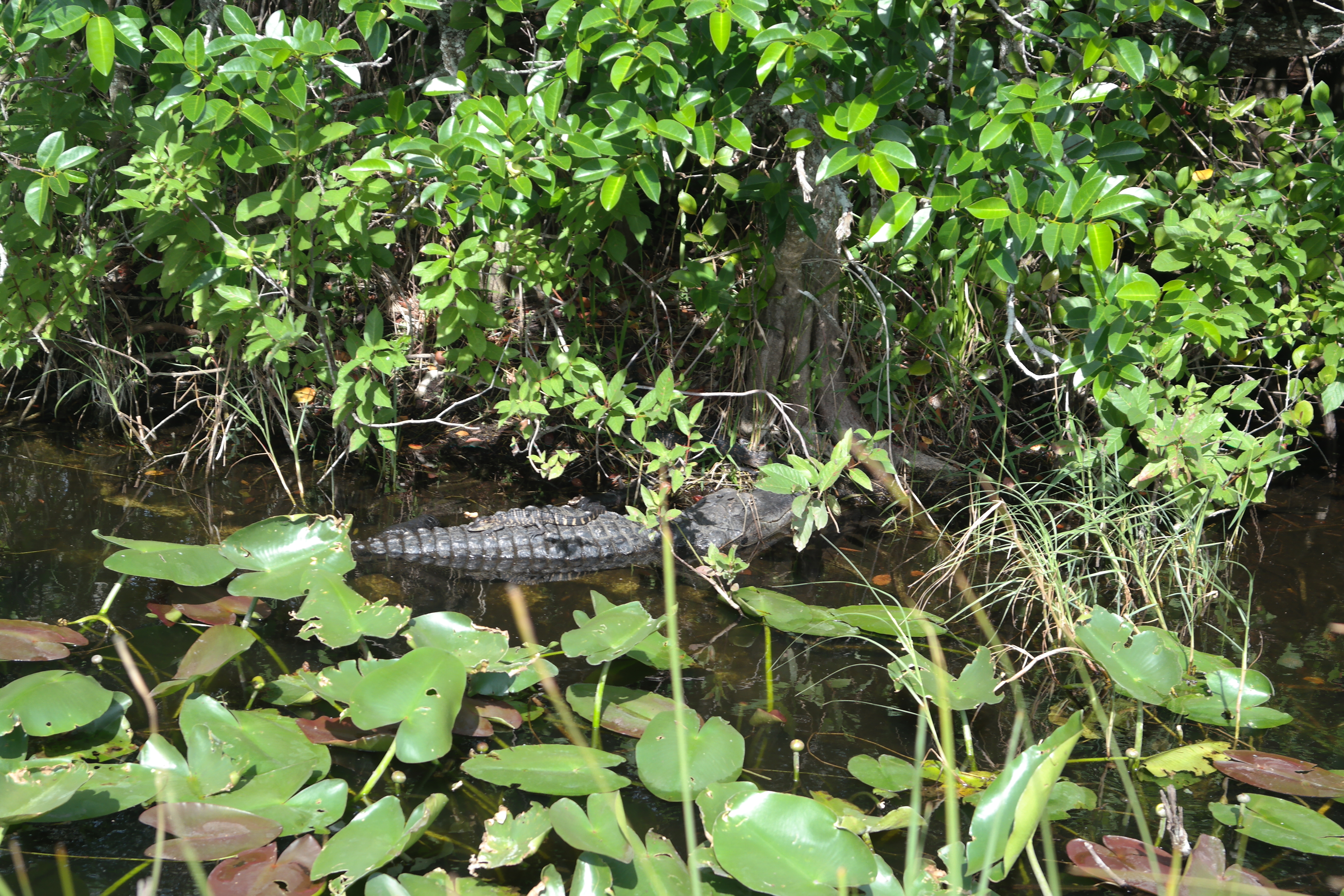 Yearling Hitching A Ride Before His New Siblings Arrive And Crowd The Scene
What can you do at Shark Valley?
You can cycle the loop (the paved road running through Shark Valley), take a walk or take the tram tour. The whole loop is around 15 miles long, and there is an observation tower roughly half way. Believe it or not: I have never made it to the tower, we usually walk around four miles one way and then back, because I am cyclically challenged and also because I see a lot more when walking. It helps not having to worry about falling off the steel horse or running over people. Having said that, most people are not as weird as me and prefer to cycle the whole loop. It is possible to bring your own bikes or indeed rent them right there at a rate of $9 per hour. I'll do it when I finally get a trike…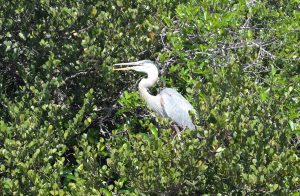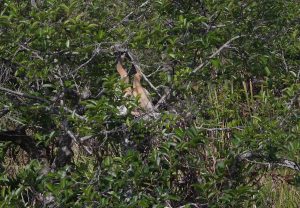 A Heron And A Nest Full Of Baby Anhingas
The tram tour takes about two hours and is a great way to see the Shark Valley without straining oneself too much, as well as learning something about the area and the wildlife. There is also a visitor center at Shark Valley, which offers educational displays, a park video and informational brochures. For those who want to bring some gifts and souvenirs home, there is a gift store on the property too.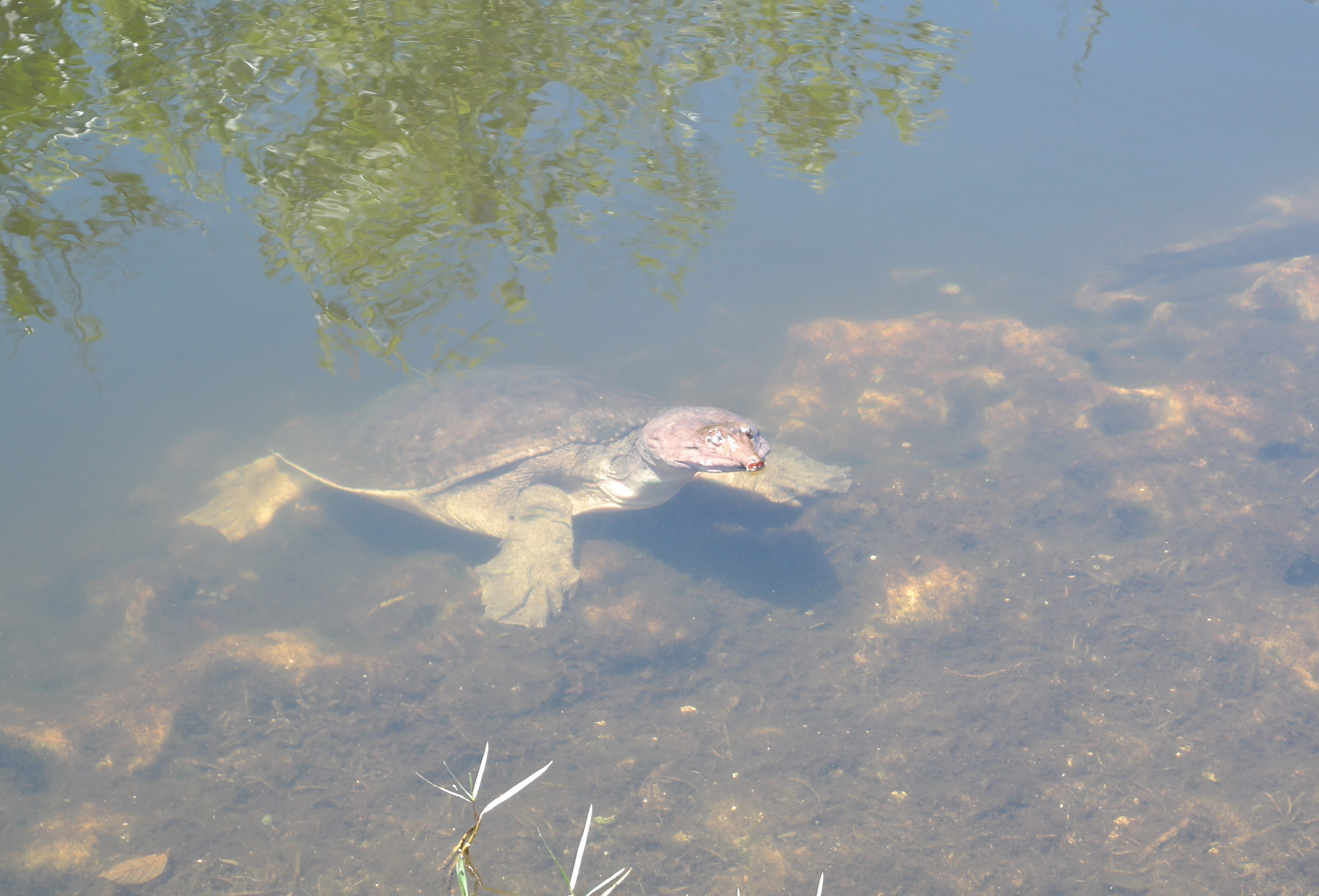 A Face Only A Mother Can Love – Soft Shell Turtle
Details
You will find Shark Valley on Tamiami Trail: 36000 SW 8th Street, Miami. The area is quite remote and there is no public transport anywhere near. Entrance to the park is $25 per car, so it is not cheap but very much worth it. If you don't arrive early, you may have to park the car outside the park (by the side of the road) and pay the pedestrian/bicyclist fee, which is $8 per person. The tram ride is $25 for adults, $19 for seniors (62 and up) and children pay  $12.75 (3-12).  Departure times for the trams are almost every hour in the winter season, but the operation slows down somewhat during the summer. It may be best to call the park for info when you are about to visit.
It's a great place to visit if you want to get all touchy-feely with alligators and co.  Just please do keep your distance, no matter how docile or sleepy they may look, they are wild animals and can be pretty dangerous if approached.