On our road trip up to Apalachicola and the west coast of Florida earlier this year, we felt curious about St. George Island, a barrier island little more than a mile or two wide at its widest point, and a full 28 miles long. We were told of spectacular beaches, a State Park at the eastern end, and an altogether pretty tranquil and quiet 'Old Florida' setting. So the decision was made to devote an afternoon to see what this place was all about! If you are a lighthouse enthusiast, you might want to take more time for some investigating here…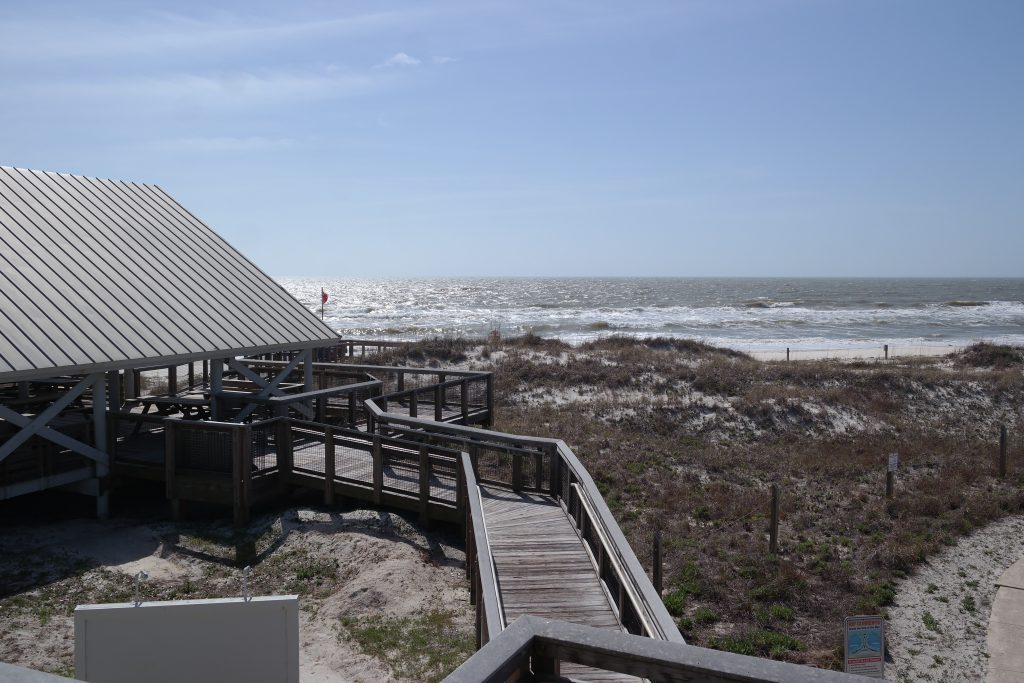 Unspoilt Beaches Abound On St George Island
St George Island In The Past
The first inhabitants were Creek and Seminole Indians who lived, hunted, fished and collected oysters in the area. Evidence of their presence was found at St George Island. European Colonists began to arrive in the area from the late 18th century onwards. By the later 19th century, when the port of Apalachicola had become the third largest in the country, St George Island provided shelter for the many steam boats and ships carrying goods to and from the port of Apalachicola.
What Is There To Do
We only had a few hours to spend, so this is a rather condensed account of things to do in St. George Island. Next time I might spend at least a full day here to do it justice, maybe even a few days to fully soak up the tranquility and natural beauty this barrier island has to offer. However, it is possible to superficially whizz through most of it in a relatively short time. That's what we did.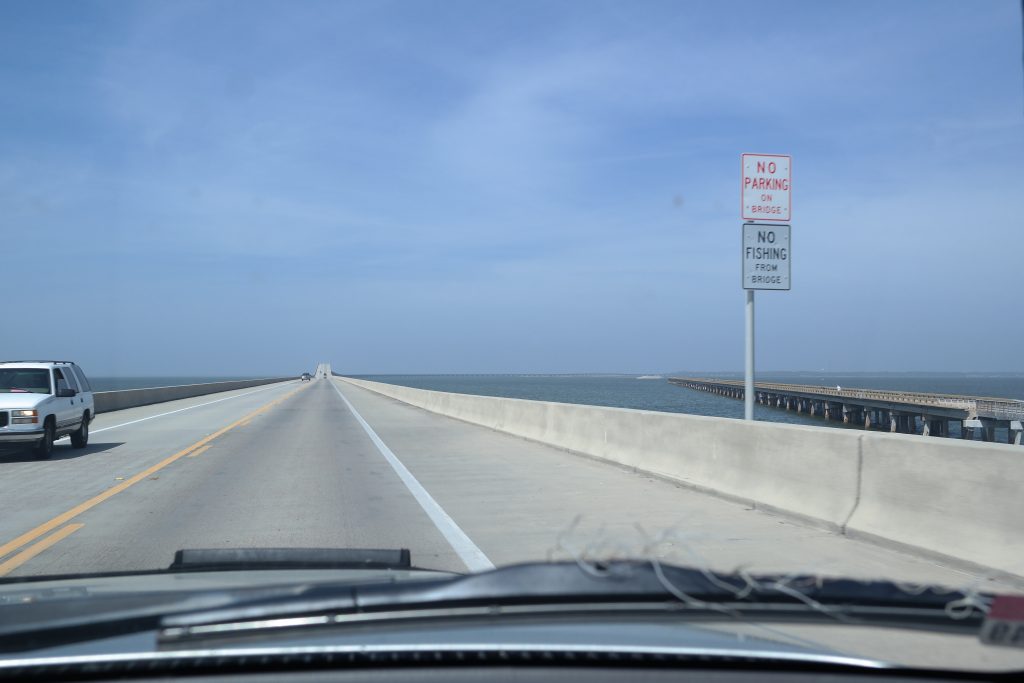 Third Longest Bridge In The State (On The Way Back From St George Island)
Drive it!
You could just drive it. That was our first idea: let's have a drive up and down the island to get a feel for it. It was quite a windy day, not really a beach day. In any case, coming from our base in Apalachicola, we were mostly excited to drive the bridge leading to St George Island. The island connects to the mainland at Eastpoint and here the bridge, which with 4 miles length is the third-longest bridge in the whole State of Florida, starts. The bridge was completed in 2004, after the two original bridges were considered unsafe.
You can still see parts of an older bridge and an island, on the east side of the new bridge. It certainly made for a spectacular drive and when we got to the island, we decided to turn right – geographically speaking that would be west. However, our excitement was quickly curbed – no pun intended – when we came to a sudden halt at a gatehouse with a (barely) friendly man explaining that we could drive no further into the desired direction. I looked at my map in disblief. I was sure of having seen stores and an airport in the forbidden direction! But no, we could not pass.
My curiosity would not let this rest, so I googled and found out that indeed, St George Island has a luxury gated community in the west of the island, taking up quite a chunk of what looks like a wonderful part of this barrier island, complete with its own airstrip and other amenities. It is divided by a channel on its western side from the unspoiled adjoining Little St. George Island and Cape St George State Reserve.
In case you are wondering – the cut between St George's Island and Little St George's Island is man-made. An Army Corps of Engineers cut this channel in 1954 – known as 'Bob Sikes Cut' – to allow boats to get out into the Gulf of Mexico quicker.
Ah, to have money! Having established once and for all, that unless we were a resident millionaire, this part of the Island would remain off-limits, we grumbled, decided to play the lottery (because you 'never know') and for now head east on the island.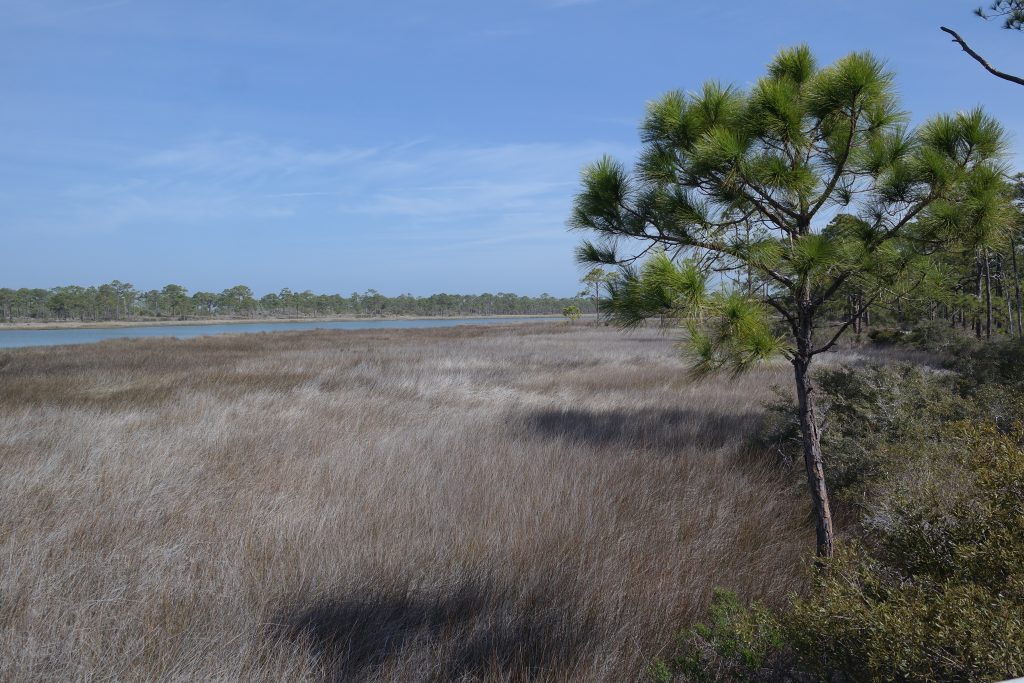 Here, we could drive to our hearts' content all the way to the far east side, which is where you will find wonderful St George Island State Park. The park occupies the eastern 9 miles of the island including a huge, and at that time pretty empty, beach with nice and updated facilities dotted around, and plenty of hiking and bike trails.
Had we taken our kayaks, we might have been tempted to paddle around the backwater there too. It looked like a great place for paddling. The park has two natural boat ramps, ideal for kayaks, canoes and small boats. Additionally, there are boardwalks and observation towers and birding is said to be spectacular there. There are also various campsites for those who are that way inclined – not for me, I need a soft and clean bed after a day's exploring…
We had a good look around and then decided to stretch our legs a little and investigate a boardwalk, the beach and also go for a little afternoon hike. It was lovely!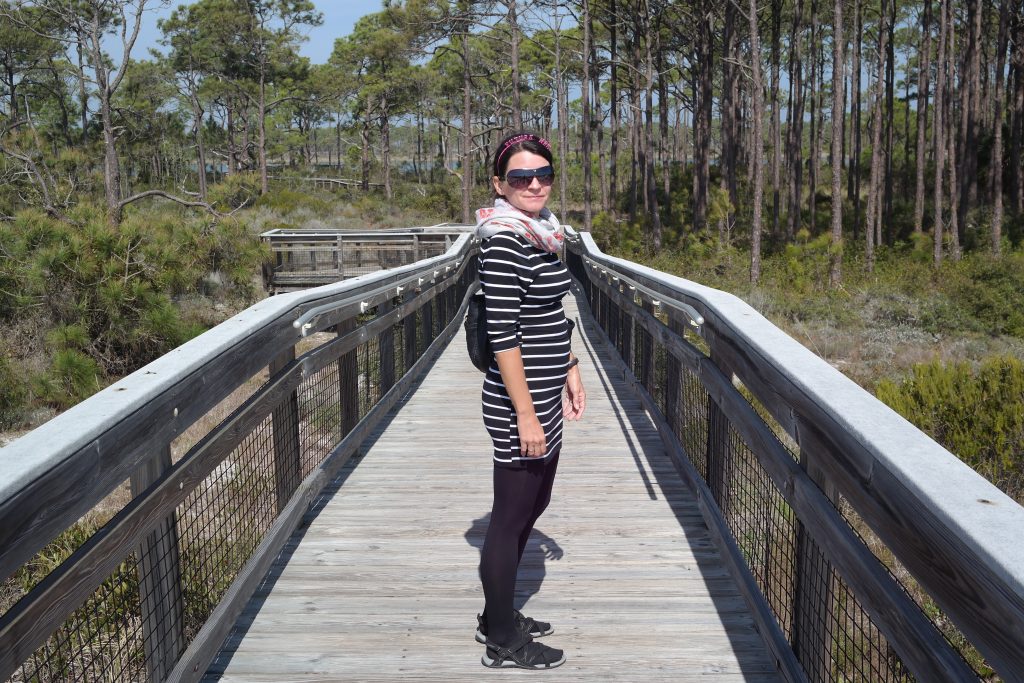 Boardwalk In St George Island State Park
Well, that was nice-ish and made up for our disappointment of not being able to explore the west of the island. After the drive around and a good walk and wander, we wanted to head back for another night of oyster munching in Apalachicola, but not before looking at the cute lighthouse in the center of St George Island. I must say it seemed a bit odd to have a lighthouse on the main road in the center of the island….
Where Lighthouses Die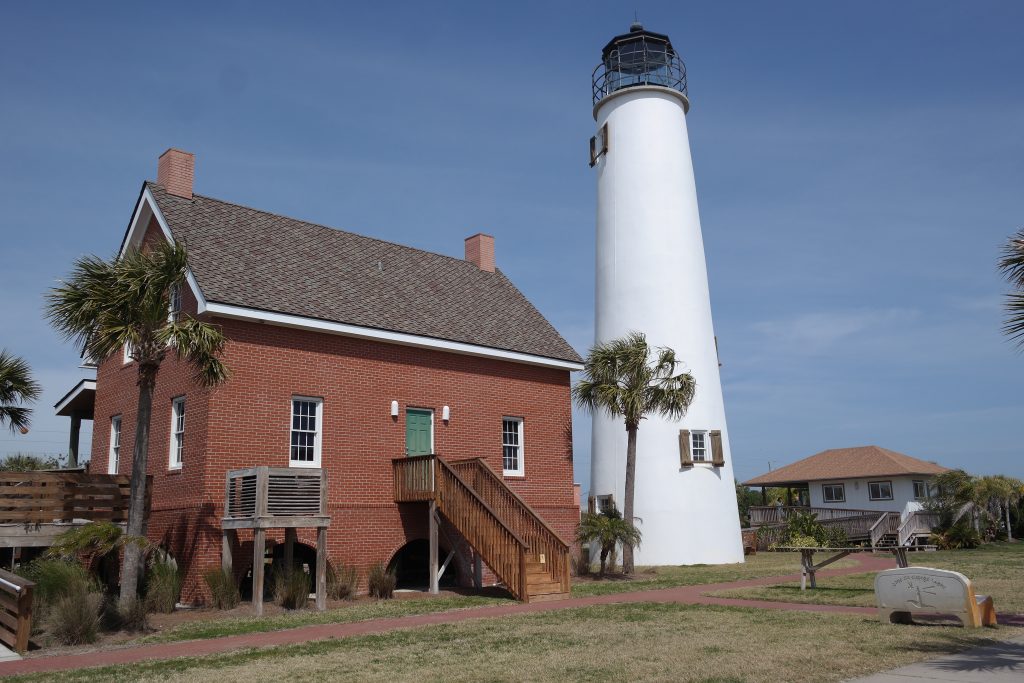 If you too happen to think it strange that a lighthouse should be in the center of an island and not immediately on the ocean or by a shoal, then you are absolutely right. With a little investigation, you will soon find out that this is neither the original lighthouse, nor its original location. Bummer. Apparently, the lighthouse succumbed to the elements in 2005, somewhere else on the island.
In a strange twist of lighthouse fate, the predecessor of the now standing reconstructed lighthouse wasn't the 'original' lighthouse either. Are you still following me? The original and very first lighthouse was destroyed by a storm in 1846. It (the real original) was built in 1833 and apparently didn't last long.  And then there was yet another lighthouse, number 2,  destroyed by the same means – the elements – in 1851. Having been built in 1848, this one lasted even fewer years than its predecessor, a mere 3.
All good things come in 3's, however, and lighthouse number 3  lasted a lot longer than the other two combined, having been built in 1852. Alas, it too finally bit the dust in 2005, therefore what you see in the center of St George Island, is a lovingly reconstructed replica, using some of the old bricks from the last lighthouse. The Keeper's house is also a charming replica. Apparently, no lighthouse survives for long here.
This story of lighthouse demise also begs another question: where was it situated originally, if not here? The lighthouse stood on Little St George's Island out west, in what is now the Cape St George State Preserve, where you would imagine such a lighthouse to be useful. There it stood through many hurricanes and storms, and for years it had been leaning and 'marching into the water' before finally crumbling into the ocean.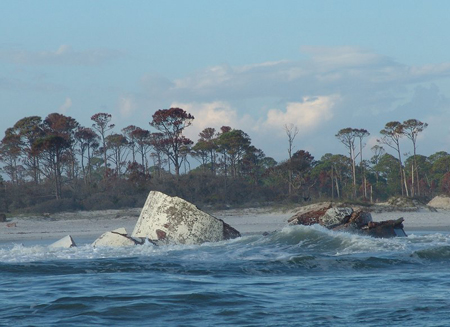 The Third Lighthouse
(Image Credit: www.thelighthousepeople.com, Ed Tiley)
The photo above not only illustrates the forces of nature but also what predictably happens when you build on a barrier island. I think particularly of the Dome Homes in Cape Romano (Marco Island), who are currently suffering the same fate, slowly getting swallowed by the ocean. They were previously also quite a way and walk away from the water. So much so that the previous residents said the walk to the beach seemed strenuous.
I actually love barrier islands and find them fascinating, but would I build a house on one? No. And there is a certain irony to that, as I am sitting in my condo on a barrier island in Fort Lauderdale, typing this.
Anyway, after having had a good look around St George Island, it was time to head back to our base in Apalachicola and eat another 5 dozen oysters…yup, we did just that. They are SO good there!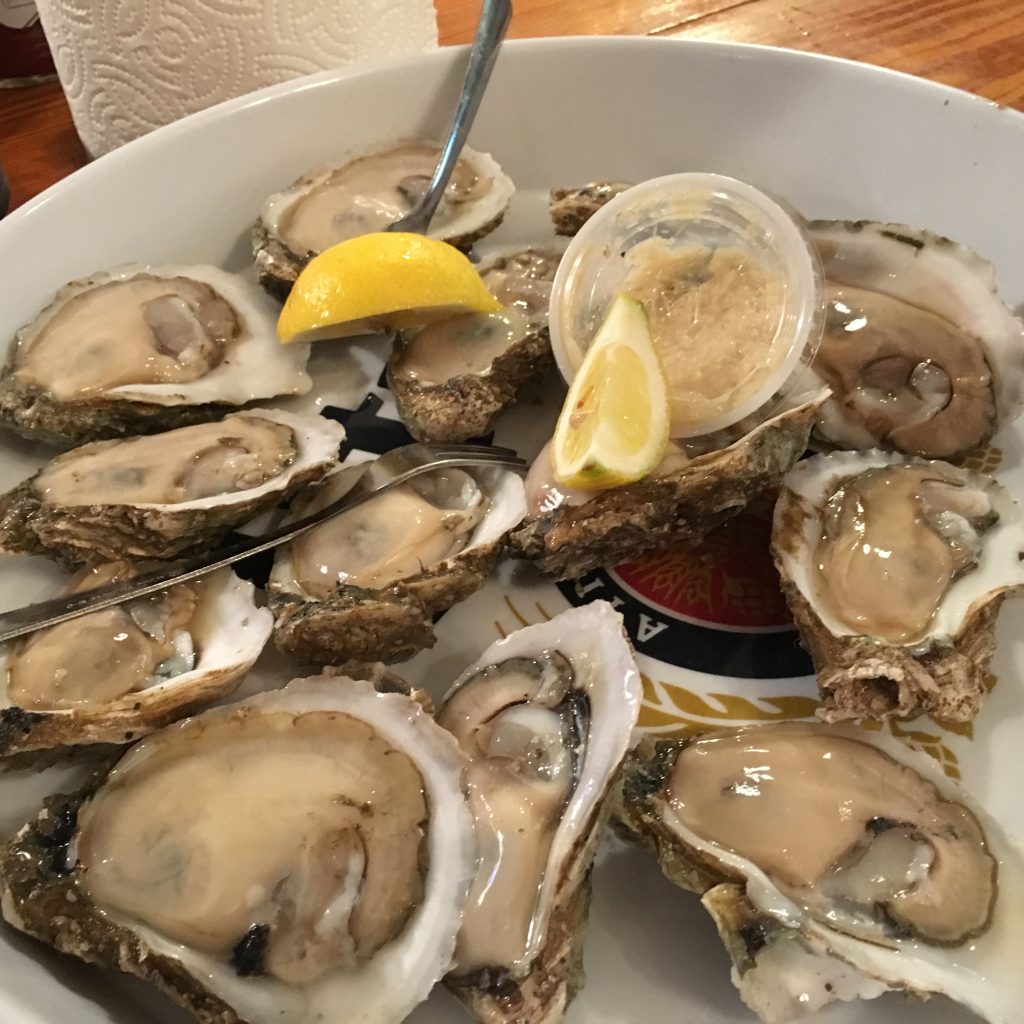 Oysters Galore In Apalachicola
I haven't dug up a huge amount of history and stories on St. George Island, so if you have one do let me know. I might even go back there to investigate a really good story…