If the word 'bar' within the name of a historic site gets you all excited, I hear you. However, I have to disappoint. Gilbert's Bar House Of Refuge has no bar. I  guessed that on arrival, but there is always that faint glimmer of hope, which was promptly extinguished by the nice man greeting us at the gift shop: 'no no, there is no real bar here, although we do get a lot of phone calls asking which band is playing tonight'.
Ah well. I could have done with a nice cold umbrella drink as we visited the area on a swelteringly hot Florida August day, having just walked around historic Stuart town center. The name 'Gilbert's Bar', rather than being a place for umbrella drinks, stems from the rocky reef sandbar that runs north and south on the ocean side of Hutchinson Island. History tells us that the name-giver was a certain Don Pedro Gilbert, a pirate who allegedly used lanterns to lure ships onto the shoals in the area of the sandbar in the early 19th century.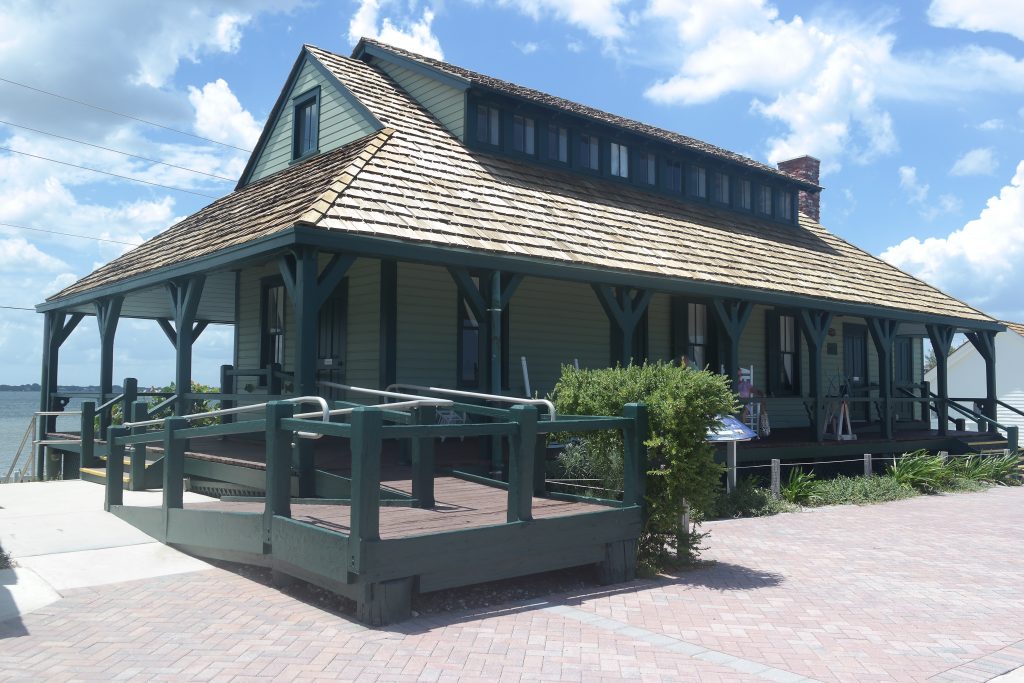 Ocean Facing Front Of Gilbert's Bar House Of Refuge
What Is A House Of Refuge Anyway?
I must admit: I had never heard of a house of refuge until an acquaintance made an intriguing  post about this place on Facebook, inspiring me to research these 'houses of refuge' a little. Gilbert's Bar House Of Refuge on Hutchinson Island, I found out, was one of once 10 such houses of refuge, whose main objective it was to help shipwrecked sailors as well as travelers along this then fairly unpopulated stretch of coastline. Now, there is only Gilbert's Bar House Of Refuge left, which is not only the last standing house of refuge, but also the oldest still standing structure in Martin County, having been built in 1875.
Sailing the Atlantic waters off the coast of Florida was no picnic back then. Frequent and unexpected storms, as well as many deadly reefs and shoals, meant ships would often get into trouble and run aground. To make matters worse, any surviving sailors were then left to perish from hunger and thirst somewhere along this sparsely populated coastline.
In order to address this problem, the U.S. Lifesaving Service decided to build Gilbert's Bar House Of Refuge and 9 other such houses all along the east coast down to Biscayne Bay. The purpose of the houses was first and foremost to help shipwrecked sailors. Although there was lifesaving equipment at the houses, they were not designed as life saving stations, instead acting like passive refuges.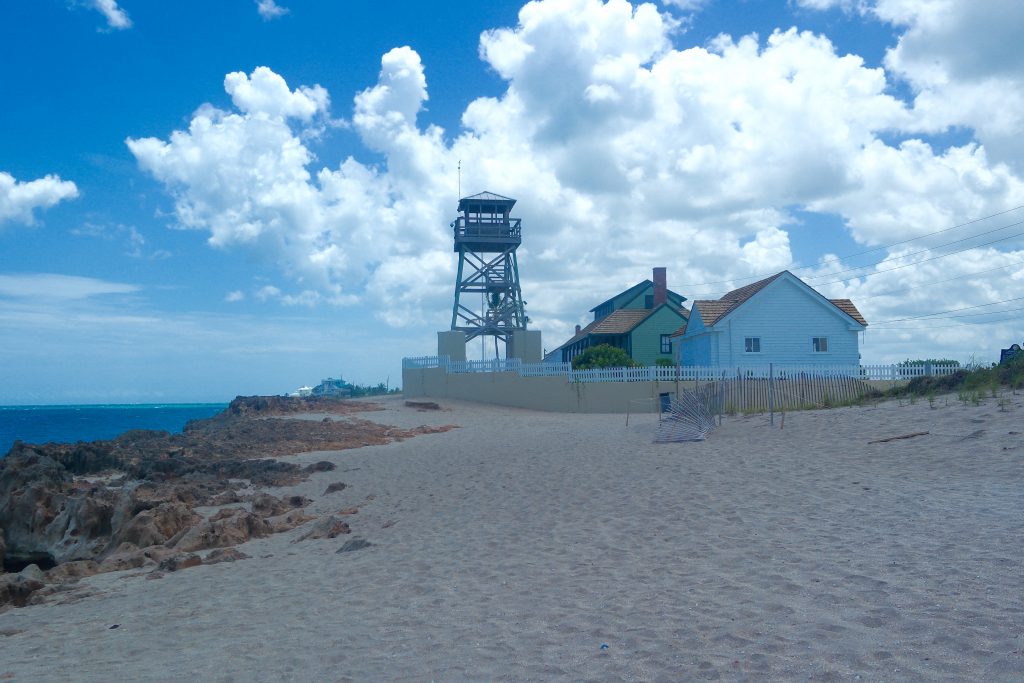 Gilbert's Bar House Of Refuge From The Beach
Each house was staffed by a civilian keeper, who lived there with his family. You would think this was a dream job, well at least I assumed so, based on my obsession for escaping city life. However, I did find references to a 'lonely life' and 'harsh environment', which the keepers and their families endured rather than enjoyed.Part of the duties of the keeper was to walk up and down the shoreline after a storm, in order to locate any sailors or travelers who got stranded and needed help.
All houses of refuge were designed the same way, with the ground floor – the keeper's quarters – divided into four rooms: a kitchen, dining room, living room and bedroom. The upstairs attic, one large room with a window in each gable, was designed as a dormitory for the shipwrecked and typically equipped with 20 beds.
In addition, the house had dried and salted provisions to feed 20 men for approximately 10 days, as well as medicine, bedding and clothing. Everything was maintained by the keeper and his family. A separate boathouse would hold lifesaving equipment such as a couple of lifeboats and  flares  (http://www.pbchistoryonline.org/page/houses-of-refuge). Some interesting personal stories of the individual keepers and their families can be found  here.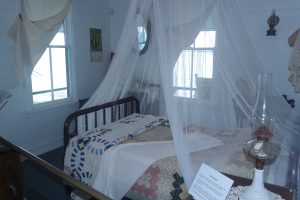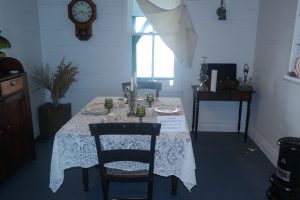 Bedroom And Family Dining Room At Gilbert's House Of Refuge
One piece of equipment particularly attracted my attention – the breeches buoy. What to the lifesaving equipment uneducated (me) looks pretty comical at first sight, was in fact a majorly important piece of equipment before the arrival of helicopter rescue. First, a line would have to be sent to the shipwreck. The line was fired with a 'lyle gun' via a projectile. As soon as the line was secured, not as easy as one might assume and often taking several attempts, the breeches buoy would be sent out on a pulley line to rescue the stranded sailors one at a time off the wreck. Think 'zip line' in atrocious conditions. As you can imagine, on a stormy and rainy night, the act of getting a good line out to the ship alone was quite the operation. That was before one could even think of getting sailors off the ship successfully.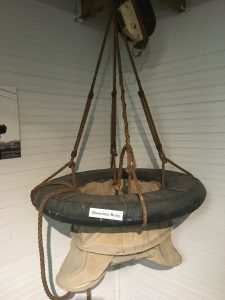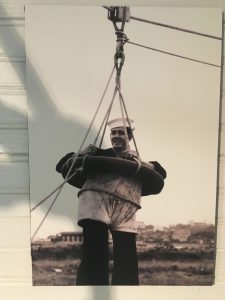 Breeches Buoy
Gilbert's Bar House Of Refuge – What Is There To See And Do?
The house is located at 301 Southeast MacArthur Boulevard, Stuart, on Hutchinson Island. Entrance to the museum and house was $16 for the both of us, so $8 per person. The drive there, coming from Stuart, was real pleasure. Leading over a bridge and the inlet aquatic preserve, it offers sweeping and wonderful water views. The location of the house of refuge itself, on what looks like just a spit of land between the lagoon and the ocean, did make me think back to the days when there was virtually nobody but the keeper and his family here. It still has a remote feel to it.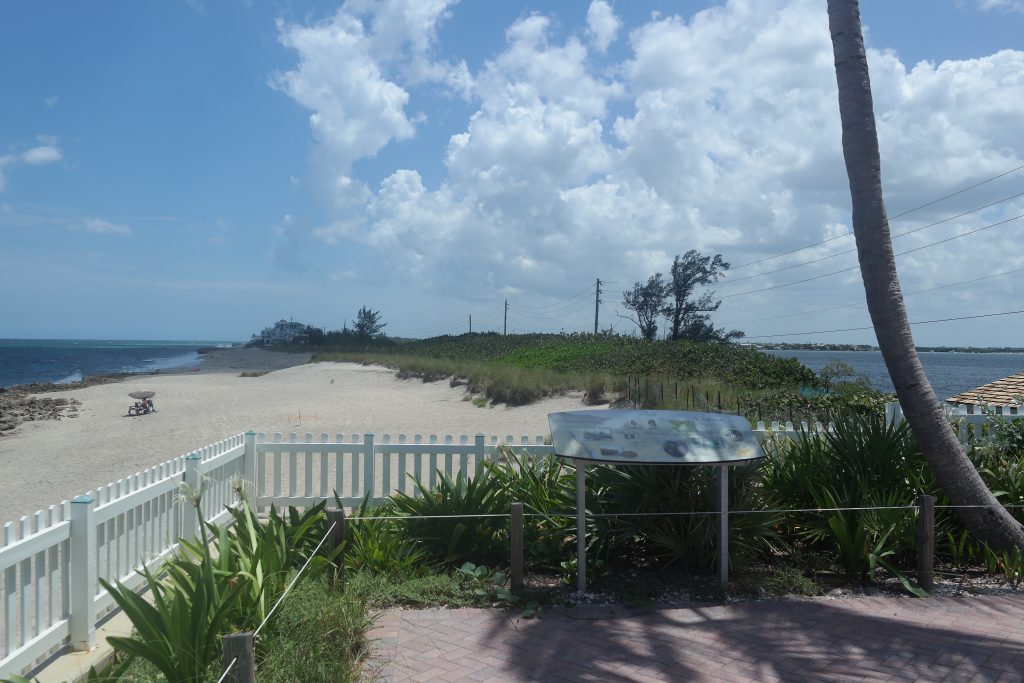 Water Left And Right Of The Refuge
The Museum And House
The charming museum and house are well worth a visit. Equipped with some of the old life saving apparatus and general shipwrecking information and pictures, the museum part in the basement is small but interesting. It also displays some interesting photographs and information about the keepers and their families. Upstairs, the house has been furnished to look like back in the day, with the rooms for the keeper and his family filled with many accessories of the era. Outside is a watch tower illustrating the use of houses of refuge in world war 1 and 2, when they were turned into U.S. Coastguard Stations to help keeping the coast safe from enemy ships and U-Boats.
Snorkeling and Diving
This particular house of refuge became widely known for the rescue of the crew of the George's Valentine shipwreck off the coast of Hutchinson Island in October 1904, where she ran aground on the shoal in a storm. 7 survivors of a crew of 12 found refuge at the house and the wreck is still popular with divers and snorkelers now, as it sits only 100 feet off the beach outside the house in shallow waters. The wreck is now a State Underwater Archaeological Preserve and is easily accessed from the house of refuge area:
'visitors can park at the house of refuge and walk to the entry point, a rocky outcropping 100 yards south of the House of Refuge Museum south wall. From the most pronounced portion of the outcropping, swim due east 100 yards to the boiler section. East of the boiler about 60 yards is a large section of hull that stands about 12′ to 16′ off the bottom and is 65' long. Due south of the hull section is a large debris field leading to additional hull plates and the remains of a crane, probably used for loading cargo.' (http://www.houseofrefugefl.org)
A Day At The Beach
The rocky beach at which the house stands, alone would make for a great day out. Crystal clear turquoise water, waves gushing into rocks and tidal pools, all makes for a fun time. Unfortunately, when we were there not only was the water too rough for swimming, there were also still warnings of toxic algae in the water, so we walked around on the beach a little and took pictures. It's a beautiful place for sure, worth visiting not just for the refuge but also the beach and great snorkeling opportunities on a calm day.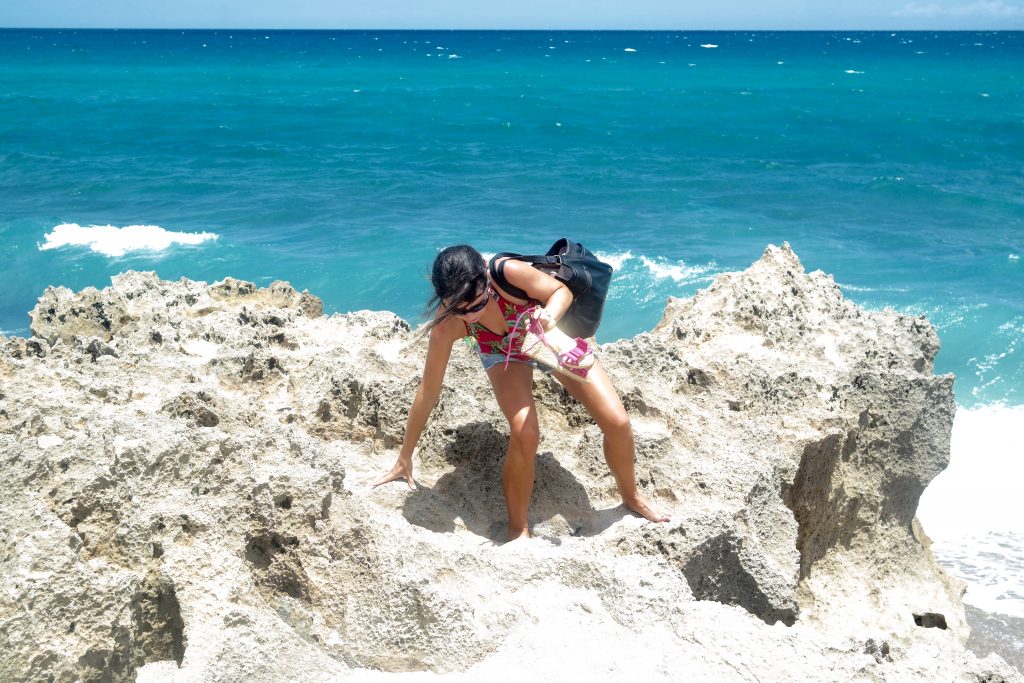 Beach And Water Are Lovely – Watch Out On Those Rocks
Stuart – A Charming Little Town
While you are in the area, you might as well stop off in Stuart, the county seat of Martin County, and have a little look around. It won't disappoint, unless you are looking for snazzy hotels, high rises and shopping malls (but then you wouldn't be reading my blog, right?). Stuart is often found at the top of lists for 'best small towns'  to visit in Florida. I had never been, so there was no chance of me missing it this time!  I was surprised by how small it is – only just over 15.000 inhabitants (as of the 2010 census). We almost missed the town center. Thank goodness we didn't, as we found it a very cute and relaxing place, perfect to spend an afternoon at.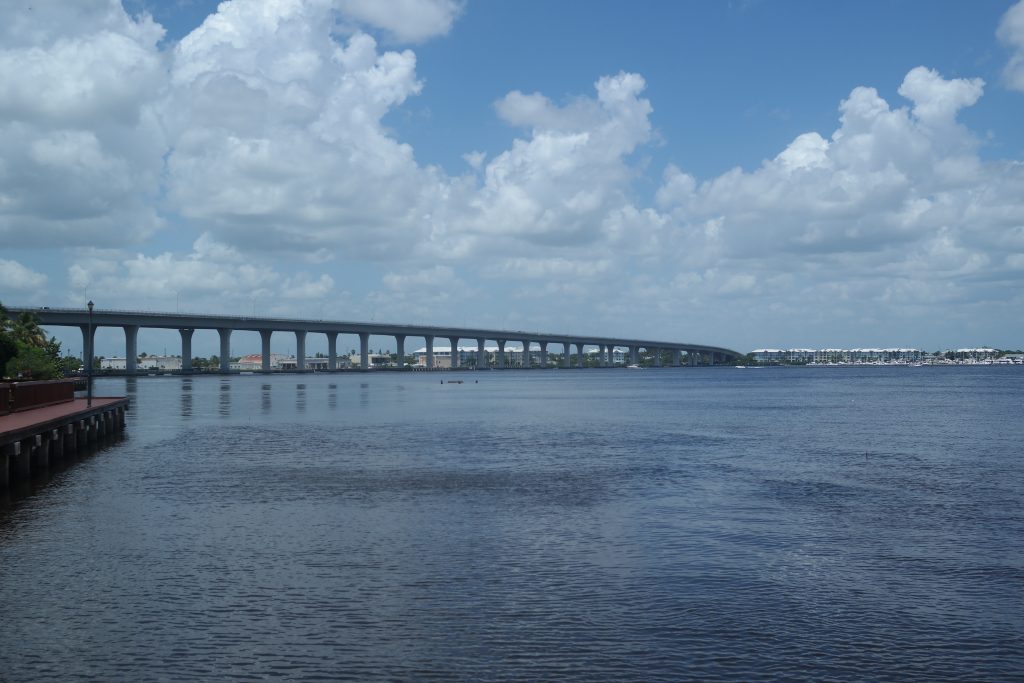 Looking Out Into The Bay From Historic Downtown And Boardwalk
Stuart has the most charming historic downtown with cute restored historic buildings, small restaurants and the 500-seat 'Lyric' (dating back to 1926), once a silent movie theater and still going strong, now as a performing arts center.
We were fortunate to see a little farmers market downtown (it was a Sunday), as well as live music at the bandstand. Altogether, I found Stuart to have a very relaxed vibe and palpable sense of community. We have pretty much lost this in south Florida, so it made for a really nice change. It seems to me that people here are proud of – and intent on preserving – what they have.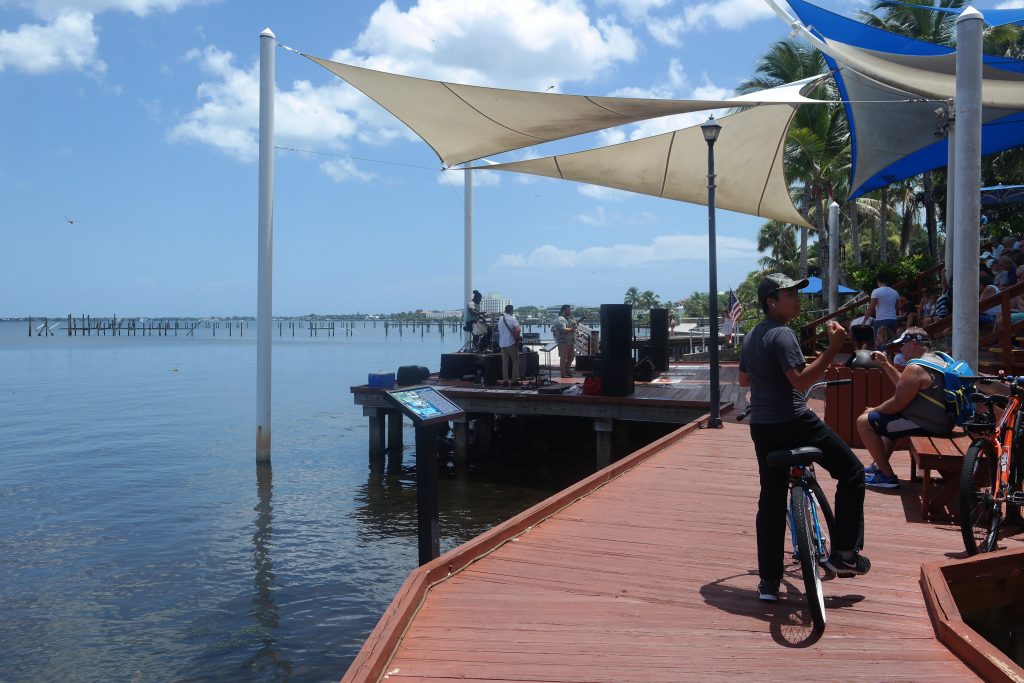 Band At The Boardwalk Downtown Stuart
I must also mention the lovely boardwalk (called riverwalk) that runs along the waterfront of the city and leads past a few historic buildings, as well as parks and restaurants. It's a great little walk and we did manage to enjoy some of it even though it was a searingly hot August day and I was harboring a cold, leaving me grumpy and longing for air-conditioning most of the day.
You can't really talk about Stuart without mentioning 'fishing' in the same sentence. It is known as the sailfish capital of the world and not without reason. Stuart is pretty much surrounded by water, not only being on the St Lucie river and inlet but also part of the Jensen Beach to Jupiter Inlet Aquatice Preserve. The fishing is said to be phenomenal. Of course, in times past it was even more so. The nice volunteer at the Stuart Heritage Museum was proud to explain that in the year 1950, a record number of sailfish were caught, 500 in one day (catch and release)! He mentioned the number several times, enthusiastically. They are proud of their small fishing town heritage up here.
Stuart Heritage Museum
To my shame: I almost didn't go inside. Having run a small museum before, unless I am really in the mood, I am not a big fan of visiting museums. I am usually frustrated at either the lack of funding often visible (things falling apart), or the lack of organization and good interpretive displays – which ties in with the former. I just don't find it fun to visit museums anymore as I can't help but analyze.
No time to analyze here. First thing upon walking through the door, we were greeted by two seasoned volunteers who quickly stole our attention and handed us a little history leaflet, before sending us on our way through the museum and former general store. Alrighty then!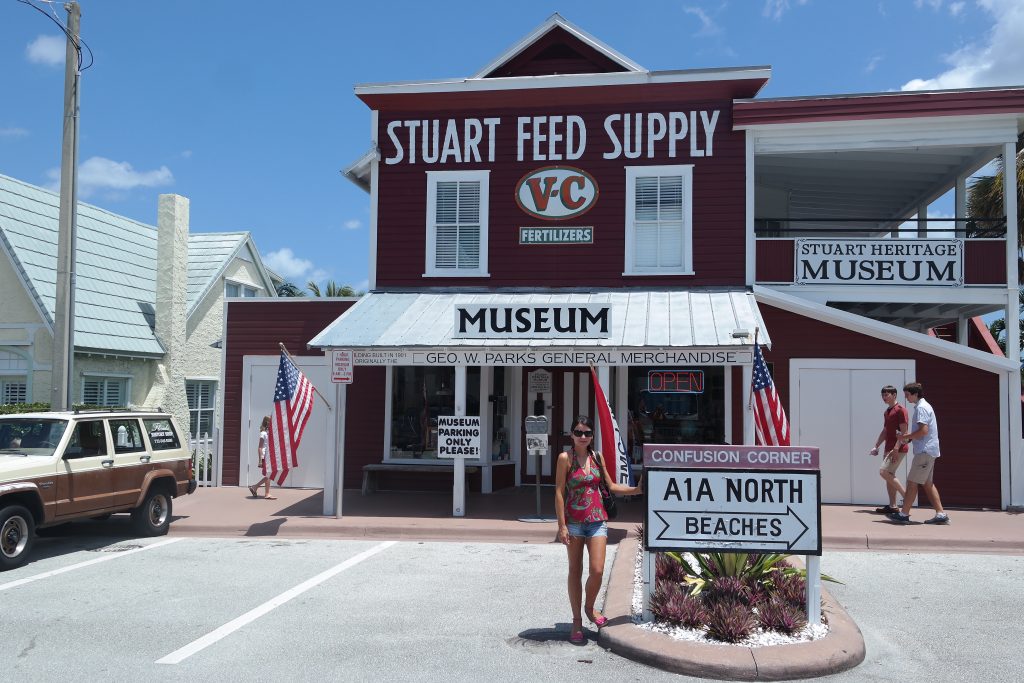 Pretty Stuart Heritage Museum
We learnt that this old and charming wooden building was once the general store for the area, and built in 1901 by George Parks who lived with his family in the top floor of the house, running the store on the first floor.  At first, it was mainly a hardware store, later in the 1950's after the building had changed hands, it became the 'Stuart Feed Store'. The city of Stuart purchased the building in 1988 and it opened as Stuart Heritage Museum in 1992.
It reportedly houses no less than 10.000 artefacts from 1880's up until the 1950's. I really enjoyed browsing the old photographs and they even have textiles! It is a very nicely run quirky little museum and when you go, I hope the basement is open, as it was when we were there. The basement is showcasing some farming equipment and some old boat motors amongst other interesting objects related to fishing and farming. The volunteers are wonderful, full of enthusiasm and knowledge and definitely succeed in bringing the museum to life.
All in all, we decided that we needed to come back here and do some kayaking, boating and fishing now we had sampled a couple of the historic landmarks in the area. What do you think, any suggestions for us for the best kayaking and fishing in Stuart?