This is different! Why a post on eating?
In every explorer and outdoor adventurer's life there comes a time when your cooler is full of drinks,chips and nothing much else. After having paddled 7 miles or more, or played in the water the whole day, your stomach sports a medium to large sized hole, begging to be filled! By the time you packed all your stuff away and peeled yourself into the car and not yet out of the dirty and often wet clothes, with a distinct whiff of eau de body surrounding you, you wonder:
Where on earth can I show up, looking like this, with an appetite like a horse?!
Well, these are my favorite non-pretentious, great simple food, fun, local and rustic places of choice, most with portion sizes big enough to fill up Godzilla. This is not an exhaustive list by any means and I am still having to try plenty of places, please fill in the contact form at the end of this post if you have a good recommendation!

1. Le Tub – Hollywood
Why Le Tub? Because! I let this picture speak for itself: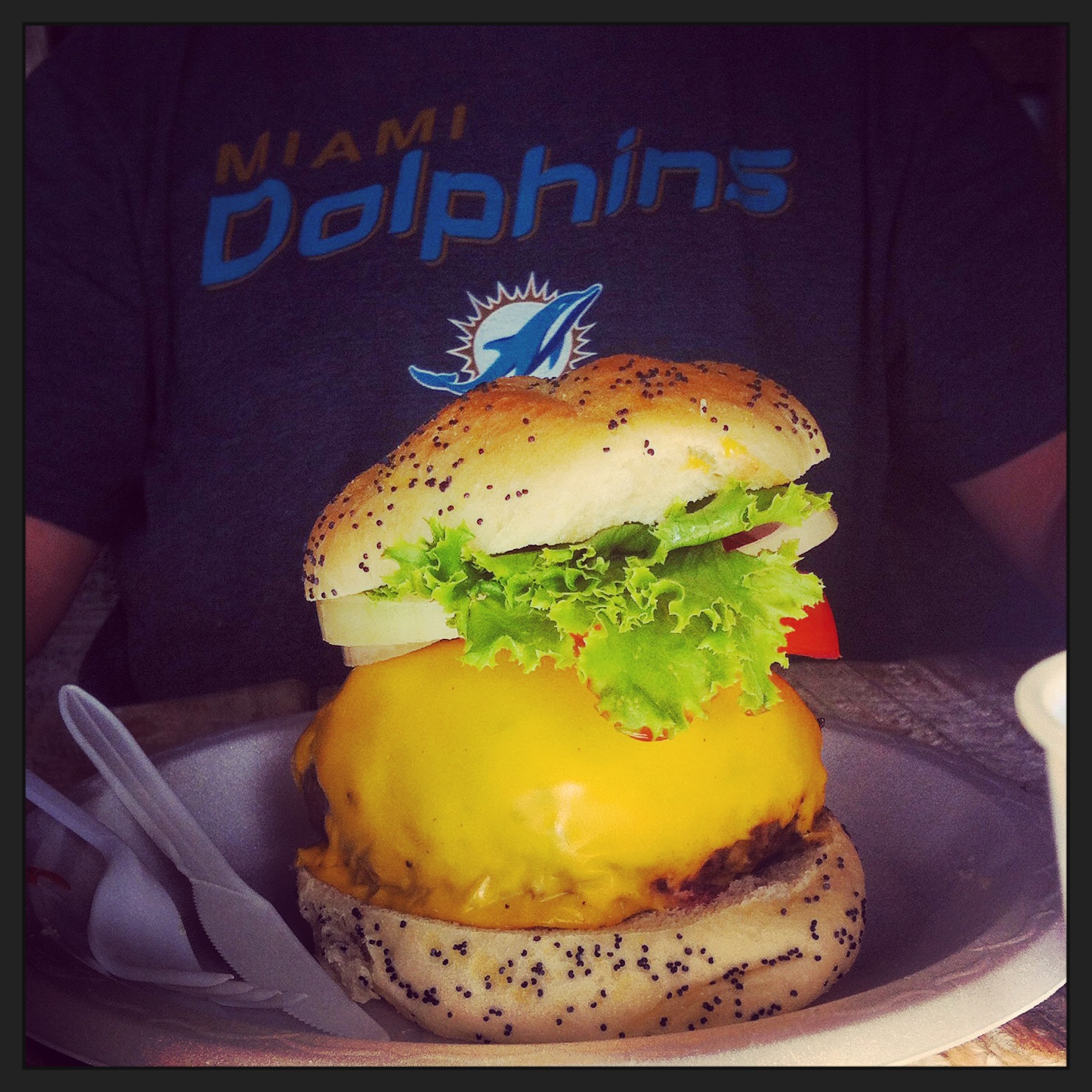 Try fitting that into your mouth!
The food at Le Tub is simple but excellent and fresh. The decor is distinctly plumbing oriented – you'll see what I mean: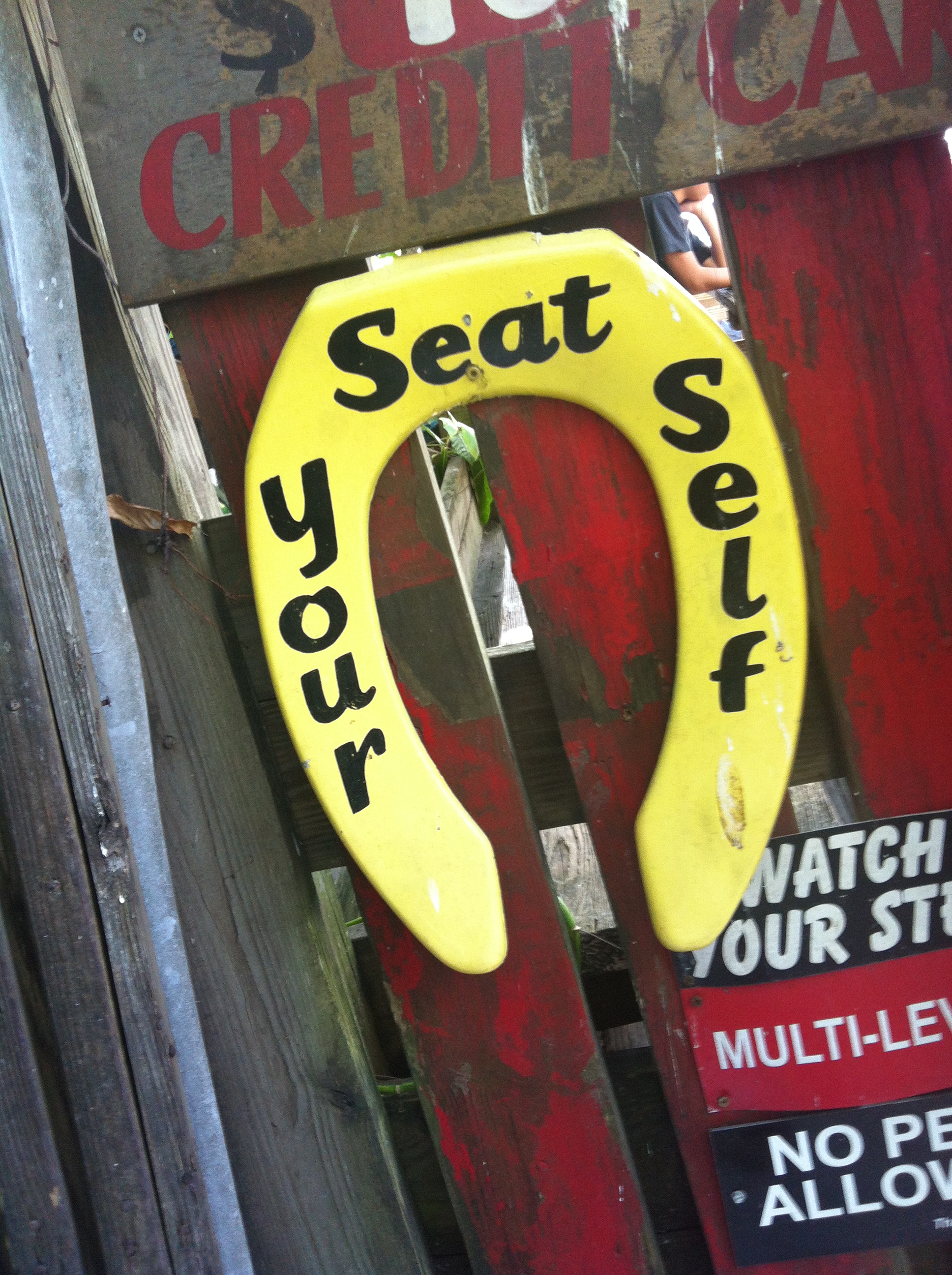 The patrons are interesting and so is the staff. The 'kitchen', consisting of a grill basically, is tiny. One guy seems to be flipping the enormous burgers while a couple of other  'old boys' float around the area, washing and cutting up salad (outside),  and bar-tending. If you want to see how that works, go sit at the bar or at least close.
Be prepared to wait a little while for your burger if the place is full, which it pretty much has been every time I have been there at various times during the day and weekend.
Le Tub is definitely a part of South Florida history, having opened its doors in 1975, largely constructed of flotsam and jetsam the owner reportedly collected on his jogs up and down Hollywood beach. He converted an old Sunoco gas station, which dated from 1959.
It's wonderfully rustic, no two seats are the same (for the reason given above), there are plenty of tables right by the water on their dock.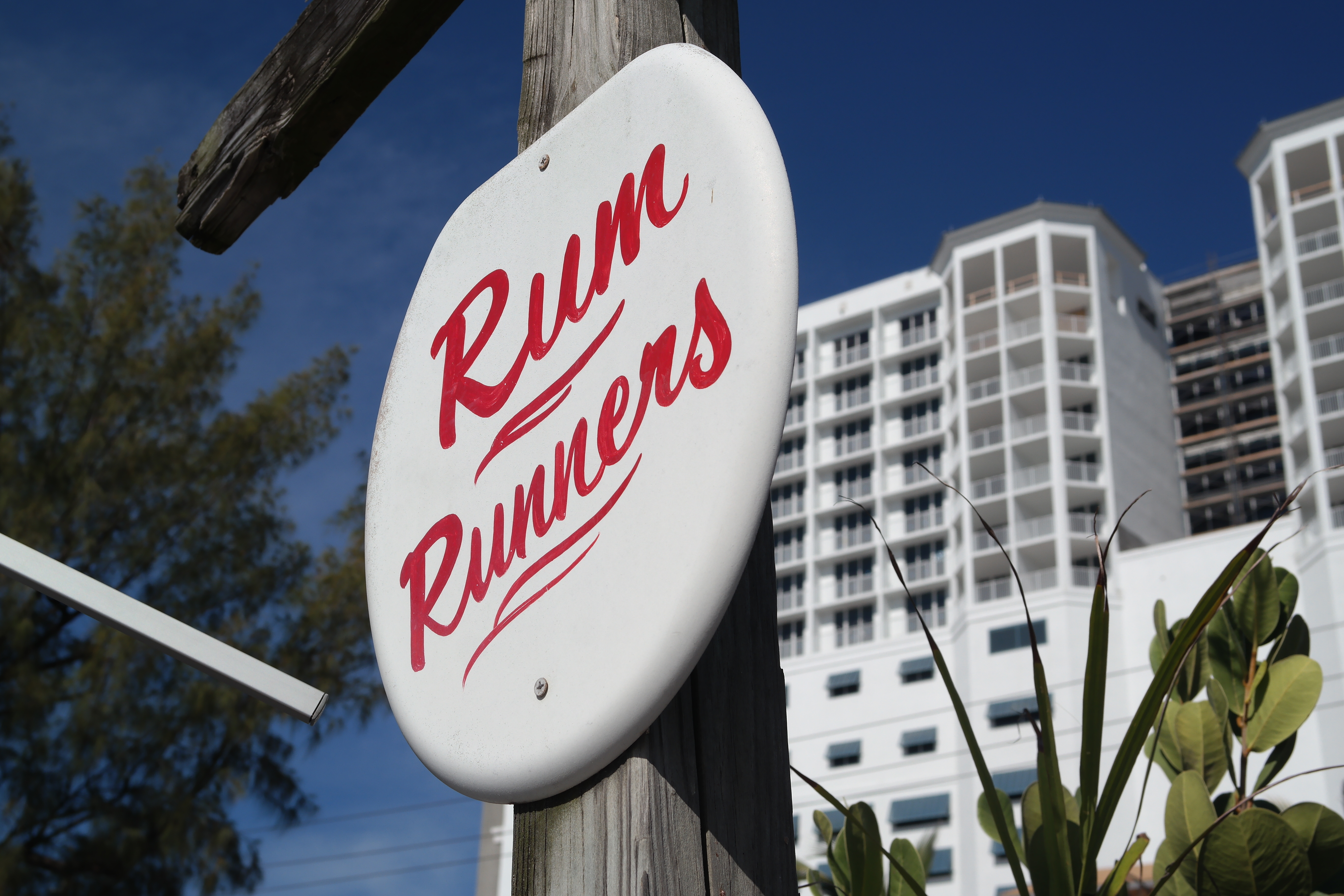 Apparently, the menu hasn't changed since 1975 either, but whatever it is that holds the spell: location, food, patrons or staff – this place is cult and amazing. Its pride and joy was famously voted the best burger in America. If you don't try the burger, you're out of your mind.
Another thing they do amazingly is the seafood salad, packed with seafood – you will need a magnifying glass to find the lettuce. Perfect! The fries, well, whether you get the small or the large portion doesn't matter, because you'll eat them all anyway. For me hands down the best steak fries in South Florida. We never made it past those three menu items, so I can't speak for the other items available but it all looks good!
You find Le Tub at 1100 N Ocean Drive, Hollywood. Whether you find parking, however, is a gamble. They have a tiny parking lot.

2. Shipwrecks Bar and Grill, Key Largo
Jumping all the way down to the Keys and staying with the 'simple but good and fresh food' theme, this place is a locals' favorite. In fact, the second time we were about to head in, a really grouchy looking local (type: old codger), rushed out muttering 'it's getting way too South Florida in there tonight' and sat down in one of the outdoor areas. I did feel amused and almost guilty even though (unless he was psychic) he couldn't have been talking about us!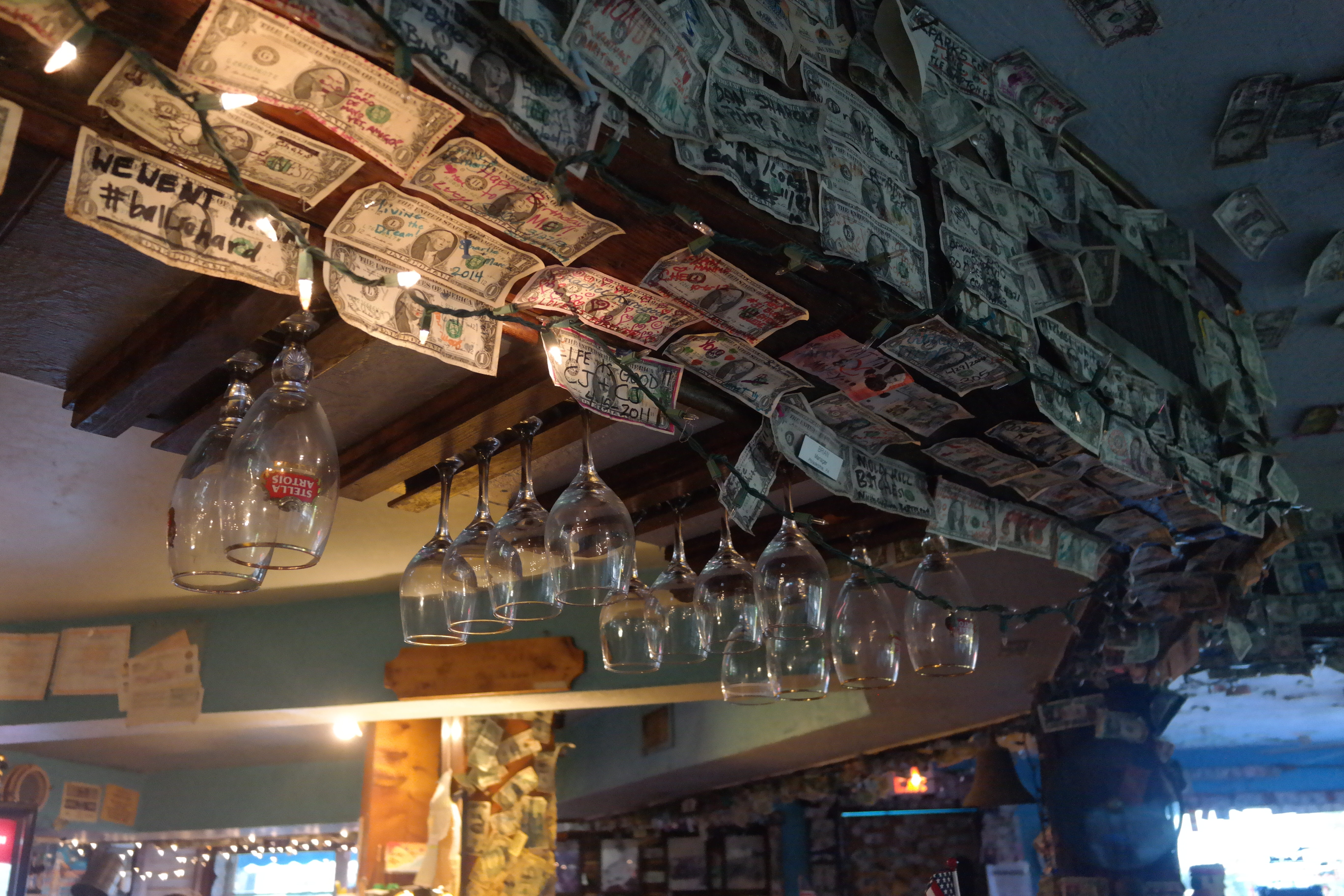 The bar area is interesting, littered with plenty of Dollar bills, like you find in many of the character bars down there. Everybody seems to know everybody else and the bar-maids, and if you're not chatting to anyone you stick out at the bar as the obvious non-local.
It's easy to start conversation though, it didn't take long before we started chatting to the Dive Shop owner from next door who is an expat Brit, and clearly has had his dinners and glasses of wine here more than once. How I knew? The staff just left an opened bottle of wine next to him so he could help himself.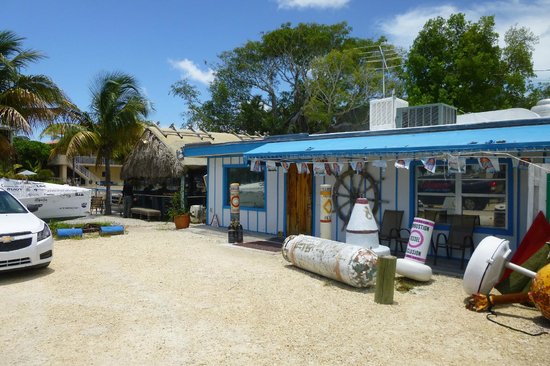 (Image credit: www.tripadvisor.com)
The food is very fresh and simple, no frills. I did love their Mahi which came out  deliciously  juicy and not the usual dry shoe-sole type Mahi many restaurants produce.
Shipwrecks is situated in a marina, which seems to help with getting the fish extra fresh. Anything particularly good  on the menu, I hear you ask. Well, the Mahi Ruben is great, nothing fancy just great, fresh ingredients and a chef who definitely knows how to cook fish. I also saw one waitress carry a whole fried fish to another table and got very jealous, as it looked amazing! The prices are so modest, they will not dent your wallet at all.
You'll find Shipwrecks on your way out of the Keys just before Card Sound Road: 45 Garden Cove Dr, Key Largo, FL 33037
3. Mrs Mac's Kitchen, Key Largo
Staying in the Keys and being a bit 'top heavy' with another one in Key Largo. Please excuse but the upper Keys have been our playground, as they are pretty easy to reach on a day-trip.
Mrs Mac's is another great casual place, again sporting my preferred mix of simple and excellent fresh food and character – as well as local patrons.  It opened  its doors in 1976, with the building being even older, reportedly from 1947.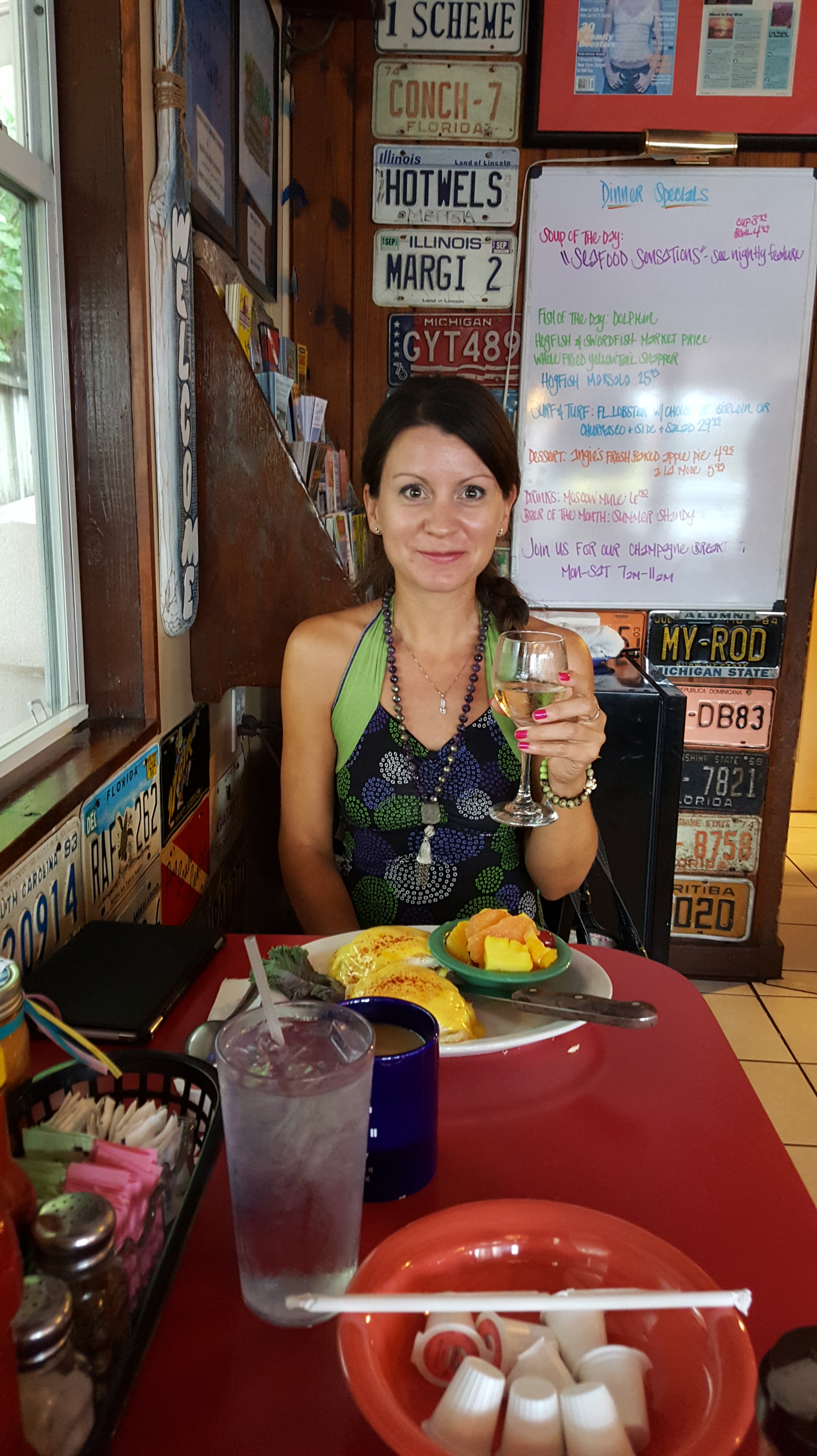 Mrs Mac's  Breakfast – Eggs Benedict And Champagne: Yum!
Mrs Mac's also kept many of the original recipes and menu items, while adding new ones too. The breakfast is SO good! When I was there, they had a $2 champagne add-on. Needless to say it didn't go to waste…
Another time, we also had a great dinner of a whole friend yellow-tail snapper in there. No word was spoken during most of that dinner, not because there was an argument, but the fish was just too good for any distractions to get in the way! I don't doubt their lunch is any less tasty.
Mrs Mac's skimp neither on quantity nor quality. All staff are so friendly – I just love that place.  It's also a local favorite, like all my suggestions – I do try to avoid touristy places although I am noticing that even those secret spots are slowly being  infiltrated, I guess we have the internet to thank for that!
Mrs Mac's the original is located at (shhhhh!): 99336 Overseas Hwy, Key Largo

4. Tarks, Dania Beach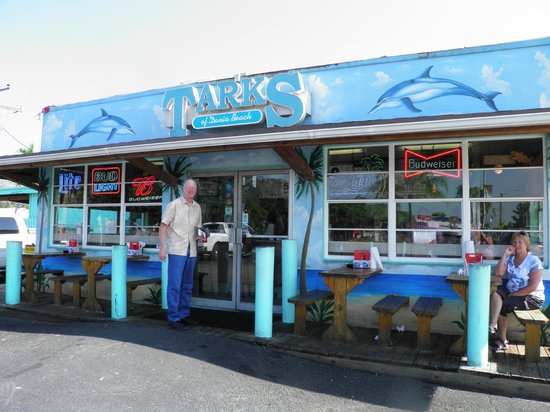 (Image credit: www.tripadvisor.com)
Another 'no frills' long-standing institution is the third oldest in my club, having been founded in 1966 as Tarks Clam Stand by Mr Tarquinio. I had always wondered what 'Tarks' meant…
Apparently it hasn't changed much since then and I believe it. I love to come here after a long day outside, looking like something had dragged me through a bush backwards, and not feel embarrassed. You will soon notice that all the other patrons look (and smell) just the same – or worse.
I have seen kids in pajamas there and all sorts, so you can show up as you are, even if you have been living under a bridge, no need to feel left out, it's all good at Tarks!
The food is good for what it is – don't come here expecting a fine dining experience, you have to come here expecting a fried food bonanza of Florida's finest – gator bites, wings (SO good), curly fries, clams, crab, oysters, fried fish, fried everything basically. Yes, your stomach will moan and grumble, but it's worth it.
They have a huge turnover of customers, when you look at the open kitchen, the staff are putting some real elbow grease in it. They are churning out food pretty much non-stop, Tarks is always packed.
It's also pretty amazing value for South Florida, it will be hard to find anywhere that matches those low prices. Tarks is located at 1317 South Federal Highway, Dania Beach

5. D's Sandbar Munchies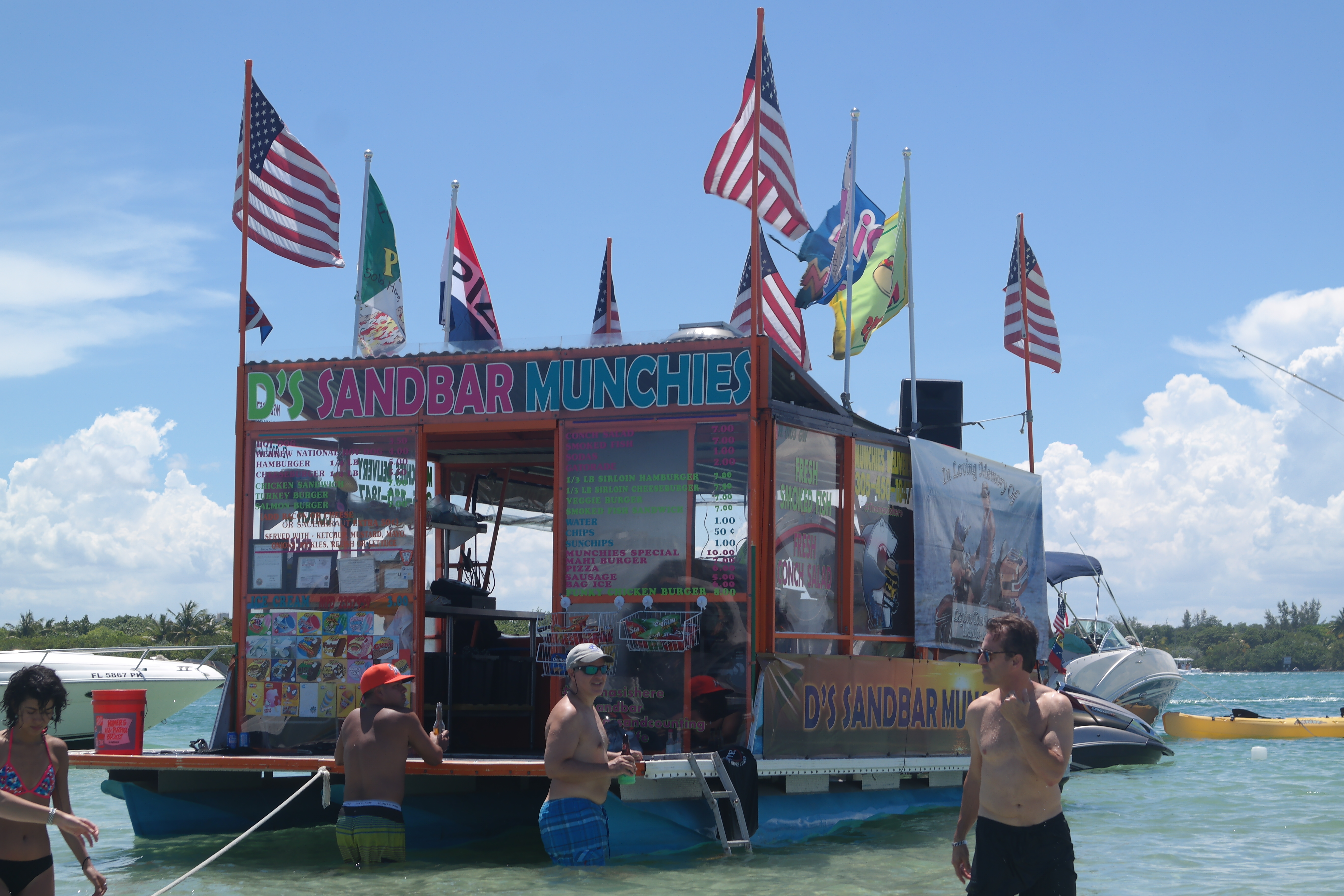 I could not possibly leave this one out, even though technically it isn't a 'place' to eat in, but a boat on a sandbar. So what?! D has the best burger on the water and it is true because I (and plenty of her fans) say so. She is also a great and funny character, and together with Kimberley and her sons, they make your boat trip fun and tasty!
Don't bother bringing your food when boating, she has plenty of options for you to choose from and all are more delicious than you would expect, that lady knows how to cook!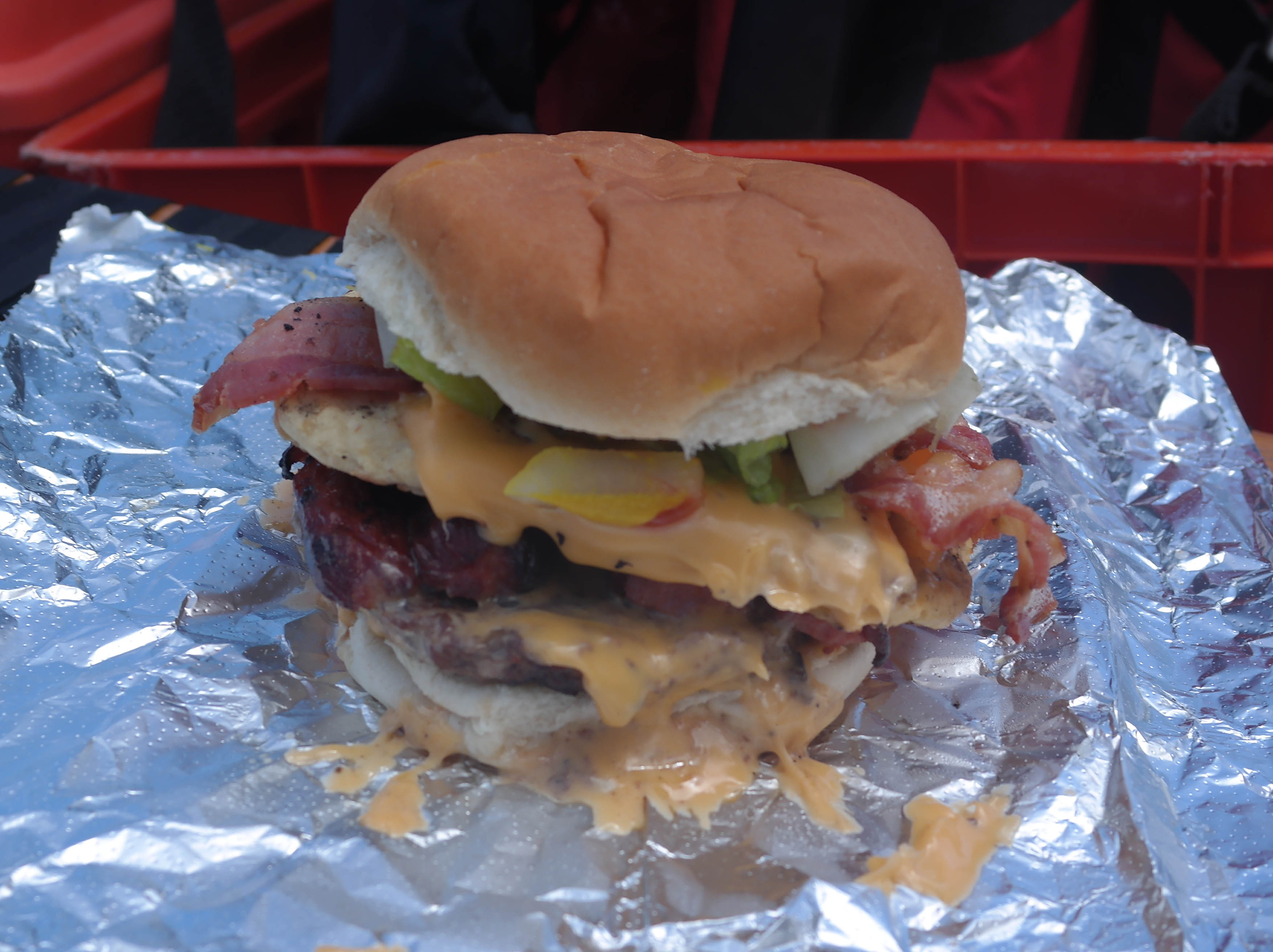 Devine Madness – You Know You Want To!
Since we are usually ravenous when out on the water, despite having our own snacks with us, we are now addicted to her 'everything' burger 'Devine Madness' – a play on her family name. It does have everything in it that possibly fits between a burger bun (you almost guessed), including of course a burger patty, chicken, a hot dog, cheese, bacon, chopped onion and some potato sticks.  I might have forgotten something.
Anyway, as we all know and has been scientifically proven, things don't weigh as much in water as they weigh on land, including people, so don't worry about gaining weight – it's practically impossible!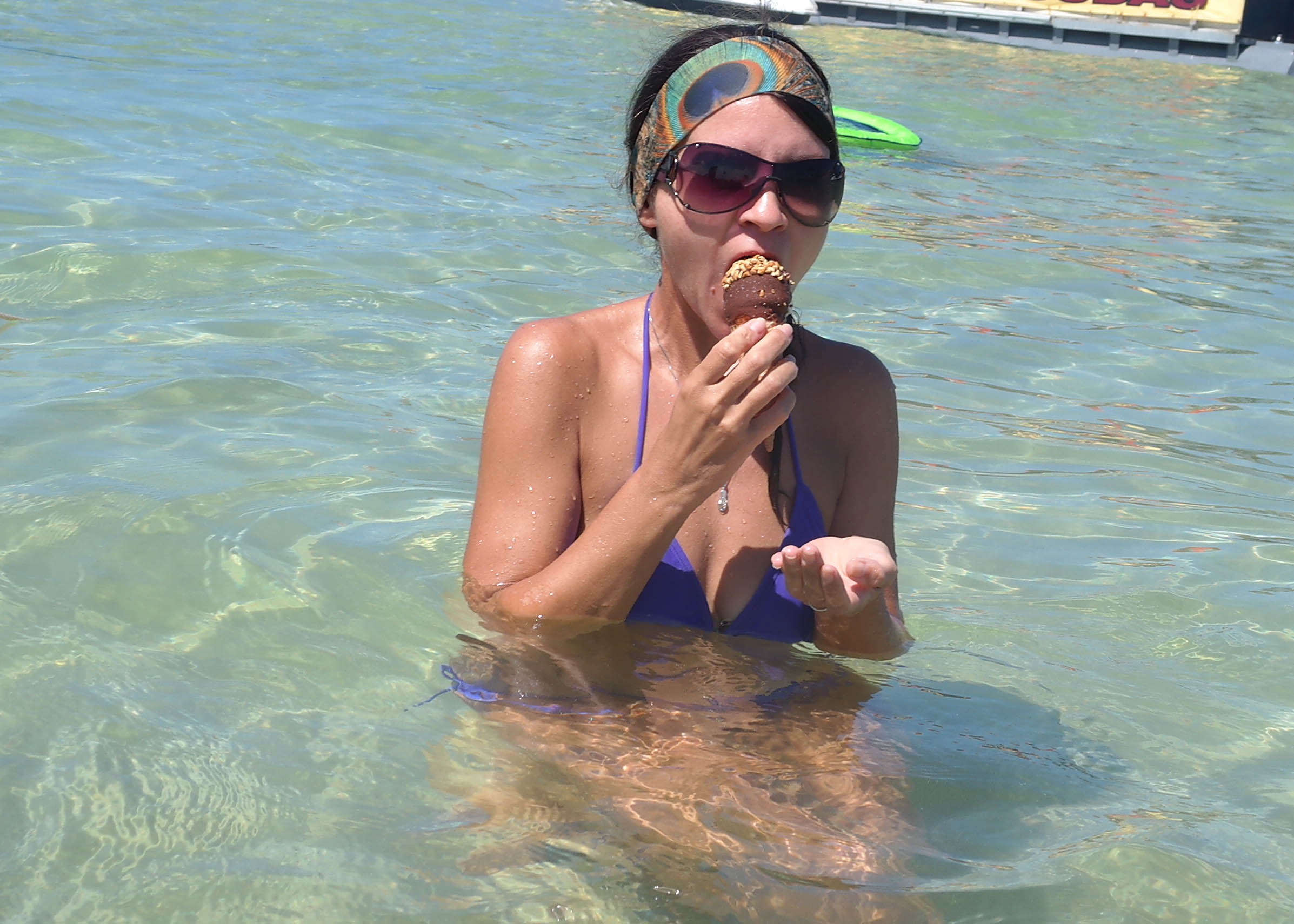 D's Sandbar Munchies Also Has: Ice Cream!
Location: The Sandbar at Haulover Inlet on the weekend and selected weekdays in the summertime. Look for the big colorful concessions boat with plenty of flags and Mrs D herself at the helm. Just ignore the others, they are just imitations, she was there first. Oh, and say hello from me!

6. City Seafood, Everglades City
This is another great find, directly on the water and great fresh fish, stone-crab (when in season), gator and tadaaaaaaaa: frog legs. Well, I know, it's not *that* special in Florida, but I was pretty startled to see all those little legs in a container ready for sale. City seafood is actually part a fishmongers (and a frogmongers, obviously) and part a restaurant, and you order at the store-front, and grab your drinks there too.
Again, no pretences, it feels right to turn up scruffy and worn out from a day of fishing and boating, and again the food is simple but fab and just what you want. A little warning though: don't stay out fishing too late or else the place will be closed.
We made it just in time. The ladies shut shop promptly at 6pm, and clear out leaving everything else just as is (including the unlocked restrooms), so you can actually relax for longer, provided the mosquitos aren't having you for dinner.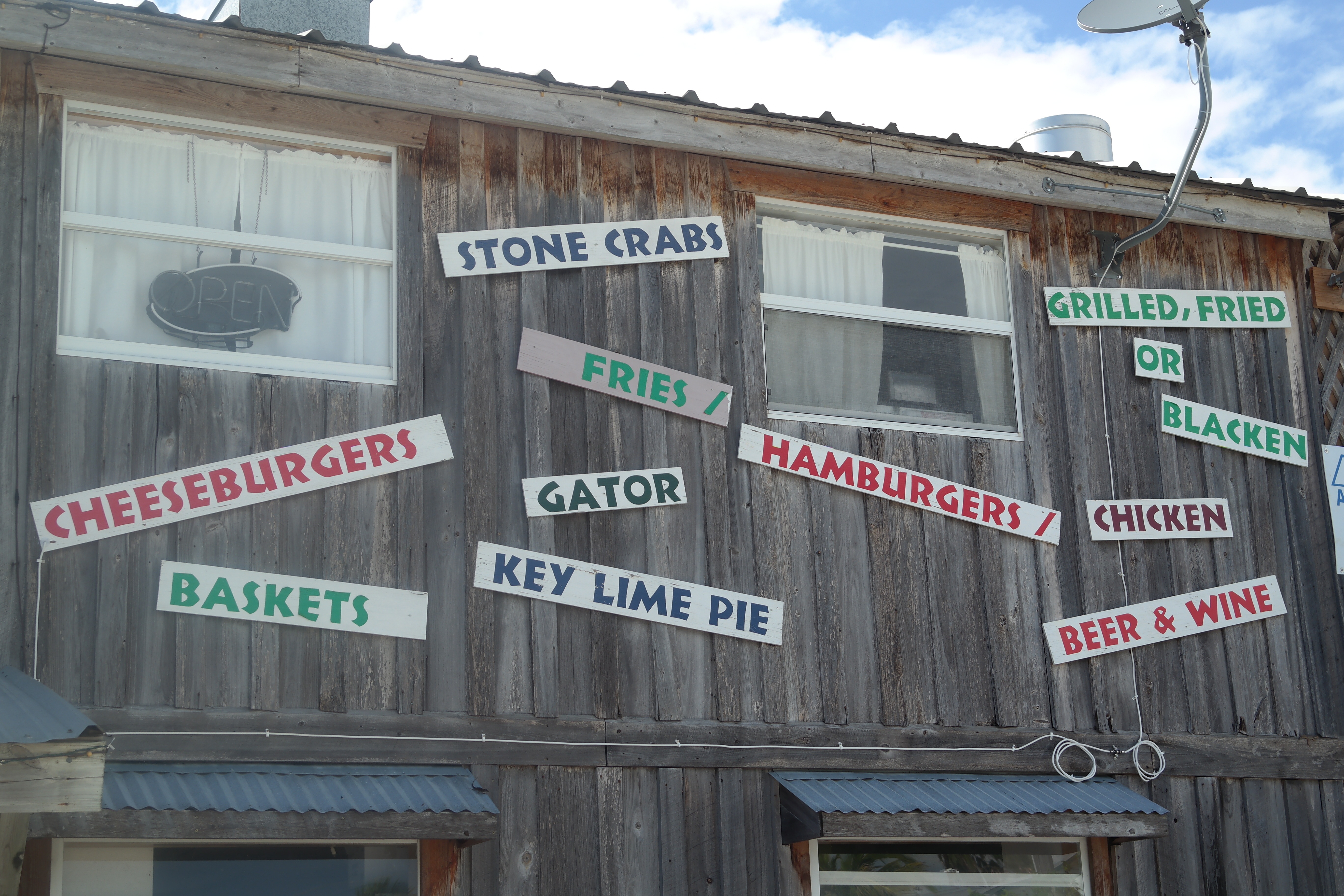 You will also see various people pitch up after 6pm, while you are enjoying the last of your dinner and drinks, very disappointedly asking you whether they are closed already. You can nod smugly with a full belly and feel vastly superior.  Or just feel sorry for them like I did.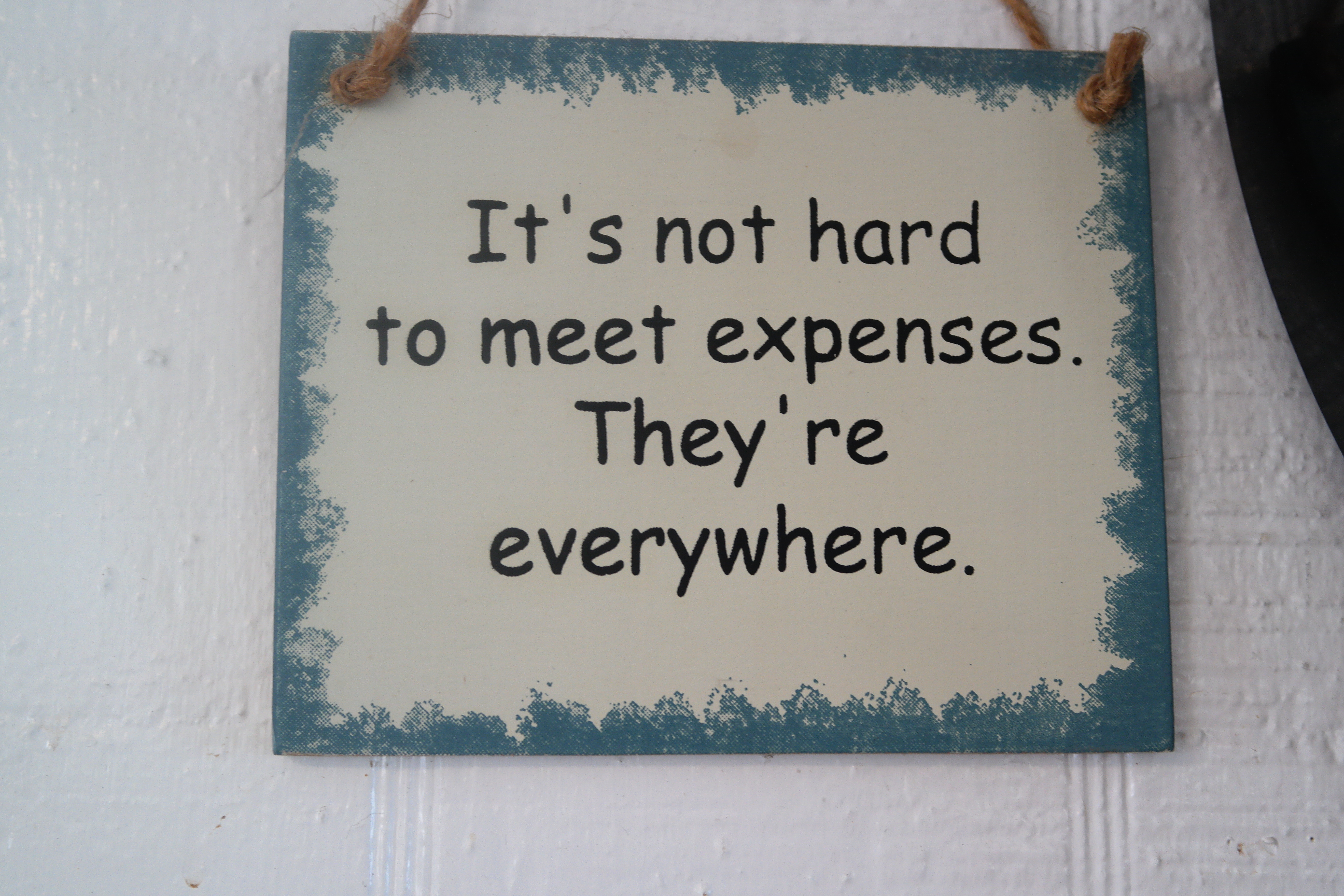 Definitely no lack of character here!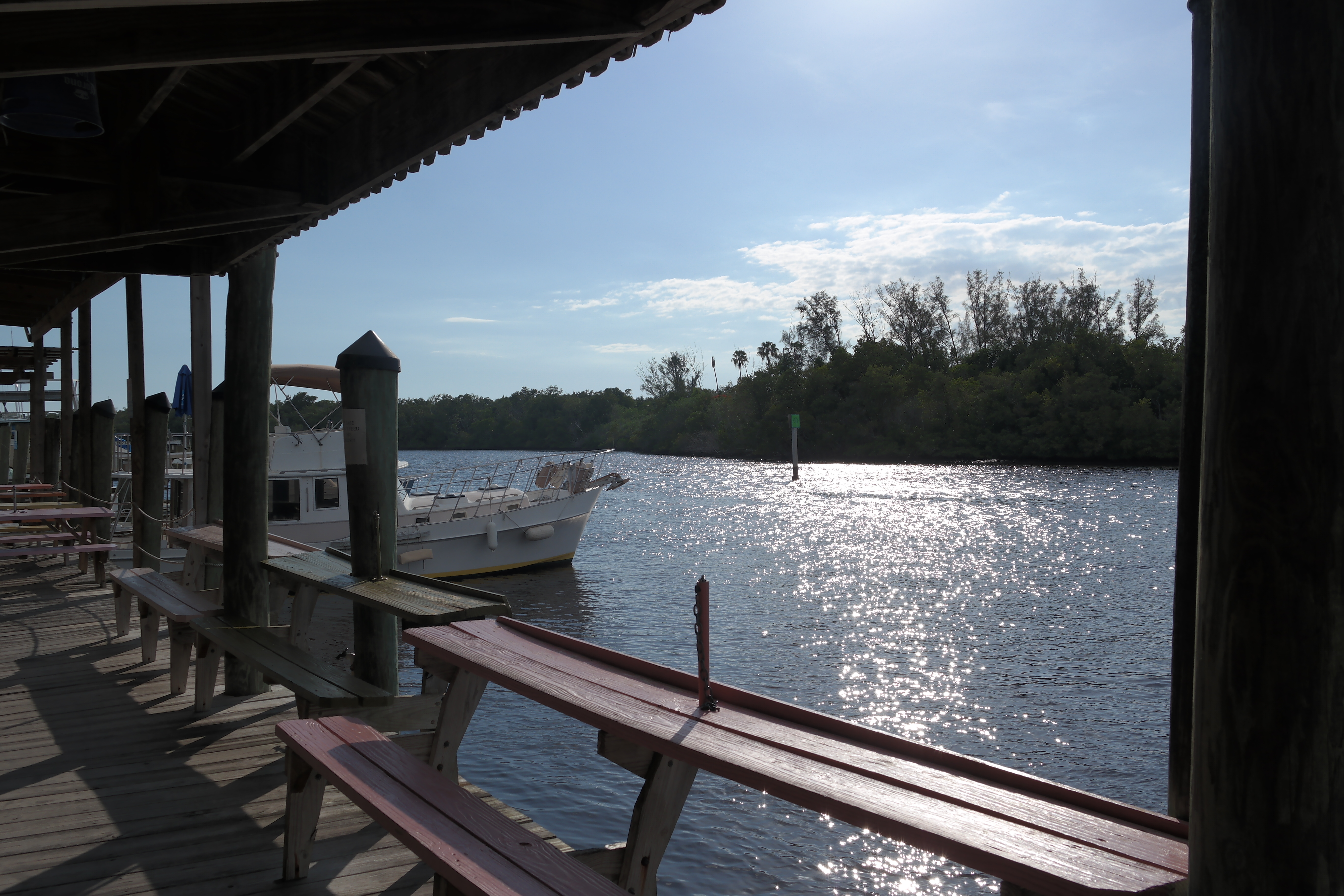 Check out the menu, all that seafood, and it's very fresh!

7. Ernie's Bar-B-Q, Fort Lauderdale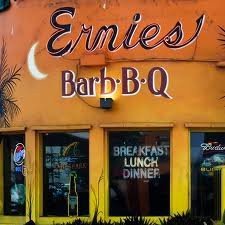 Ernies as viewed from US1
(Image credit: www.fortlauderdaleconnex.com)
Back in Fort Lauderdale, this cult establishment opened its doors for the first time in 1957 which makes this the second oldest one on my list! Apparently, 'Ernie' was quite the character and in his day, the walls of the place were covered (painted) with anti-government/establishment and anti-tax tirades. A friend of mine provided this great little excerpt from when he used to eat there many moons ago (thank you Daniel Saraceni!):
"It was a very different place then when Ernie himself owned it and the walls were covered with graffiti describing his interesting political/financial theories featuring "Mr. Dodo". Ernie wrote a small manifesto outlining his financial theory to end misery and inequality, simply called "The Plan" and had copies of it by the register. Once Butch (of Floridian Restaurant fame) bought the place, it was never the same. Ernie disappeared into obscurity, never to be heard from again while Butch introduced a previously unavailable item to the menu- french fries! The previous menus, hand-written on paper plates- were replaced by "formal" printed menus. The funky charm faded somewhat, but that wonderful conch chowder and those delicious bimini-bread sandwiches remain. Oh, how I long for a dinner of chowder and a sandwich this moment. Tamara Scharf, I am more jealous of you in this moment than during any other of your escapades."
Sadly, when I went looking for the writing on the wall (no pun intended!) it was all gone! If anyone has any pictures of the old 'tirades' and 'Dodo', please, please, please contact me – I would love to include them!
Ernie himself has been described as an 'old-fashioned Florida wheeler dealer and sometime rum-runner'. He reportedly once bought $250.000,00 of booze and stored it in Bimini. Whenever the supply ran low at 'Ernie's', he would run out to Bimini to load up a boat with booze (from: www.sunsentinel.com).
You might think it a little far-fetched, but judging by how much he seems to have hated taxation and government, I should think it's a safe bet to assume this is totally true!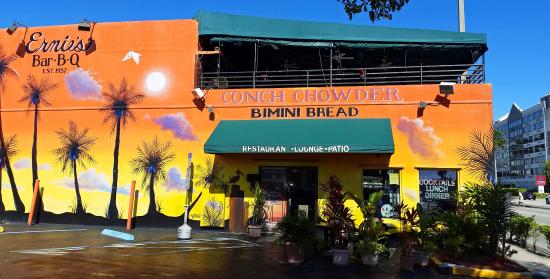 (Image credit: www.tripadvisor.com)
This is not a traditional barbecue, it is a 'Caribbean' style restaurant, famous for its conch chowder and Bimini bread. The ribs were excellent, and portions are huge. The staff is great, so all around and definitely for its historic cult status: worth a visit!
Now owned by the same people who own The Floridian in Fort Lauderdale, a restaurant with similar cult status! You can find Ernie's at 1843 South Federal Highway, Fort Lauderdale. Believe me, you can't really miss it!
8. 15th Street Fisheries, Fort Lauderdale
15th Street Fisheries has been a Fort Lauderdale staple for more than 30 years. It looks a little more 'refined' than most of the other establishments I write about here, but when you get to the dockside area, you will see that it's also pretty rustic and casual with plenty of boaters. You will fit right in after a day on the water. In fact, plenty of people stop off here for lunch or dinner when out boating.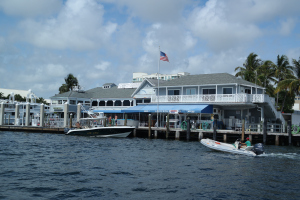 View of 15th Street
You can dock right at the restaurant, if you are lucky enough to have your own boat. 15th Street Fisheries is pretty much part of the  Fort Lauderdale marina, which was etsablished in 1948. You can even get bait and tackle at the store next door, as well as fuel on the dock. It is also a water taxi stop.
I love this place. Unpretentious fresh food, a view of the intracoastal just close enough to the inlet and Port Everglades to catch a glimpse of all the goings on in the harbor (cruise ships, water taxi, general boating traffic), and last not least the opportunity to feed the huge tarpon (or the less huge jacks who always seem to hang out there). Not just for kids like me!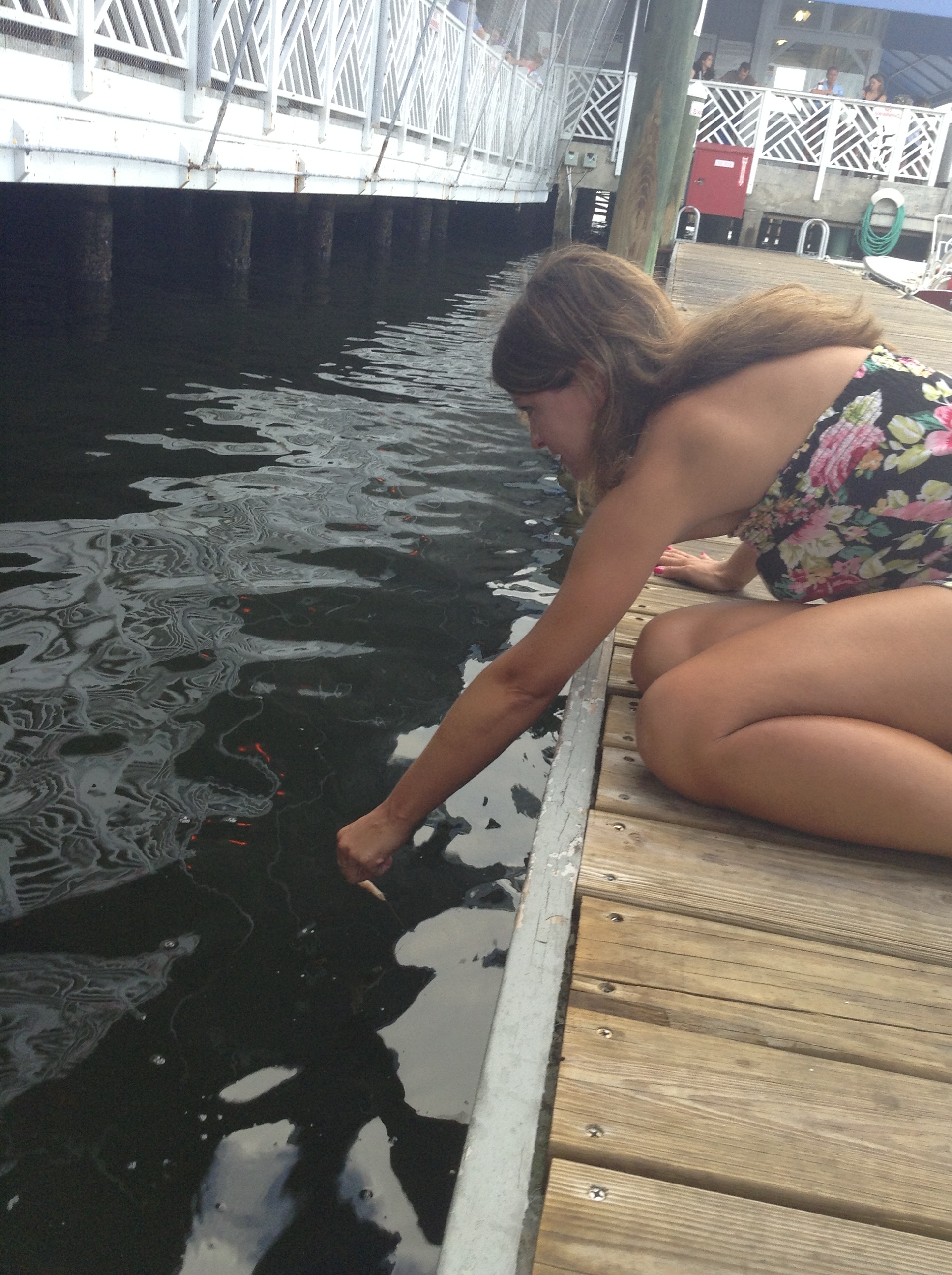 Tarpon Feeding At 15th Street Fisheries 
15th Street Fisheries is particularly wonderful at night, as they have underwater lights in the docking area, making it easy to watch the fish and creating a great atmosphere.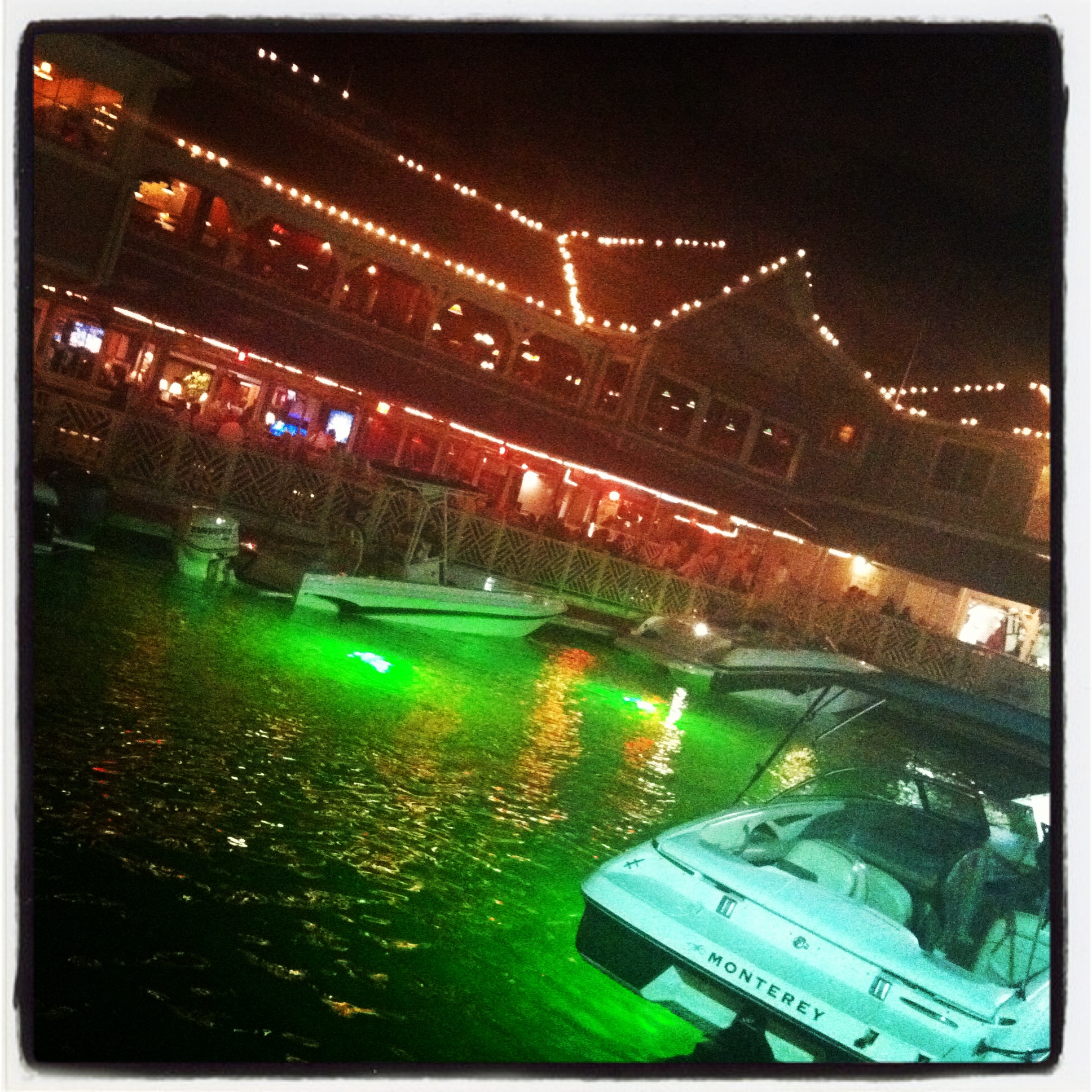 Here, fishy fishy!!!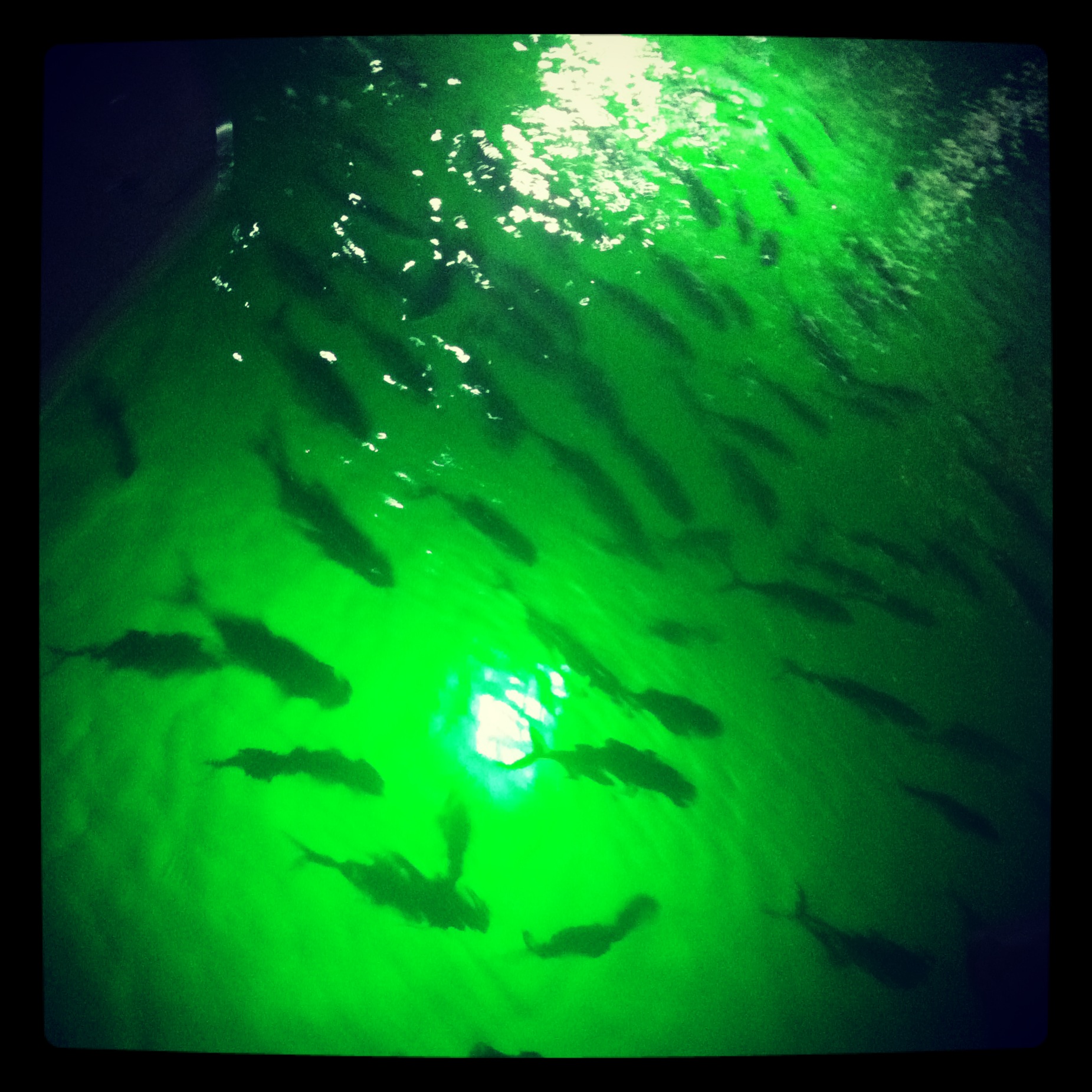 9. Rustic Inn, Fort Lauderdale
This is even older than Ernie's Barbecue! From humble beginnings as a roadside hole in the wall in 1955, to a pretty large casual restaurant, interestingly decorated and with an outdoor seating area, definitely a local and visitors favorite! I love the Rustic Inn!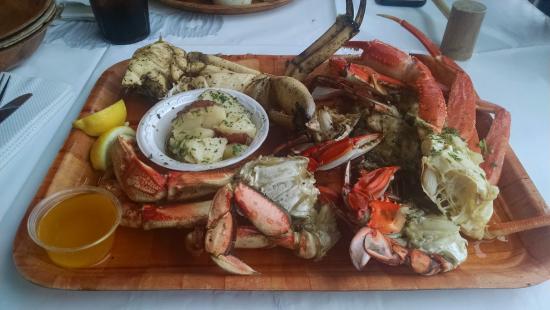 Typical Crab Sampler
(Image credit: www.tripadvisor.com)
It's crab time! Put on the bib, grab the mallet and start hammering!
That basically sums up the Rustic Inn experience. If you are adventurous, try the frog legs (very good), but basically this place is about crab, crab and more crab…all kinds of crabs: golden crab, alaskan queen crab, dungeness crab, stone crab – until they come out of your ears!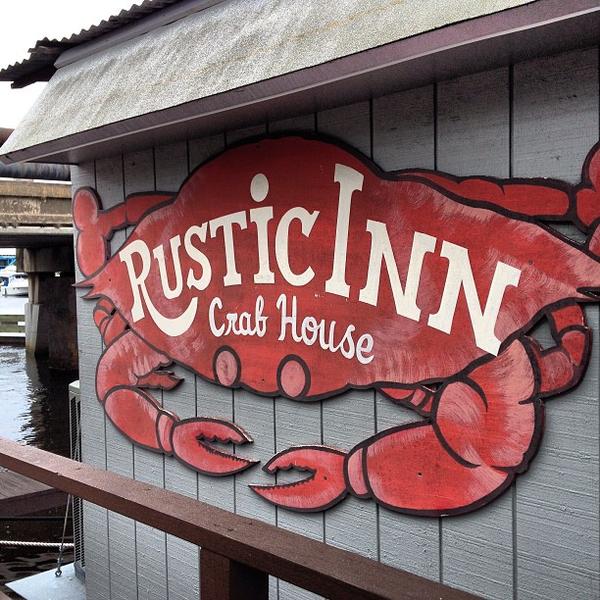 (Image credit: www.foursquare.com)
Maybe not a place to go on the first few dates with someone you are trying to impress, just in case you do what I did. I managed to squeeze a crab leg , which showered my dining companion and his lovely clean shirt with the crab juice that spurted out faster than a rocket launches at Cape Canaveral.
Great place with great food, you find it here: 4331 Angler's Avenue, Fort Lauderdale
10. Bob Roth's New River Groves
I had to sneak him in here, although not really a restaurant but more of a roadside stop for a light lunch, a great smoothie and to pick up your authentic Florida produce when it is in season. You will find it all here:  Grapefruit, Oranges, Lychees,  Mangoes, Coconuts, Stone Crab, as well as all kinds of other produce from Florida.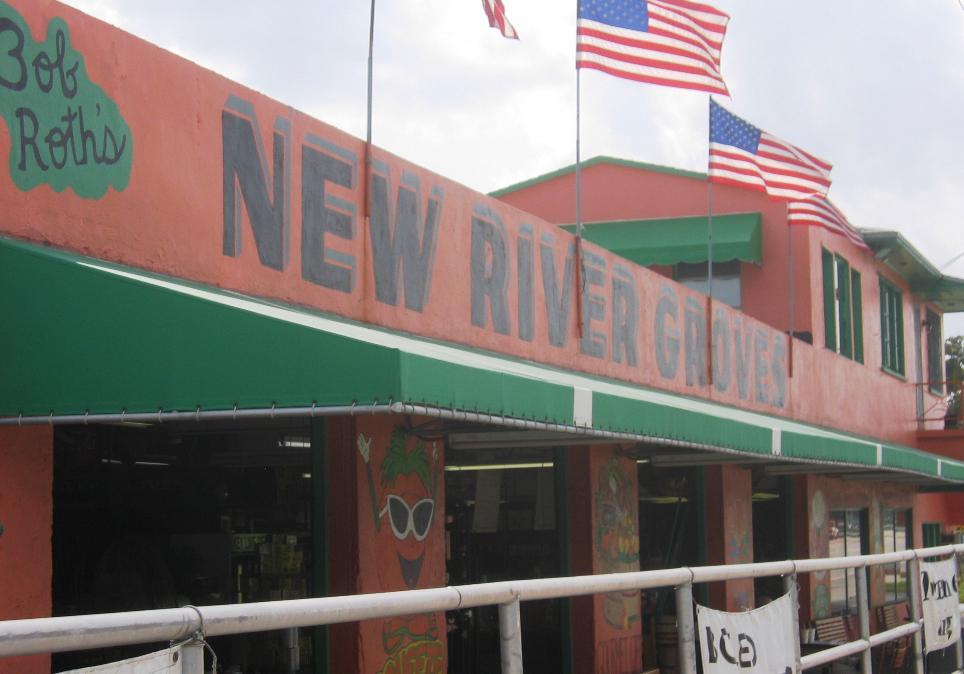 (Image credit: www.roadfood.com)
There are some interesting Marmalades and Jellies for sale and he usually has plenty of the famous home-made Terry's pies – the original being the Key Lime (to die for!). Also, you can find Alligator meat here, we tried it and it is delicious and tender!
I love this place! A great family-run business where you are treated like a friend, reminding me of the olden days and cute little privately run stores where I come from.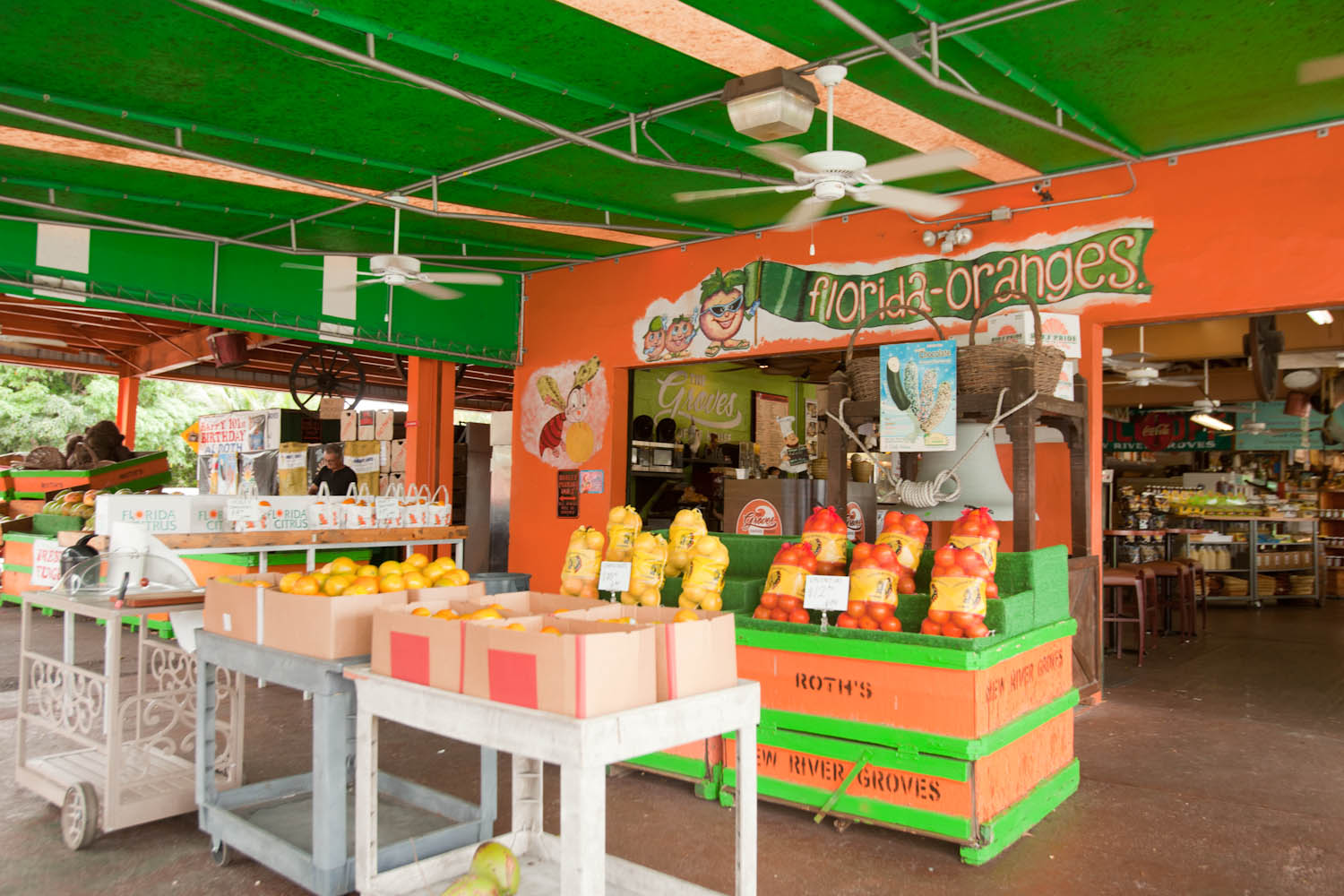 (Image credit: www.floridasocial.com)
Be warned, although it is open 7 days a week, it is only open office hours and they close at 5:30, making this more of a lunch, breakfast and a 'spot of shopping' place. Here's some more info on all you can find at Bob Roth's! Location: 5660 Griffin Road, Davie
The End!
That's it folks, I am pretty full! Hope you enjoyed the little culinary excursion. What is your favorite place? Any ideas of anywhere I should be trying? Let me know!