Kayaking in Key Largo is spectacular, considering you are just a little drive from the mainland and the hustle and bustle of Miami. Plenty of mangrove filled waterways near the shore instantly transport you into a quiet world far away from civilization, so it feels, although you are never too far from it! The roar of boat-engines serves to occasionally remind you of the fact that you are not alone.
Below, I will offer a few pointers of where to get kayaks and equipment, and how to be prepared for this particular trip, and also my personal experience of kayaking Dusenbury creek and its tributaries.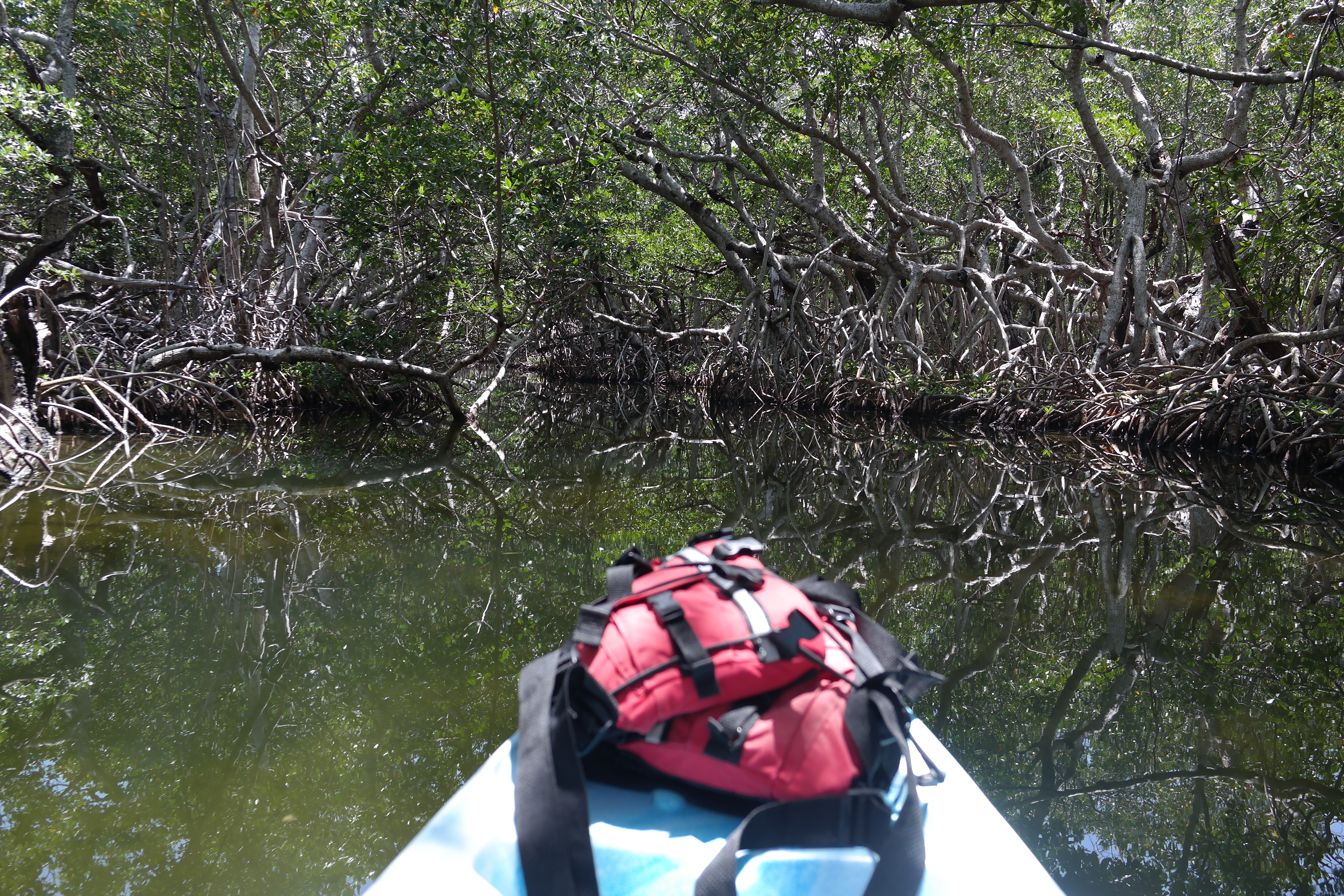 How and Where?
Dusenbury Creek and its mangrove filled tributaries can
easily be reached by car from anywhere in South Florida, be it Greater Fort Lauderdale or Miami.
You may launch your own kayak around Mile Marker 104.5 in Key Largo, which is also the location of 'Florida Bay Outfitters', where it is possible rent kayaks and life vests (and even dry storage bags) if you need to.
I highly recommend Florida Bay Outfitters, having used their equipment for this trip: very friendly and professional, the rental prices are reasonable an the kayaks in great condition. They refresh their fleet of kayaks and paddle-boards once a year, incidentally a great way to purchase one.
The little beach is actually their private property, but if you bring your own kayak, they will let you launch from there (it is the closest place to Dusenbury) for a nominal fee.
Don't forget plenty of water, it isn't a short trip. In order to make the best of the mangroves, plan on kayaking at least 7 miles, half-day or better a whole day, leaving plenty of room to explore.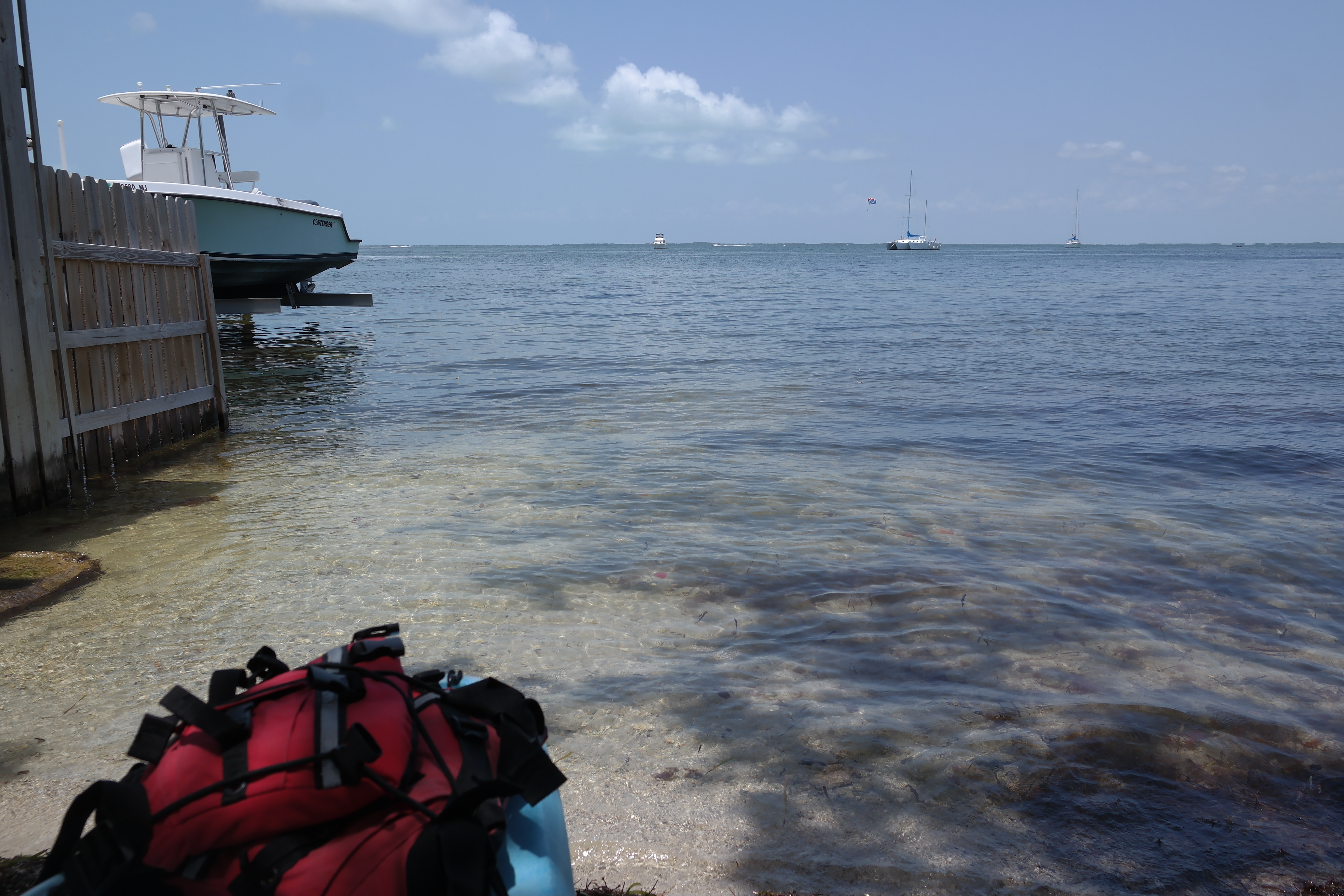 Launching at Florida Bay Outfitters
Also, as you are getting ready to go, you will stumble across the Caribbean Club right next door, a quirky dive bar and location for filming the famous 1948  'Key Largo' movie with Humphrey Bogart. Seems perfect for an 'after Kayaking' refreshment or two!
Getting to the Tranquil and Wildlife-Filled Mangrove Tunnels – Directions

Grab your gear and kayak and head south from the launch at Florida Bay Outfitters. They will point you in the right direction, but basically you can't miss it if you paddle into a south-western direction. It helped me to be hugging the coastline. However, you can also kayak straight across, due west, but you will encounter boat traffic here already.
Once you see the channel, follow the channel markers into the creek. I recommend staying as close as possible to the side of the main boating channel due to aforementioned reasons – fast and furious motorboat traffic.
At marker 42, head west into a wide mangrove trail that turns into a wonderful tree tunnel.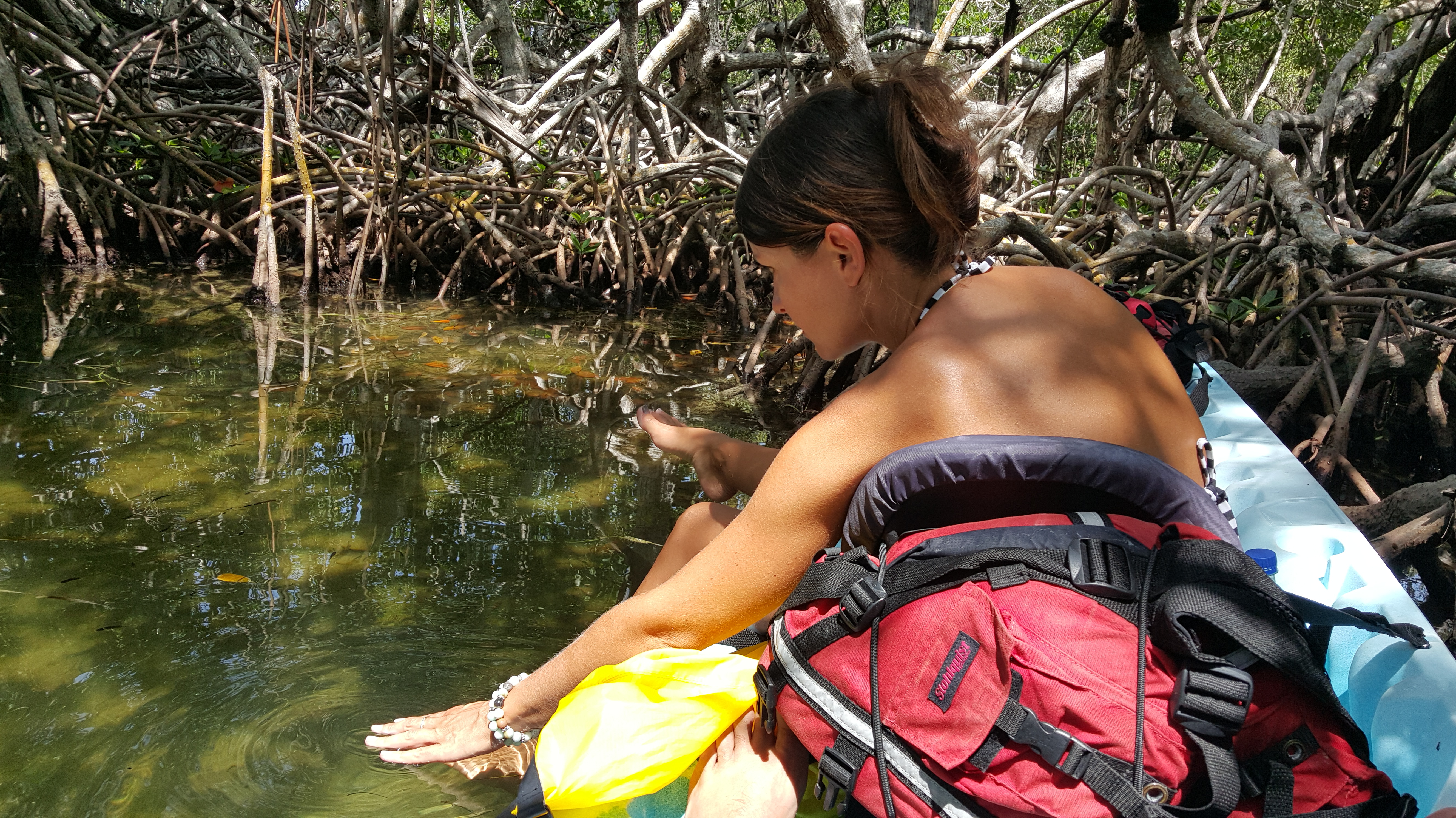 Playing With Mosquito Fish
Taking in the Sights and Sounds of Dusenbury Creek Mangrove Tunnels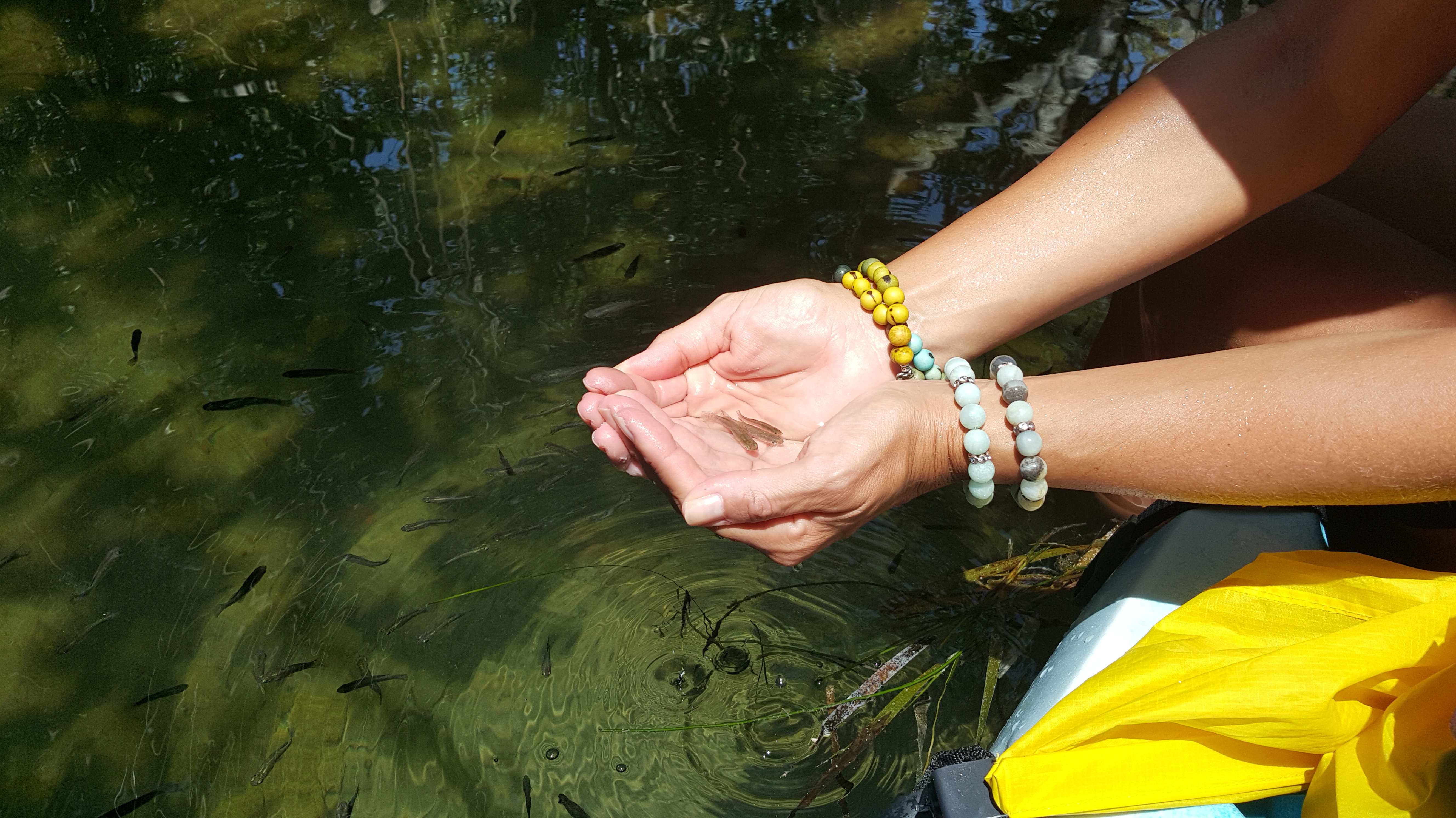 On stopping to admire the surroundings and taking a deep breath,
suddeny tiny little fish were congregating, and as I stuck my hand into the water, they started nibbling…so I decided to give the famous fish pedicure a try!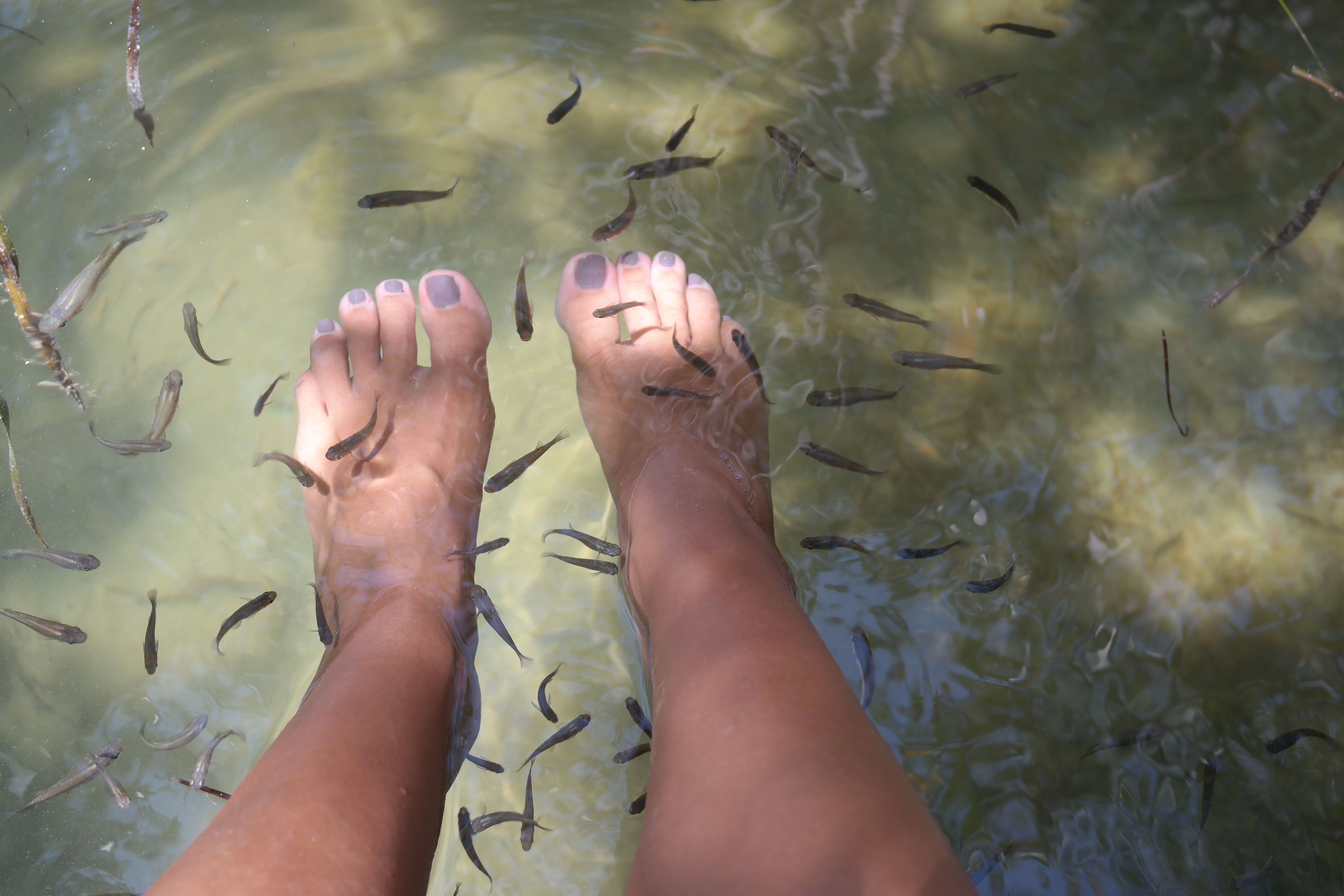 Fish Pedicure Anyone?
Later on, as I tried to ID my little friends, turns out that they are actually 'Mosquito Fish', little fish that feed on the larvae of mosquitos. I like them even more now!
After dodging the motorboats in the main boating channel, the tranquility and silence in the little tunnel was very much appreciated! Fish will run underneath your kayak and you will hear the sounds of various birds, and a whole lot of silence. It's a magical place!
As you paddle on, and continue to the end of this tunnel, the sounds of motorboats will get louder again. Carrying on will lead you to Tarpon Basin.
At this point we decided to turn around and head back, but you do have the opportunity to explore another tunnel. Upon exiting this mangrove tunnel again, back at the Dusenbury main channel, you can cross Dusenbury and head to the east side, where you can actually see another mangrove tunnel entry point opposite the other tunnel. This little map, pulled from google maps, shows you the tunnels east and west of the main channel: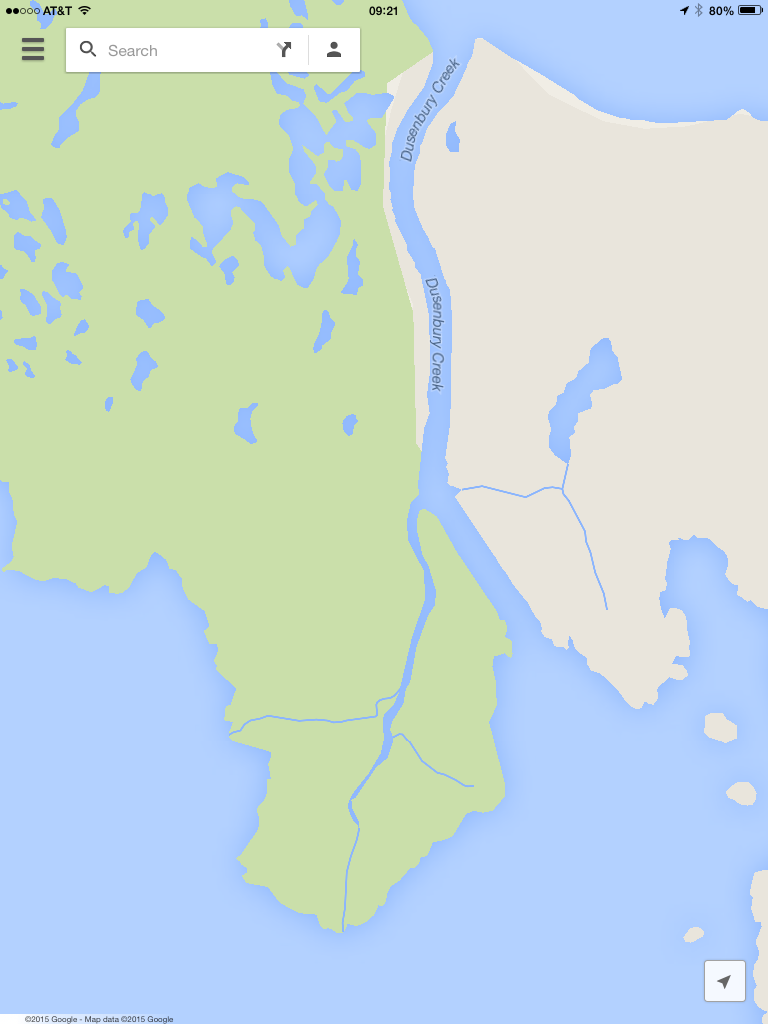 Heading back for some R&R
This is actually a great exercise paddle, as you have to head back the way you came and it's lots of paddling! It is also interesting paddling past the houses and eateries, watching the boats pull out. We even got to stop and cool down at a private little beach on kind invitation of two residents of King's Camp RV park: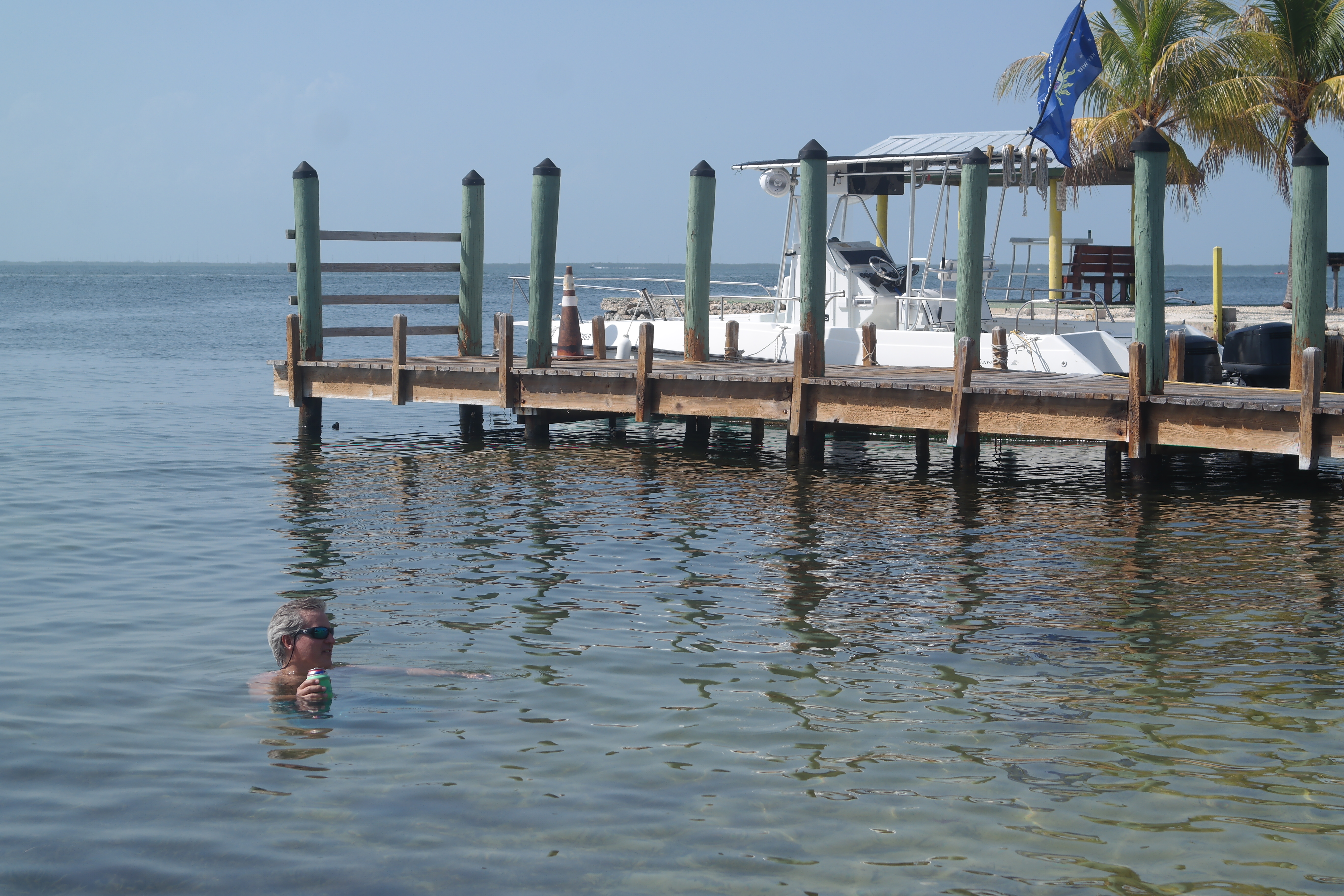 As you return your Kayaks, you have plenty of options to wind down. The aforementioned Caribbean Club is one of them. There is also Sundowners and a few other great waterside places to have a good rest and replenish some of those burnt calories!
We opted to head out and to the iconic and historic Gilberts Resort  on the way back, which is positioned where US1 meets Key Largo at the southern end of the 18-Mile Stretch of U.S. 1, below Jewfish Creek Bridge. This is a great place for people watching, boat and fishing-catch watching, just hanging out and relaxing with a few cocktails and some appetizers. Great place, full of character and characters!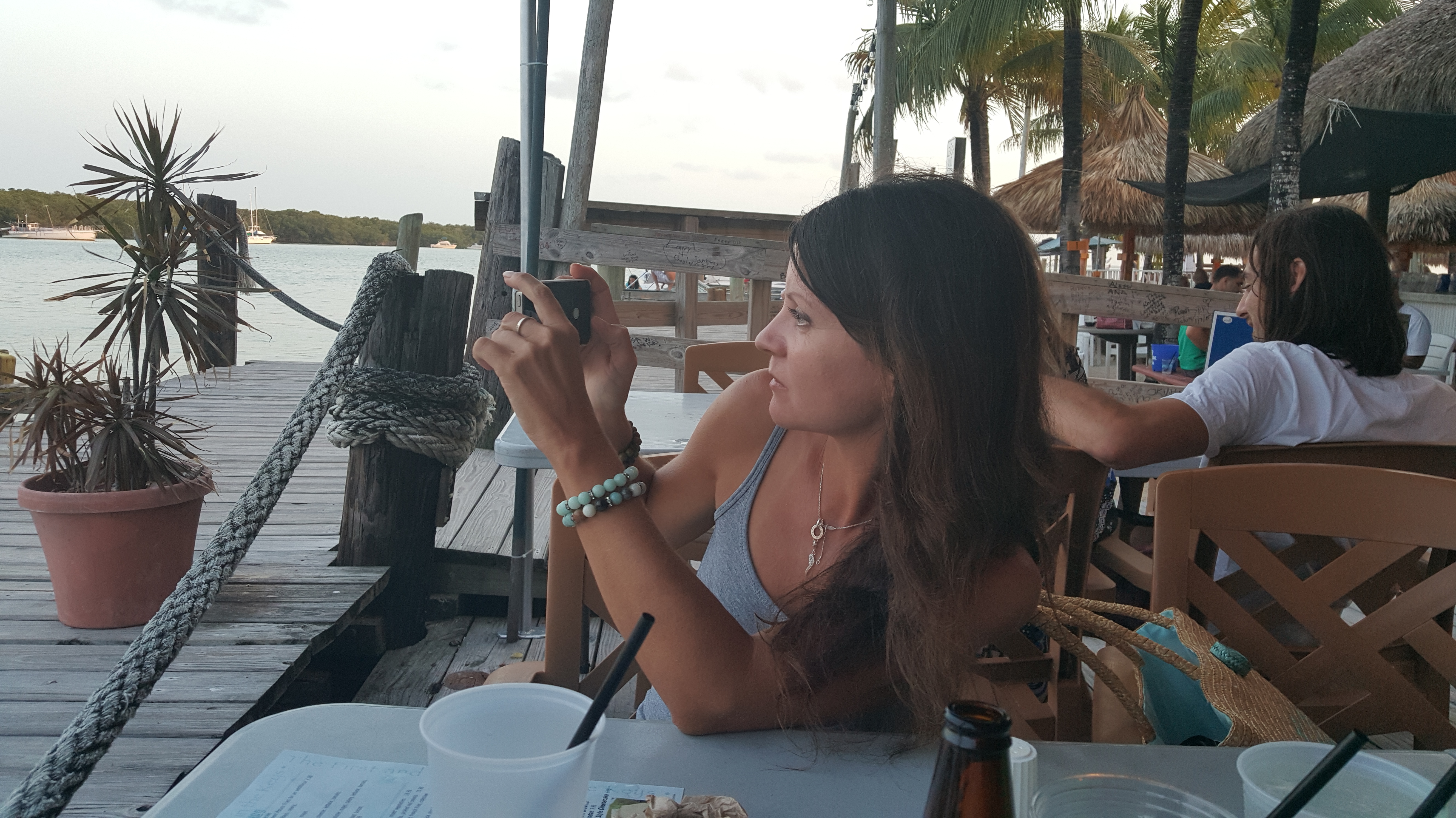 Relaxing at Gilberts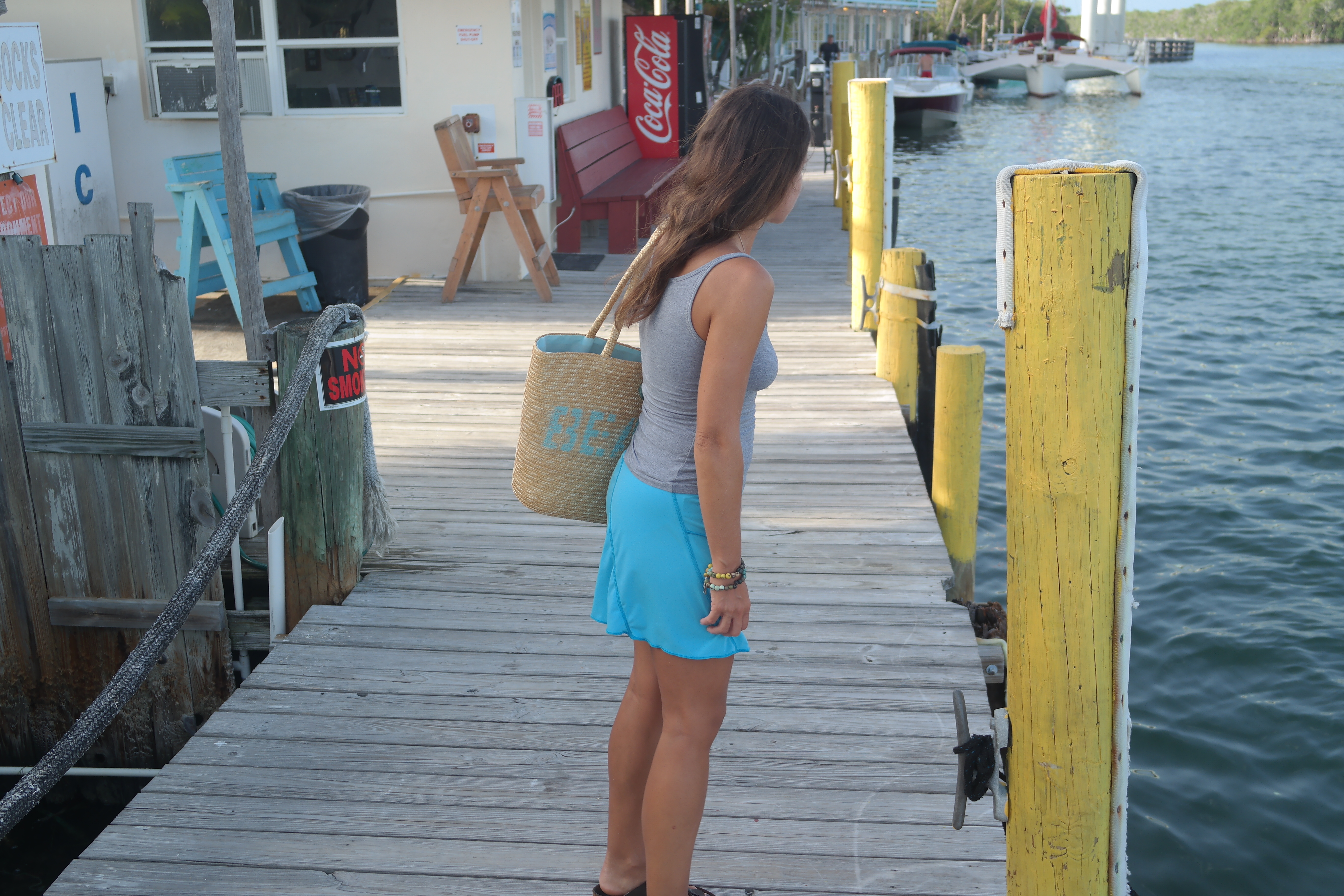 Dusenbury Creek and the Boats – A Word of Caution
I am not a big fan of competing with motorboats when kayaking (for various reasons) , not least for the fact that it makes kayaking uncomfortable when fighting with boat wakes, or worrying about whether they have seen you. It can also be plain annoying to have  the sounds of nature and wildlife broken up by roaring boat-engines. Having said that, if I could have a boat, I'd probably be zooming through The Keys too, so nope, I am not 'holier than thou'. Maybe just a little jealous..
I just wanted to make clear that his trip is not for the faint-hearted.  The Dusenbury main channel (not a 'no wake zone'), a deep boating channel, has to be navigated for a good amount of paddling.The boats tend to run at high speed and pretty close to the side of the channel so you will be fighting with some boat-wakes. The best thing is to 'keep calm and carry on' paddling. Incidentally something I am not particularly good at..
Once you get to the mangrove tunnels, you will find it was very much worth it. There won't be any boat traffic and for the most part you are alone with wildlife and water, although I did see a tour-boat or two in the mangrove tunnels and to this day, it escapes me how they could possibly maneuver and turn around in the small channels, barely fitting through them.
For the nervous kayaker, I recommend giving this trip a miss and heading to John Pennekamp State Park, just a little drive south. There, motorboating is somewhat separated from the kayakers.
The mangrove habitat is more or less the same, and there are many more channels to explore, something I will be writing about in my next post.
It's a great paddle if you are a seasoned or mildly adventurous kayaker, who is not scared of fast motorboat traffic and the resulting wakes. It's just a nice area all in all and a great way to spend a day, not just in the water but also sampling some of the great waterside bars and eateries that Key Largo has to offer.
In my humble opinion, the water and mangroves, although very clear and lovely, can not rival the scenery of the lower Keys, but for the much shorter distance and therefore drive-time from anywhere in South Florida, it's a great alternative. Do it!
I want to hear from you!
Did you kayak in Key Largo, Dusenbury or John Pennekamp, and have some advice/suggestions/secret tips?
Please contact me through the contact form at the bottom of this post – thank you SO much, I look forward to connecting!