A Daytrip To Chokoloskee Island and Everglades City
I had no idea what I was letting myself in for, going on a Saturday 'jolly' to Everglades City and Chokoloskee Island, both relatively remote but easy to reach via I-75 (Alligator Alley) or US 41 (Tamiami Trail) from Miami/Fort Lauderdale.
Being obsessed with alligators, time on Alligator Alley passes quickly for me, with the old 'spot the gators' game. I saw only 3 this time, but I have counted up to 50 alligators in the roadside canals on occasion. We chose 41 (Tamiami Trail) for the way back. I recommend taking this slower road, as you will cruise past not only Clyde Butchers renowned Big Cypress Gallery (an eminent Everglades photographer), but also past the smallest post office in the United States, at Ochopee.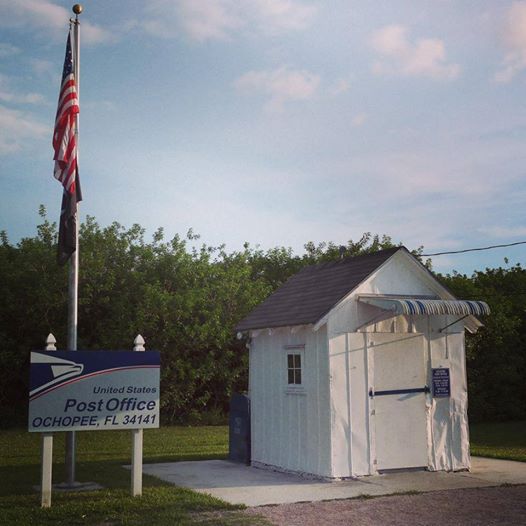 Aww..on Tamiami Trail!
Chokoloskee Island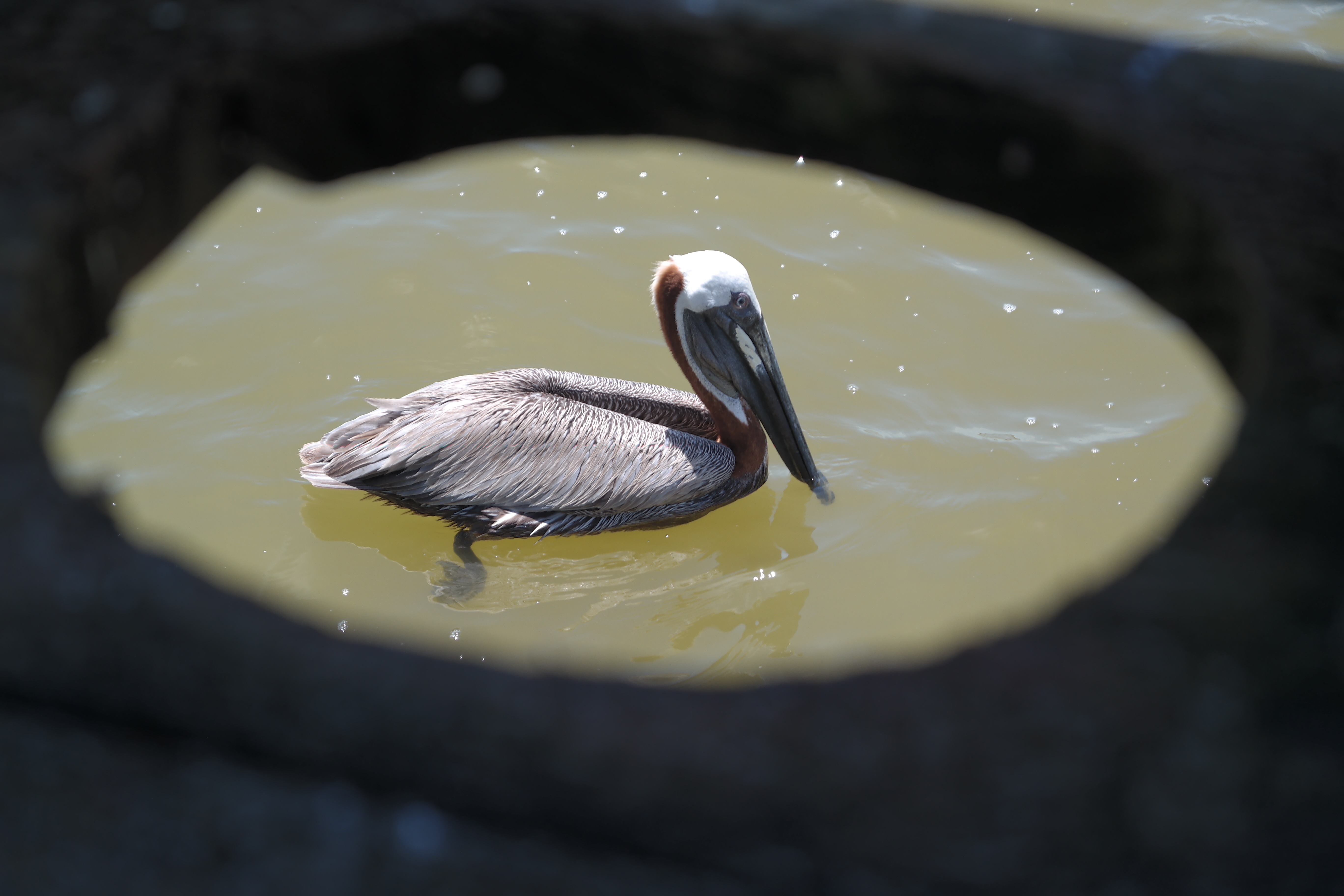 Peek-a-boo at the dock
Chokoloskee Island, this remote little piece of land, was already occupied by Indians around 2000 years ago. An impressive testament to this is the island topography. Chokoloskee, unlike the low-lying surrounding land, reaches a high level of 20 feet above sea level. The reason for this is, apparently, the presence of shell mounds built on the island during more than 2,000 years of occupation by Native Americans of the Ten Thousand Islands district of the Glades Culture ( read more about the Glades Culture here: http://en.wikipedia.org/wiki/Glades_culture ).
Fast forward, and the modern settlement of Chokoloskee started in the later 19th Century with the Santini family being the main landowner in the island. The occupations of the residents revolved around farming and fishing (including hunting turtles and alligators), and selling their produce in Key West. Chokoloskee was very much isolated, and only accessible by boat until the causeway to the island was completed in 1956. The island had a reputation for harboring fugitives and outlaws and this is where its infamous history begins.
In the 1880's, Edgar Watson, a South Carolina man, and supposedly already a little too well versed in the art of 'doing away' with people he was not fond of, arrived at Chokoloskee. Watson was allegedly involved in many murders, including migrant workers who worked on his farm and mysteriously disappeared after asking for their pay. Bearing in mind how small of a community the island was then  (still is to this day), he became a thorn in the eye of many Chokoloskee residents. His fate was finally sealed one day in the year 1910, when he announced his intentions of killing a certain Leslie Cox, an acquaintance of his and an outlaw, and proceeded to purchased bullets at Ted Smallwood's store (see more on the store below).
According to legend, Smallwood's wife sold him ammunition waterlogged from a recent severe hurricane. As he went back to his farm, the local island folk began to prepare for his return. Return to Ted Smallwood's store he did, according to the stories circulating, with a bullet-riddled hat reputedly of Cox, whom he professed to have killed, but having been unable to recover the body alone. The islanders told Watson to surrender, and that they would hold him for the Sheriff. Having none of it, he reputedly raised his weapon and began to fire, upon which he was met by a long volley of gunfire, and hurried along the way to meeting his maker. The later exhumation of his body revealed that Watson had died of 33 gunshot wounds. So much for this part of Chokoloskee's infamous history.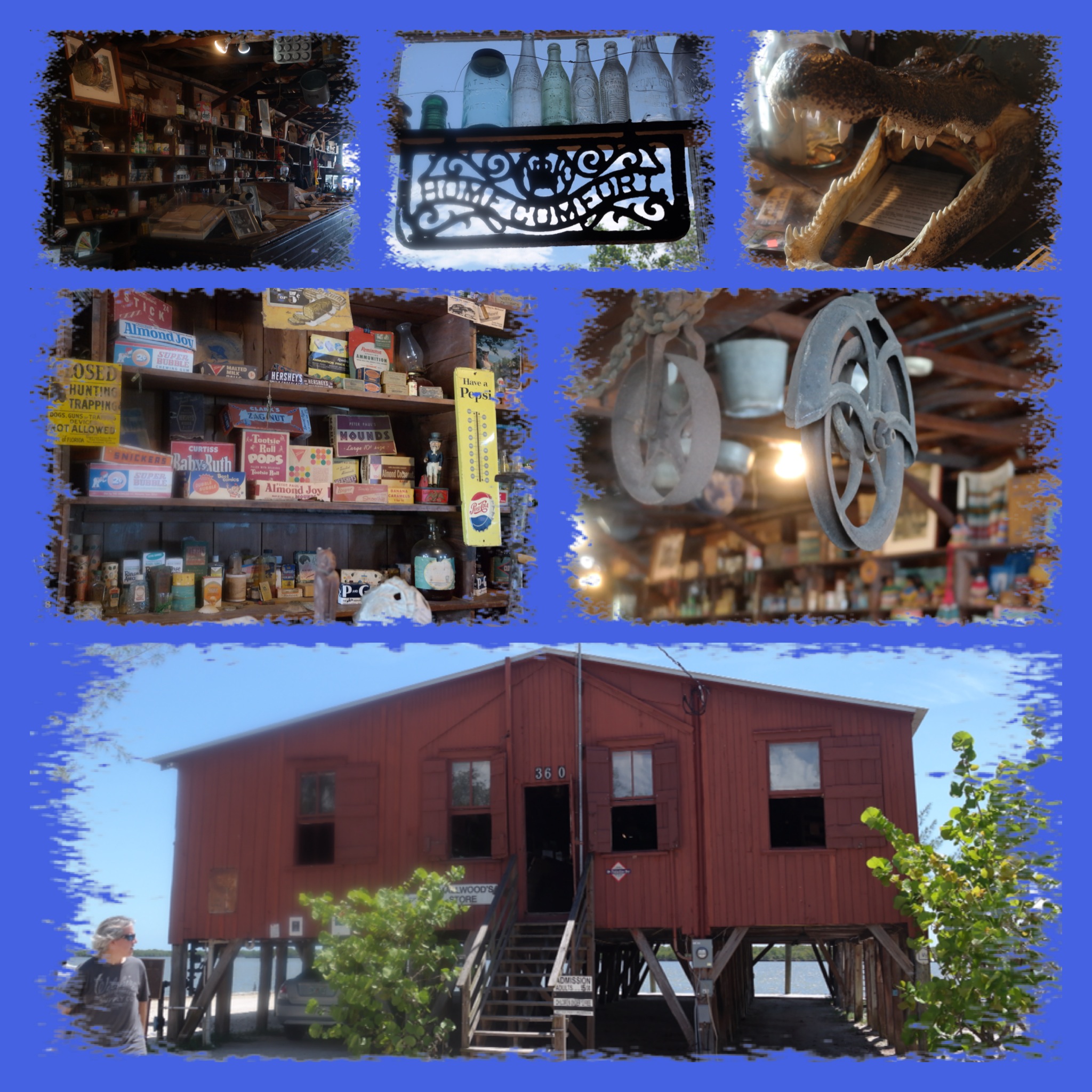 Smallwood store today
 Ted Smallwood Store
Ted Smallwood became postmaster for Chokoloskee in 1906, and opened this general store, housing the post office, in the same year. He remained postmaster until his retirement in 1941, when his daughter Emma Smallwood became postmaster and took over the running of the store (helped by sister Nancy), until her death in 1982. The store was closed until 1989, when Ted's granddaughter Lynn reopened it as a museum. Ted Smallwood's store was placed on the National Register of Historic Places in 1974. Unfortunately, it lately made headlines due to reckless developer action in the area, which led to a blocking of the road leading to the store, thus spelling certain demise of this wonderful treasure. Although the family managed to restore access to the store, they are still embroiled in a costly legal battle with the developer to try and save their historic site. You can read more about this, and donate to this worthy cause here: www.smallwoodstore.com
I was totally in my element stepping into this creaky wooden building filled to the brim with nick-nacks, artefacts, hunting/fishing utensils and other paraphernalia of daily life from the turn of the 20th century and beyond. Even better, I was pleasantly surprised when the nice girl at the entrance informed me that she was the great-great granddaughter of the man himself, Ted Smallwood.
Not only is it extremely rare to find this kind of store in a time warp as it were, but then also be greeted by a close relative of the man who originally opened the store?! This felt really rare and special to me.  I always look for those kinds of experiences, rather than a set-up formal museum. Therefore I know how hard it is to find such gems. The store is a total must-see for anyone in the area, even if you don't normally enjoy museums, this is vey special.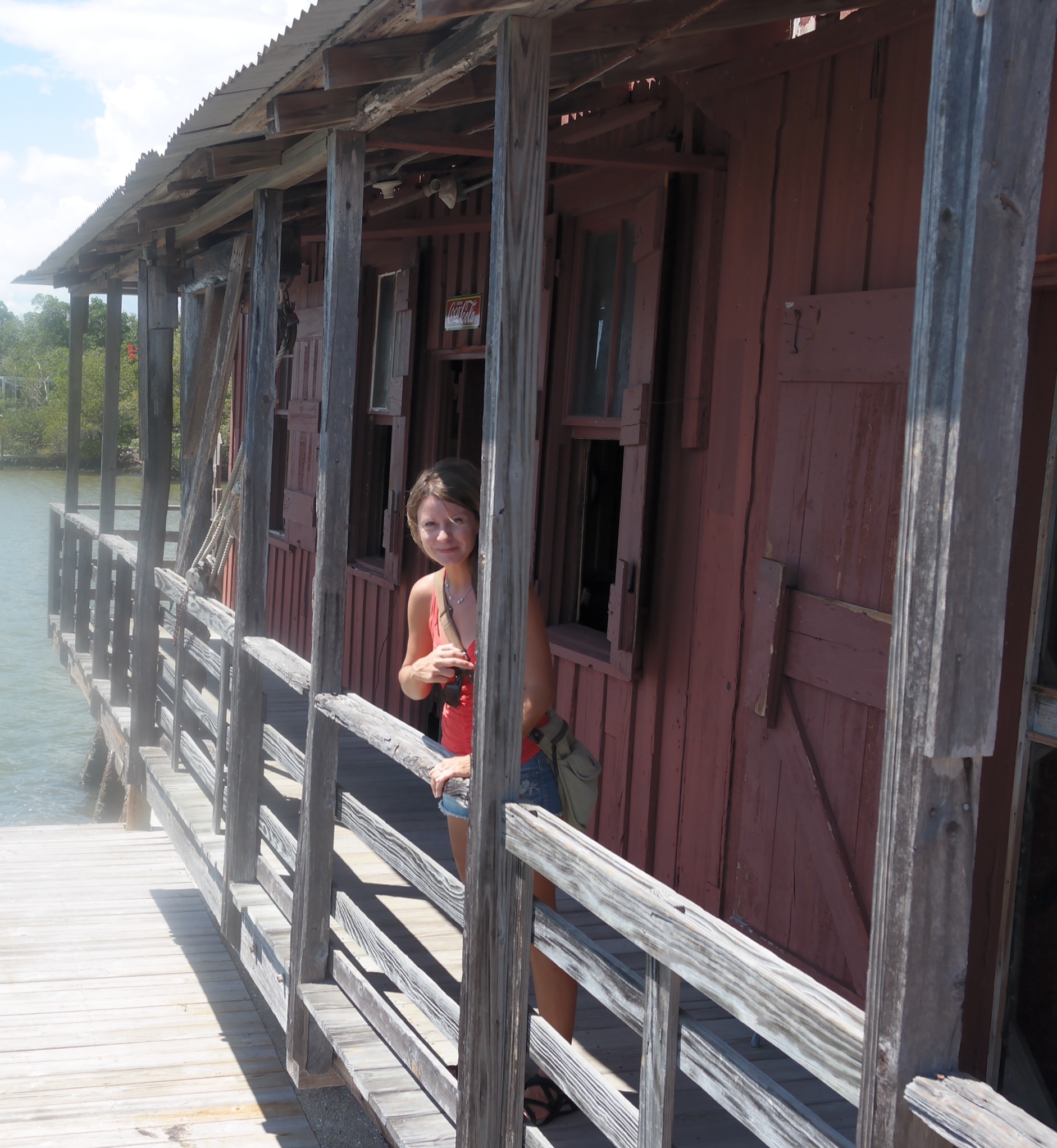 The water-facing side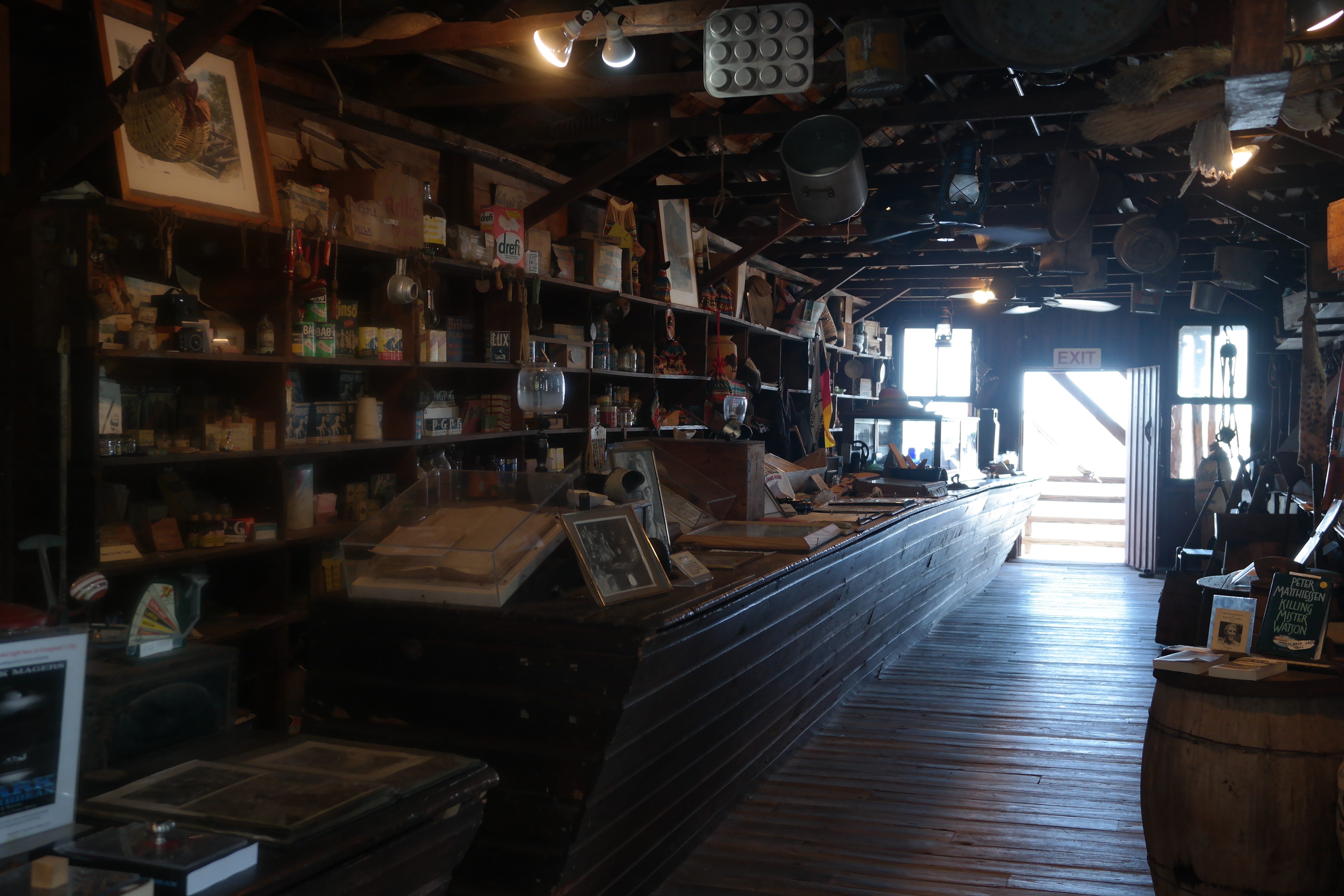 Inside Smallwood store
They got it just right inside, by having relatively dim lights and just having it crammed full with artefacts and all the old store equipment, plus added information about the family who ran the store. There is a wealth of information here, about life at the turn of the 20th century, in this remote area on the edge of the Everglades. Also, the store has a nice little array of appropriate merchandise, including books about the area and wildlife, recipe books, T-Shirts and also some 'interesting' items of a rather macabre nature, such as the back-scratchers made of real baby-alligator feet…
Subsequently, on my return and after a little research, I came across the stories of the store being haunted. This made me think of when my 'tour-guide' for the day walked underneath the building and suddenly said 'ugh, it feels weird to walk underneath here' and hurriedly scuffled out.  The following, including image, is an excerpt from www.ghosttheory.com, written by David Hoes:
'Lynn, the owner and curator of the museum, has reported many strange occurrences. Interestingly, the hauntings don't appear to be connected to the murder.
Most of the reports are centered on the room that was once Ted Smallwood's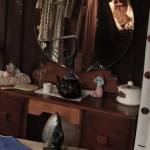 bedroom. Although the Smallwood's didn't live at the store, they would occasionally stay there overnight when they expected a late shipment. The restroom to the museum is located just off the bedroom, and numerous patrons have reported seeing the image of a woman in the dresser mirror on their way to the restroom. Just a few weeks ago, Lynn's daughter saw a shadowy figure move through the bedroom.
Lynn and her family have been contacted numerous times by local residents who have reported hearing trespassers in the store late at night. Invariably, when they go to investigate, nothing is ever found. Lynn told me in no uncertain terms that she will not go into the store alone at night.
While visiting the store, I didn't see or hear anything out of the ordinary. However, many others have, and the place did give me the creeps. Numerous websites say that under no circumstances should anyone walk under the store, even though it is on five-foot high raised pilings. I chose to heed those warnings and did not step under the floor.'
I did not see or hear anything untoward, but the store certainly has a dark and creepy feel to it. For me, this just adds to the appeal.
Upon closer inspection of my photographs from the day, imagine my surprise when I, too, came across the figure of a woman in a mirror!
Oh wait, that's me photobombing my own picture…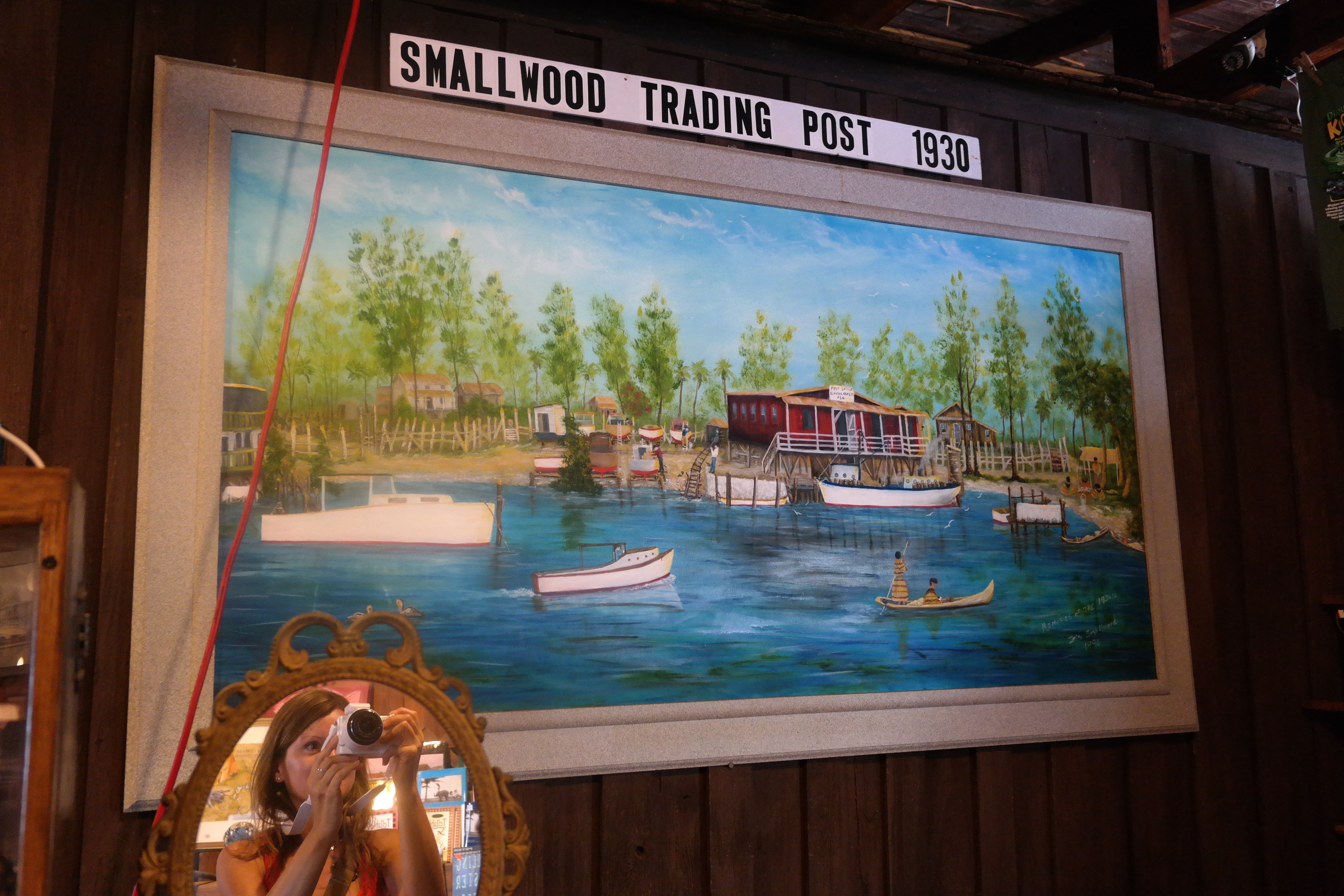 Everglades City
On returning to civilization from Chokoloskee, we decided to stop at Everglades City, where we had taken a sneaky look into the 'Rod and Barrel Club' earlier in the day – also a must see, not least for their stuffed animals including a huge gator on the wall!
Anyhow, this time we were scurrying for a bite to eat. Be advised that they close the town roughly at 6pm and it is almost like 'curfew hour', everything shuts and nobody is in the streets anymore, except thirsty and starving tourists in disbelief.  We were much luckier than those roaming the streets after 6pm in search of an open establishment, as we had decided to have an early dinner around 5pm and ended up at a lovely informal water front 'cafe' called City Seafood. Incidentally, you can purchase all kinds of Everglades delicacies here, such as frog legs and alligator meat. Sounds lovely, no?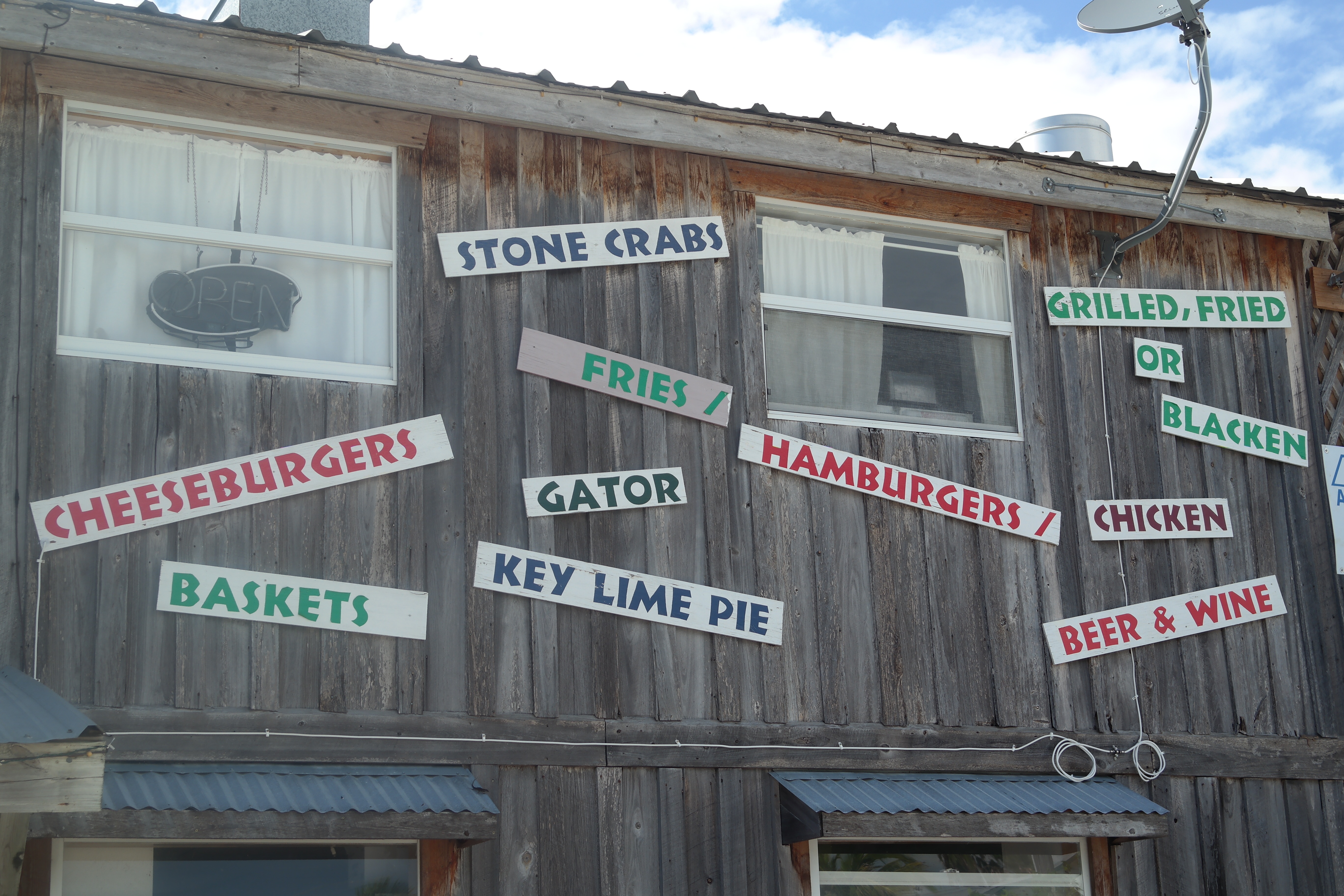 We also had a bonus thrown in, with a couple of dolphins playing in the waters in our full view for the rest of the afternoon! A truly special end to the day. The food was simple but delicious, including the home-made key lime pie.  At 6pm on the dot, the ladies locked up the main room, but had no intentions of throwing us out of the seating area outside, or locking anything else up, including the rest-rooms or condiments. Everything was left out, and we were able to sit and relax at our own leisure, including feeling a little smug when the occasional tourist popped in and said 'they are already closed?'whilst we were contently sipping on our drinks.
What a great place to spend a day. Watch out for the gigantic blood sucking deer flies and the smaller swamp angels though…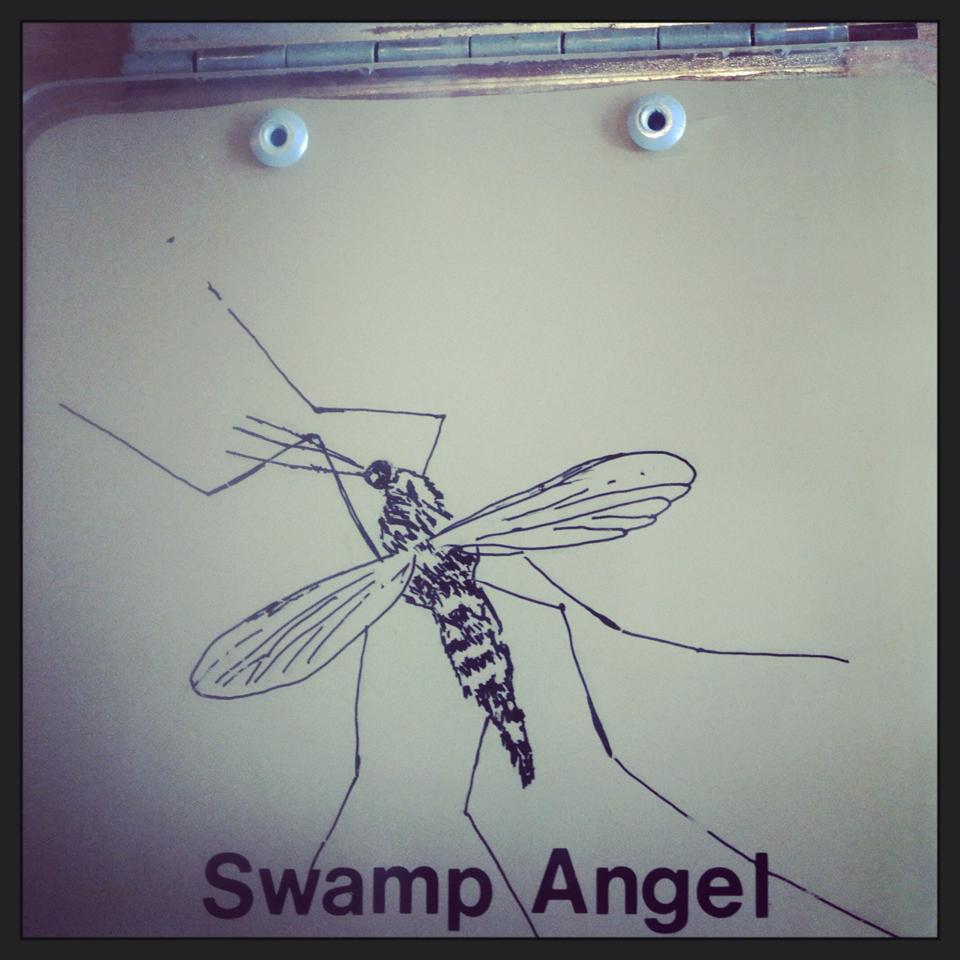 Information from Wikipedia, www.smallwoodstore.com, www.americanhandgunner.com, www.ghosttheory.com
Pictures are author's own unless indicated
Love Florida? Check out this:
VISITFLORIDA.com, the Official Travel Planning Website for the State of Florida


(adsbygoogle = window.adsbygoogle || []).push({});