The Venice of America By Water
Got a day to spare to see Fort Lauderdale and Hollywood by water? Fort Lauderdale is not called 'Venice of America' or 'Yacht Capital of the World' for nothing, with an impressive 165 miles of waterways within the city limits. Reputedly, over 42.000 boats are registered here (www.luxurytravel.about.com). It's easy to see why, when studying the shot of Port Everglades inlet below.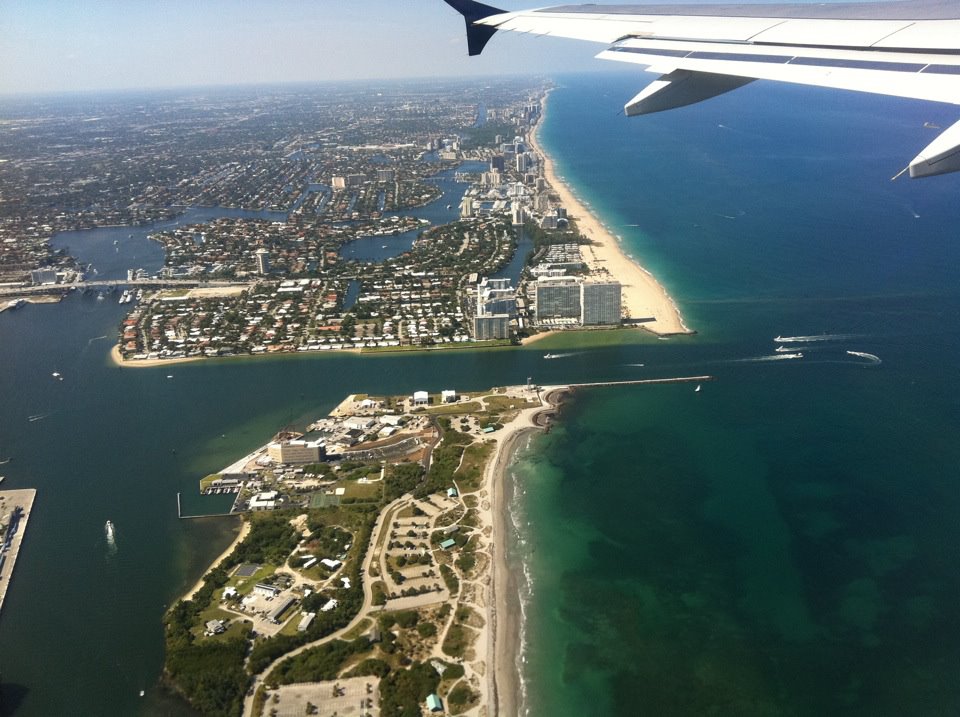 It is easy to see why getting onto the water is one of the best ways to see the city. Most, if not all, major landmarks and shops are actually easily reached by the water taxi. The water taxi has an extensive networks of stops, going as far north as North Fort Lauderdale (close to Lauderdale By The Sea), and as far south as Hollywood with the connection stop close to Port Everglades. The modern and impressive 'Residence Inn' (former Il Lugano Hotel) is its northernmost stop. Incidentally, if you would like to find out how mozzarella is made, and want to see it being prepared at your very table, this is a great place to go.
Otherwise, I recommend heading south and into central Fort Lauderdale. There are a few stops close to the beach, but the best route, if you want to see as much as possible, is to go down the stops close to Port Everglades, and then head onwards to Las Olas and Riverfront, past all the mansions.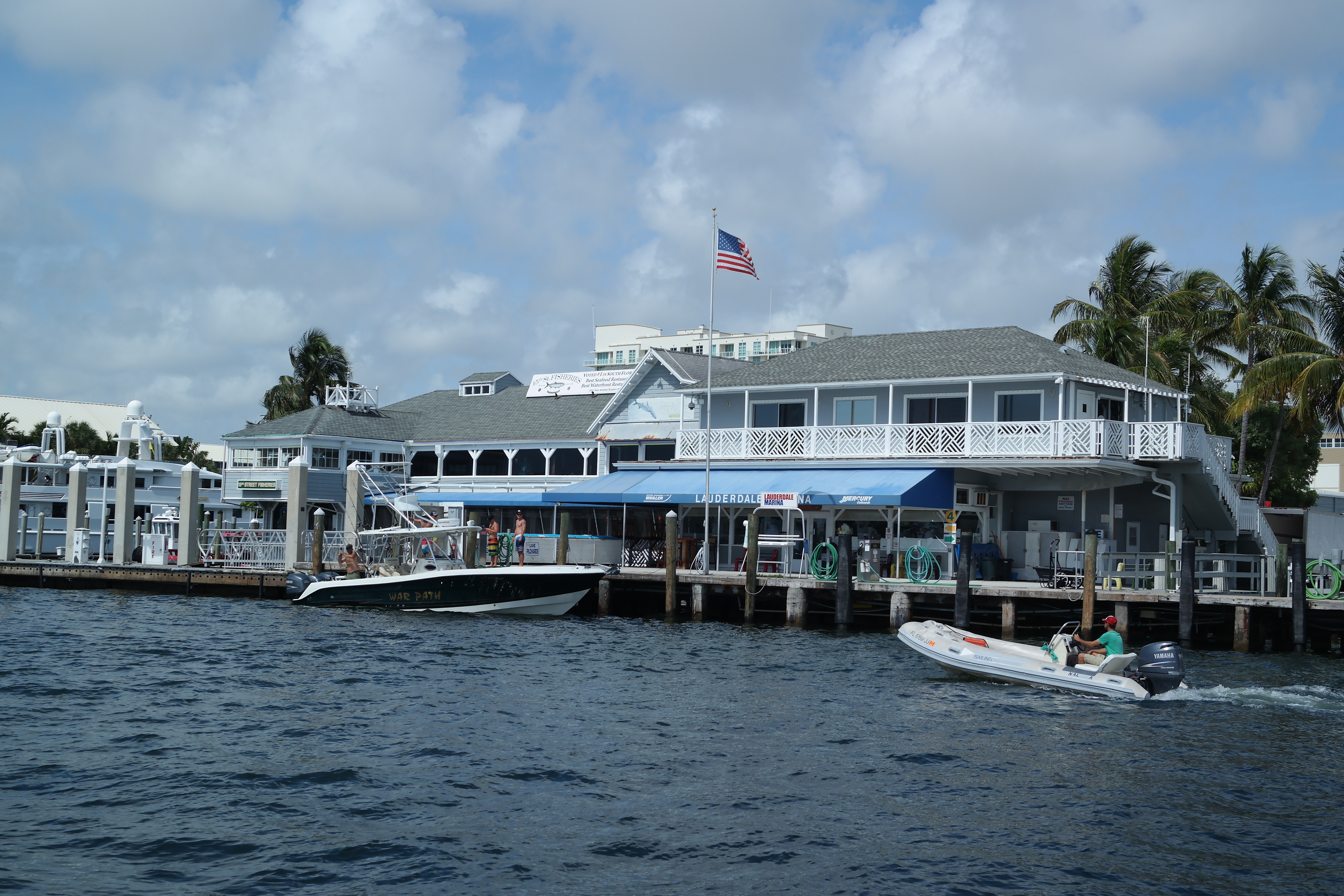 15th Street Fisheries
Stop 4: 15th Street Fisheries and Lauderdale Marina. A great place to watch boats and have lunch! My personal favorite. Give me a bag of stinky shrimp (available at the Marina Store on the dock), and I am entertained all day by the mahoosive tarpon! A great place day and night, and no, I do not get paid for saying this.
The cold beer and burger with sweet potato fries tasted particularly good after being out in the sun and on the water taxi all day! Try their Alligator bites, they are known for them. If you never tried Gator, try it here, it is delicious!
As you travel further on and into the center of Fort Lauderdale, the jolly water taxi staff will give you a narrated tour of the many impressive properties you see on the Intracoastal Waterway (ICW) and the New River in downtown Fort Lauderdale.
You will see the mansions of illustrious names such as Johnny Weissmueller, Leonard Nimoy ('Spock') and Jay Leno, as well as properties and locations, that became famous for film shots, such as: 'Where The Boys Are', 'Miami Vice' and 'Tarzan', to name just a few. Don't worry, the watertaxi staff will fill you in on all this much better than I ever could!
One of the best things about the water taxi is that you get an all-day pass, and they run up until 11pm, so you can make the most of it by hopping on and off all day, wherever you desire.  Plus, they let you bring drinks onto the water taxi, including adult beverages (feeling obliged to insert a 'drink responsibly' here)!
Saturday and Sunday 'boating' is NOT complete without a couple of cocktails and I am SO happy they recognized that! Altogether, the water taxi staff without exception are a jolly, knowledgeable, happy and jokey lot, which makes the whole experience so much fun. They seem to love their jobs and it definitely shows!
And Onwards To Hollywood…
I have been on the water taxi plenty of times. What was new to me was the trip down to Hollywood. This is included in the $22 day pass too, and really great value if you ask me and everybody else who was doing that trip on the weekend! Happy faces all around, and as you bump into the same people all day, it is easy to chat and make some new friends for a day! The combination of exploration plus socializing is a lovely way to spend a day.
On I hopped again at the Hilton stop, by Port Everglades. Well, it was quite an educational ride, past two parks (John U Lloyd, Dania and Anne Kolb, Hollywood), and past the major commercial and cruise port, Port Everglades.
I was mightily impressed by the unloading and loading of the massive cargo ships. Also, I never knew what kinds of things they stacked on top of containers, including boats, diggers and trucks!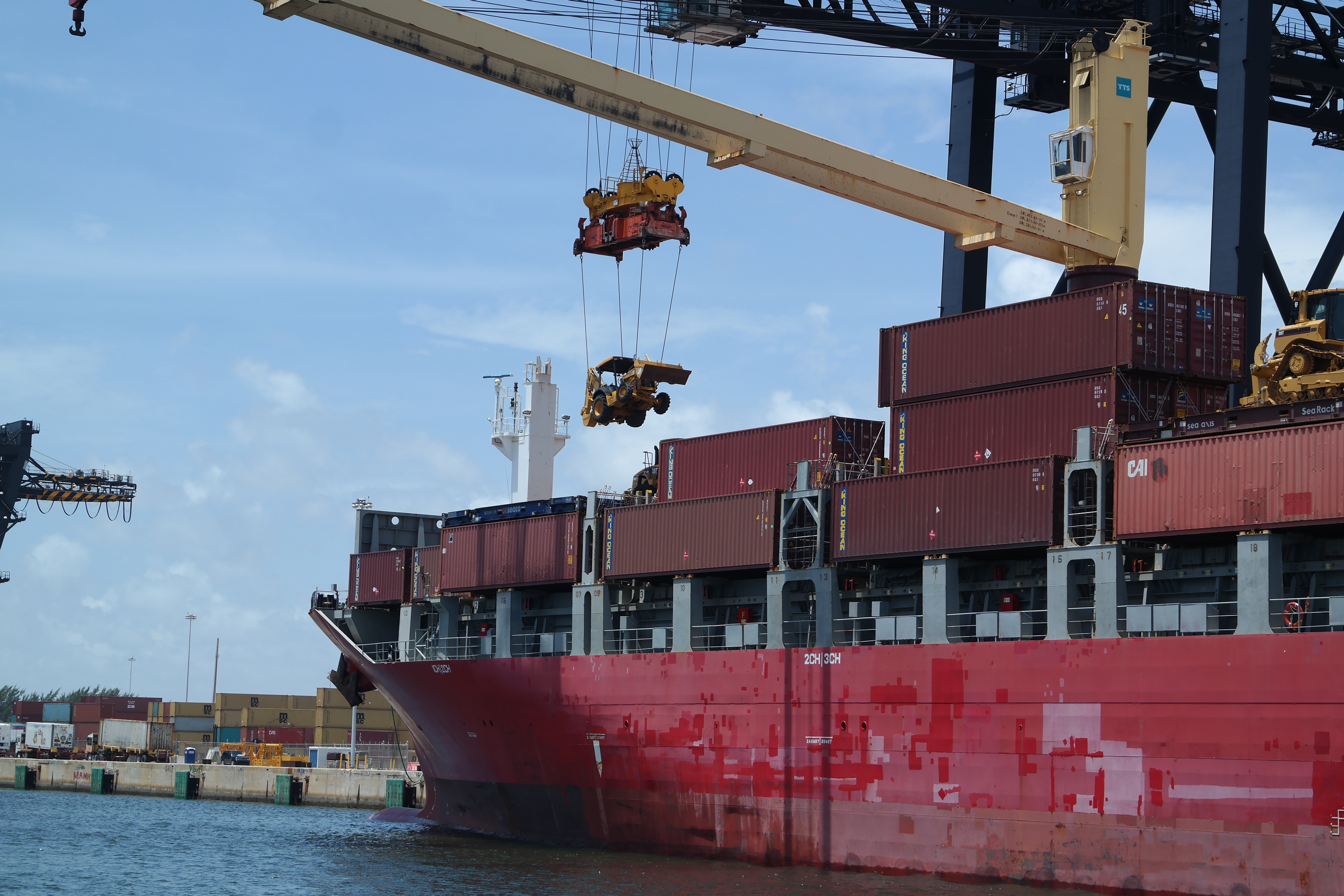 Cargo Ship Loading Up At Port Everglades
If you do this on the weekend, you will see all kinds of cruise ships too. Currently, the two largest ships in the world, RCCI's Allure and Oasis of the Seas, are home-ported in Fort Lauderdale and you are bound to catch one of them on either Saturday or Sunday, their 'turn-around' days.
Onwards we sailed in the trusty, but rusty 'Fiesta' (the look and feel of a somewhat charming fishing boat of advanced years), towards Hollywood via Anne Kolb State Park: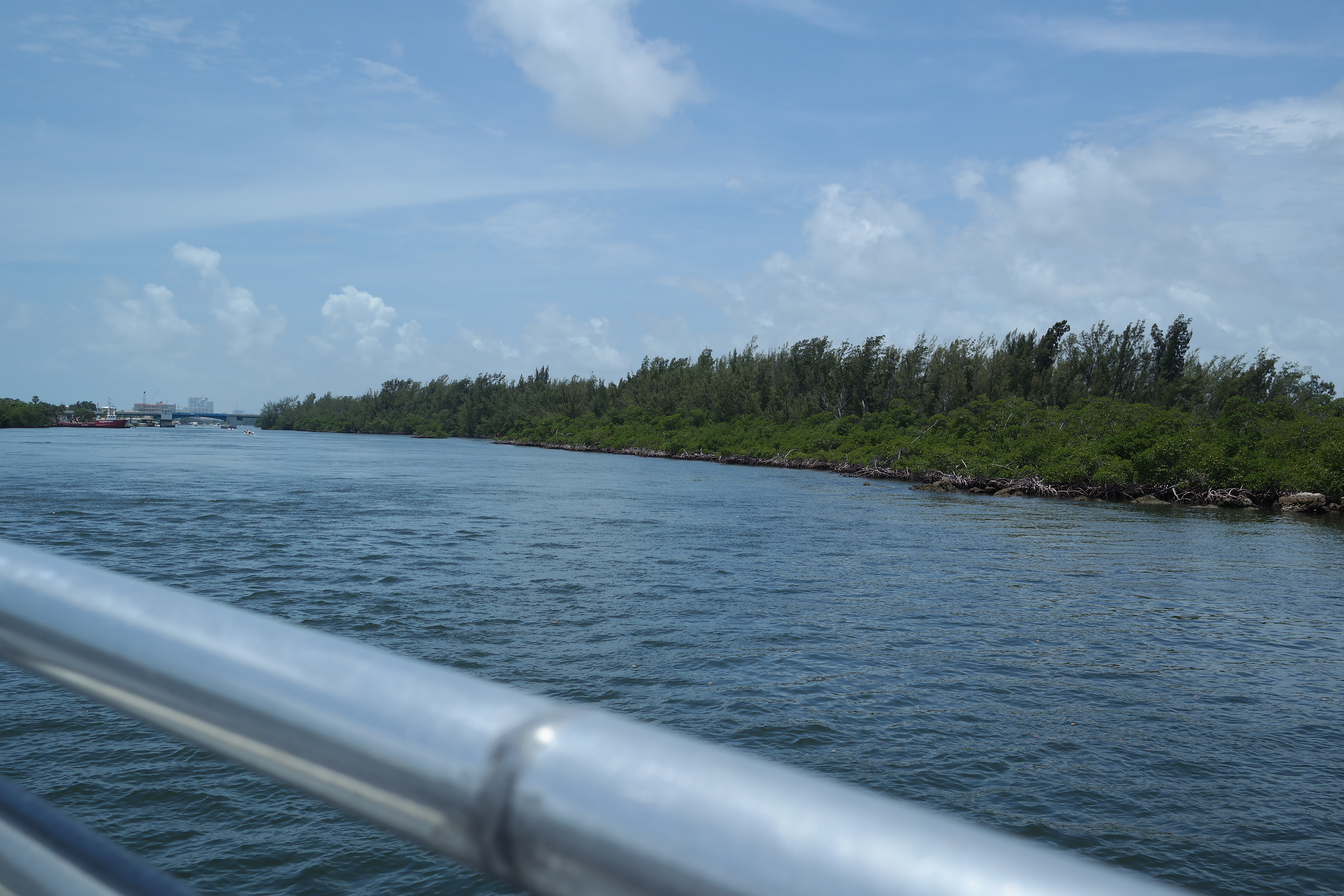 Finally, we arrived in Hollywood, where I would recommend getting off at the first stop, as the crew informed us that the other two stops are merely for hotel guests and visitors of those hotels. Having said that, some passengers didn't feel like getting off at Hollywood and elected to stay on the boat for the whole ride.
The water taxi drops you off at Giorgo's bakery, from where the beach is just a hop, skip and jump away. Go and stroll the broadwalk and sit in one of the many restaurants and watch life go by. Before you know it, it's time to get back on the boat. Do check the schedule as the boat to Hollywood does not run as frequently as the Fort Lauderdale boats. Currently, there are departures every 2 1/2 hours to and from Hollywood (summer 2014). The crew are excellent in letting you know all this in advance, so no need to worry about 'missing the boat'.
Some Helpful Information
Click here for fares and schedules for the water taxi (please note that their routes and stops do change from time to time and may be slightly different from what is laid out in this article dated June 2014, partly revised Sept 2015).
By the way, I do recommend going to Hollywood first (due to the infrequent departures of this boat), and then exploring Fort Lauderdale on the way back, with its many hop-on and hop-off stops at beaches and on Las Olas boutiques and restaurants, where you can finish off your day.
If you have time, it is definitely worth taking the extra loop north past Hugh Taylor Birch State Park, and ending the evening in one of the few restaurants/bars on Oakland Park Boulevard facing the Intracoastal Waterway. Especially if you want to get away from pricey Las Olas. You get a lot more 'bang for your buck' up north, and as an added bonus you can watch boats, boats and more boats!
I can recommend the fantastic Charthouse happy hour, the new and refurbished Shooters, also Bokampers if you are into sports, and the above mentioned Residence Inn (former Il Lugano) for a little luxury. They are all next to each other, so make your mind up right there if you want!
Personally, I like to 'chill' at Flip Flops, which is completely informal and has a Key West feel to it.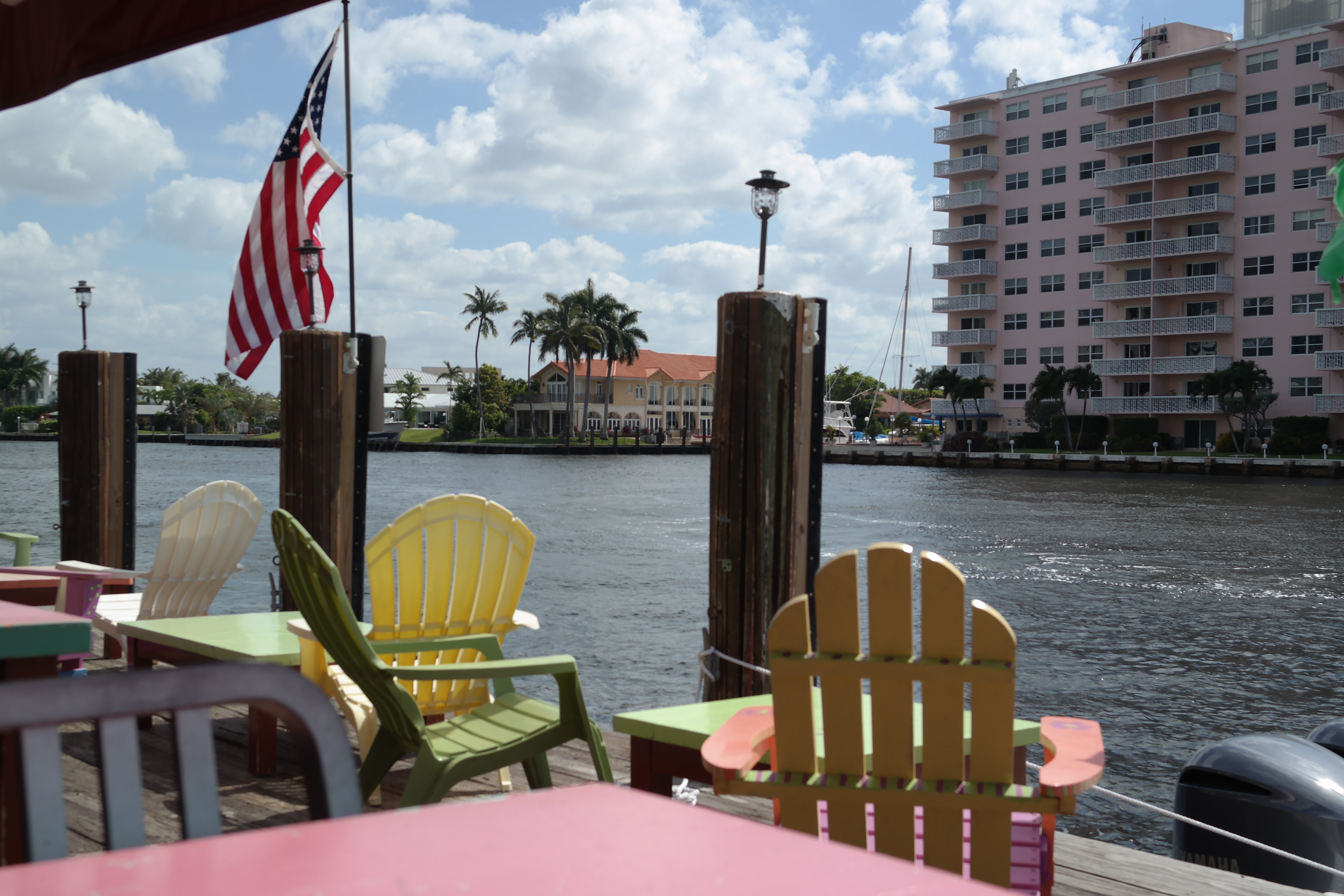 Flip Flops Fort Lauderdale
And now a couple of reading suggestions (click on image or text to view/buy):

Fort Lauderdale: The Venice of America (FL) (Making of America)

Fodor's South Florida 2013: With Miami, Fort Lauderdale, and the Keys (Full-color Travel Guide)

Fort Lauderdale: Playground of the Stars