I am not a fan of zoos particularly, as you probably know if you have been following me for a while. I much prefer to observe animals in their natural habitat. However, occasionally I come across a nice facility that I really enjoy, and Palm Beach Zoo is one of those. If you have kids, it's perfect. And if not don't worry,  it's just as much fun for adults. Another thing I like about Palm Beach Zoo: it's "compact". It won't overwhelm you, and it's possible to see everything in just a couple of hours – or linger as much as you like amongst the lovely tropical foliage and landscaping.
The history of Palm Beach Zoo

Palm Beach Zoo started its existence in the late 1950s as "Dreher Park Zoo", a petting zoo with geese, ducks, chickens and a goat. The zoo was named after Parks Superintendent Paul Dreher who purchased the animals out of his own pocket. Various animals were added over the years, including a bear, an elephant, a tiger, and monkeys, among others.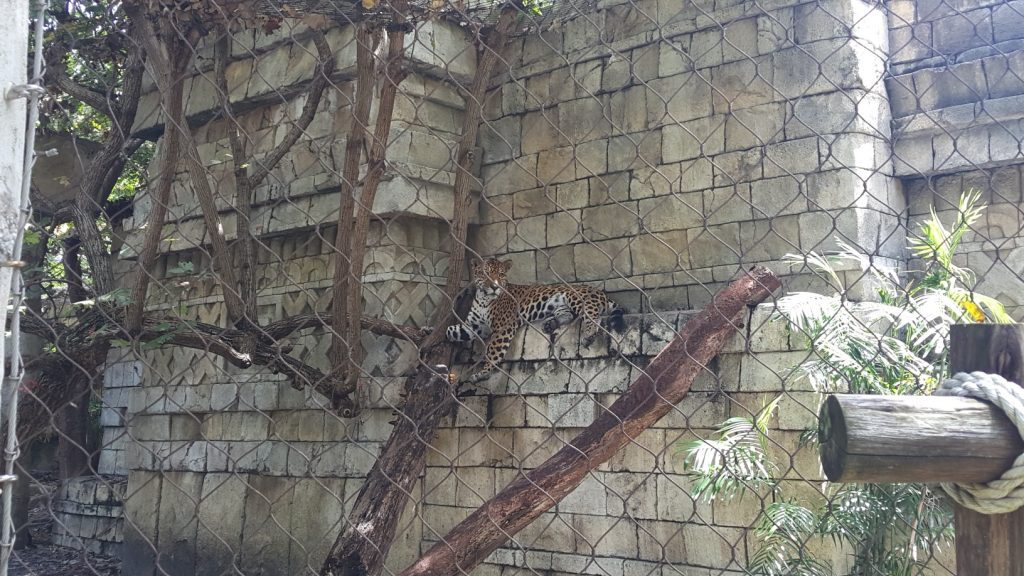 In 1997 Dreher Park Zoo was renamed "Palm Beach Zoo", and in 2014 the zoo got its current name "Palm Beach Zoo and Conservation Society". The facility underwent a $30 million redevelopment program from 1997 onwards, and today boasts various nicely designed habitats separated loosely by region of origin of the animals. Palm Beach Zoo also has an animal hospital of 10.000 square foot size. Currently, the zoo houses over 550 animals on its 23 acre property.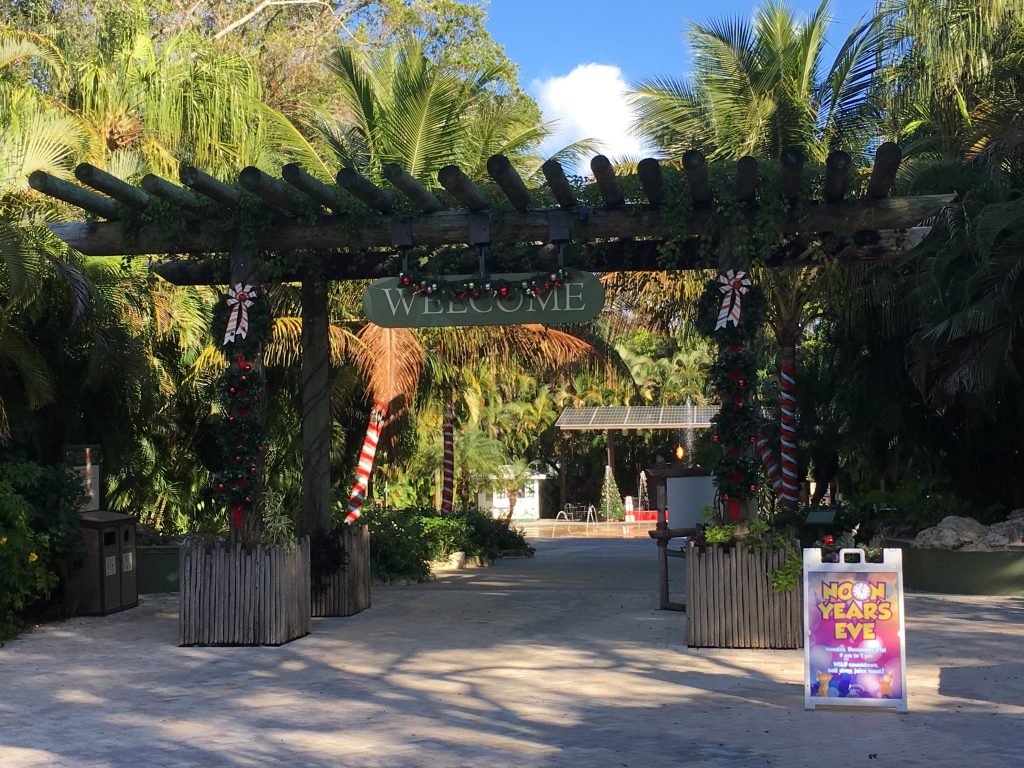 What is there to see and do?
Well, first of all, you will notice that there is a lot of mature foliage at this zoo. This means that even in August you might not expire here, because there is plenty of shade. Palm Beach Zoo also offers an interactive fountain and orientation plaza, a fun water park with little fountains in the center of the zoo. Here, you see tired parents collapsed on the benches and little kiddies zooming through the fountains and splashing about. The design of the zoo is really great, with paths leading from the water park in the center outwards to the animal habitats.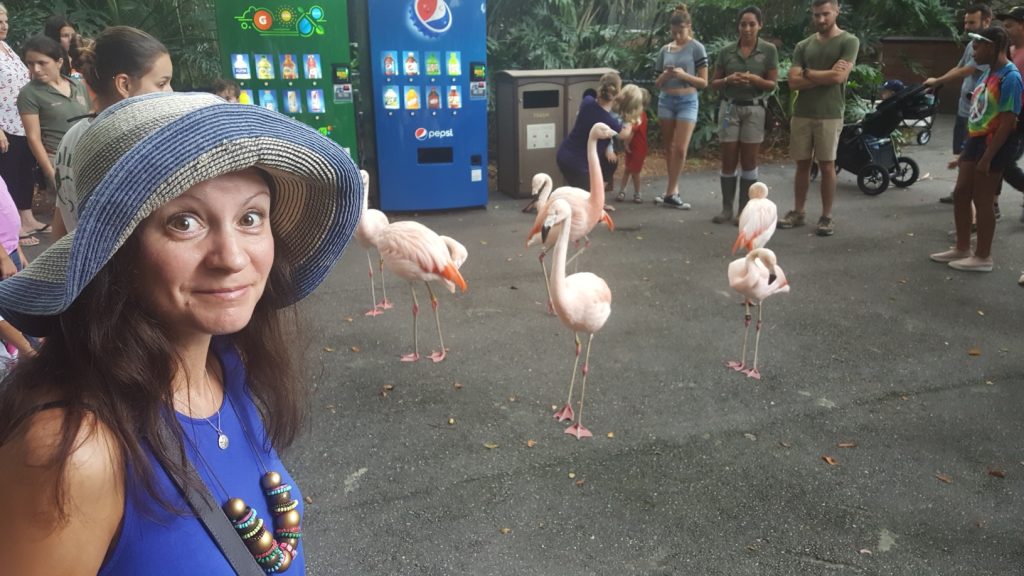 Taking the Flamingos out for a walk amongst the visitors…
Animal Experiences
As well as walking around observing the animals, which is what you normally get to do at zoos, Palm Beach Zoo offers something really special: the opportunity to get up close and personal with some of the animals. This program is a whole lot of fun for kids and big kids alike. The animal experiences at Palm Beach Zoo are an opportunity to pick one animal and have much closer interaction with it than just looking through a fence.
The roughly half-hour long experiences are offered (for an extra fee) on selected days and with the following animals: sloth, capybara, aldabras, koala, flamingos, anteater, and Darla the southern ground hornbill.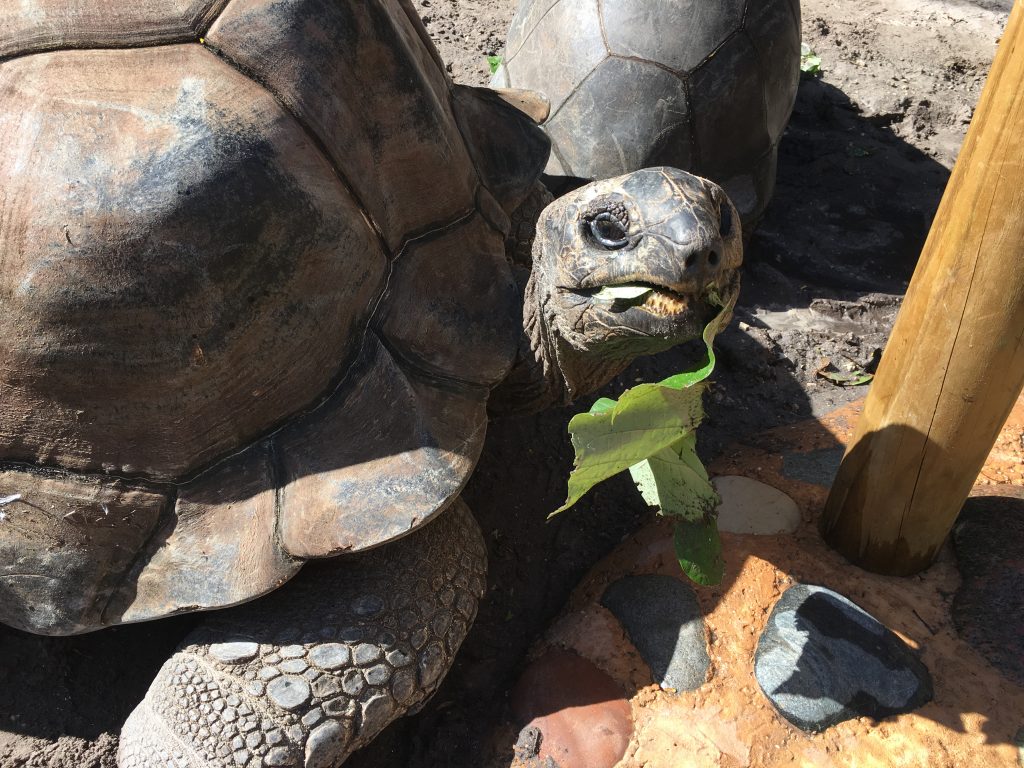 Noto likes food – a lot
We had visited the zoo a couple of times before deciding on an "animal experience". Above all we loved watching the giant aldabra tortoises, so we simply had to get closer to these giants. We were so lucky being the only ones who had booked an aldabra experience that day, so it ended up being a private audition with a bunch of personable chelonians and their very nice keeper Emily.
Emily knows a lot about the tortoises and gave us a nice introduction to each one, including their names, ages and (most importantly) favorite areas for scratching. She was also happy to share lots of other interesting background information about the tortoises, for example on diet and behaviour. She clearly loves her job and the tortoises very much, and it showed.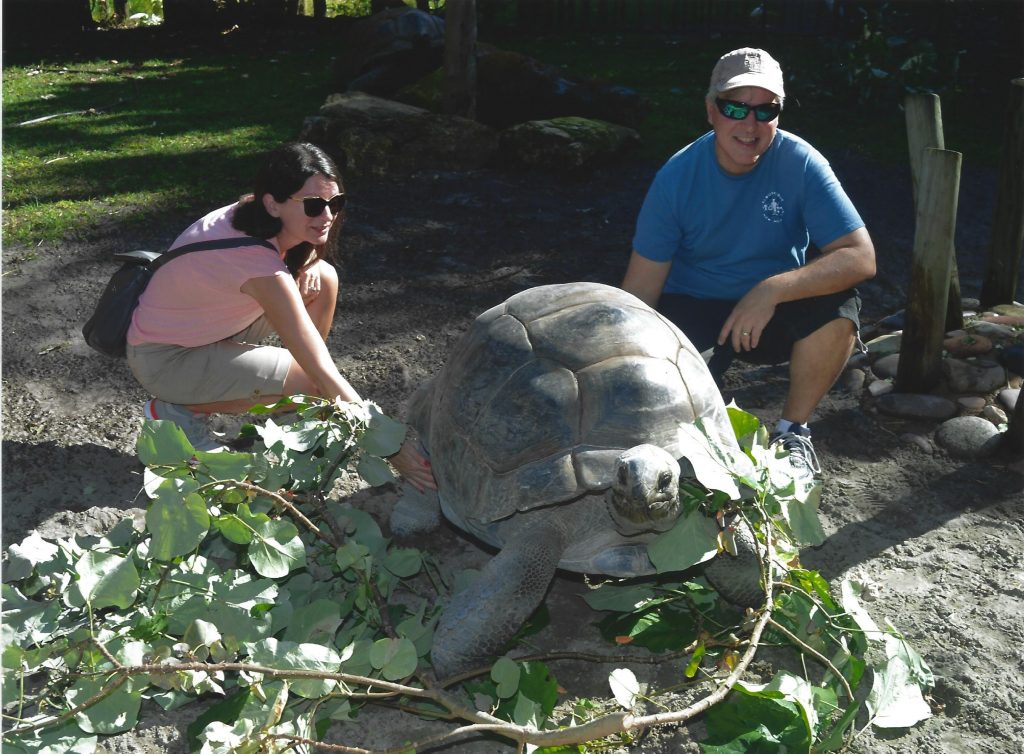 The really fun part, of course, was interacting with the giants, who happily gathered around us as soon as they realized we had treats for them. Tortoises can be quite curious as my husband found out when he got nipped in the backside by one of the smaller residents, a Burmese tortoise that snuck up on him.
The biggest resident, 90-year-old male aldabra Noto, is the heaviest and hungriest. He would have crunched his way through buckets of sweet potato "chips" if we'd had them. Incidentally, it is wise to feed the giant tortoises on sticks, which were readily provided by Emily. Tortoises do not have the best eyesight and their beaks are pretty sharp, biting through raw sweet potatoes like nothing. Should they happen to bite down on a finger instead, well you can guess how that would end.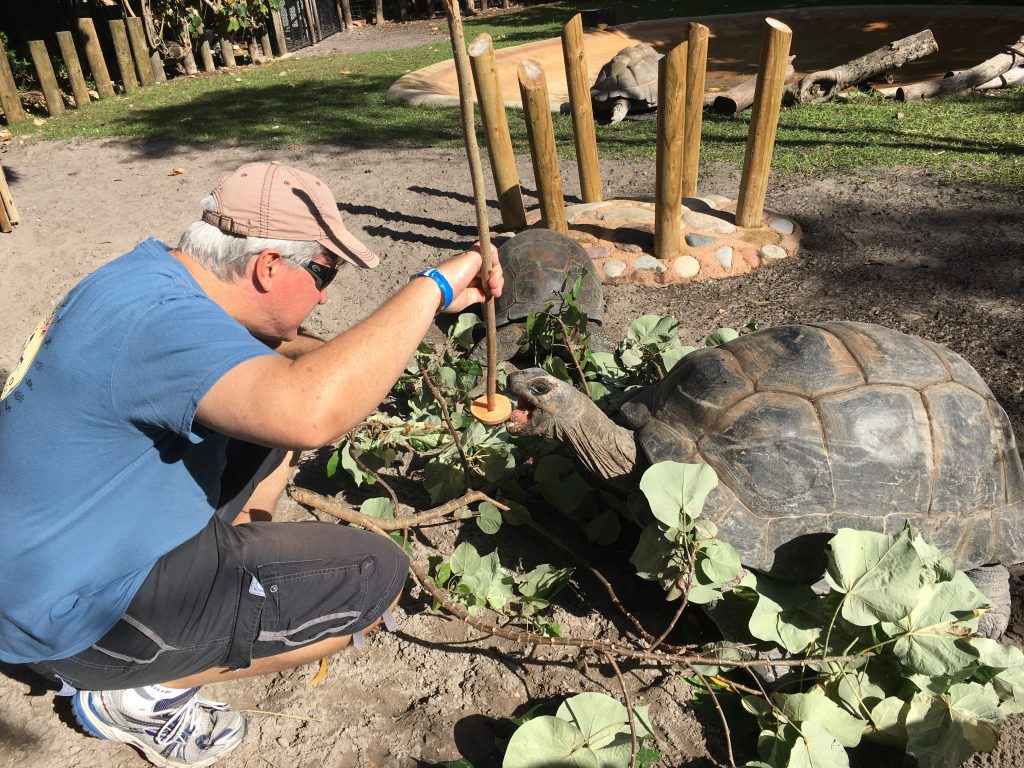 Noto just loves those sweet potatoes
The experience is not all about feeding the tortoises. Scratching them is great fun and they love it. If time allows, you may also get to bathe them. All of this interaction is totally voluntary on the part of the tortoises and they seem to really enjoy the attention, leaning into you or sticking their heads out all the way when getting scratched or sprayed with water. It was a lot of fun playing with those long-lived gentle giants, and I can really recommend Palm Beach Zoo's animal experiences program.
Details
Palm Beach Zoo is open daily from 9-5 (last admission at 4:15pm) all year except Thanksgiving Day and Christmas Day. At the time of writing, general admission is as follows: adults $24.95, seniors (60+) $22.95, children (3-12) $18.95, toddlers (0-2) free. Anymal experiences carry an extra fee.
Palm Beach Zoo is located at 1301 Summit Boulevard, West Palm Beach, Florida 33405. For a map of the zoo, click here