Flamingo Gardens is a great place to escape from South Florida's hustle and bustle without having to stray too far. Many know it for the animals (of course lots of Flamingos) and gardens, but it also has an interesting history and a lovely historic home on its property.
History of Flamingo Gardens
Flamingo Gardens started life as a citrus orchard called "Flamingo Groves" in 1927, having been founded by Floyd and Jane Wray. The grove grew to 2000 acres and reportedly held 60 different variety of citrus back then. There was also a botanical garden, which would receive foreign plans and seeds from the government for test planting. Flamingo Groves also served to make rare tropical fruit and trees from further afield accessible to the public.
The Wrays opened their gardens to the public and daily tours of the citrus operations were held frequently to the delight of visitors. At around this time, they also built their weekend home – the historic house on the property today.
What is there to see?
There is lots to see and do at Flamingo Gardens. The grounds are beautiful, and it is so much fun to visit the animal exhibits. Some animals may be fed, the fish for example, which is great fun for kids.
Flamingo Gardens is also said to hold the largest tree in Florida. It is marked clearly on their map, so don't miss it. Don't let the fact that it is a non-native cluster fig ruin it for you because it's truly impressive. By the way, there are lots of large trees and a jungle area within the gardens also, so if you like it lush, green and tropical then Flamingo Gardens is a great spot to visit.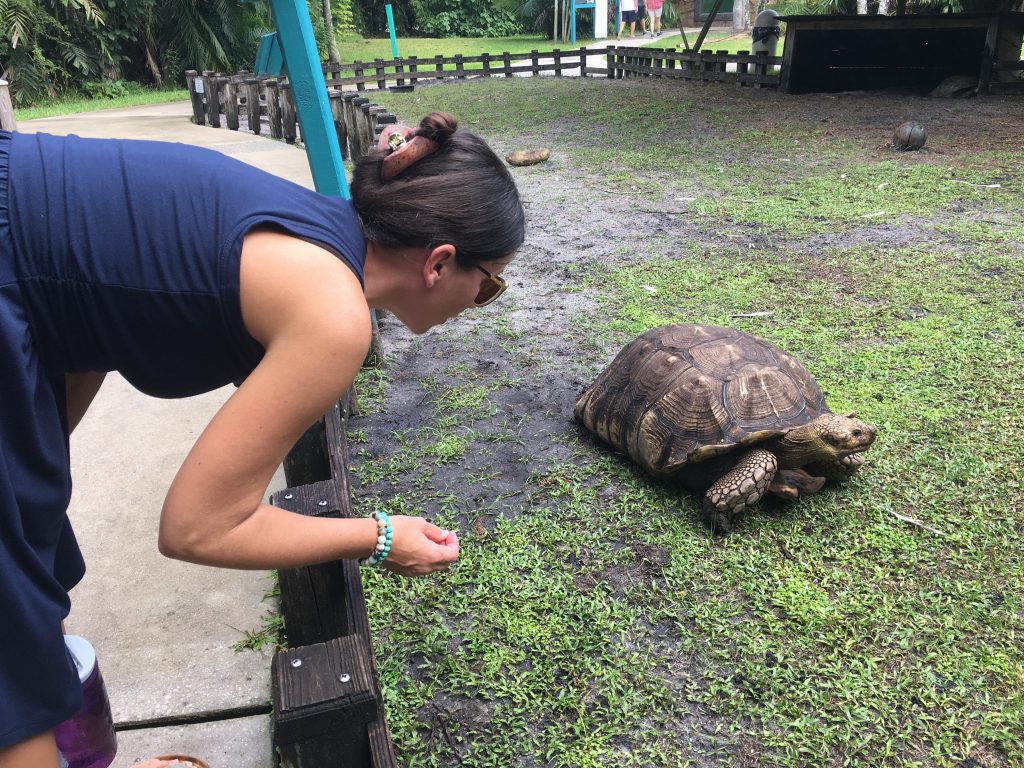 This Sulcata tortoise wasn't in the mood to say hello to me
Of course, the main attraction for many, especially children, is the fact that there are plenty of animals on the property, for example bobcats, a bear, otters, birds and tortoises. I was pleasantly surprised at the improvements that have taken place here over the years. I am not a great fan of seeing animals in captivity, but do recognize that Flamingo Gardens management and staff are doing a great job with their exhibits and enclosures. This is not a zoo, most (if not all) of the animals are rescues, and some of them can never be released due to permanent injury or disability. There are also animals that were born in captivity and therefore can not be released.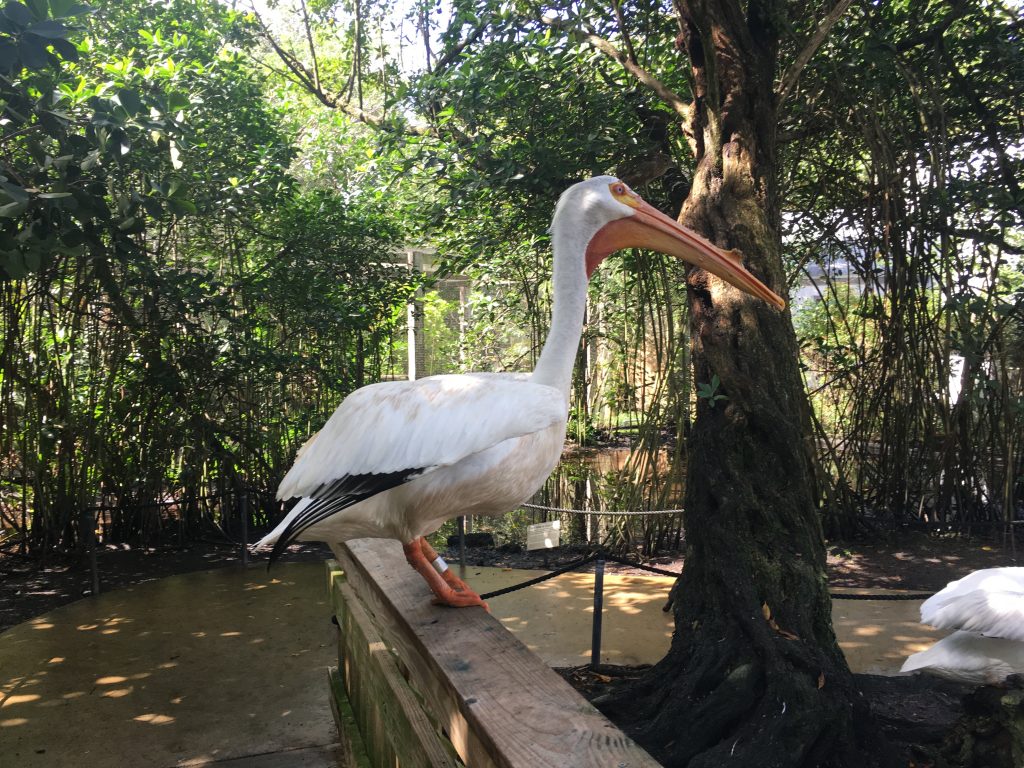 A big white Pelican
Some exciting news came a few months ago in the form of a little Flamingo hatchling. The little baby boy hatched August 2018, the first in 30 years! Initially he was hand reared but now joins his flock for much of the day, although he is still being fed separately. We got there just in time to catch a glimpse of him being taken to his own private lunch.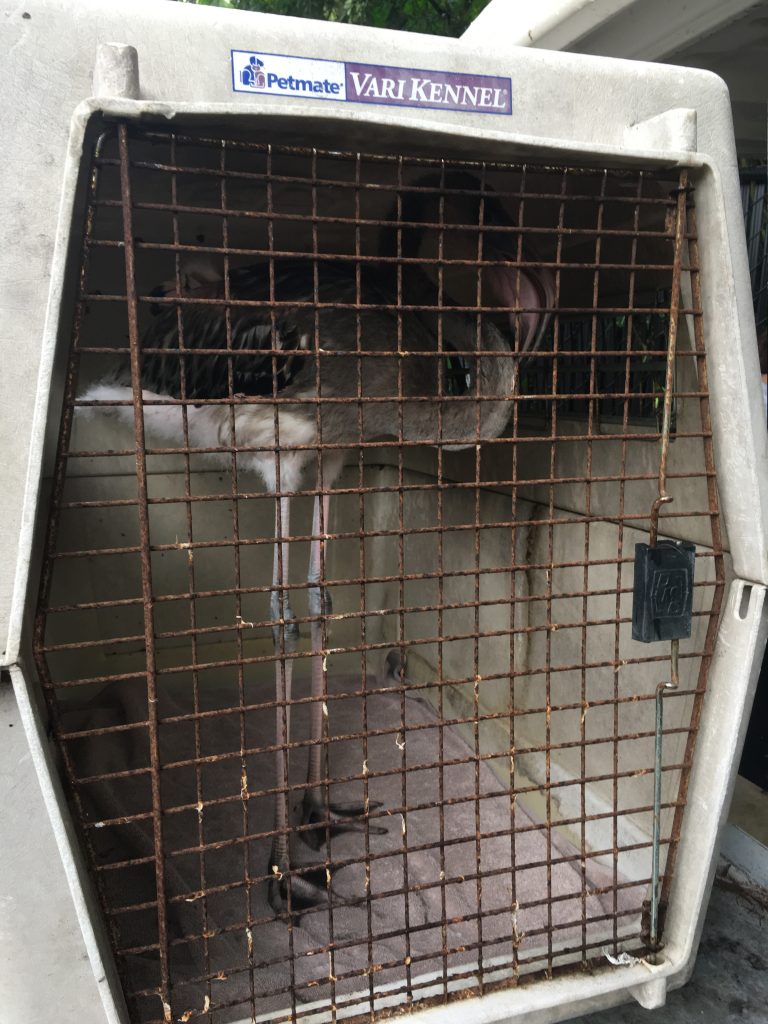 I always enjoy just walking the gardens, part of what used to be the citrus grove. There are still plenty of fruit trees back there and it is very tranquil. I also like the portion of "jungle" or rainforest.
This time I also loved going inside the Wray home, the historic house on the property. It is lovingly decorated with many details and lets you imagine what life was like at Flamingo Groves in the 1930s, 1940s and 1950s. All I could think of: no air conditioning back then! Luckily now the house is nicely air conditioned…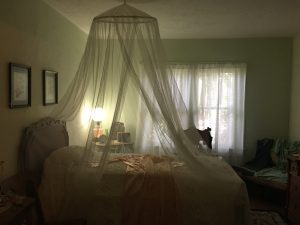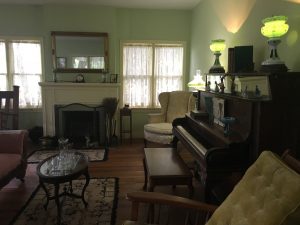 A mosquito net would have been a must have for me
Those are some of the things and animals you can enjoy at Flamingo Gardens. And if you need to rest your feet from walking around the animal exhibits, why not take a narrated tram tour? It is included with the entrance fee, after all.
Details
Flamingo Gardens is open 7 days a week 9:30 am – 5:00 pm (although the ticket booth closes at 4:00 pm). The gardens are closed Thanksgiving and Christmas Days and close early at 4 pm for Christmas Eve & New Year's Eve.
Location: 3750 S Flamingo Road, Davie, Florida 33330-1614
At the time of writing general admission is $19.95 for adults and $12.95 for children aged 3-11. Children aged 2 and under are free. Parking is free and pets are not permitted.