I have wanted to go out to the reef for the longest time. After all, our wonderful Florida reef is not only the ONLY living reef system in the continental US, no, it is also the third largest in the world (after the Great Barrier Reef and the Belize Barrier Reef). Roughly speaking, the reef runs all the way from Biscayne Bay down to the Marquesas Keys off Key West, following the curvature of the Keys. The added bonus: it is extremely accessible being just a few miles offshore.
The Florida reef is absolutely ideal for exploring either on a private boat, with a boat rental or on one of the organized tours. I can highly recommend John Pennekamp and their wonderfully kind and experienced staff and boat captains. In fact, as I am writing this, I could kick myself for not having gone on one of their trips sooner. I am a wimp though, you see, so the conditions (weather and ocean) have to be 'just right' for me to even consider jumping into the ocean offshore.
After having snorkeled the reef, I believe everybody should see this beauty and 'other world' at least once in their lives. Not only that, it has also made me more resolved in wanting to protect this unique and fragile habitat. If you have never been snorkeling, it feels like entering another planet altogether. It's silent, beautiful and truly magical. I am hoping this wimpy post will give all those courage who have been hesitating!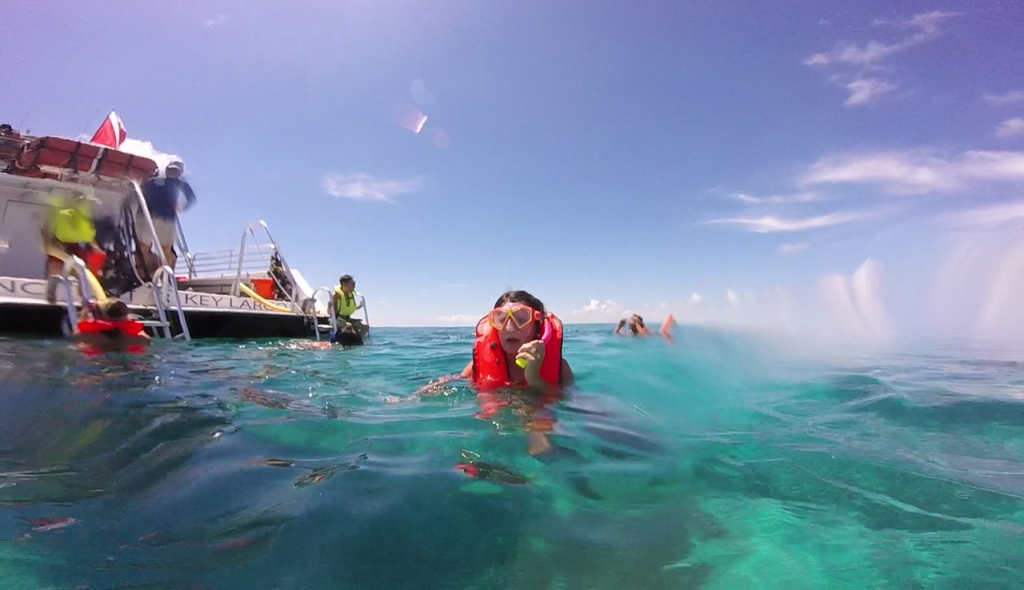 First Attempt – Ended Up Back In The Boat Quickly
John Pennekamp Trips Are A Perfect Introduction To Snorkeling – Especially For Wimps!
Here's my favorite excuse when it comes to swimming without being able to touch the bottom: I was born and bred in a (more or less) landlocked country. It is tough to try and learn at 40 what others learn at 5. I basically swim like a grandma, head out of water and constantly looking around me for any scary creatures. No offense to grandmas, most of them are better swimmers than me in this day and age…
If, for whatever reason, you are nervous when faced with the ocean, snorkeling equipment, or simply the idea of getting off a boat and jumping right into the deep, let me tell you: I have all of those problems and more. I also forget how to breathe when faced with a snorkel and have accidentally tried to breathe through my nose before! Yup. I know it sounds almost impossible for anyone with half a brain cell, but there it is.  Suffice to say it made me learn quickly.
I have tried to practice from the beach, which definitely helps to at least get accustomed to the gear. It is not quite the same as snorkeling in the ocean where you can't just stand up, adjust your mask and relax for a bit, but I do recommend trying it before going on the trip. Luckily, there is a nice gently sloping beach at John Pennekamp, where you can 'have a go' at snorkeling before jumping into the big old ocean.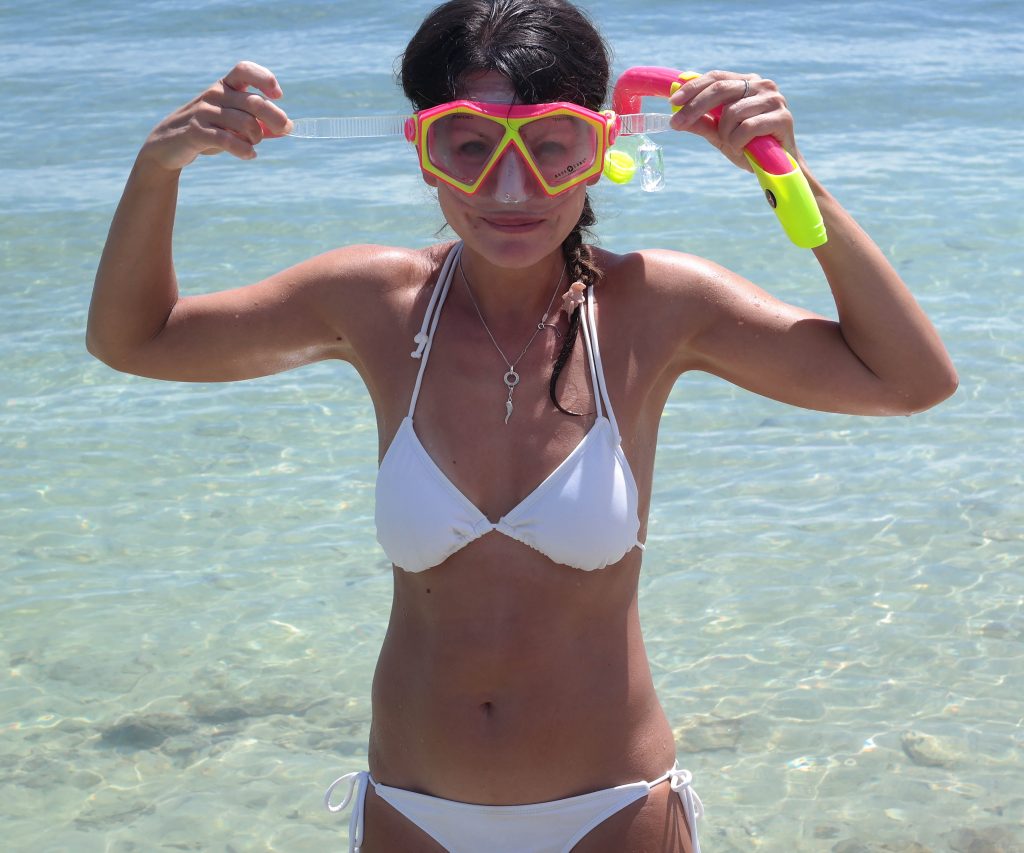 Practicing On Virginia Key – Does my lip look big in this?
When To Go And What To Expect
I may be stating the obvious, but whether you're a wimp or not it is best to go in calm weather, calm winds to be precise. Not only will it be much easier for those new to snorkeling but importantly: the visibility is most likely much better than when the sea is stirred up.
The other important piece of advice regarding John Pennekamp tours is: reserve your spot early to avoid disappointment. I provide further information on trips and the park at the end of this post. I can only imagine how sought-after these tours are, considering there are various throughout the day and ours was full in September (considered off-season although I don't believe there is such a thing in the Keys anymore).
We checked the weather forecast a day before and made our decision then. If you can do the same, I recommend it. You don't want to be put off by waves and wind, and I was pretty adamant that anything over 8-10mph east winds was not going to be good for my wimpy self. We were lucky to get one of those rare days when wind was under 8mph.
It was in fact a gorgeous day!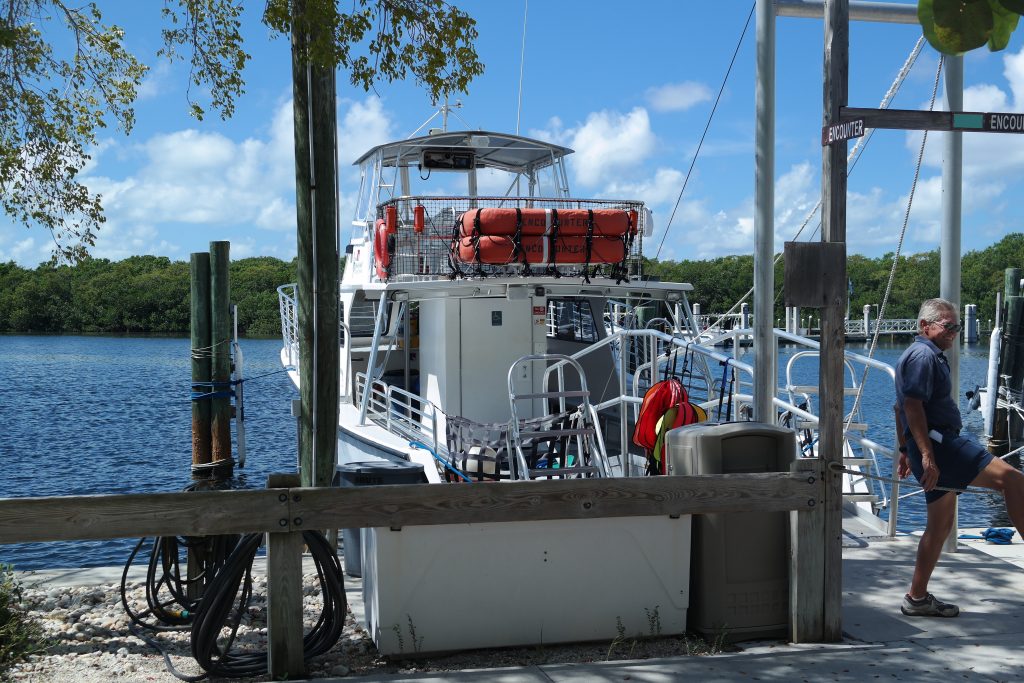 The boat we went on was small enough to feel personal, but as we got on, we briefly wondered how all the people in line would fit on it. Well, they did and it didn't seem too cramped either. Once we all had our seats, grabbed our inflatable life preservers and got a little induction talk from the captain, we set off to the reef!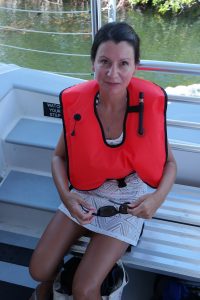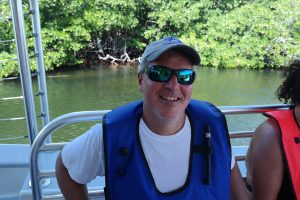 I Look Scared – My Husband Looks Happy
First of all, the two lovely men who were running this excursion made sure we could work the inflatable life preservers. My advice is to make sure that strap around your torso is tight, else that thing will rise up and try to strangle you – I speak from experience. Getting strangled and being obstructed by the life vest on your first ever snorkel trip doesn't exactly feel fun. It was in fact my first panicky moment until I deflated that thing a bit.
Of course, if you are a really good swimmer and want to dive down, just don't blow that thing up! You will have to wear a life preserver though, as it is a requirement for insurance purposes. It is also for your own safety, obviously, as you will be in the open ocean.
The boat trip out to the reef was lovely and really didn't take long, around 20 minutes, I think. The boat is really fast and fun! During the trip, the staff was explaining a few things and offered advice. They also offered a quick snorkeling class as soon as we were moored safely. Great for beginners who don't have a clue! The captain and first mate were both so very helpful and patient, for example showing people how to wear the mask correctly. They had anti-fogging spray available for everyone and even (turned out to be my savior) noodles!
Then it was time to get into the water!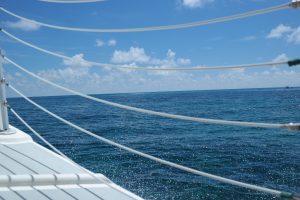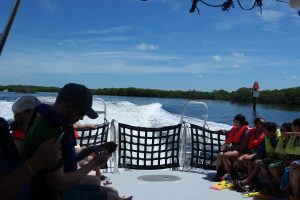 Doesn't This Look Like Pure Fun?
Here is where the wimp in me surfaced (no pun intended): my main problem was the mask sliding off my face and trying to breathe calmly. Why is that so difficult? Breathing should be simple, after all we do it automatically all the time. Somehow it suddenly seemed complicated when faced with a snorkel. Does anyone else have this problem?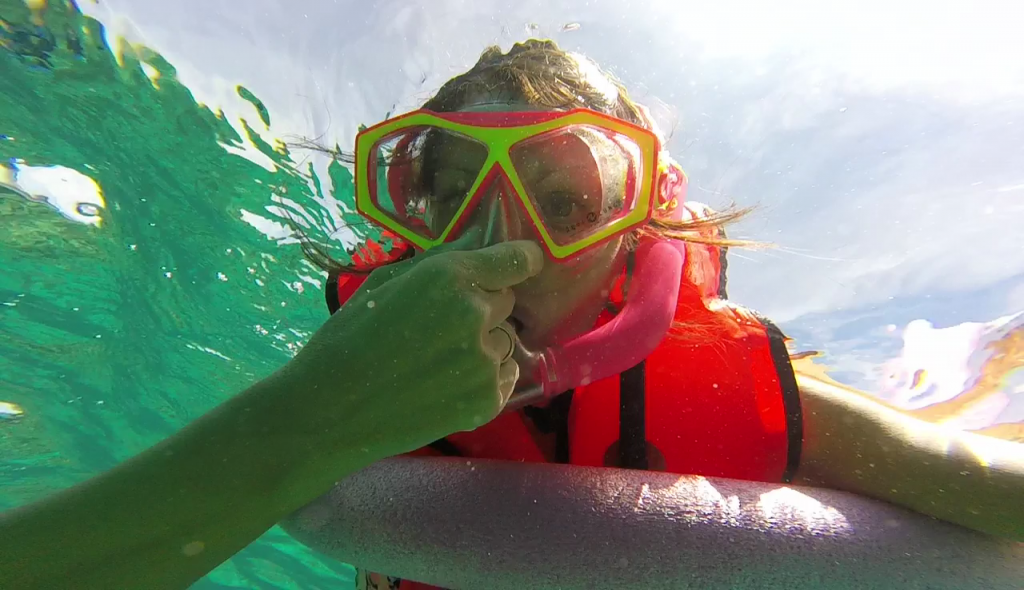 Slightly Panic Stricken – Still Getting Water Into My Mask!
As I hopped hopefully off the boat in Key Largo's Pennekamp, everything happened at once: the evil life preserver tried to strangle me, the mask slid off, I forgot how to breathe through my mouth (how is this even possible?), and I was back on the boat and deflated within two minutes! I told my husband: 'bye bye, go and enjoy yourself'. I got grumpy. I was just about to throw all my toys out of my pram when:
The lovely captain and first mate from the boat (two older salty sea dogs) came to my rescue! They encouraged me, threw a noodle my way and told me to just float on it when I felt tired or overwhelmed and adjust myself and my gear calmly. They helped me with mask and life preserver, and reassuringly kept a watchful eye over me and all the other nervous first-timers. I felt in great hands and from then on the panic disappeared completely! It took just a few minutes before I was happily floating in bliss on my noodle, entering a totally new and amazing world. Just look at this: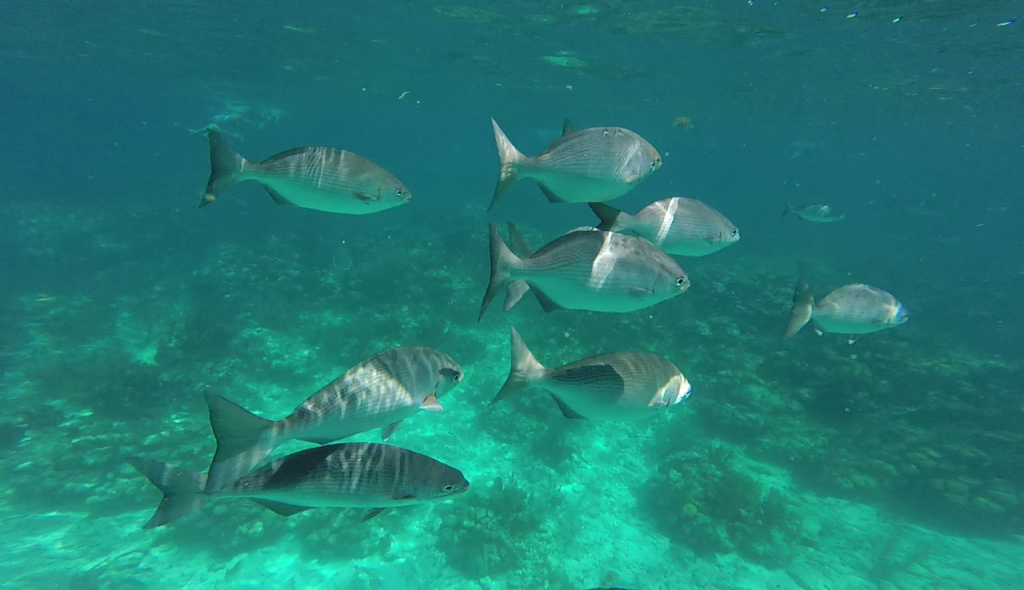 So if you happen to be a wimp like me, or haven't snorkeled for a long time and are a little nervous, this really is the perfect trip. If you are an experienced snorkeler, you will enjoy this trip too, because you can just hop off the boat without much ado and explore the reef to your heart's content for over an hour!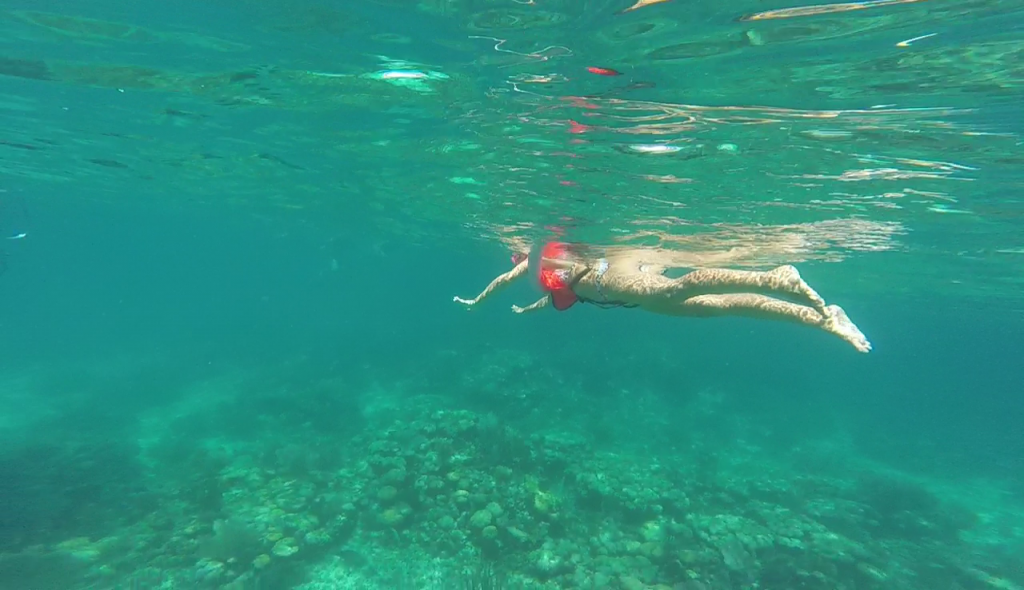 I Finally Got The Hang Of It And So Will You
Where Were We And What Did We See?
Our boat took us to North Dry Rocks Reef just east of John Pennekamp. This area is also where the 'Christ of the Abyss' statue is found, so it is a pretty popular spot. In fact, most people come to see this statue so they warn you at the park that not all boats will go to this reef and it depends on conditions and on how busy the area is. I didn't care as I just wanted to see fish! However, my husband came back with some great GoPro footage from the statue and the sunlight shining on it which made it look pretty spectacular.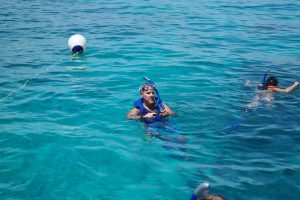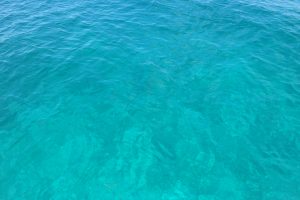 Just Look At The Color Of That Water!
I was mostly fascinated by huge purple fan coral and all the other inhabitants of the reef, it looked like a gigantic underwater forest with lots of tropical colorful fish going about their daily business. Schools of sergeant major, blue tang and parrotfish surrounded us, as well as snappers and barracudas. The color of some of the parrotfish was unbelievably bright – turquoises, pinks, oranges and yellows – it is hard to believe that nature produces such vivid and amazing colors!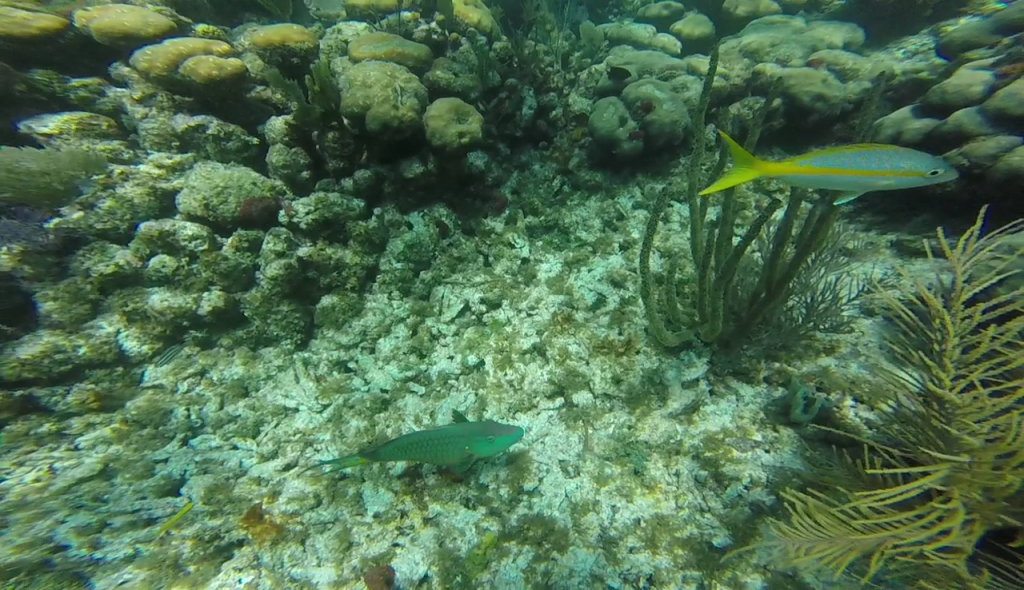 Parrotfish And Yellow Tail Snapper
The best part for wimps: you don't even have to swim far from the boat to see all this! Being a weak swimmer, I was constantly aware of where the boat was and of my distance to it – not much of a distance. I never got too far away and yet saw the same amazing underwater life as those who swam further out on the reef towards the statue.
For all those first timers, wimps and also for younger kids: this trip is ideal for you!
What About Sharks?
Ok, this question is not as silly as you may think! Of course we have all kinds of sharks in these waters and you may encounter one. Consider yourself lucky if you do! Firstly, sharks are most active at night. Secondly, the type of sharks you will see here are not usually the aggressive type.  I was pretty jealous of one couple who said they saw a big nurse shark sitting on the bottom of the reef. Those guys really keep themselves to themselves and are bottom dwellers/bottom feeders and pretty cute, I think!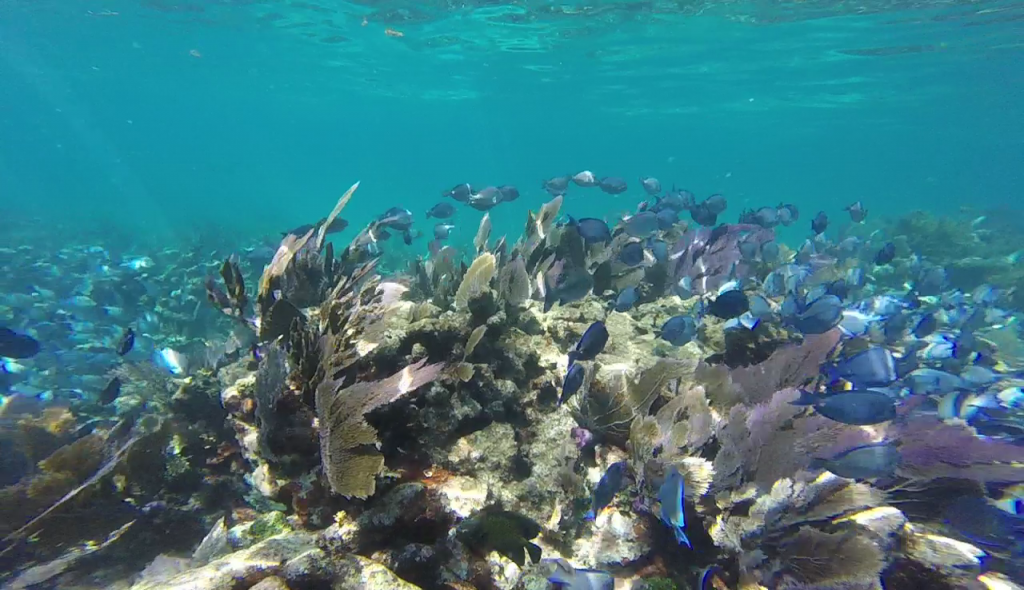 The 'scariest' things I saw on this trip were jelly fish. We were told that we could get close to them and swim away, as they are pretty slow moving. Slower moving than me, in fact. I didn't get stung. Other than that I saw a couple of decent sized barracudas, but again, they kept themselves to themselves and observed us at a distance. Sometimes it is hard to tell who is watching who, so many fish came up to me and swam right up to my mask to check me out, mostly sergeant majors (the little yellow guys with black stripes). I loved that.  It truly is a magical experience in so many ways.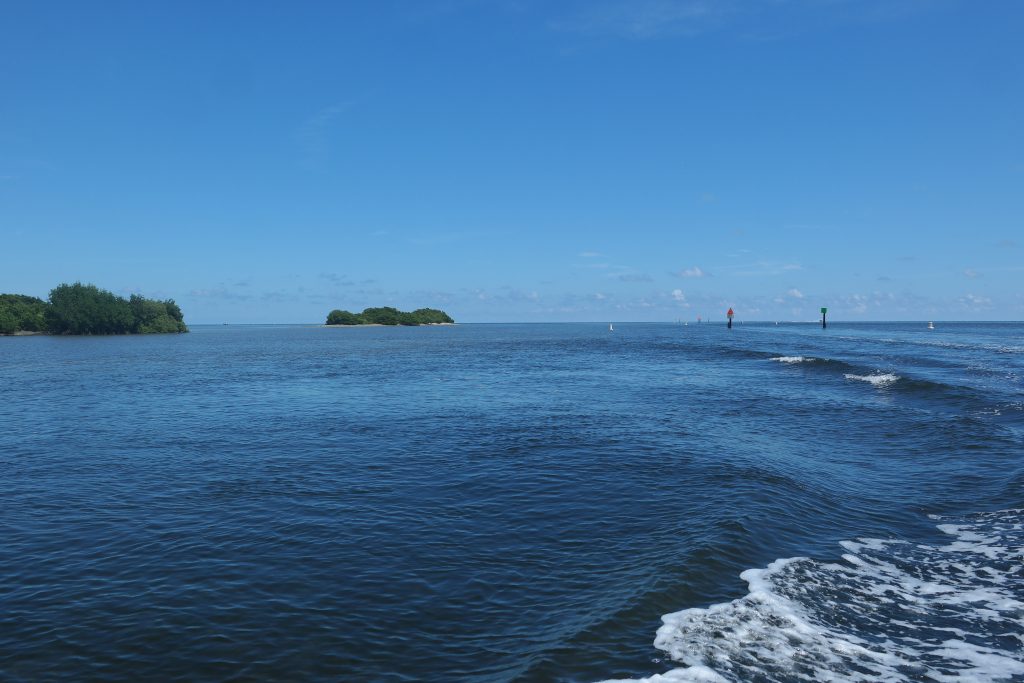 Way Back – This Trip Ended Much Too Soon
It was only a short trip but we were pretty tired afterwards and I was glad we didn't start off with one of the longer 4 1/2 hour trips. It was a great little excursion for a wimp like me. To round off the day we had a beer at the Caribbean Club – great place for that relaxed and quirky Keys feel and watching boats coming in and out off their boat ramp. Cheers!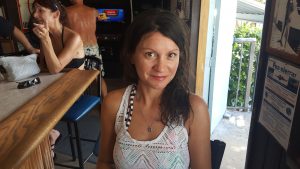 A Well Deserved Pit-Stop At The Caribbean Club
Details Of Various Trips And John Pennekamp General Information
There are different trips on offer here and some, such as the glass bottom boat tour, cater to those who don't want to get wet yet see the amazing underwater world. Great for those who are not able or not willing to snorkel and the very young and very old.
The Glass Bottom Boat runs several times a day (9:15am, 12:15, 3:15pm) and costs $24 per adult, $17 for children up to 11 years of age. It is free for toddlers (up to 3 years of age). This tour takes you out to Molasses reef and is about 2 1/2 hours long.
John Pennekamp offers short and long snorkeling tours (as well as private charters). We went on a short tour, mainly because it was my first time and I needed to figure out whether I could do this snorkeling thing for an hour, before attempting to do it for 4 hours.
All tours are subject to minimum numbers and at the time of writing, the short tours are about 2 1/2 hours long and take place at these times: 9am, 10:30am, 12 noon, 3pm and 4:30pm. The cost is $29.95 per person and $24.95 for kids under 18. The longer tours (4 1/2 hours) run twice a day, at 9am and 1:45pm and are $38.95 per person. The longer tours take you to multiple snorkeling sites, while the short one only takes you to one site. Snorkeling equipment can be rented for a little extra at the park.
Other than that, the park does offer private snorkeling and diving tours that are a little more costly. If you are feeling confident and have boat handling experience you can also rent your own boat right there for a day or half a day.
John Pennekamp also offers scuba tours, but as this is an article for snorkel wimps, I am assuming such wimps would at this point not be interested in scuba diving – however, if you are, you can find more info here.
Park Info: Getting there is pretty easy, just take Florida's Turnpike south to US 1. Carry on to the Florida Keys and look for the State Park entrance at Mile Marker 102.5 (on the left, oceanside). The park is open from 8am until sunset year-round.
Even in the off-season, if such a thing exists nowadays in the Keys, this park gets busy on the weekends. I would suggest to call beforehand for the snorkel tours, as well as getting there early (phone number: 305- 451-6300). The park has plenty of things going for it such as amazing kayaking, and is just lovely all-around. Entrance fee for a typical car and two-eight adults runs at $8.
For more park info, visit their extensive website.
Finally: Is It Worth The Money, Travel Time etc.?
Uhm…once you have been, you won't ask that question, trust me with this one! 🙂
Any more tips for wimpy snorkelers? Have you been on other trips you can recommend from other Keys? Any reefs that are particularly stunning – let me know…