This was my second ever snorkeling trip and I feel that I have now just about advanced from 'wimp' status to 'slightly nervous snorkeler clenching a noodle'. I smugly noticed that some people were more wimpy than me on this trip. It was satisfying to hear intermittent shrieking that definitely wasn't my own.
Mind you, my swimming abilities haven't improved much. I still don't stray too far from the boat and probably look like an impaired baby whale clinging to a noodle for dear life.
I also had a slightly unnerving moment while snorkeling this time. Most of the other snorkelers this trip were battling with plenty of huge moon jellyfish that graced us with their presence. Do you know what a group of jellyfish is called? Apparently, it's a 'bloom' or a 'swarm', and yes, I had to look that up.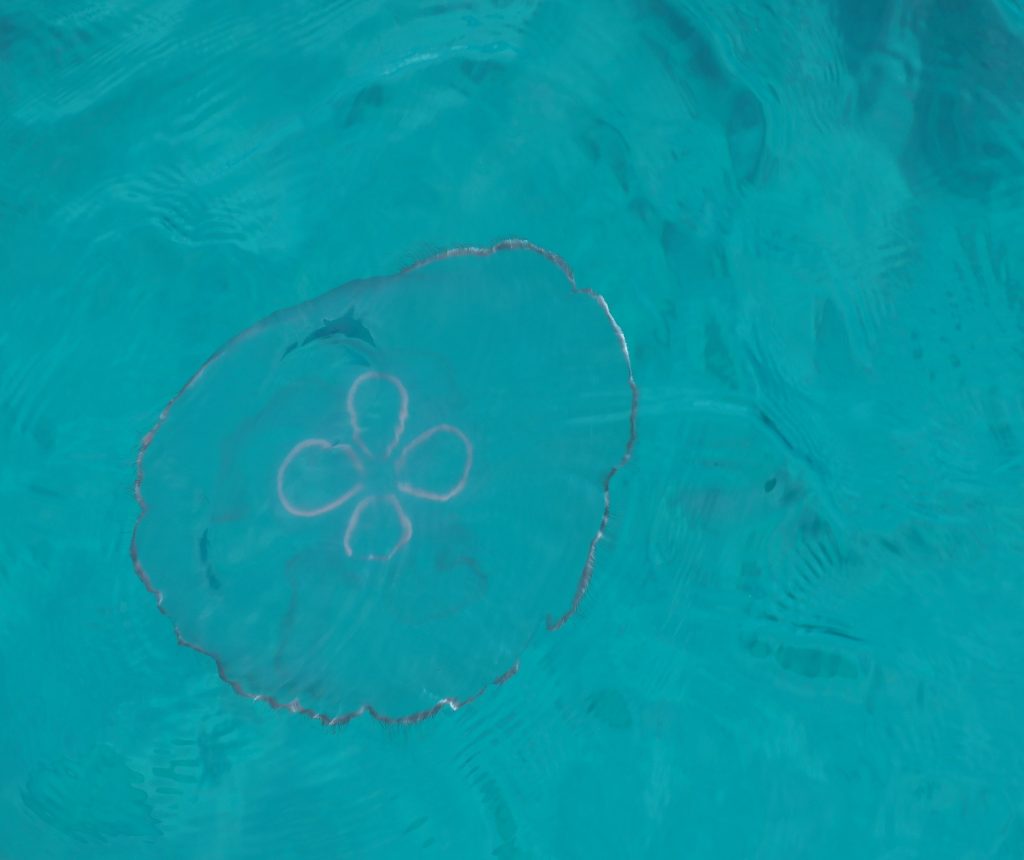 Here's The Fiend – Caused A Grown Man To Panic And Lose His Fin!

We had swarms of jellyfish (yuck) flowing past us now and again, but that left me relatively unfazed, even if some of them looked bigger than dinner plates and no, I wasn't keen on making acquaintance. However, my scary moment came when I suddenly noticed some schools of fish darting around me and out of the water, right next to me. They were frenzied and terrified. It looked like several small schools of juvenile yellow-tail snappers.
At first, I was elated to be seeing all these fish so close. Then, I began to think (never a good idea) and got suspicious. It dawned on me that they didn't put on such a fine display for my pleasure, but were clearly swimming for their lives and being hunted by something. Something bigger. Potentially much bigger. In my mind, nothing was implausible now < insert Jaws theme here >.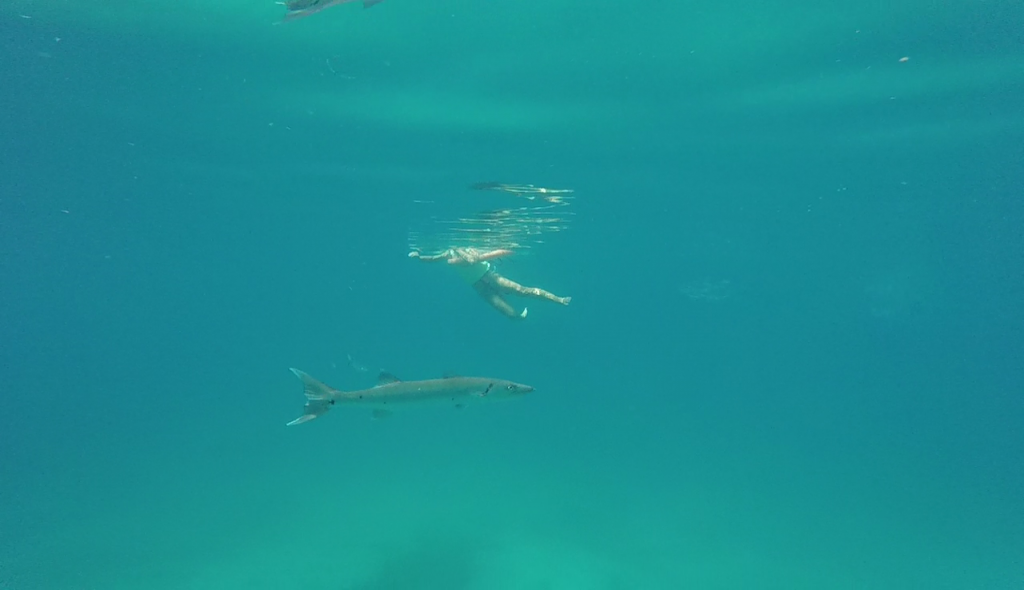 The Barracuda I Could Not See – But I Felt Him…

I instantly got out of the way of whatever was hunting for its lunch and decided to do a Michael Phelps back to the boat, as fast as noodle and swimming ability allowed (basically not very fast). I reasoned that whatever it was, shark or barracuda, one thing was for sure: I didn't want to get in its way. Nor did I want 'it' (whatever it was) to think I was an odd looking huge yellow-tailed snapper. Even though that would be a highly unlikely scenario, the lady on the boat had just said (trying to calm us down), that barracudas have 'terrible eyesight'. I was wondering about sharks' eyesight…da dum…da dum…da dum…
The mystery was solved when we got home later in the day and my husband showed me some GoPro footage of what had been circling me – a pretty decent sized hungry barracuda!
Let's talk about the where and how of the trip:
Robbie's In Islamorada – A Great Base For Fishing And Snorkeling Trips 
Robbie's is an institution with a bit of everything, including a bar/restaurant, docks, fishing and snorkeling trips, kayak rentals and stalls upon stalls of merchandise right on the Overseas Highway (mile marker 77.5).
It's a fun place to stop off at, when in the Florida Keys. There is a lot – also for kids – to see and do.  If you feel like making a few fat fish a lot fatter, you can get a bucket of (dead) fish for a couple of dollars and have some fun feeding the tarpon. Gulp!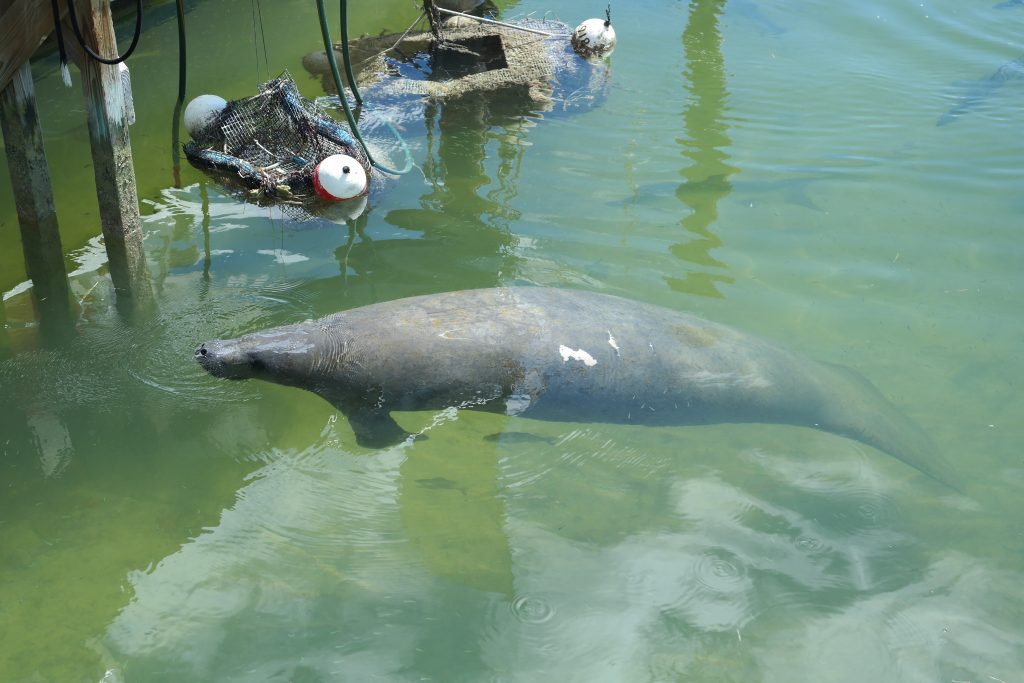 Sometimes There Is A Manatee
I admit: I love Robbie's. We have been there so many times. It has been the base of a few trips out to Indian Key on kayaks and we have never had anything less than friendly and efficient service from the people who work there. Sitting around at the dock when the fishing charters come in with their catch provides hours of (free!) entertainment. This time, we didn't just see nurse sharks and lemon sharks, but also a group of three manatees!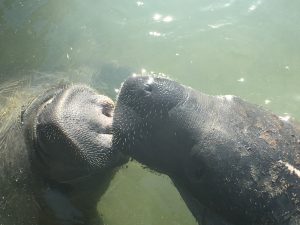 Manatee Kiss
The Happy Cat Snorkeling Trip
We decided to try out the 'Happy Cat' snorkeling trip at Robbie's for a change from kayking. It was a beautiful day and a great decision. This trip was somehow a more relaxed experience than our trip out of Pennekamp, and therefore ideal when you have had some snorkeling experience, but it isn't necessary, as long as you can swim and breathe through a snorkel. And I still have trouble with both! So it's ok for wimps, I promise.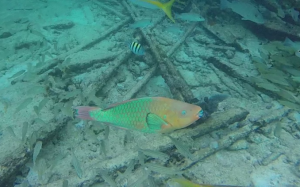 Parrot Fishy
The boat is a smaller but roomy catamaran and fun to ride on. We had an ocean like glass, which is how I like it. The Happy Cat has a head (boat term for toilet) and even a fresh water shower on board, which is a bonus for those who care to rinse salt water off right away.
The lady who was 'first mate' was exceptionally attentive as well as sweet and friendly. The captain gave us a 'reef brief' anytime we stopped, basically telling us how to get to where we see the most fish and stay safe at the same time. Both of them kept a constant watch for everybody and the 'first mate' even swam out when they heard someone scream (jelly fish doing its stinging thing).
Another plus, they have (fairly priced) beers, soda and chips for sale on the boat. They also allow you to bring your own cooler on board should you be so inclined. I know a man who hardly ever leaves his house without a cooler…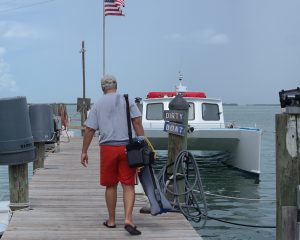 My Better Half With Our Supplies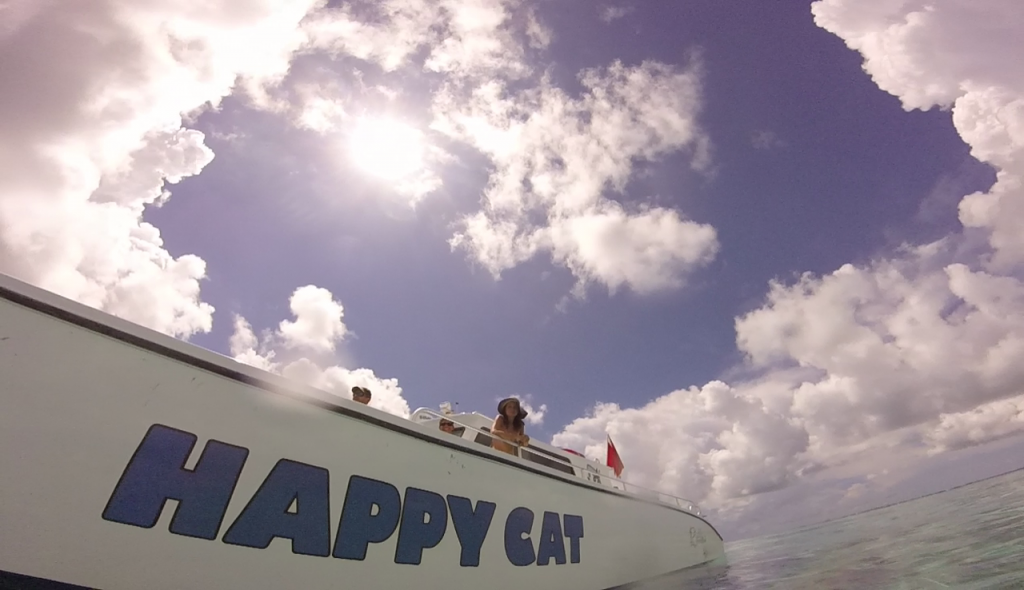 The Happy Cat And The Happy Tamara
Snorkeling Stop Off Points:
Heading straight out of Robbie's marina, this  2 1/2 hour trip promises to stop at two different places, which is really great. We were on the lunchtime trip (starting at 12 noon) and apparently, the morning trip had seen lots of jellyfish at the Cheeca Rocks reef. So we weren't going to head there, which I was grateful for, and meant we got to go to two different stops in the area around the Alligator Lighthouse.
First stop was just south of Alligator Lighthouse, at a reef ledge. The water was pretty deep here and other than me getting between a barracuda and its prey (see above), and seeing lots more big barracudas and dark blue water, I didn't see much else. Typically, deeper water equals bigger fish and judging by the size of the barracudas that were sitting around there, I can definitely support that theory.
The second stop right at the Alligator Lighthouse was in much shallower water and absolutely spectacular. The water and the backdrop of the lighthouse make for a truly phenomenal view, to me it was a bucket list item for sure.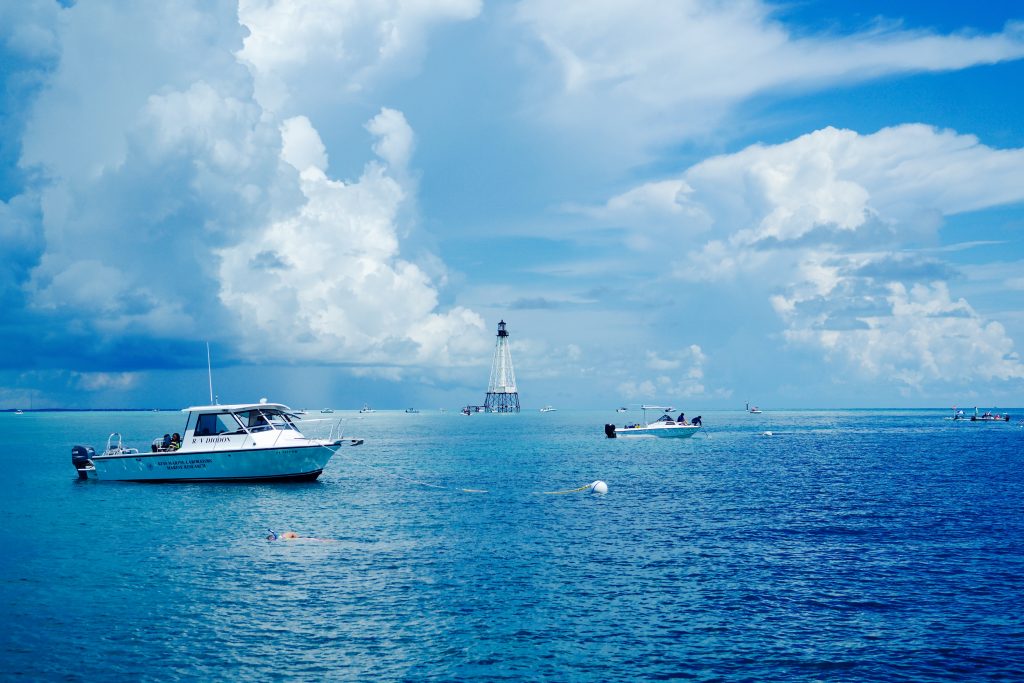 First Stop Just South Of The Light House In Slightly Deeper Water
There were some boats – apparently this area gets really busy – but our Captain found a mooring buoy and off we went for the adventure. I am really good at looking goofy with my gear, and if you feel self-conscious or have no experience with snorkeling gear, don't worry.  They will help you and besides, everybody is way too busy also looking goofy, and/or too preoccupied with getting their gear on to even notice others. In any case, you can't look sillier than me: I have taken to wearing a swimming cap. Yes, really, like your grannie used to wear, just without the fancy flowers. Actually, I remember still having to wear caps in swimming pools as a child. Did you have to?
Anyhow, I do really recommend a cap for those with long hair or problems getting their mask to stay in place. It has helped me immensely, no more mask sliding, or hair getting trapped and ripped out by the mask. And after a brief minute of looking stupid and feeling self-conscious, I didn't care anymore. It was clear that the benefits outweighed the 'costs' here!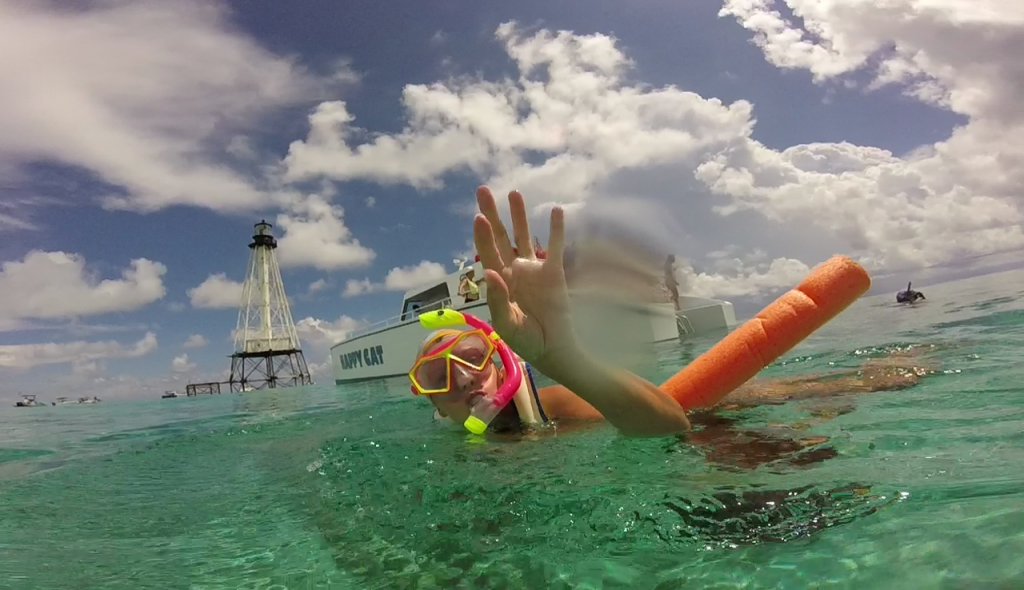 Hello! Glad I Made It And Yes – I Am Wearing A Cap
What Did We See?
The amazing thing is that even if you don't want to, or for some reason can't snorkel, at Alligator Reef Lighthouse you will still see plenty of life because the water is crystal clear and as soon as the boat is moored, you can see right to the bottom of the ocean. Absolutely incredible, here is the evidence and yes, a little barracuda and a little yellow tail snapper posed for me: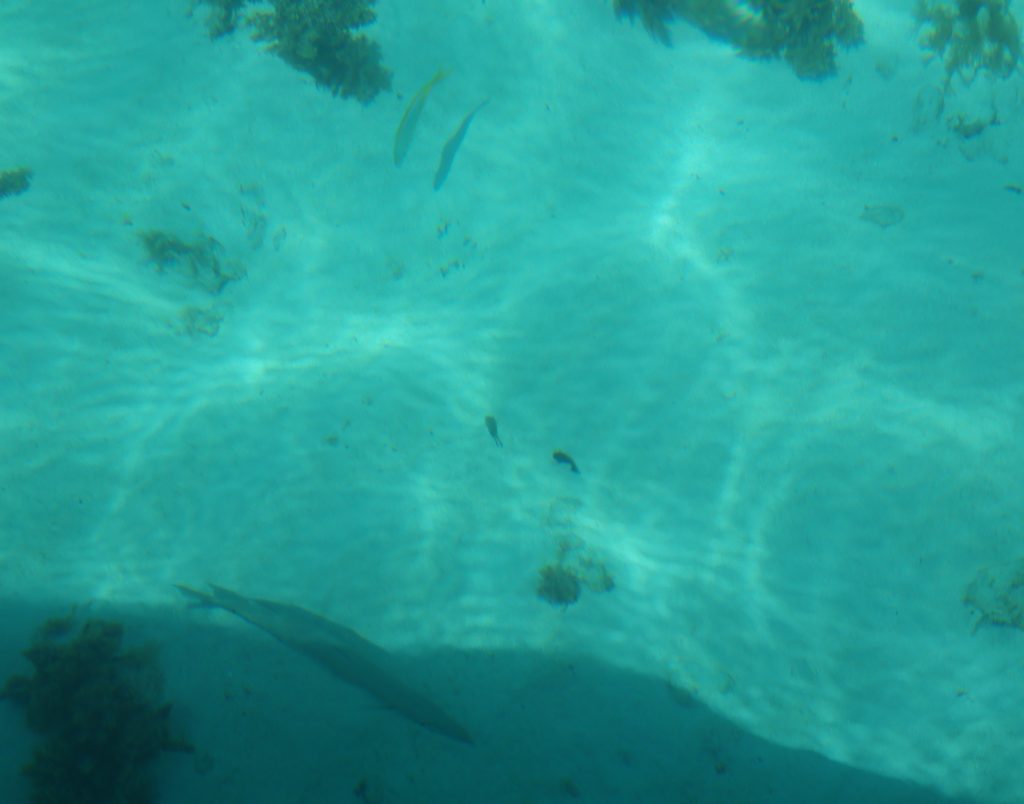 Note The Size Of Barracuda – Much Smaller In The Shallow Waters
We saw lots of different fish and there was an amazing amount right under the lighthouse. I didn't swim under those girders, still a little too wimpy for that, but my husband was there for a while and took these lovely shots. There were parrotfish, angelfish, blue tangs, sergeant majors, grunts, grey snappers and many I can't even identify. And sometimes a picture or ten says a lot more than a thousand words: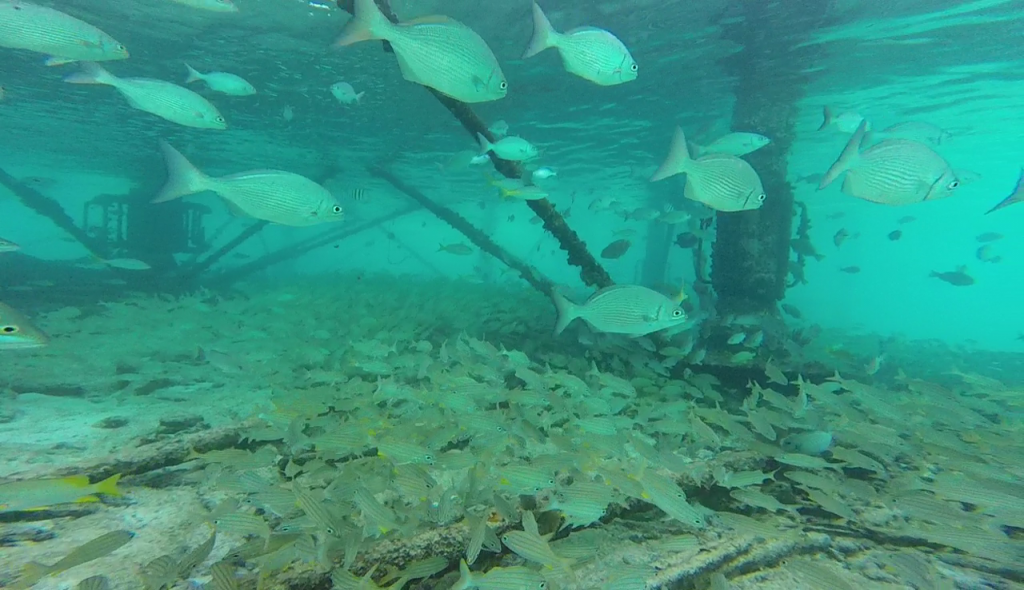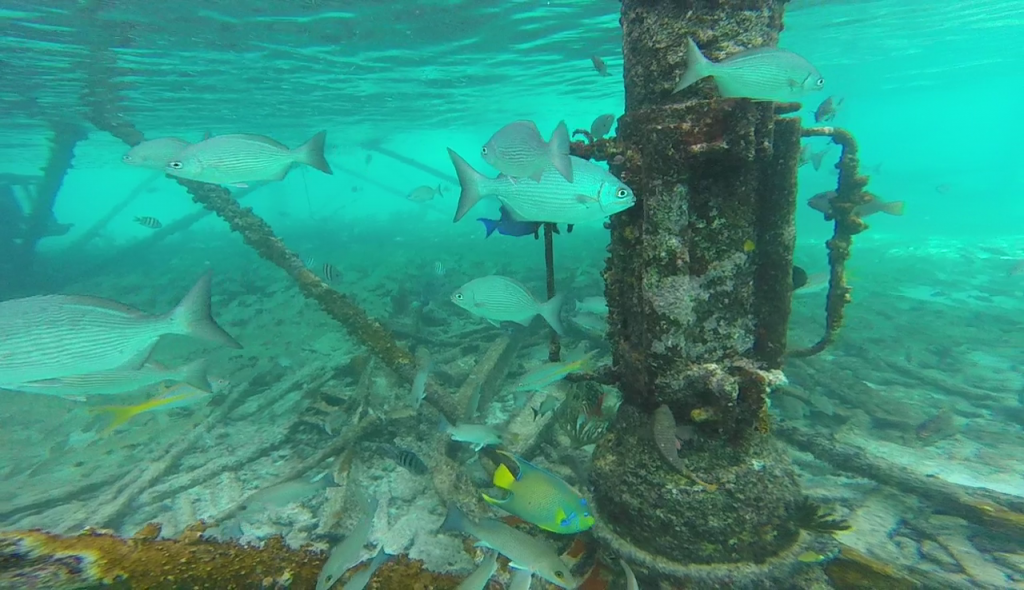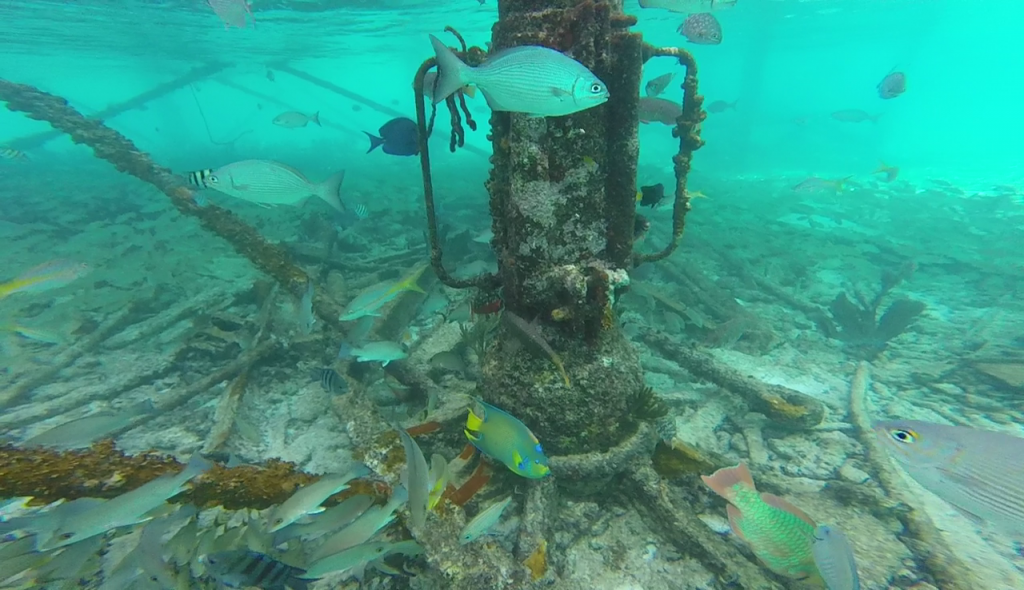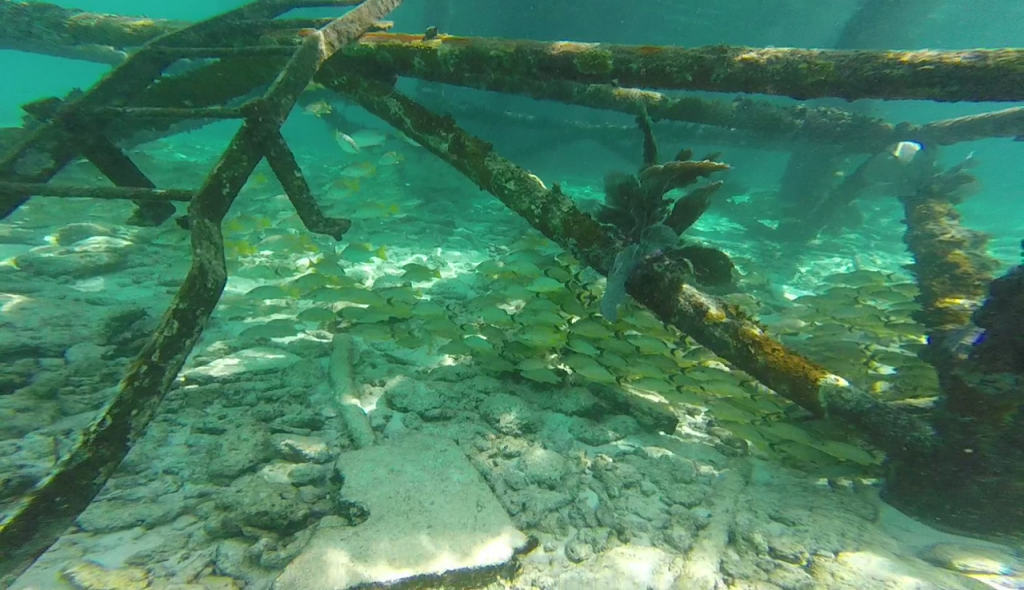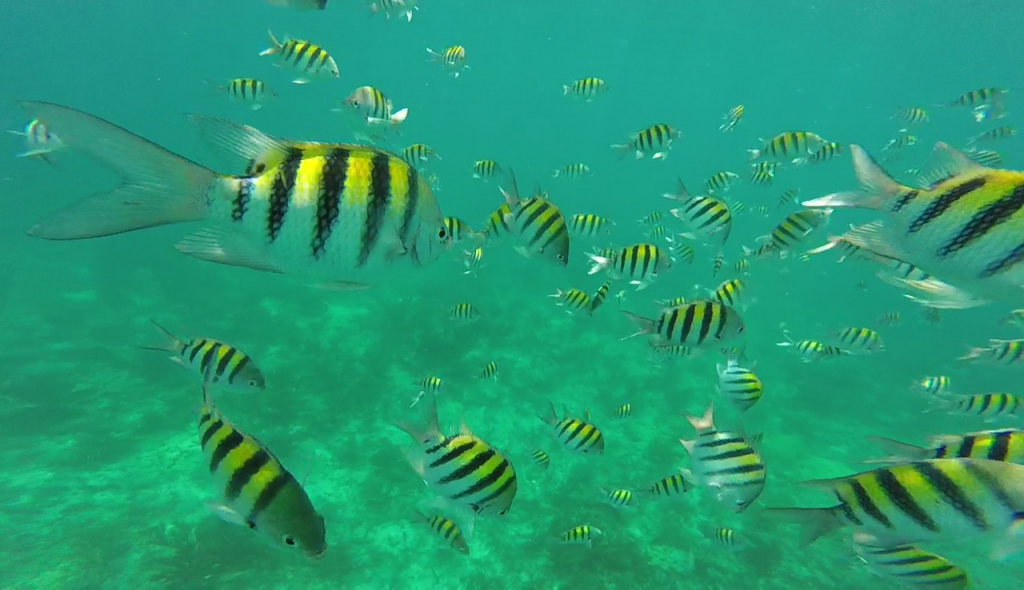 The History Of Alligator Ligthhouse
The lighthouse and reef are located just under 4 miles east off Islamorada and are situated on part of the 'Florida reef' that roughly runs all the way from Biscayne Bay to the Marquesas Keys. The lighthouse was named after the US Navy schooner 'Alligator'. The ship was on anti-pirate missions in 1820/21, and went aground here in 1821. It was only a year old when it was destroyed, having been launched in Boston in November of 1820.
The 'Alligator' , after running aground, was set alight so as not to be of any use to pirates. So all that remains of her is a pile of ballast stones still visible just off the lighthouse. It was certainly not the only vessel to have wrecked on this shallow reef, so there was a desperate need for the lighthouse. Alligator Reef Lighthouse was established in 1873 and last seen in operation in 2014. It has now been replaced with a smaller tower which you can see just to the side of the lighthouse.
There is a very interesting account of Keeper Jones A. Pervis who manned the lighthouse during the 1935 Labor Day hurricane, still one of the most powerful hurricanes to ever have made landfall in the area (this is an excerpt from www.lighthousefriends.com):
September 1st Quiet duty . Securing against tropical hurricanes. On the afternoon of the second day the Barometer began falling. Normal rating 29.98 fell as low as 27.35 by 9:30 P.M. Same day 10 P.M. the barometer began to rise and on the third day of this month at one o'clock P.M. the barometer reading was 29.38 with very bad rainy weather. Strong wind from the south the second day. The wind was from the north east blowing a fresh breeze and increased to gale force by 4 P.M. 6 P.M. was a regular hurricane. 6:30 P.M. while lighting the lamp for the night, the lantern glass began to break, red sectors began to break, flying glass was danger to life. I left the watch room and hurried to living quarters, the doors began to break in, the keeper, and second assistant room, was badly damaged to doors and water soaked beds and clothing. I managed to save doors in first assistant room, and the kitchen, the lens was completely wrecked, and other damage done by wind and water to the watch room, and property there in. The row boat washed away about 8 P.M. The launch no. 34 was in fair condition at 9:30 P.M. This was the last time we were able to be out side until the next day. The platform landing was completely wrecked and launch no. 34 gone. This is the worst hurricane I have experienced during the eleven years of service. The light will be out of commission until temporarily repaired.
Tempted? Here Are The Details Of Snorkeling Trips Out Of Robbie's Marina
There are several trips being offered, and I am not going to go into the charter trips here but suffice to say that they are available, and probably a great idea if you can get a few friends together, as they would give you much more time than just 2 1/2 hours out on the reef. You can of course also rent a boat and there are boat rentals at Robbie's and all over the Keys. Or bring your own if you should be so lucky!
However, for us masses who just want to go on an organized snorkeling trip, the Happy Cat is a great choice. It runs several times a day but it depends a little on the season, and obviously also on the weather. The Happy Cat goes out 4 times a day, 7 days a week at 8:45am, 12noon, 3pm and 6pm for a sunset snorkel. The earliest and latest trip are seasonal and you do best to call ahead of time either way.
At the time of writing cost of this trip (equipment is included) is: $37.50 per adult, $22.50 per child (12 and under), and $27.50 for an adult just coming for the ride and not snorkeling. Taxes are not included in these figures.
Call them for reservations (recommended especially for the most popular trip at noon): (305) 664-8070
You'll find Robbie's at mile marker 77.5 on the Overseas Highway bayside in Islamorada.
Have fun! We surely did….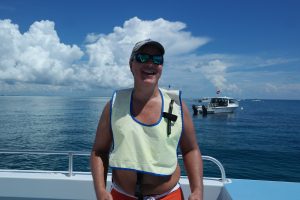 'Do You Have These For Adults?'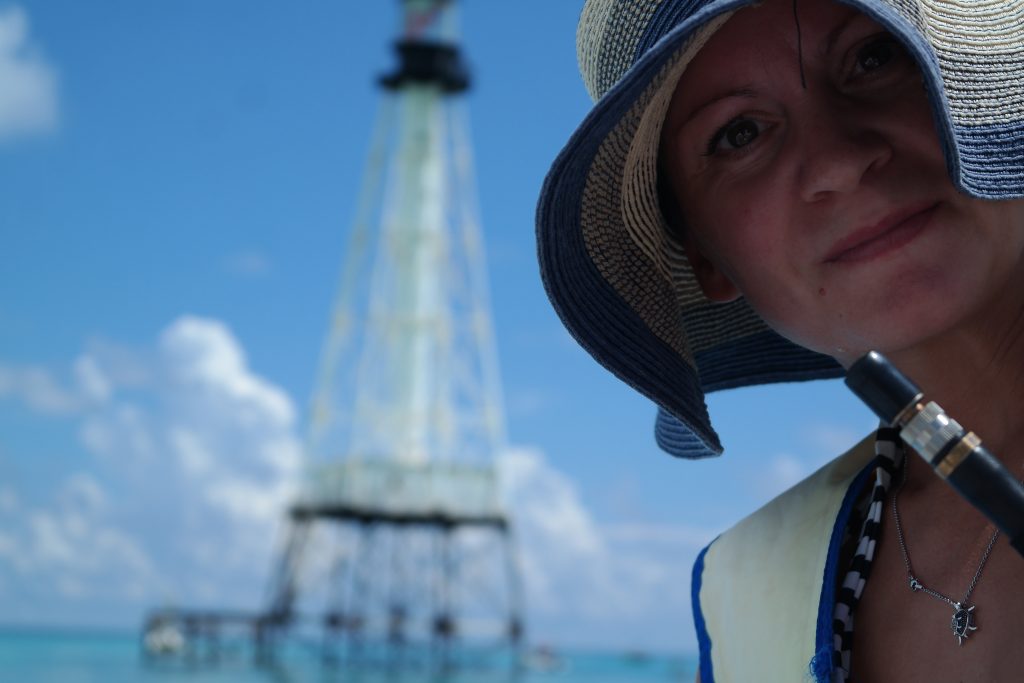 Leave us a comment if you wish – I am always looking for suggestions of things to do, even better if they are off the beaten path and pertaining to anything 'Old Florida' – thank you!