Do you love getting into the spirit of the holidays as much as I do? I am a winter baby, birthday in December, and thoroughly enjoy all the festivities around Thanksgiving, Christmas and the New Year.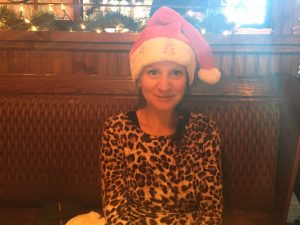 I love all the sparkly lights and decorations and really don't mind the dark evenings. I see them as opportunities to light candles (and crank up the air conditioning just a little).
I sometimes miss the seasons down here in South Florida, but although we don't have the cold and snow, we DO have plenty of things going on in the festive season.
I have picked just a few of my favorites from South Florida and a little distance beyond. Why 11? I had trouble restricting myself to the usual 10 as there is so much to do here for the holidays. And by the way, I am on best terms with the main man..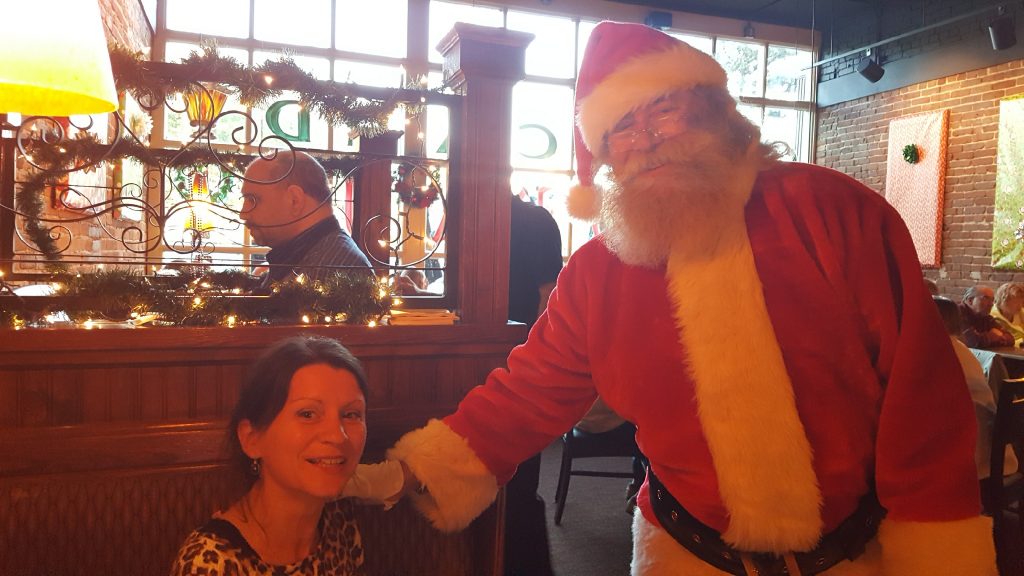 Visit the spectacular holiday lights in Mount Dora
My first suggestion – oh and I absolutely LOVE this one – is to visit the beautiful historic town of Mount Dora in Central Florida. As an added bonus and befitting for the holiday season, temperatures should be a little cooler than in South Florida. Why not take a weekend trip up to beautiful Mount Dora for the annual spectacular light display?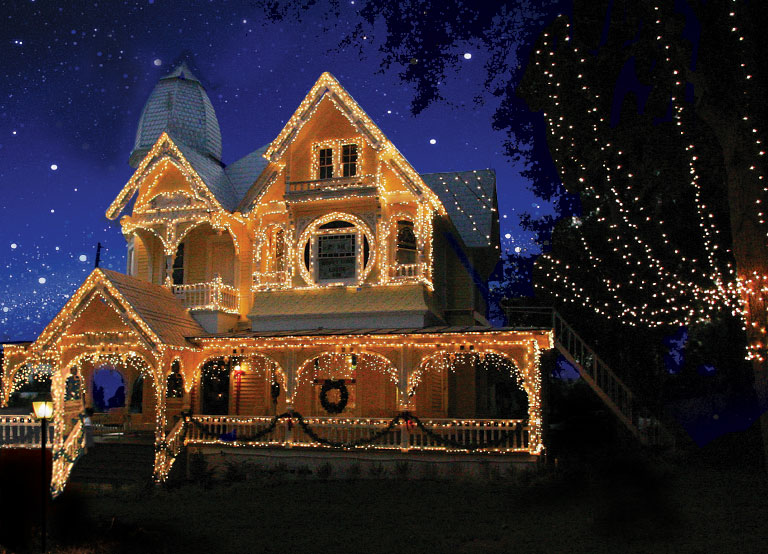 Picture of Donnelly House courtesy of www.mountdora.com
It's truly magical. Light up Mount Dora officially begins on 24th November this year with a big party as usual, and the town will be lit up by over 2 million sparkly lights throughout the holiday season into the New Year. There are lots of other things going on too. For example, a Christmas parade as well as a boat parade are scheduled for 1st December this year. Stay in one of the historic B&B's in the area, or the historic Lakeside Inn hotel, and you have the recipe for a really magical "old Florida" weekend getaway during the holiday season. Looking for more info, and places to stay? You'll find it all here.
Enjoy the decorated boats big and small at Winterfest Fort Lauderdale
Another one of my yearly favorites not to be missed is the annual boat parade in Fort Lauderdale. It seems to grow bigger and better every year, with more and more decorated boats attending. My particular favorites are all the little private boats with creative displays, and would you believe it: even kayaks are partaking in this event. Not me though, I am not brave enough to paddle amongst all those big boats in the dark! I did think about it very briefly, but then realized paddling the intracoastal is not for wimps…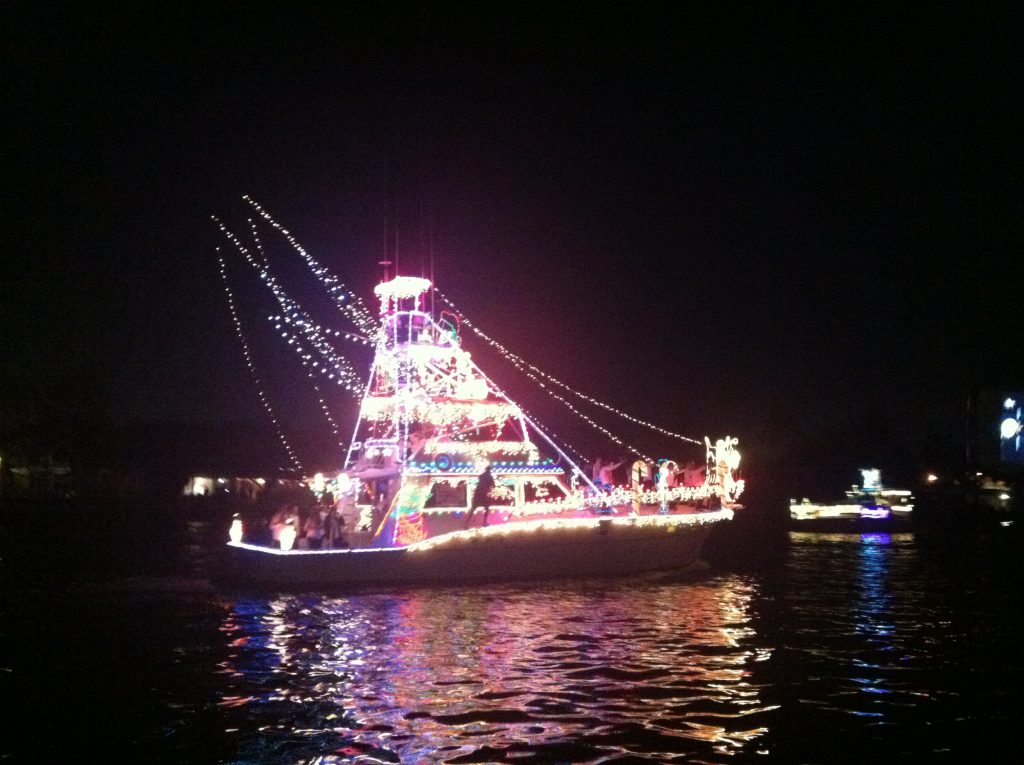 If you happen to have a friend who lives on the intracoastal, try to get yourself invited to this annual highlight down here. If not, you can go to the public viewing stage (take some cookies and mulled wine perhaps?). This year the event takes place on Saturday 15th December. A grandstand viewing area will be set up in Birch State Park, and you can find all the information about it, including tickets, here.
Visit the magnificently decorated Stranahan House 
Every year the staff and volunteers of the beautiful historic Stranahan house go through great lengths to turn it into an amazingly decorated Christmassy little gem. Don't miss it, and don't miss your chance to learn about Fort Lauderdale's early history on one of the tours of the house. You might even snatch a nice little present in the museum shop. The house is decorated from late November until after the holidays. Call for opening times, ticket prices and if you are looking to join a special event such as their holiday river tours: 954-524-4736. For more info on events at the Stranahan House, you can also check the latest information here.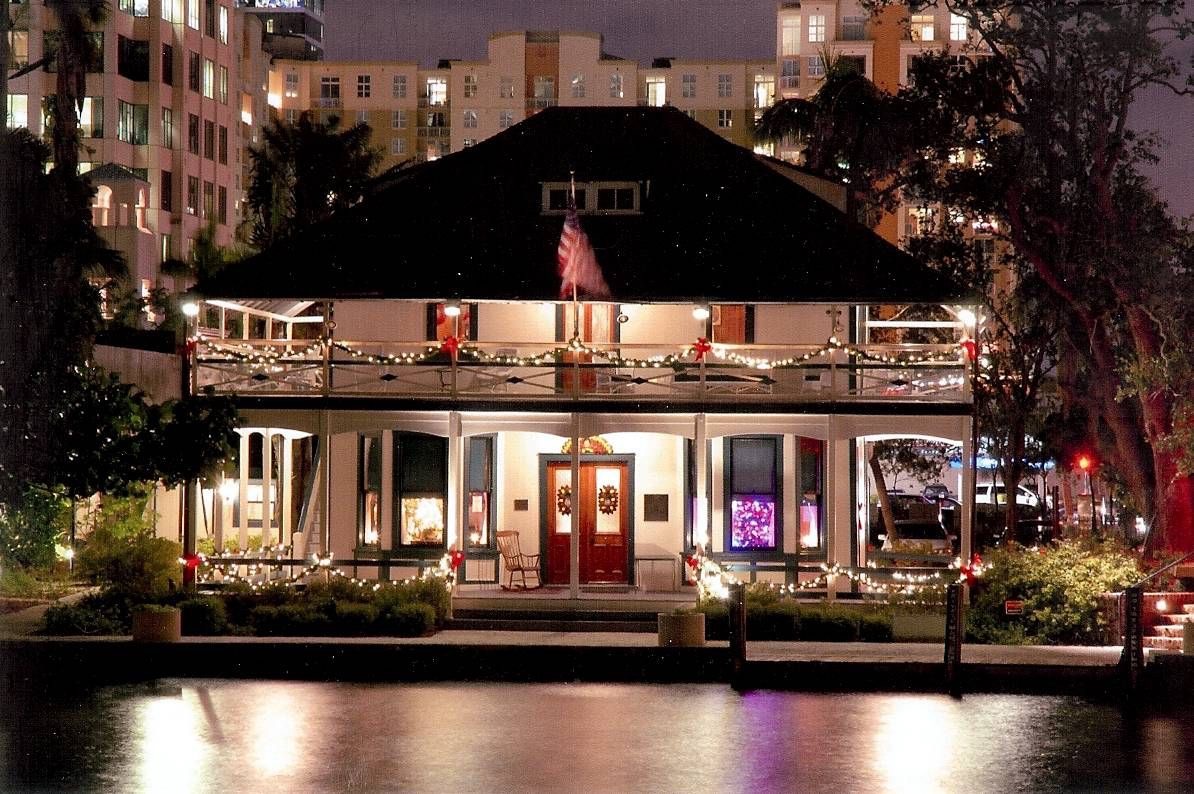 Take a trip on the water taxi to see the holiday lights
One of my favorite things to do in Fort Lauderdale just before Christmas – every single year – is to get on a water taxi as soon as it is dark and enjoy a trip to see the holiday lights around downtown Fort Lauderdale. It's always worth it, and it gets me into the Christmas spirit every time!
You can travel along their whole route all at once, or opt to get off downtown to have dinner and get back on the watertaxi afterwards, which I recommend. Do make sure you check when the last boats head back or else you might have to take an Uber or a taxi with wheels. Sometimes you can get discounted tickets after 5pm and we usually take advantage of this offer as it works perfectly with the lights. It has to be dark, after all. Find out details about the water taxi routes and special offers for the season here.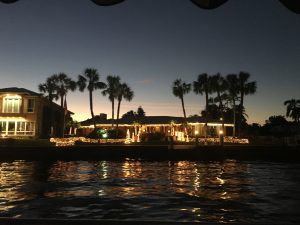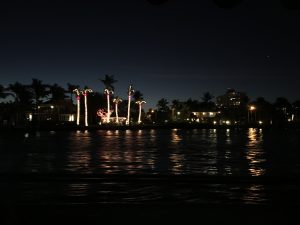 Last year I went on my birthday, 19th December, and it was so much fun. They even served wine and beer on the boat, pretty sure they will do it this year again. It was enjoyable, can you tell?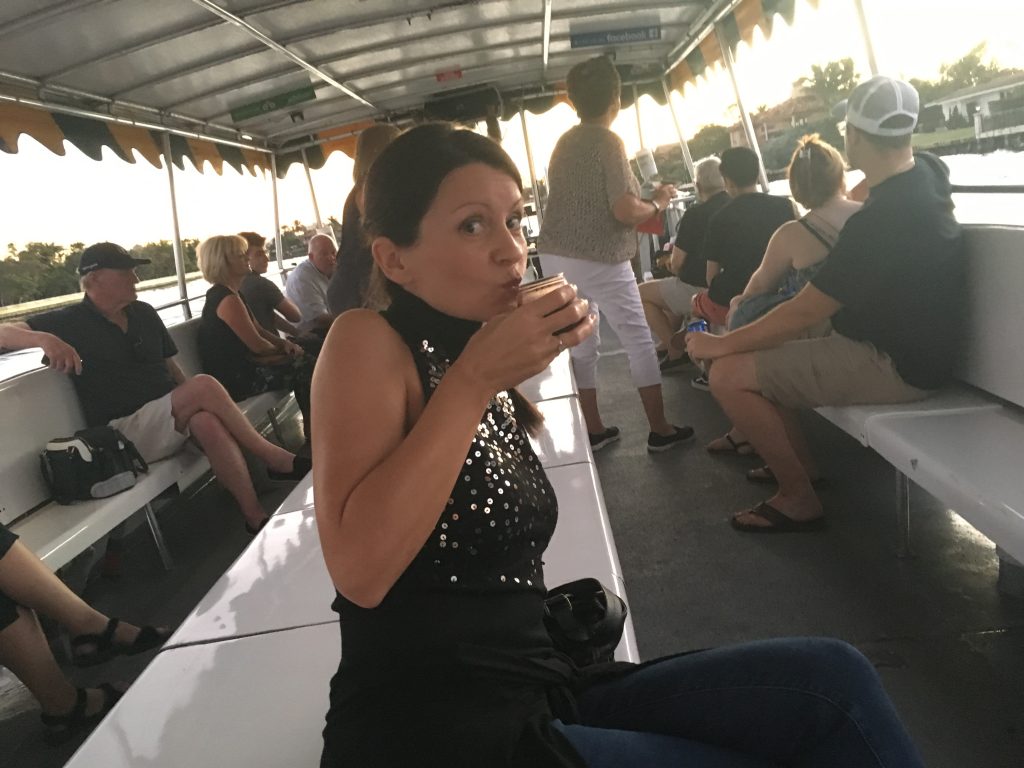 Visit the Gold Coast Railroad Museum In Miami and take a ride on the Polar Express Train
While I was writing this post, I discovered that unfortunately the museum is closed this season and only due to re-open on January 5th 2019. A real shame as I remember their decorations and holiday spirit fondly.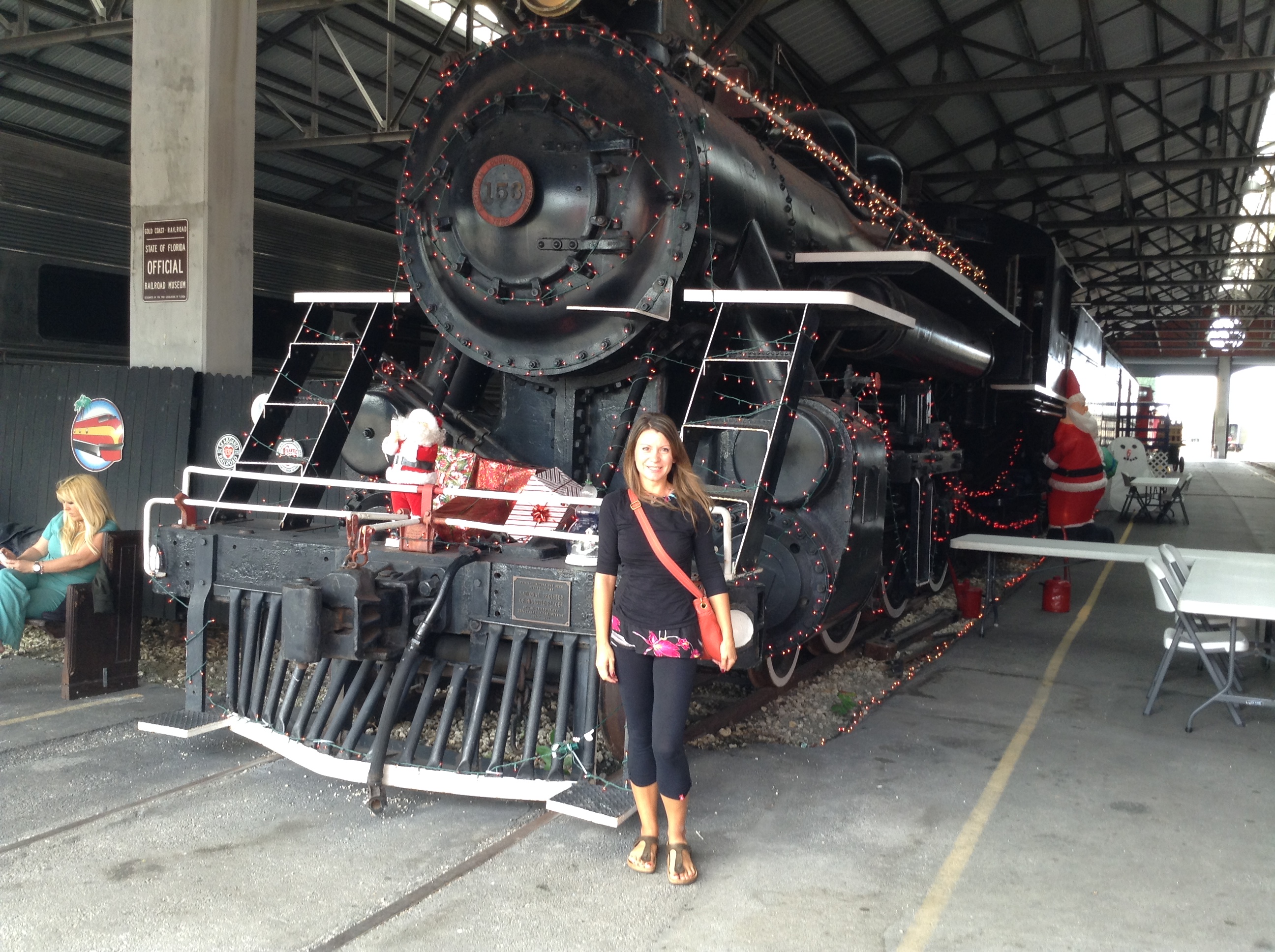 However, the Polar Express Train Ride is still going ahead this year and you can find the details and get tickets here. It's an actual musical train ride that recreates the Polar Express movie and is great fun for little ones. And not to worry, you can make a note to stop by the museum during the holiday season next year, and find out more on their website here.

Drive through Holiday Fantasy of Lights at Tradewinds Park with your little ones
This is a drive-through holiday event that takes place at Tradewinds Park year after year, and has become a tradition in Coconut Creek. It's great for kids, showcasing 3 miles of animated holiday decorations as well as plenty of illuminated trees. As an added bonus, a portion of the proceeds go to South Florida cancer charity "Gilda's Club". The drive-through is open from 21st November until 1st January from 6pm-10pm daily, including all through the holidays (Christmas days and New Year's day). You can find it at Tradewinds Park, 3600 West Sample Road, Coconut Creek, FL 33073. Admission at the time of writing is $17 per car. You can find more information about the event and tickets here.

Enjoy a musical and reflective Christmas at Bok Tower Gardens 
A visit to Bok Tower Gardens guarantees a lovely time no matter what the season. I would perhaps recommend it for adults and families with older children. The gardens and music from Bok Tower make for a beautiful and reflective few hours. During the holiday season, however, the staff go one step further with seasonal decorations and plants.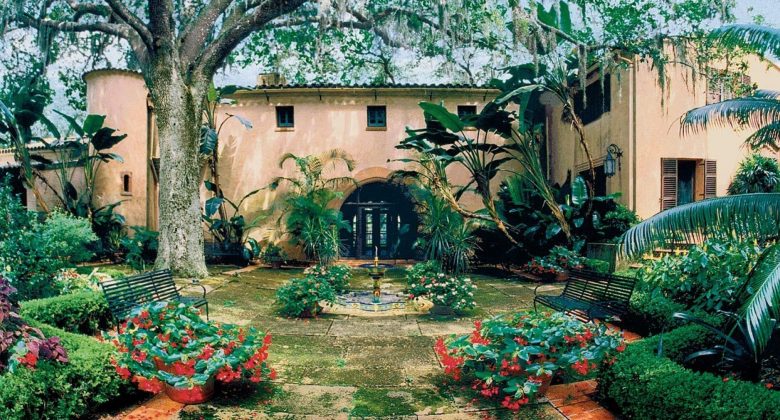 Picture of Pinewood Estate Courtesy of Visit Central Florida 
Visitors can enjoy poinsettia, bromeliad and amaryllis displays, as well as the live music on the 205-foot Singing Tower carillon. The program this year includes a "Sunset & Symphony Holiday Concert" with the Orlando Philharmonic Orchestra (Dec. 1), winter walking tours, as well as various educational programs. The Pinewood Estate on the Bok Tower Gardens property will be completely transformed and decorated in Christmas style of days gone by (1940's theme).
You can enjoy the festive carillon concerts at 1pm & 3pm. Admission to the Gardens and Pinewood Estate Holiday Home Tour (combined ticket) at the time of writing is $25 for adults, $12 for children ages 5-12, and members are admitted for $5. You can find more information on what there is to see and do at Bok Tower Gardens here.

Visit Palm Cottage in Naples all decked out for the Holidays
The Palm Cottage in Naples is another beautiful historic house decked out for the holidays. Built in 1895, this home is now on the National Register of Historic Places and also a museum reflecting life in the 19th-century. Apparently, parties at Palm Cottage in its hey day brought illustrious guests like Gary Cooper and Hedy Lamarr. A theatre within the cottage shows oral history clips with stories about Naples. Visits to the cottage are by guided tour only. Tours, at the time of writing, are held on the following days: Tuesday- Saturday from 1pm-4pm. Admission for children (10 years and up) and adults is $13, children under 10 are admitted free of charge. Current information can be accessed here.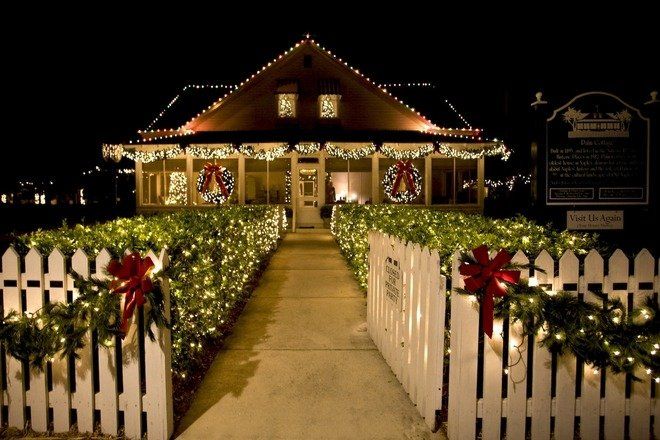 Palm Cottage picture courtesy of Naples, Marco Island, Everglades CVB
Palm Cottage is run by the Naples Historical Society and can be found at 137 12th Avenue South, Naples, FL 34102.

Why not "upick" your oranges for the holiday at an orange grove?
Hilltop Groves in Weirsdale is a "upick" grove that we have much enjoyed. I am sure a quick google search reveals many others, however, we would always head back there for some pre-holiday festive citrus fruit picking – we loved it and can recommend it.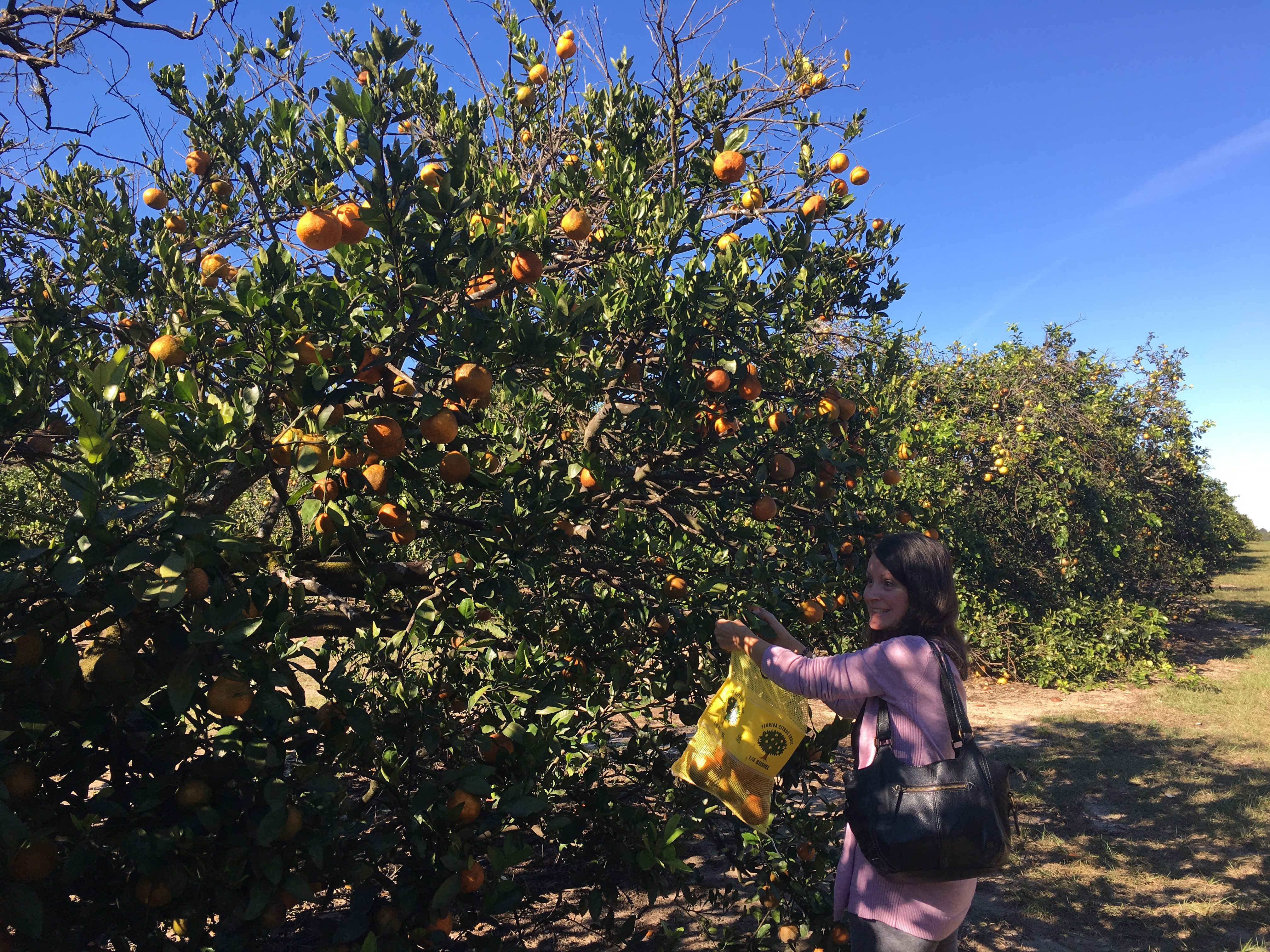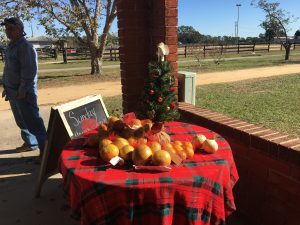 The owner is very kind and explained how to pick fruit properly so that it doesn't damage the rind (and spoils quickly). He took his time to explain which oranges are "good", and to have a chat with us. He even gave us a bag of "ugly" grapefruit to take home for free. They may have been ugly but they were extremely tasty, some of the best I have ever had.
A fourth-generation citrus grower, the owner offers citrus fruit from October onwards, with upick typically starting in November. The farm is located at 16661 SE Highway 42, Weirsdale, Fl 32195. You will find it just 3 miles east of downtown Weirsdale past the Nutrena Feed Store on the left. Call for more information: 352-427-7794
Have a festive Sunday lunch at the Hotel Jacaranda in Avon Park 
The Hotel Jacaranda is located in Avon Park and one of the few historic hotels that have not lost their old Florida charm. It is also listed on the National Register of Historic Places. Built in the 1920's it used to be a haunt for Hollywood and sports stars in its hey day. When we stopped at the hotel a couple of years ago we got there a little late and they had sadly stopped serving lunch, but I have heard good things about their Sunday lunches. It is a grand old-fashioned hotel and the holiday decorations are truly lovely. Photos can't do it justice. The sweet lady at the front desk helped us into the original elevator (just wow, perhaps not so wow if you are claustrophobic), and showed us some of the rooms of the hotel.
I would love to stay here one day. It is a must see if you are into old Florida and historic hotels, and like lots and lots of Christmas decorations. Why just have lunch? If quirky historic hotels are your thing you could make a weekend trip out of it and stay Saturday night in this charming historic hotel. The Hotel Jacaranda is located at 19 E Main St, Avon Park, FL 33825.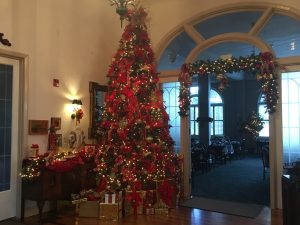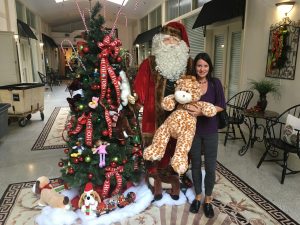 Pay a quick visit to the Hammel Holiday Home in Davie
This is the bonus 11th thing to do to get you into the holiday spirit. Visit the Christmas house in Davie, where a private person is really big on their Christmas spirit and turned a garden into a truly spectacular display that will be enjoyed by young and old alike. We try to take a trip once a year during the holiday season and while it is perhaps not worth your while driving miles to, if you are in the area it is a must-stop on your route. The Hammel's holiday home is usually set up throughout the Christmas period (after Thanksgiving) into the first week of January. Lights are typically on from dark hours until 11pm. Since it is a private home, please be respectful of the inhabitants as well as the neighbors.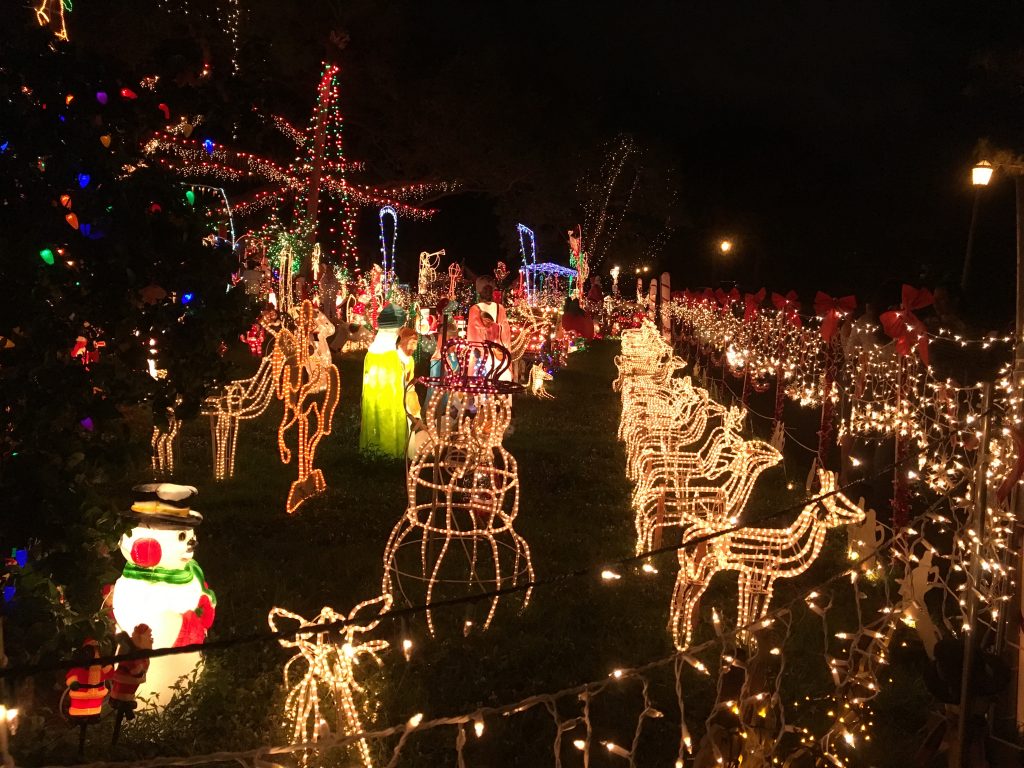 You can find the Hammel Holiday Home at 13300 SW 26 ST, Davie, FL 33325.