It's late October and we are still in shorts and T-Shirts down here in South Florida, but then again, aren't we always in shorts and T-Shirts? Fact is: the holiday season is sneaking up on us. While that's a little scary (where did the year go?), there will be some much-needed opportunities for day trips and a long weekend – or two – away. It seems to come earlier every year, doesn't it?
A holiday adventure
Last year, we decided on a little adventure on the Withlacoochee Trail in Central Florida. We had read quite a bit about the trail and it sounded interesting as well as appealing. First off, it's paved for 46 whole miles, mostly flat and – this was the really exciting bit – there are no cars.  No cars! It all sounded perfect for a little holiday themed jolly with my trike.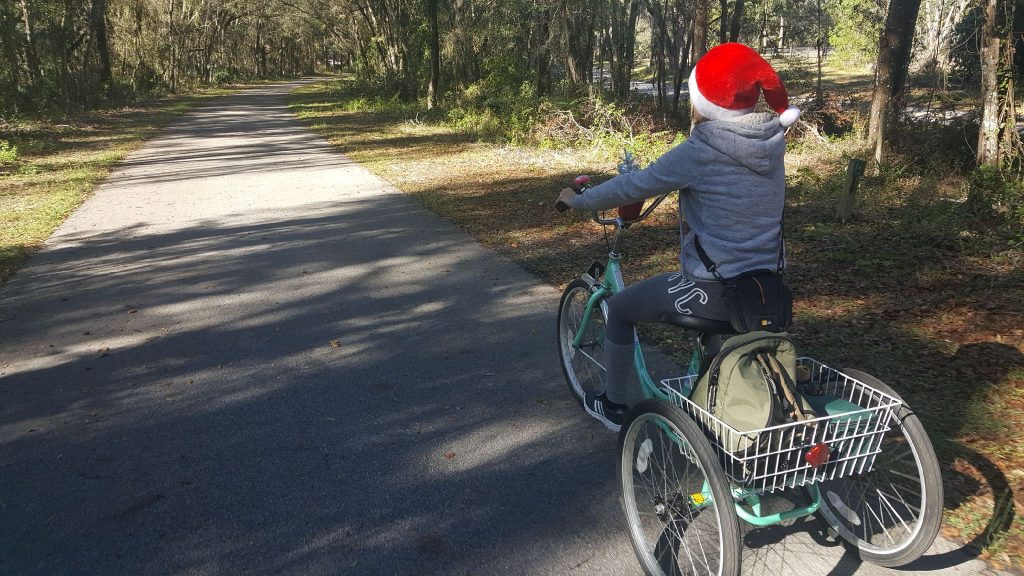 As it happened, we got there at the same time as an impressive cold spell. Much to our delight, we discovered frost on our windscreen one morning. Something of a rarity for Florida. And although that stopped us from a kayak adventure we had planned, it was perfect weather for the trail. Crisp and clear with lovely fresh air. Perhaps a little fresher than we had bargained for. But most importantly, the weather was perfect for wearing Santa hats.
Floral City
The Withlacoochee trail, being quite long (46 miles), offers several entry points. We decided to start in Floral City and head south for as far as we felt like cycling, or trycling in my case. In Floral City, we found a car park with nice restrooms at the start of our little adventure (there are other facilities in some places along the trail). Floral City has a lovely "old Florida" historic vibe, and before we started biking, we took a nice drive down the Avenue of the Oaks. If you happen to find yourself in Floral City, I suggest you take your car or your bikes and do the same. You might also care to have a look in Floral City's little Heritage Museum. It's quite interesting and the volunteers are very friendly and knowledgeable about the area and its history.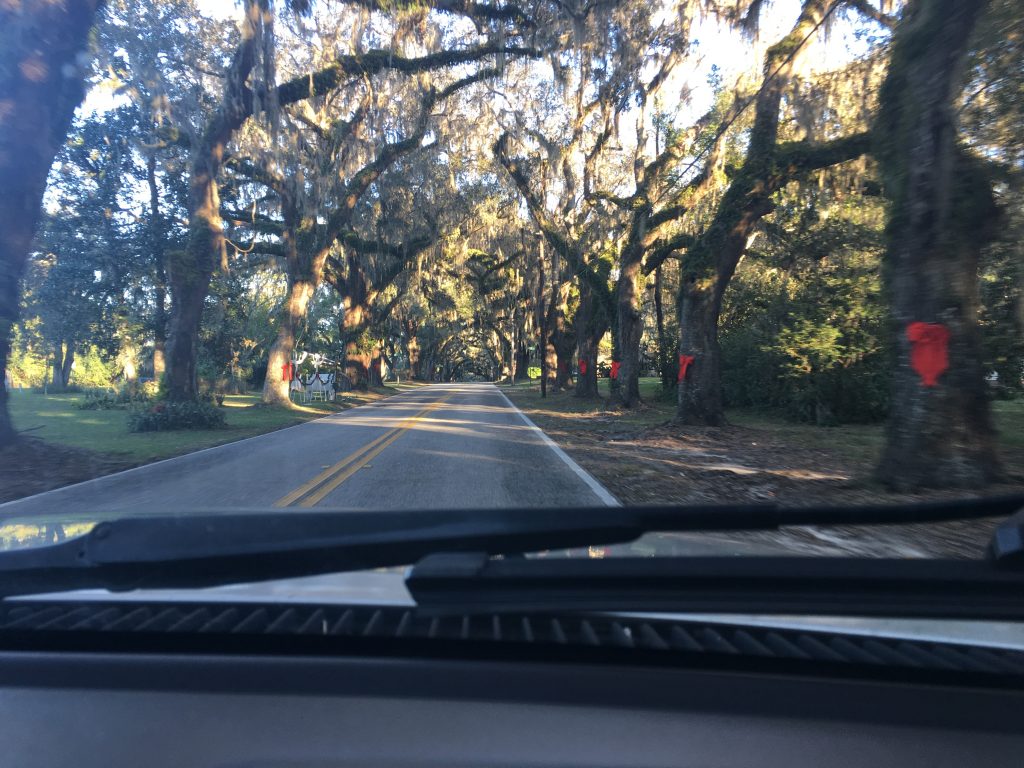 Avenue of the Oaks in Floral City
Getting Into The Holiday Spirit
None of my trips are ever complete without some added bits of fun, or in the case of it being the holidays, without appropriate decoration. Having decided that a Santa hat just wasn't enough regalia for the occasion, I brought a Christmas tree with blinking lights. If you want to take a portable Christmas tree anywhere, and why indeed wouldn't you, my tip for the season is to power it with a phone charger. Works like magic!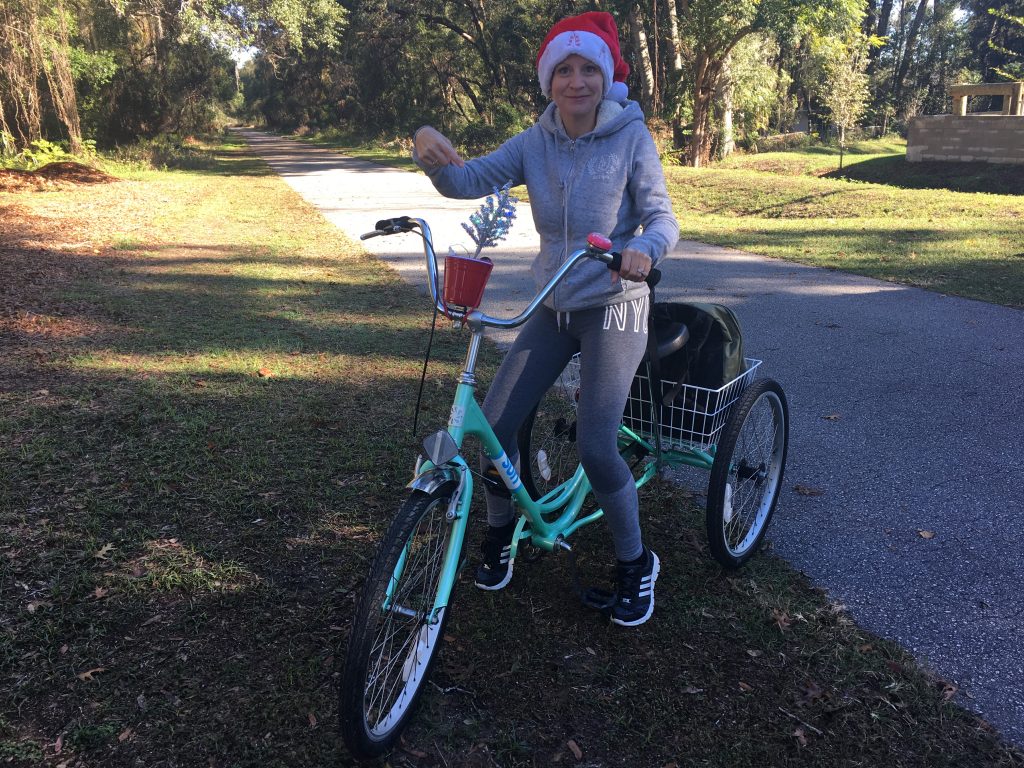 I don't know why some people were laughing when they passed me on my trike with blinking Christmas tree. I think that's all completely normal. Maybe they were just being friendly?
Our route along the Withlacoochee Trail
From Floral City, we cycled south on the trail for about 10 miles and then decided to turn around. This made for a 20 miles round-trip, and that's plenty on a trike. If you are a seasoned cyclist, you could do the whole 46 miles, but if you came with a car, you'll somehow need to get back there.
Along the trail we saw lots of wildlife such as sandhill cranes and small critters, as well as plenty of gopher tortoise burrows. It was just a little too cool for the gopher tortoises to appear, although we did see one peeking out of its burrow and quickly disappearing when it saw us. We also saw a big flock of wild turkeys gobble along in the forest.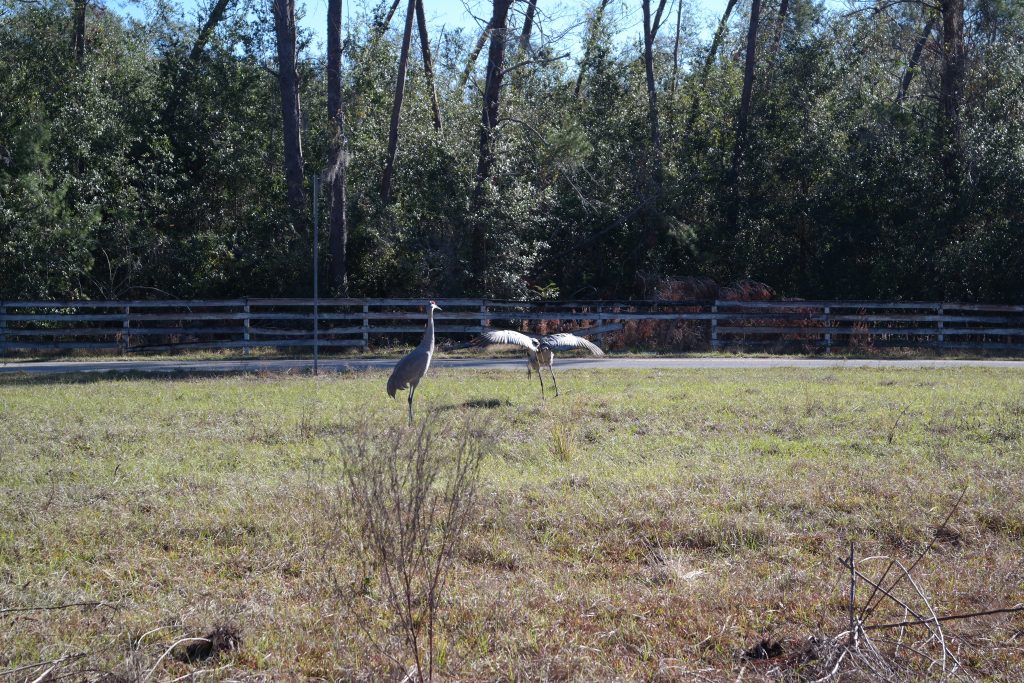 All in all, we hardly saw any other people, bar a handful of cyclists and walkers. Just how I like it. The scenery along the trail varies from fields to woody areas, and gets very scenic in parts. For us, getting away from people and traffic was the main attraction, and in that respect the trail didn't disappoint.
We made it as far as into the Croom Tract with its lovely cypress trees, before turning around. There, you will also find a little path leading to the Withlacoochee river. Unfortunately, we only attempted this path, as we forgot our bike locks and weren't able to drag the trike along this narrow and overgrown path. We also ran out of time, so if I could give you one tip (make it two), take your bike locks so you can go adventuring if you feel like it, and leave lots of time for your ride.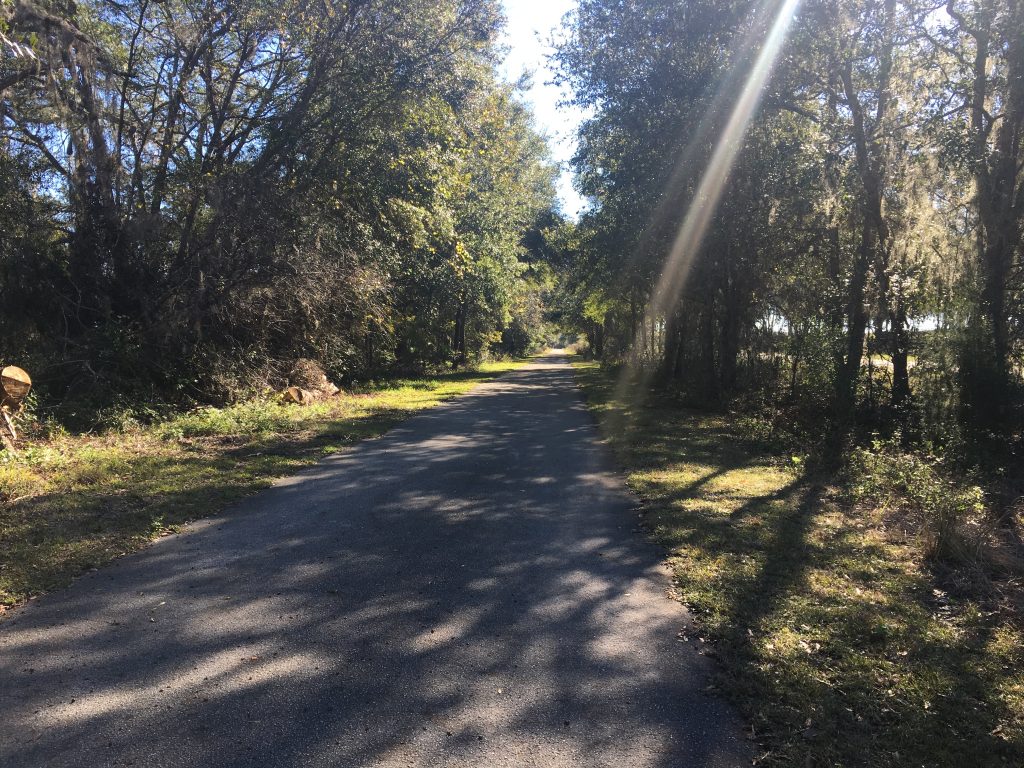 The state of the trail is pretty good, the pavement was more than good enough for a trike (no cracks), and there were no steep inclines or sharp turns. In the 20 miles we cycled, we crossed roads just a few times, so it's a very safe and easy trail for all ages and capabilities.
When we got to our car we were so ravenous that we headed to the next place that was serving food (be warned, there isn't a lot out there!), the Shamrock Inn right next to the parking lot. Some interesting local characters in there and the food was decent for a little dive.
Withlacoochee Trail facts and figures
The Withlacoochee trail is an old train line that has been turned into a multi-use trail, it's mostly flat and touches on three counties, Citrus, Hernando and Pasco. The trail's end to the north is close to Dunnellon, and to the south close to Trilby, both located in central Florida. It is one of the longest paved trails in the entire State of Florida. The trail is not just ideal for cyclists of all levels, but also suitable for running, walking and skating. There is also an unpaved equestrian trail that parallels parts of the paved trail.
Two of the best things about the trail: it is absolutely free and open 365 days a year. You can download a map with some information on the trail and its history here.
Nearby attractions
Where do I start? Ocala National Forest and its many hiking and kayaking opportunities are a great nearby alternative to the trail. There are also many springs in Ocala, and all are fun to visit. I wrote about doing three of them in one day.  Weeki Wachee park with its fun mermaid shows and the spectacular kayak run is also not too far away from Withlacoochee. I wrote about it here. Central Florida is a great area to vitit and experience "old Florida" charm, and there are a few towns that are worth a visit such as Dunnellon, Brooksville and Mount Dora. Last time we were in the area, we even found a little grove where we could pick our own citrus fruit. Such fun!