Want to get away from it all in the beautiful Keys? You love nature, like it quiet and love sandy beaches with turquoise waters? I'll throw boating, paddling and swimming into the equation, and you will have the best day ever – guaranteed. Sounds good?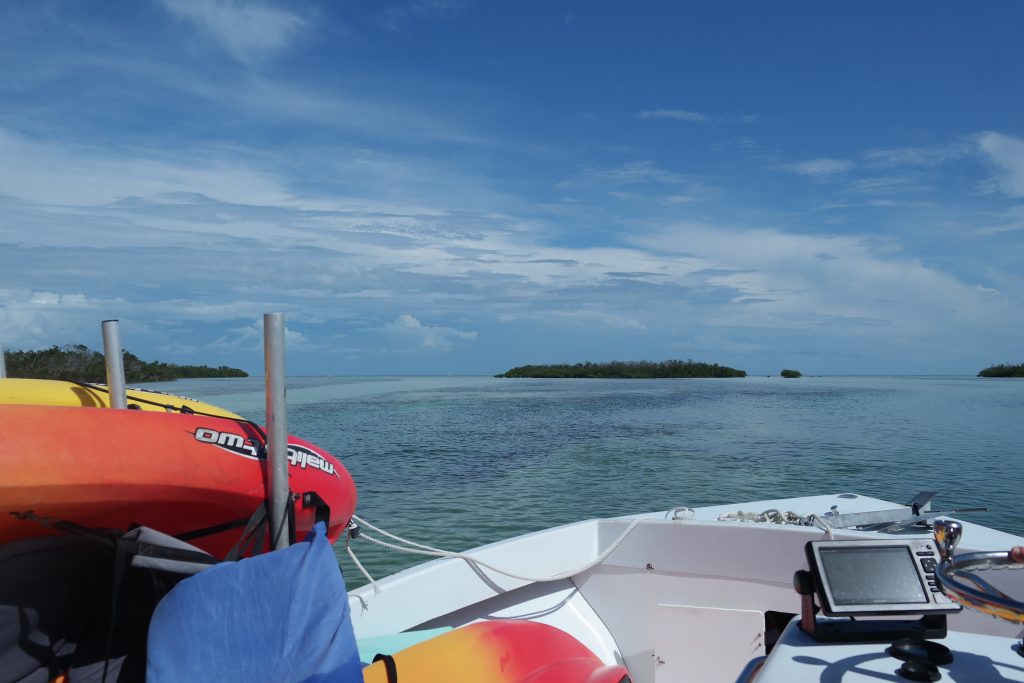 If you have been to the Keys you will know that they are hardly famous for their beaches. There is a place, however, off the beaten path, that has the most amazing white sandy beaches (actually sandbars), turquoise waters and peaceful uninhabited Keys and mangroves for you to paddle around.  You will see all kinds of wildlife such as birds, conchs and juvenile sharks. You might even spot a dolphin. It's truly a special kind of paradise. You will never want to go home again.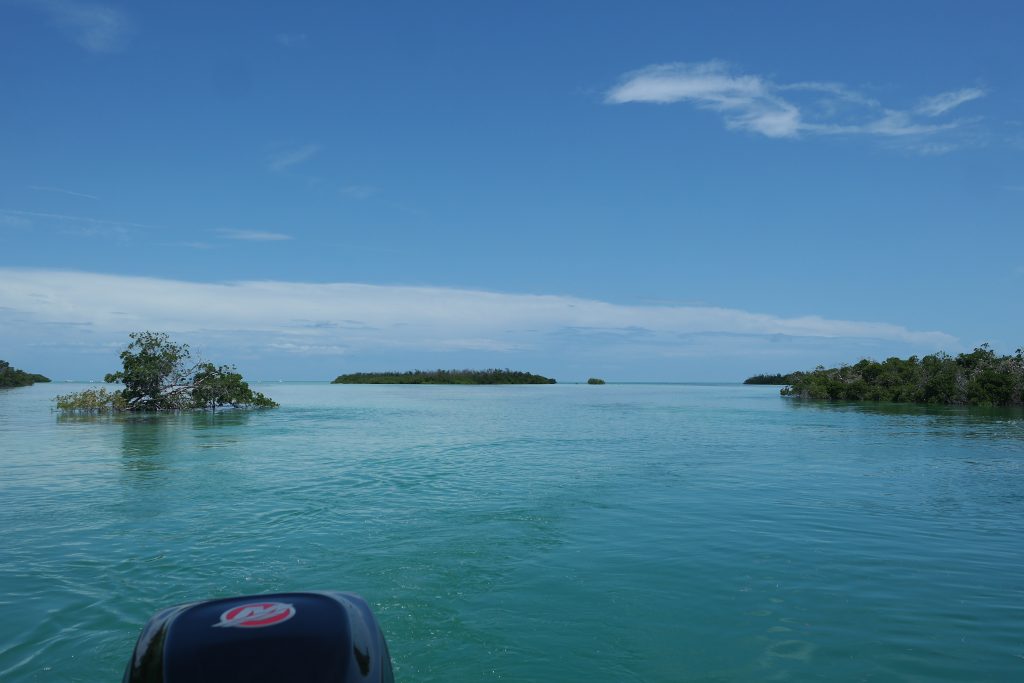 Get Out There And Reelax
We'd been planning this little adventure for quite some time. At one point, we were crazy enough to wonder whether we could kayak the distance, a 20+ mile roundtrip. Luckily, we came to our senses and decided a boat would be way easier. So we booked our trip with Captain Andrea Paulson, who runs Reelax Charters from Sugarloaf Marina. Sugarloaf is only a short drive from the hustle and bustle of Key West, but you might as well be on a different planet with all that tranquility.
We stayed at Sugarloaf Lodge – you can't get any closer to the marina. It's about a two minute stroll or less, depending on how excited you are to get on the boat..
We spent a lovely evening and morning enjoying Sugarloaf Lodge's view, before heading out to Snipe Keys. Warning: If you don't enjoy room decor from the 1970's, then this is not the place for you. We love it for the view and the relaxed atmosphere. Their tiki bar is also a favorite with locals and guests alike.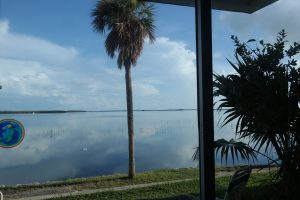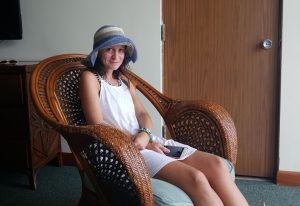 The next morning it was time to meet our Captain and her boat at 10am. I felt queasy, not at the prospect of the boat trip, but the coffee from Sugarloaf Lodge had me seriously overdosing on caffeine or "something". That stuff may be safe for locals who are drinking all night at the tiki bar, it can certainly wake up the dead. It made me want to climb the walls. I turned up at the boat shaky and nauseous, wondering how my day was going to pan out.
However, after meeting and chatting to the lovely Andrea, getting on her flats boat and feeling the fresh breeze on my face while cruising along the mangroves, I felt fine. By the time we got there and jumped into the turquoise and crystal clear (and refreshingly cool) water, everything else was forgotten. Aaaaah! The Snipe Keys area is truly one of the most beautiful places on earth.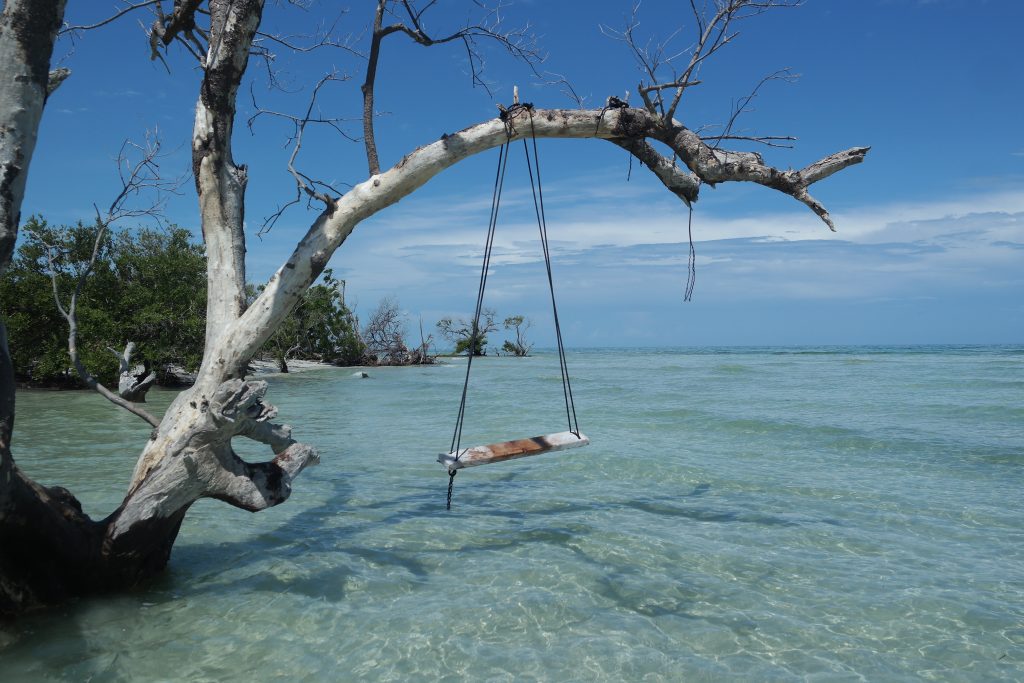 The water is crystal clear and the next piece of land on the horizon, if you could see that far, would be Texas. There is real magic in this remote place. The water in the area is very shallow, which makes it perfect for swimming, walking and kayaking even for wimps like me. You can't really drown in two feet of water, although my husband almost proved to me that it is indeed possible to tip a kayak in two feet of water. I suspect he just wanted to hear me shriek…
The beach here, or rather what is exposed as a sandbar during low tides, is the prettiest I have seen in the Keys, and I have seen plenty. What fascinated me most about the Snipe Keys area is the silence. No traffic noises, no people noises, absolutely nothing. Ok, granted, we were there on a Sunday and there were a handful of boats with a little music. However, it was still pretty quiet just around the corner from the boats, and there is plenty of space to get away from people and sounds.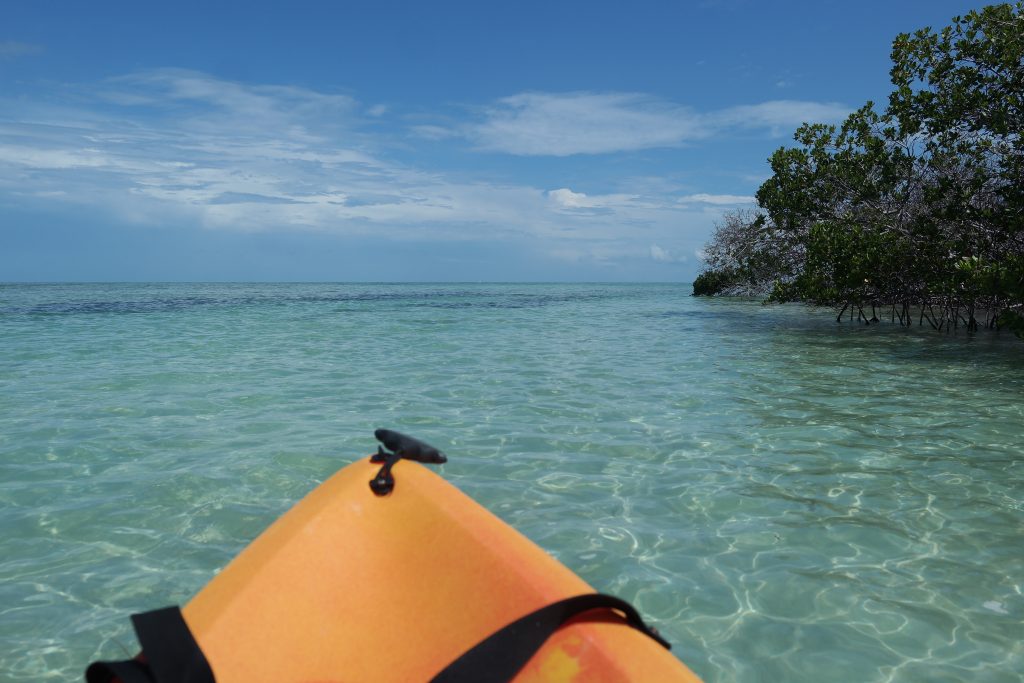 Captain Andrea is wonderful. She is also well equipped with kayaks and all the gear, making sure that we had plenty of water. She even carried a little cooler on her kayak with water for us! Andrea knows this area like the back of her hand, and she anchored up in a nice sandy bottom shallow area, but away from the other boats, so we had that little area all to ourselves. She unloaded the kayaks and we were paddling with her in no time, trying to spot wildlife. Being in the Great White Heron Refuge, we saw a few of those graceful big birds, as well as other species.
Andrea pointed out a number of small sharks near the mangroves. The area seems to be a nursery for juvenile sharks, particularly nurse sharks and black tip sharks. Don't worry though, they are small and cute and you would be lucky to see any of them close up. They mind their own business and as soon as you get too close, they scuttle back into the safety of the mangroves.
We also saw horseshoe crabs, reminding us that we are indeed in the Gulf of Mexico. Apparently, there are conchs in the area also. We did see a few big welks, no conchs though.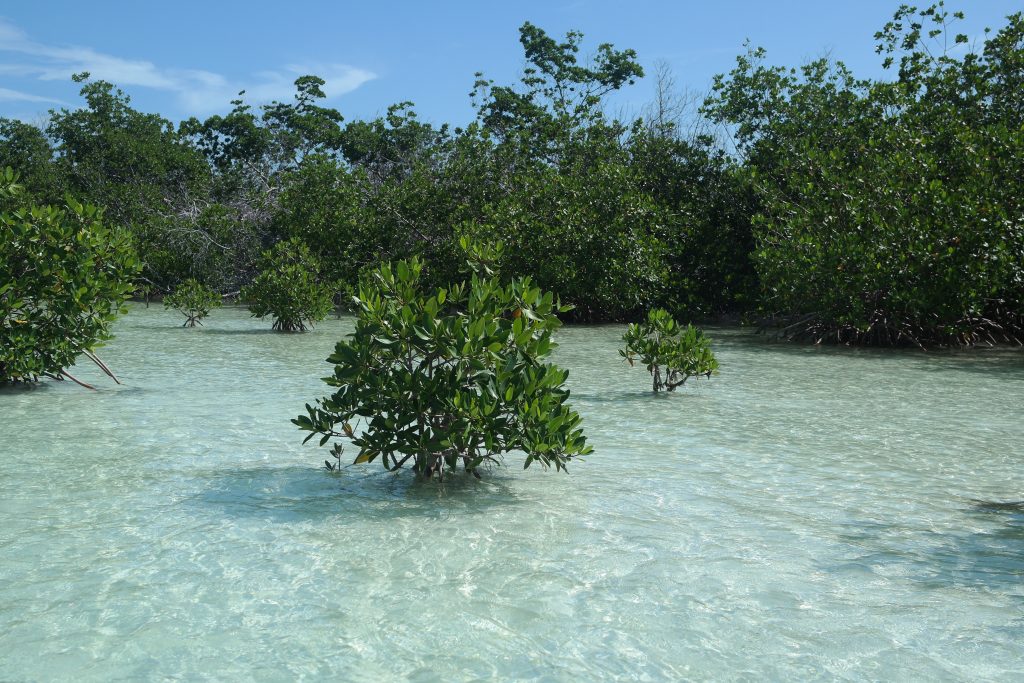 We just couldn't believe our eyes at the clarity and color of the water. It looks like something you see only in pictures, except it was very real. I have seen many beaches and sandbars and am not easily impressed, and yet this tops all of them. Yep, I am repeating myself…
Andrea paddled with us to a sandbar nearby and we swam a little, while she took the kayaks to the close-by beach. Exploring the sandbar, we also found a little swing on a dead mangrove. Thank you to whoever put it there – it was not only fun to play with, but also made for nice pictures.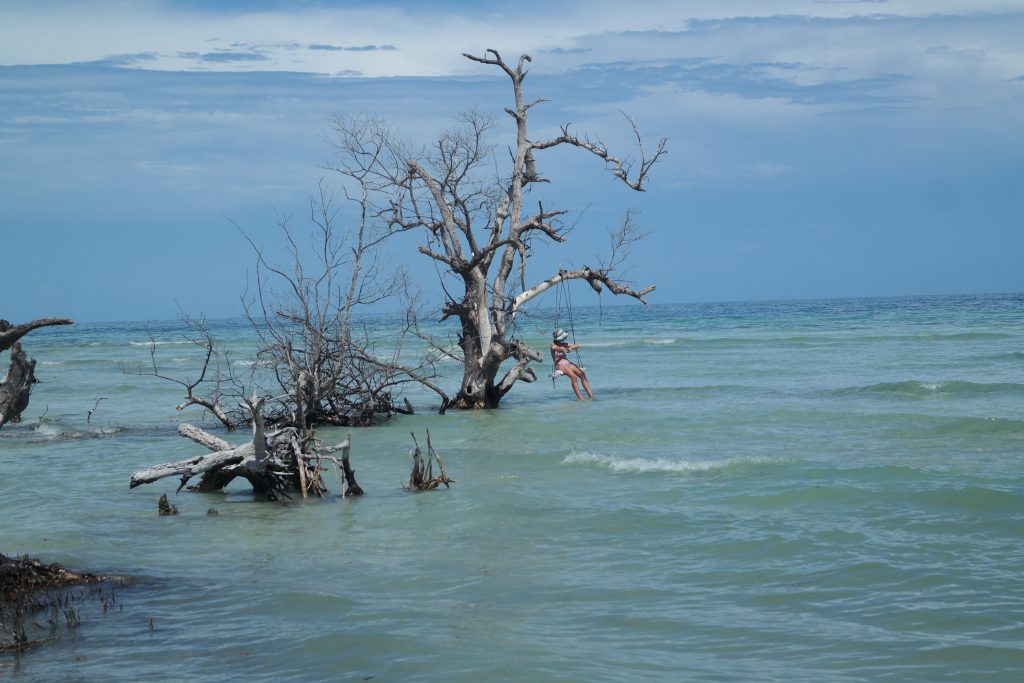 Sadly, with it being August and therefore "rainy season", we did have to keep our eyes on the skies.  Andrea was in control of the situation, checking the clouds and radar constantly (when we had cell phone reception). She made sure that we stayed close to the boat with a storm brewing in the distance.
After paddling a little more and stopping for another swim, we decided to head off on account of the rumbles and black clouds approaching us. Andrea had a plan though, and while keeping an eye on the storm, we cruised out of its way through Turkey Bay looking for wildlife. We saw some tarpon and turtles surfacing in the distance, and Andrea mentioned that she often sees dolphins also.
We got back just a little early due to the weather, but pretty much had a full day despite the storms around, so we were really pleased, knowing that the summer weather could have really ruined the trip. We were super lucky and happy that everything had worked out so well. You will definitely be in good hands with Andrea!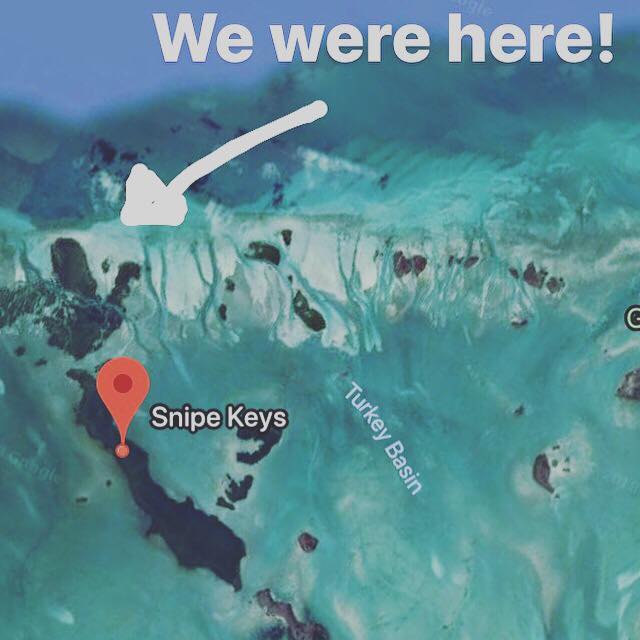 If you decide to take your own boat or rent a boat, please take note that the area is extremely shallow in places, and impassable for most boats, especially at low tide. You will have to pay close attention at all times and stick to the deeper channels. This is the route we took from Sugarloaf Marina out to Snipe Key: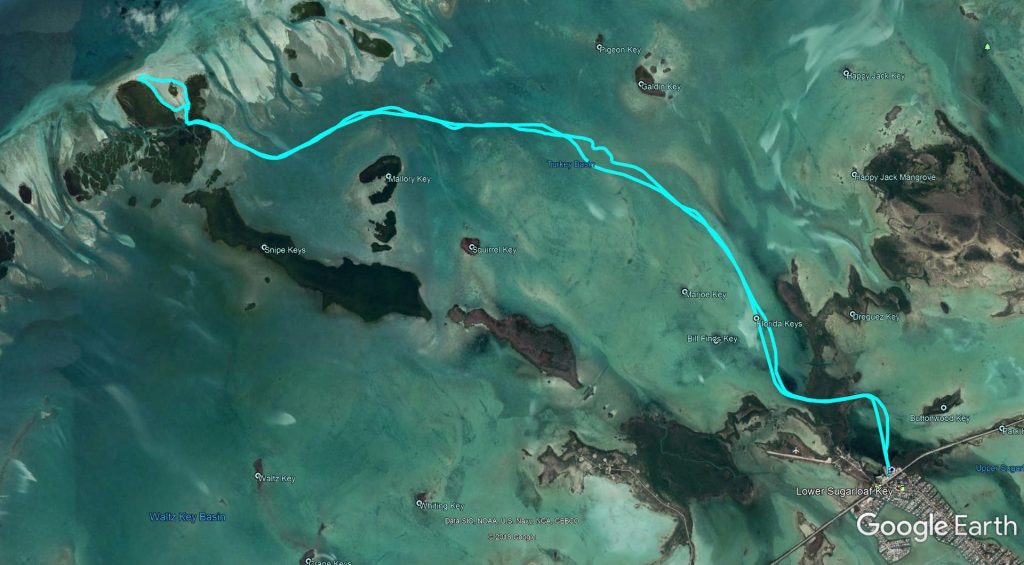 The little circle on the left is the area we kayaked and where the lovely sandbar is located. We can't wait to do it again….
The Details
If you want to get a taste of the Snipe Keys, you can book a trip with Captain Andrea Paulson and Reelax Charters. Contact her for pricing, phone number 305-304-1392 (www.keyskayaking.com). She can take up to 6 people, so the trip is absolutely ideal for families or groups of friends.