I can't believe that we only recently heard about this place. It's fabulous and very accessible to all South Floridians, being just west of West Palm Beach. There is so much to do and see here, you will want to visit time and time again. The preserve is quite large with 23 square miles, and there is a great boardwalk, several trails with plenty of wildlife, and to top it all they offer guided canoe and kayak tours that really make you appreciate the remoteness of the Florida Everglades.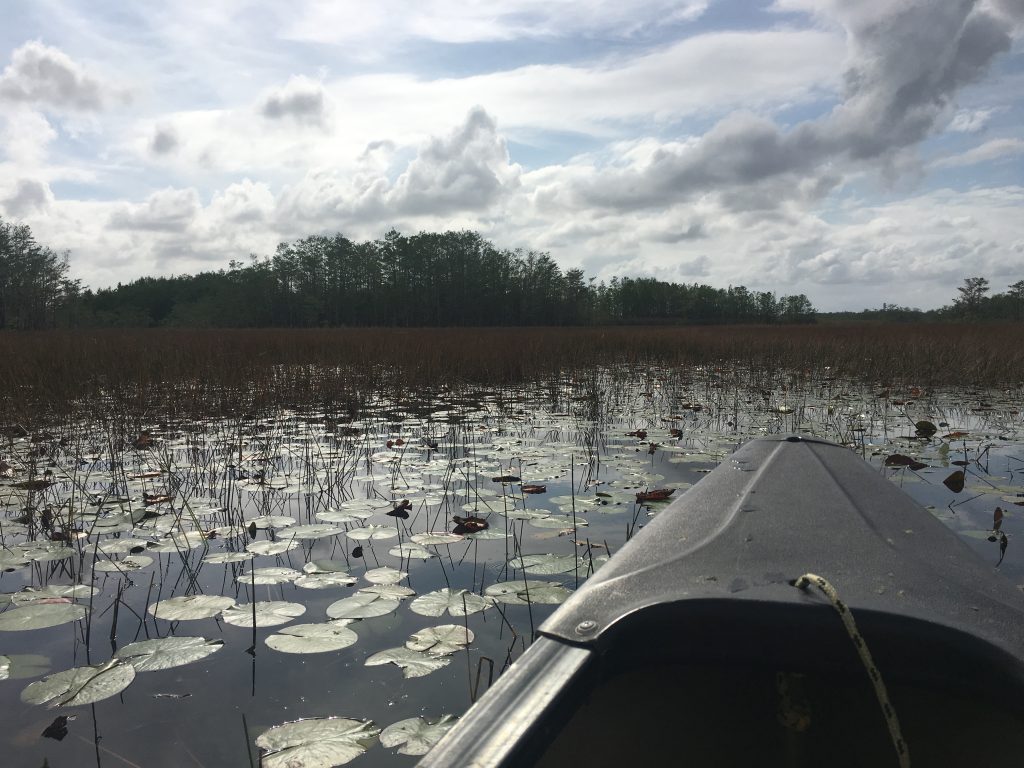 That's not all. Grassy Water Preserves's little visitor center has wonderful programs for adults and children alike, and the staff and volunteers are just lovely. What more could you possibly want?
Grassy Waters Preserve 
The preserve has an important function as the fresh water catchment area for West Palm Beach. Hence there is a very good reason – apart from the wonderful nature preservation – for it to exist (and long may it exist!). Apparently, Henry Flagler already saw the need for this area to remain free of any development in the 1890's. He used the water supply for his magnificent hotels. Fast forward to today and the preserve is now owned by the city of West Palm Beach, which has done a great job of making it accessible and enjoyable to the general public. Hopefully, we will be able to enjoy this lovely preserve for many years to come.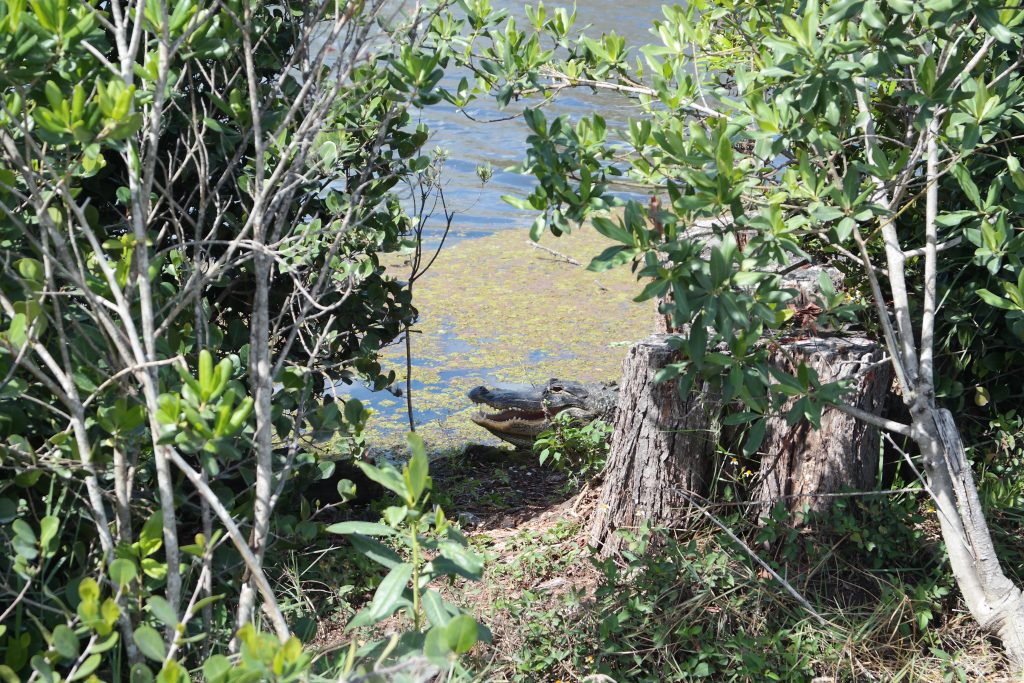 Alligator At Grassy Water's Owahee Trail
What Is There To Do?
Where do I start? It's more of a question of "what isn't there to do?". We originally visited for a great little cultural get-together in the visitor center, a meet and greet with the only woman Florida Highwaymen artist. While attending, we noticed the great boardwalk close to the visitor center and walked it in its entirety after the talk. It was really nice and not strenuous at all, the weather was a perfect cool-ish winter day (warning: there isn't too much shade), and we vowed to come back for a "serious" hike and perhaps one of their canoe tours.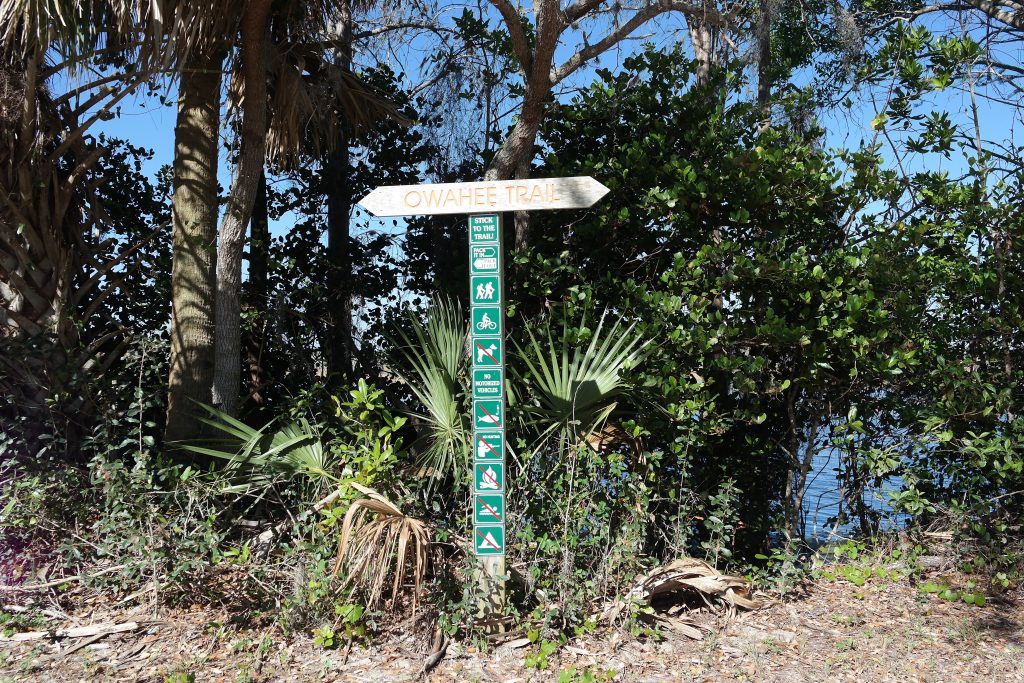 Hike – There are plenty of marked trails for you to explore. You can find a nice write-up about them here. Trails vary in length and difficulty levels. You can get a map at the visitor center and ask your questions there before taking off. The trails are accessible to the public free of charge. Away from the visitor center there are only rudimentary facilities (porter potties on some trails), and you need to come prepared with plenty of water and the usual sun protection devices (hat, sunscreen, long sleeves etc.). If you are a mosquito magnet like yours truly, bring some insect repellant, especially in the summertime. However, I don't really recommend doing the trails in the summertime, winter and early spring are certainly better seasons for hiking in Florida. However, if you want to take gallons of water, sweat profusely and get attacked by swarms of bloodsuckers – don't let me stop you.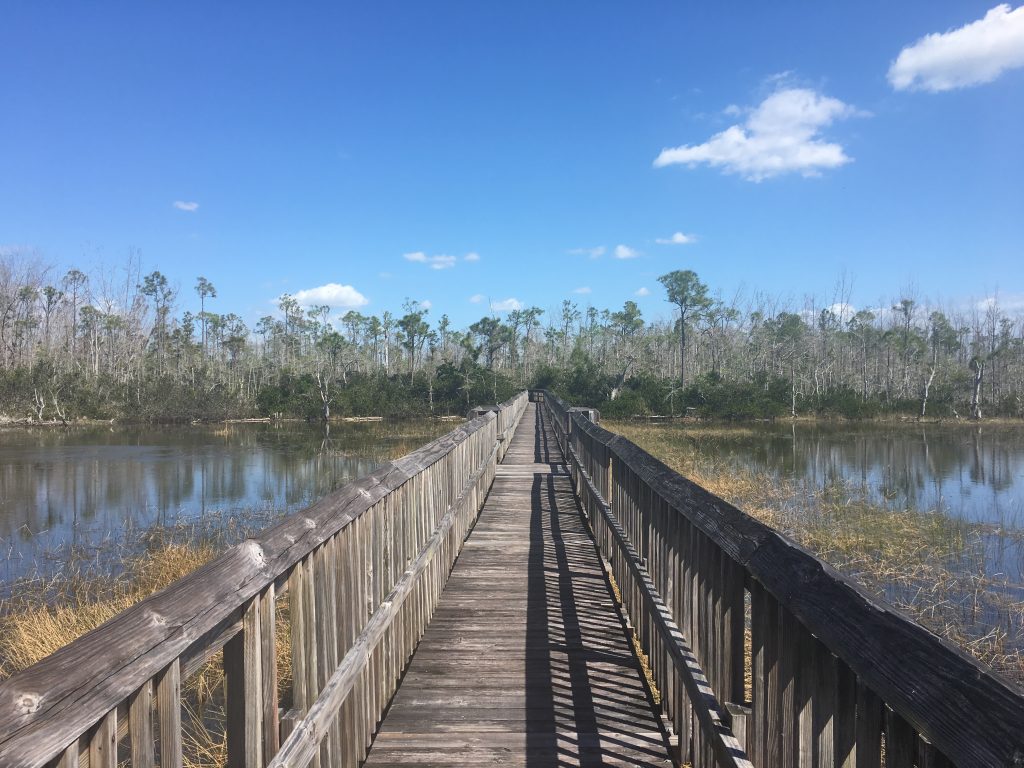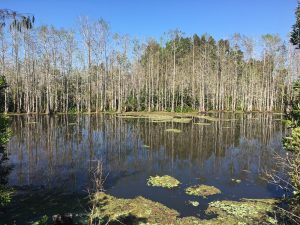 We did some of the Owahee and a tiny bit of Apoxee trail while we hiked the preserve and loved both. Owahee is a long trail at 16.6 miles and it can get pretty dusty. We only hiked a few miles into it and already saw a plethora of wading birds, gators and even…drumroll…our first BOBCAT!  The trail head for the Owahee trail is at the dead end of 45th Street near Jog Road. This trail connects with both the Apoxee Trail and the SWA trails.
Canoe and Kayak – If you were thinking of launching your own canoe or kayak and just paddle around the preserve, like we initially wanted to, I will have to disappoint. Bringing your own canoe or kayak is not possible at Grassy Waters. Once on the guided tour, we quickly realized one reason why. As soon as you lose sight of the visitor center, the Everglades basically swallow you up! Everything starts looking the same, including the numerous tree islands which could perhaps be used as navigational aides. So taking off on your own is not allowed, mainly for the reason that you might not make it back. Makes sense.
Also, the preserve is highly protected and for that reason it is also not allowed to have recreational paddlers doing their own thing. This is good, I suppose, since the human race just can't be trusted not to trash even highly protected ecosystems, judging by the odd bits of trash we saw on the trails. It's nothing short of infuriating.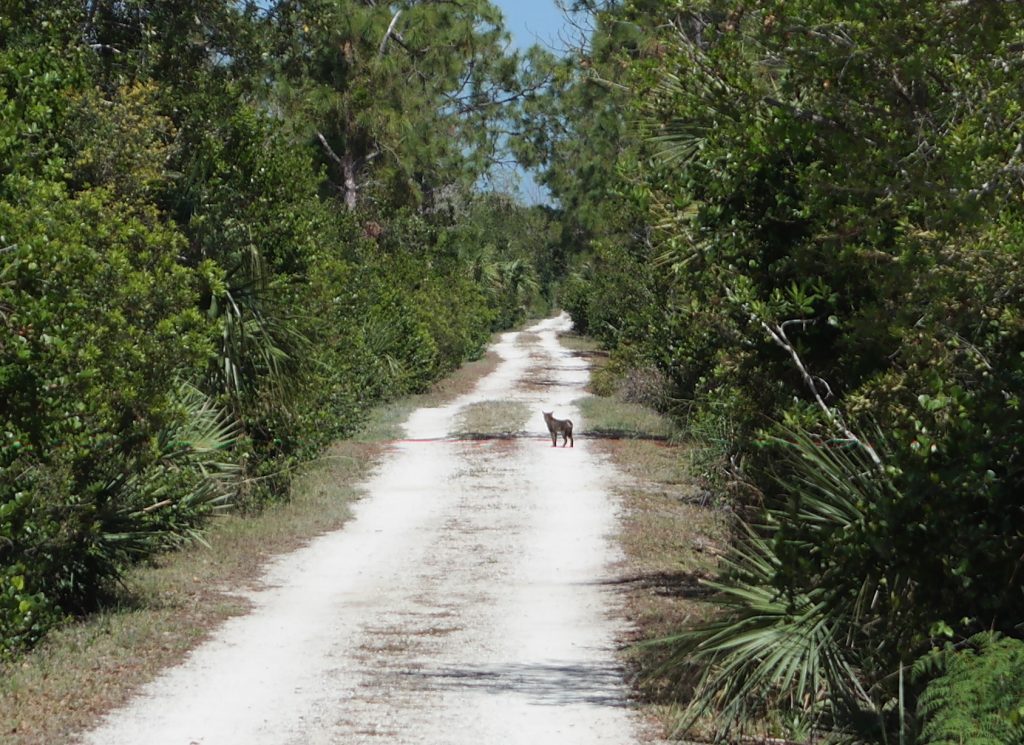 Too Much Zoom – But It's A Bobcat!
Walk The Boardwalk  – You've just come to while away a couple of hours and don't feel like too much activity? Perfect, take in the views at the visitor center and stroll along the boardwalk (around a mile) close by, for a relaxed and relaxing hour or two. Have a picnic in one of the pavilions and sit in the shade just taking in the vistas. The preserve is definitely worth visiting for this alone.
Where and How?
Grassy Waters Preserve Nature Center is located at  8264 Northlake Blvd, West Palm Beach, FL 33412 and can be reached with this number 561-804-4985. At the time of writing the preserve is open from 8-4:30 every day except on Sundays when the opening hours are 8:30-5.
Entry to the preserve and trails is absolutely free, but for the price of their other activities and programs you better check with them at the above number. Also, if you did want to partake in any canoeing or kayaking be advised that the tours book up well in advance. We were lucky to get on our tour through the waiting list.
The 1 1/2 hour guided canoe tour was $10 each. That's a real bargain in my opinion!