When you think about Florida's beautiful springs, what springs to mind (no pun intended) is perhaps swimming, kayaking, relaxing and just generally having a great time outdoors. Right? You wouldn't necessarily think about a spring as a food destination.
Well, think again.
Occasionally, the springs have interesting concessionaires. De Leon Springs State Park in Volusia County is definitely something special for the sweet toothed among us. You'll get your very own griddle, amazing different pancake mixes and toppings, and all in a historic building at a beautiful Florida spring. Now, if that doesn't make you happy, what will?
It really doesn't get much better than this if you love nature, history and a good breakfast. I absolutely loved it there. Oh, and do yourself a favor: don't step into the Old Sugar Mill if you are on a diet. Or just forget the diet for the day… come on, you only live once!
De Leon Springs – Just About Pancakes?
Definitely not "just" pancakes. There are plenty of things to see and do here other than stuffing your face, I promise.
De Leon Springs park is 625 acres big, and the spring produces 19 million gallons of water per day at a temperature of 72 degrees year-round. Why not burn a calorie or two – after indulging in the famous pancakes – and go for a swim? The temperature is so refreshing in the summertime, yet nice and warm for winter swims when the outside temperature drops below 72 degrees. I love the springs in all seasons, even if just for dipping my feet into the cool water.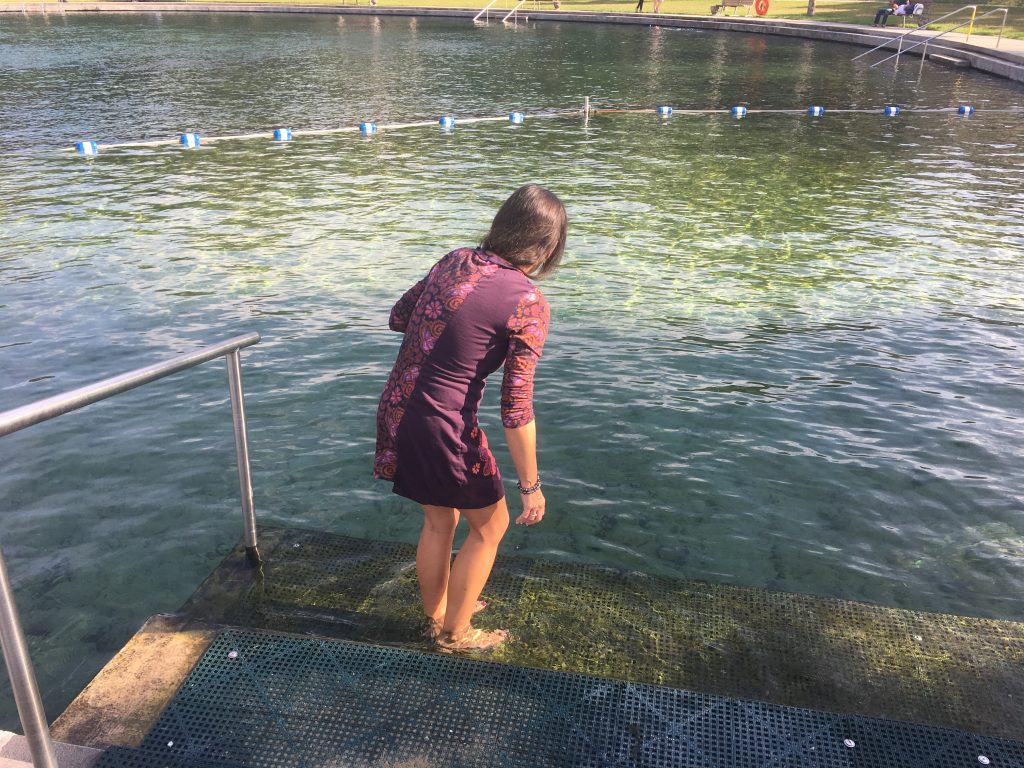 The water felt nice and cool on a muggy day
For those who want to explore the area on their feet and walk off half a pancake, there is a 4.2 mile trail called the "Wild Persimmon Hiking Trail". Those who don't care much for exercise can still stroll along a half mile paved nature trail with a 600 year-old cypress tree, as well as walk through a butterfly garden. Or just sit by the water with a full belly and enjoy the scenery, which is exactly what we did.
If you prefer to do something on – instead of in or around – the water, you may rent paddleboats, canoes and kayaks at the park. Although we did not kayak this time, as we were only travelling through, the paddling trail at De Leon Springs sounds worth checking out. It provides access to the 22,000 acre Lake Woodruff National Wildlife Refuge with various lakes and creeks to explore. Wildlife that may be spotted includes alligators, manatee, deer, otters and plenty of different bird species. De Leon Springs kayak trail is said to make for a great birding destination.
The Old Sugar Mill and Legendary Pancakes
As much as I would like to say that the Old Sugar Mill is an original historic house, it is apparently a (pretty good) replica of the Old Mill from 1830. The replica itself is now 100 years old, so I guess it is historic, even if not "original". It certainly has a nice old world and old Florida feel about it.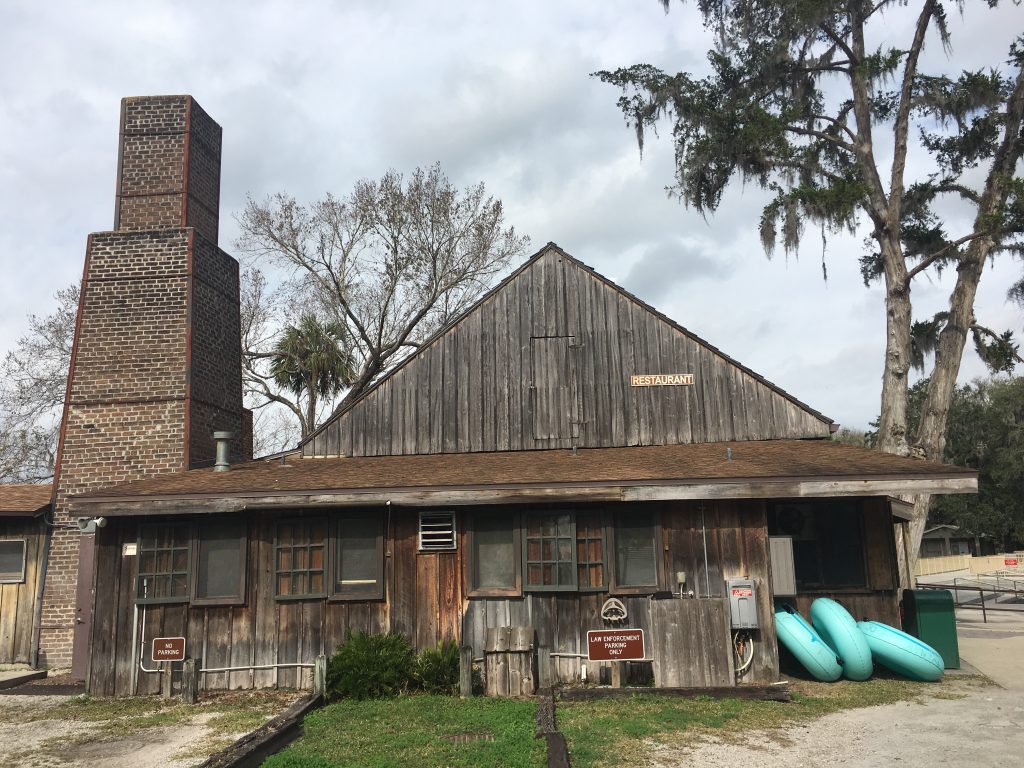 I must admit, I was just a tad sceptical when I got there. First of all it was a muggy day and I was being attacked by mosquitos as soon as I stepped out of the car, which made me wonder whether I would get eaten alive during my lunch. Also, as it was way past breakfast time, I wasn't really in the mood for pancakes but felt like something a little more solid and savory.
Well, I needen't have fretted, because the Old Sugar Mill restaurant was mosquito free, despite open windows. And they don't just serve pancakes, there is a nice little menu including sandwiches. The restaurant also offers eggs which you can cook on your griddle (fun!), and bacon cooked in the kitchen, to accompany your pancakes.
In the end I had to have the pancakes anyway. Looking around, everybody was busily packing their griddles with pancake mix. Resistance was futile.
They started us off with two different lots of their homemade pancake mix, one standard and one made with wholemeal flour. Both were absolutely delicious, but I found the wholemeal mix especially tasty and satisfying, with a little crunch to it. It is such great fun pouring your pancake mix on the griddle and watching it cook. Our pancakes came out amazing, so tasty! We added chocolate chips and cooked a couple of eggs on the griddle too.
And yes, we finished both mixes to the last drop, rubbing our bellies. If you are really hungry they will bring out more pancake mix, it is "all you can eat" after all – and at a very reasonable price. All you can eat: eat all you can!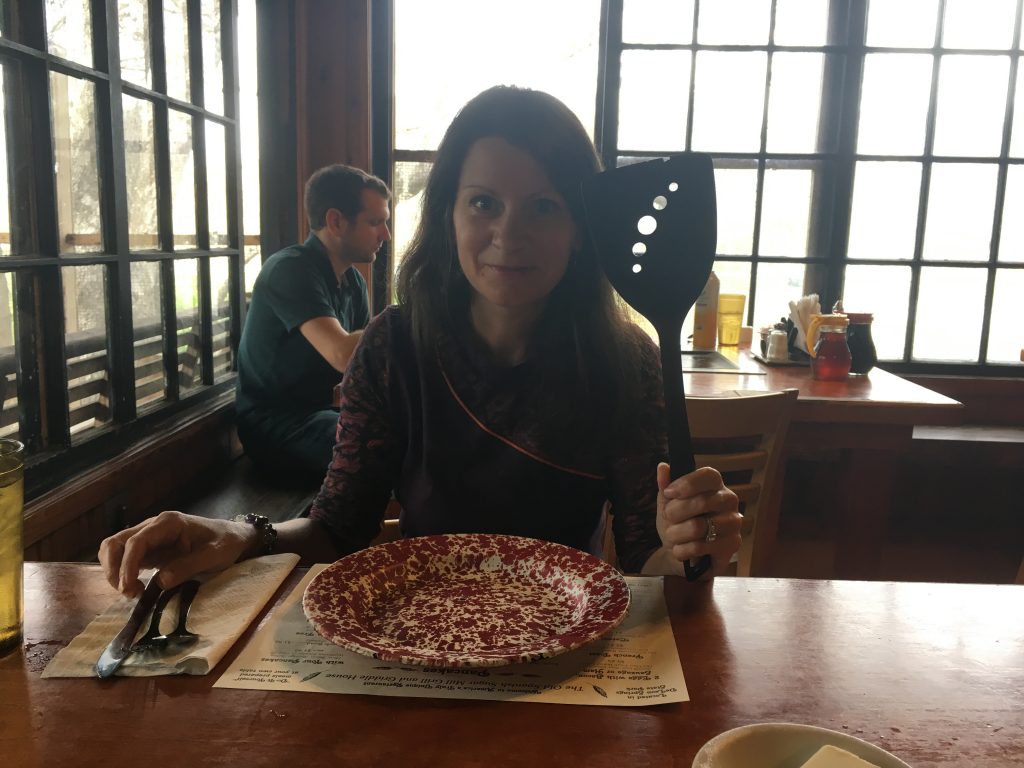 If you have kids or older kids like us, they will absolutely love this hands on pancake making. Since there is a hot griddle in the middle of each table, you might want to gently remind the younger ones not to put their hands on it. We saw plenty of families having a blast and cooking up a storm on their griddles.
Where and How?
On our first attempt, we actually somehow missed the entrance and came to a dead end on a private road for some reason. Anyway, De Leon Springs is located at the corner of Ponce de Leon and Burt Parks Road, west of U.S. 17. You would take U.S. 17 North coming from Deland – like we did – for around six miles. There are signs for De Leon Springs. You then turn left onto Ponce De Leon Boulevard and after around one mile will be at the entrance to De Leon Springs State Park.
The address is: 601 Ponce de Leon Blvd, De Leon Springs, FL 32130. Phone: (386) 985-4212. At the time of writing, the entrance fee to the park is $4 per vehicle. The all-you-can-eat pancakes are a very reasonable $5.25 per person, at the time of writing. You can add various sweet as well as savory toppings for an extra $1.95 each.