Last year, I published a book with the title 'Walking The Keys To Happiness', which is about walking in general and how beneficial it is for our body and mind. The book is also about my experience of walking the Florida Keys solo and unaided in October 2013. I walked the Keys from Mile Marker 105 in Key Largo all the way down to Mile Marker 0 in Key West. Incidentally, if you don't have a copy yet, now is a good time to get one. For all books sold in the month of May, I will be donating a percentage of the proceeds to the Ivy Stranahan Scholarship for a Broward County college student. This also includes those books sold on Amazon (and the Kindle version) here . If you would like a signed copy, email me on tamarascharf@yahoo.com and I will happily send you one (the price is $10, which includes shipping).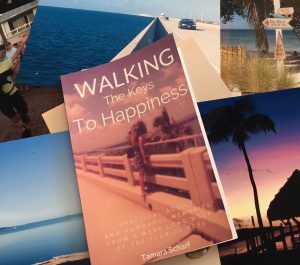 I have always been a friend of walking, and walk almost daily, usually on our beautiful beach here in Fort Lauderdale, or down in the Keys whenever I get a chance. I have to admit, however, as things start to hot up with summer approaching, longer distances are getting more difficult. Especially if I am trying to lug bags of groceries also. Unlike walking though, biking has never held much attraction for me. Firstly, I seem to be quite uncoordinated on two wheels and have the habit of falling off, due to sneaky curbs or not paying attention. Also, I once collided with a car. Although nothing much happened, luckily, it was still frightening enough. Therefore, biking kind of took a back seat for many years.
A Trike? 
I saw my first trike in 2012, and immediately got obsessed with them. A Miami Sun Trike it had to be! I started looking for a secondhand trike, but found them all still too expensive for what they were. What I would have liked was basically a new-looking one at the price of an old one – no, I was never the realistic kind. Also, I despite my obsession, I had been wondering whether I would use it at all in Fort Lauderdale, with the ever increasing road and foot traffic. Would I be able to ride it to many places? The sidewalks aren't always wide enough and I certainly did not want to compete with road traffic. So after a while of searching, I gave up on owning one.
Fast forward 5, yes FIVE years. Finally, my trike dream came true in form of a delicious brand new mint colored Miami Sun Trike – my new pride and joy! And where else to get it than from a real character – Jack of Jack's bikes in Key Largo! Jack is 83 years old but neither he nor his bikes are rusty. He sells his used and new bikes from a u-haul storage unit. He told us that he thinks most old people just sit at home and get bored, fat, and die, while he likes to get busy and keep his brain going. I think he's got the right idea, and it definitely works for him.  And besides, buying a trike from a fleamarket/storage unit is certainly the most  'only in the Keys'  way you could ever do that, right? I saw the trike a week before we got it and decided then: I did not want to purchase it from a boring big bike store here in Fort Lauderdale. Jack's Bikes it had to be!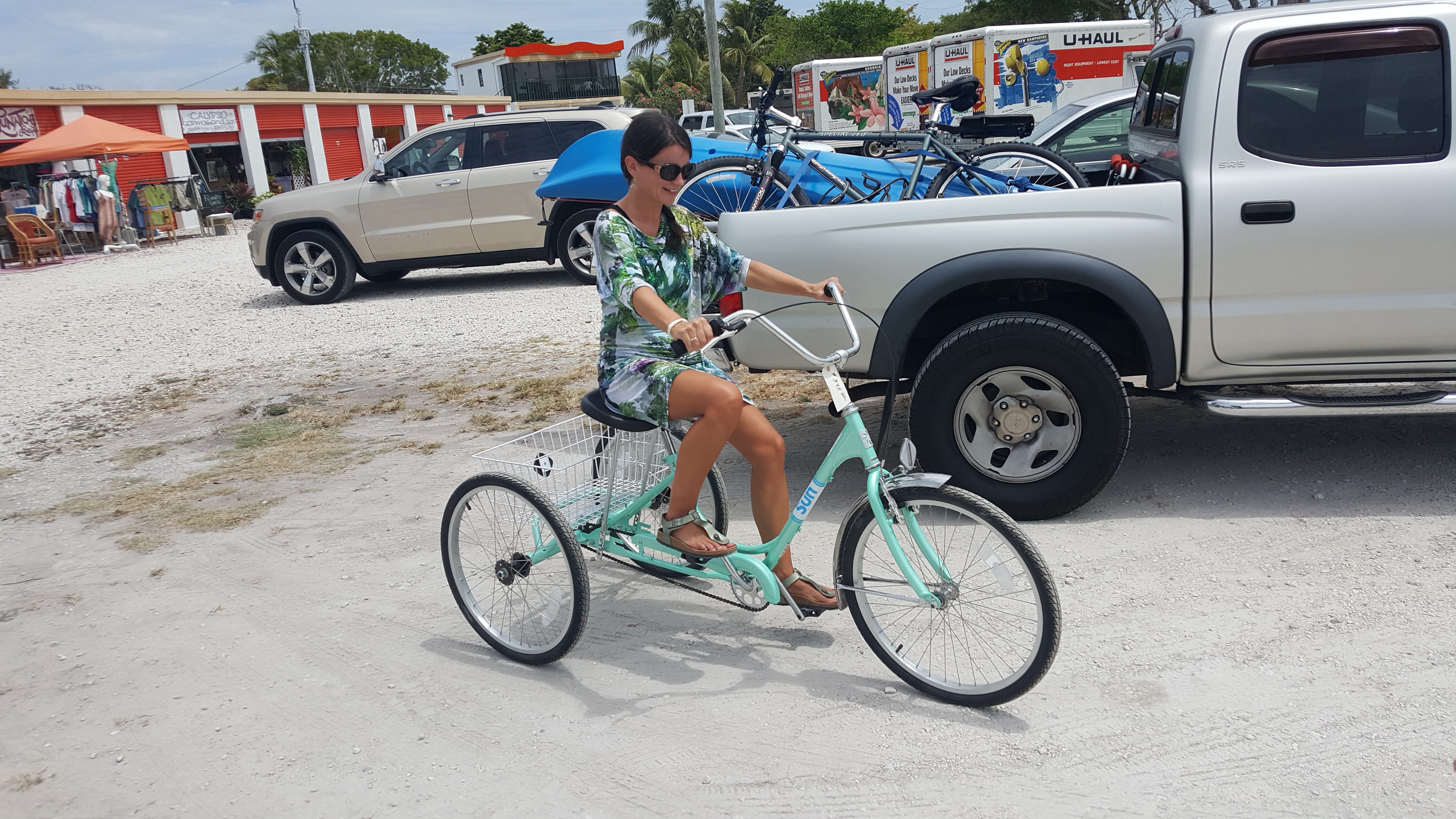 All set now with the help of Jack and my lovely husband who got the trike for me as a present, I was intent on triking the Keys to happiness! As you may or may not know, the upper Keys have the fabulous Florida Keys Overseas Heritage biking and hiking trail (and some parts in the lower Keys have it completed also) and as it happens, it is absolutely perfect for triking! If you pay attention, you'll see quite a few trikes in the Keys.
Finally, I found a way of 'biking' that allows me to be as absentminded as I wish and still remain somewhat upright. No more biting the dust or kissing the curbs for me. The trike allows me to stop without getting off and just staying comfortably with my bum on the wide seat, which feels like a lounge chair. Most importantly, I can now get to the grocery store and pack everything I need into the big basket on the back, and pedal it all home!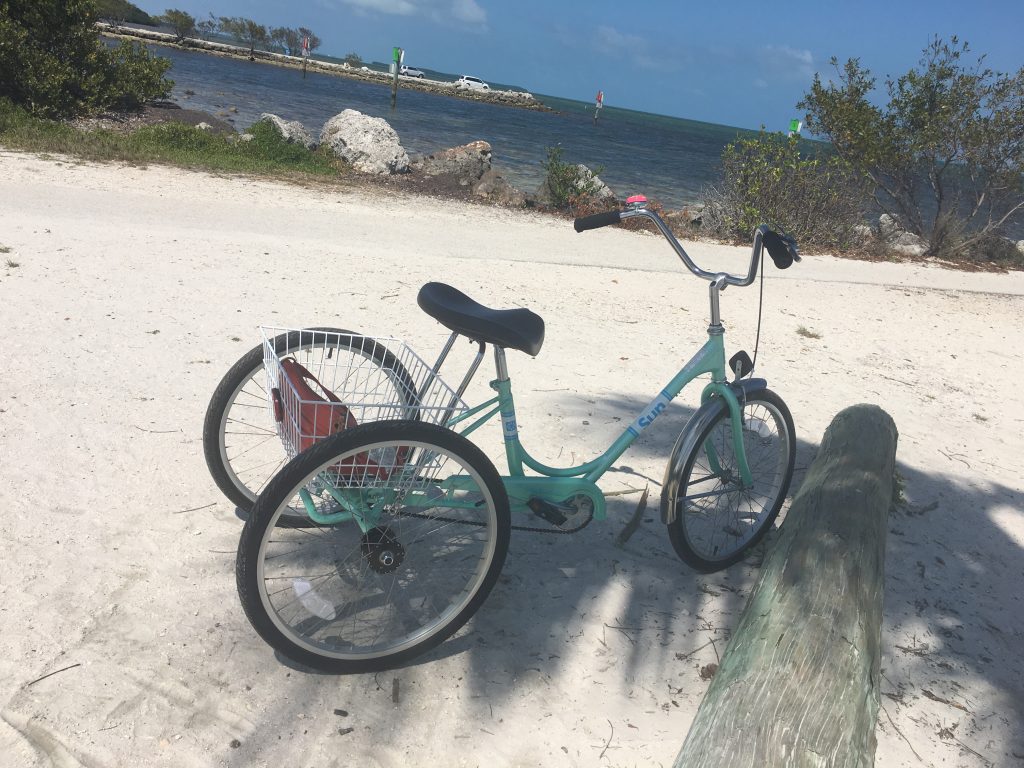 Hitting The Beach With My Trike
The Challenges Of Triking For Beginners
Ok, I admit it, I thought this would be easy. After all, even toddlers can ride trikes, right? I guess my coordination must be worse than that of a toddler, because the first few tries felt very strange indeed. For some unknown reason, the trike seemed to have a mind of its own and started steering left and right almost by itself, and especially when I tried to go in a straight line!  Also, with three wheels you can be sure to hit every single pothole on the road which, depending on the quality of the road, can get a little unnerving as well as really damaging for your trike. And thirdly, if you have never heard of road 'camber' (which I certainly had never), owning a trike will make you very familiar with that force. If there is any side-incline in the road, it feels uncannily as though you might tip over in slow motion, a bit like a wet sand bag. Road camber therefore means that you will have to start shifting weight. Combine that with a pothole and this whole sideways triking gets a little tricky, I found.
The Joys Of Triking 
Like I said above, once you get the hang of it, it is quite easy and most of us (even the elderly and those with balance problems), can ride a trike safely. Provided, of course, there is a nice wide and well maintained side walk or biking trail. It is fun, you can transport things in the basket and enjoy the scenery. Riding along on the Overseas Highway is also a fantastic way to see the Keys, just like walking, except with a lot less effort.
My first longer trip was down Long Key, all the way to the Long Key Viaduct and this is a great biking or triking path. Stop at the Channel 5 bridge and park your car there and head south. There are some lovely views of the ocean along the way!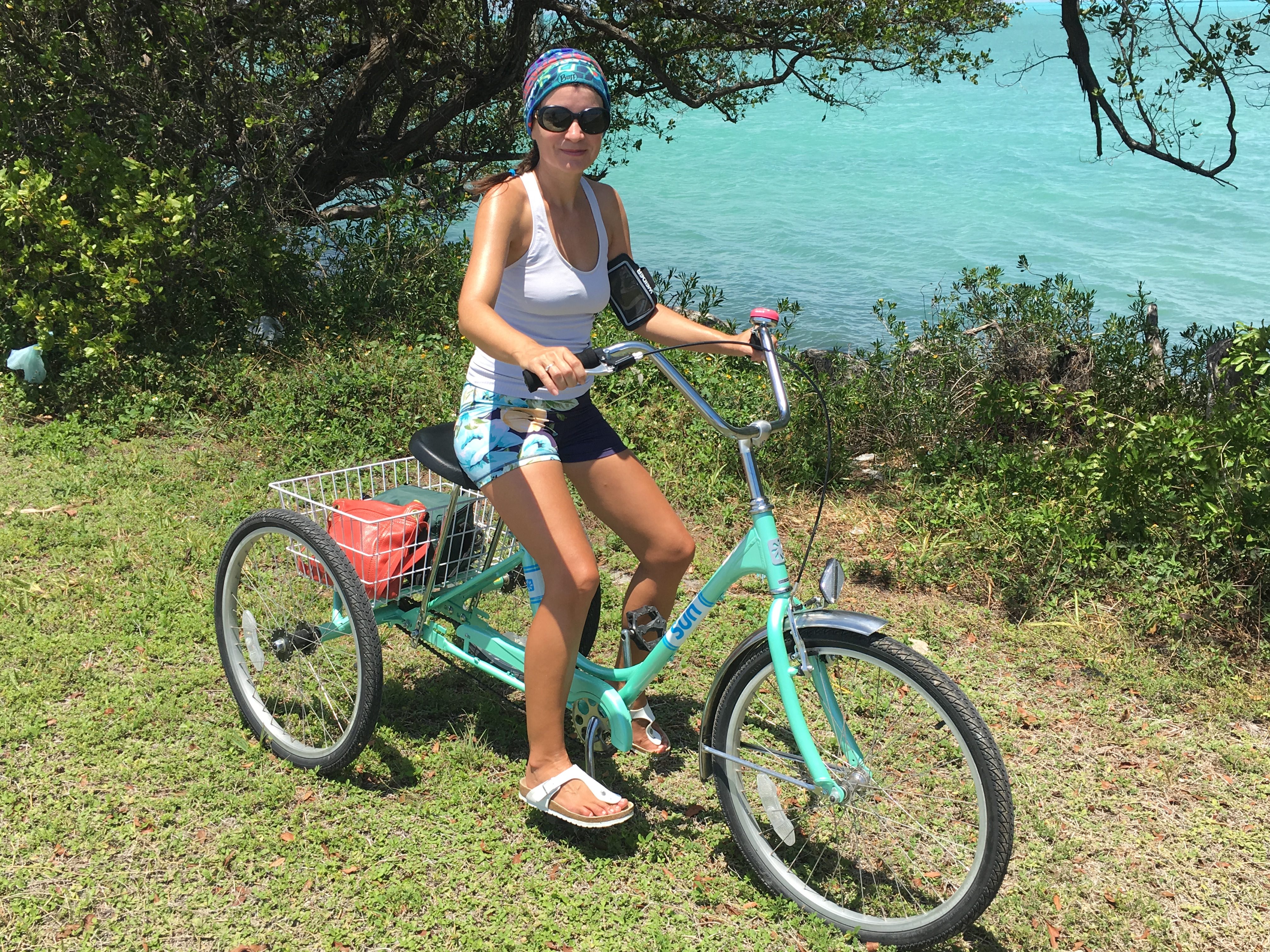 You might ask whether I am going to trike the entire Florida Keys, just like I walked them? Probably not anytime soon, as I am not sure how it would feel triking along the many bridges, including the 7-Mile Bridge, without a dedicated and wide bike lane. But who knows, I might do it one day…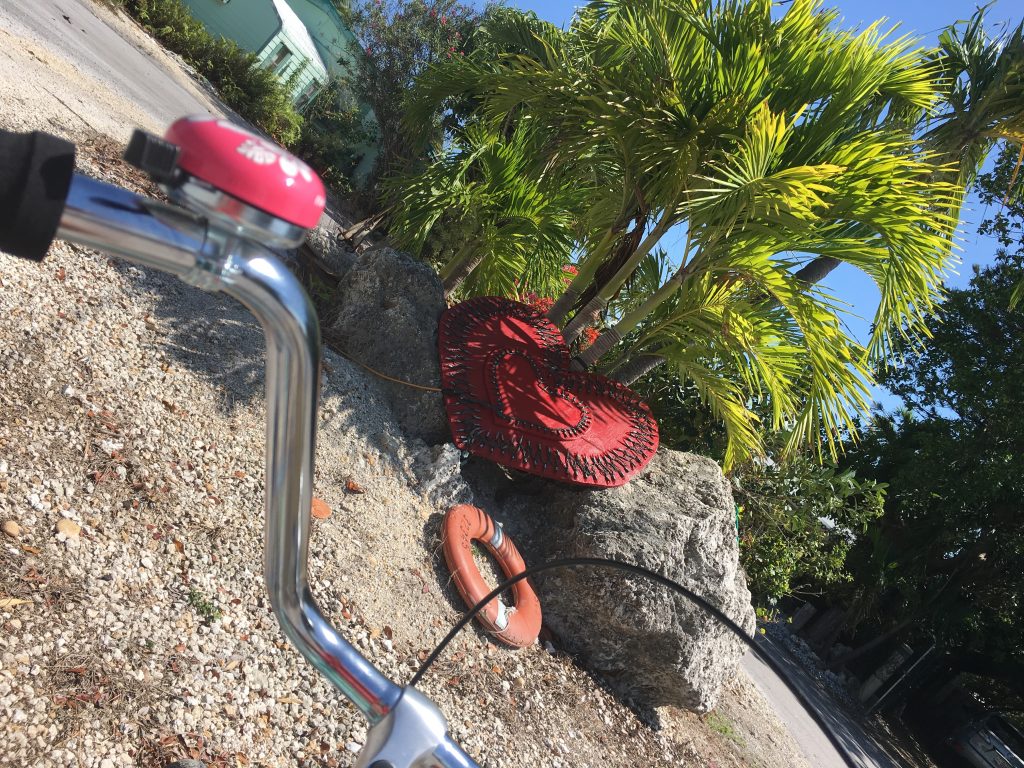 By the way, there is a great article about biking routes on the Florida Rambler website here, which is where we found the suggestion to bike and trike down Long Key. A perfect first trip with my trike, and great for bikes too!
Happy biking and triking all!