Looking for things to do, as always, the other day the 'Florida Keys Wild Bird Rehabilitation Center' popped into my head. We are spending quite a bit of time in the Keys lately, and had a couple of hours to spare, so we decided to give it a go.
The Florida Keys Wild Bird Rehabilitation Center is in Tavernier, which is perhaps better known as being the far southern end of Key Largo. The place to head to is the Laura Quinn Bird Sanctuary at 93600 Overseas Highway, Tavernier, FL 33070. Opening hours are from sunrise to sunset every day. This is where the birds go when they are released from the hospital but either need more time to recuperate, or can not be released back into the wild (which is when they find a permanent home here).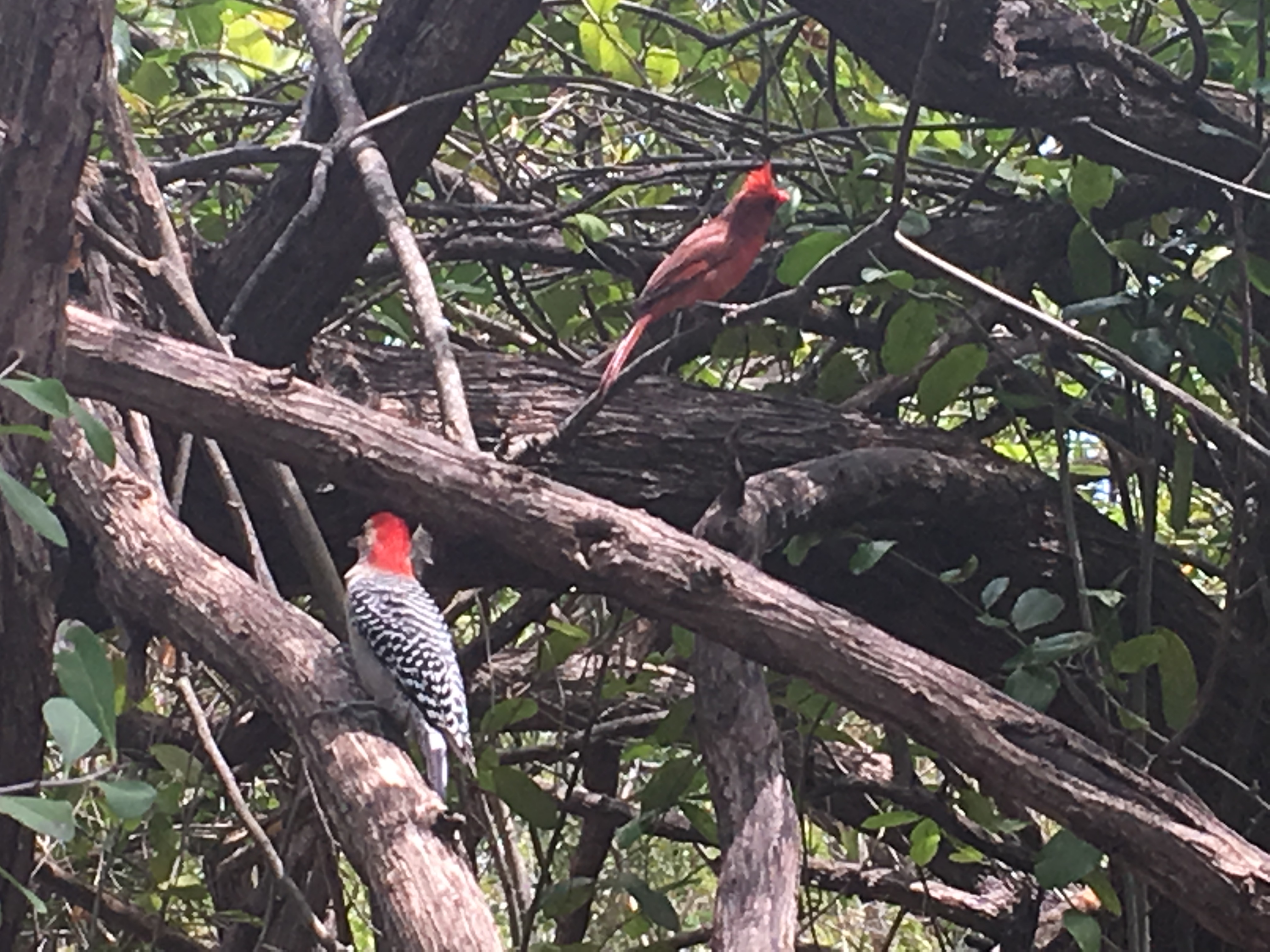 These Guys Are Just In the Neighborhood Enjoying The Birdfeeder 
The sanctuary offers acres of wetland as well as a tidal saltwater pool, which makes it a great habitat area for wild birds and not just the 'permanent residents'. You will see plenty of visitors. We saw cardinals and woodpeckers as well as an assortment of less colorful winged friends such as starlings, ibises and pigeons.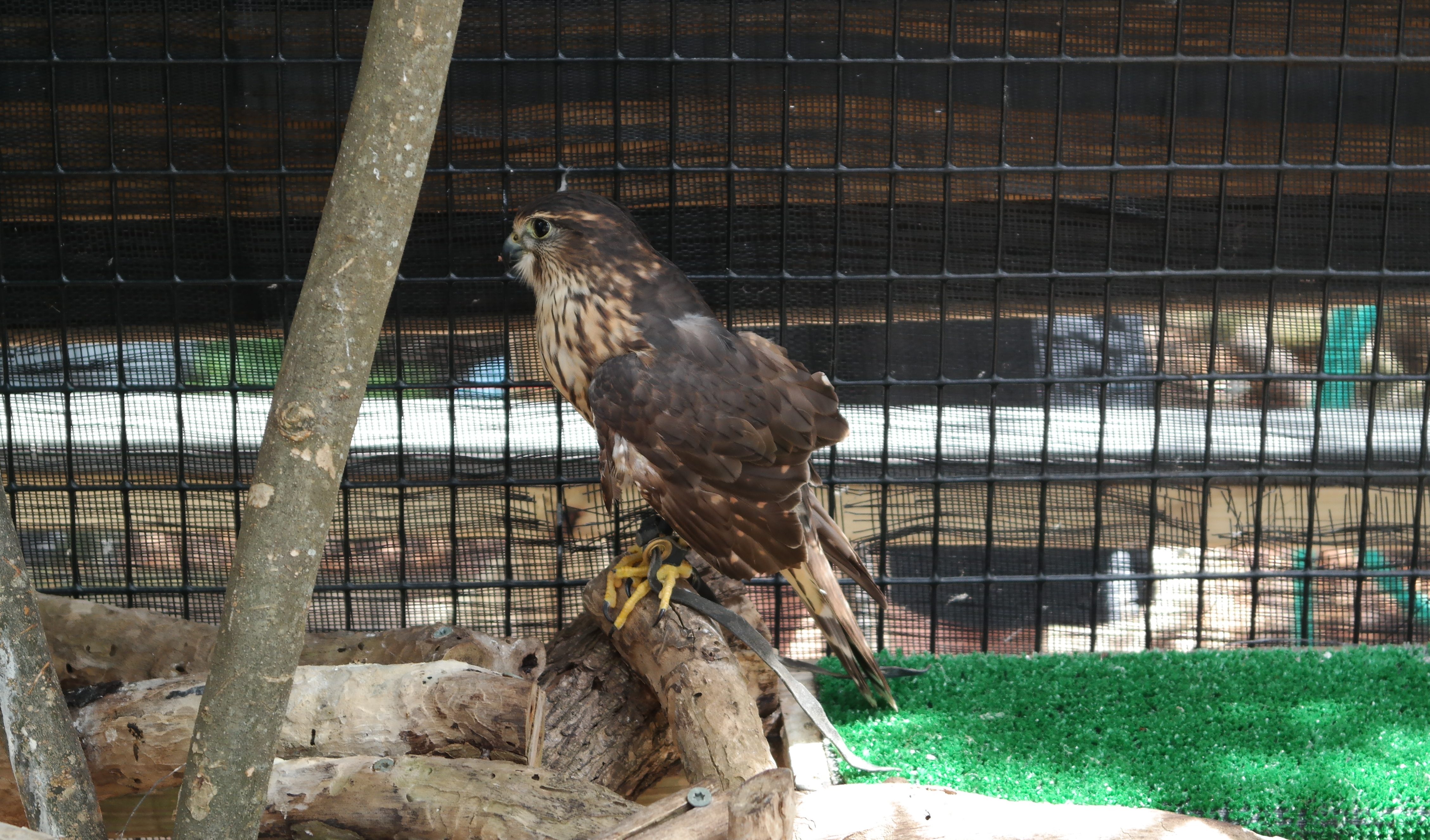 A Permanent Resident Hawk With A Bad Wing
The Sanctuary
Laura Quinn, founder of the sanctuary, was very fond of the wild birds in the Florida Keys and her passion for helping them started off from her own home's backyard. She learned how to help birds heal their broken wings and remove fishhooks and fishing line. Eventually, the numbers of the sick and injured birds increased and there was a need for expansion. Mrs. Quinn discovered and bought a property of over 5.5 acres, of which only a small percentage could be developed, which left her enough space for a house and an office. The rest of the property to this day contains lush native vegetation, mangroves, hammocks and wetlands. The center officially opened its doors to the public in 1991.
Walking through the sanctuary is a very nice way to spend an hour or two, and observe a whole host of native birds. There is a boardwalk and on the sides are enclosures with birds, many have their names and stories attached to the outside. It makes for fun, and sometimes sad, reading. Many birds are injured by car strikes or fishing line and hooks. Most permanent residents have names. There is, for example, Walter the white crested pigeon and Fredricka the (non-native) Amazon parrot who once used to be cared for by Laura Quinn herself. While we were there, Fredricka kept throwing random words at people, such as 'hot rod'. Perhaps she is just really observant, since her aviary is closest to the car park…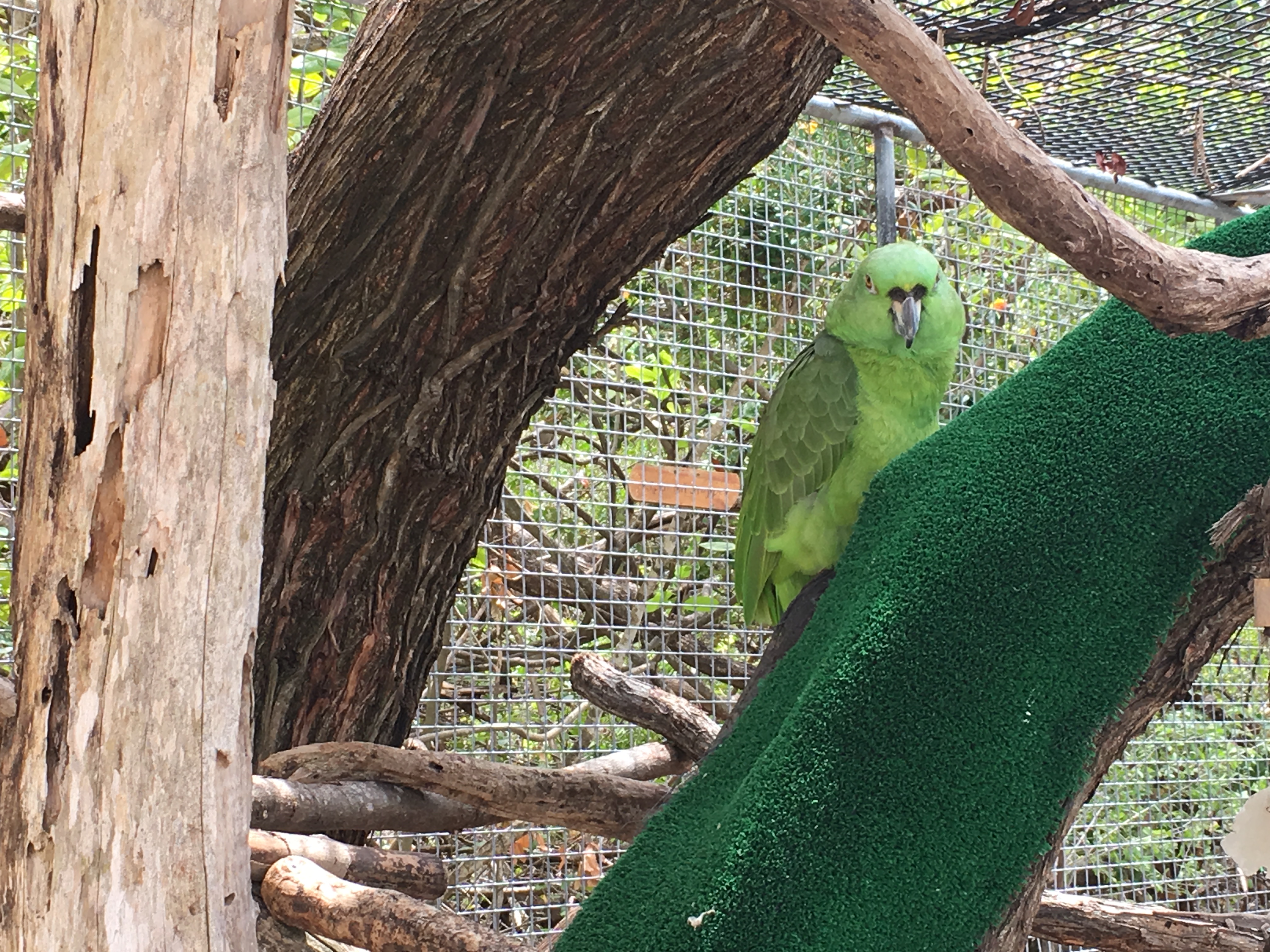 Fredricka – She Likes To Talk About Cars!
There are various different species of owls at the sanctuary, many with wing injuries due to collisions with cars. They range from the large barred owls to the small screech owls which are so impossibly cute with those piercing eyes! We were lucky enough to have two young ladies from the sanctuary take the screech owls out of their boxes to show them off. They were adorable! One of them, Professor Moody, is a little owl pirate as he has only one eye (the result of an injury). Due to him having lost his depth perception vision with losing the eye, he can't be released and is now a permanent little resident, teaching young and old about screech owls. Check him out on their website here.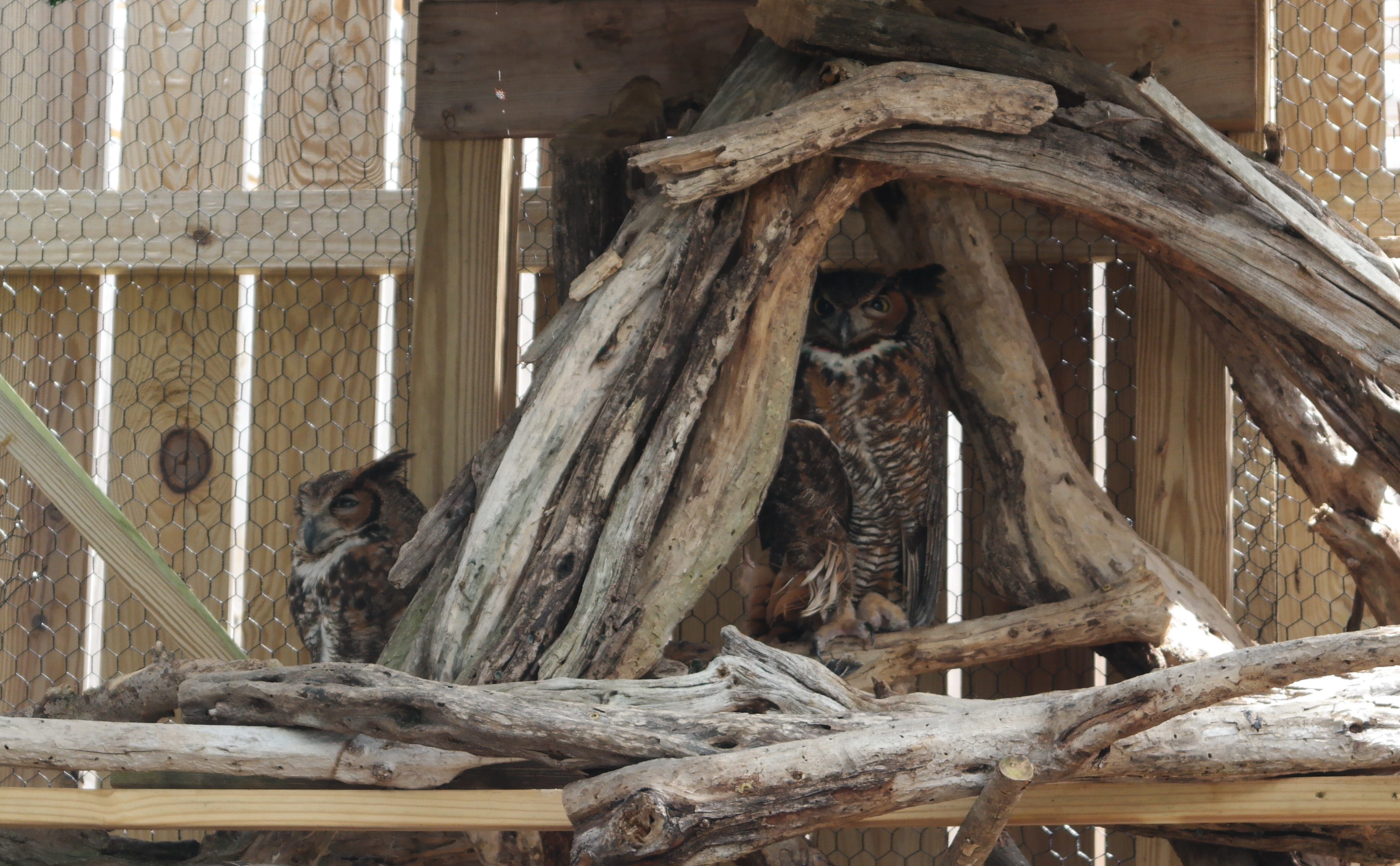 Sleepy Great Horned Owls 
Then there is also a larger enclosure for the sea birds, including various types of gulls and of course pelicans, many of whom come to the hospital with hook and fishing line injuries. Hello to all fishermen reading this. I am sure you know but please, please, please dispose of your line and tackle responsibly (and pick up other people's). I can't say it often enough. We are forever collecting fishing line from bridges and the ocean when we are out walking or kayaking. It is so sad to see birds impaired or even dangling dead from a tree (yes, I have seen this and it is truly horrible). Only the lucky ones make it to the bird hospital and sanctuary.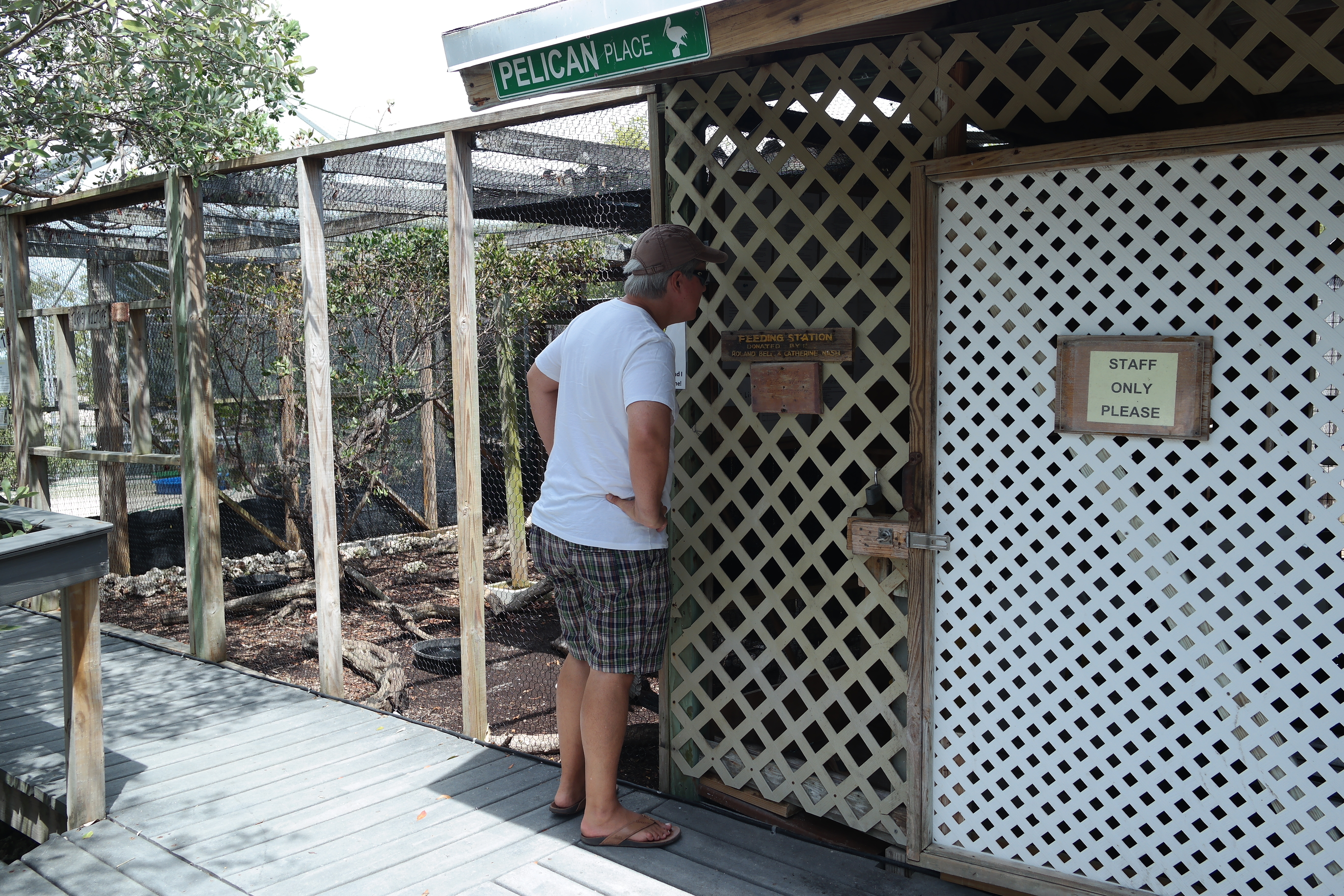 We even saw some vultures. It amazed me how big their wingspan is, having only ever seen them circling above. You really do get an appreciation for all kinds of birds once you see them close up!
It's a really cute place to visit, it won't take much of your time and you will leave so pleased to know that someone cares about the birds. Please don't forget to drop a few dollar bills into the collection box before you leave.
Last but not least, it is fun to visit their facebook page, as they are pretty good updating it with all types of news and birds admitted, as well as released. It's a very interesting page and you can find and 'like' it here.