You might have noticed my blog's strange obsession with the Redland area lately. No? Well, I wrote two articles recently, one about the Redland Road Rallye here, and another about Schnebly Winery here. Prior to spending a few weekends in the Redland area, I had no idea how much there was to see and do in this predominantly agricultural area of Miami Dade county. Close by are several gems, including the wonderful Coral Castle (I wrote about my visit here), which is always worth a visit. If you are not from the area and have a little (or a big) drive to make your way down there, I really recommend leaving early and making a day of it by scheduling at least two or three places to see. The above mentioned posts should give you some ideas for places to combine with a visit to the Fruit And Spice Park.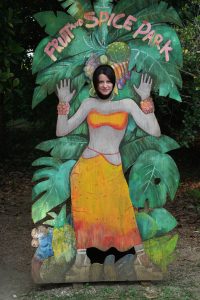 Fruit And Spice Park History
To find out about the history of the Fruit And Spice Park, we have to go back over one hundred years, when the building through which you enter the park, was built as a schoolhouse right at the end of the 19th century. It is said that the name of the area, 'Redland', was decided on during a meeting of a group of homesteaders in this very schoolhouse in 1907!
After the school was closed, in 1916, the building was purchased and used as a clubhouse by the Redland Women's Club. Not only did they conduct their meetings there, but the building also served as a library for the community. After various different ownerships of the land and buildings on the property of what is now the Fruit And Spice Park, the county acquired the 20 acres in 1943/44 for the purpose of installing a Fruit And Spice Park.
A lady who was instrumental in making this happen, Mrs Mary Calkins Heinlein, herself from a Pioneer family, became the first Superintendent for the park. Many of the trees she planted came from her own nursery. Mrs Heinlein served as Superintendent until her retirement in 1959, and it was also her who gave the park its name: Redland Fruit and Spice Park. In 1980, as a tribute to Mrs Heinlein and Mr. Preston B Bird (the county commissioner instrumental to securing the funds for the park), the park was renamed: 'Preston B Bird and Mary Heinlein Fruit and Spice Park'.
The Fruit And Spice Park Today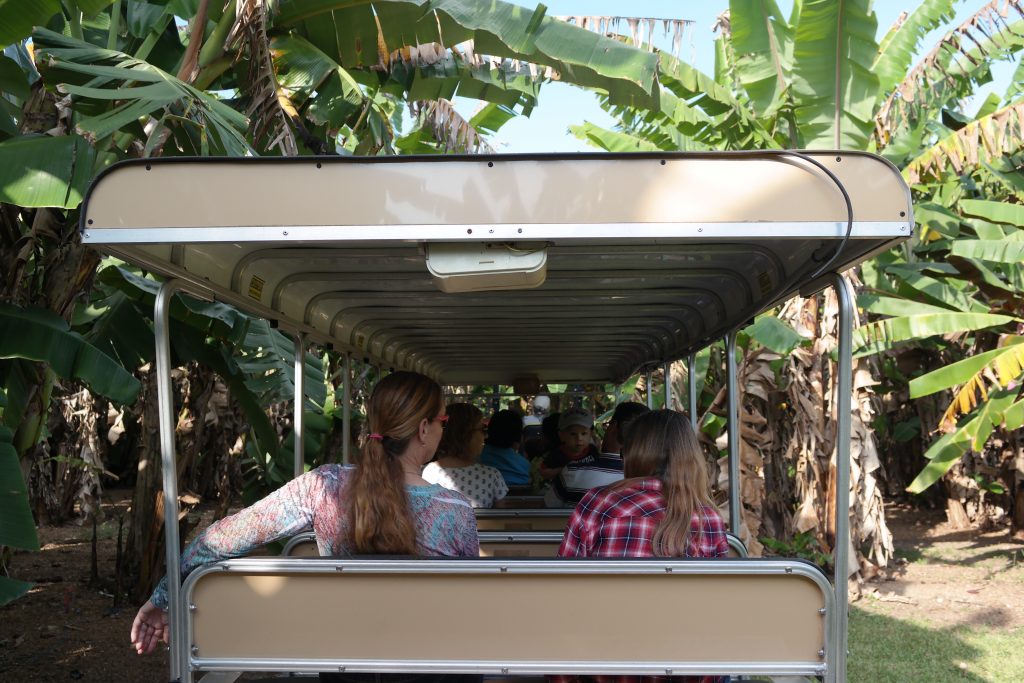 Tram Tour
The 37 acre park is still today nestled among tropical agricultural fields. It reportedly has 500 varieties of exotic fruits, herbs, spices and nuts from around the world. There are a mind-blowing 180 (!) varieties of mangoes alone. There is also a large area with banana plants, and according to the park, there are 40 varieties of bananas in this area. We were lucky enough to sample a few at the tram tour. I love the small bananas, they are just so tasty!
The fun part is (one of the many 'fun parts'), when you join a tram tour, which I highly suggest, they hand you various leaves and fruits to eat, smell and just experience. This is wonderful for young and old. I considered myself reasonably educated and had been on farms in the Caribbean, where there were some similar fruit and spice trees, yet I learnt lots of new things here! Our guide was lovely and very knowledgeable, you could tell that she loved her job!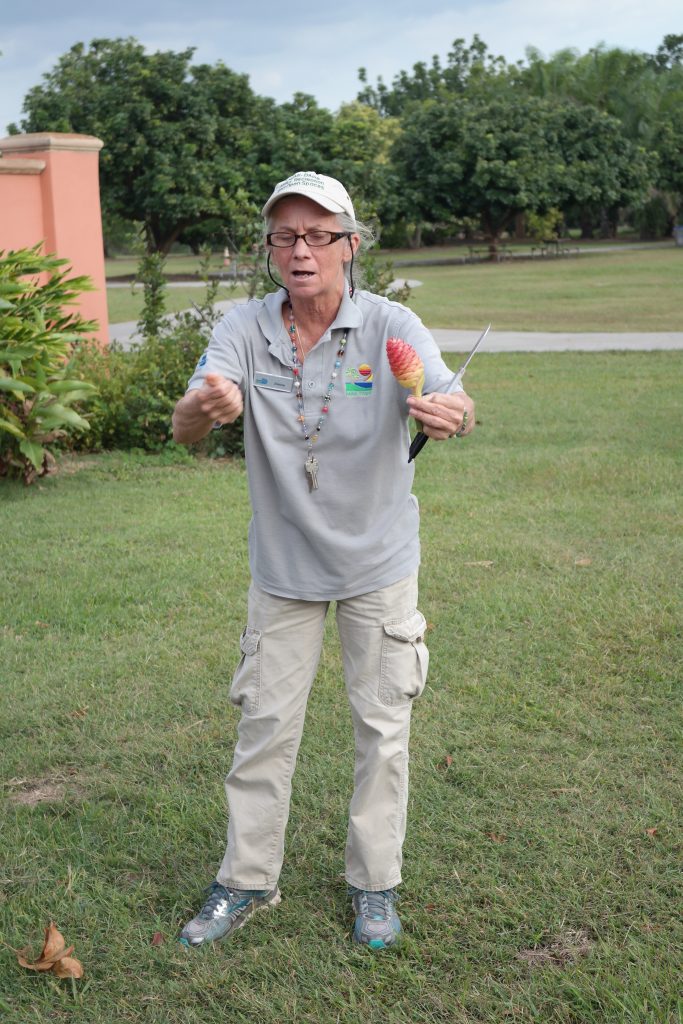 There are also impressive jackfruit trees and plenty of other exotic edible fruit grown and maintained all around the park. The fun part is that you are allowed to eat any fruit that has fallen to the ground, which spurted my better half on to get into full 'hunter gatherer' mode. Coconuts, anyone? Little did we know that, although you can take fruit from the ground, you are not allowed to take it home.
We arrived back at the kiosk on our way home, with various things in our hand (starfruit and coconuts mainly), to be told we had to eat them there and then! Luckily, the lady had mercy on us when she saw our disappointed faces, and let us have a couple of coconuts and a starfruit to take home, but don't count on it. I recommend to just take a couple of things and eat them on the way out. They will also help you, for instance cut the fruit for you, on the way out.
And then there are the weirder plants…our guide lady did a great job of introducing us to some quite odd plants, and the one pictured here and on the picture at the bottom of this article, was definitely my favorite: shampoo plant. also known as shampoo ginger (it is of the ginger family).
The plant holds a lot of clear liquid, which can be squeezed out of it and used for a variety of purposes. It can be used to quench thirst, for example, and as the name tell us, also to wash one's hair with. It is supposed to add shine to the hair. Shampoo ginger can also be used for a variety of medicinal uses.
The Verdict
The Fruit And Spice Park is definitely a great place to while away an afternoon, or a morning – especially in those months when the humidity is not a killer. I would recommend going anytime between November and May to be able to fully enjoy not only the tram tour, but to then have a good walk around the park in order to see all the plants at your own leisure. And of course to pick up some fallen fruit – that is half the fun! It's a great place for children and adults to learn about tropical plants, spices and the Redland area, and I would be happy to visit it again anytime. Plus, there are so many things to do around here, it is easily combined with another attraction (for example Coral Castle, or if you like plants RF Orchids), and would make for a great day out. A really great place for children also, as it is very hands-on, and there is a lot to explore for the little ones!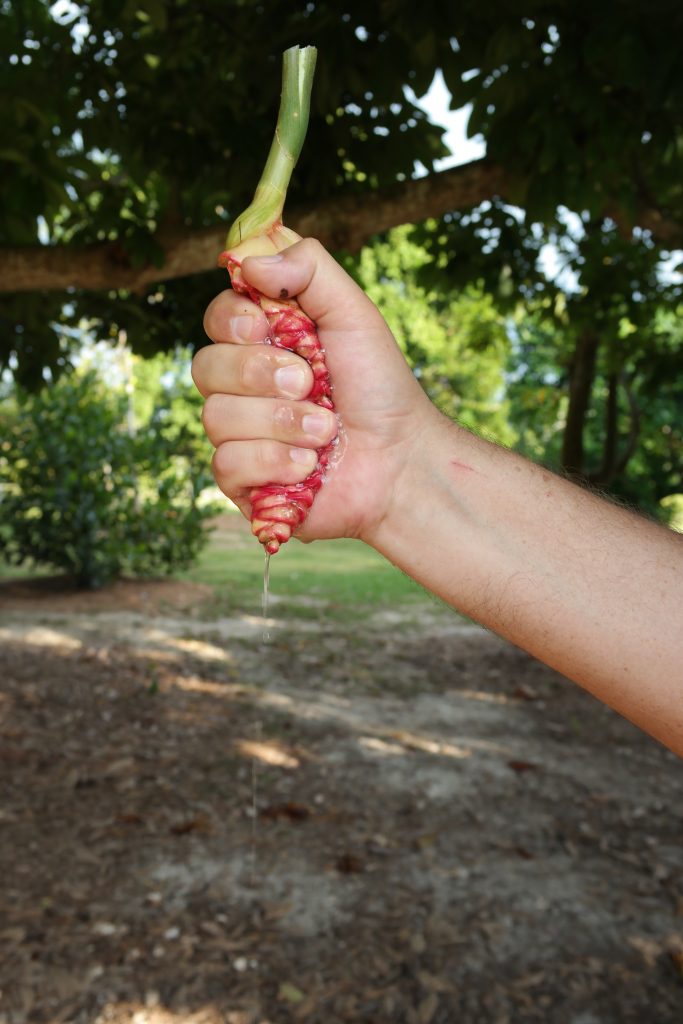 Shampoo Ginger: Give It A Good Squeeze!
Further Details Fruit And Spice Park
You can find the park here: 24801 S.W. 187 Avenue, Homestead, Florida 33031, Telephone 305-247-5727
It is open every day from 9-5 except Thanksgiving Day and Christmas Day. At the time of writing (Jan 2017), entrance fees are $8.00 per adult, $2.00 per child 6-11, and children under 6 are free. Guided tours are held each day at 11 am, 1:30 pm and 3 pm, weather permitting.