It always helps to talk to the locals, especially when you are new to an area. Although we spent quite some time kayaking in the Keys over the years, we did not know about Dove Creek in Tavernier until a local couple, whom we chatted to in a marina, told us about it. They made sure we knew exactly where to kayak and at what stage of the tide the creek is at its best. They even told us where to park. Tapping local knowledge doesn't get better than that!
Previously, I had wondered about this lake I saw on googlemaps called 'Dove Sound'. I noticed a mangrove tunnel leading out to the ocean (Dove Creek), but to me and certainly on the map, it looked like a brown tannin stained pool and run. I was pretty sure with it being so far from the ocean, there would be stagnant brackish water, which is probably one of the reasons why we had never bothered investigating it. Well, turns out I could not have been more wrong.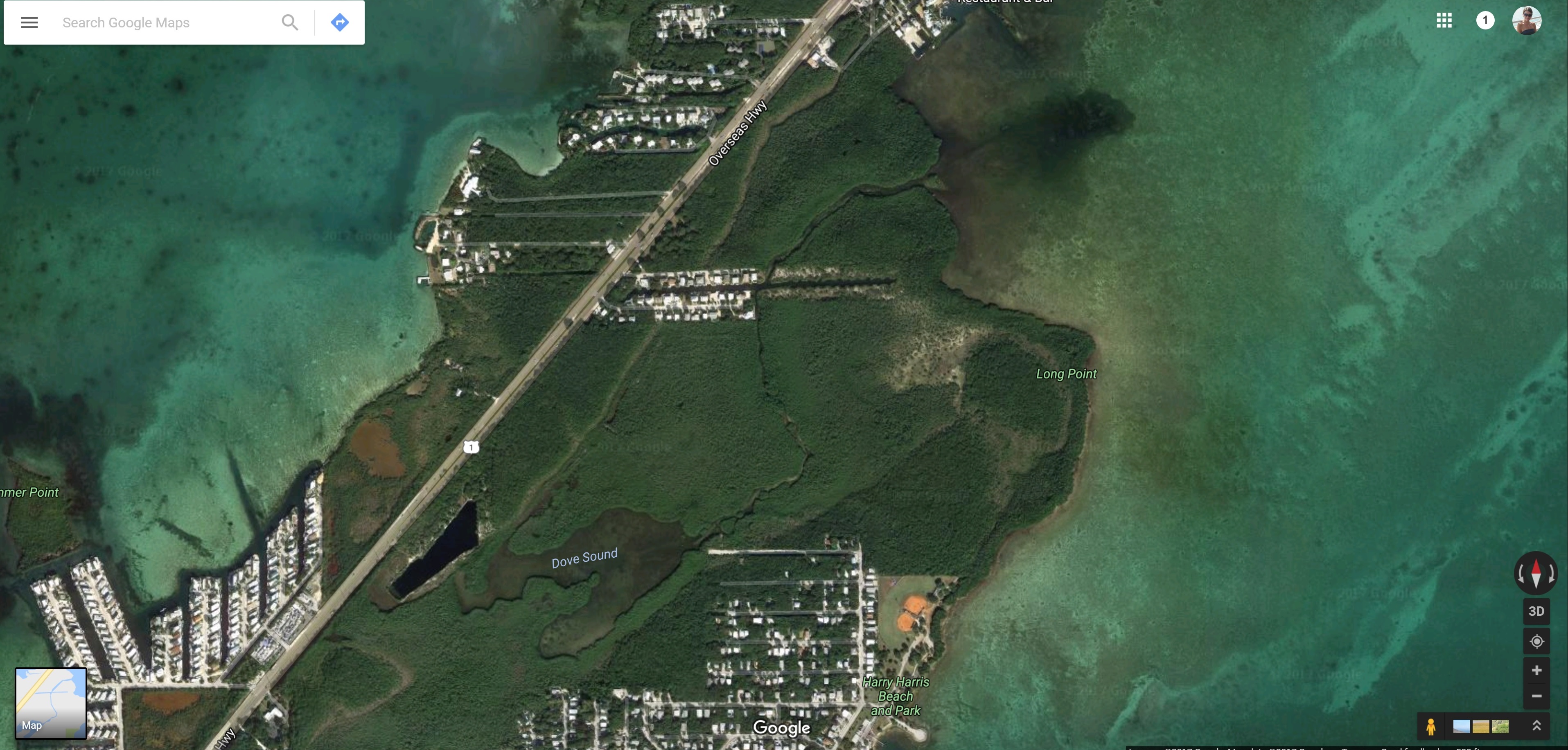 (Image from googlemaps)
A quick look at the map shows you why perhaps I was a little apprehensive, as you can see that Dove Sound has no outlet other than the creek on one side, so I was imagining nasty water. We were amazed to find crystal clear water here.
What You Can Expect On The Run
From the moment we put in our kayaks (don't be put off by this somewhat dodgy-looking put in), we realized how wrong we had been. The water was incredibly clear and you could see sea grass and even little corals on the bottom. It's pure ocean water, nothing brackish about it – a swift current flushes out the whole area twice a day with the tides.
Also, despite us getting there at low tide, there was none of the bad smell of rotting vegetation that typically greets you even on the beaches here in the Keys. After a few minutes, we met some other kayakers. I was happy about that, as at first it looked and felt really remote. I asked them what they had seen so far, and they enthusiastically replied: lots of fish! Ok, so now I was feeling really curious.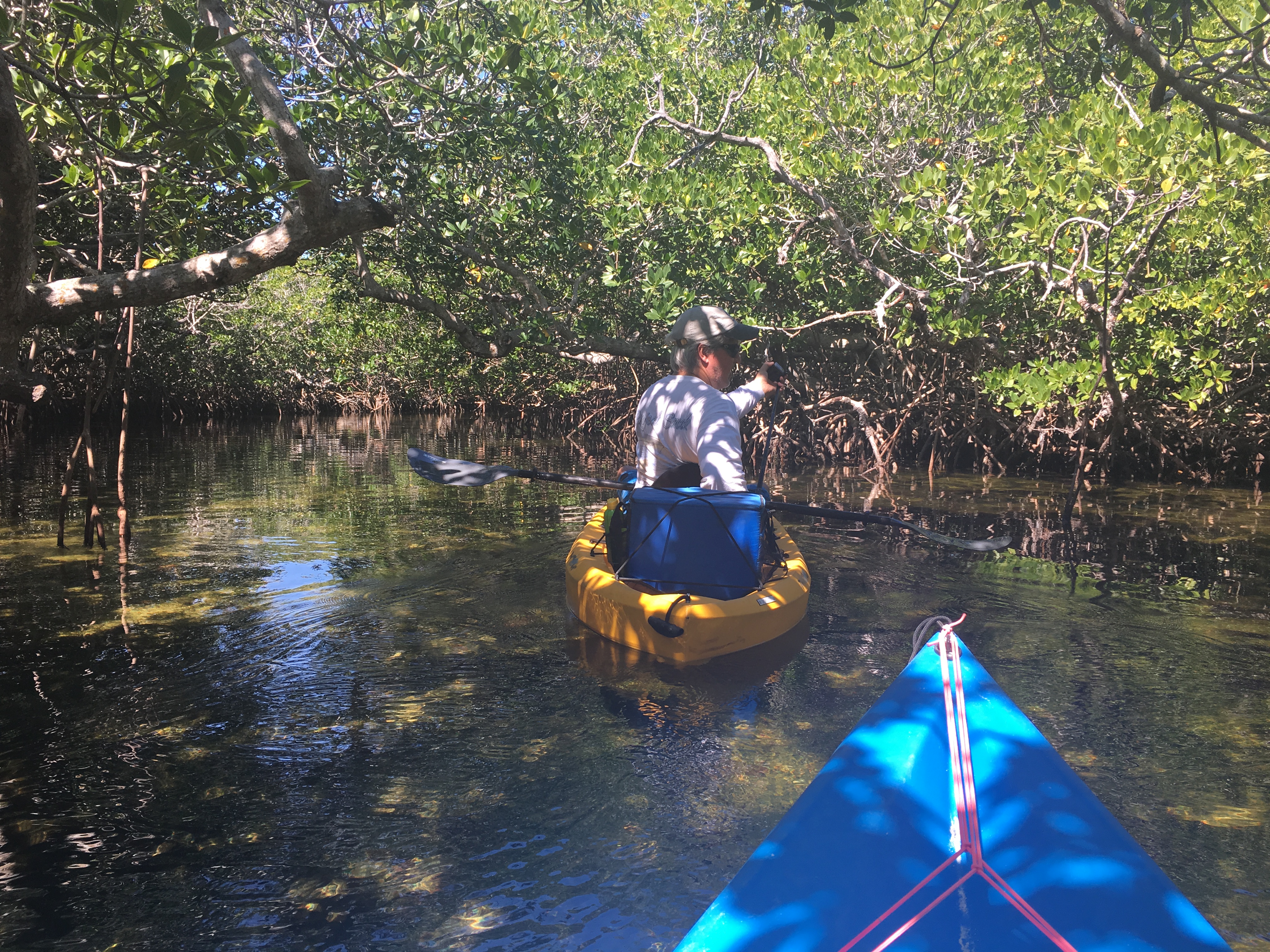 We paddled on. As we came further up the creek, there was a short area of mangrove canopy. I am usually keen to get through these as quickly as possible, as I am a mosquito magnet. I needn't have worried, however, no mosquitos here. Mind you, it was a February day and I had applied that nasty poisonous stuff on my skin pretty liberally, so I can't vouch for the middle of August and/or speak for those without repellant.
Speaking of which, I probably wouldn't recommend kayaking this in the summer time. It is a great place for windy days, when it is too rough to kayak the ocean. However, as Dove Creek for the most part is extremely sheltered, I am imagining it in summertime as: hot, hot, hot. Not much shade there, as Dove Creek has only a little part that features a light mangrove canopy. The rest is pretty open.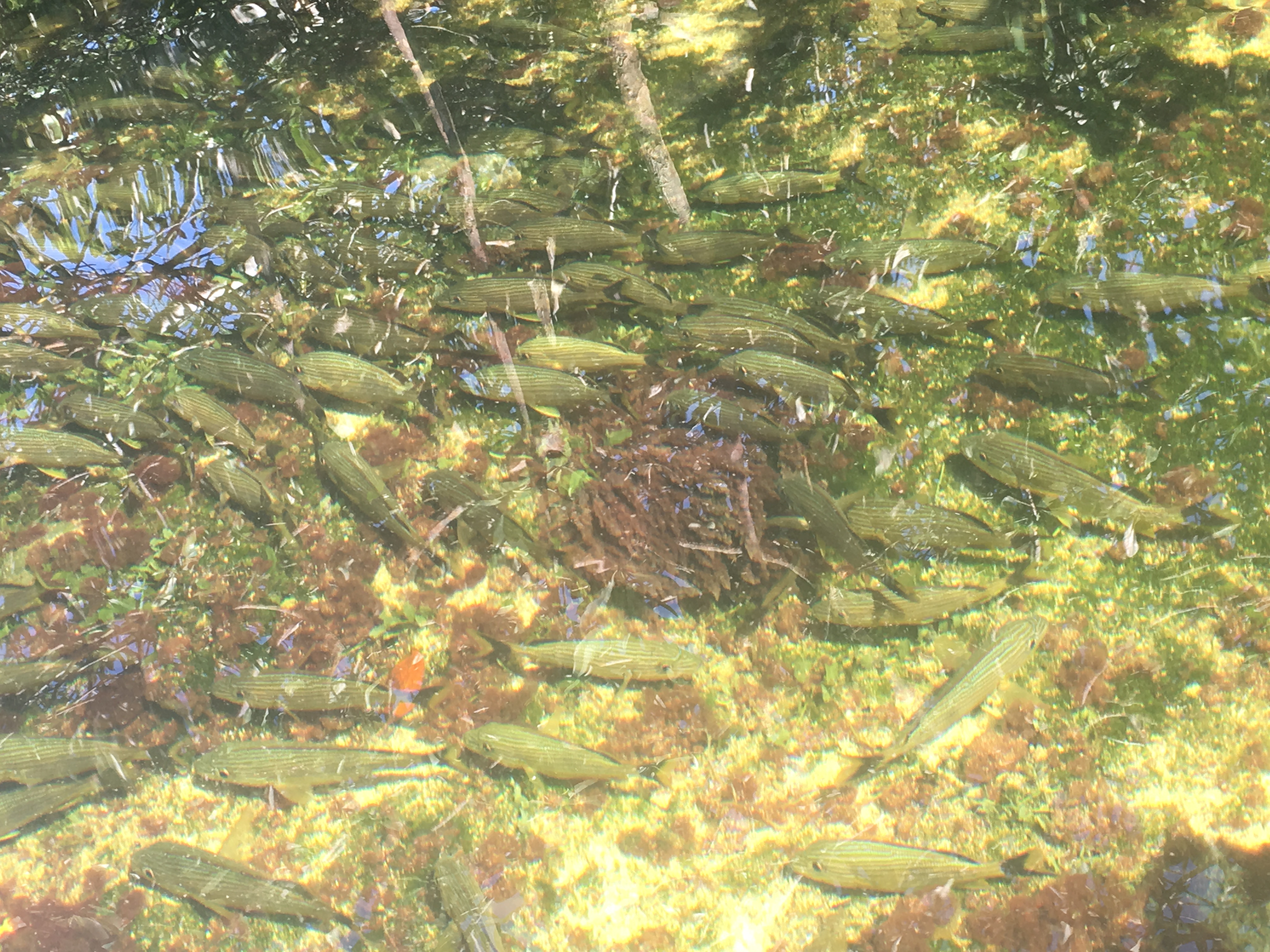 As we carried on through this canopy, we started to see huge schools of grunts, literally hundreds of them all around us. And schools of juvenile as well as adult (and very large) parrotfish, gnawing on stones and corals like passengers on a cruise ship digging into midnight buffet. It was incredible to watch! We had trouble tearing ourselves away from this area.
We saw some big southern stingrays in Dove Creek also. However, the highlight was certainly a nice size nurse shark, gracefully gliding through the shallows. Luckily, we managed to capture a little footage of him. Look closely and you will see all the little grunts making way for him!
After a little more paddling, we reached some houses and a dug out canal. Here, just carry on straight and this will take you out to the ocean quickly. On the right is a dug out canal with a dead end. We spent quite some time paddling around on the ocean, as it was a day with west winds, which is when this area oceanside is pretty sheltered. We saw a turtle out there, but sadly it wouldn't stop for a photo opportunity.
Dove Creek Emptying Out Into The Ocean
Once out of the creek, you can kayak as much or as little as your heart desires, and head back the – less than a mile – distance down Dove Creek when you are ready to go home. If you feel anything like we did, we dragged this whole excursion out for as long as possible. In fact, we went right back there the next day. That tells you how enchanted we were by the whole experience. I even considered not publishing it here, as it is definitely a 'secret' spot…one wants to kinda keep it that way. You will see what I mean.
By the way, you can also take your snorkeling gear there. We found several spots shallow enough to get out of the kayak. The water is beautiful and there are plenty of fish. Just watch your step, we did see some bright orange fire coral in places.
Some Practical Tips For Kayaking Dove Creek In Key Largo
We were told to start our paddle with a low tide, which is great as the incoming tide helps you back down to the launch. There is a nice current! The whole trip, one way from Dove Sound out to the ocean, is less than a mile. So you reach the ocean pretty quickly and depending on the weather, you can extend your kayak north or south along the mangroves.
Alternatively, on a calm day, you can start off your paddle at Harry Harris Park and park your car there. Harry Harris Park is also located in Tavernier. Paddling north along the coast from the park, you can't miss the entrance to the creek, as it is the first inlet on your left. The creek entrance is a little less than 2 miles' paddle from Harry Harris.
The kayak put in at the end of Caribbean Ave is a little 'interesting'. It's not too bad, but on the day we got there, there was a tent and a pretty obvious pee smell. Nobody seemed to be around though. The local couple mentioned that although it doesn't look like it, it should be safe parking your car at the end of that road, so we did and had no problems. There were cars from other kayakers and paddleboarders.
How do you get to the launch? Basically drive as though you are going to Harry Harris Park and then carry on straight (leaving Harry Harris on your right) until you get to a street called Caribbean Ave on your left. It is the last street before a large area of vegetation. Drive all the way down Caribean Avenue until you reach the end and park there. The launch is at the end of a path on your right. It's a little hidden, but when you see the large rocks on your right hand side, you have arrived!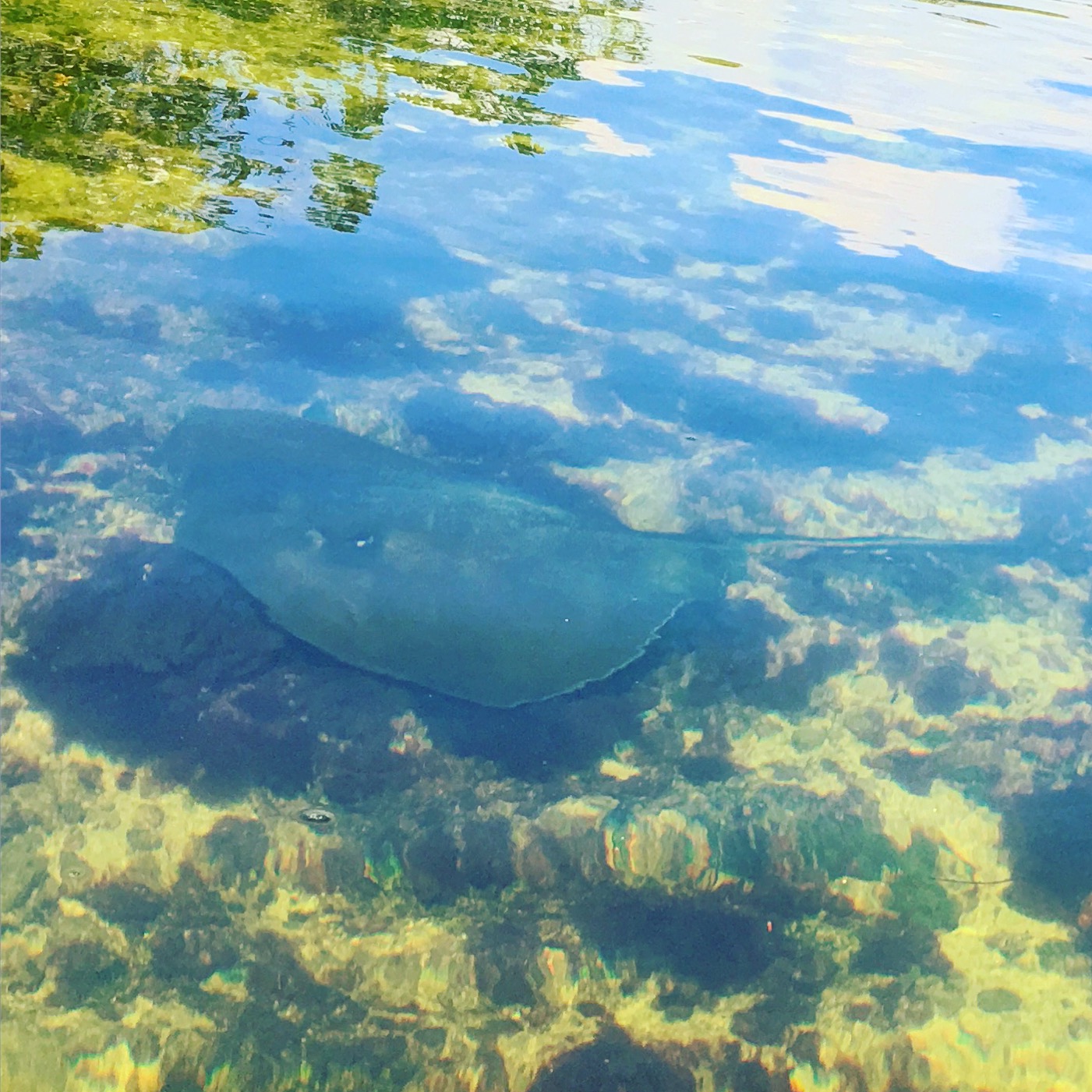 Southern Stingray in Dove Creek
I would love to hear how you found this paddle and which types of fish you saw. Please get in touch!