Having walked and driven past it many times, I have to say to my great shame: I had never visited the Turtle Hospital in Marathon until last weekend. I am not sure why, but one reason might be that whenever we are in the Keys, we always get drawn to water. Kayaking, snorkeling, swimming and generally enjoying the crystal clear waters usually takes precedent over anything else. Yet, the Keys have plenty of other interesting places to visit, and the Turtle Hospital is certainly one of the best.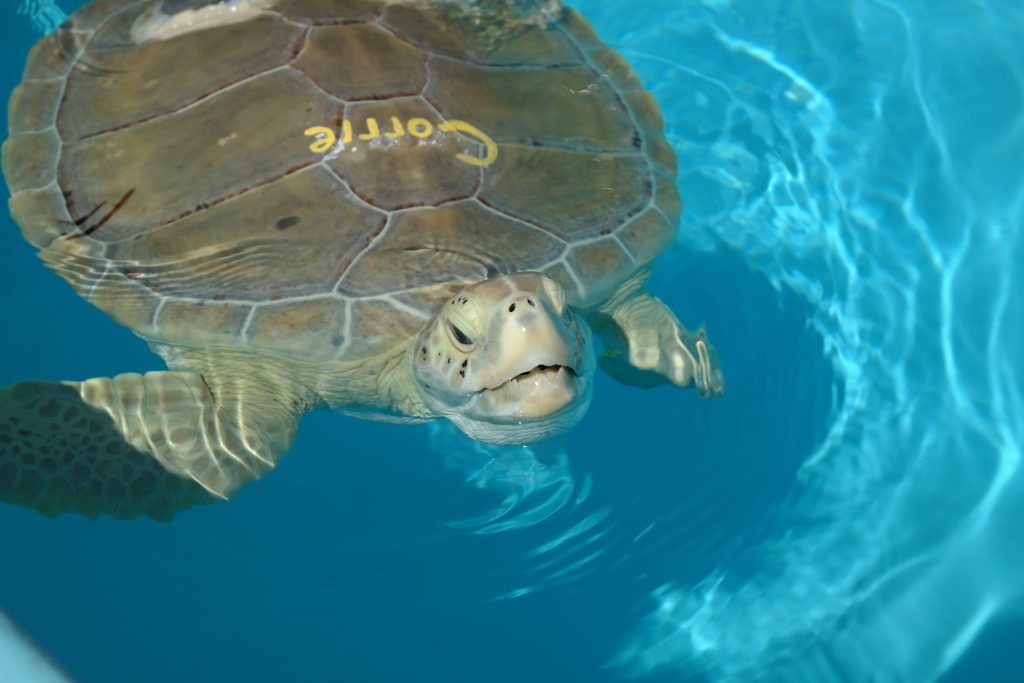 The Turtle Hospital – Some Facts
The Turtle Hospital is a charity. It is therefore dependent on donations and most of all visitors, whose contribution helps to run the hospital. The Turtle Hospital was established in 1986 and has four main goals:
1. to rehabilitate injured sea turtles and return them to the ocean
2. to educate the public through outreach programs, including visits to local schools
3. to conduct and help with research regarding sea turtles
4. to work towards environmental legislation making beaches and water safe for sea turtles
The Turtle Hospital is using the space and buildings of the former Hidden Harbor Motel to care for – and house – the turtles. The buildings also act as storage and housing for staff, many of them on-call for a 'turtlemergency' (I just made that word up..). Being a well-loved and well-known institution, the hospital gets more than half of its equipment from donations. The donors include local hospitals, doctors, some environmentally-friendly organizations as well as individuals. The up-to-date equipment is used by the Turtle Hospital to perform various surgeries on different species of sea turtles.
Visiting The Turtle Hospital
Visiting the hospital is certainly an interesting experience. Actually, I found it quite moving also. First of all, there is a little talk given by a member of staff. This short but very informative talk, about the different types of sea turtles and the challenges they face, is educational and fun. Parts of a turtle skull and shell, as well as other objects, are being passed around to touch. This hands-on element makes the Turtle Hospital a great place for children (and inquisitive adults!).
I was truly fascinated by the fact that turtles have such tiny brains, and the huge openings in their skull are actually for their jaw muscles! They have incredible strength in their 'beak', which makes them able to crush the biggest of shells, even a conch shell! If anyone has ever seen, touched and held a conch shell, they will probably be as amazed as I was by this factoid. Up until then, I had assumed turtles feed primarily on jellyfish, which they do, but they have quite a varied diet.
Then, we were allowed to peek into the operating room. It was interesting to see all the facilities there, and all the great work the doctors and staff do to try to save, cure and eventually rehabilitate the turtles.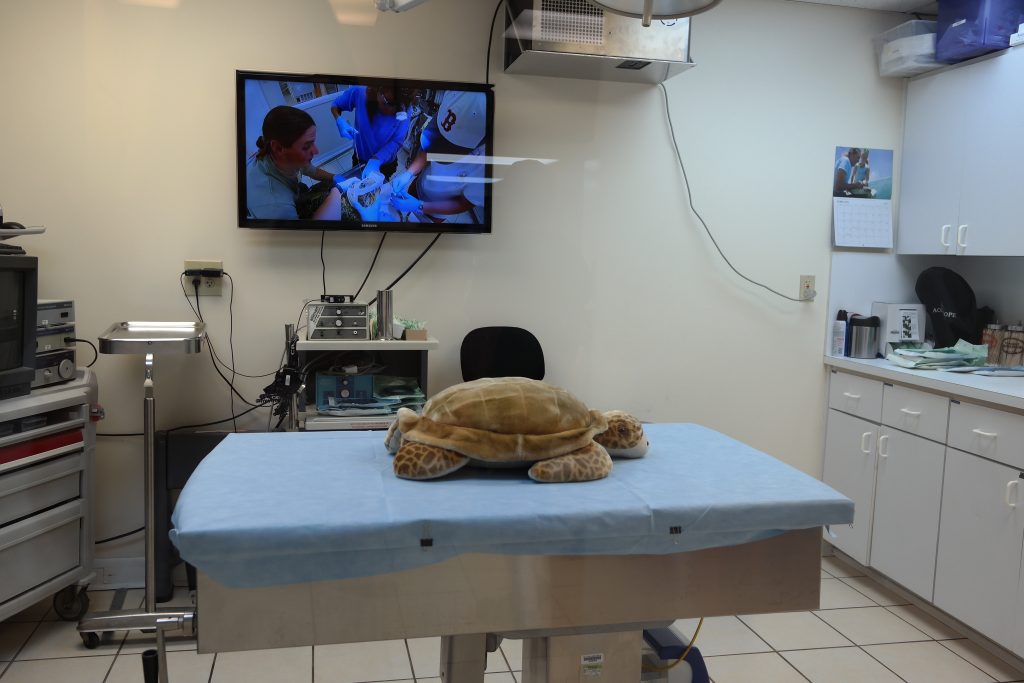 Operating Room
Finally, it was time to get outside and see the patients. First, the member of staff led us to an area of two medium sized tanks with various turtles. She fed them, so it was much fun to see the little guys swim around actively. Those were the juvenile turtles and some had obvious injuries, such as the 'bubble butt', a condition that makes the turtle unable to dive. Others did not have visible injuries, but had perhaps had tumors removed or were recuperating from being 'cold-stunned', having been found in colder waters further north on the coast line. Many turtles sadly also showed injuries from boat strikes. Some had only three flippers.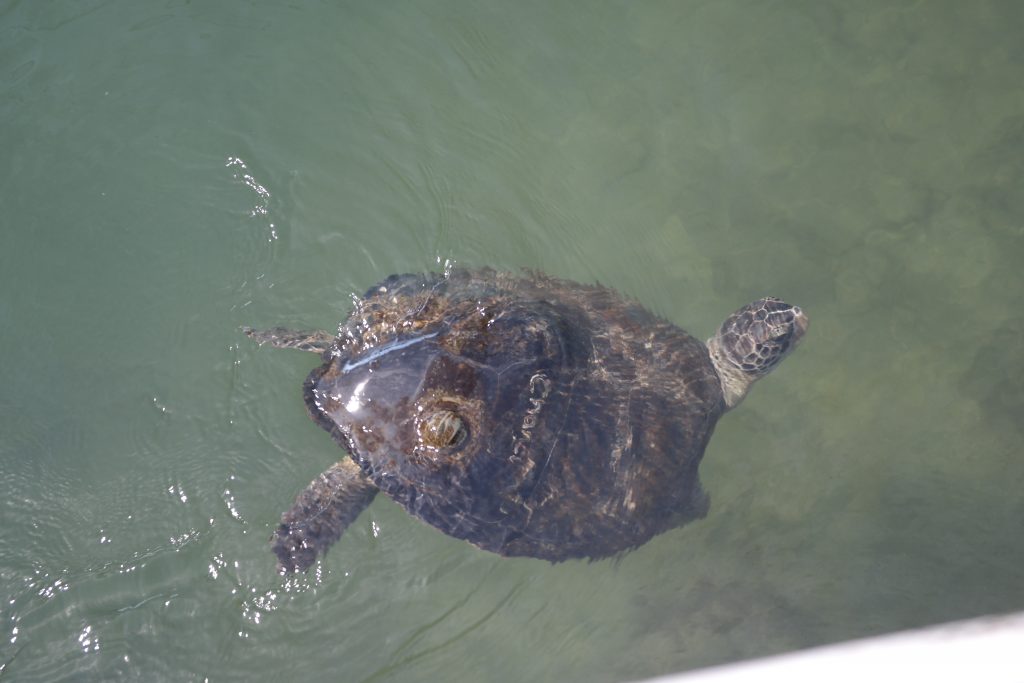 This Little Guy Has A Bubble Butt!
After checking out those guys, it was time to go to the large saltwater pool. Just before you get there, there are lots of smaller tanks where turtles are quarantined or simply kept to recuperate as they are too sick to go into the big tank with the other turtles. There were some sad cases, such as the little guy who had lost his sight with nasty tumors. Apparently, there is a marked increase in turtles with these types of tumors due to pollutants in the water. Makes you wonder why we can't manage to take better care of our waters and environment. It's quite sad to see these (and other) creatures suffer so much because we can't get our act together, but that's another story…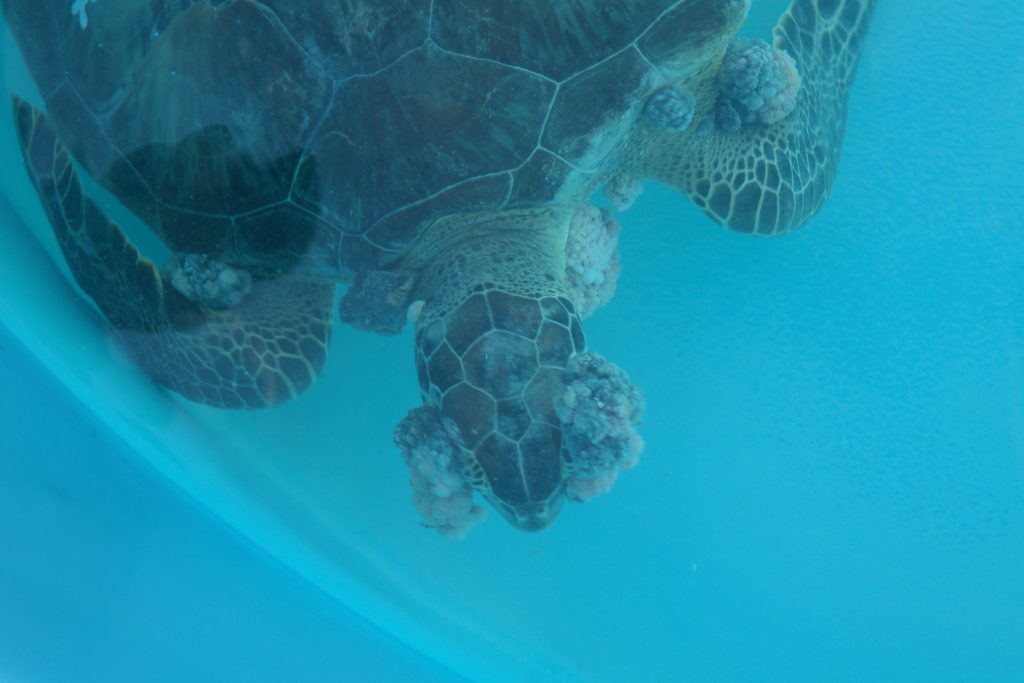 Turtle Tumors
Then it was time to feed turtles in the big pool! There are some permanent residents in the hospital, and specifically in this pool, that just can't ever be released because their condition is not curable, or they are just too impaired to survive on their own. You can see some pictures of the permanent residents here. It is so nice to see them have a place to live out their lives peacefully, cared for, and serving an educational purpose! It was also nice to see them enjoying some kind of normal life in the salt water pool, which is big enough for the turtles to have a good swim around.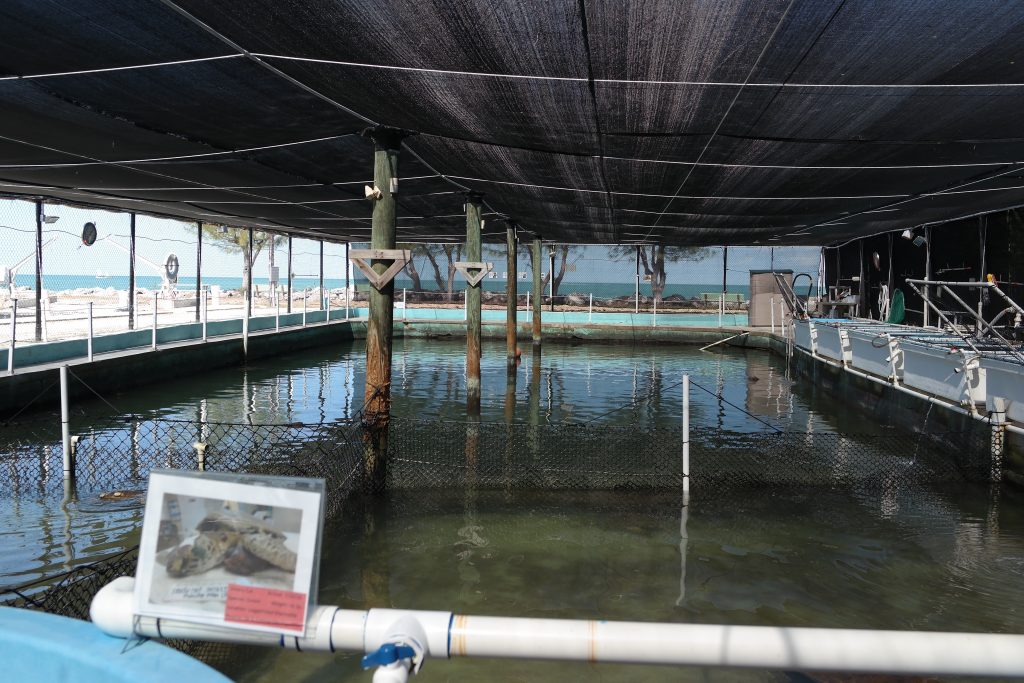 Saltwater Pool
Turtle Releases
A big – and fun – part of the rehabilitation process are the turtle releases. Generally, once a turtle is fully rehabilitated and able to fend for itself, the aim is to release it where it was found. The Turtle Hospital often releases turtles in places that are accessible to the general public, and in fact the public is encouraged to attend. You can find out about planned releases here (scroll to the bottom of page).
What You Can Do
When you are boating or swimming and come across a sick turtle, the best thing is to call the Turtle Hospital's number for advice ((305) 743-2552). If the turtle is very sick and you can manage to get it on your boat and to land (use a wet towel to keep it moist, cool and calm), or even to the Turtle Hospital, that is even better. Many times sick turtles swim away from their location and can be difficult to impossible to locate. You can also call the FWC and they will advise, as they work with the Turtle Hospital.
If you rescue a sea turtle, you have the right to name it! Also, you can adopt a 'permanent resident' sea turtle for $35 a year, click this link for more information.
And thirdly, please think about turtles (and all marine life), when you are enjoying a beach, boating, swimming, or (very importantly) fishing. Please, please, please take ALL your litter with you and dispose of the fishing line safely in the receptacles provided in many areas. Fishing line can strangulate a sea turtle or necessitate amputations of flippers. Plastic bags should not make it into the water either. They look like jellyfish to turtles – which makes them likely to eat and ingest plastic bags and die a horrible death. I see people time and time again letting plastic bags blow away carelessly, and it drives me around the bend! Don't do it, and when you see plastic bags blowing around – please do a good deed and pick them up. You could save many creatures' lives.
Further Details
You will find the Turtle Hospital in Marathon, in the beautiful Florida Keys on Mile Marker 48.5 bayside. The hospital is open seven days a week and offers guided tours throughout the day. Reservations are highly advised, as you can only visit this working hospital as part of the educational tour, and spaces are limited. Costs are (at the time of writing): $22 per adult and $11 per child (4-12 years old), children under 4 are free. Please call the hospital before you head there, to make sure they can fit you on a tour: (305) 743-2552
And as a final word, please do visit the Turtle Hospital. Your entrance fee supports this wonderful facility, and you will leave full of gratitude that it exists. It is a wonderful way to spend a couple of hours learning about the great work they do, as well as learning about sea turtles and their challenges in general.