Another weekend and again, the perennial question came up: what shall we do today? It was a little windy and the tides seemed just right (an afternoon high tide) to head over to Blowing Rocks Preserve in Jupiter, famous for its outcrop of rocky Anastasia Limestone, which is the biggest outcrop of its kind on the US Atlantic coast.
On the way up we stopped at a great breakfast place, Juno Beach Cafe. We first visited it a few months back and vowed to find an excuse to drive all the way up there again for their amazing breakfast. And so we killed two birds with one stone! Juno Beach Cafe comes highly recommended if you don't mind a little wait, because apparently this is THE place for breakfast in the area and gets really busy sometimes. Check it out! Find the menu and address here.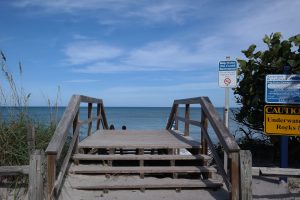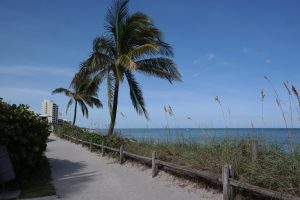 Coral Cove Park – Pretty!
Coral Cove Park
After breakfast, we made a beeline for the Blowing Rocks Preserve, so imagine our disappointment when it was closed! It should have been a normal day and been open from 9-4:30, and we are still not sure why it was closed. However, it had only been two days since Hurricane Matthew whizzed past our shoreline, and although there was really no visible damage anywhere in the area, we guessed it had something to do with that.
In any case, what I am getting to is that if you ever find yourself in that situation, with the preserve closed, you can head to Coral Cove Park, a little south of the preserve. We did just that.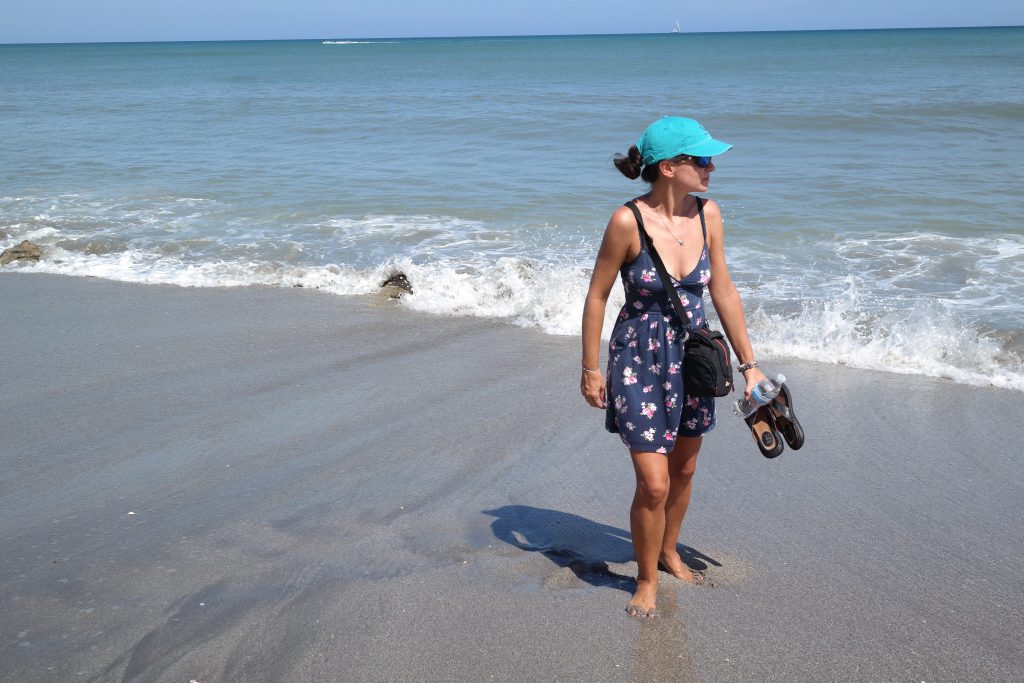 Beach At Coral Cove Park
Coral Cove Park itself is well worth a visit, as apart from being a nice little park, it also has an amazing beach and has a lifeguard stand, so it is a good place for swimming and snorkeling, particularly if you like to have that added bit of safety.
How to get to the blowing rocks? Well, you  will already be able to see them in the distance and unless you have trouble walking on a beach, it isn't too much of a strain to walk from this park. The one-way distance from Coral Cove Park to the preserve is just under 1.5 miles and we managed the 3 mile round-trip on a very hot day. It is a beautiful walk along a beautiful beach, at the northern end of which you will approach the south end of the blowing rocks. Also, the area around the rocks is part of a magnificent barrier island landscape which reminds us how beautiful and unspoiled this whole coastline once was.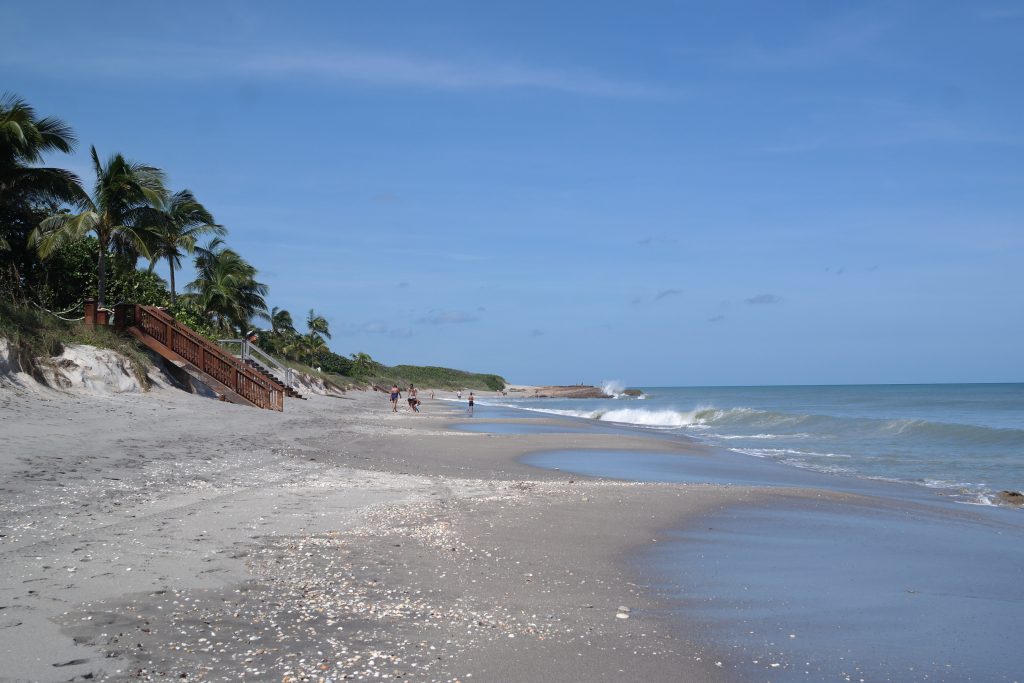 See Them In The Distance?
Although I must mention that we were quite upset by coming across thousands upon thousands of turtle eggs that had been exposed by the coast's brush with Hurricane Matthew, and were now rotting on the beach. The stench and view of little dried up remains of baby turtles being pecked out of what looked like little golf balls by overexcited sea gulls, was enough to have me gagging. Ugh.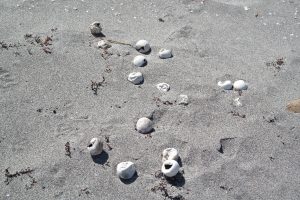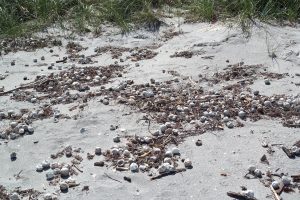 Turtle Eggs Exposed By Hurricane Matthew
Blowing Rocks Preserve
The preserve is located in Jupiter Island on Hobe Sound at the southernmost tip of the Indian River Lagoon, and is owned by the Nature Conservancy. It shows you what Florida Barrier islands used to look like before mass development, complete with native flora and fauna. The preserve is open daily from 9 until 4:30, except, well except on the day we wanted to see it, but that worked out ok in the end anyway!
Apparently, no beverages and food are allowed into the nature conservancy site and pets are not allowed either, however, on the plus side there is a modern education center with restroom facilities. Also, for those who want to stretch their legs after a long drive, it has a couple of short trails, one at the beach side and another at the lagoon side.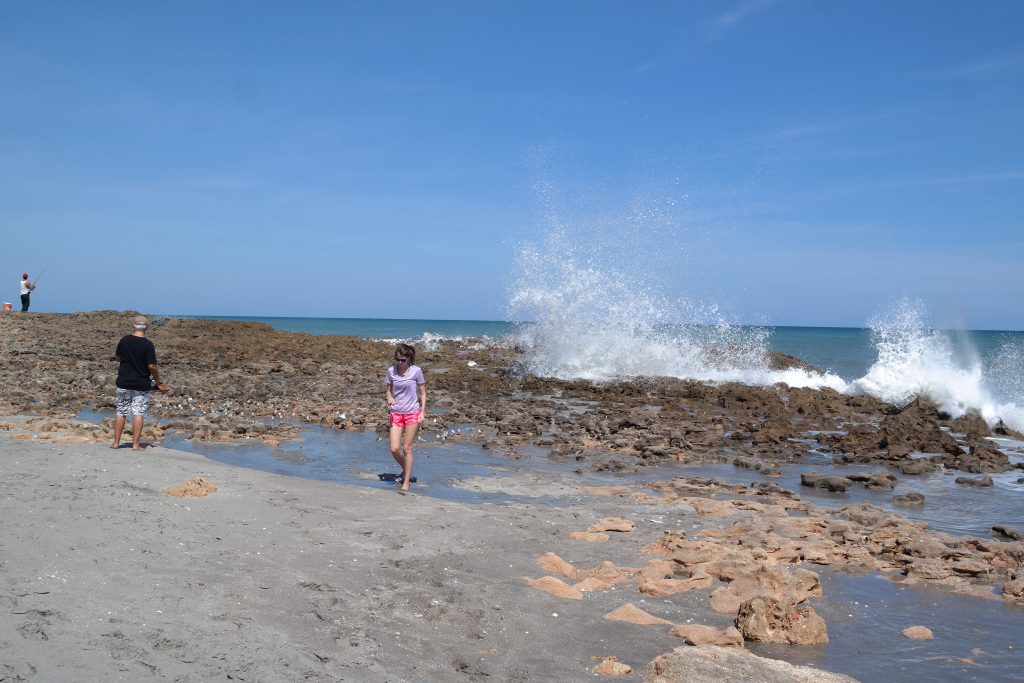 As the beach is pretty rocky, particularly at the northern end where the Blowing Rocks Preserve starts, the snorkeling here is said to be amazing. I believe it, judging by the amount of fish we saw without even getting into the water! It was also the mullet run when we were up there, so there was tons of activity in the water.
The surf was pretty rough when we were there and I should imagine that snorkeling would really be something best reserved for a calm day in this area, especially with all these rocks underfoot.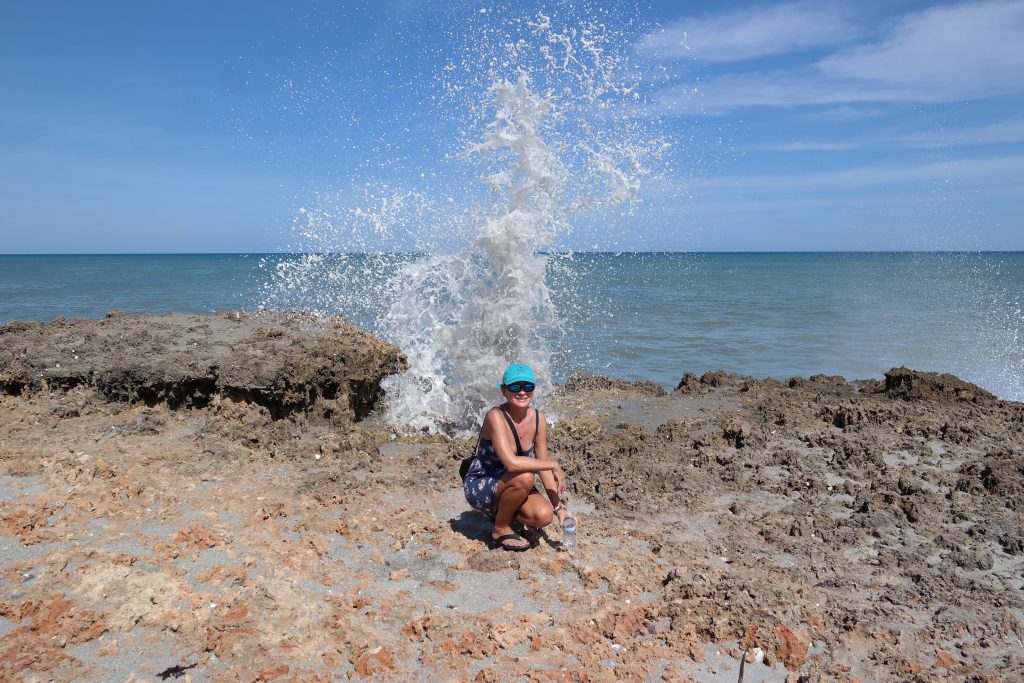 And Then They Were Blowing!
How cool is that? We did time our visit with a high tide and I suggest you do exactly the same, but I was told that even with a high tide you are not guaranteed to see the rocks 'blow'. We were very lucky. We also had lots of fun with it! Of course, boys being boys, the hubby had to get too close and I had to do my 'you will get wet' bit. Obviously, my lamenting made no difference, and as certainly countless other men (and women?) have experienced before, getting too close results in a soaking.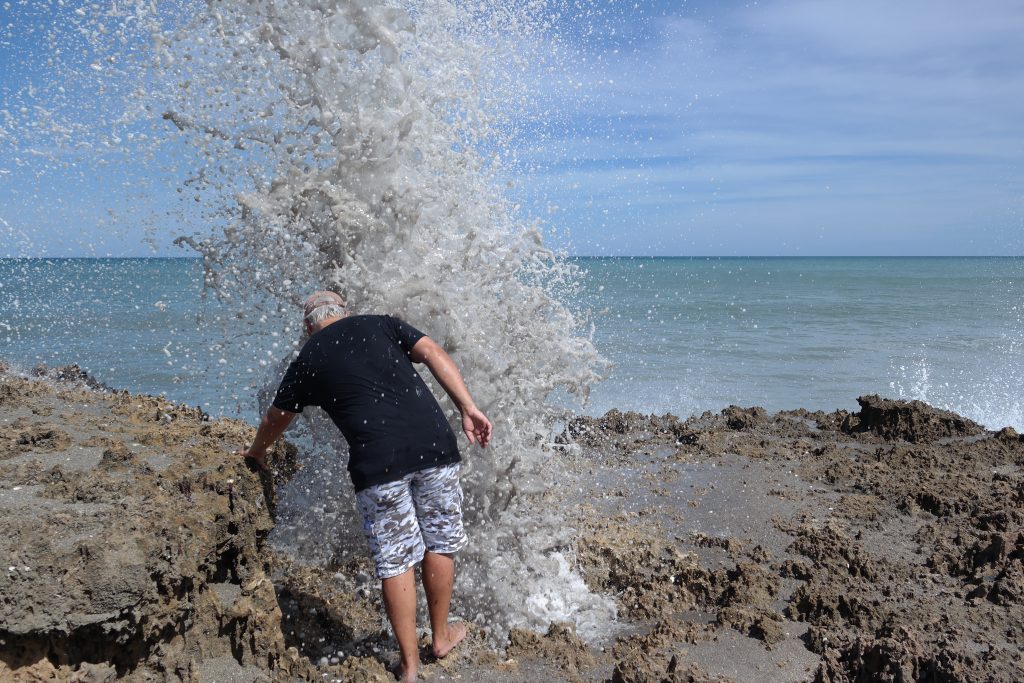 Oh dear!
He said there was quite a pressure and lots of air whistling through the little hole immediately before the water and sand mixture was pushed through it, and although I couldn't see it very well at the time, looking at our video, the air and spray is definitely visible.
I hope you enjoyed this little taster, and let me know how you like it!