Undeveloped barrier islands are simply 'the best' and hard to come by in south Florida. There is much to be said for a nice sandy beach on a barrier island with a lush tropical backdrop, gently shelving into crystal clear water. There is yet more to be said when this beach area is also teeming with wildlife such as shorebirds, ospreys, dolphins and the protected gopher tortoises. Finally, it seems too good to be true when it also boasts a reef that can be snorkeled off the beach, kayak trails and plenty of great fishing.
And what if I told you that this beach – actually, make it two beaches divided by a pass – is frequently mentioned as one of the Nation's best beaches (Barefoot Beach)? You'd think you have arrived in paradise, right? And you have. In Bonita Springs you get two such gems sitting right next to each other: Barefoot Beach Preserve and Delnor Wiggins State Park.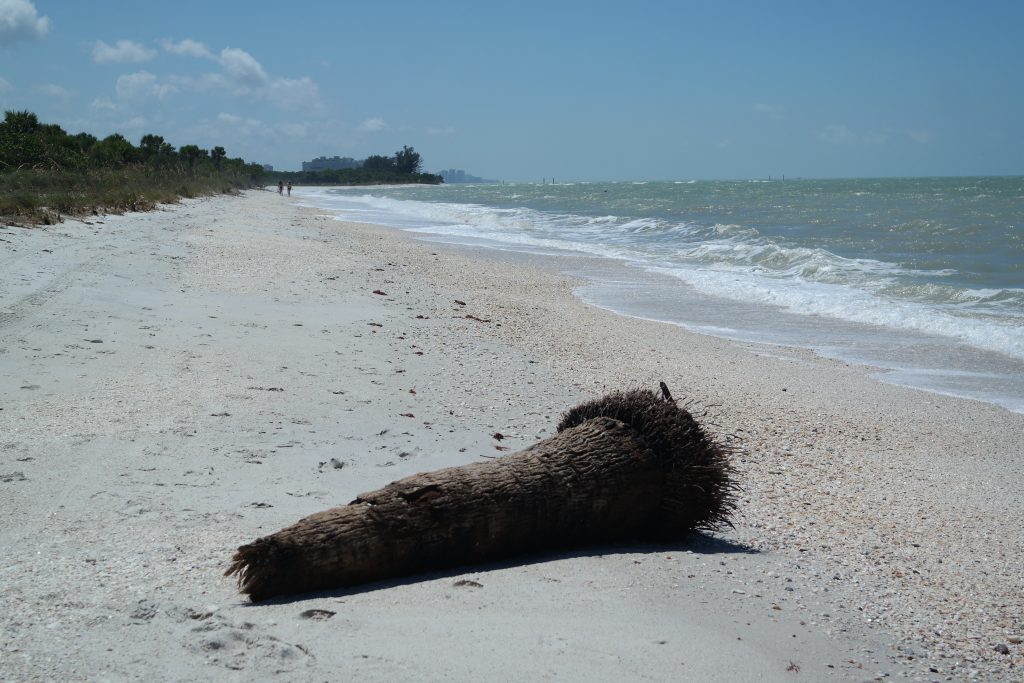 Two pristine and relatively wild undeveloped barrier islands – with 'mod cons' such as restroom facilities, boardwalks, pavilions, kayak launches (and rentals) and close-by parking. If you get the chance, try to see both and plan at least a whole day for each. If you have the luxury of time, you could easily spend two days in either. I will definitely be back – and sooner rather than later.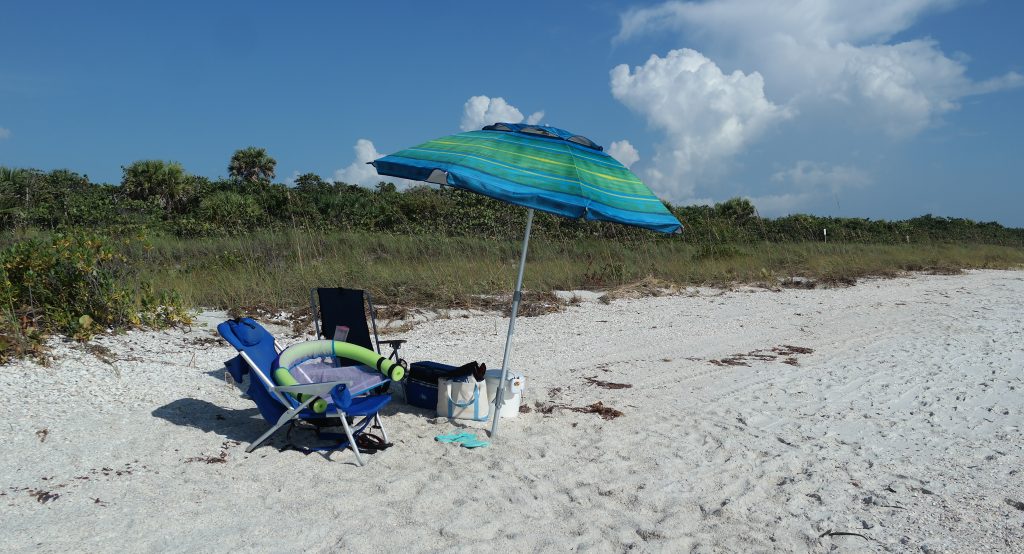 Barefoot Beach Bliss – The Crowds Are Left Behind After A Short Walk
Barefoot Beach Preserve
We had made lots of plans for this beautiful Collier County Park and packed kayaks, snorkeling gear and all kinds of other beach stuff. The truck was fully loaded with gear and good intentions. However, once we arrived here and got ourselves into the 'relax' position with sun umbrella and chairs, there wasn't much else we felt like doing other than simply admiring the beautiful beach and wildlife surrounding us.
It was still pretty hot on this late summer Labor Day weekend and this contributed to the 'lazy' feeling. Storm Hermine had just whizzed through the area, giving us rough surf and murky water on our first day at Barefoot Beach Preserve. Still, we loved it so much that we spent a full two days sitting on the beach, walking and fishing there, meanwhile our neglected kayaks languished on top of the truck!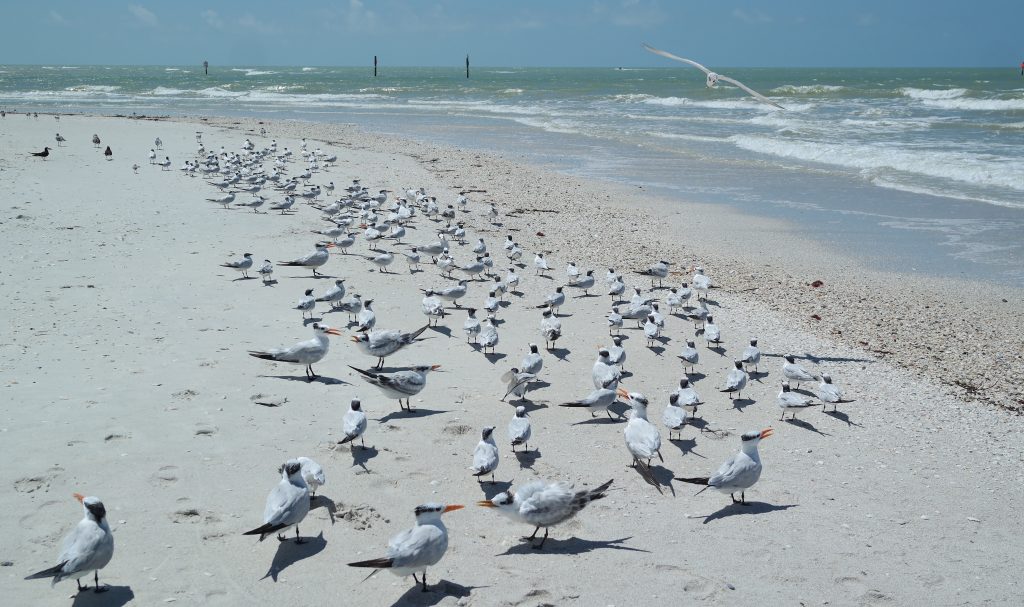 To Everything (Tern, Tern, Tern) There Is a Season
Enjoying The Beach, Scenery And Wildlife At Barefoot Beach Preserve
Truly spectacular, Barefoot Beach certainly won't disappoint true beach lovers or those who love shelling. There were so many shells at Barefoot, it nearly tempted me into collecting. In the end reason won, as there are only so many shells one can fit into a studio Condo – and I already have plenty!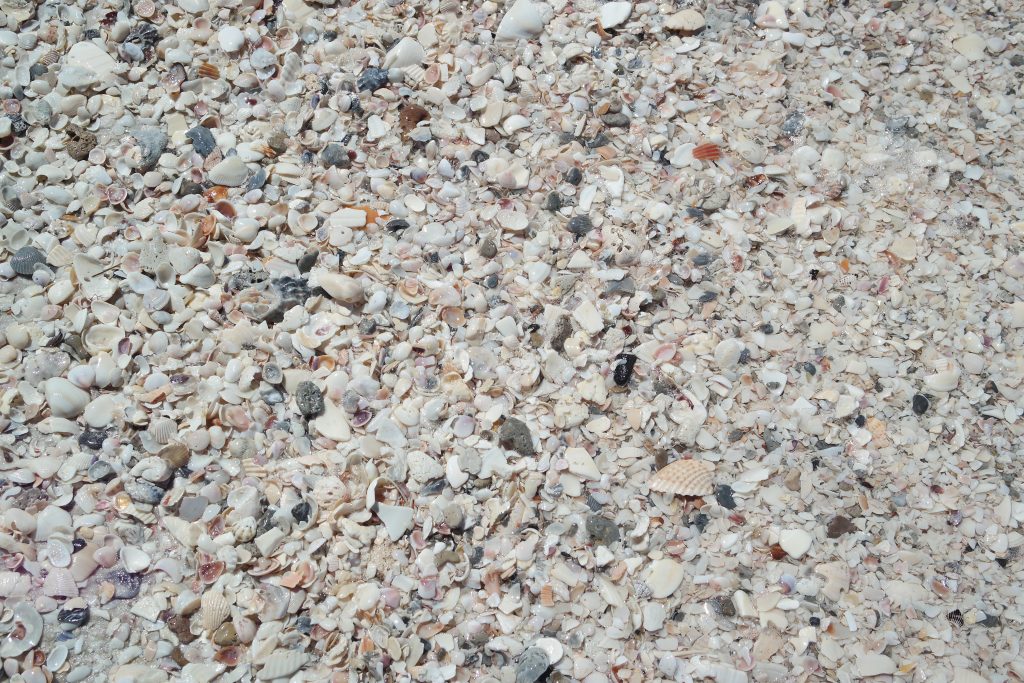 A Shell Lover's Dream
We had a great time just reading and lounging in our chairs, dipping into the water occasionally and doing a little fishing. Walking about a mile along the beach to Wiggins Pass at the south-end of Barefoot Beach was also a lot of fun, as people thin out after a while and are replaced by many shorebirds such as terns and even skimmers. Also, you will encounter a lot more vegetation and the usual shell 'decoration' of branches too!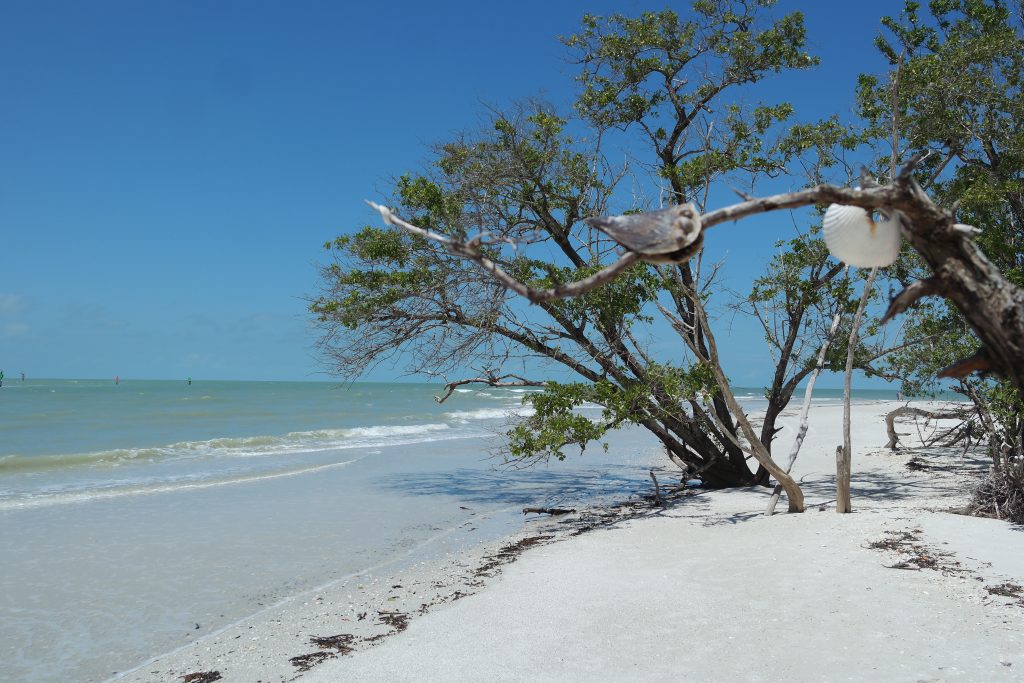 Unfortunately, the fishing didn't yield any dinner. We did, however, catch the cutest little bonnethead sharks – mere babies just born. Of course we let them swim on…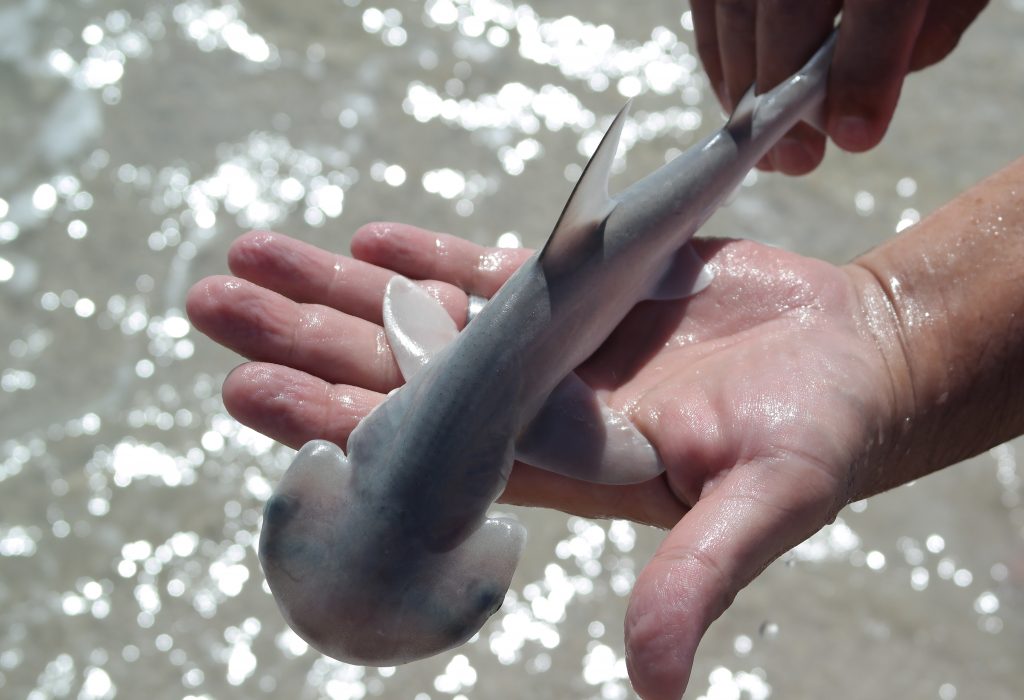 Fish and shorebirds are not the only creatures you will see on the beach. Apart from dolphins that are very common here, there are sea stars, of course sand dollars (when they are gray, they are alive, please toss back in!), and other 'live shells' such as the Florida fighting conch. I don't know about you but anytime I see a live shell out of the water, especially the Florida fighting conch, I toss it right back in and hope it manages to survive. Just look at those eyes!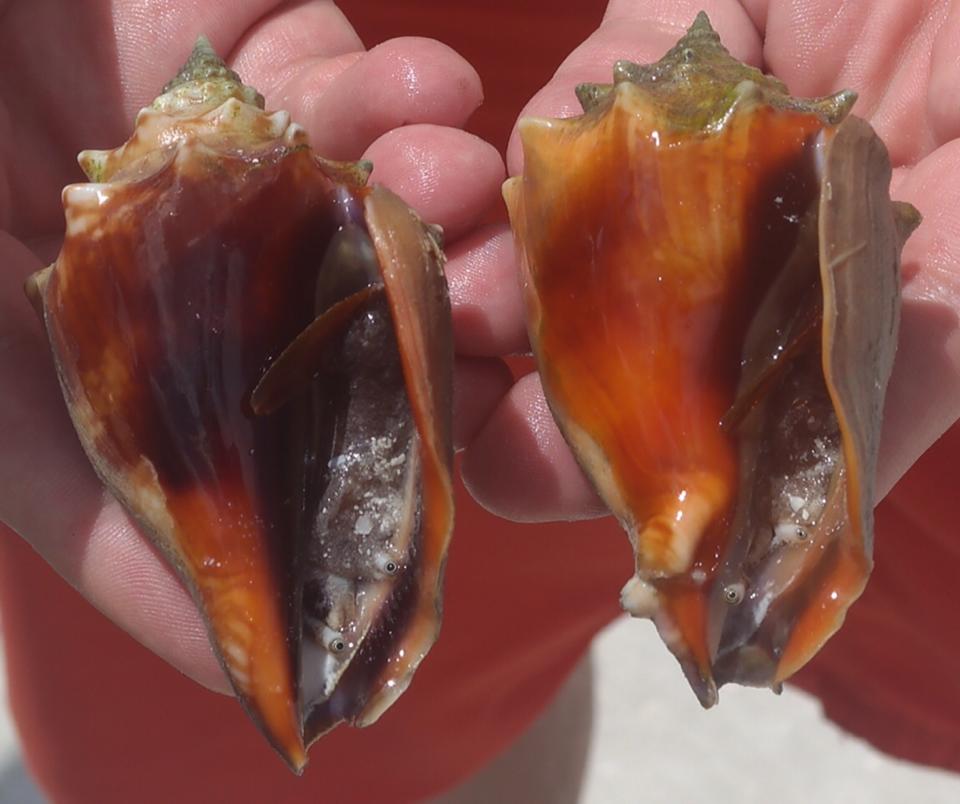 By stroke of bad luck, or good luck as it turned out, we spent two days here at Barefoot and not one day at Delnor Wiggins, as we had planned. Delnor Wiggins State Park was full, so the sign at the entrance said, when we had wanted to explore it. We didn't mind going back to Barefoot Beach, especially as the park has plenty of gopher tortoises too look at, and we were guaranteed to see more of these cute creatures. As there are so many of them, you do well to check your car when you leave the park so as not to crush a resting gopher tortoise. Pay close attention to the sides of the road and you are sure to see a tortoise or two munching on fresh shoots.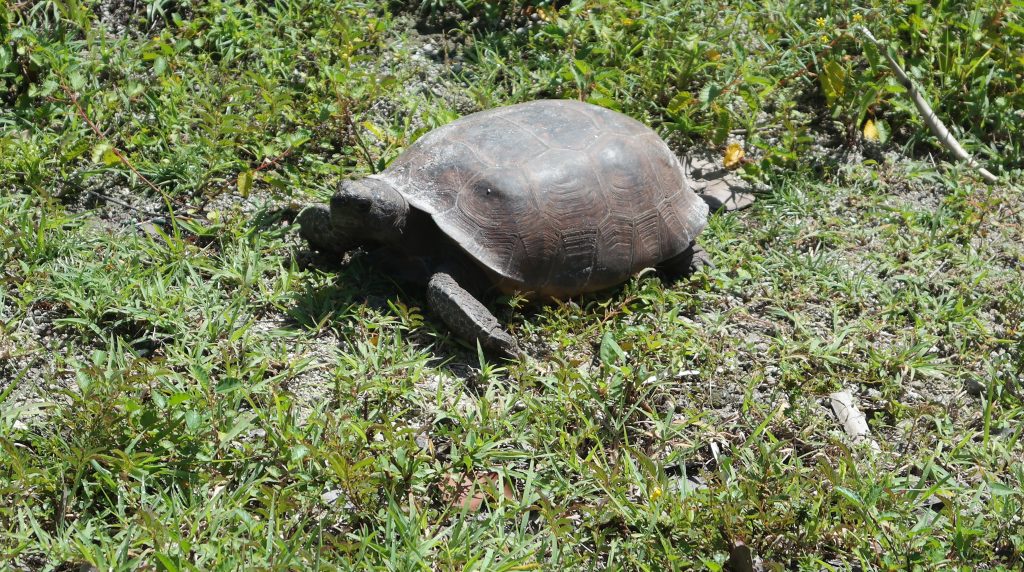 Delnor Wiggins State Park
Finally, we managed to get into this beautiful park on our last day. The moral of our story is: if you want to spend a day at this park, head there early, particularly on the weekend and on holidays. It fills up before mid-day on those days and while you can still visit the park, you will have to park outside its boundaries in one of the auxiliary parking lots – this means if you are like us and take your whole Condo to the beach (chairs, umbrella, snorkeling gear, cooler etc.), it turns into an endurance exercise to walk half a mile or more with all your 'stuff'.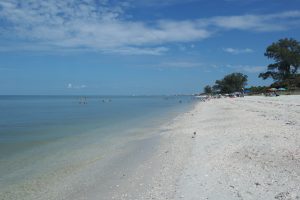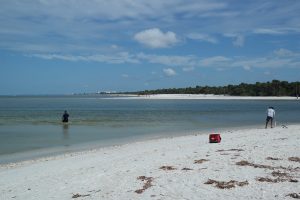 Delnor Wiggins State Park – Beautiful!
Luckily we got in there this time! We parked at parking lot number 2 after having been told that this area is closest to the reef for snorkeling. However, where we should have gone (and I highly recommend going there, after I scoped out the whole beach) is parking lot 5 at the furthest northern end of the parking areas. Why? It is closest to Wiggins Pass and although you are not allowed to swim right by Wiggins Pass due to the currents, the area just before it is absolutely the best part of the whole beach. The added bonus if you don't like people, like me, is that this part of the beach is relatively empty as most people simply can't be bothered to walk that far – yet from the last parking lot it is really not very far.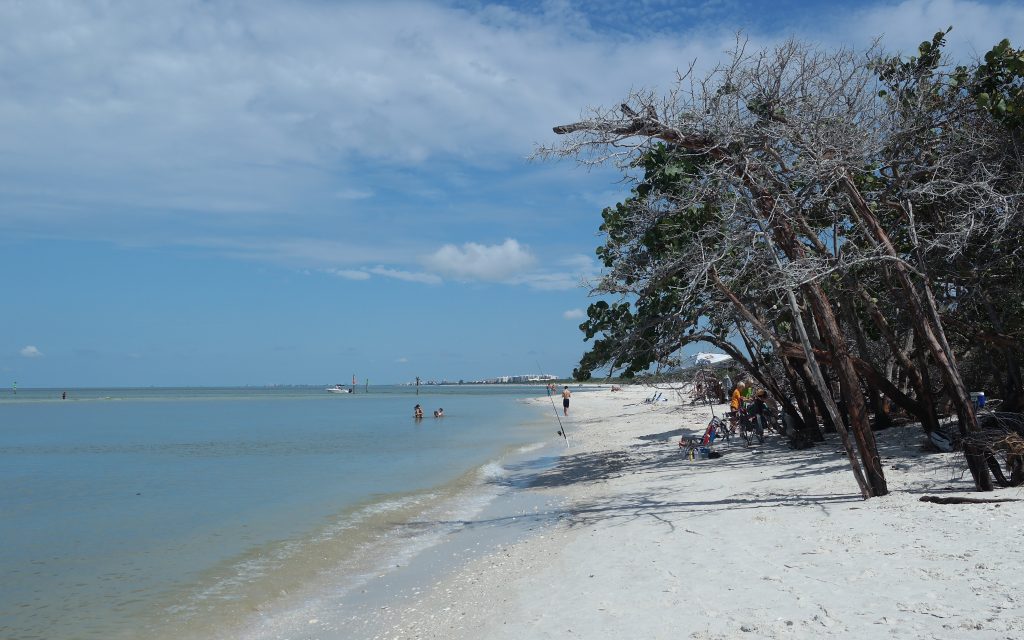 The Most Beautiful Part Of Delnor Wiggins State Park – Close To Wiggins Pass
Kayaking At Barefoot Beach Preserve And Delnor Wiggins State Park
Yes, we neglected our kayaks and our muscles and opted for laziness – you know how it is, sometimes being lazy just feels too good. Having said that, if you want to kayak, this is a wonderful place, whether you decide to kayak the backwaters or the ocean (on calm days), or indeed both, I can promise you will absolutely love it!
There are various places one can launch from. If you don't want to park at either of the two parks and feel like kayaking to the beach, you can launch at Cocohatchee River Park, which is located at Vanderbilt Drive between 111th Ave. and Bonita Beach Rd. and it is just a short-ish paddle going straight out through Wiggins Pass and then either Barefoot Beach on your right hand side (north), or Delnor Wiggins on the left (south). Please be careful, there is a strong current running through Wiggins Pass as well as plenty of boats. I probably wouldn't go through it unless it was an extremely calm day.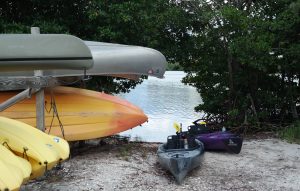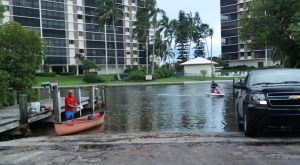 Delnor Wiggins State Park Boat Ramp And Kayak Launch Area
You may also easily launch at Delnor Wiggins State Park at Water Turkey Bay. While this is a very comfortable launch, you will be kayaking a little distance to get to the beach, as the boat ramp is at the east side of the park and around a mile or more south of Wiggins Pass. If you decide to head there via the main channel (left, or north of the boat ramp), you will be sharing it with boats, but it seems by far the quickest way.
If you don't want to kayak this route, you have the possibility to paddle the 'long way', a loop through a narrower mangrove channel that starts opposite the boat ramp (just a little further north of it, across Water Turkey Bay), and leads you into the Cocohatchee River and further along past Cocohatchee Park and into the mouth of the river/pass area. Whichever route you decide on, there should be lots of places to kayak into the mangrove lined areas, which undoubtedly have plenty of wildlife watching possibilities.
You can also launch a kayak at Barefoot Beach Preserve. The kayak launch here is at the parking lot at the southern end of the park (parking area 3). They have an actual canoe trail here, marked by markers numbered 1-15. The park management recommends that you do not go past marker 15 and into the pass, probably because you would have to get through the boating channel and there, you would be competing with motorboats including wakes and the current. However, this is the only way to get to the beach. I have read elsewhere that it is recommended to cross Wiggins Pass well before it empties into the Gulf due to there being less of a current, and perhaps that is a wise advisory. If you are an experienced kayaker, I don't see anything wrong with passing through a boating channel where it is safe, and doing so quickly and after establishing that there is a good sized gap in traffic. Be safe!
Surf Fishing  and Snorkeling
Fishing: How could I not mention my husband's favorite past time? We had great intentions with this also – presumptuously asking at the bait store which restaurants would cook our catch. The catch we were expecting…
I guess we jinxed it! Also, the bait store already amused me a great deal, after I got the joke (my hubby had to read the name to me twice before the penny dropped). What can I say, some people simply have dirtier minds than others…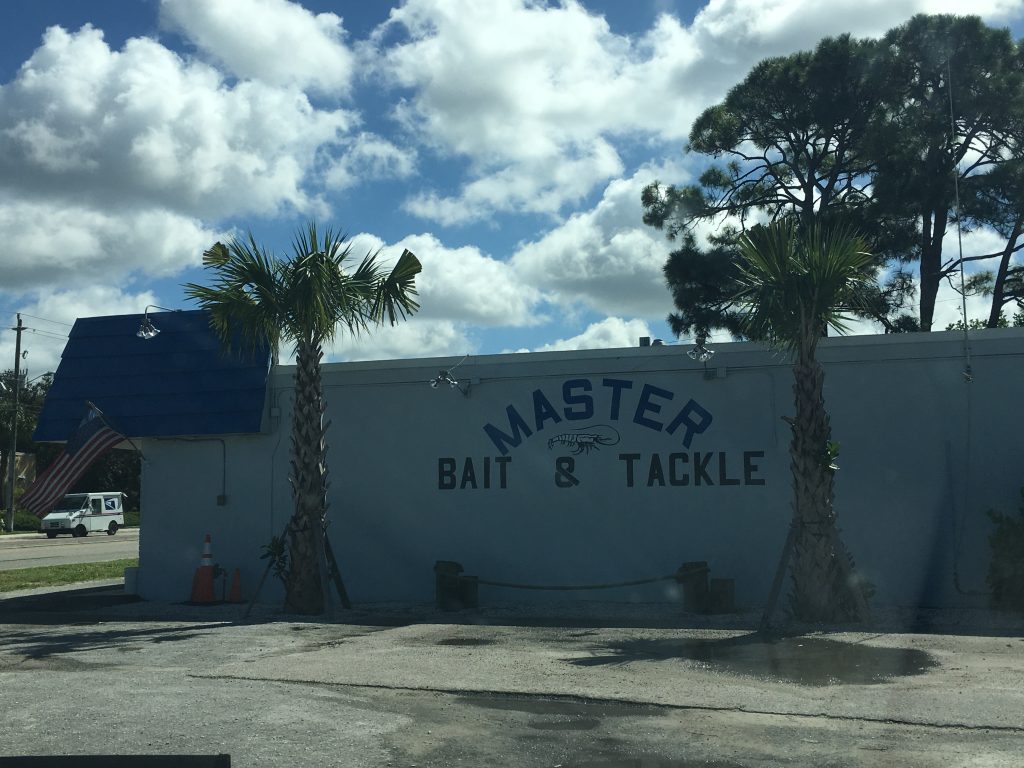 Master Bait (And Tackle) In Bonita Springs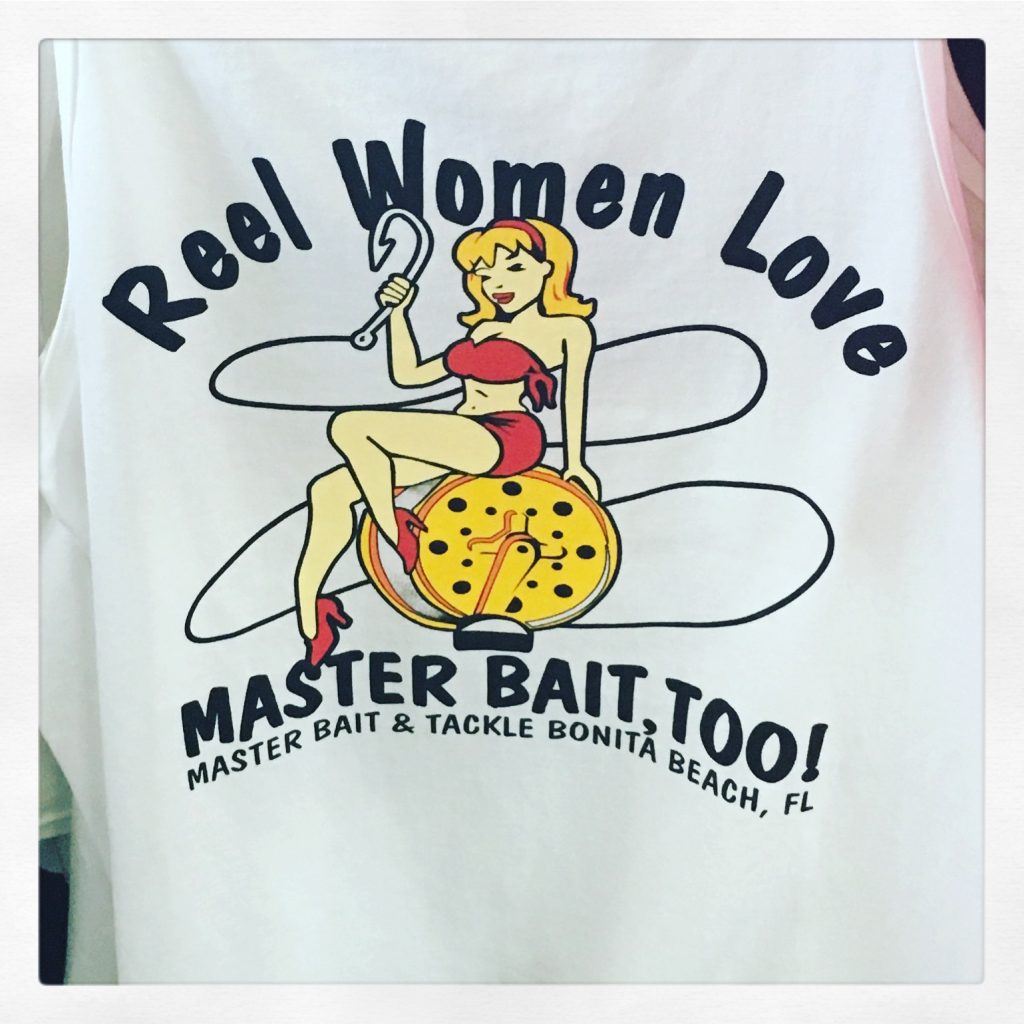 So off we went with our live shrimp hoping to catch dinner, but in the end we had to buy dinner – as so many fishermen and women have undoubtedly done before us. Well, it was fun anyway and the surf fishing is really good at Barefoot Beach and Delnor Wiggins State Park (in the actual pass). Swimming is not allowed in the pass and at the beach in the pass area at Delnor Wiggins, but fishing is!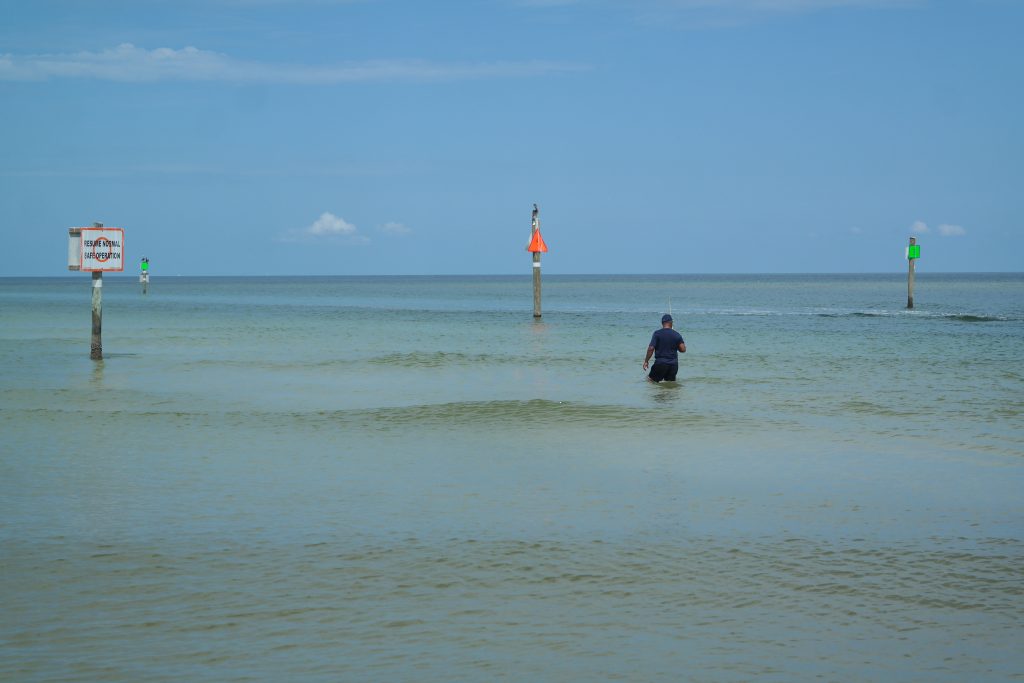 Wiggins Pass Entrance As Seen From Delnor Wiggins State Park
We didn't fish at Delnor Wiggins but we did fish at Barefoot Beach Preserve. Next time we will have to try fishing in the pass! Supposedly, it is a pretty good place to catch Snook and Sea Trout, amongst others.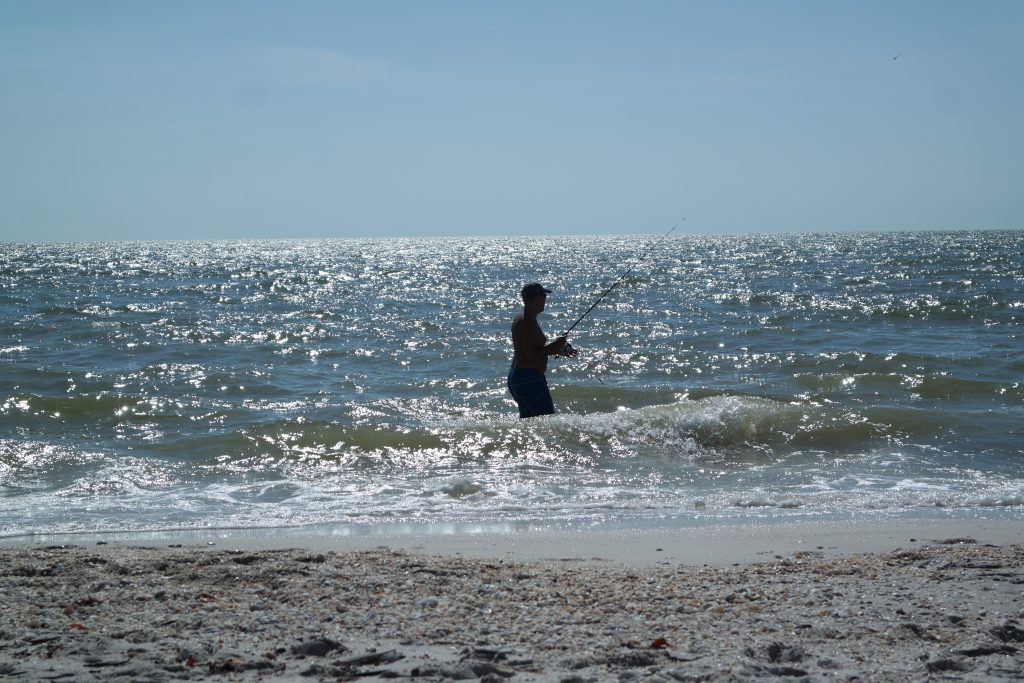 Surf Fishing At Barefoot Beach
Snorkeling: If you want to snorkel, it is definitely possible on a calm day at Delnor Wiggins. Apparently, there is a hard bottom reef off the beach at parking lot 2 close between the buoys marking a no motor zone. The lady at the entrance to the park explained it to us in great detail and my husband was gone for an hour trying to locate it. He did see a few creatures – including a comical bat-fish – but the water was pretty murky when we were there, so we will have to try snorkeling that reef again on a calmer day with the water hopefully being clearer.
The Details
Location: Barefoot Beach Preserve is located west of I-75 on Barefoot Beach Road off Bonita Beach Road. You will pass a gate into a private residential area, but visitors to the park have right of access. Check out those multi-million dollar homes along the way…
Delnor-Wiggins Pass State Park is located six miles west of exit 111 on I-75.
Entrance fees are $8 for a vehicle at Barefoot Beach Preserve and $6 at Delnor Wiggins State Park.
The boat ramp fee at Delnor Wiggins is $5 (in addition to entrance fee).
Both parks are open all year round, 365 days from 8am until sundown.
There are facilities and food concessions as well as rentals (of various items such as kayaks, beach umbrellas and chairs etc.) at both locations, but you do well to call in advance and see what they have available at a particular time.
Have you been to either parks, enjoyed it? Any tips that I missed? I would love to connect!