Like the title suggests, this is not your usual 'run of the mill' spring. This wonderful park's proper name is 'Edward Ball Wakulla Springs State Park', but that's quite the mouthful, so Wakulla Springs will do. An enormous pre ice-age sink hole, Wakulla Springs is one of the deepest and largest freshwater springs in the world. It manages to churn out about 400.000 gallons of water per minute! Sometimes, when the water is clear, one can see objects all the way down the bottom of the spring, which is roughly 185 feet deep .
Wakulla Springs is also a historically interesting place. Evidence of human occupation in the area dates back thousands of years. Although already an attraction before the 1930's, when Wakulla Lodge opened (in 1937), the spring gained in popularity. The famous movies 'Tarzan's Secret Treasure' (1941) and 'Creature From The Black Lagoon' (1953) were filmed here too. I remember Tarzan from my childhood, and it feels so amusing to think the 'jungle' was actually a Florida State Park!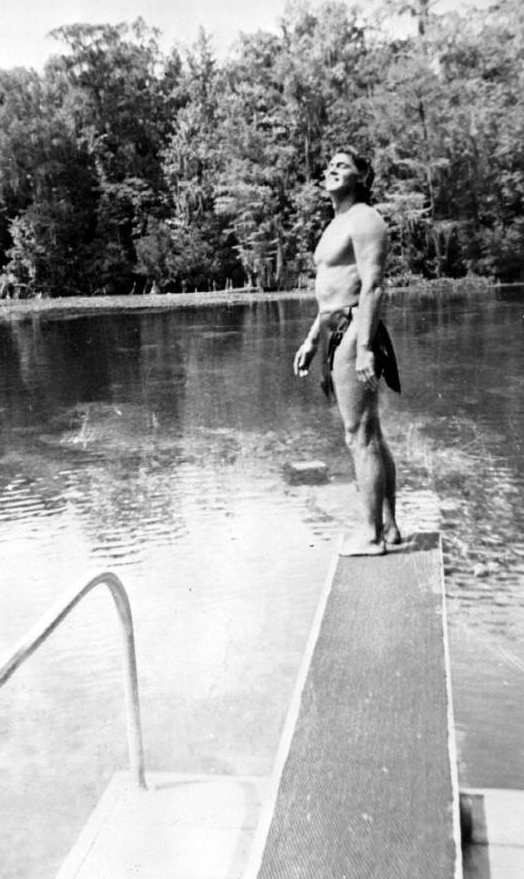 Johnny Weissmueller At Wakulla Springs During Filming Of The Tarzan Movie
(image credit: www.floridamemory.com)
The park is open 365 days a year from 8am until sundown and costs $6 for a vehicle with two passengers. Boat tours at the time of writing are $8 per person for adults and $6 per child (between 3-12 years of age). The park does not allow to launch or use any type of watercraft there, but you may swim and snorkel in the designated swimming area.
Where Is Wakulla Springs?
The park is about 14 miles south of Tallahassee, so coming from the Fort Lauderdale/Miami area, it would take you a whopping 7 hours to get here if you drove straight up. And that's excluding the all important food and pee stops.  Needless to say, it's quite the journey if you are coming from the south, and we do have springs closer to us, for example in Ocala National Forest. However, if you are up in the area of Tallahassee and Jacksonville, or you're in the mood for a nice road trip up that way, it makes for a fun and educational day out. We were on a great road trip ending in Florida's oyster capital Apalachicola, so Wakulla Springs was a logical stop.
Either way, whether you are heading there from the east or west, you are most likely driving on US Road 98 (the longest road in Florida!). Our route involved getting off US98 at SR267 and then turning left at SR61, where we were driving through a beautiful area and crossing the Wakulla River. The park entrance will be coming up on your left shortly after. Probably the safest way is to set your GPS to it. Also, the park offers their own directions. If you can make sense of them: congratulations. You are more intelligent than me!
A Little On the History Of Wakulla Springs
Wakulla Springs had been famous for its natural beauty and clear water for many years before, but in the 1850's it suddenly also appeared on the radar of the scientific community. A lady by the name of Sarah Smith had discovered ancient mastodon bones at the bottom of the spring, thanks to the clear waters.
Mastodons were very similar in appearance to modern-day elephants but became extinct in North America around 10.500 years ago. Since the 1850's, many other bones from extinct ice age animals (as well as evidence of previous human occupation)  have been discovered at the spring. Incidentally, for those of you who want to see the mastodon bones from Wakulla Springs, you can find the reconstructed skeleton at the Museum of Florida History in Tallahassee.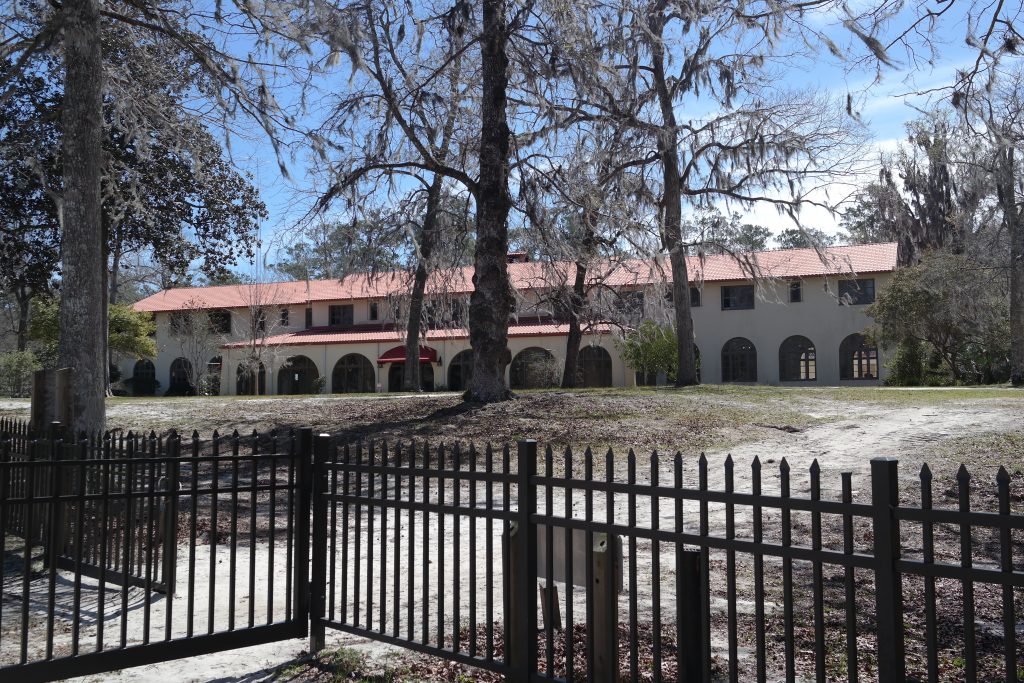 Wakulla Lodge
Edward Ball, a financier and railroad magnate, bought the area around the main spring in 1934, with the intention to build a hotel. And so he did. Ball built the 27 room Wakulla Lodge in 1937, looking like a Spanish style resort. The lodge is pretty much the first thing you'll notice when driving into the park.
Wakulla Lodge is one of very few places in Florida that has remained largely unchanged throughout time and is a fascinating relic from the 1930's. There's plenty of wrought iron and imported marble and (hand-made) tile to feast your eyes on. The Lodge also reportedly boasts the world's longest marble bar, at 70 feet and 3 inches. You can see the marble bar it in the gift shop. Wakulla Lodge also claims to have the only still functional Art-Deco era elevator. The things I read after I had been, don't you just hate that? I am obsessed with the Art-Deco style and would have loved to have seen and captured the elevator!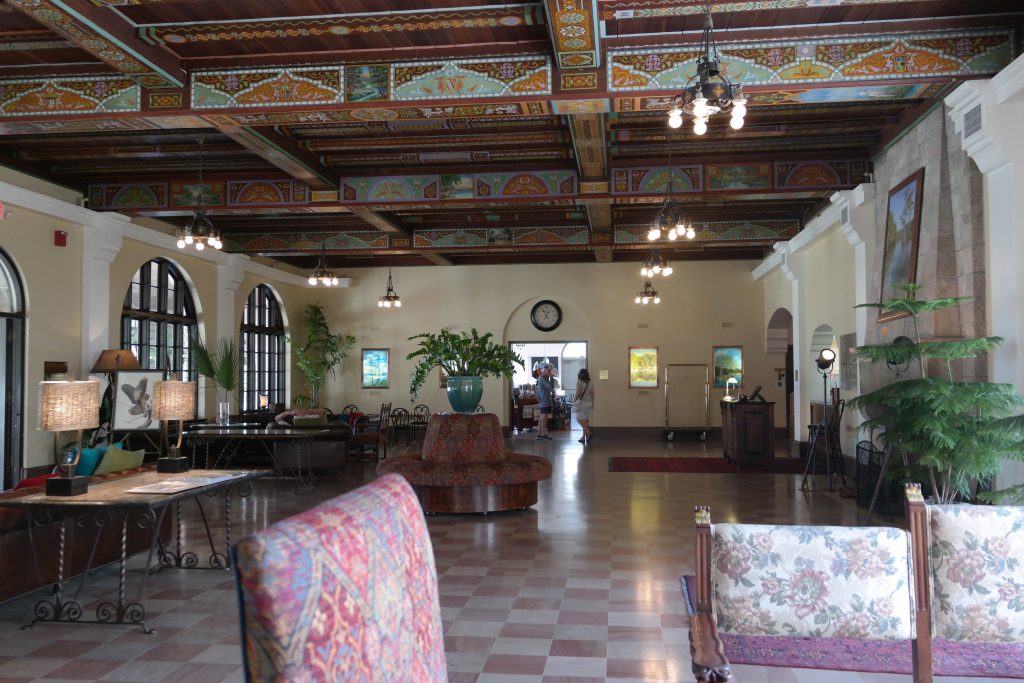 Wakulla Lodge Interior
Strangely fascinating to me was the little old post office, stocked with liquor. I soon found out that this was now the bar, but had indeed been the first post office in Wakulla County. It still had some post office paraphernalia (as well as plenty of liquor). It made me think. I might actually enjoy those trips to the post office and standing in line, if I had a cocktail in hand. Food for thought..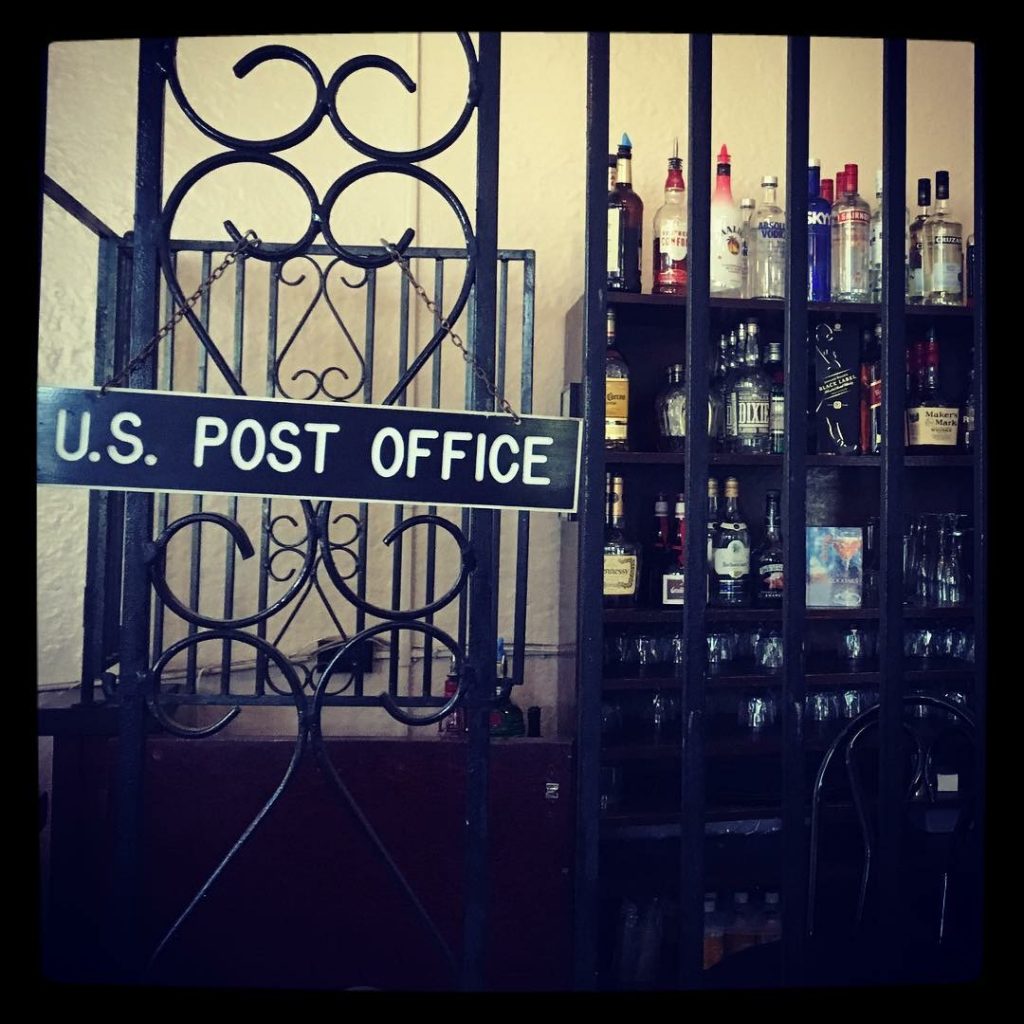 First Post Office In Wakulla County – Now Wakulla Lodge's Bar
As I briefly mentioned above, throughout the years a few classic films were filmed at Wakulla Springs also, including two Tarzan movies, 'Creature From The Black Lagoon', and 'Airport 77′ in 1976 with Jack Lemmon.
In 1993, Wakulla Springs was designated a National Historic and Archaeological District. In the year 2000, notably, 3000 acres were added to the park acreage  to protect the future of ground water in the area, also known as the Florida Aquifer. There are in fact many more sink holes in the area of Wakulla Springs park, an estimated total of 18. A much more detailed timeline of Wakulla Springs' history is available here.
What Is There To Do?
You get there, park the car and don't quite know where to turn. It looks like a big place. Now what? If you are hungry, I recommend a little visit to the wonderful lodge to soak up the atmosphere of historic Wakulla Springs whilst enjoying a delicious lunch in the restaurant. Heck, why not make an overnight stay of it?!
Sadly, we did not have time to stay there this time but apparently, the rooms are 'quirky' and have remained largely unchanged in decor since the 1930's. While this may not be for everyone, history buffs like me would love it for sure, judging by the pictures of the rooms I saw on Tripadvisor. The lodge – as well as the Wakulla Springs Park – is open all year round.
After lunch, there are a couple of options. You can get on one of the trails that Wakulla State Park has to offer. There are various trails within the park area, the main one being 9 miles long. This trail leads you through various different habitats, such as pine forests, maple/cypress habitats and hardwood hammocks. There are two other trails also, one of which -the Bob Rose trail – follows a cave system and leads you through karst features and past a collapsed cave. More information can be found at the park's website here.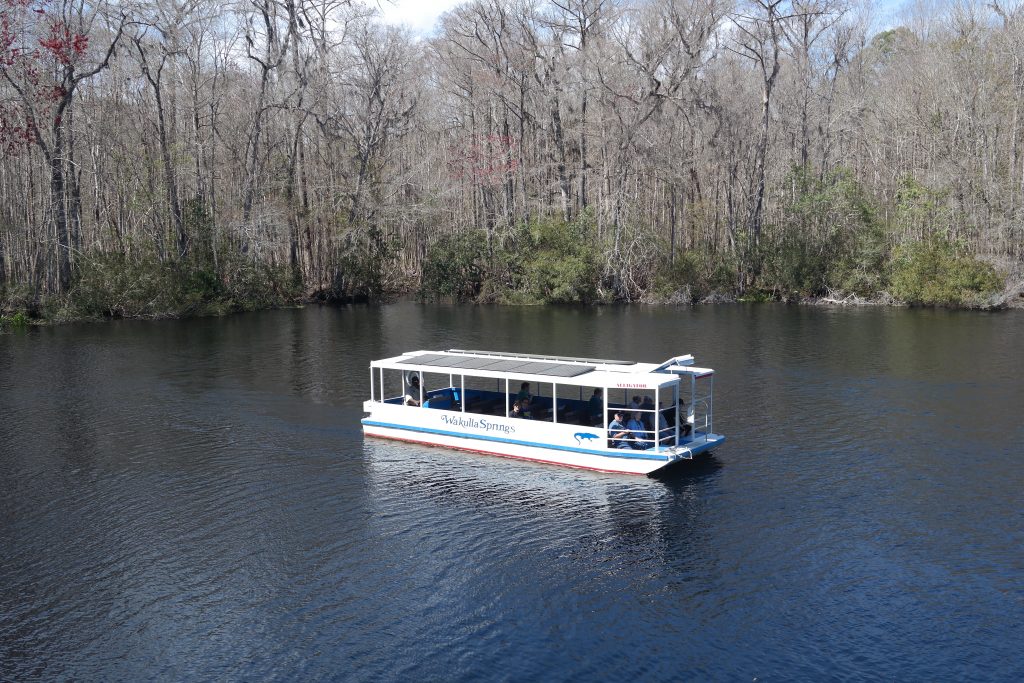 Boat Going Over The Deepest Part Of The Spring
Another great option, and one that comes highly recommended by yours truly, is to take a boat tour. The boat tours are very informative and much fun, even if like us you have seen plenty of gators, vultures, wading birds and turtles. It doesn't matter, the location is so wonderful and the enthusiastic staff so engaging, you will absolutely love it. I promise! It is pretty much a 'must do' if you want to fully appreciate the beauty of the springs and its environs.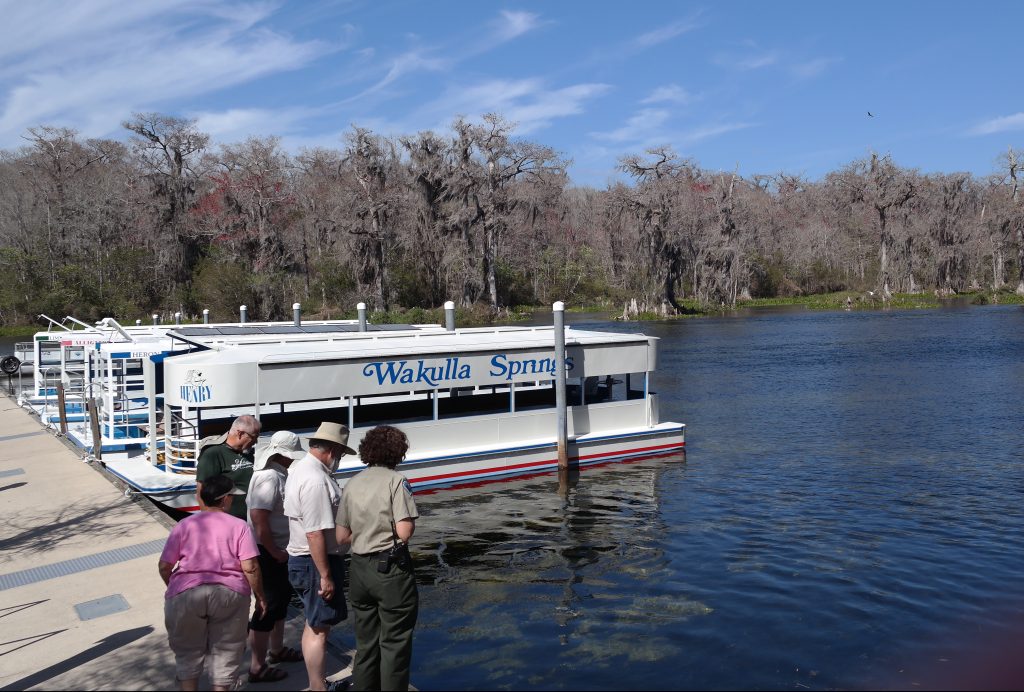 The lovely lady that captained our boat was extremely knowledgeable and pointed out a number of animals we would otherwise have missed. We saw a wealth of wildlife out there: alligators, a snake, wading birds and vultures amongst others. Apparently, it is common to see alligators, turtles, manatees, deer, and all kinds of birds. The best of it: after the boat tour our boat lady didn't rush back to her office, but took questions and was still pointing out different things for visitors to see.
The trip did go over the deepest part of the spring but unfortunately when we were there, the water was not very clear so we didn't see any Mastodon bones, or anything much for that matter. A little sad, apparently in recent years the days when the spring head is clear are very rare due to a number of factors, probably increased water flow (rainy season) and pollution being the biggest. I guess we had problems with pollution and excess rain all over Florida in the last couple of years.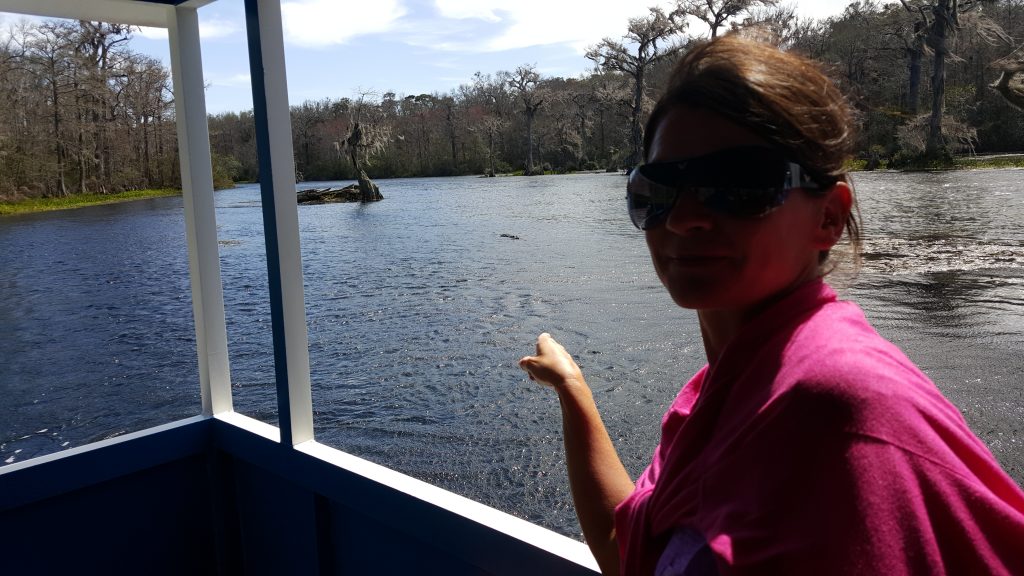 Gator In The Distance
Finally, the obvious activities you can indulge in at Wakulla Springs: swimming and snorkeling! The clear and cool water looks like it would make a great refreshing choice to spend a hot summer's day wallowing in, at around 70 degrees year-round. We visited in March and for us it was a little too nippy to stick anything but a toe into the water, but there were young boys and older men jumping from the diving platform. Rather them than me!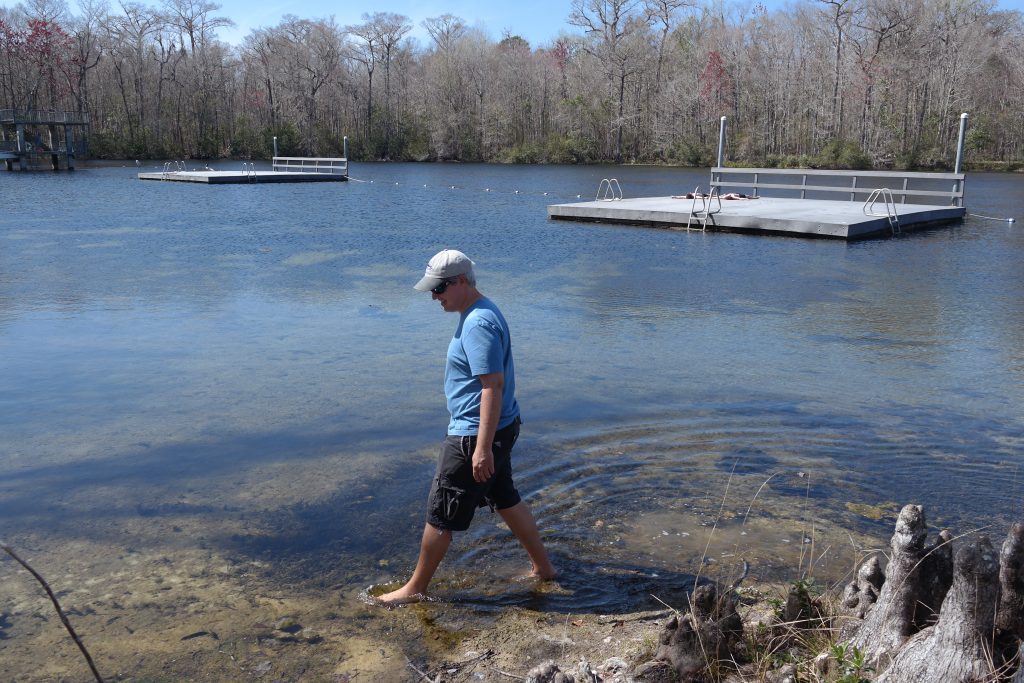 Me Jane – You Tarzan?